I have my dear friend, Catherine, to thank for the title of this post. She coined it on Instagram when I gave a sneak peek of this look. How can you not love the combination of argyle and leopard? It speaks to my preppy side as well as my sassy side and it's a fun look for Fall. Waking up to Fall temperatures was the greatest gift today. So it's a perfect time to show you prep with a dash of sass.
When my husband and I were first married, we saved every penny we earned (and we made very very little) to afford a trip to Europe. By the time we got ourselves there, we pretty much had a picnic for lunch and dinner and went out to a "fancy" dinner once during the entire trip. It was an adventure we will never forget and I am so thankful for that time. I bring it up because I wore a kelly green argyle sweater paired with a white midi skirt for much of that trip. It was my favorite sweater and after ten years of owning it, I had to face the fact that it had seen better days. Faded and threadbare, I have it tucked away in a bin of clothes that bring back great memories. This one, while a splurge for me, brought back all of those memories.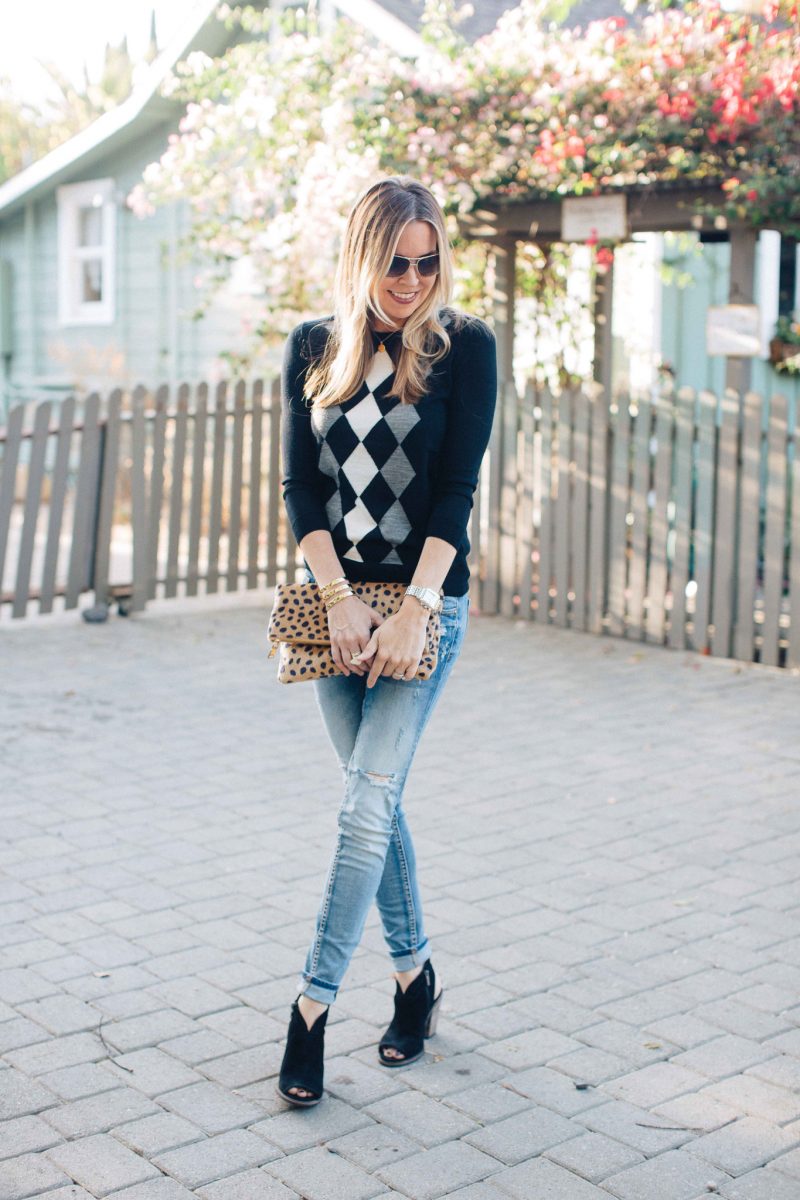 sweater | booties | similar cuff | jeans | similar bag
I know I will have this sweater for years to come. There is something about the preppy feel of argyle that I absolutely love. The leopard tossed in keeps it current and gives it a little bit of edge. As do the booties. If your comfort zone is more of a flat or loafer, these would look darling, too.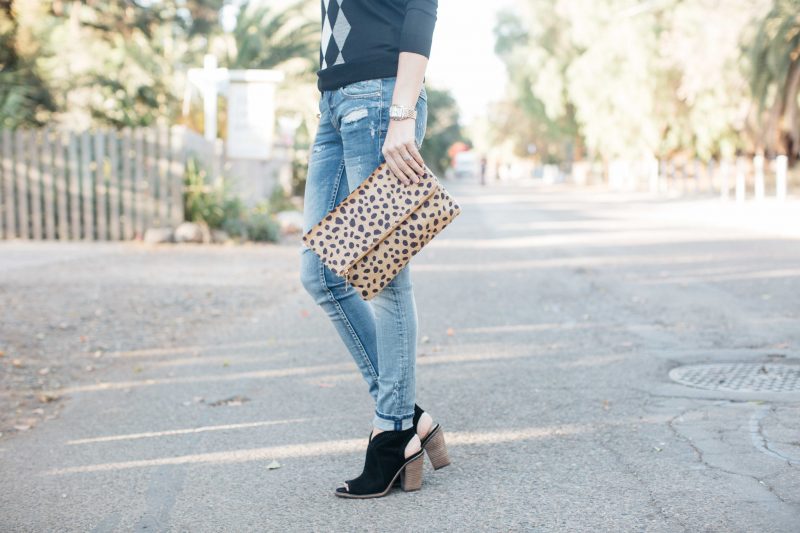 These booties are VERY comfortable and so fun to wear. They come in three different colors and I highly recommend them.
MIX IT UP
If I were a purse, I think I would be that buffalo check one! That is just so darn cute. Also really liking that drop waist dress for Fall.
Shop These Styles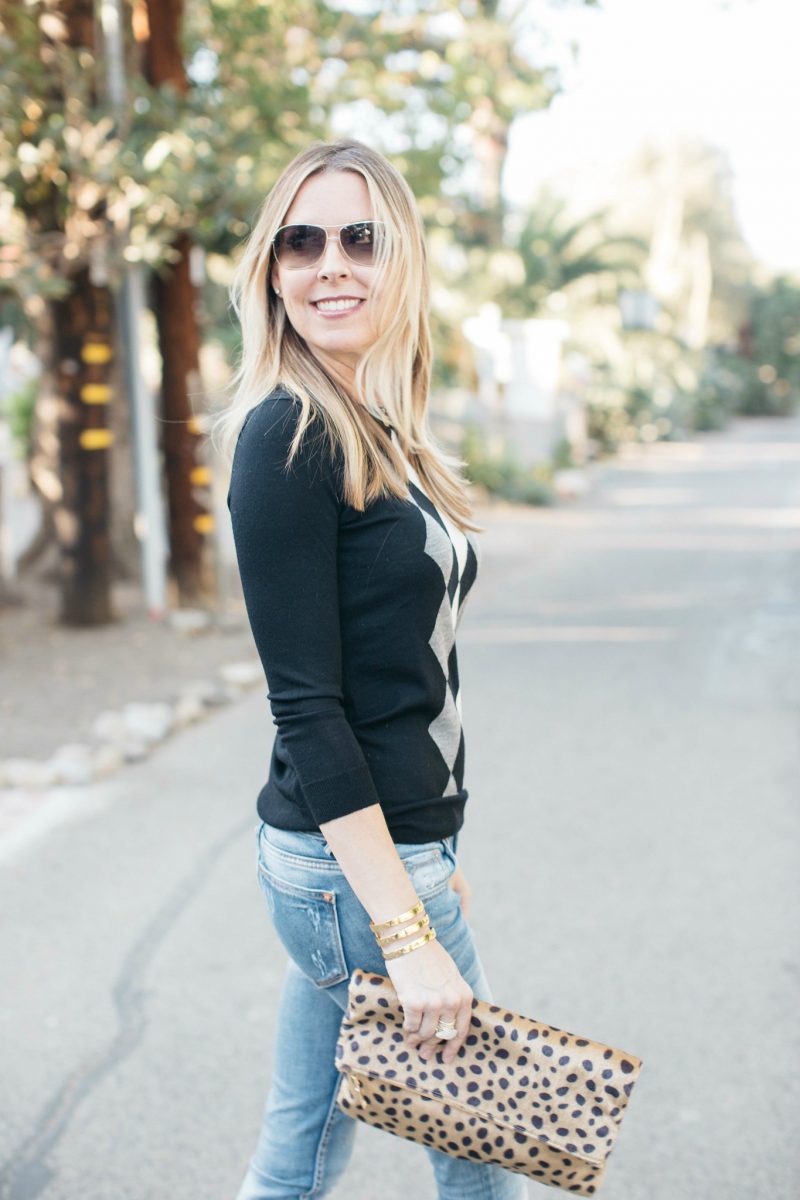 Shop This Look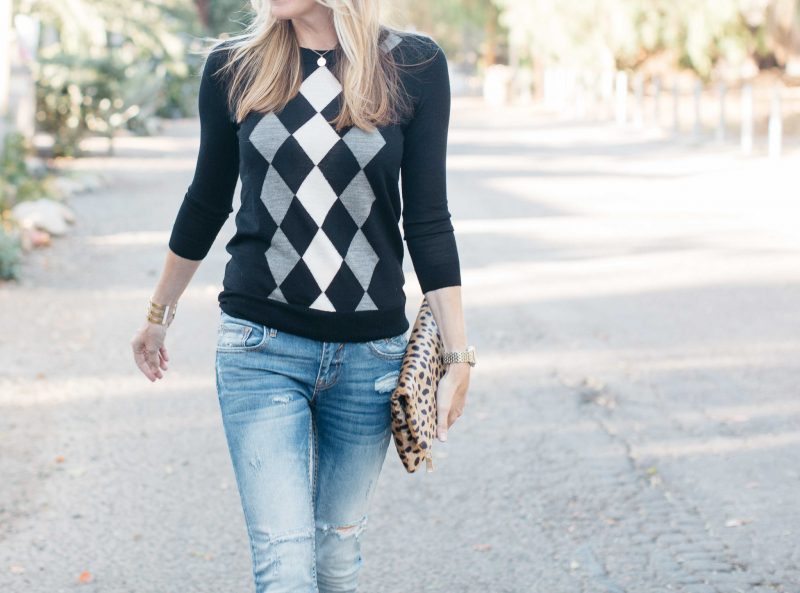 Darling Denim
To keep this outfit a bit edgy, I paired the preppy sweater with distressed jeans. But if you wanted to keep it clean and a bit more formal for work or for an evening out, I would pair this same sweater with a straight leg jean or a pair that has a bit of a flare to lengthen the leg and dress up the look.
More Fall Denim

MORE LEOPARD LOVE

Do you have a jewelry organizer for when you travel? I have on that is very similar to the one shown above (thanks to my mother in law) and I use it every time I go on a trip. It's my favorite way to keep my baubles organized. This type of case makes a great gift, too.
Leopard Looks

FALL DRESSES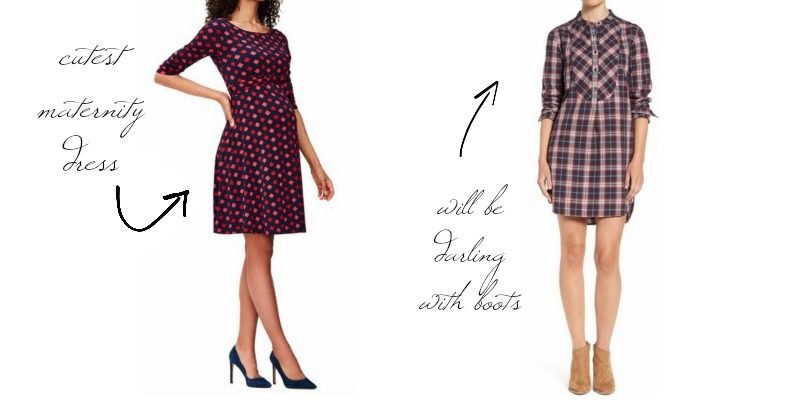 I also wanted to share these sweet dresses. What a great look for an expecting mom. I love the dress and the pretty, basic heel. The plaid dress will look fantastic with knee-high or over the knee boots as the weather gets cooler. When you come home and want to relax, you just have to toss on these cute pajamas! 
Thankful for the Fall weather and a chance to wear some cozy clothes. What are you up to today? I will be laying low as I am still not 100%. Between a conference call and some catch up on behind the scenes blogging items, the day will most likely fly.
*Photos by Taylor Cole. Proud to partner with Nordstrom on this post. Affiliate links used.