So little man's room has some major projects in the works. One of the reasons I painted the walls white was so that I could infuse some fun and bold color elsewhere. The white canvas is being splashed with navy blue and lime green. Here are the three ways that I am bringing bold color into the room: ………………………………..
This dresser belonged to Grady's great great uncle. Needless to say it is extremely special to us and I love that it holds generations of memories. We used this dresser as a changing table for both children. It definitely needs some love and a pop of color is definitely a must.
So this special dresser is getting a huge dose of personality with a bright apple green. The swatch is looking a bit more electric than it should look in real life. Fingers crossed. After some sanding, painting, and new hardware this baby will have a whole new lease on life. So happy to be keeping it in the room.
………………………………
The gallery wall is almost complete! It hosts Grady's artwork as well as special sentiments. Keeping the frames and matting white helps the artwork to make the statement. I just have a couple more pieces to fit in.   ………………………………..
Time to get my stencil on! I am super excited about bringing this bold pattern to Grady's wall. Of course it won't be coral, but stay tuned for how it turns out. To those that have gone before me, any great advice? I could use the tips.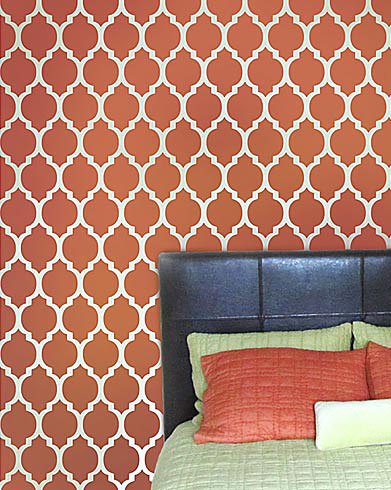 So I have my work cut out for me. But I LOVE working with this client. He is super receptive and gives great hugs. I also figured that if I posted about my projects, I might be even more motivated to step up the pace! What about you? Are you mid project? Aren't we all. What do you have going on right now?