Good morning. I meant to post this yesterday but family time was in full effect so Saturday Shopping is just a tad late. But I have a few of my favorite travel pieces to share with you as well as a couple of black dresses that are too good to pass up.
TRAVEL FAVORITES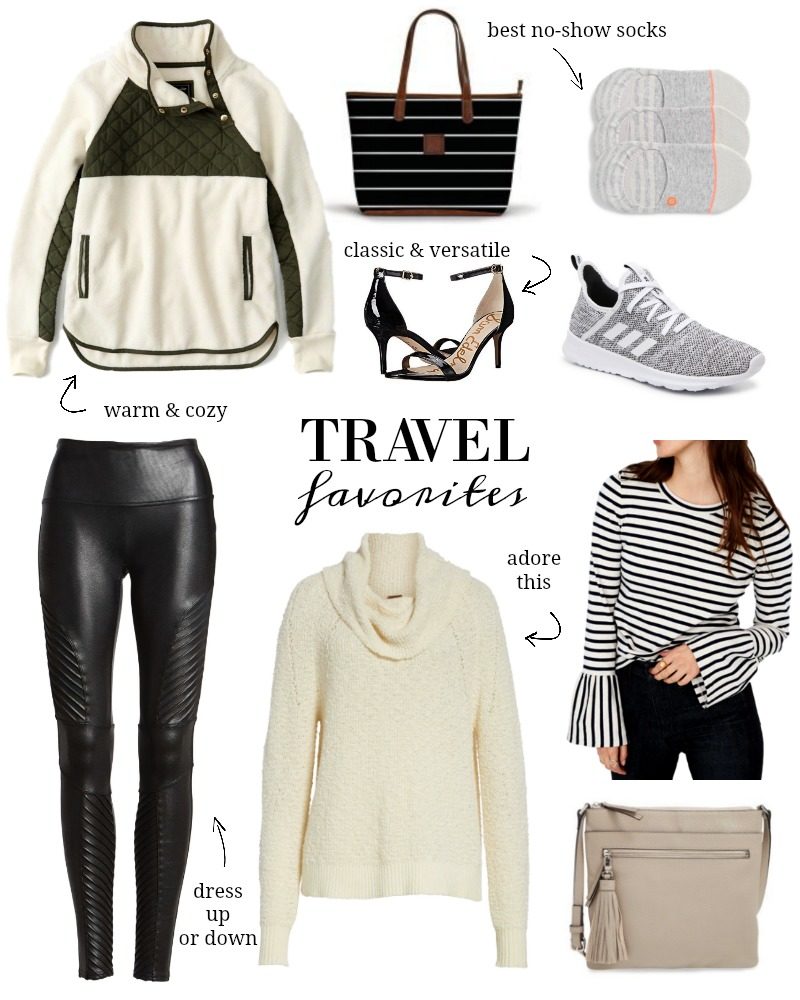 We've been traveling a good amount lately for sports and family events. These always make their way into my suitcase. Toss in your favorite pair of jeans and you have a mix n' match wardrobe for a long weekend. I never travel without the Spanx leggings. They are awesome because you can toss them on with an oversized sweater and sneakers or dress them up with a great pair of heels. The Savannah zippered tote is an investment piece that lasts forever and is classic. I always use it to carry my toiletries and personal items.
Adore these. I have them in two colors. They are easily dressed up or super casual with a pair of your favorite sneakers
This pullover has been such a fantastic purchase. I have it in two colors and it keeps me so warm in the hockey rinks. With a base layer underneath you will be so warm and cozy.
The Savannah zippered tote is a travel staple the I use on every trip. In fact I use it most weekends when I go to sporting events for my kids. So many great pockets and you can customize it just how you like.
After searching high and low these win the prize for me. They don't slip off my heels nor do they hurt. They look tiny after you wash and dry them but they still fit the same so not to worry.
Whether I think I will need a pair of heels or not I always travel with these. You never know when you might want to dress up and ditch the sneakers. These look beautiful with dresses, leggings and jeans. Plus they are lightweight and don't take up much space in the suitcase. (I like them in the patent leather)
These sneakers are a recent addition to my wardrobe and I will always travel in them. I can't even explain how comfy they are. Plus I can wear the to the gym if I am working out while traveling. Super lightweight so your suitcase won't even know they are in there.
Perhaps one of my favorite sweaters ever. It's oversized without being heavy and looks good with jeans and leggings. Plus you can add fun earrings and handbag for a dinner out or keep it casual with jeans and sneakers.
I always travel with at least one statement top. Stripes are my thing so this top is perfect. Plus they go with everything.
For the last couple of years I have been carrying a crossbody non-stop. I love that it keeps my hands free but is convenient and cute. I prefer a neutral color so it goes with everything. This one is an excellent price.
LITTLE BLACK DRESSES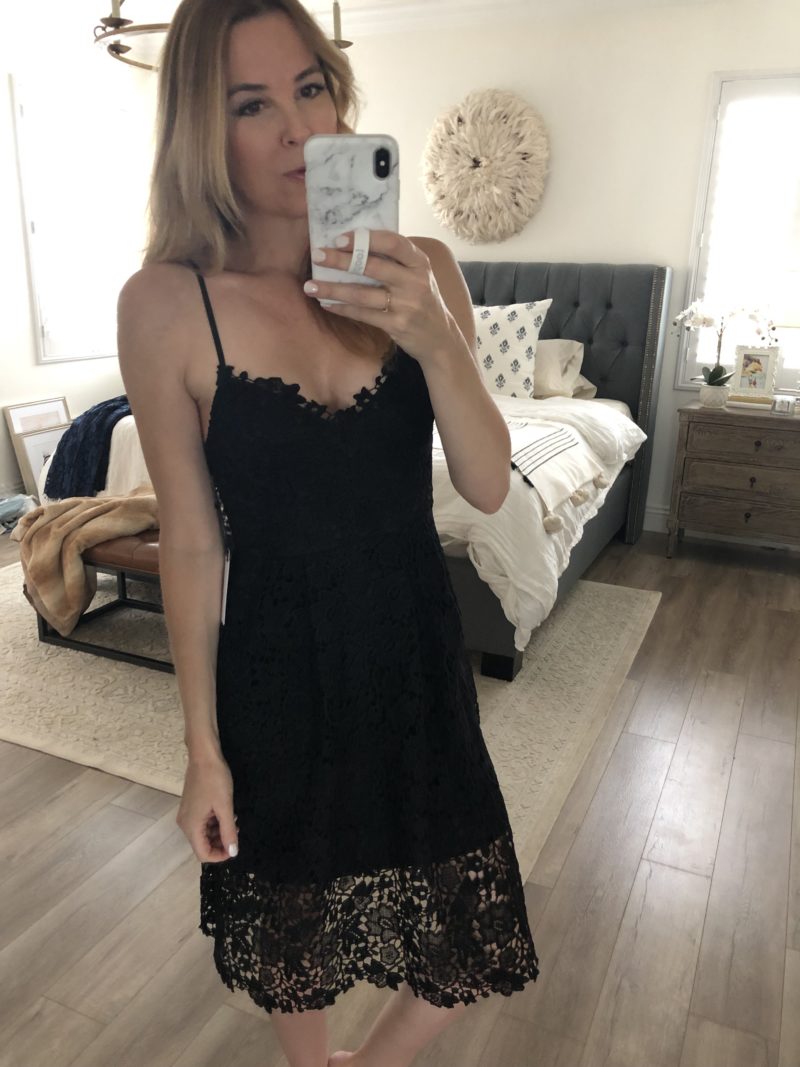 First up is my favorite lace midi dress. I found it for a steal at 40% off. It comes in so many colors but the black is classic and timeless. I wear a sizes small in this. It's really flattering and lightweight so it's easy to wear. Definitely a dress that you can wear to almost any event. This dress is in my closet in navy and red so you know it's a good one. For $53 you honestly can't go wrong.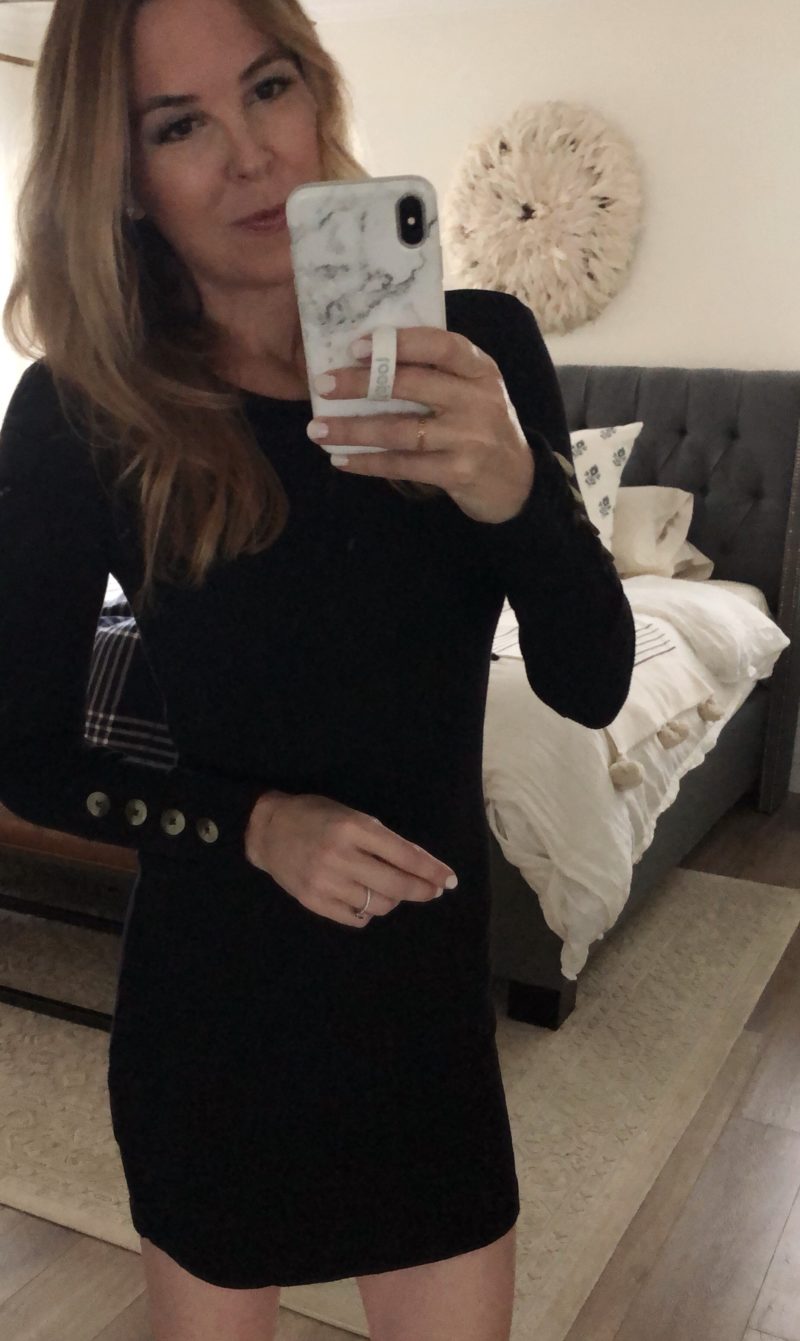 Time to crank up the flirt factor. This mini dress is very comfortable and now only $20! I LOVE the button detail on the sleeves. It is definitely short and fun for a date night. For reference I am 5'7″. I wouldn't wear it if I were any taller because I think it would be too short. It's different from anything I own and the price is fantastic.
WORLD MARKET
World Market has a major sale going on right now. Furniture is up to 60% off which is a great deal.
POTTERY BARN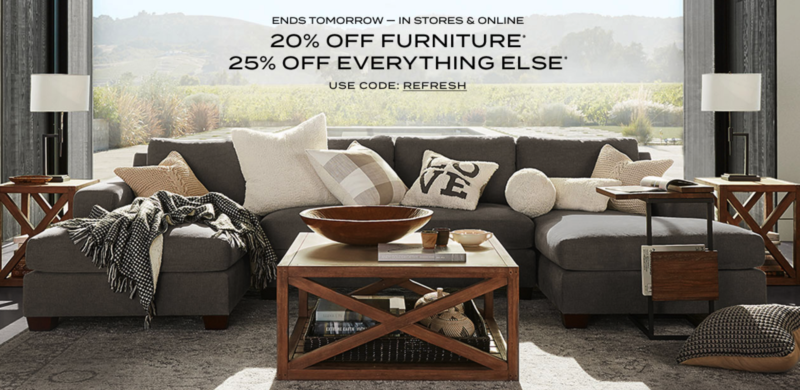 Awesome sale at Pottery Barn.  I took advantage of this sale and bought the hardware for our master bedroom drapes. We plan to hang them this week. I'll share once they are finally up! We are moving at a snail's pace over here. But it's still movement!
Keeping it short and simple this week because we are off to watch our son play hockey. I hope you are all enjoying the weekend.
*affiliate links used