Welcome to the weekend. I hope it was a wonderful week for you. We are going in all different directions and are ready for things to slow down a bit. Just waiting on that relaxing part of summer to kick in. Anyone else? I did sneak in a trip to the mall and headed straight to Loft for a try on session for this week's Saturday Shopping.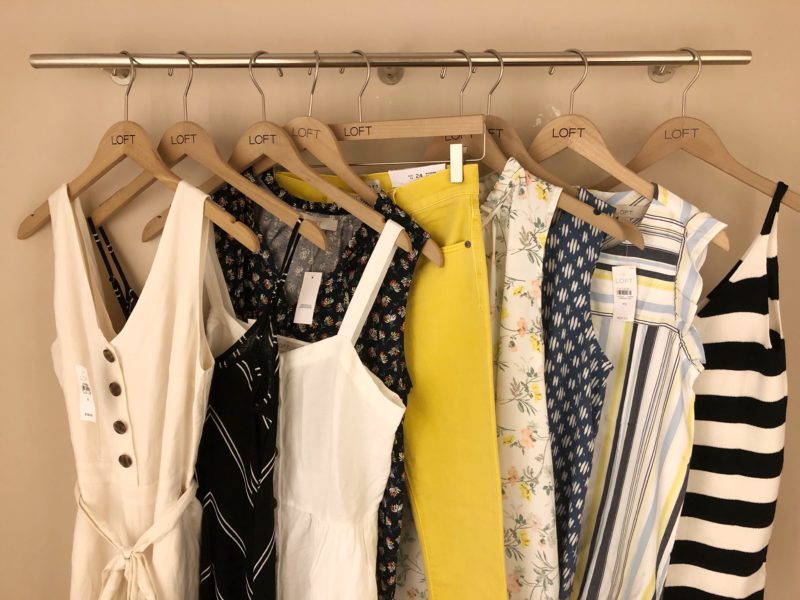 Let's do this, girls. I walked through the store and grabbed anything that immediately caught my eye. So many cute finds right now. Sharing how they look and fit below. There was only one that was a 100% NO WAY.
SUMMER DRESSES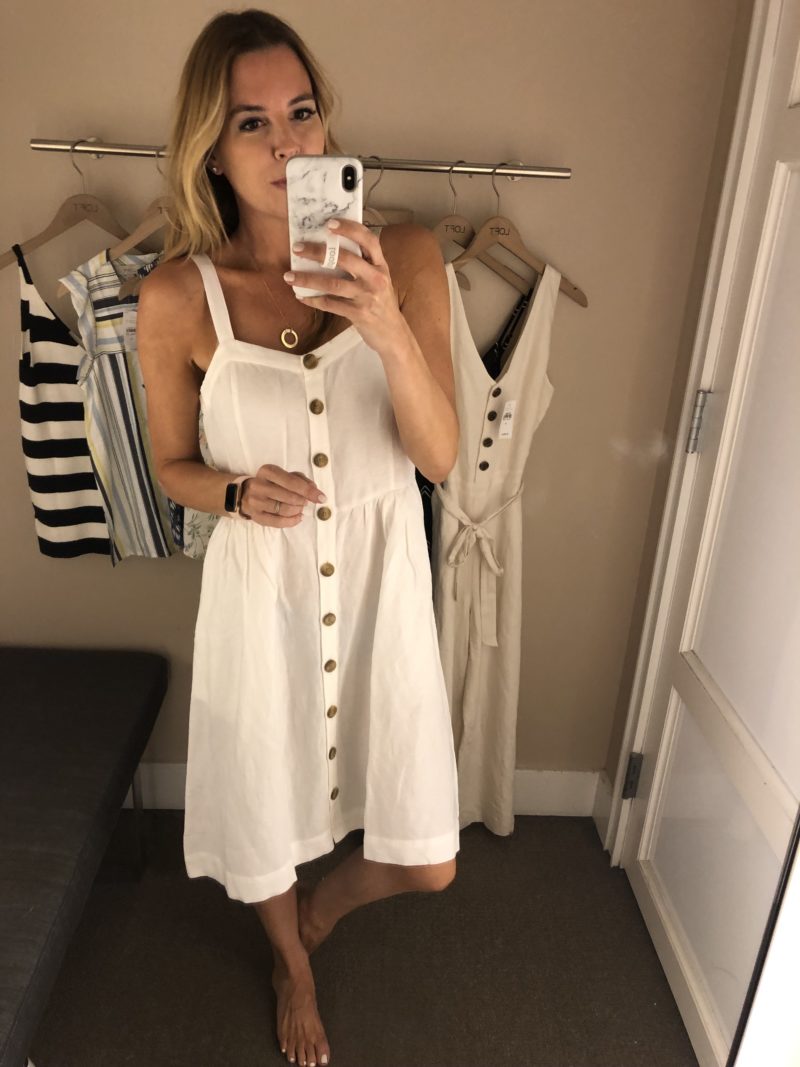 Yes to the dress. This is a cute look for summer. Easy to wear and I love the buttons and pockets. This was a size 6 (too big on me) because it was the only one they had in store. I would go with a size 4. I like the idea of this being a bit looser and more relaxed.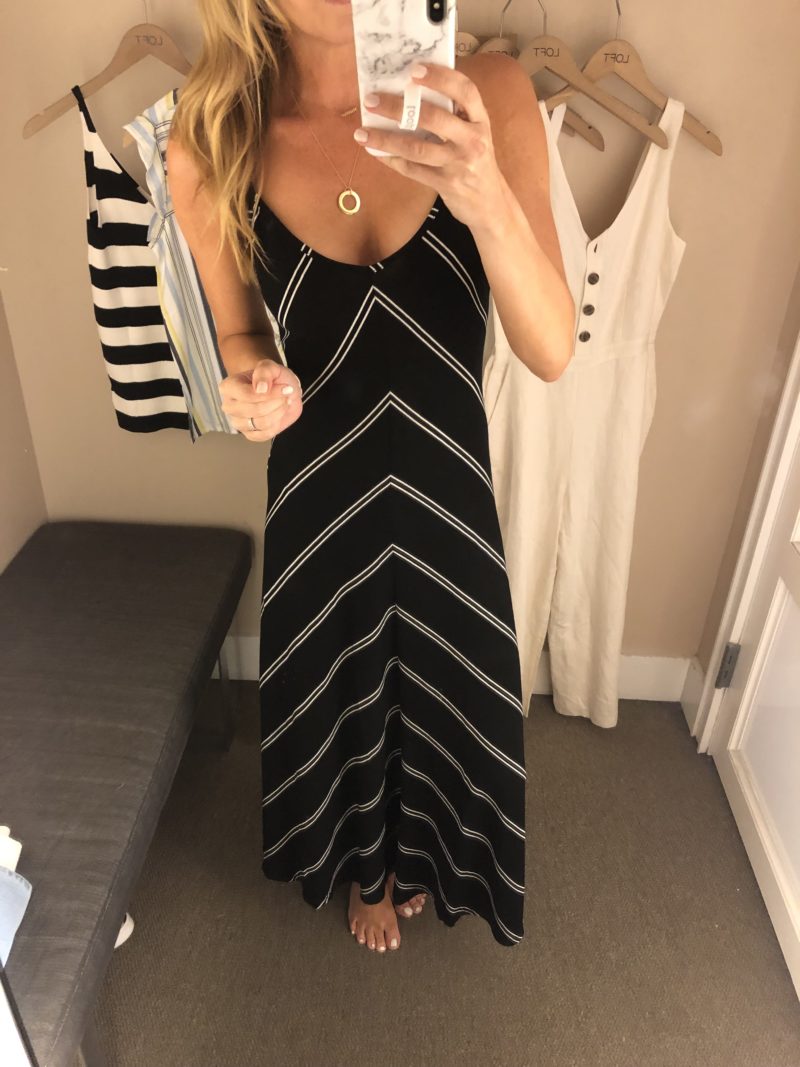 The second I saw this dress I had to try it on. I LOVE it. It's soft and extremely comfortable. I am actually wearing the Petite XS in this photo and it fits really well. It's a tad short but I would actually prefer that over tripping over it. So I would suggest going down in size or petite if you are not super tall. I am 5'7″ for reference.
PRETTY TOPS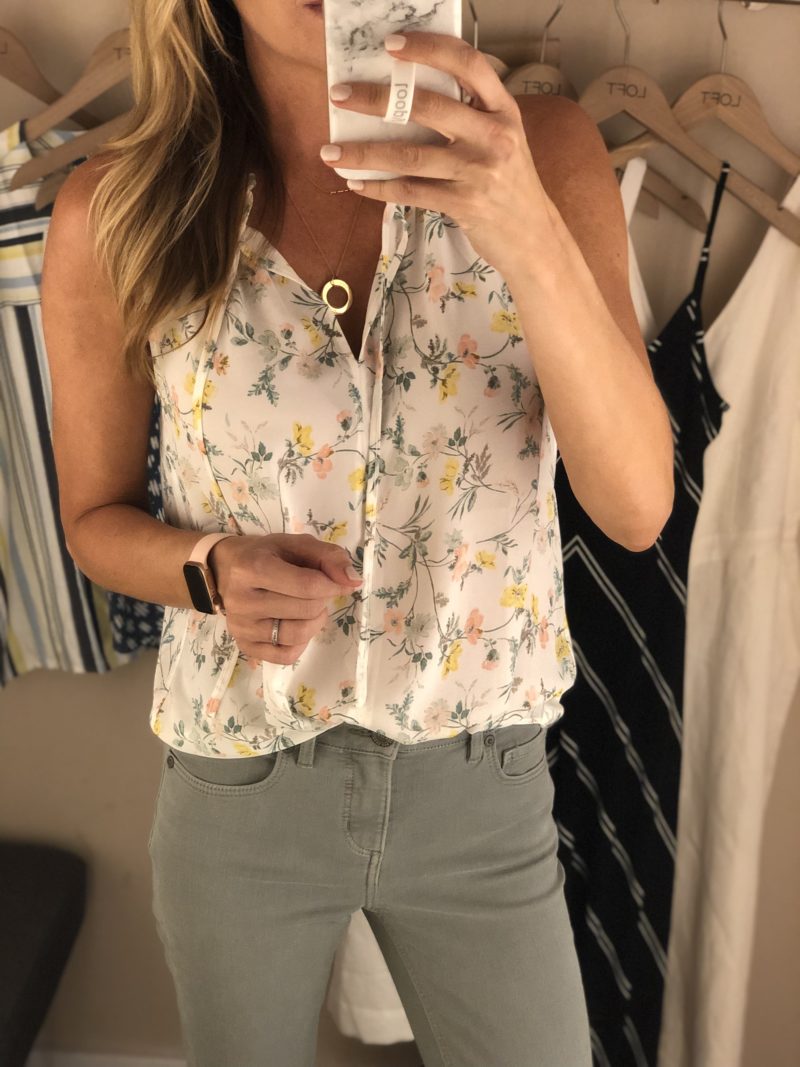 Bought this entire outfit. I adore the pretty print on this blouse and the jeans are awesome. The color is spot on (this shows the color very well). In the top I am wearing a size small and a size 24 in the jeans ( I am usually a 25 so recommend going down a size).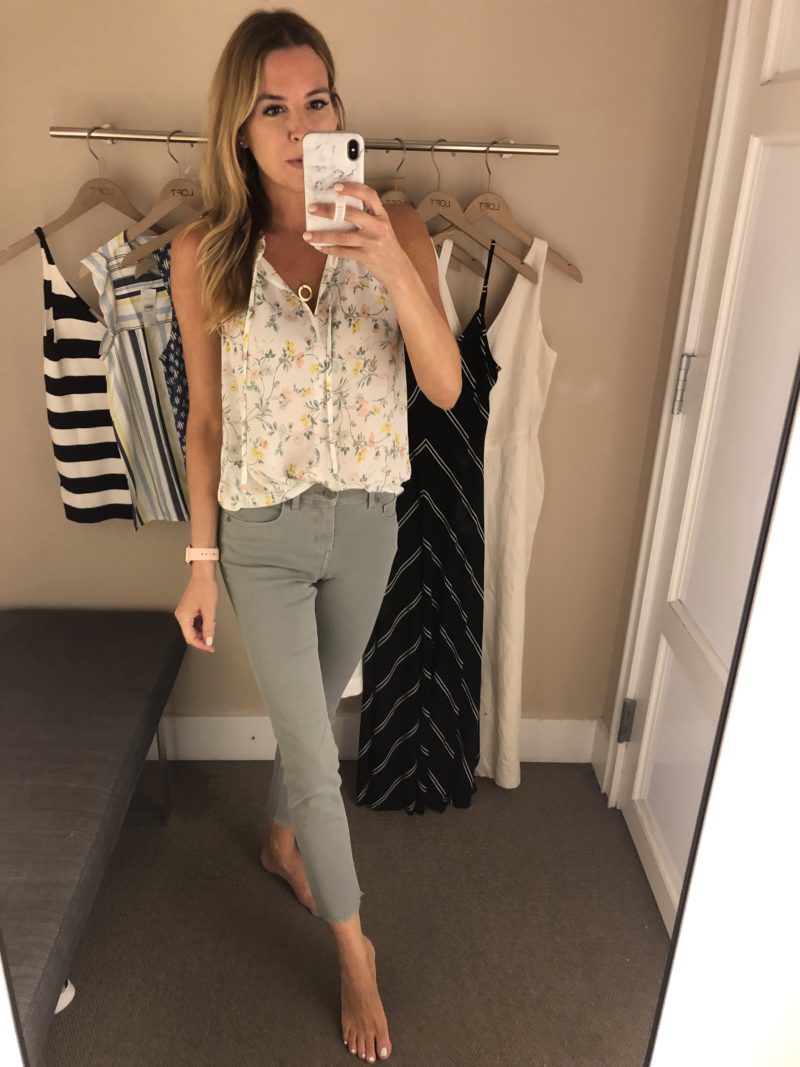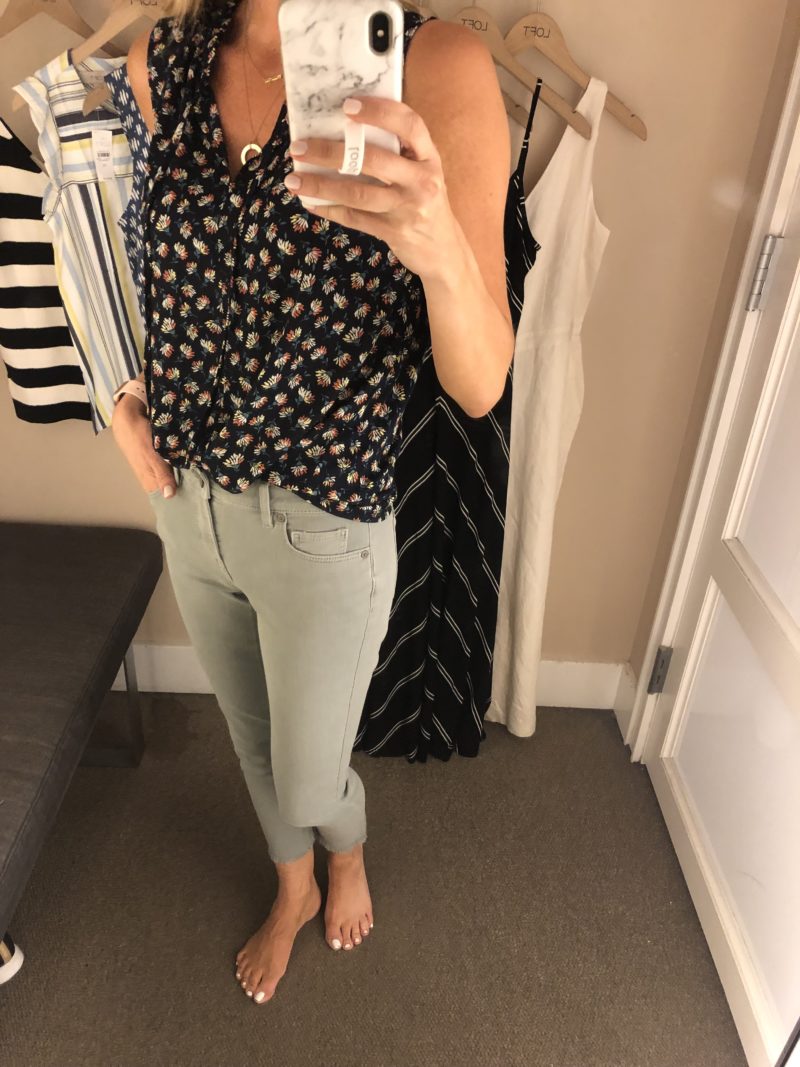 Another great top. I like the sweet print on the navy background. I am wearing a size small.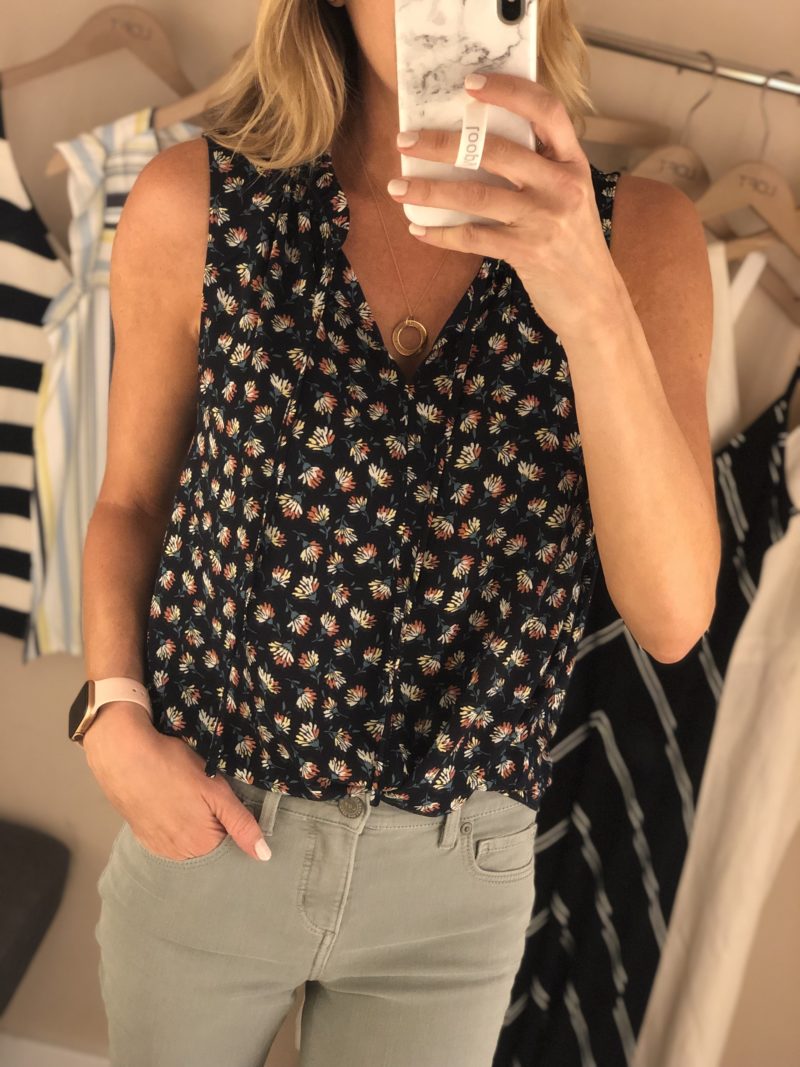 This top is sooooooo much cuter in person. I bought it and the color is so pretty. The tie is darling and so is the back of it. It will also look super cute with denim cut-offs for summer. The white jeans are really cute and not see through. But I need to go down a size. In the photo I am in a 25.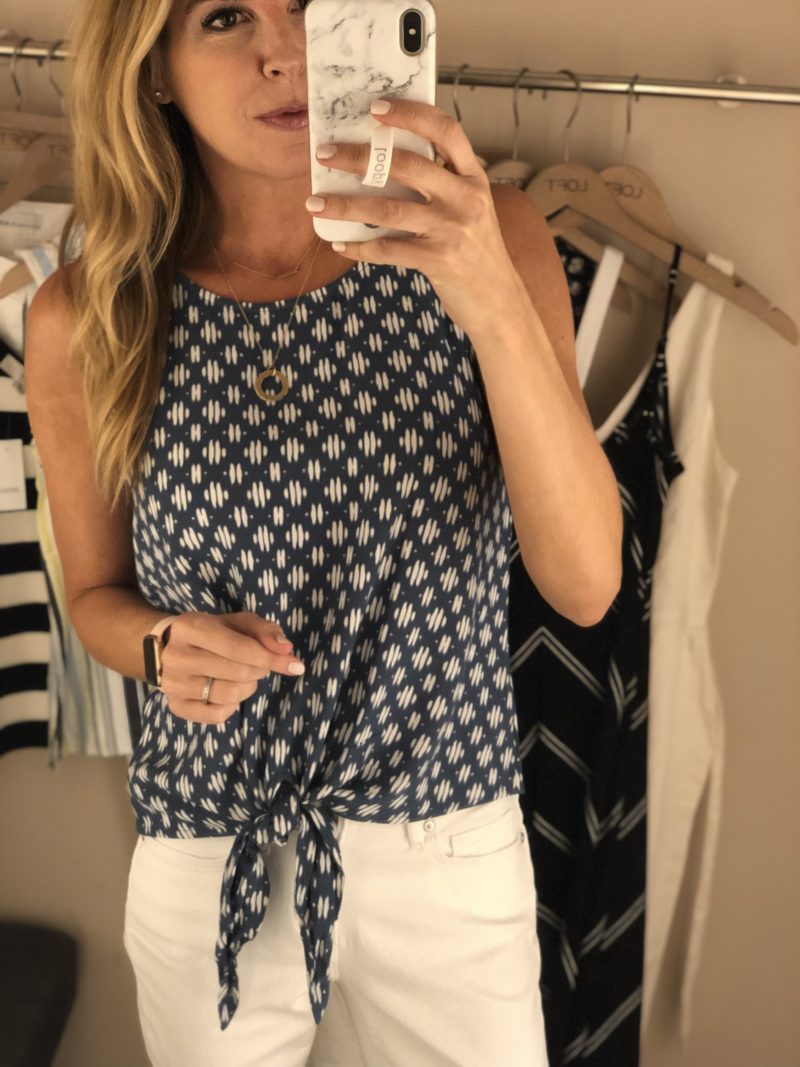 STRIPE LOVE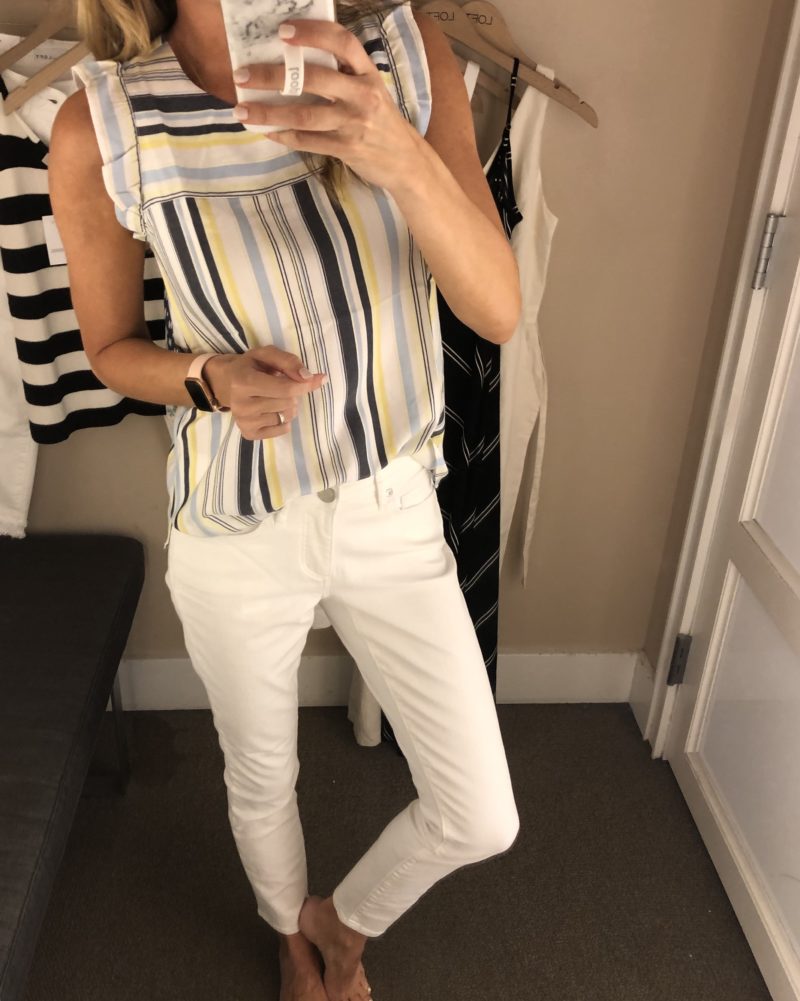 This striped top is adorable. So cute tucked in or out. I wanted to buy this but they did not have my size and sizes are flying online. Bummer. If you see your size snatch it up. It's a good one. This is an XS but I would prefer a small so it's not at all snug under the arms.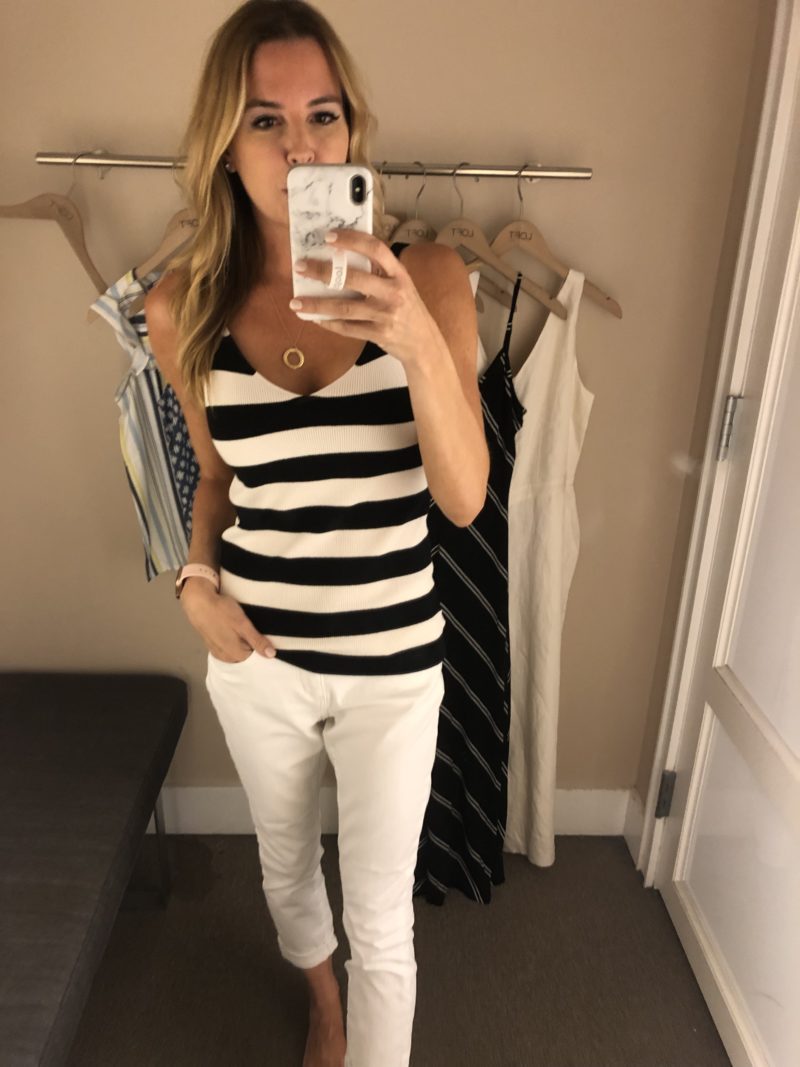 Two thumbs up for this sweater tank. It's beautiful. But I highly recommend going up a size. This is the medium. I think it reads better if it's not skin tight. Love a great bold stripe.
GO BOLD OR GO HOME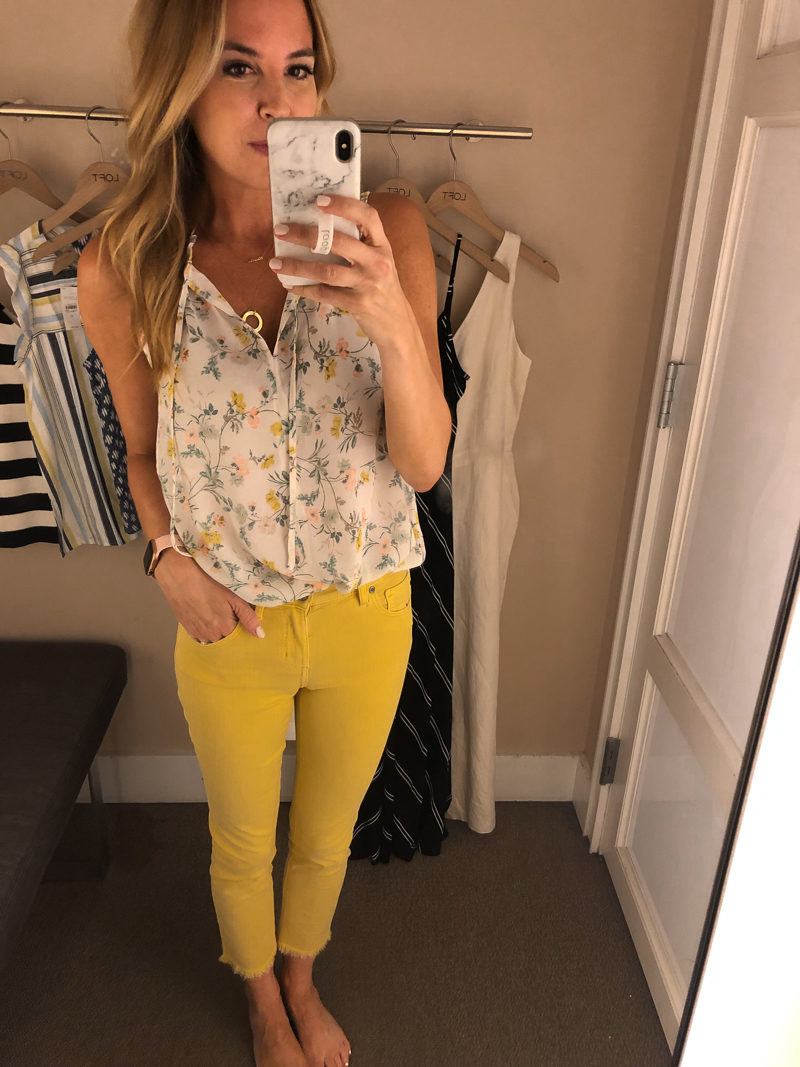 Lastly, these mustard jeans are darling in person. The color on the website makes them look more of a lemon yellow. They are 100% mustard and sooooo cute. Highly recommend if you want to spice up your wardrobe a bit. So good with this floral top.
Remember I said one piece was awful on me. This jumpsuit. I had such high hopes. I wanted to buy it based on how it looks on the hanger. So disappointed. It just looked way too bulky on me. The online reviews are awesome and people love it. Wishing I had the curves to make it look beautiful.
I'M BLUSHING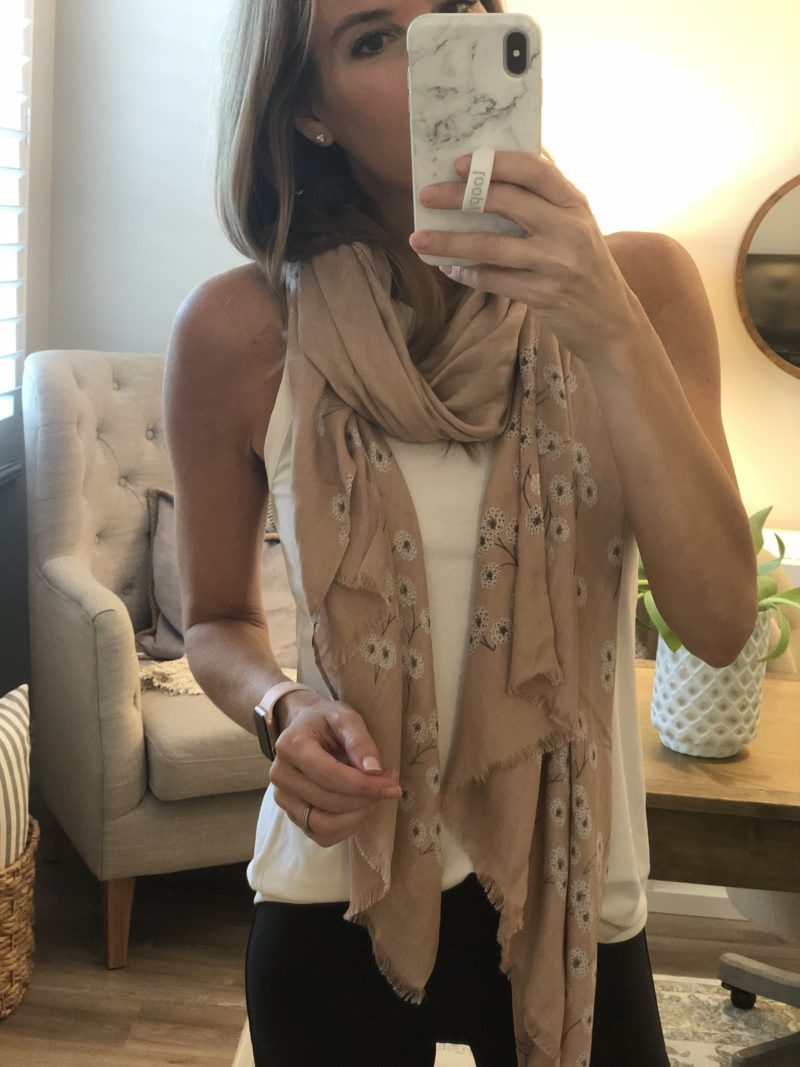 I did snag this scarf as I was walking up to the register and LOVE it. As soon as I brought it home my daughter said she loved it, too. Online reviews are not great. I disagree. It's very soft and lightweight. Not bulky at all so you can easily drape it around your neck without it looking huge. It's a really pretty soft blush color. I do agree that it's not as "pink" as it looks online but that is why it caught my eye. Big fan.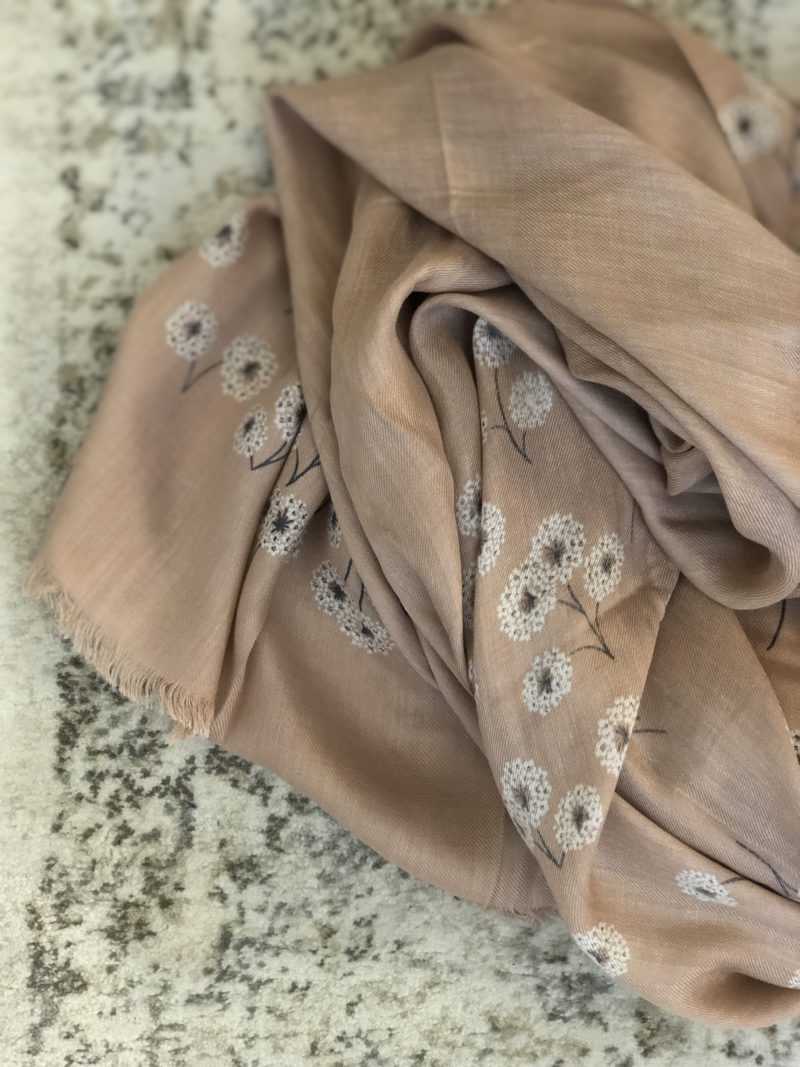 SALES AROUND TOWN
And stay tuned! Tomorrow is LTK Day. What the heck does that mean? Well if you are on Instagram and follow me in the LTK app (which is really awesome and gives you outfit details immediately) you will get special discounts tomorrow only.
Anthroplogie, Victoria Emerson, Abercrombie, Serena & Lily and more are offering discounts just tomorrow so I will get you hooked up. You can go here to download the app.
Have a wonderful weekend! We are cheering on our little girl as she hits the volleyball court with her team. Day three of the four day tournament.