So ready for Saturday! How about you? Always nice to be able to take a breath and simmer down for at least a bit. I wanted to share more about this cute striped dress. It is so soft and comfortable and I recently realized that it can be worn as is or shorter for a flirty look. I have been calling it my magic dress. So here is Saturday Shopping with three ways to wear this striped number.
1 | Clean and Simple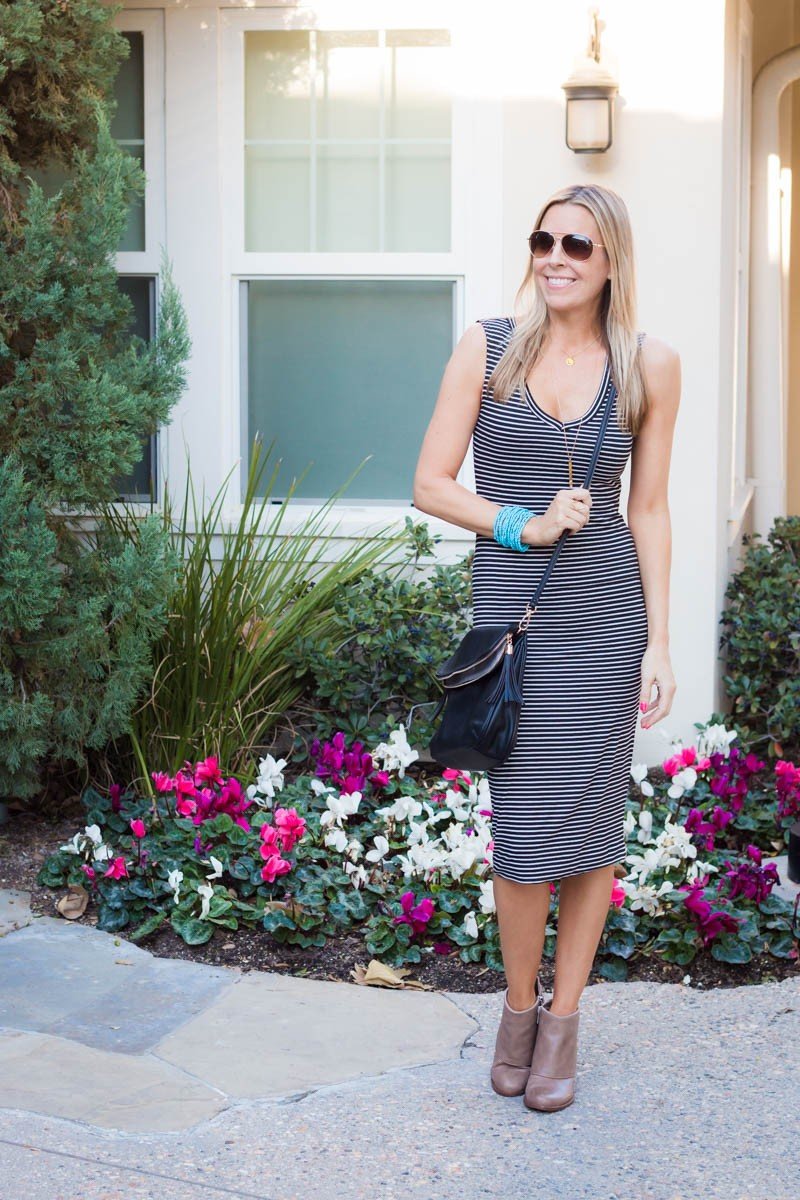 First look is clean and simple with a pair of booties (currently price matched) and my crossbody bag. This really could work for so many occasions. It's one of those dresses where if you show up for an event and everyone is in jeans you don't feel too overdressed. It still works. And conversely if your girlfriends up their game without telling you and show up dressed to kill you'll still feel like you fit in. I love dresses like that. Reminds me of the ruched tank dress from last season.
Shop This Look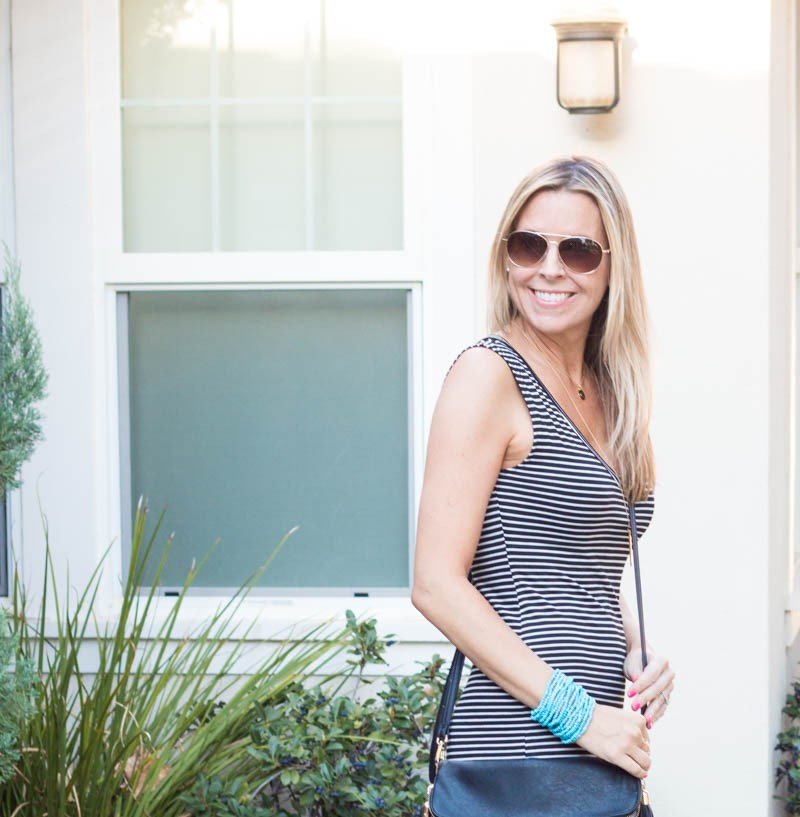 Been receiving compliments on my aviators lately and they are just the $12 ones from Nordstrom. Love the rose gold look and there is no pressure to not lose or drop them. My beaded cuff is ancient. But adding just a pop of color is fun. And I have been wearing this crossbody so much. A reader mentioned that when it arrived it is really long. Agreed. I like the length for me (5'7″) but if you are shorter, I think you could easily make another hole in the strap to shorten it. Just the DIY girl in me. And I have been doubling up on my gold necklaces lately with the initial pendant and the longer gold piece.
2 | Casual and Comfy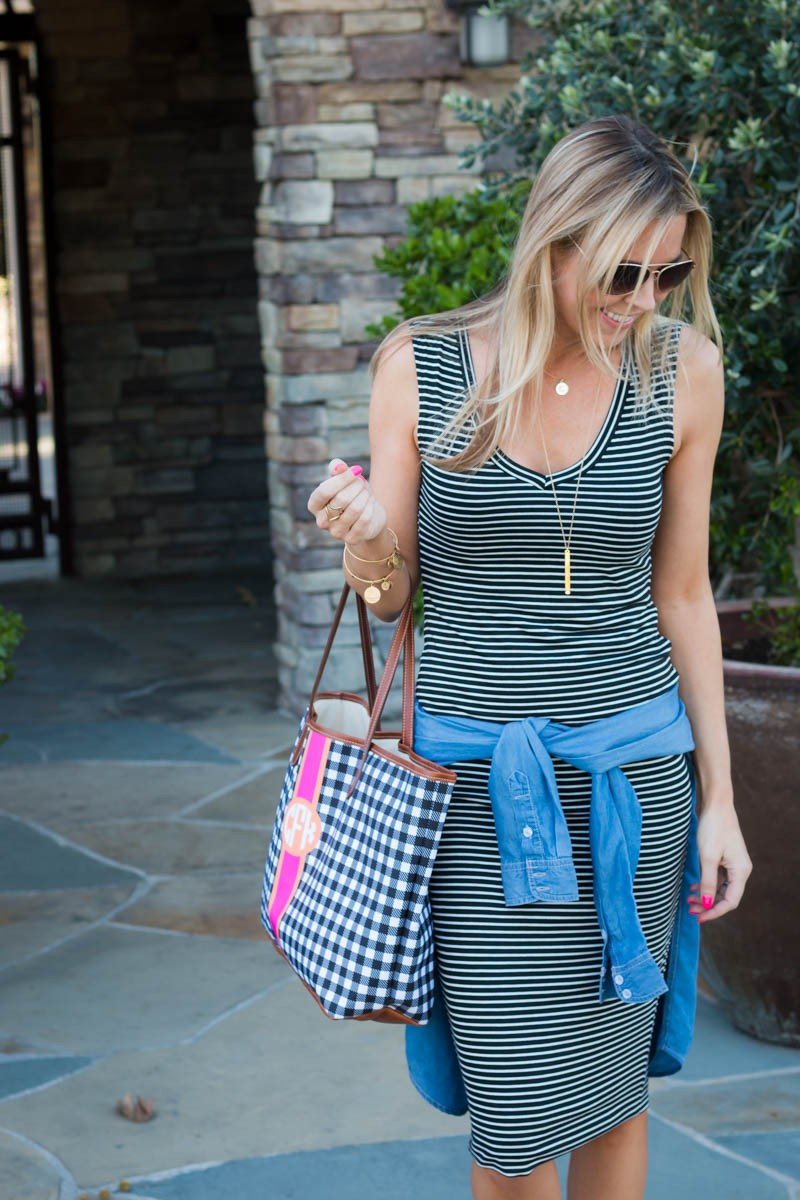 I realize that I sort of match my living room. Not sure what to think about that. I guess I like what I like. My living room currently boasts a black and white striped rug, gingham pillows and blue chairs. Hmm. Do you dress like your house? Probably not, right?! I'm thinking it's a bit odd but it is what it is.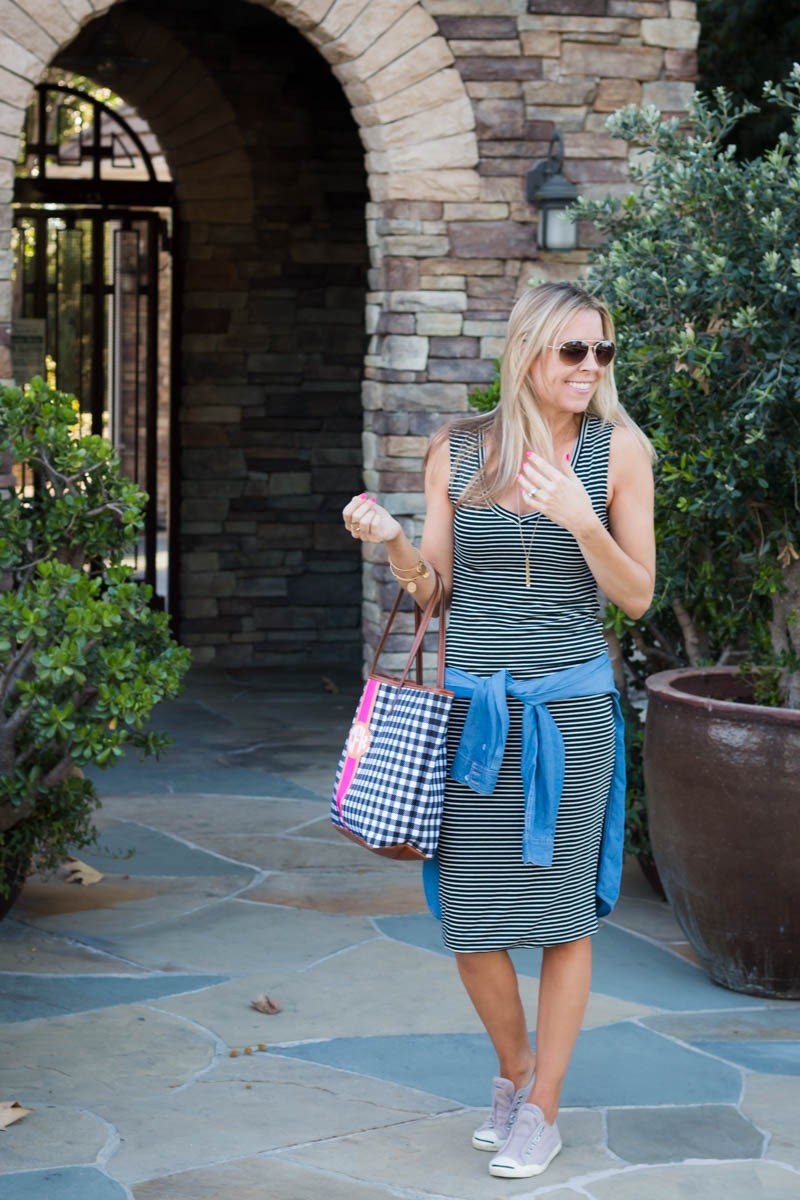 Shop This Look

This is perfect for running errands or for any casual day to day life activities. I have had these Converse for maybe 3 years now and love them. These and these are similar. A good denim shirt is always nice to have in the wardrobe, too. I wish mine weren't quite as blue. I have linked two that are really cute.
3 | Flirty and Fun
So the other night we went out for a quick bite to eat and a cocktail. I had worn this dress all day and wanted to feel a little sexier. I pulled it up at the waist and magically discovered that it stays that way. And it stayed that way all night. It is lined and has enough body that it can be worn gathered at the waist or just folded over. It's AWESOME!!!! What a great dress to travel in or wear on a trip. Works day and night.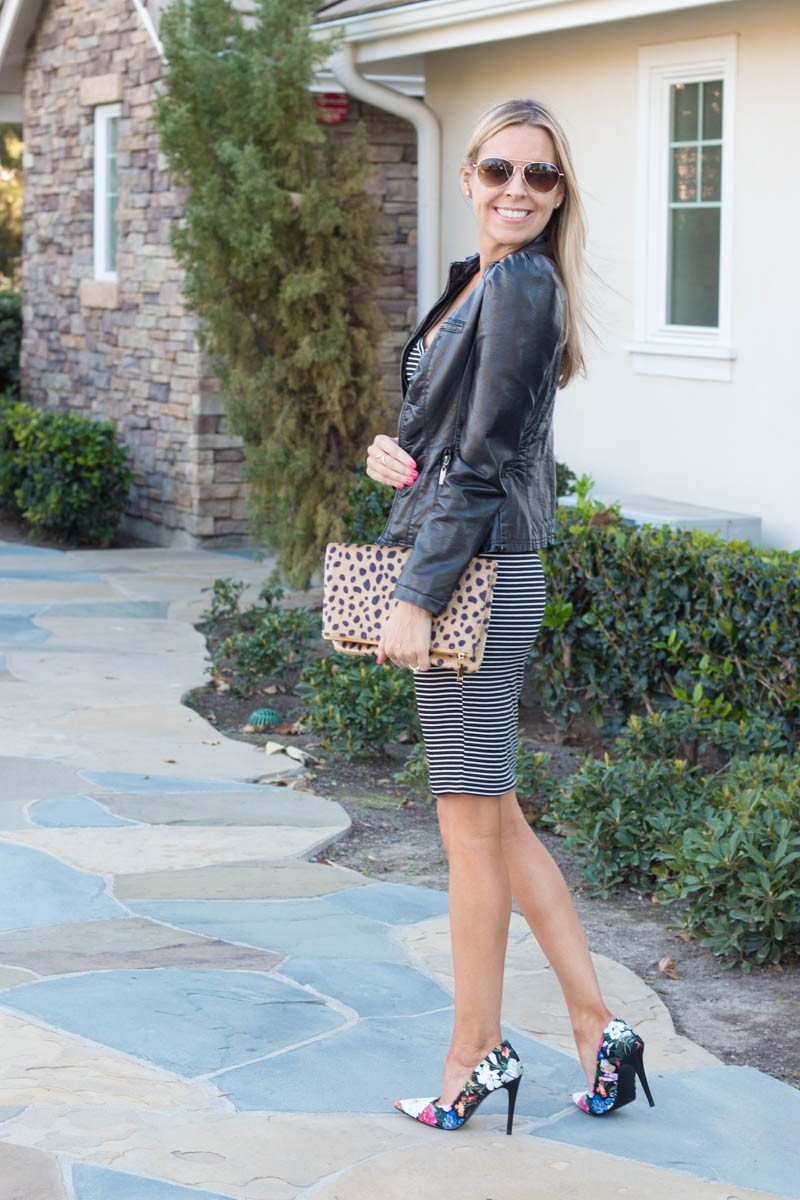 dress | similar jacket | similar heels ($30) | sunglasses | clutch
Fit Tip: This dress runs small. I normally would buy a small but it was far too snug. If you want it fitted buy one size up. If you would rather it be loose go two sizes up. I am wearing a medium.
Shop This Look

So here you can see how I pulled it up and then folded it over at the waist. So flipping excited. The heels and faux leather jacket give it a bit of edge. By the way. . . huge fan of having a faux leather jacket in the closet. This one is a few years old and I wear it so often. Especially when we go out at night. It instantly gives a dress or jeans and a tank a great, edgy vibe. I linked similar ones above. The floral heels are also fun. This season they have some that are stripes and flowers. Hello?! Darling It's like my dress and heels got together.
More Floral Shoes

And I just saw that these floral sandals are 25% off. Great deal and a really nice height.
Something tells me you'll be seeing more of this dress. Last night when I ran to the grocery store I threw on my Converse and my Gail jacket (currently on sale for $32).  Really cute with this jean jacket as well.
And did you guys see this is 75% off?! What?! Down to $16. That is a steal. Sizes are going quickly. And it comes in a million colors, too. And this essential sweater is an extra 50% off which makes it around $15!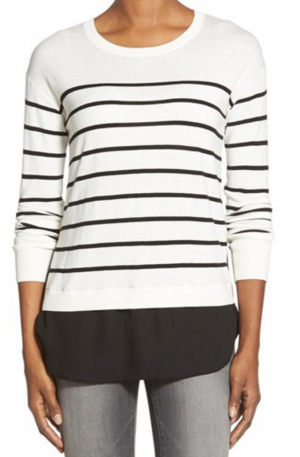 Cute Sale Finds Spotted This Week

I am off to spend some time with some women from my church. Each year they host a women's breakfast. Should be a beautiful way to start the day. If nothing else it will delay me having to get caught up on laundry! Enjoy your day, everyone.
*affiliate links used
Shop the Post

[show_shopthepost_widget id="1382127"]