Happy Saturday! We are enjoying a packed day of baseball games, play practices and birthday parties. I think I need a nap already. To be honest I am just over the moon thankful that the flu has left our house. Perfect time to really rejoice and embrace the Easter weekend and all that it represents. I am looking forward to gathering together as a family on Sunday and doing nothing but enjoying each other. And of course watch the kids hunt for eggs which is one of my favorite things ever. Spring is here and the wardrobe is beginning to reflect that. A couple of fun warm weather finds for today's Saturday Shopping. (And you can earn triple points with Nordstrom through today).
I know there is still snow in much of the country, but Southern California is welcoming in Spring with some beautiful temperatures and it's shorts weather for sure. Time for some self tanner! But I had wanted some army green cargo shorts last summer and never bought any. I am picky about shorts and when I tried these on (which I shared on Instagram) I knew they were keepers. They are short but not crazy short and the weight of them is perfect for warm months. I am wearing a size 5 for reference which is pretty true to size as I am normally a size 2 in shorts.  I plan on ordering them in white as well. I haven't bought a pair of white shorts in a few years and mine have seen better days. The tank is a size small.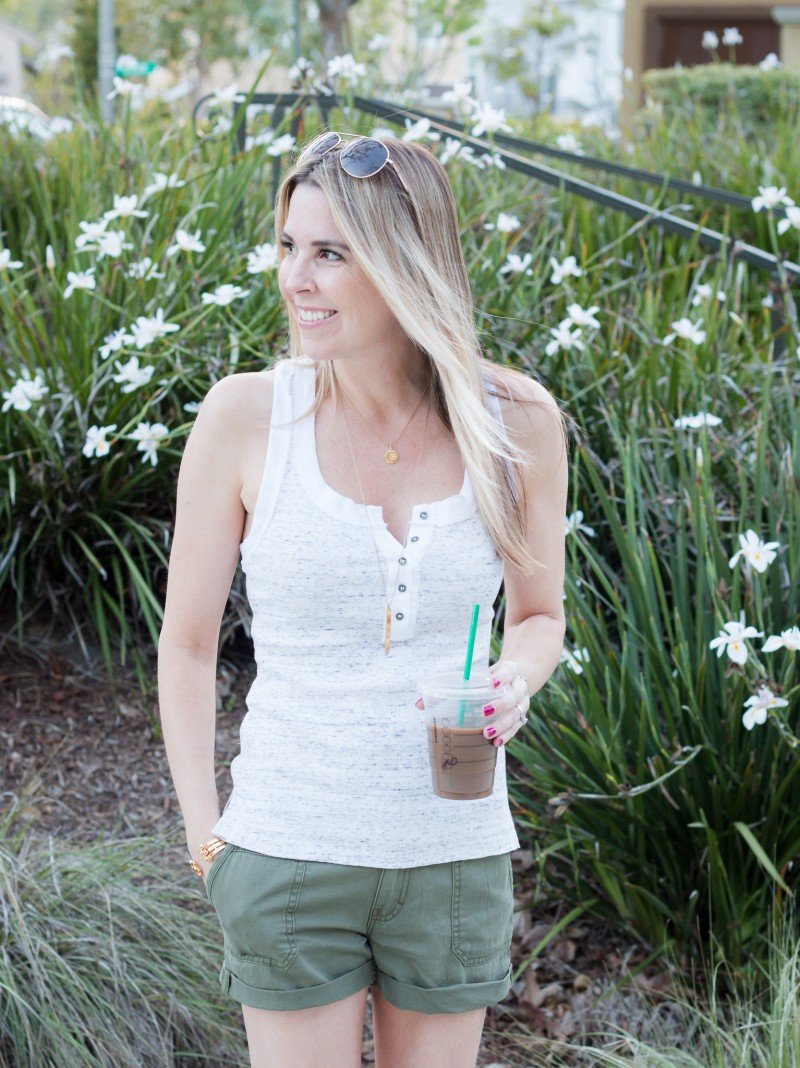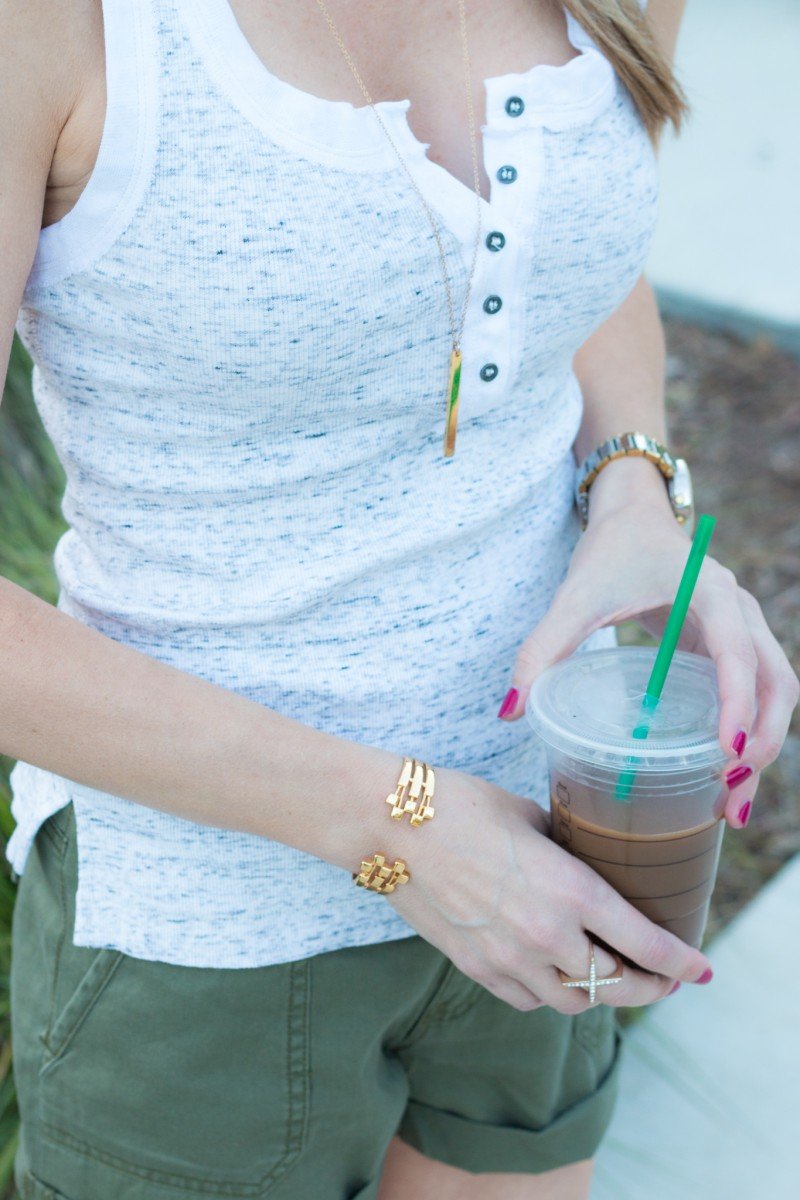 Shop This Outfit

I'm a big fan of the buttons and the split hem on each side. This tank comes in a few different colors. This outfit will look really cute with this striped pullover (40% off).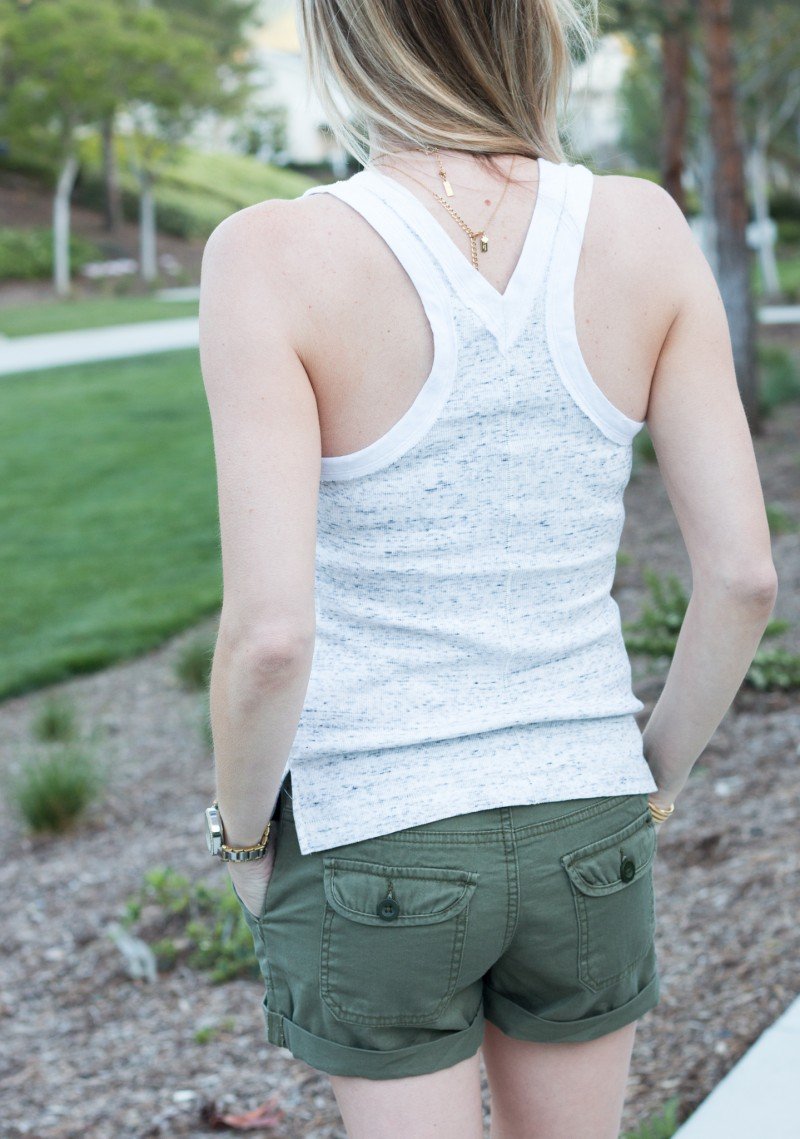 I think I love Free People so much because they always pay attention to the cut and detail. The back of this tank is so cute. I am wearing a racer back bra with this and it works really well. Also appreciate the lightly fringed white border around the tank. It's just a darn cute shirt. It also comes in mint and black.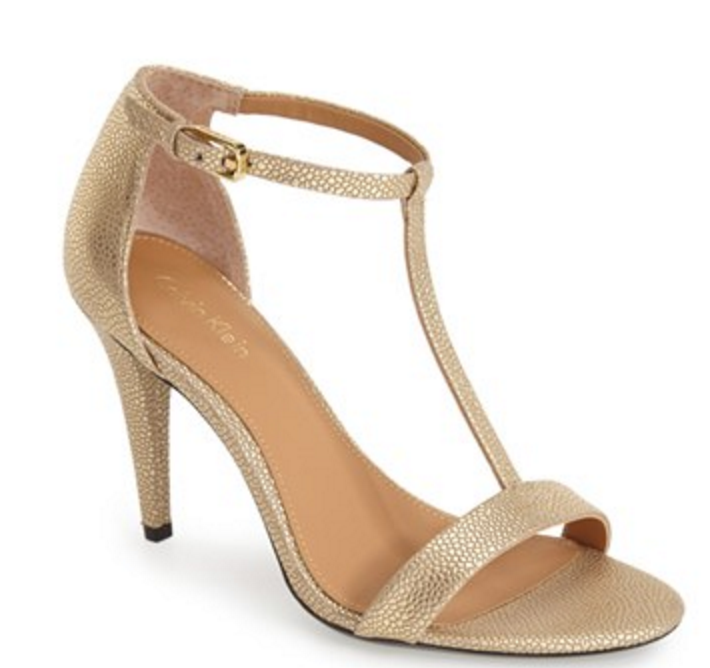 Spotted these great neutral heels for spring. They are being price matched. They are usually $108 but are now $59! They have received great reviews as well. It's nice to have a summer sandal that does not have a sky high heel. Also so easy to wear any dress when you have a neutral shoe.

I also tried on a few of the Topshop sandals just the other day and none of them worked for me. Super bummed. I am really picky with shoes. If they are stiff or uncomfortable I steer clear. I have learned over the years that they need to feel awesome from the second I put them on. While pricey, the Louise et Cie brand never disappoints. I have a pair of these from last summer and really love them. I'll keep an eye out for a pair that is not as expensive, too.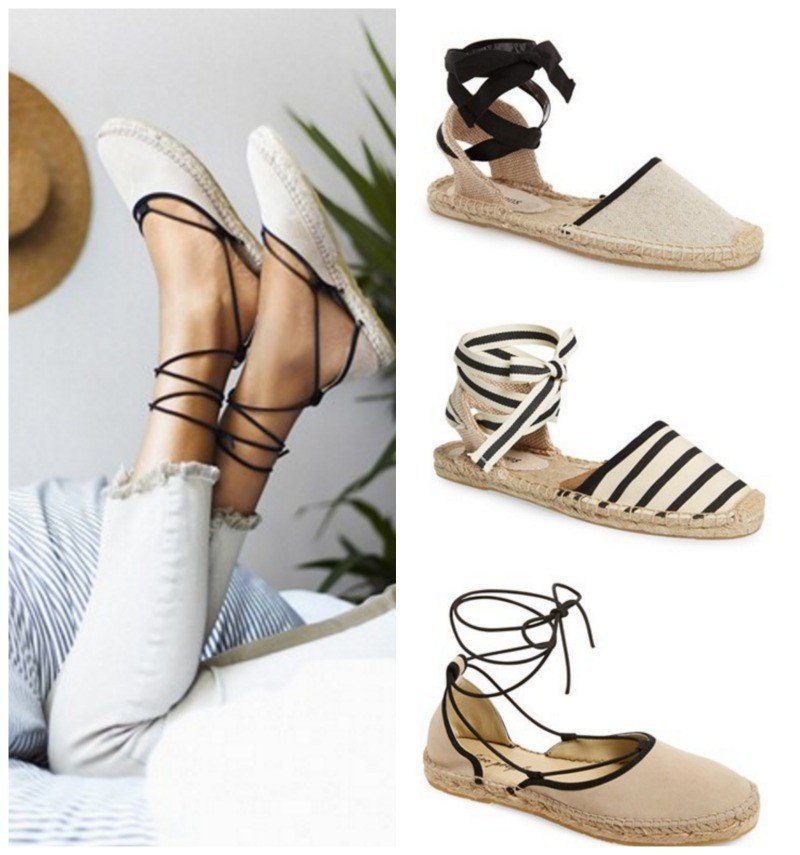 When I posted my tank and shorts on IG I got a few emails about my espadrilles in the background. Those were from last year. These are similar (and price matched) but I am loving the ones with the laces this season. And these Free People ones have been price matched making them $88 $59 right now. Really adorable and so on trend.
Shop Cute Espedrilles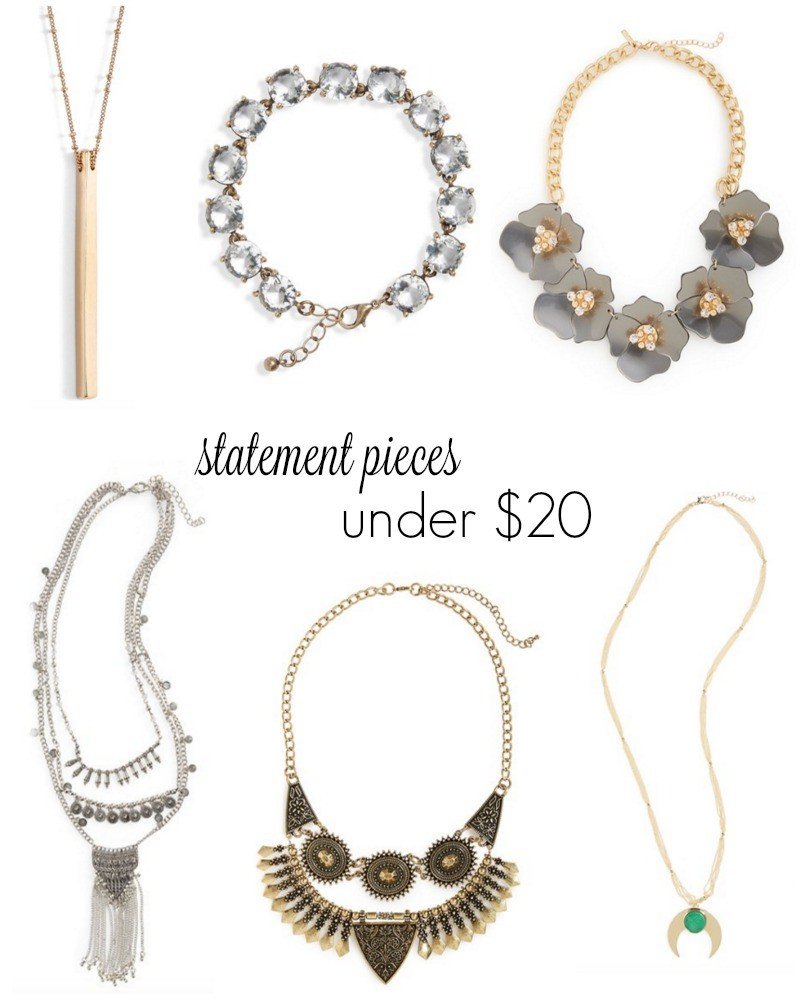 Spring looks can be taken to a new level with just one piece of statement jewelry. I paired my tank above with a simple gold necklace, but loves these other choices. They are all under $20 and the floral one is so darn cute.
Shop These Pieces Under $20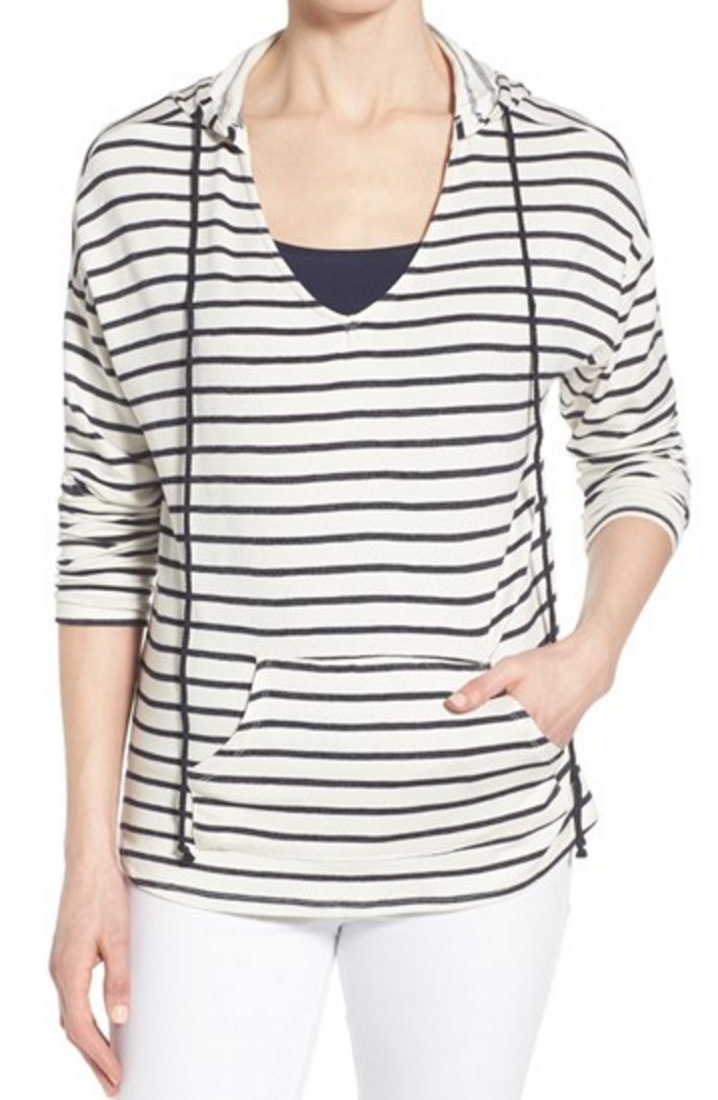 I tried to find this in store and couldn't but think I will order it. I LOVE a good stripe and the preppy/nautical look is so cute for this time of year It will look cute with the army green shorts for summer nights, too. And it's under $30 right now. It also comes in a pretty pink and mint color. And on a random note, I tried on this bikini top and  love it. I don't think I'll get the bottoms (not really down with a white bottom) but I will pair this with bottoms I already have.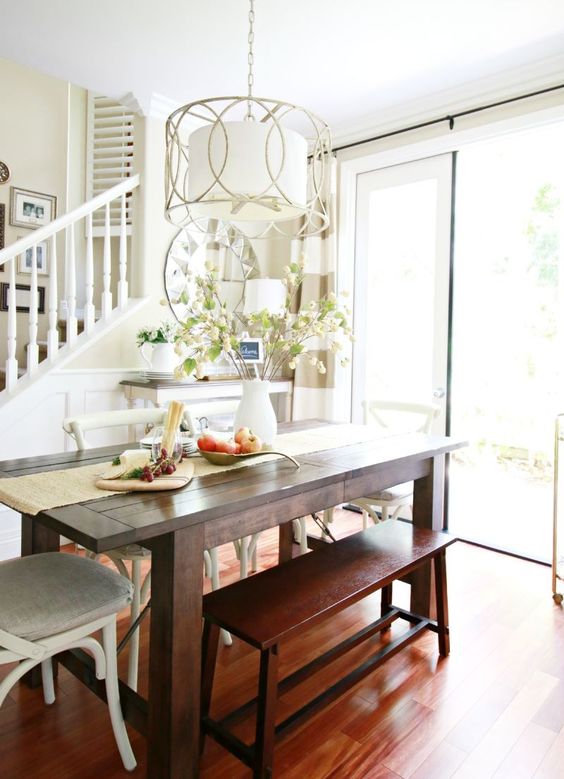 In home decor news, I am always asked about my striped drapery panels. They were a DIY (a very time consuming DIY) but I found an awesome pair for only $60. What?! And they come in super long lengths which is always so key. Seriously a fantastic price. They received excellent reviews, too. Our dining table is on sale this weekend as well.
Nordstrom: 40% off items and triple points through today.
Loft: 40% off and my striped sweater is now $30!.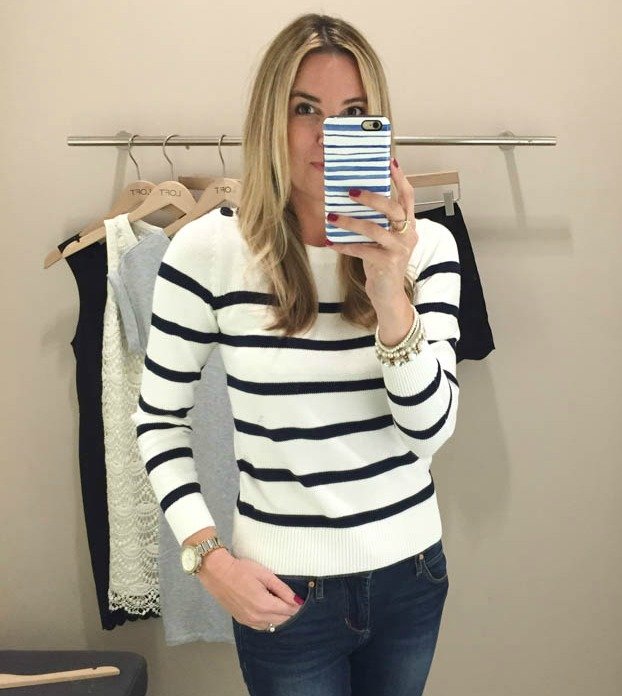 Anthropologie: 25% off sale prices. This tank is so feminine and pretty.
Enjoy your Easter weekend. I hope you are able to spend it with family and friends. Today we celebrate my brother's birthday. I am sure he is whooping it up in heaven. Toasting to you today, Tim. Love you.
*affiliate links used