Hip hip hooray, it's Saturday! Did you all have a good week? I had a bit of a panic attack because our house looks like a tornado hit. The downstairs is fine but if you go upstairs proceed with caution. I have come to realize that if you focus only on family time and activities for the kids, the house falls apart. It's just a fact. So this weekend will be part cleaning and part partying. Obviously looking forward to the latter. Turning to Saturday Shopping, I have such fun dresses to share with you and this lace number is one of my favorites.
Classic and a bit preppy. Love this dress. I am all about the details so the chambray collar takes this dress up a notch. I also really appreciate how the hem is softly scalloped. This one is similar but with a little cap sleeve.
These block heels are going to be a summer staple. In fact I will be chatting more about these in an upcoming post. They are by Franco Sarto which is always a win for me. He makes such well made shoes and they are always so comfortable. I bought a half size up only because the front strap seemed to tight over my toes but I have a super high arch. The 8 works for me as long as I have the buckle fully tightened.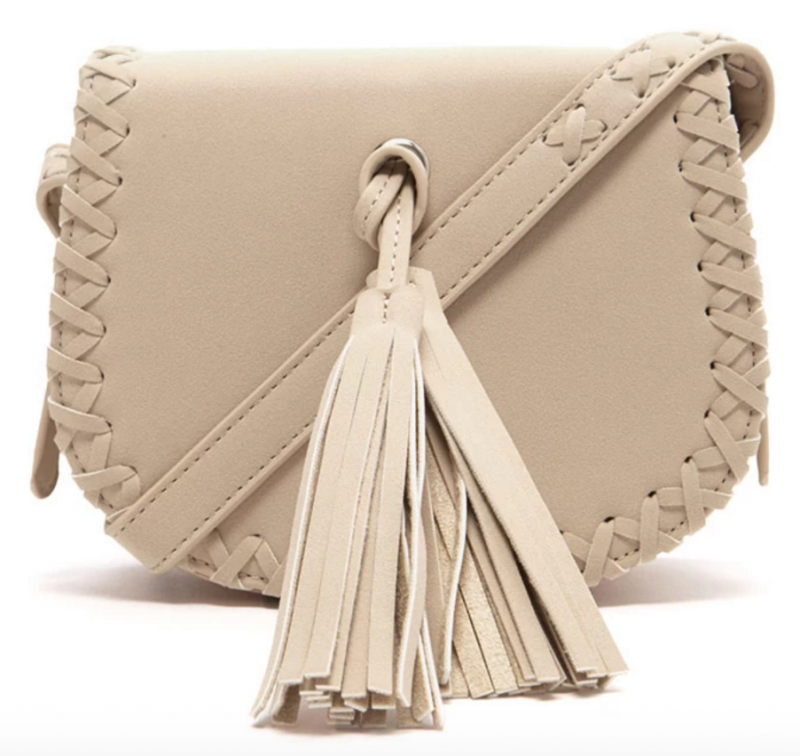 The handbag was such a lucky find. Are you ready for this? It's only $23. What?! And it's really soft. I think it looks much more expensive than that. And such a nice size to wear with dresses because it doesn't overpower the look. I love the soft color and tassel detail.
For reference, I am wearing a 2 in this dress and I am 5'7″.  It is also available here.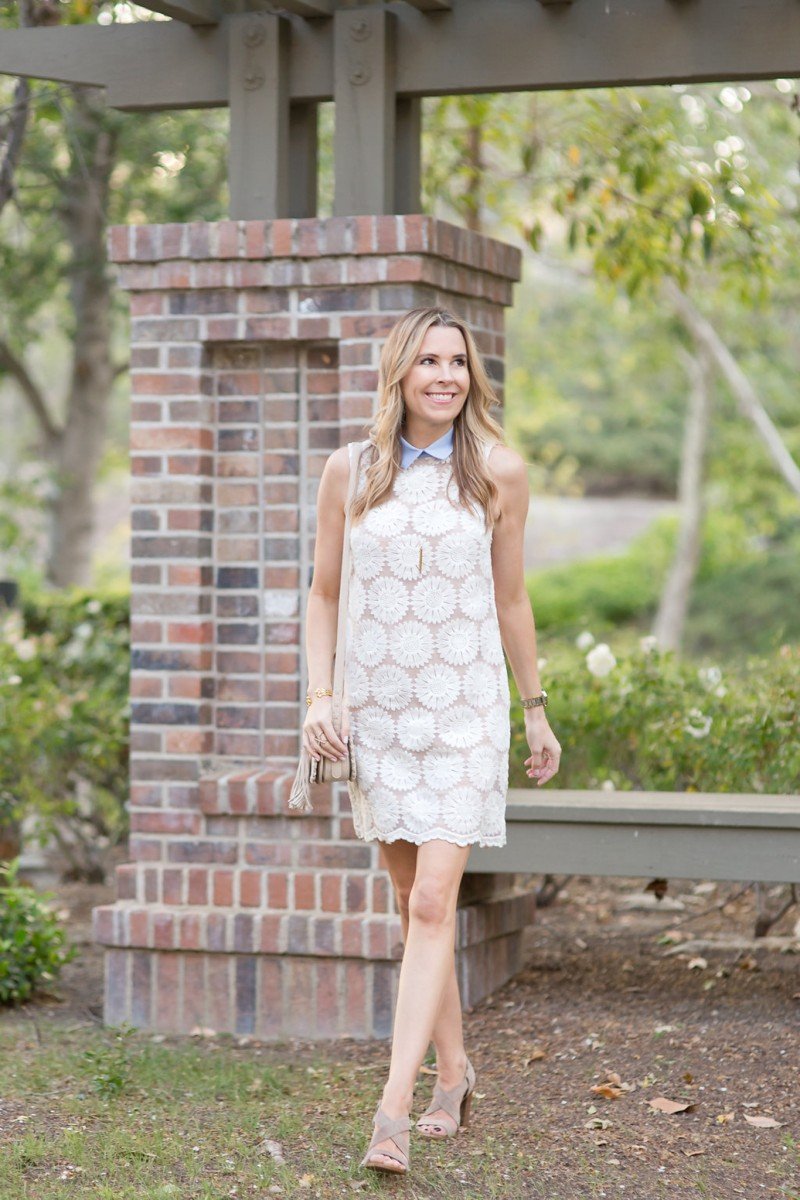 Shop This Look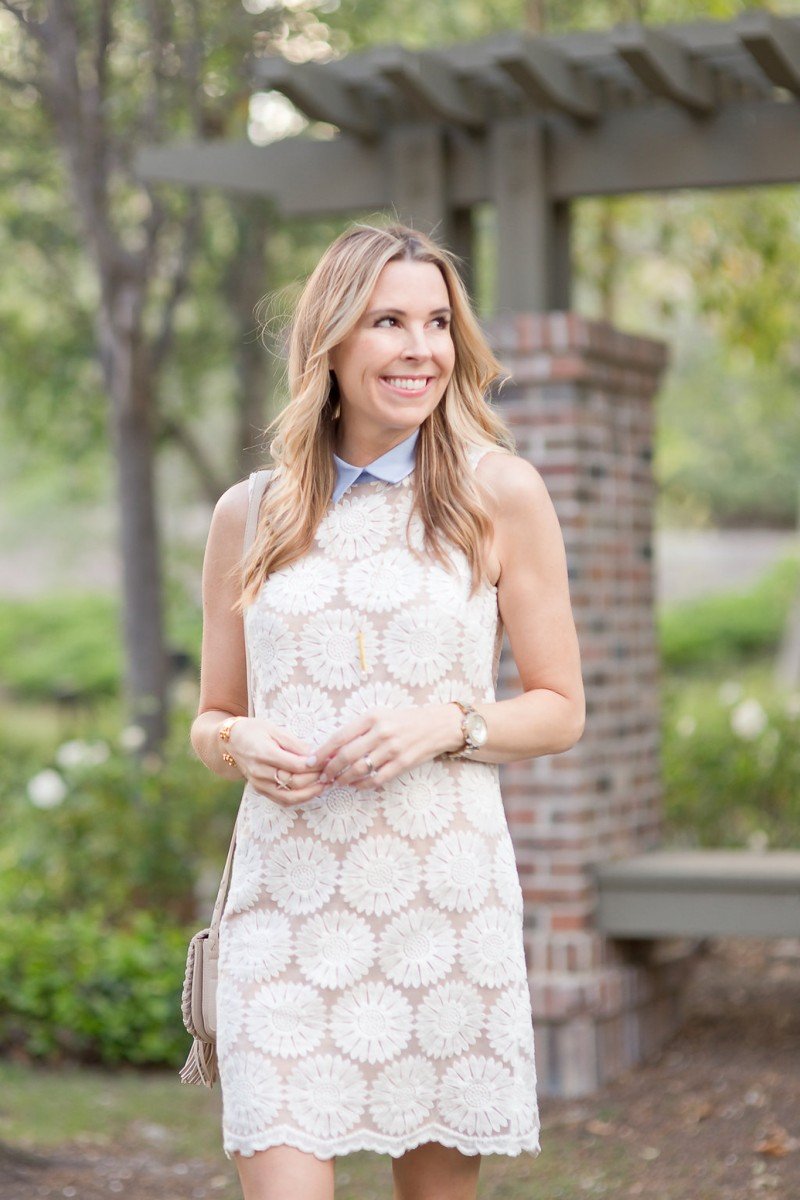 photos by Gabi Wells
dress here and here | handbag | sandals | ring | necklace | watch
After the "What's in my Makeup Bag" post, I tried a new foundation and LOVE it. I don't wear it daily, but when I dress up or take photos I do. Even by the end of the day my face isn't shiny so it's a huge win in my book. Was happy my readers and other bloggers shared about it. This is why I love this community so much!
I love this time of year because our weather allows for dresses and shorts. I think a dress is just so darn easy. No outfit planning other than accessorizing. Below are some really cute dresses that have caught my eye. This one is so darn cute. I love a basic chambray dress but the cut is darling. You can click the arrows to scroll through.
Darling Spring Dresses

click the arrows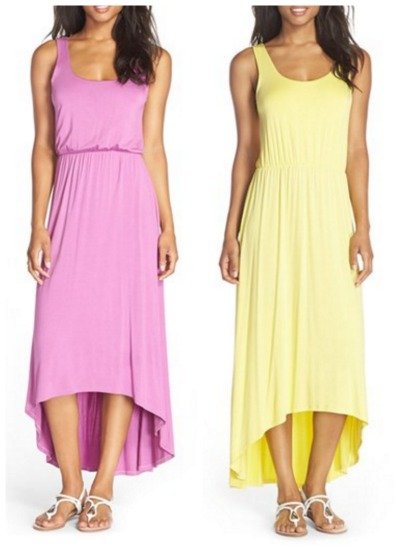 This is such a cute and flattering cut for a dress. The pink and yellow are on sale for $40. I may have bought the pink one! It comes in other colors, too.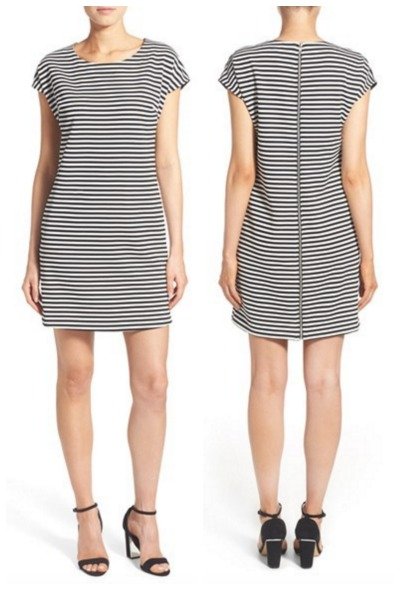 And how cute is this? Only $40 on sale right now. Love me some stripes and detail on the back!! Yes, yes, yes!
And lastly, here are some cute spring tops all at great prices. Especially love this comfy tee. 
Shop Spring Tops

click the arrows
Sales Around Town:
Anthroplogie: Extra 25% off sale prices. Code: XTRAXTRA This dress is darling.
Loft: 50% of Spring favorites and sale prices.
GAP: 35% off regular priced items. Code: APRFUN
Pottery Barn: 25% off Clearance!!!! I am drooling over this but have nowhere to put it.
Hope you all have a very nice weekend.
*affiliate links used