Good morning! I had every intention of giving you an update on our bathroom yesterday, but there wasn't much of one to give. Once I have more to show I will be sure to do so. What are you up to on this holiday weekend? We chose not to make any major plans so it feels good to just enjoy the time. Rounded up some of the best Presidents' Day sales as well as things we are loving lately for this week's Saturday Shopping. Grab a warm cup of coffee or tea and let's get to it.
AMAZON FINDS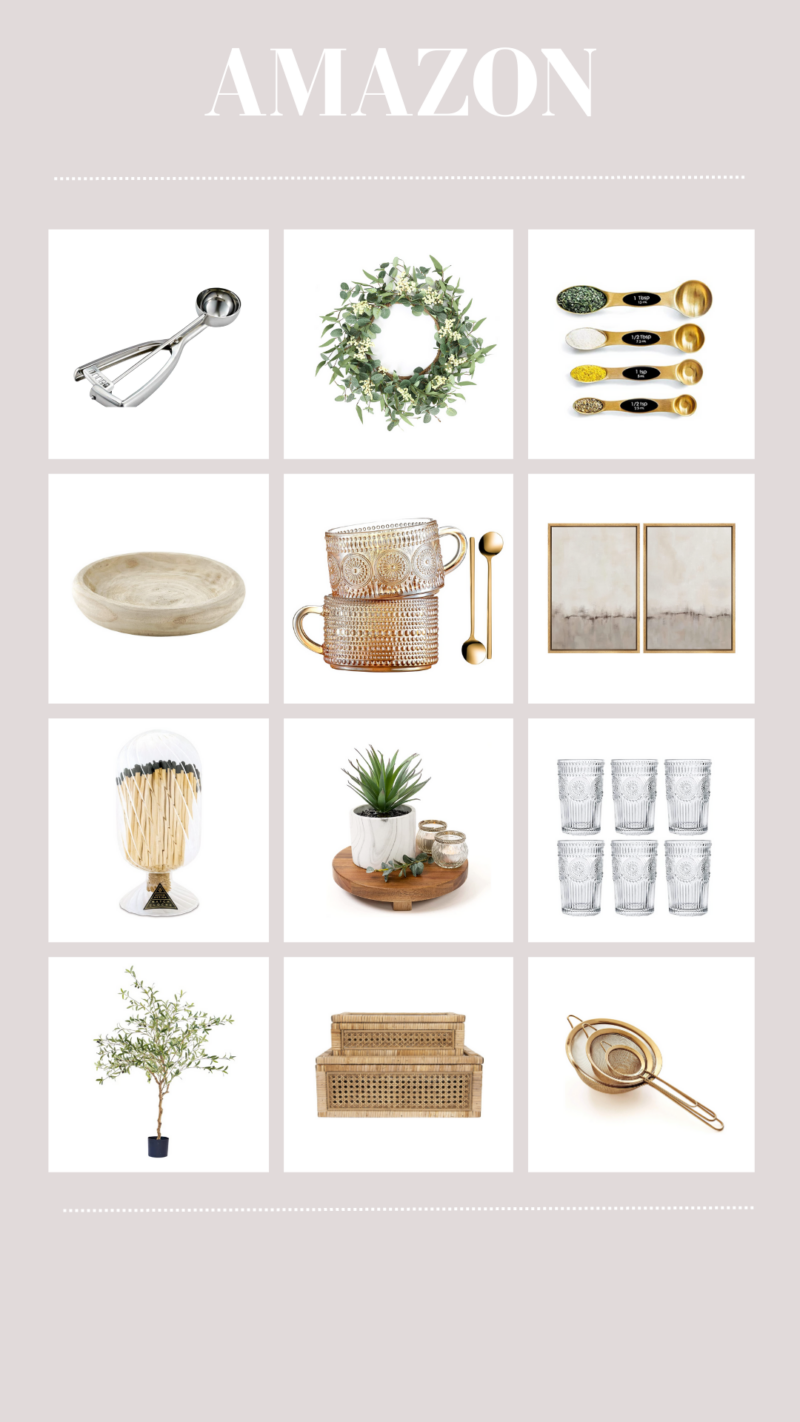 IN OUR HOME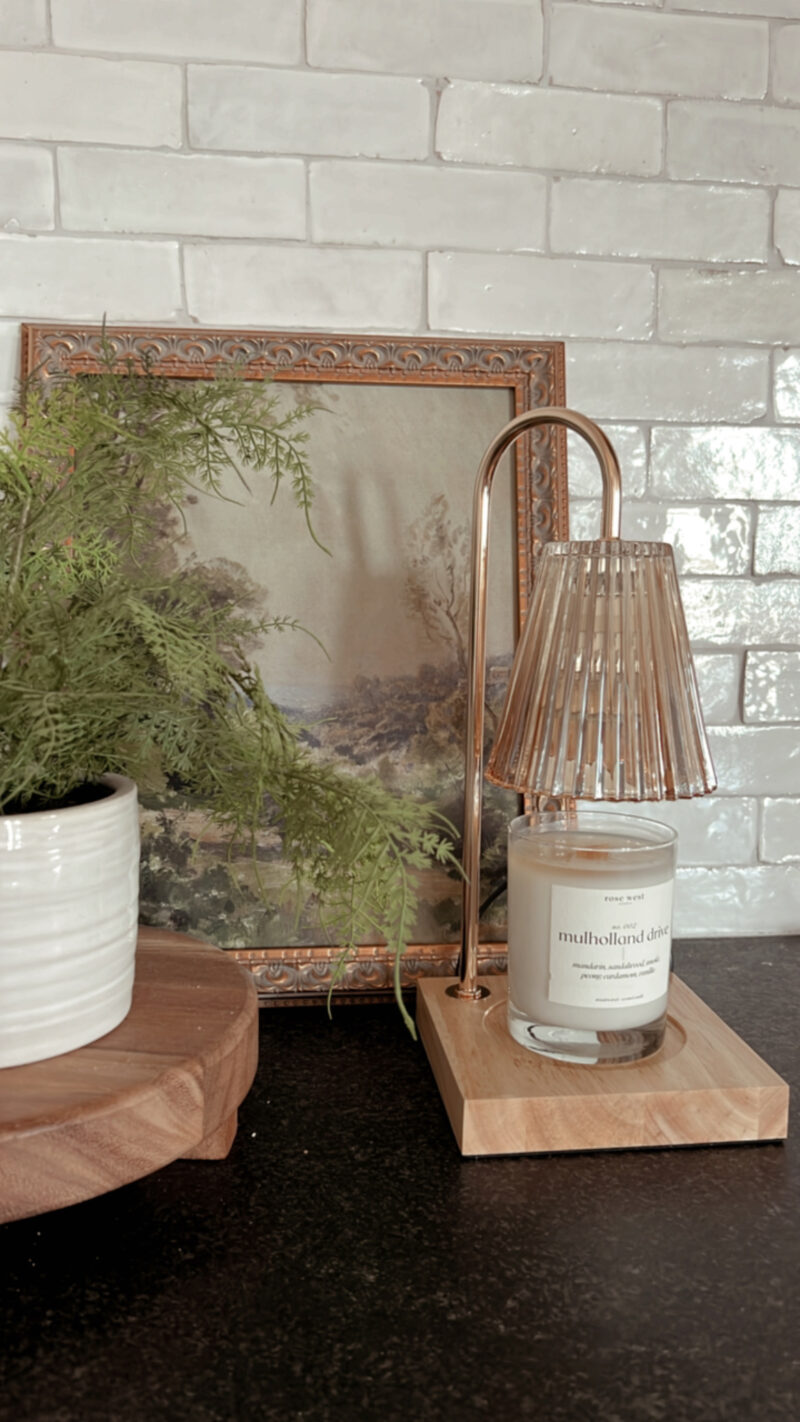 This is where we have our wooden pedestal and the faux plant is Target. The candle warmer is honestly so genius ( no flame necessary as the warmth of the bulb melts the wax). My daughter now has it up in her room and there is no fear with lighting candles.
My frame is a great Amazon find. I placed the art over the glass (found the art online and had it printed at FedEx for $5).
MCGEE & CO. 25% OFF SALE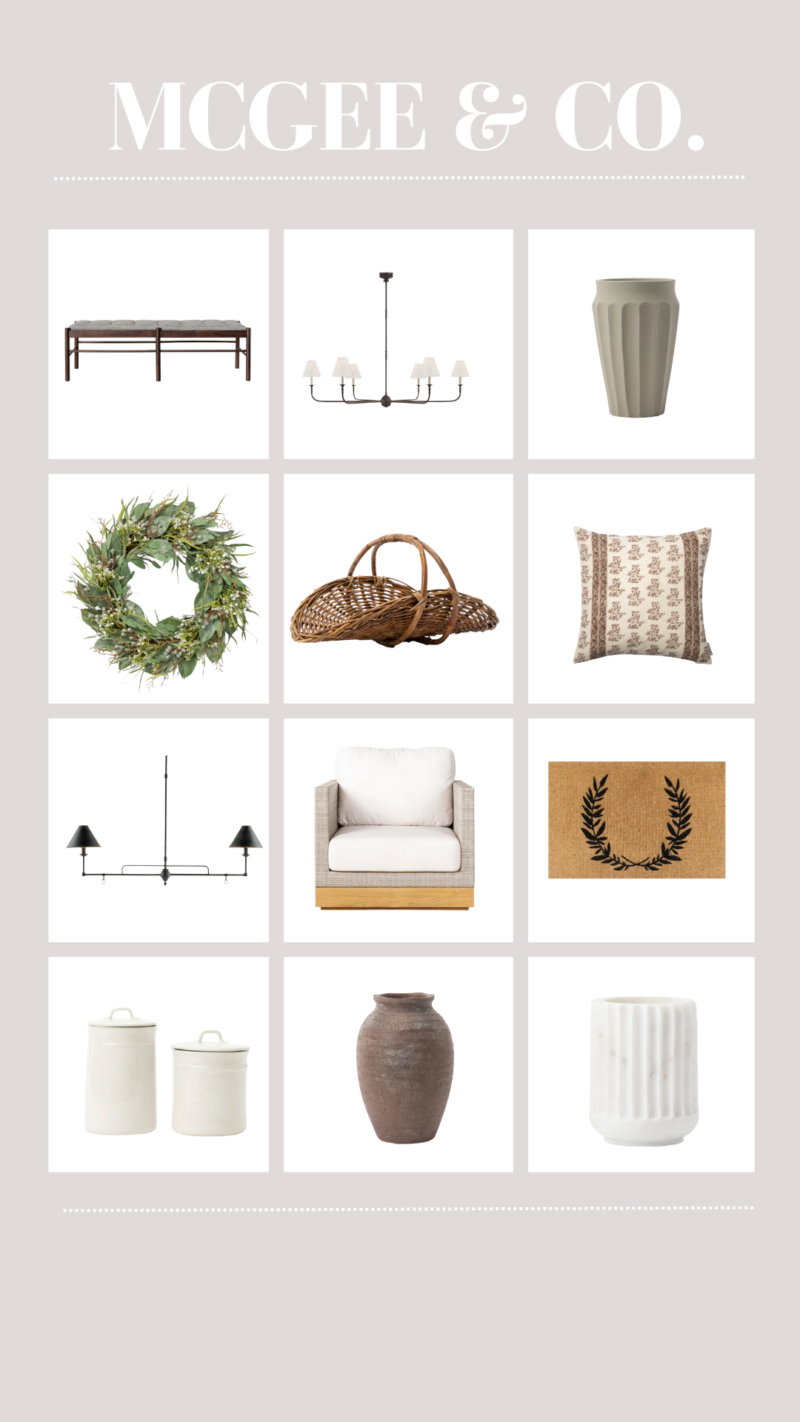 I love everything McGee and Co. curates. Of course we all know it's pricey, so it's during these sales that I usually make a purchase if I have been eyeing something special.
OUR CHANDELIER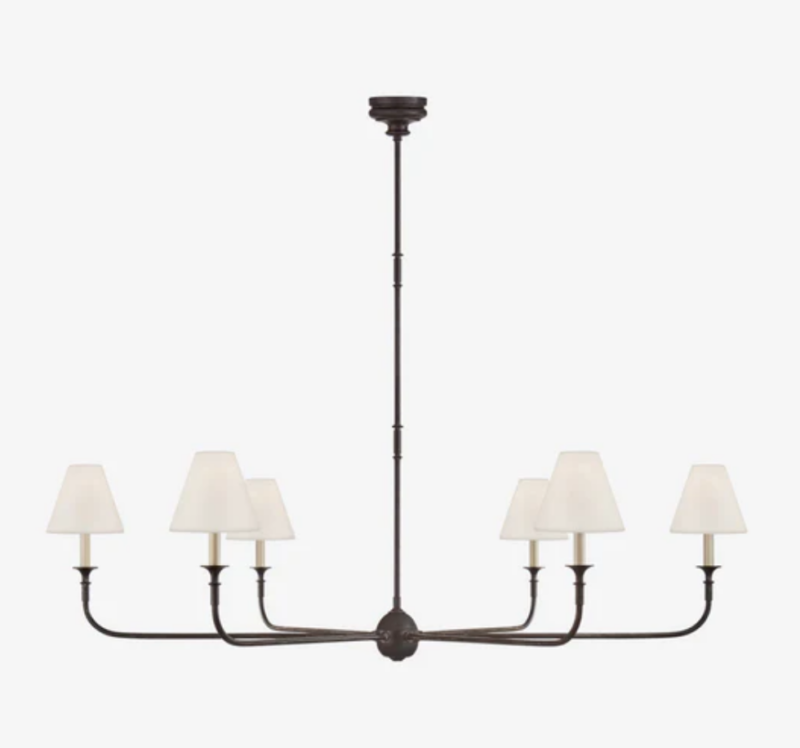 This is one of the most asked about pieces in our home. We love this chandelier. It comes in two sizes and is currently 25% off.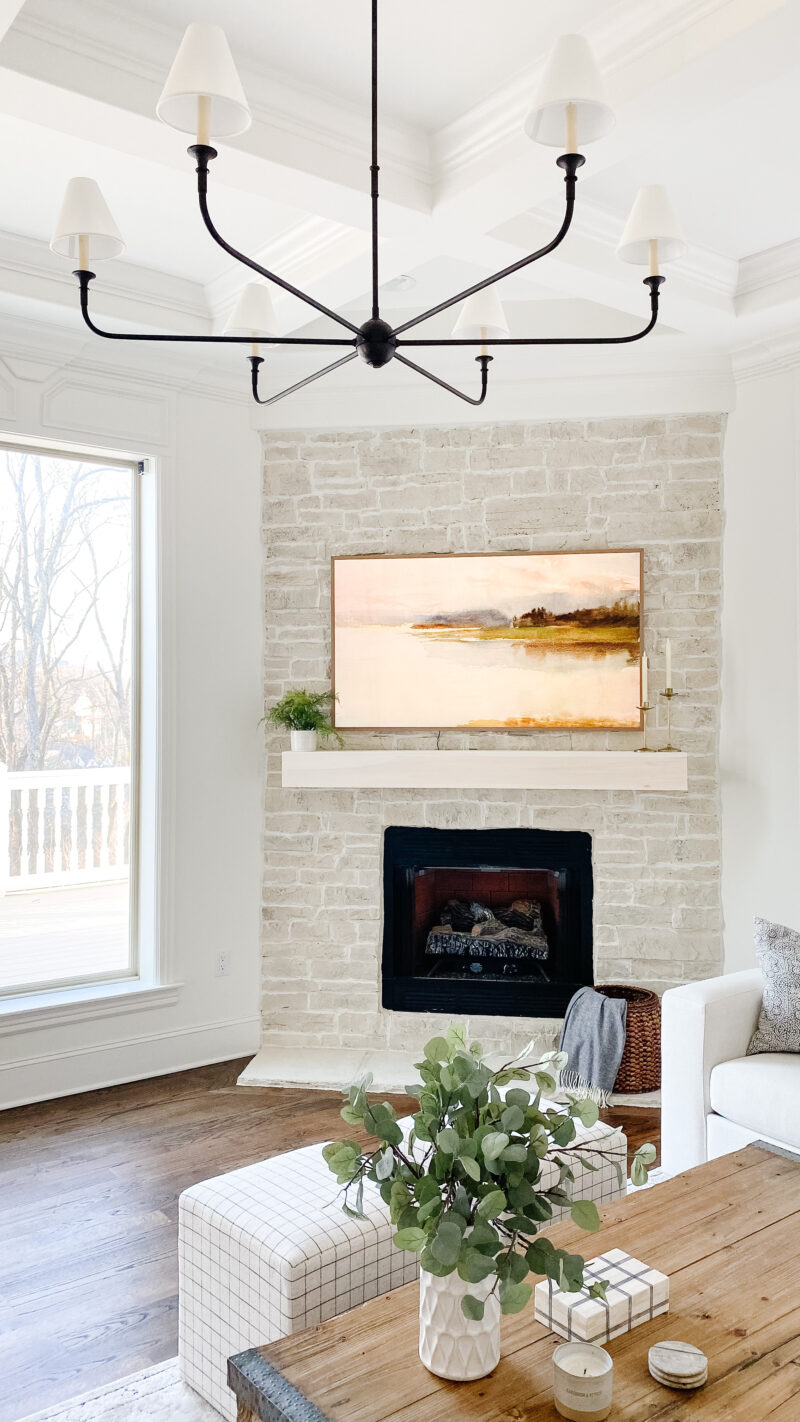 A look at our chandelier. These ottomans have been wonderful, too. Our fireplace makeover is broken down in this post. The set of Eucalyptus branches is $20.
BEAUTY OF A BENCH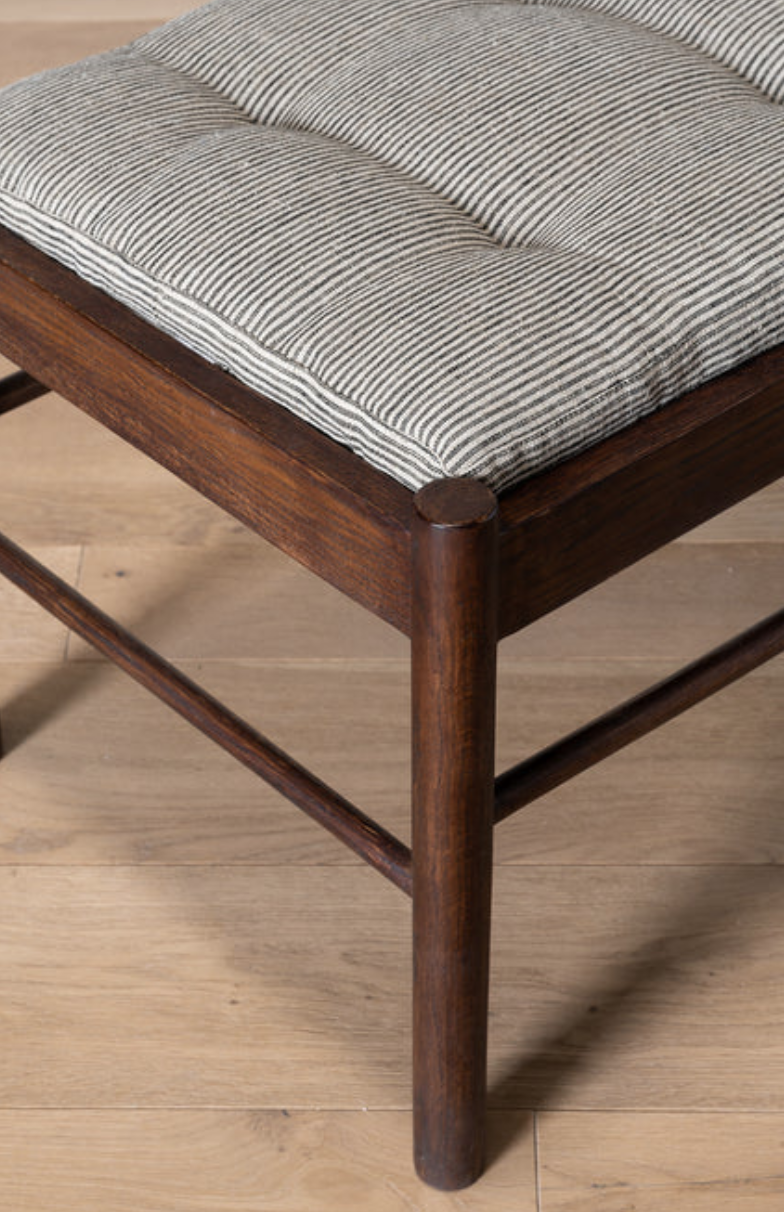 I did treat myself to this beautiful bench. For months I have been going back and forth so when the sale popped up, I went for it. The dark wood, the great length and the darling pinstripe cushion had me. It has already shipped and I can't wait to see it in person.
TARGET 20% OFF SALE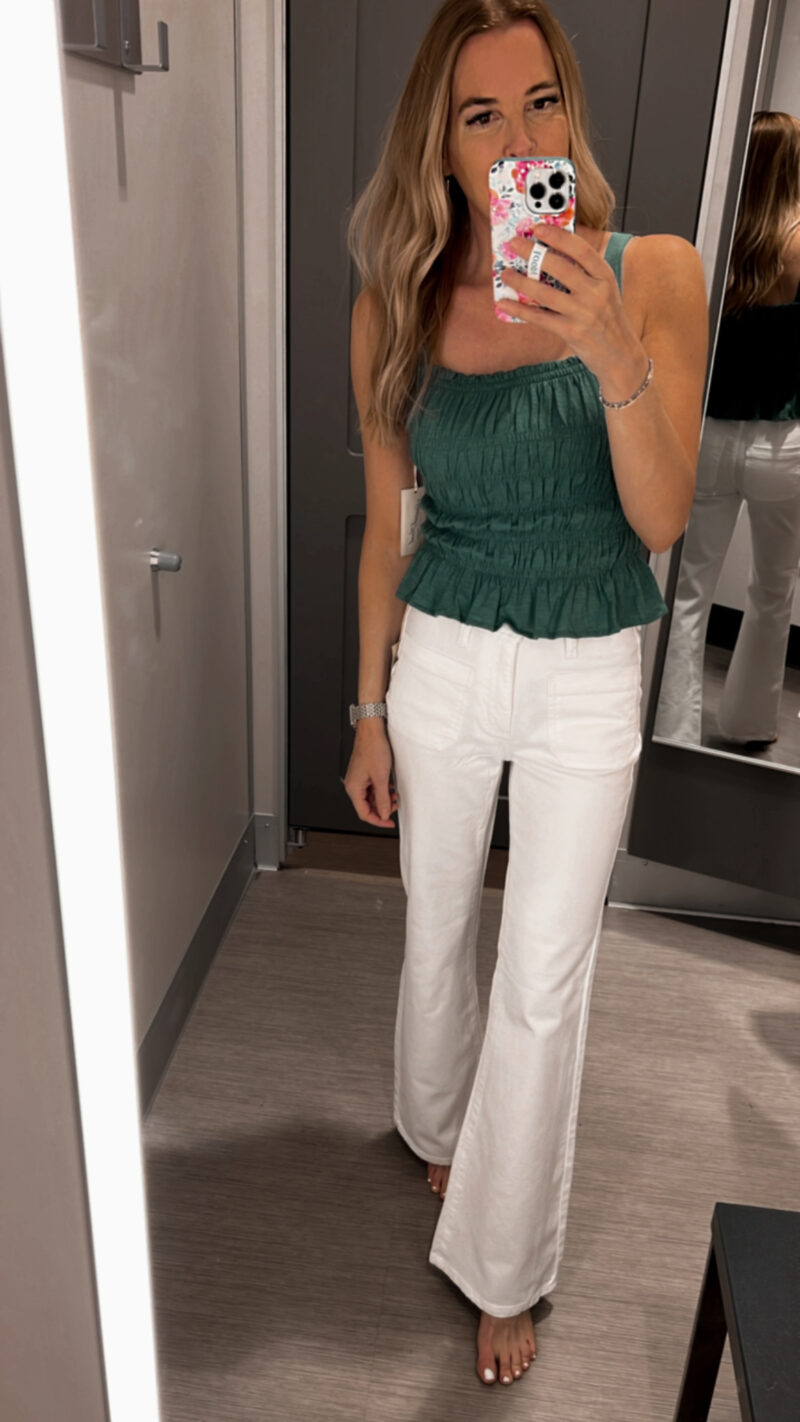 Ladies, snatch these jeans up. They are on sale for $28. If you want the denim you are in luck as they are in stock (waiting for mine to arrive). If you are wanting the white, input your email and you'll receive a message when they are back. The fit is so flattering and I love the pockets. I went down one size in these. The green tank can be found here (go up one size. . . this is the medium).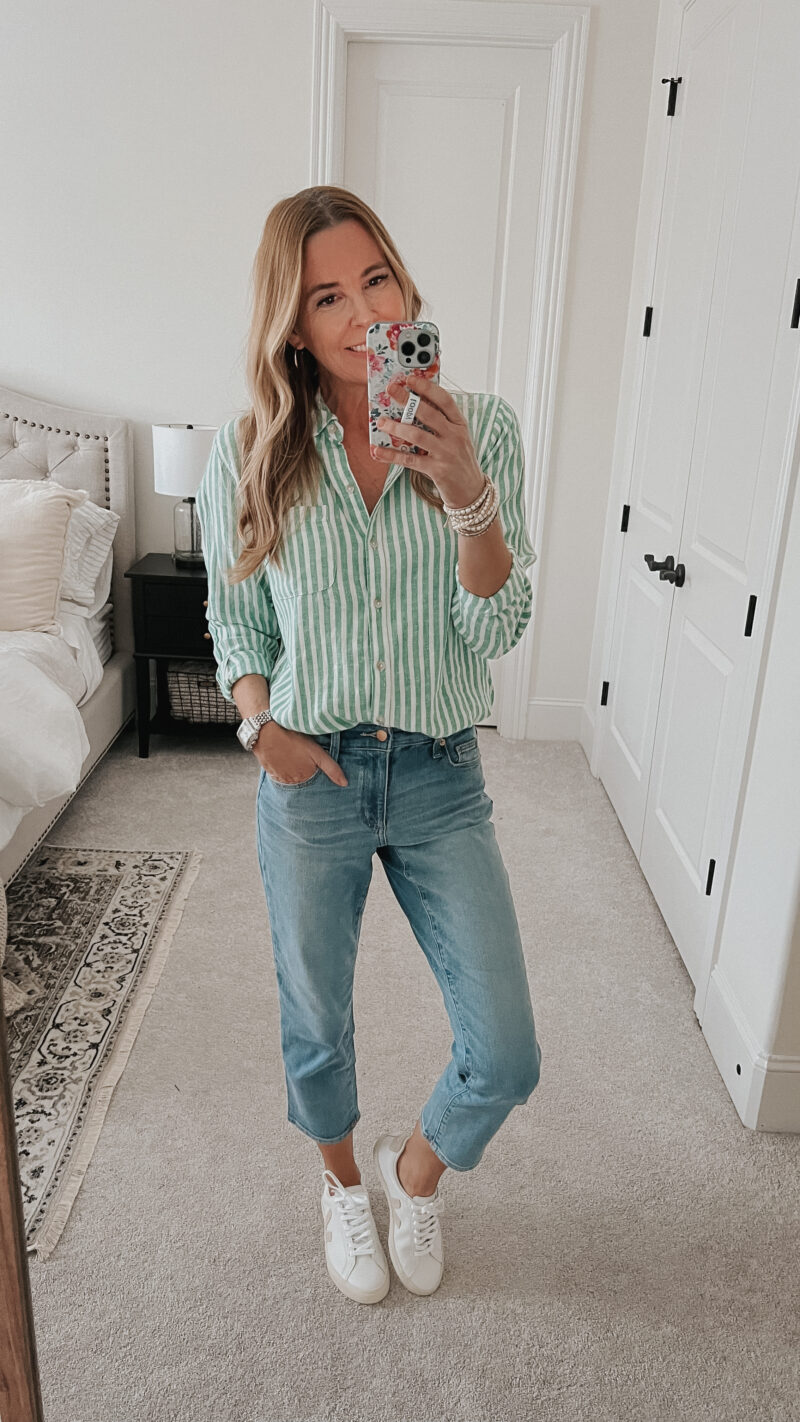 These jeans are $23 this weekend. That is an awesome price. This green striped top remains one of my favorite purchases. The sneakers are a splurge but I wear them all the time. Love this neutral color for warmer months.
LOFT SALE – UP TO 75% OFF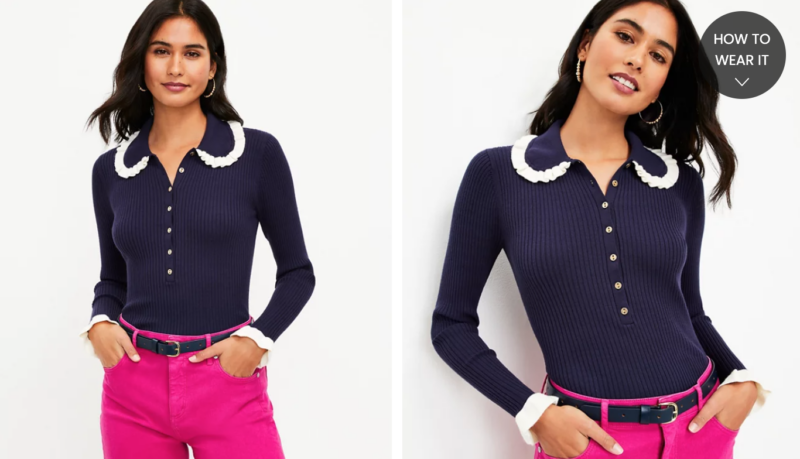 Such a darling top! I love everything about this and it's marked down this weekend from $70 to $41. It also comes in a green and white version.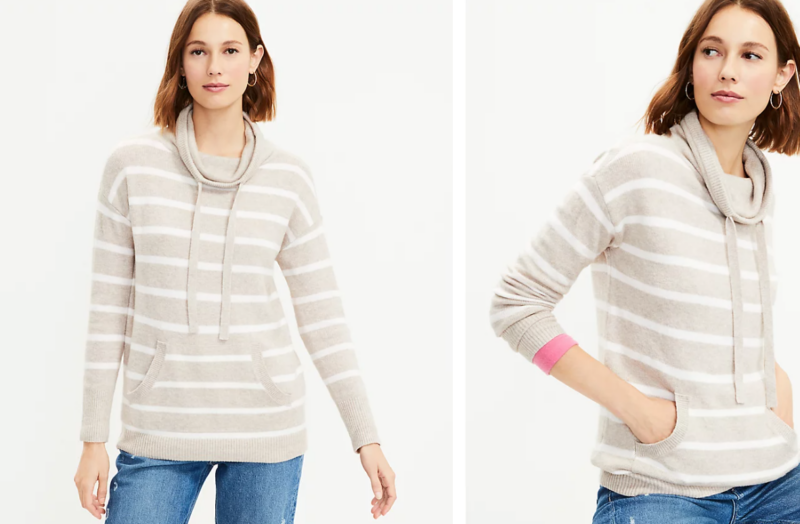 Are you ready for this? This sweater was $75 and is now $16?! That's awesome. Love a classic stripe. So cute with denim shorts in Spring, too.
Same with this beauty. Was $75 but now $16. Love the pink.
Looking for a cozy sherpa pullover? This one is $16.
It's absolutely worth checking out the deals at Loft. Here is a quick way to shop the sale:
ANTHRO SALE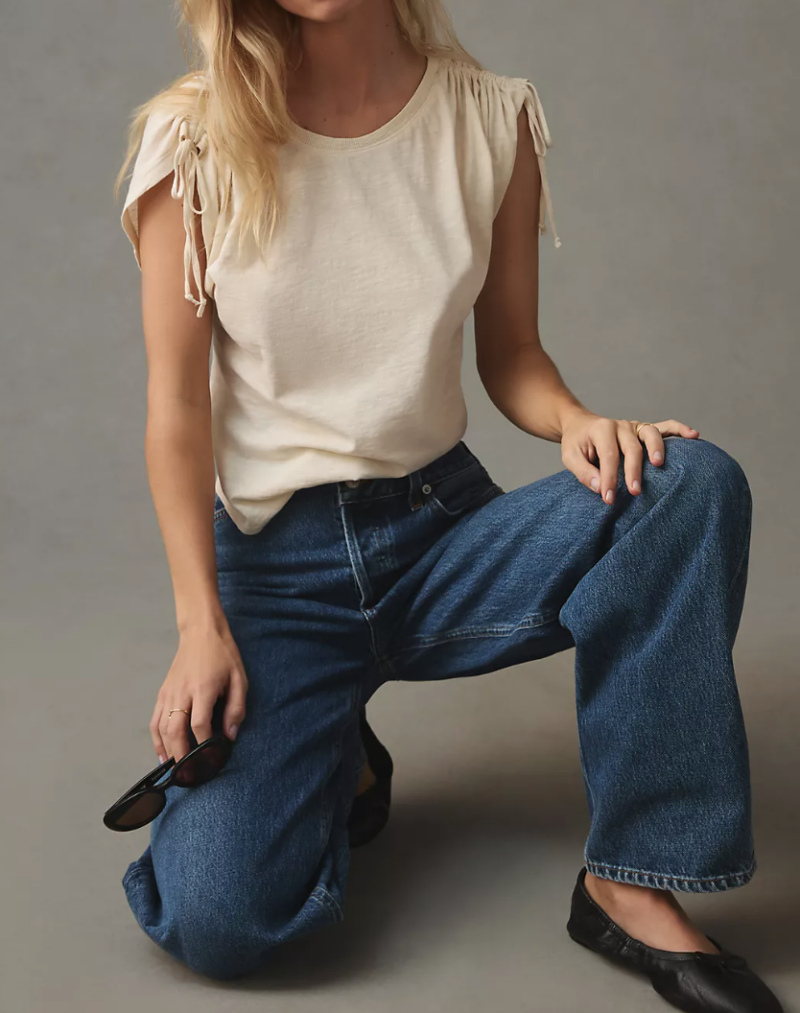 All about the feminine detailing and this top is marked down to $39.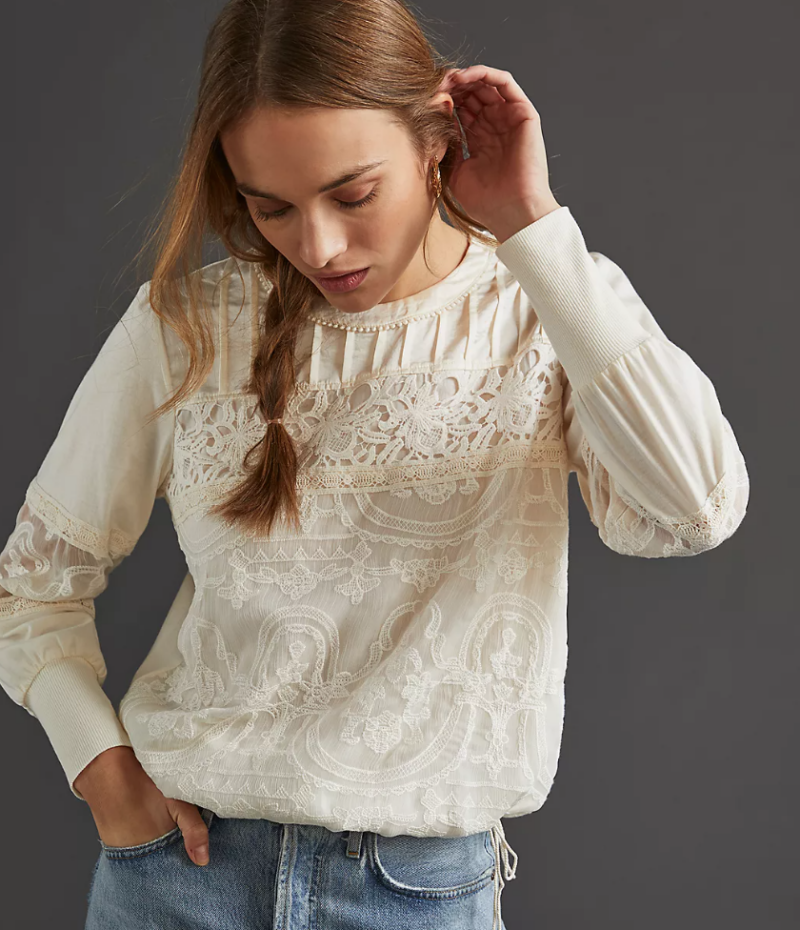 This pretty lace top caught my eye. I haven't seen anything like it. So unique and pretty.
OUTFIT UPDATE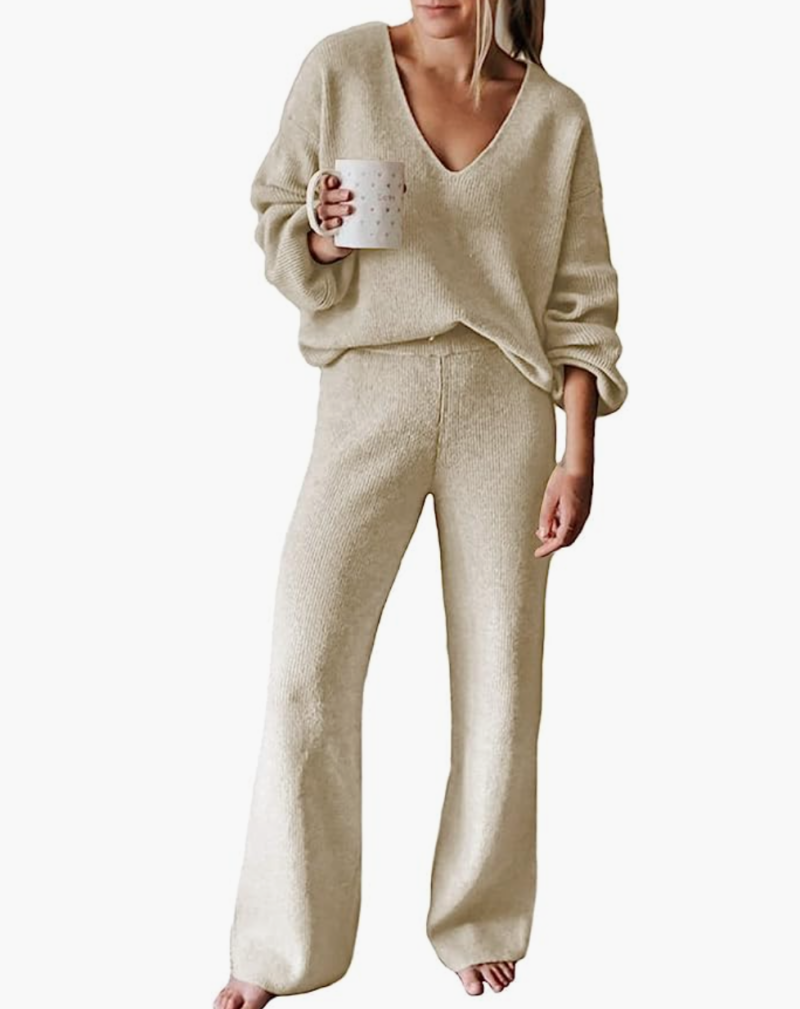 I will try and snap a photo of this today. I just washed and dried it and I love it. It just feels more pulled together while working from home, but cute enough to go out in. When I took it out of the package ( I ordered a small) I thought there was no possible way because it looked huge. But I actually really like the fit. So do not panic until you try it on. It is currently 43% off which is great.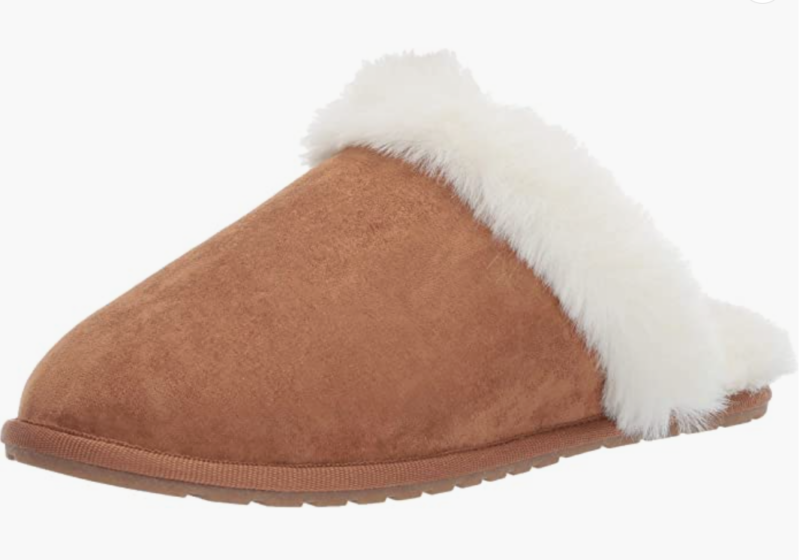 These slippers are now $13! I ordered a pair because my daughter wasn't thrilled with me always borrowing her Ugg version. These are so great to just slip on quickly and very cozy.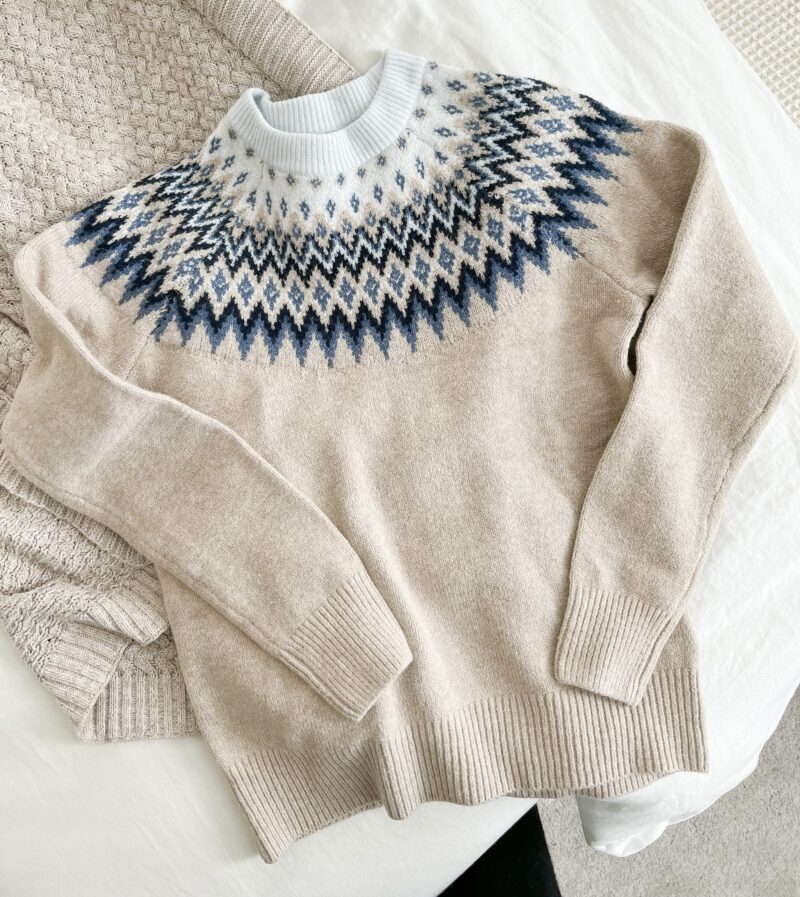 This sweater arrived and it's great. Super soft and pretty colors. Will look so cute with denim and ivory sneakers.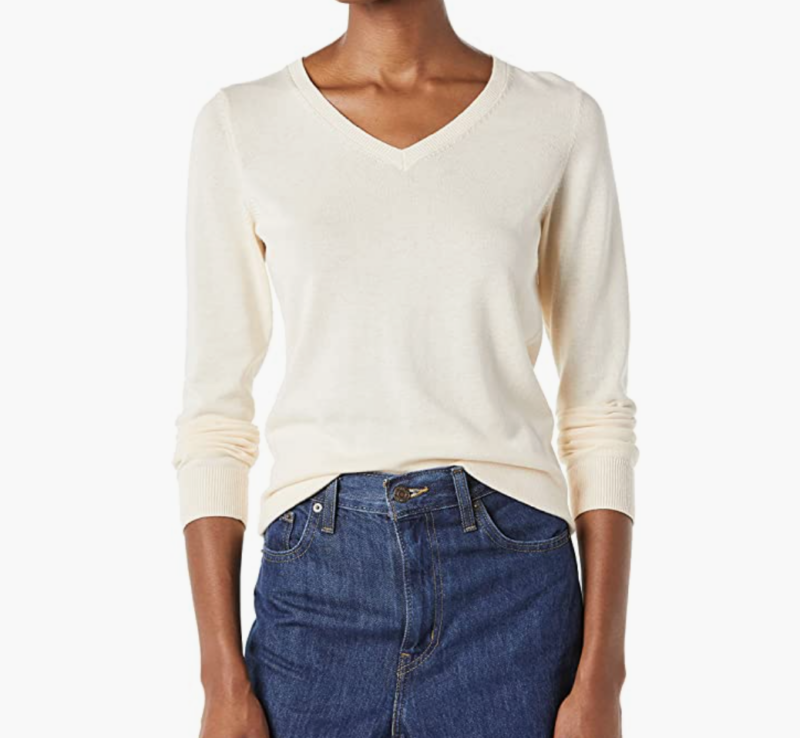 This sweater is a good Amazon deal, too. It's $20, washes well and has held up great for me. I have it in a couple of colors.
I do love my Stanley and this cream is still available. I like the 30 oz. Not too heavy to carry everywhere and stays cold forever. Really do love this and use it daily.
RUG ON SALE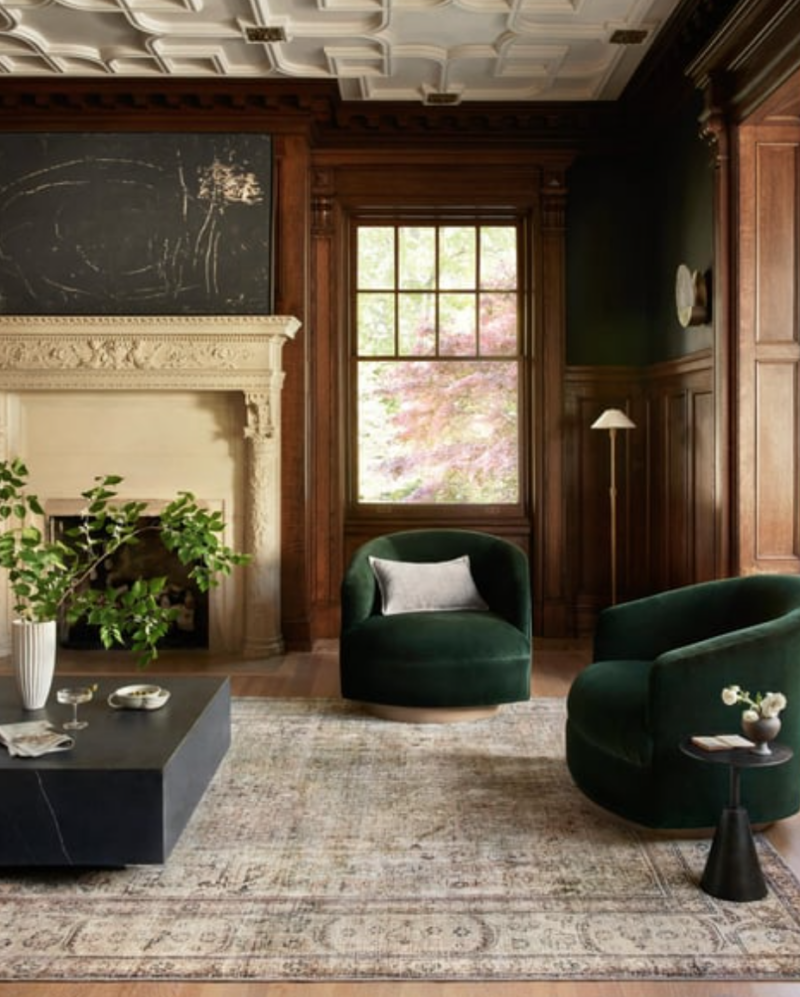 This is one of the softest rugs we have ever felt. We LOVE this rug and it's currently on sale. How pretty is this room?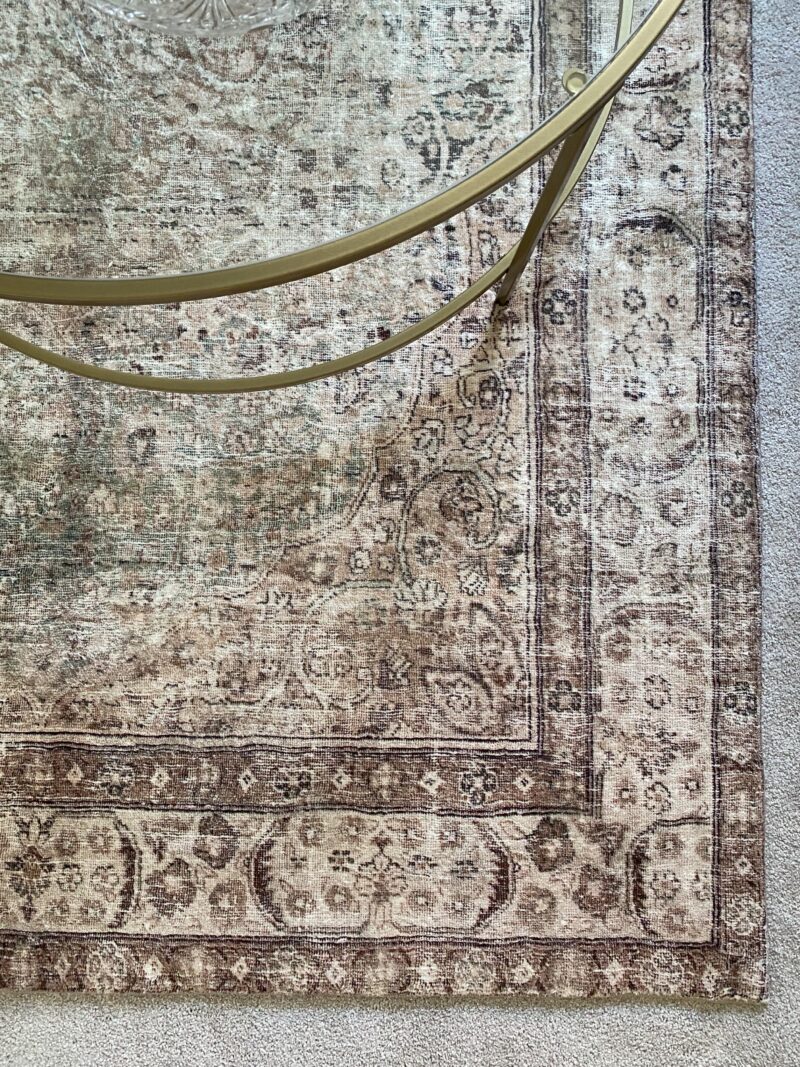 This is a more realistic photo of the colors. The predominate color in the rug is blush with beautiful sage tones. It's so good for a bedroom, office or nursery.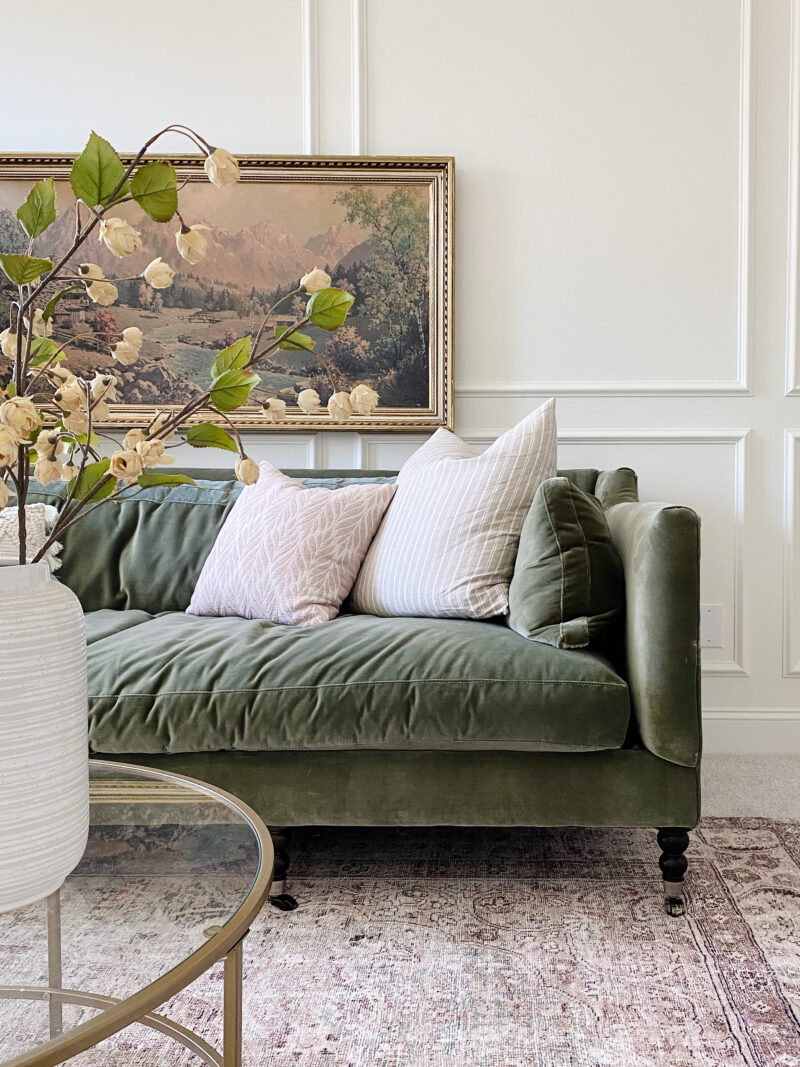 The brass and glass table we used in this room is 32% off. I also like this one with a glass bottom shelf. The green sofa is a dream and is 20% off. It's one of the first things we purchased for this home.
POTTERY BARN UP TO 50% OFF
If have been eyeing something at Pottery Barn, their sale section is a good one.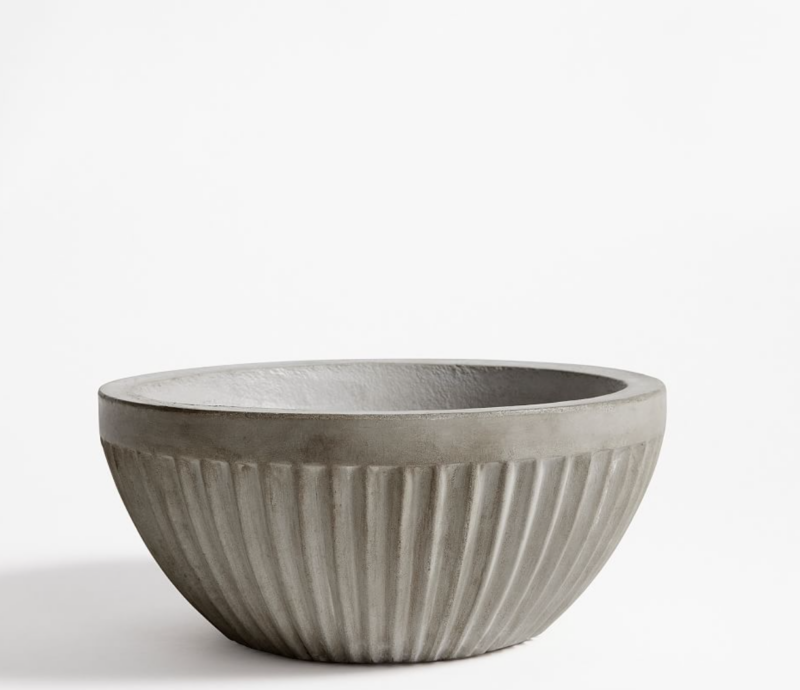 These planters are beautiful. This one was $79 but is now $38. The fluted sides are so pretty.
We love our open shelving in the kitchen. They work so well with how we live. They were made by our cabinet maker but I saw that these beautiful shelves are on sale this weekend.
We are off to the Farmers' Market. It's freezing (around 30) but beautiful blue skies to that makes up for it. Wishing you a really wonderful long weekend with the people you love the most.