Happy Saturday. Better late than never with getting this post up. Our morning definitely got away from us but no complaints here. The rain is still coming down and it's nice to be cozy at home this afternoon. In fact, I have the best lounge outfit for just this type of day and can't wait to show you.
TWO PIECE OUTFIT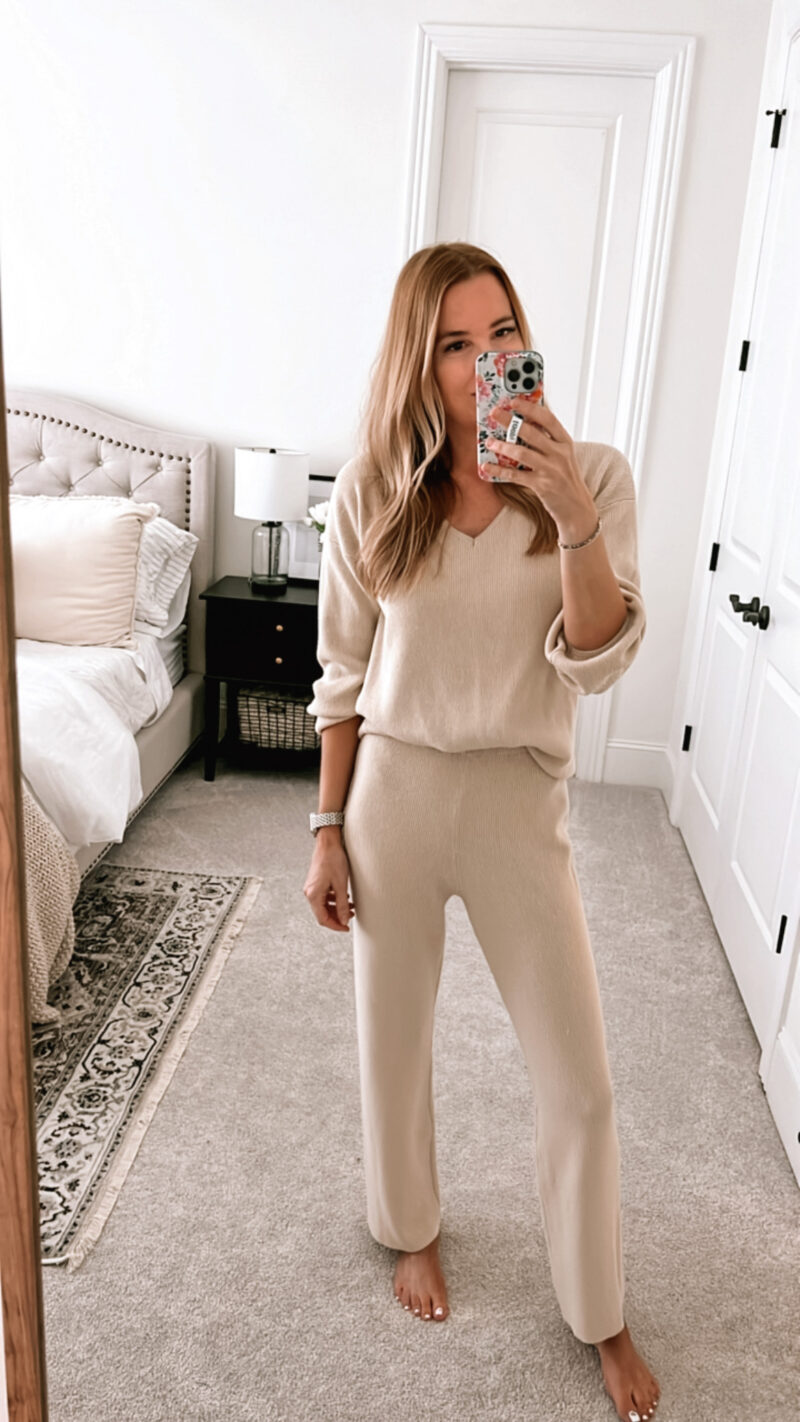 Ok, ladies. This set is GOOD. When it arrived and I took it out of the package, it looked huge. But this is a size small and I really like the fit. And this is how it looks straight out of the washer and dryer. Such a darling set for around the house or running errands. It's so cozy and comfy and doesn't feel frumpy. I like these kind of looks for working from home because I still feel pulled together.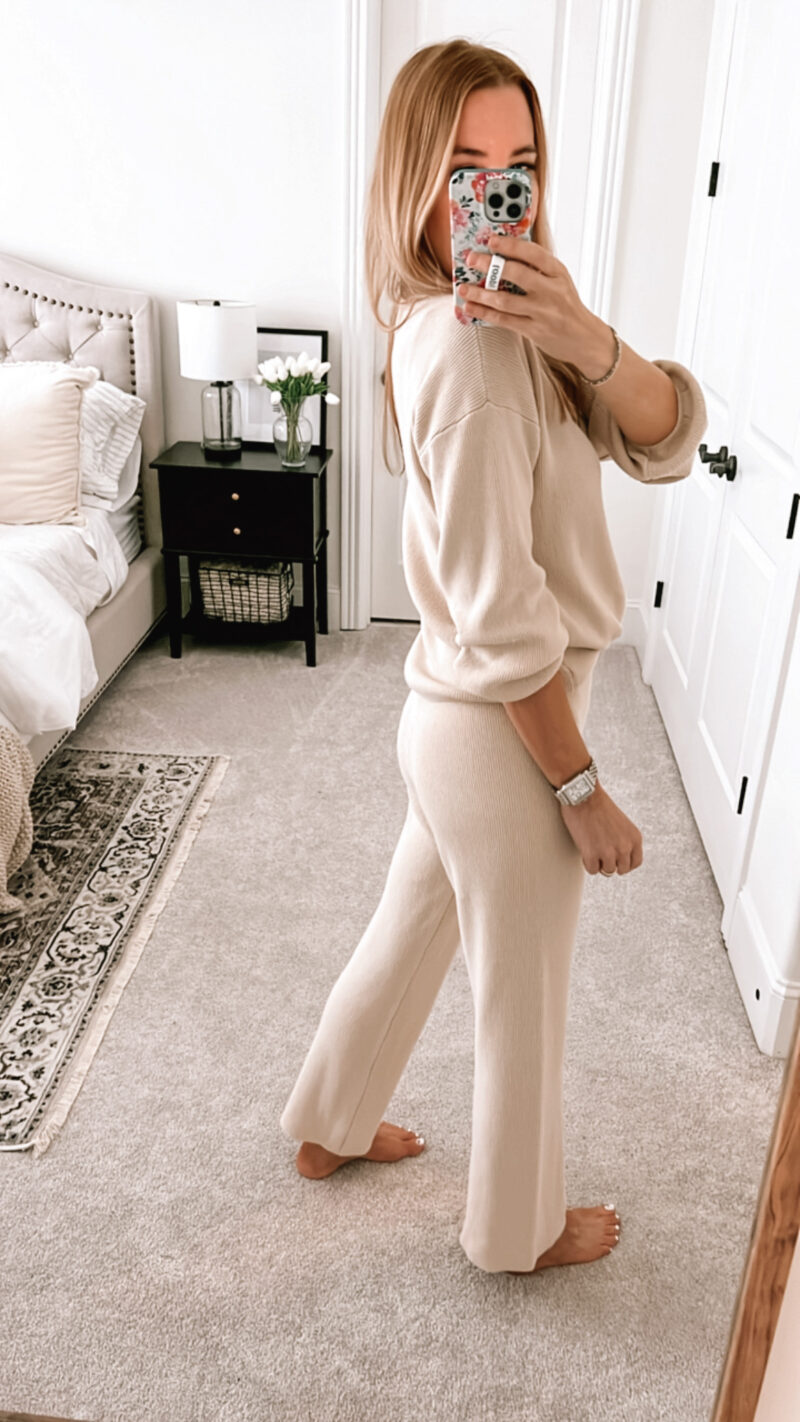 The pants are high waisted but not overly baggy so it still has a nice fit. And a pretty v-neck but not too low. I think it comes in over ten colors and is far prettier in person than in the online photos. Without a doubt, I will order another color. This set would make a great travel outfit!!
FAIR ISLE SWEATER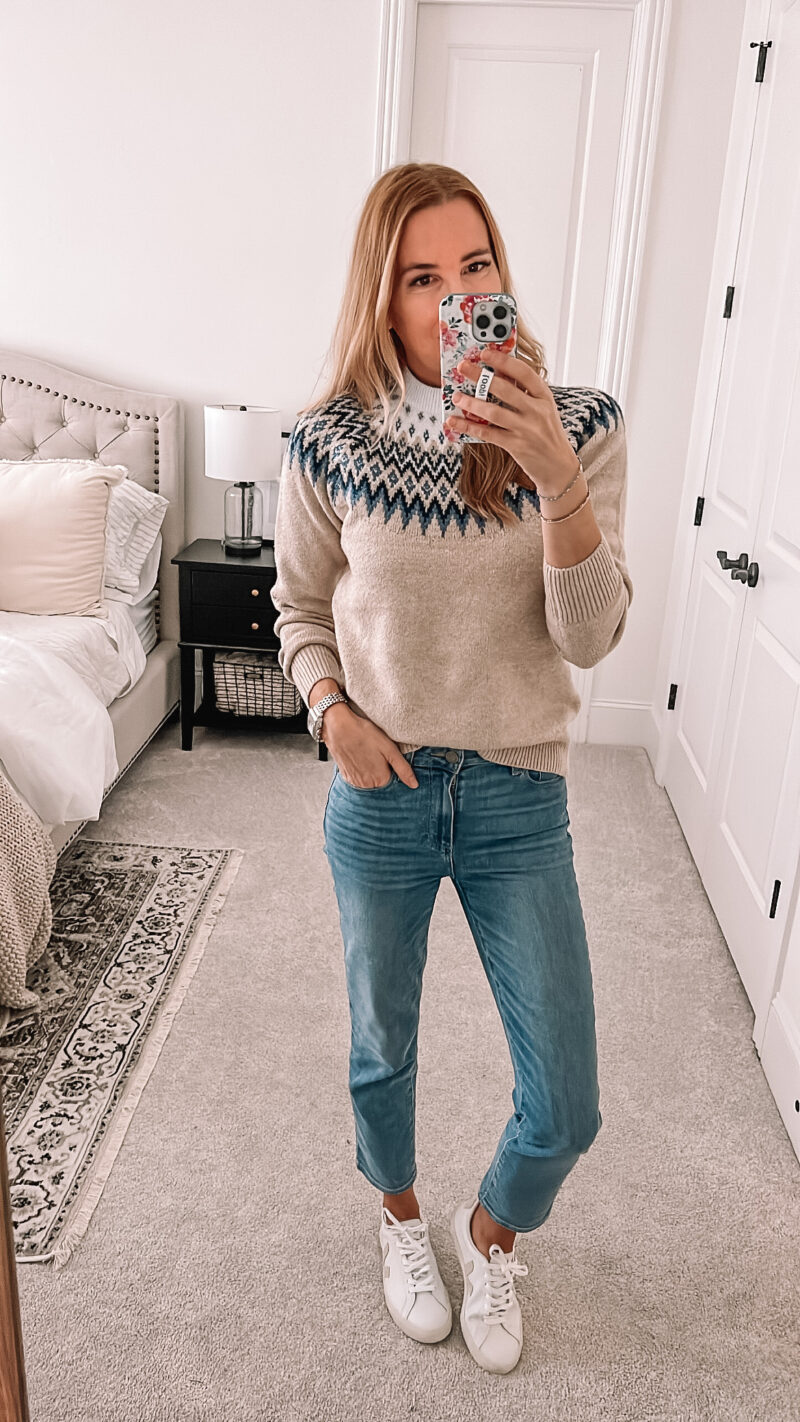 Another pleasant surprise. This sweater is super soft and I love the colors in this Fair Isle number. There are plenty of options and it is true to size (this is the small). I like how this particular one pairs with denim. These sneakers are great for the warmer months and go with everything.
AMAZON JACKET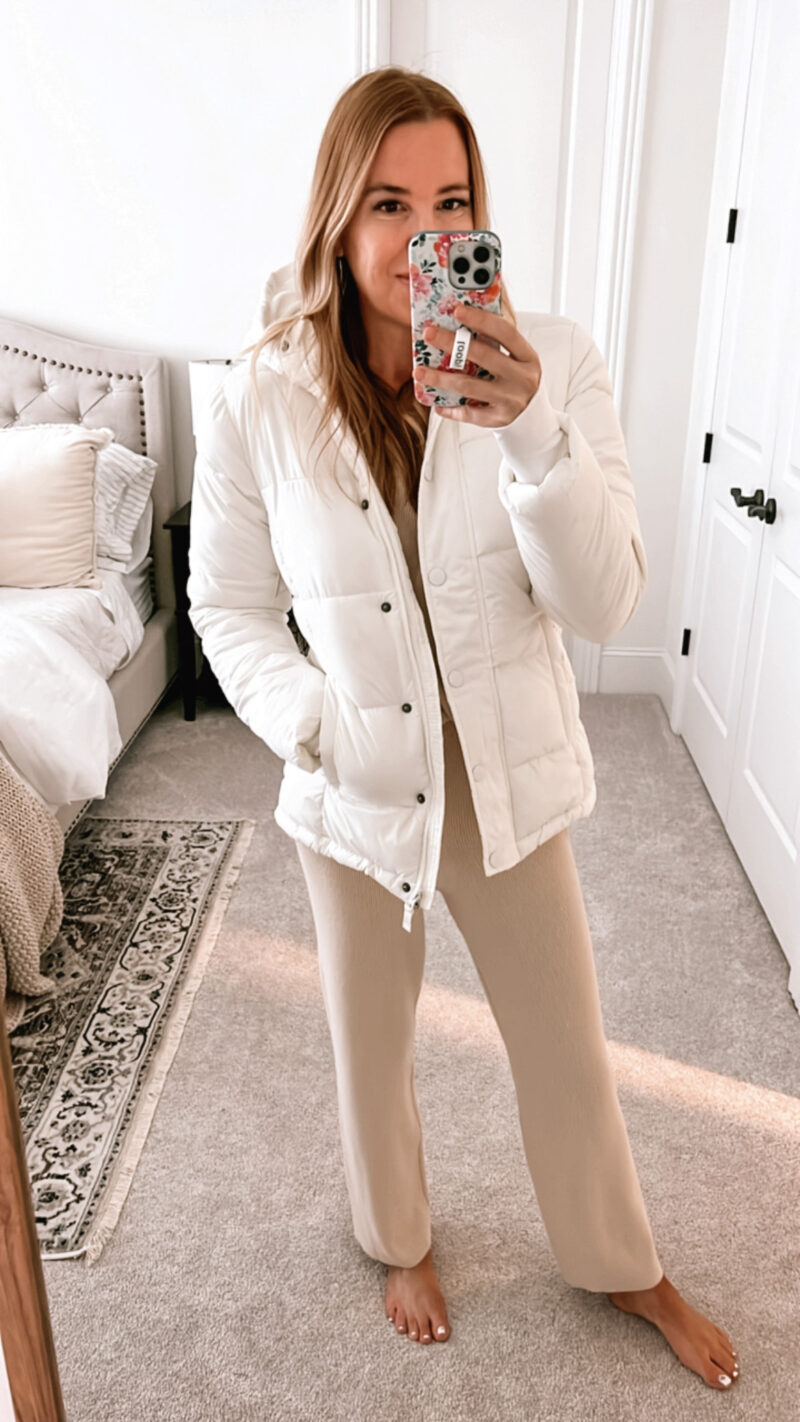 I have to say I was pretty shocked with this jacket arrived and I tried it on. It's a great coat. Great weight to it and fits really well. Actually bough it for my daughter for an upcoming ski trip. I love that it's a puffer without being huge. This is the XS (good for my daughter) but I would order a small for myself so I could wear a sweater under it and still zip it up comfortable. I would say it is true to size. It comes in so many colors. It's currently on sale and $40! Great deal.
ANTHROPOLOGIE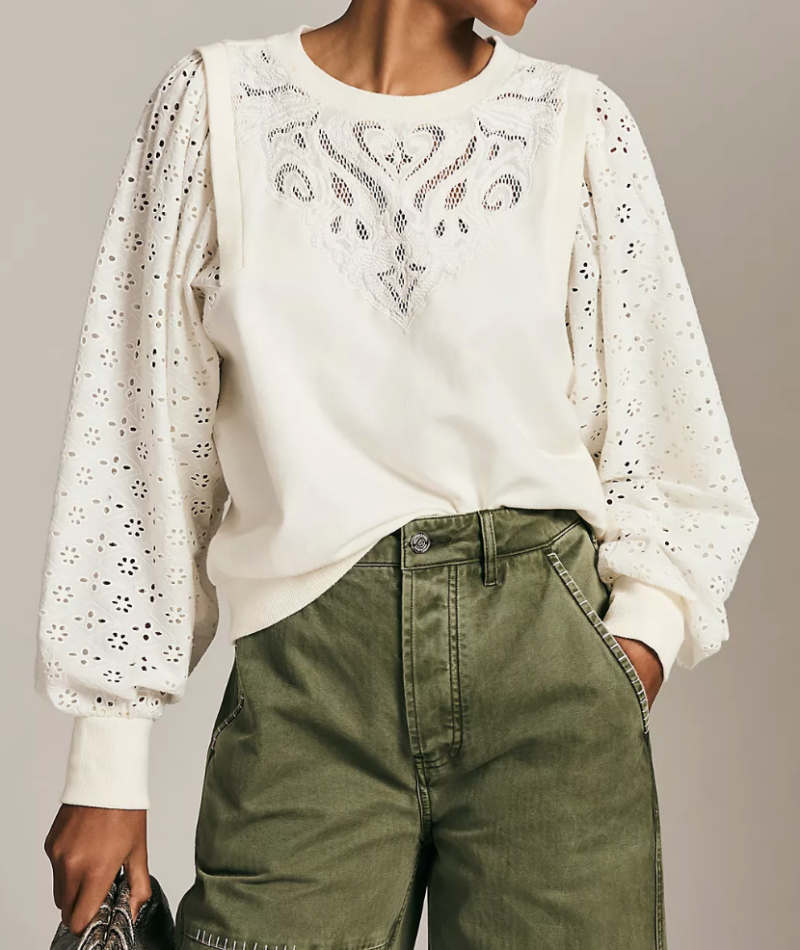 Love this pretty sweatshirt. Anything unique and feminine is a win in my book. And so cute with denim.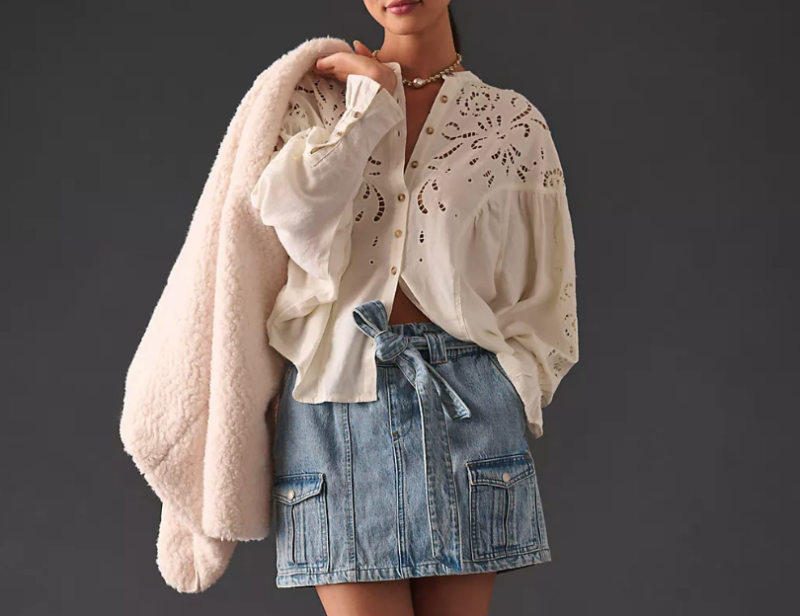 This is another great top on sale. So unique and pretty.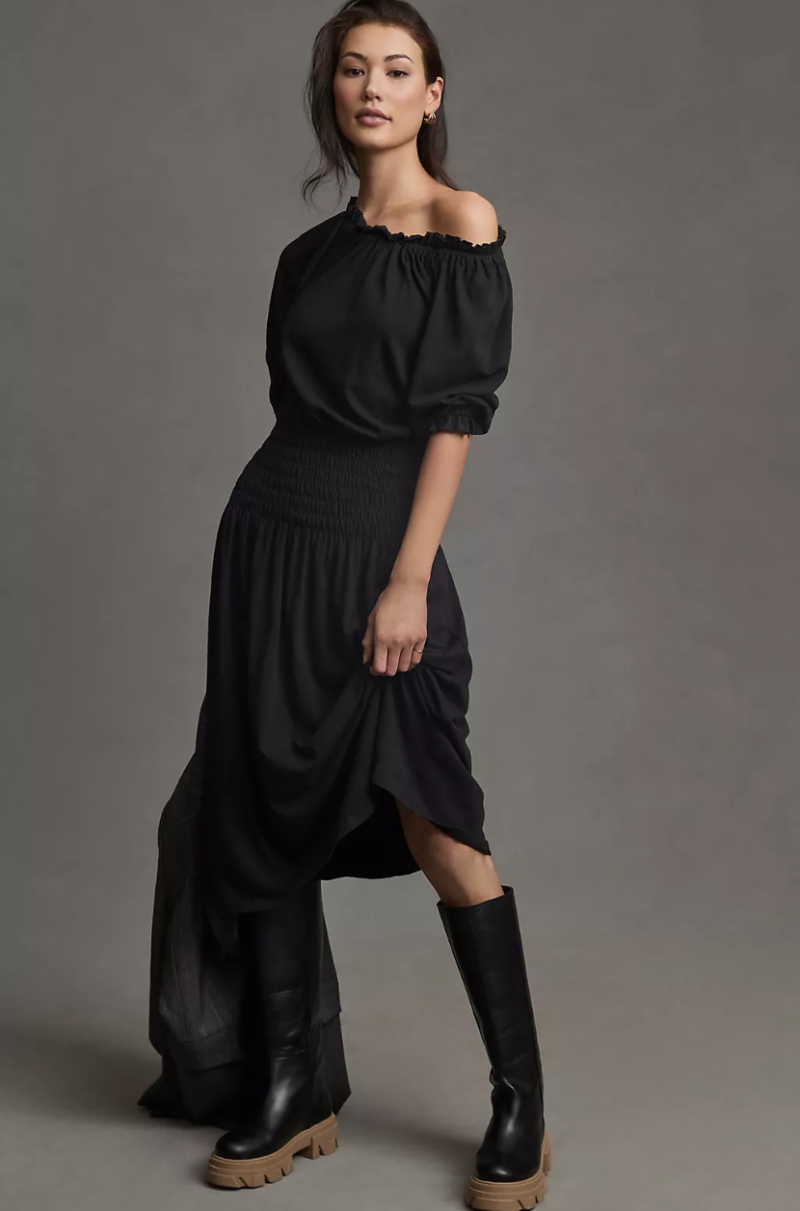 Not sure I would pair this with rain boots, but this sure is a darling dress. And a flattering cut.
SUMMER SANDALS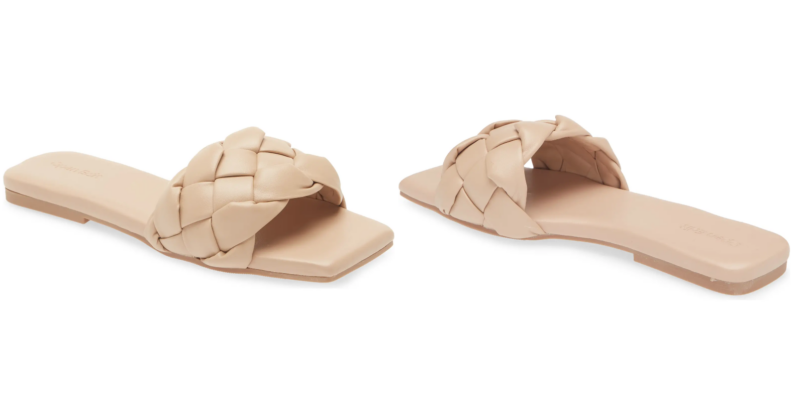 We had a couple of days of gorgeous weather and it had me thinking about summer sandals. These sandals are $40 and have fantastic reviews.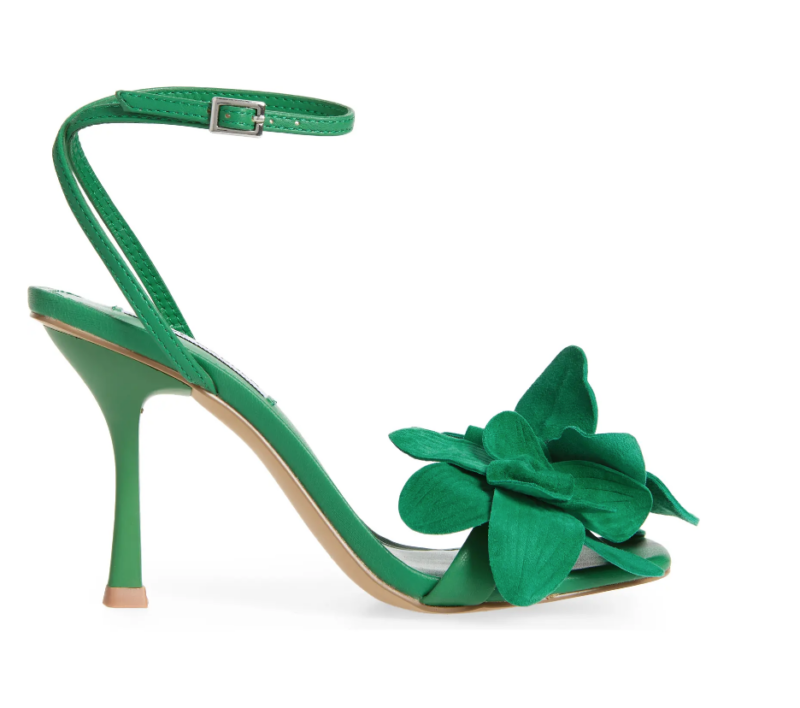 Practical? No. Darling, yes!!! I love this statement heel. These would look so pretty with a white summer dress. Just so fun and I love this color. Definitely a statement shoe and could be amazing for wedding guest season.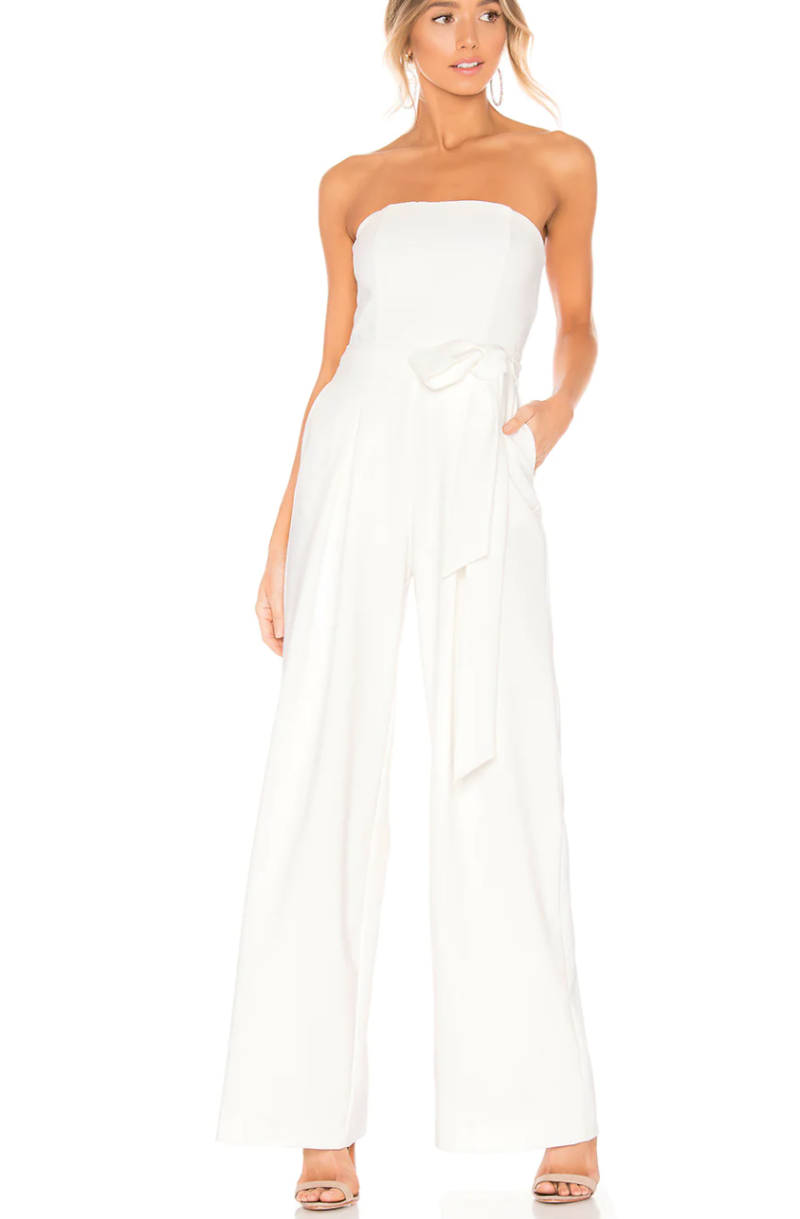 Speaking of white, this jumpsuit is a stunner. If you have any fun events coming up in the warmer months, this could be amazing.
LOFT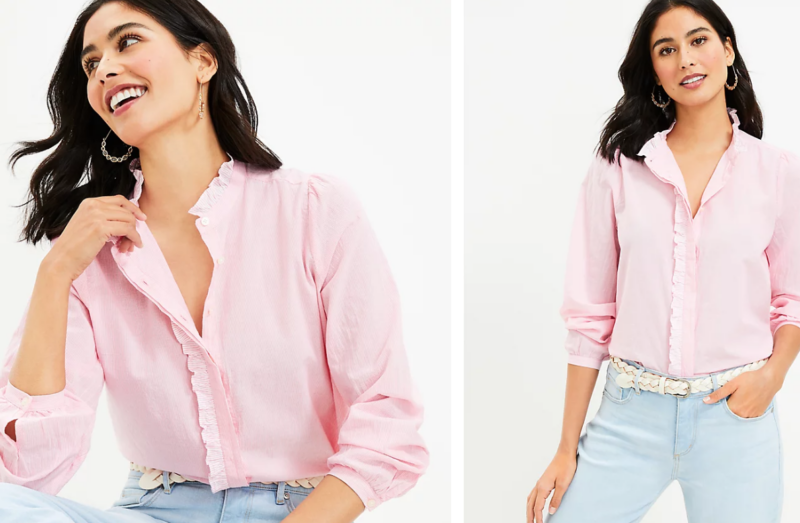 I like this pretty take on a classic button down. The ruffle down the center has a preppy pinstripe which is so cute. It's currently 30% off.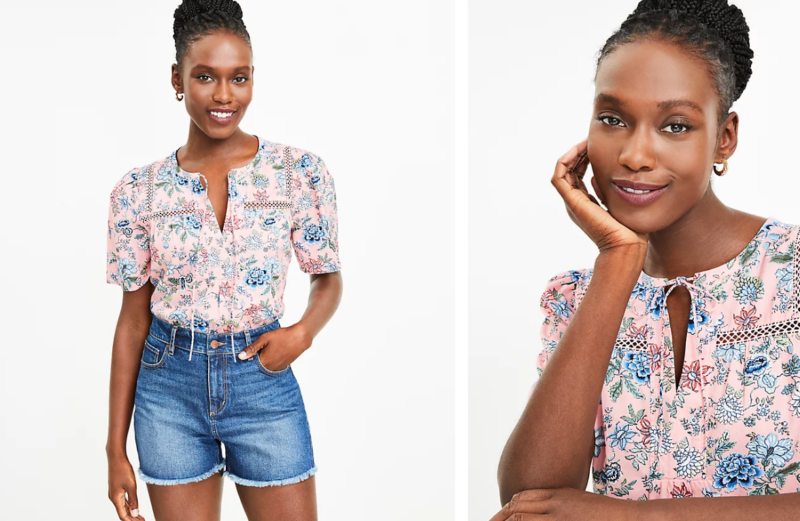 Another great top that is 30% off. Such a lovely floral for Spring and Summer.
RUG ON SALE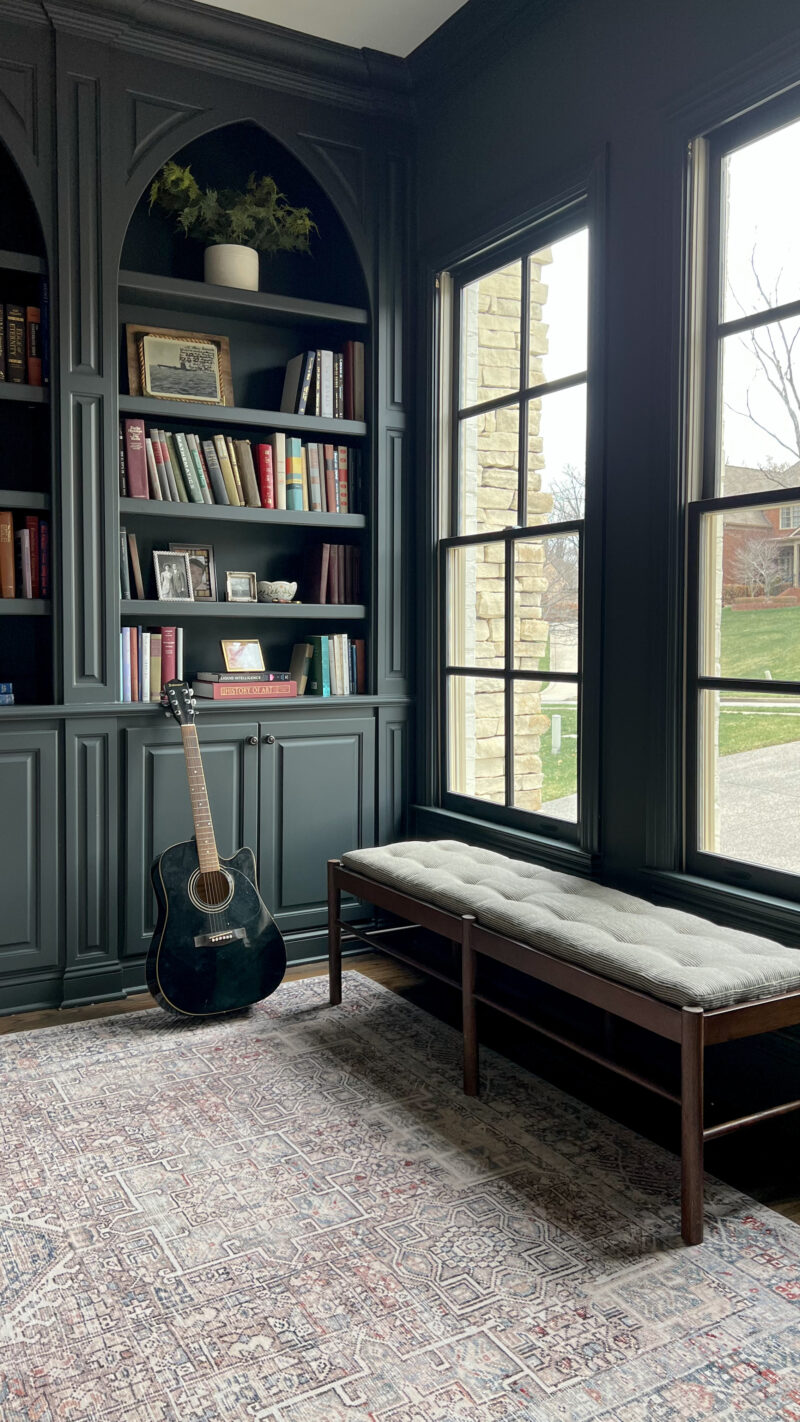 Our favorite rug is on sale. This has so many great colors and works well with the Iron Ore paint we used in the music room.
OUTDOOR SET ON SALE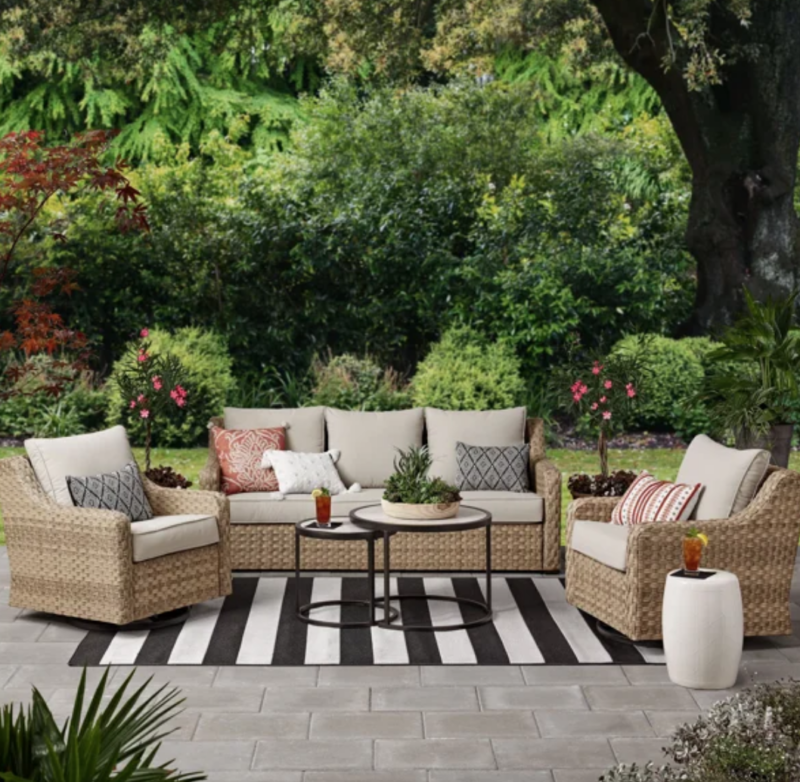 This beloved set is on sale. I have a couple of friends that own it and they have been so happy with it.
AMAZON FINDS WE LOVE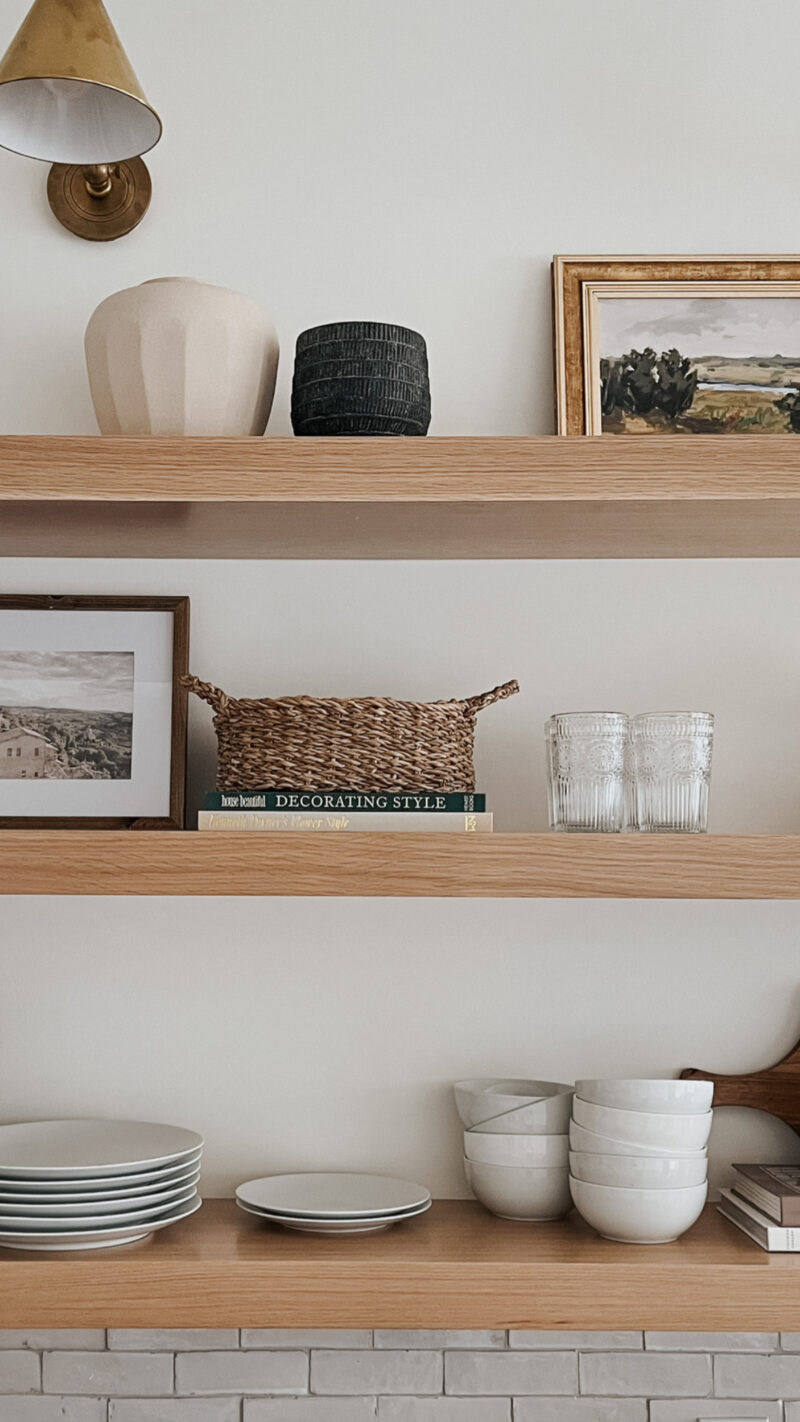 These water glasses are still going strong and we really like them. They are a nice weight, look great on the shelf and have been a fantastic addition to our kitchen. Plus they fit well in the dishwasher. (They are taller in real life than they look on the shelf!).
STACKED BOXES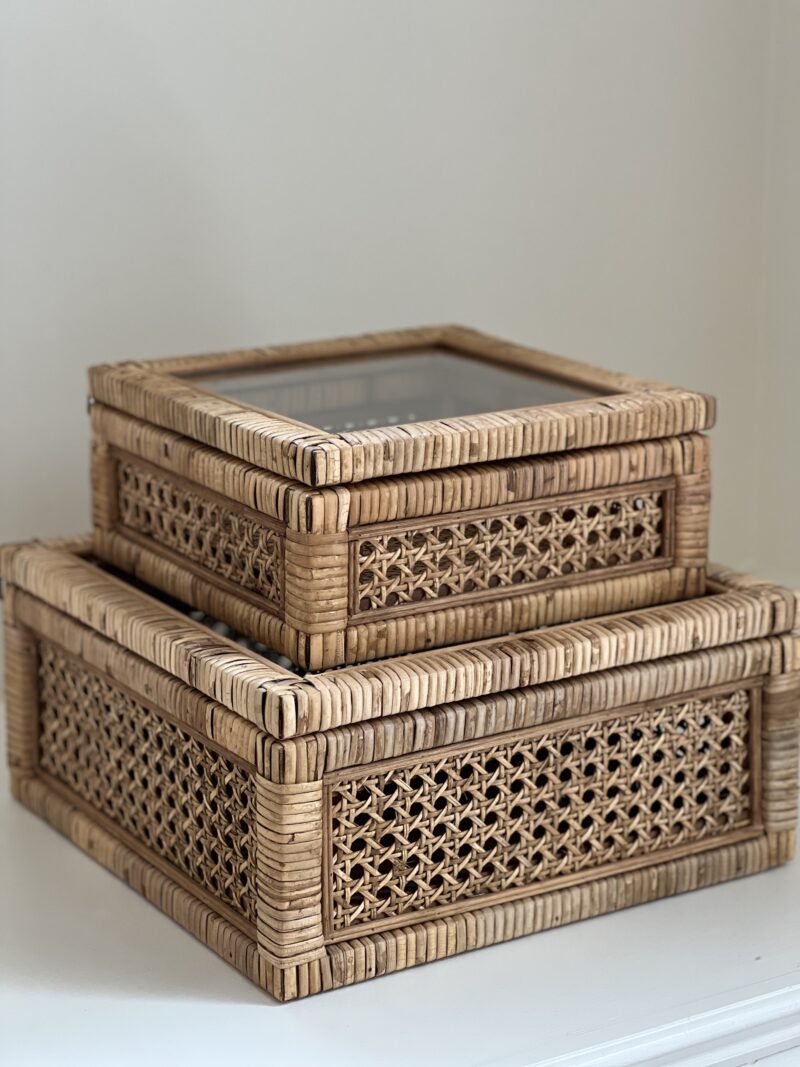 I ordered this set of boxes and was so excited when they arrived so quickly. They add so much to this corner of our dining area. The texture is beautiful and would look good pretty much anywhere.
COZY LIGHTING OPTIONS
In case you missed it, I shared some really fun options for cordless lamps as well as fun candle warmers. A restaurant we went to had these on the table and I fell in love with them. Great for entertaining, on an outdoor table, or even in a powder room.
And that's a wrap on this rainy Saturday afternoon. Wishing you a wonderful weekend with the people you love.