Good morning! How did your week go? Mine flew and I can't believe it's the weekend.  I'm busy packing for a trip up North and thought I would share a few of my go-to pieces when I travel. Most have been around for some time and I use them repeatedly. I also rounded up so me great sales below that are not to be missed.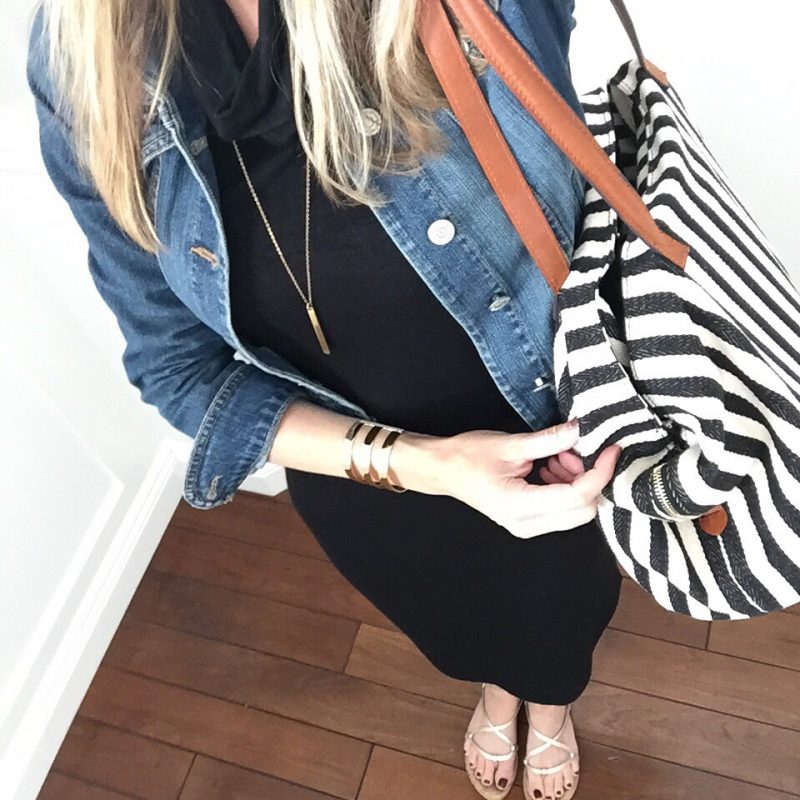 dress | sandals | striped bag | jean jacket | necklace | cuff
I am always a fan of traveling in a black dress. Not sure why. I like a dress because sitting in a tiny airplane seat is much more comfy when you don't have something like jeans around your waist. It has just always been my preference. I make sure I have a lightweight sweater or jacket and a great carry on. This dress is on sale for $32. Sizes are limited. I bought a medium for reference. Definitely size up or it will be quite tight. The sandals are also on sale for 40% off. Love them. so much.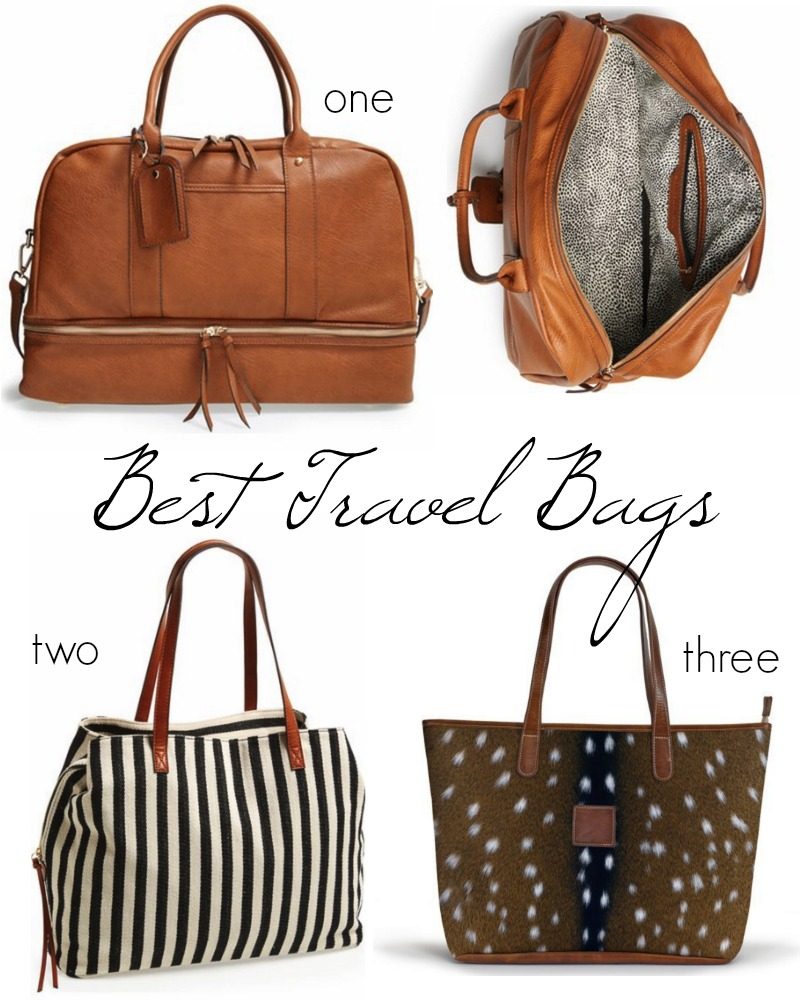 One: You know I like a bag if I have owned it for years and keep bragging about it. This one is fantastic. Had a funky smell when it came but that went away quickly. The compartment for shoes or anything you wish to keep separate is wonderful and this bag holds quite a bit. When I travel with it, people always ask me where it is from.
Two: This striped number has been a favorite for years. I love this bag. It is lightweight to begin with which is key. It has three separate compartments. Only one zips while the other two have a magnetic closure. It's nice to carry on the plane and be able to separate items. would be good if you have little ones, too. While it's not huge, there is ample space and it fits under the seat in front of you.
Three: Another tried and true keeper is the Savannah Zippered Tote. So many pockets on the inside and I really like being able to zip my carry on when I travel. I use this as my purse and one of the other bags above as my carry on most of the time. I love this fun print, too. It's their most popular. I have a striped one as well as a plaid one for Fall. Great bag and worth the investment (great thing to ask Santa for).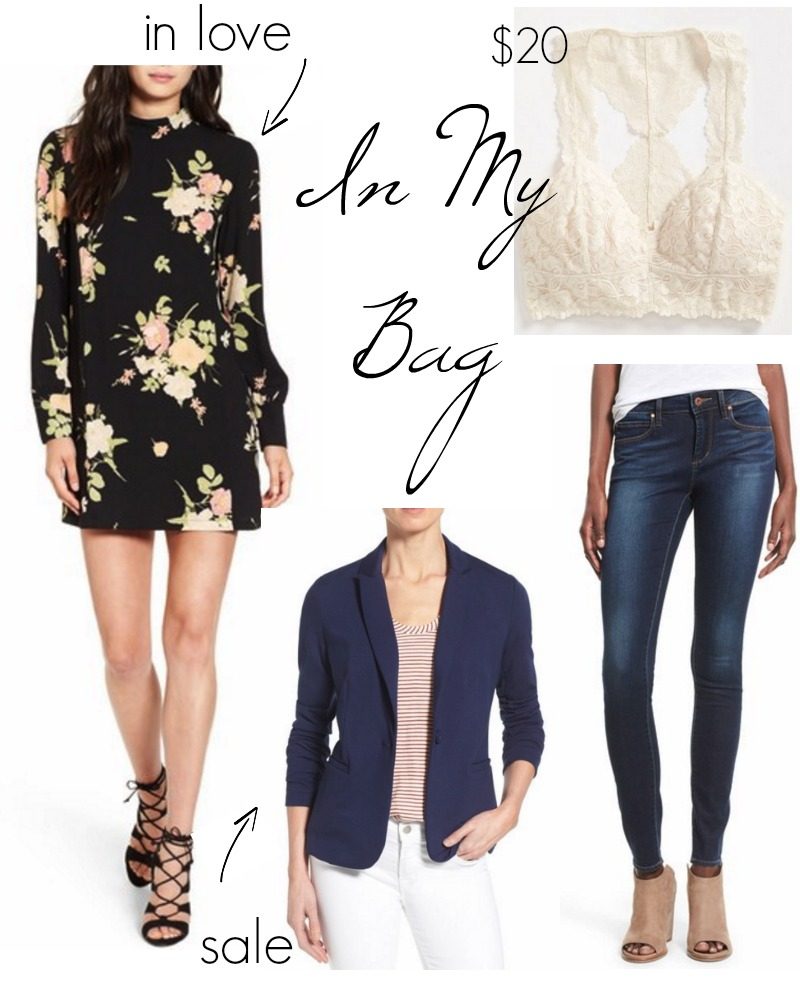 floral dress:  I bought this online and it just came last night. LOVE. I told my husband it may have taken the spot as my favorite dress in my closet right now. While it's short, it's not too short and it works because of the long sleeves and the neckline. Total home run and I highly recommend it. I can't wait to wear it to one of the dinners during our trip. Also so easy to pack and not prone to wrinkling.
navy blazer: I have had mine for years and years but this one is very similar. Same material and all. I love taking a blazer on a trip because it can be dressed up or down. Such a classic piece.
skinny jeans: They are soft. They are cute. That fit great. That is all.
bralette:  Always wear this traveling. So comfy and on sale for $20.
Loft is having 40% off of everything with code FIRSTLOOK. They have a bunch of new fall styles and they are all really cute including a great cropped peacoat.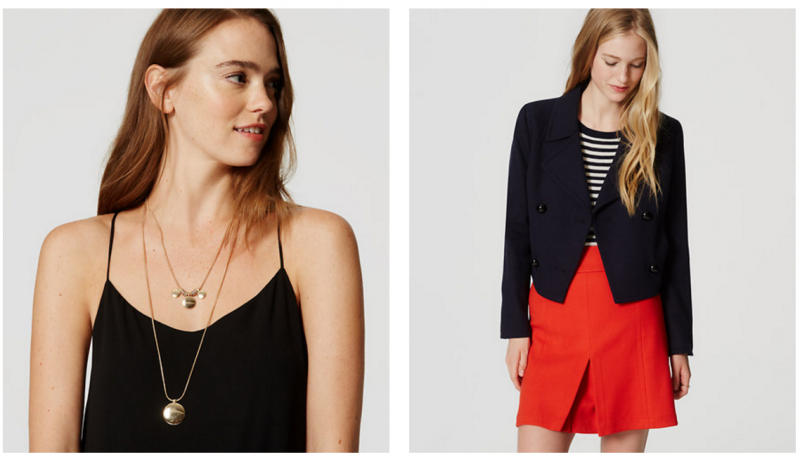 The gold necklace comes layered and is super cute for any outfit. The cropped jacket is a classic piece.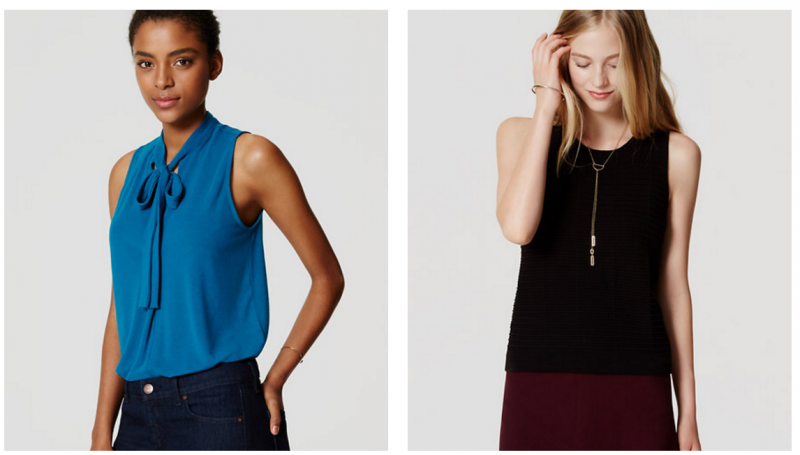 I alway love a great tie blouse. The black sweater tank is a nice basic.
Looking forward to heading up to Monterey. Excited to spend time with a dear friend who I have known since Junior High. We swore we would open our own law firm one day. My how things change! After visiting with her and her family I am off to the Micahels Makers Summit in Carmel. I'm sure I'll be sharing sneak peeks here and there over on Instagram. 
Other Sales Around Time
Loft: Receive 40% off everything with code: FIRSTLOOK
Pottery Barn: 20% off pendants and chandeliers
World Market: Semi-annual dining sale
Have a really good weekend. See you back here for the Monday Morning Wrap-Up.