Well, hello weekend! Nice to see you. I sat down with my coffee this morning out on the front porch. I was looking at our fake spider webs that have been up all month. To be perfectly honest, I can't to tear them down. I love how excited the children are for Halloween, but it's never been my favorite. I don't like to be scared and the whole holiday makes me a bit on edge. Is that weird? So I will be the mama in her pajamas the day after Halloween taking down the webs and bats. Hey, at least I still put them up, right?! Now onto Saturday Shopping! Lots of great finds this week.
FALL STAPLES
I'm sure you've noticed by now, I wear the same things over and over. It always seems to happen where I love a few pieces and mix and match them throughout the season. Whether it's a shirt, a pair of jeans or a great handbag, I like to wear them on repeat. So I thought I would share a few of those that are currently on rotation!!!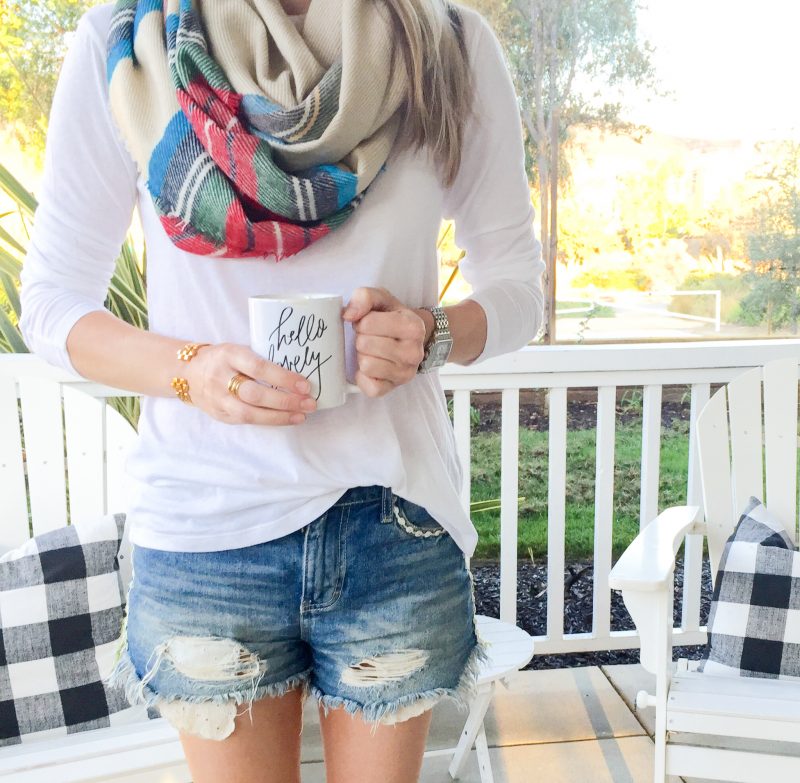 t-shirt | scarf | mug | similar shorts | pillows | chairs
These long sleeved t-shirts are only $19 and super soft. I have the striped one, too, which I shared here. They are not the type of shirts that will last a lifetime, but I always like a fresh white t for the season. I really like the length and they make for great layering pieces. They run large. I am wearing the xs. This $25 scarf is a season staple, for sure. Sadly, we are still able to wear shorts in Southern California. Our October is never very cool. Distressed jeans will replace the shorts when the weather allows!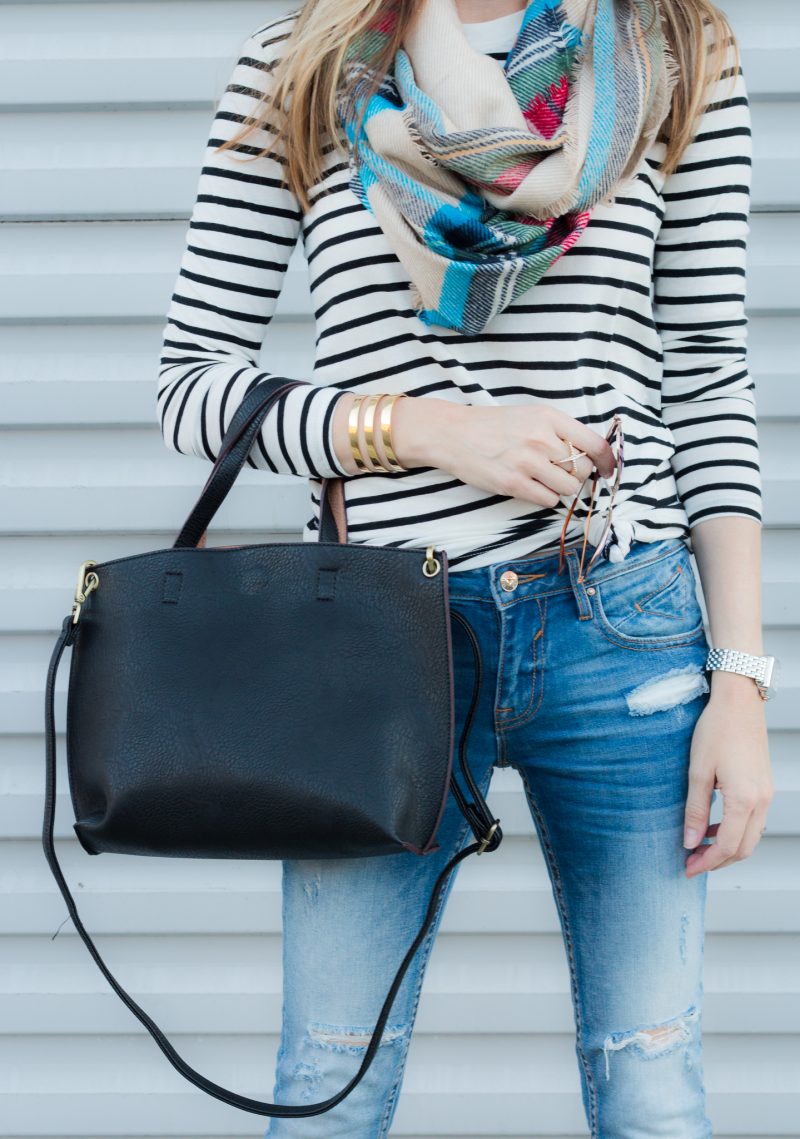 striped tee | scarf | handbag
DENIM LOVE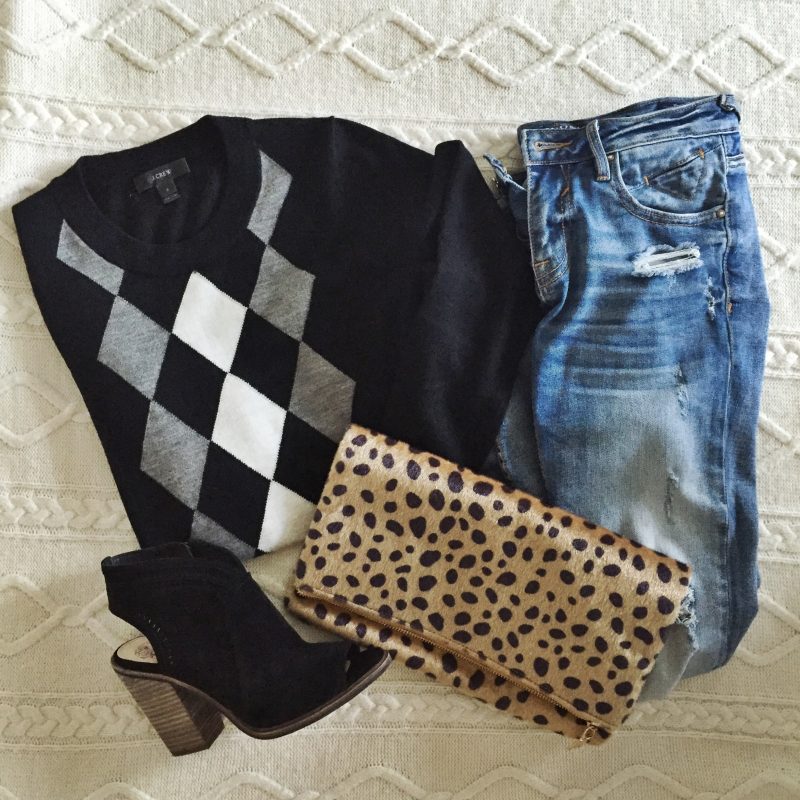 sweater | jeans | booties | handbag
Speaking of distressed jeans. I am a huge fan. I know some people don't like the idea of paying for distressing. I totally get that. Maybe make your own if you like the look. The reason I do like them is because it gives the outfit a bit of an edge and keeps it casual. It just gives it a more relaxed look. There are plenty of jeans out there that have very little distressing so you don't end up looking like Joey Lawrence (anyone, anyone)?  I am a big fan of a form fitted sweater of some kind for Fall. It doesn't have to hug the body but something that fits well and can be dressed up or down. It's a timeless look and this argyle one is my favorite. The leopard handbag is another staple in my wardrobe. Only $30.
STRIPES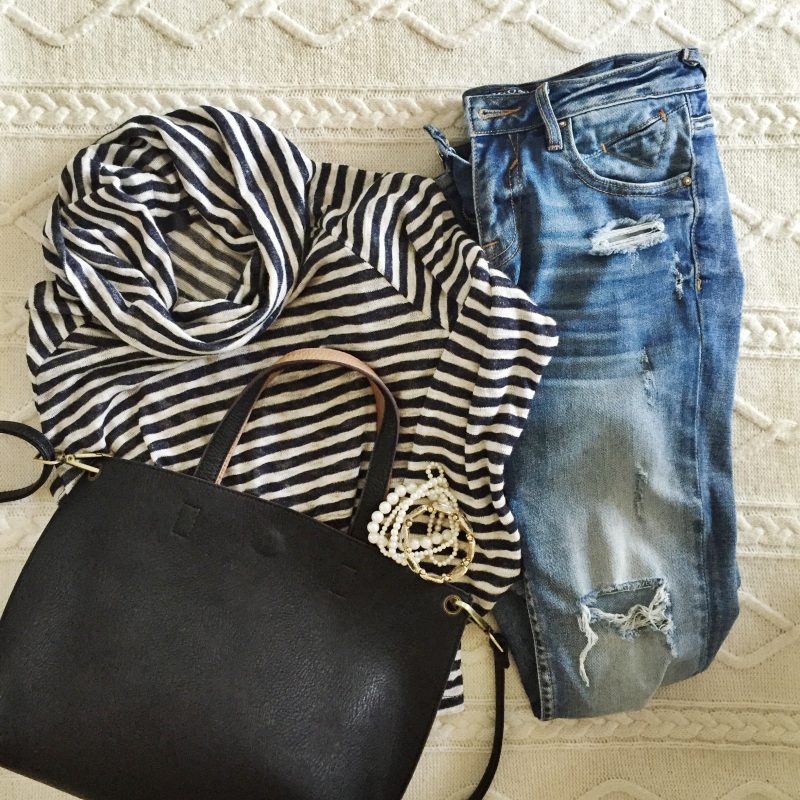 Stripes forever! I can't quit them. This top has been really fun to wear and looks great with Converse or Vans, too. I am enjoying carrying this handbag (reversible) and like that it even holds my camera. When I take my camera, I put my license and cash in the little zippered pouch inside. Works great. Love how light weight it is.
LACE LOVE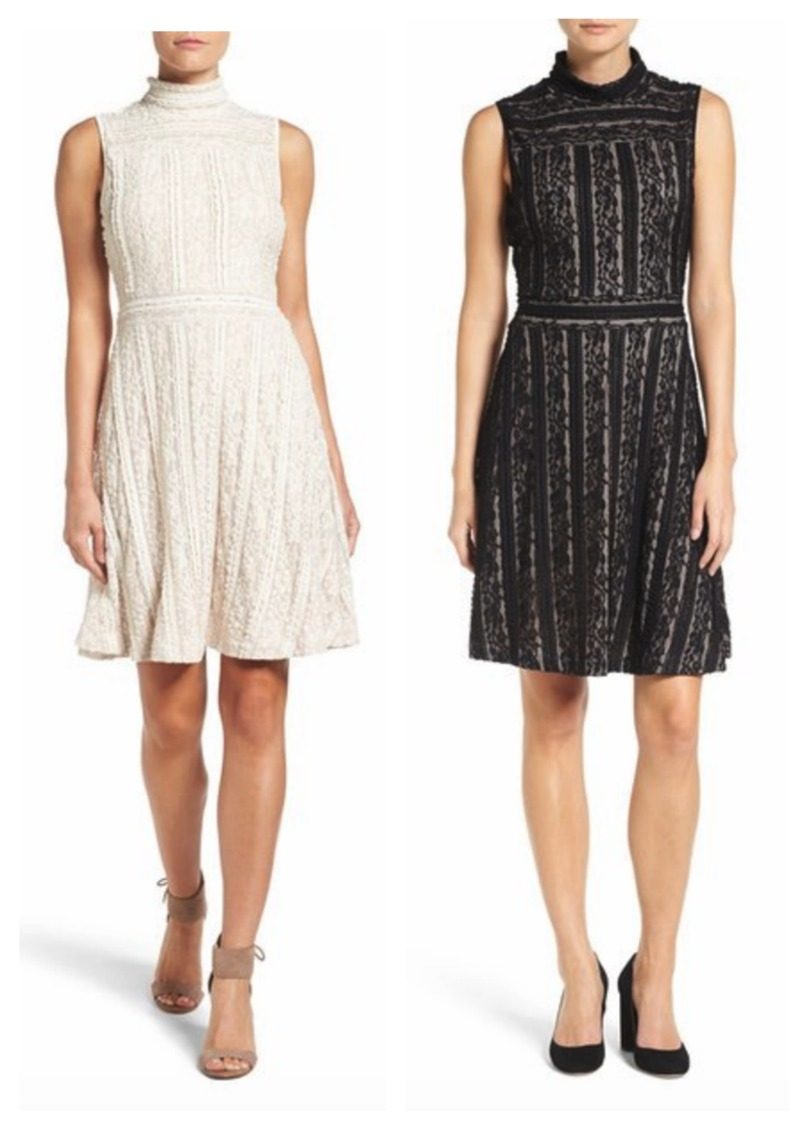 Came across this dress and it's just darling. I am a sucker for a white lace dress so that is my preference but the black one is so pretty for the holidays. I like the nude lining of the black one. Gives it a sexy look while the cut keeps it conservative.
WORKING IT OUT
I pretty much stalked a girl in HomeGoods that was wearing this tank. It's crazy cute in person and I finally tracked it down. It's on sale and I just bought the black one. My workout wardrobe is a bit sad as of late so I am trying to add a couple of pieces.
GRAY & BLACK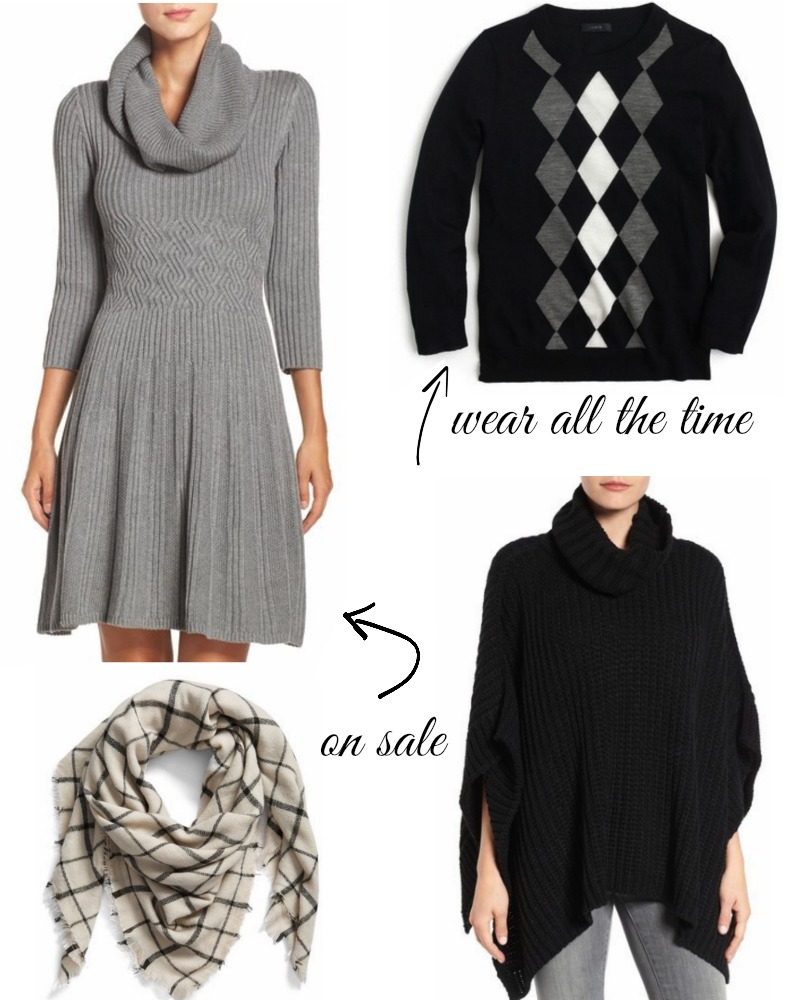 dress | sweater | scarf $25 | sweater
So drawn to this color scheme as of late. That sweater dress is on sale and made by one of my favorite designers. Her dresses are always so well made with a great attention to detail. Would be darling with a pair of boots this winter, too.
FALL STEAL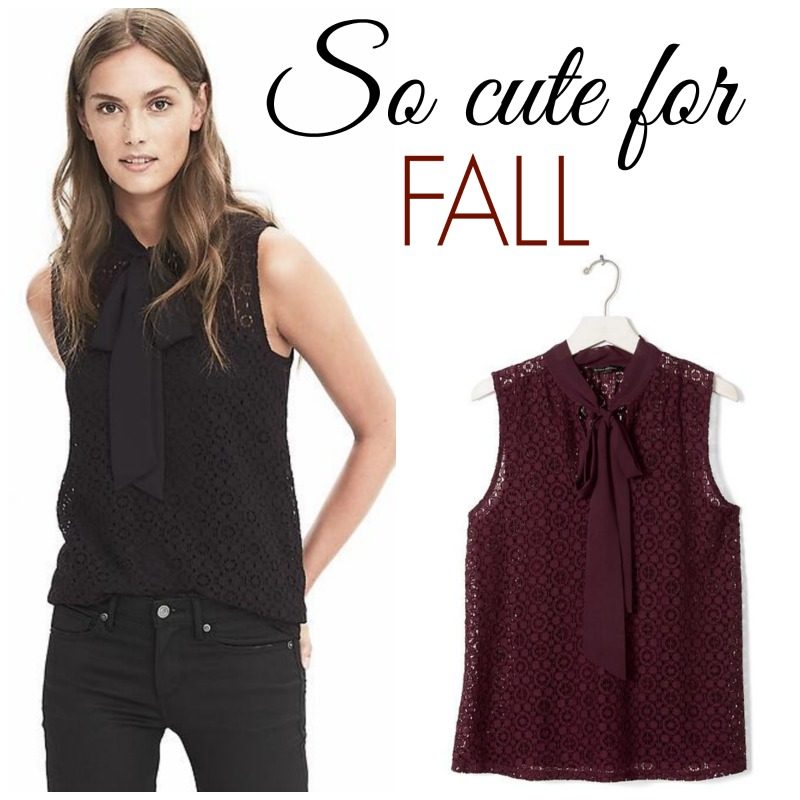 I am dying over this sale! This top is brand new and $68. But right now you can snag it for $26.99. It's so so cute. I love the wine colored one as well as the black. They run large so size down. GREAT BUY for the holidays.
Other Sales Around Time
Banana Republic: Extra 50% off sale! Soooooo good! Gorgeous bracelet. $23
Loft: 50% off sweaters and other styles
Pottery Barn: Up to 60% off rugs, free monogramming on items right now!
World Market: 25% off furniture.
Have a really good weekend. See you back here for the Monday Morning Wrap-Up. We are carving pumpkins today and finishing up costumes.