Happy weekend, my friends. I am popping in quickly to tell you about some fun finds for this week's edition of Saturday Shopping. This is the time of year when I am wearing many of my summer outfits but trying to add fall touches to them. I recently picked up a fun flannel shirt and have been tying that around my waist. Not quite ready to break out the flannels when it's still 90 degrees here, but it works wearing it this way.
I have had so many questions about my feelings on white after Labor Day. I am 100% all for it. I love white. In fact, white is my favorite color (or lack of color as the case may be) and I wear it year round. One of my favorite looks during winter is a nice pair of off white pants and a white cable knit sweater. So you'll be seeing a lot of white around here. My go to white pants are sold out in most sizes but these are darling and a great price, too. My ruffled gray shirt is on sale and there are still a couple of sizes available.
Shop This Look

I have also been wearing a fun and funky gold ring a ton lately. I get so many compliments on it. I couldn't find my exact one (from Rocksbox) but this one is almost identical.  I rounded up some of my favorite accessories below.

I don't have that layered necklace but it's so cute. It's so on trend to be layering all of the dainty necklaces and this one is a great price. And in case you don't have a good plaid shirt in the closet yet, I gathered these for you to check out. I am such a preppy girl at heart so the fact that plaid is still going strong makes me a happy girl!
More Plaid Shirts

I mentioned this dress last week. I LOVE it. It feels like you are wearing pajamas because it is just so soft. It looks great with a fun necklace and could be dressed up or down. The sassy heels kick it up a notch but it would look great with a simple wedge, too. Or even some leopard.
Shop This Look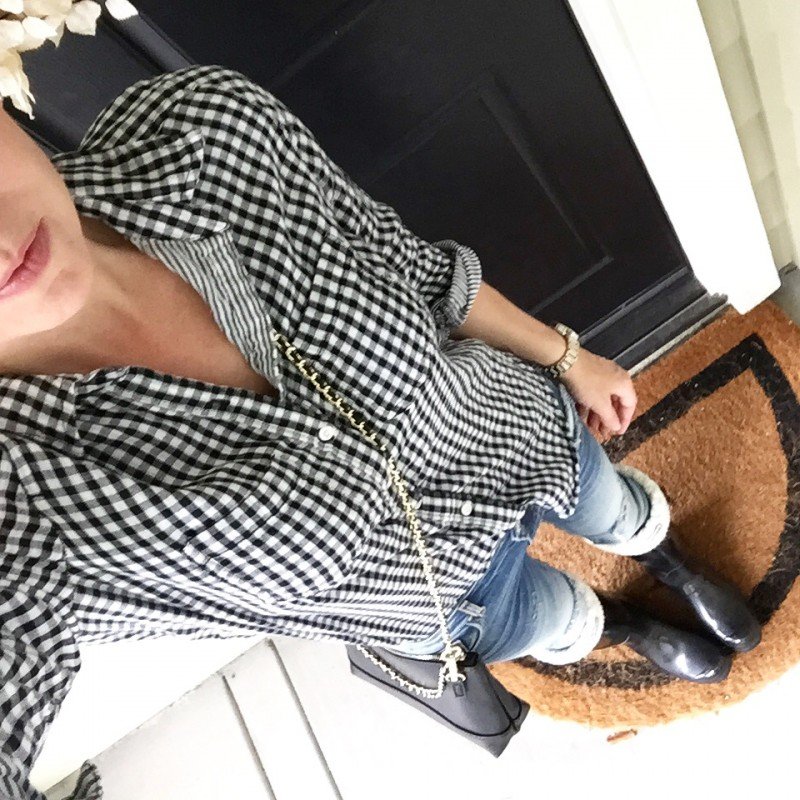 favorite distressed jeans | shirt | handbag | boots | boot liners
If you happen to check in with my on Instagram you may have seen this. It rained for one day in Southern California. You know what that means? Rain boots come out! Ha. It's sad that we only get to wear rain boots a few times a year. We are crossing our fingers that more rain is on its way. In any event, the black boots mixed with the gingham were fun while they lasted!
Enjoy the weekend, my friends. We are off to a Tae Kwan Do tournament for our son. I so admire his dedication and determination. And he looks darn cute out there competing! Makes a mama proud.