Hello, sweet friends. Happy Easter weekend. We were blessed to spend quality time with good friends last night. They introduced us to a new restaurant in Laguna Beach last night which I will share more about soon. I will keep today short and sweet as we are off to prep some food for tomorrow as well as watch our son's baseball game.
CASUAL STYLE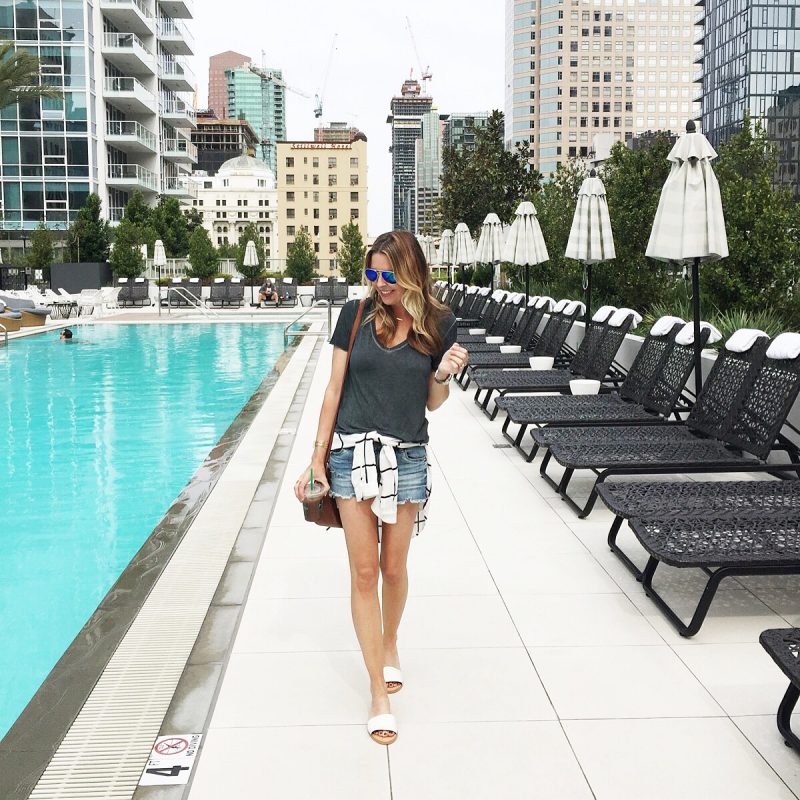 If you are on Instagram, you may have seen this snapshot taken from the pool at LEVEL. I have been living in these slides. I will say that the very first time you wear them, they are not super comfortable. They can be stiff and hurt your foot a bit. The second time I wore them they were much better and now they are super soft and I wear them daily. I just don't want you thinking, "Why on Earth did she recommend these?"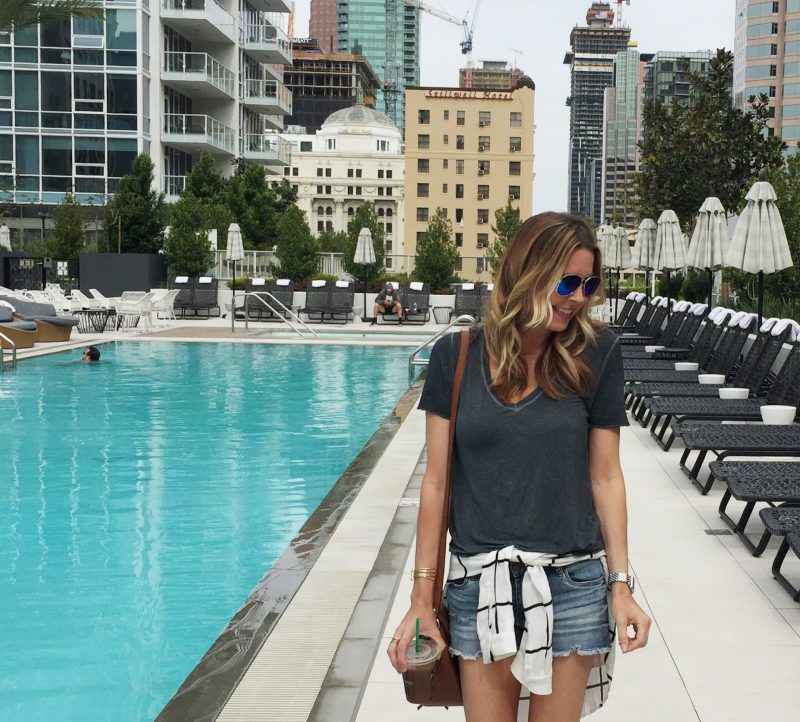 t-shirt | sunglasses | cut-offs | button down | handbag | bracelet | slides
This t-shirt is a great one, too. I even wore it out that night paired with these jeans and a leather jacket. It's super soft and has a bit of a warn look which I love. These denim cut-offs are still a favorite and under $40. I am wearing a size 26. The t-shirt is a size small.
MODERN VIBES
We grabbed a coffee and then I had to get a shot of this wall. Isn't it cool? This place had so many great architectural features. Just so fun to have a more modern vibe for a couple of days. So different from my everyday life.
SWIM STYLE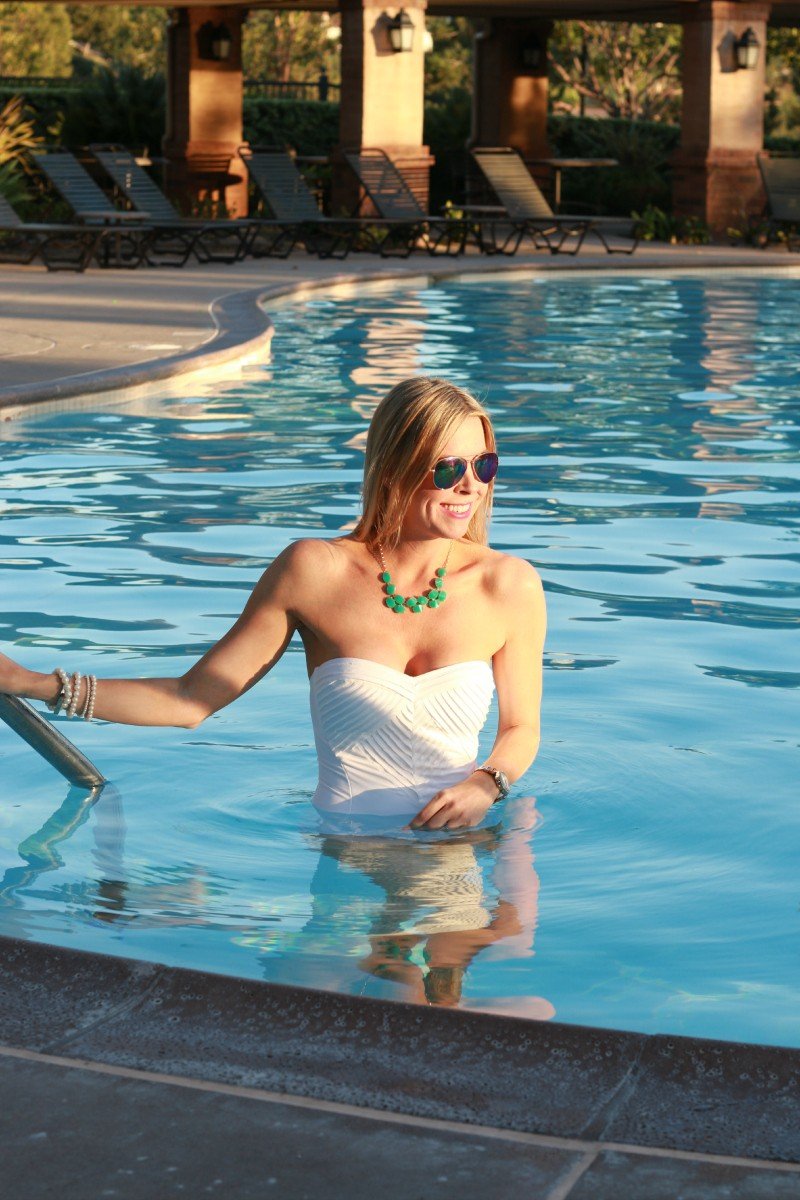 Just wish we had brought suits to jump into the heated pool.  Not sure if you remember this strapless one, but this season this one has received rave reviews. I think I may order the pink or blue one for an upcoming vacation. Anyone have it and can tell us about it?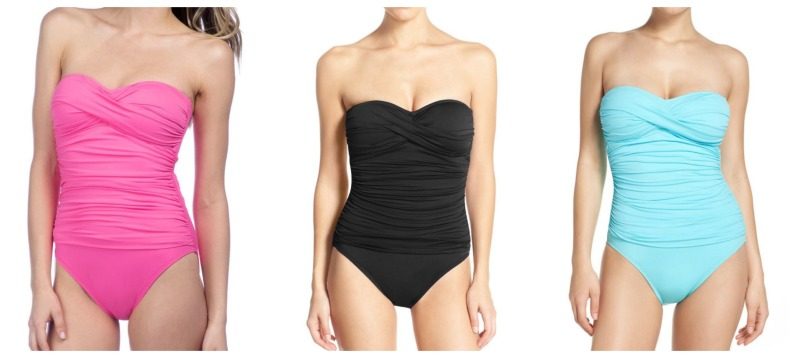 This one just seems like it will fit even better than my white one. I love the gathered material over the tummy area, too!
SPRING DRESSES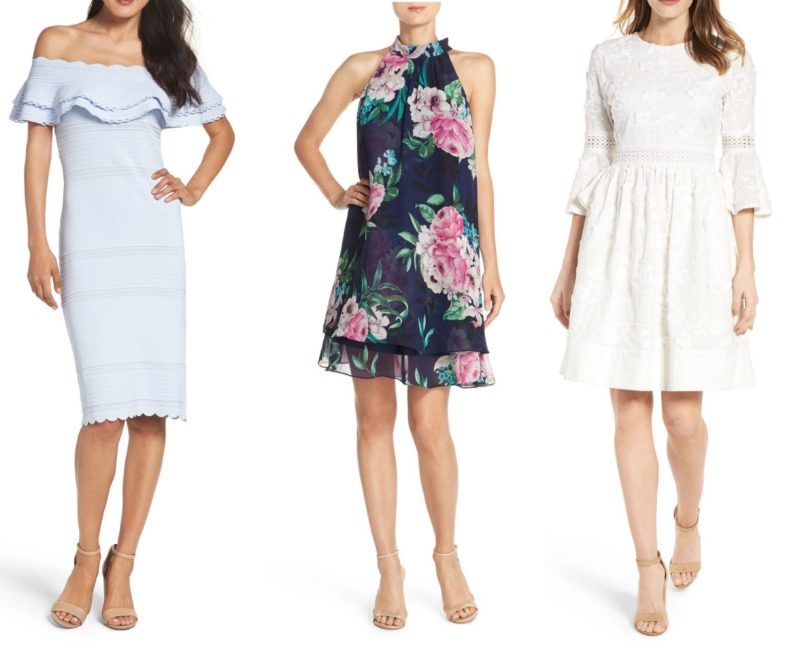 Eilza J is one of my favorite dress makers. They are just so pretty and feminine. While usually not under $100, the quality and fit is always spot on. Great dresses for a special occasion like a Spring or Summer shower or wedding. And notice how she shows the dresses with nude strappy heels. My favorite for this time of the year.
CHANGE THE FIT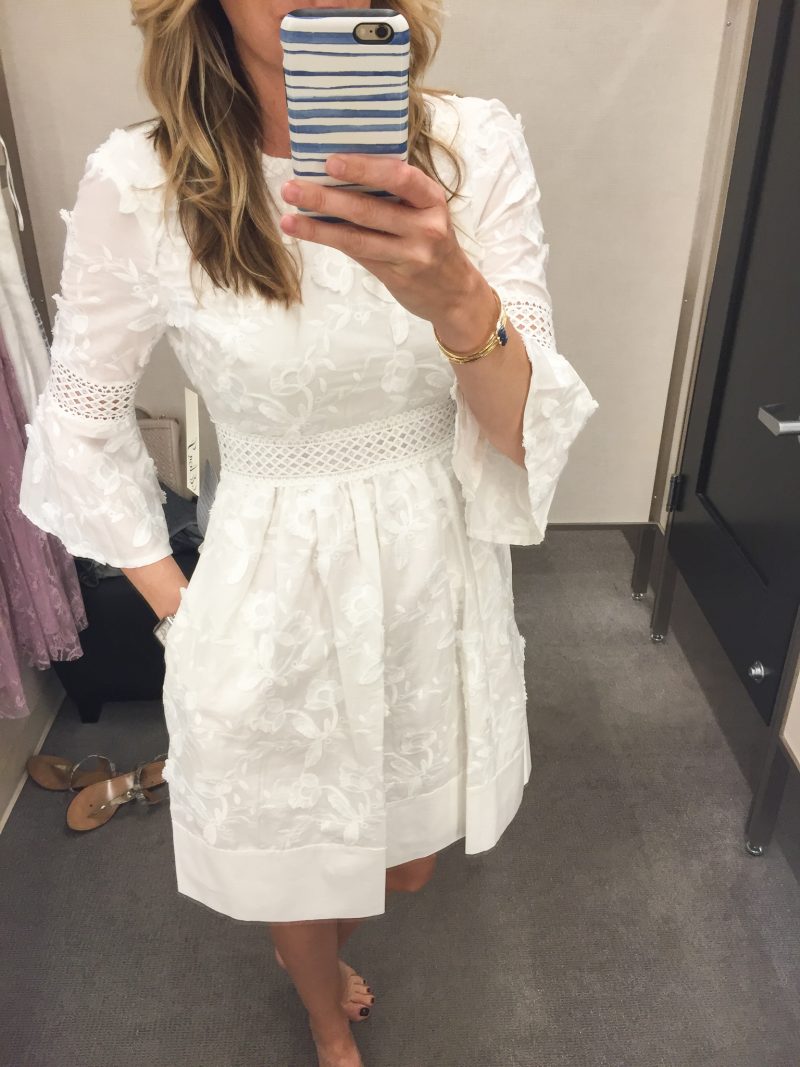 I am head over heels for this dress. It finally came online so I could show you. It's a fit and flare dress but I did something I usually don't do. I bought it in a petite and changed the way it fits on me. I don't look that great in a traditional fit and flare dress with the usual waist. So by wearing a petite, it created more of a high-waisted look which suits my frame better. I am 5'7″ and wearing a petite size 6. If you wear a fit and flare dress well, I would stick to the usually sizing guide.
By the way, you may see the lavender dress in the background. The style is darling but that color on me was awful. I couldn't take it off fast enough. I guess that explains why there is no lavender hanging in my closet. Not my color!!! At all.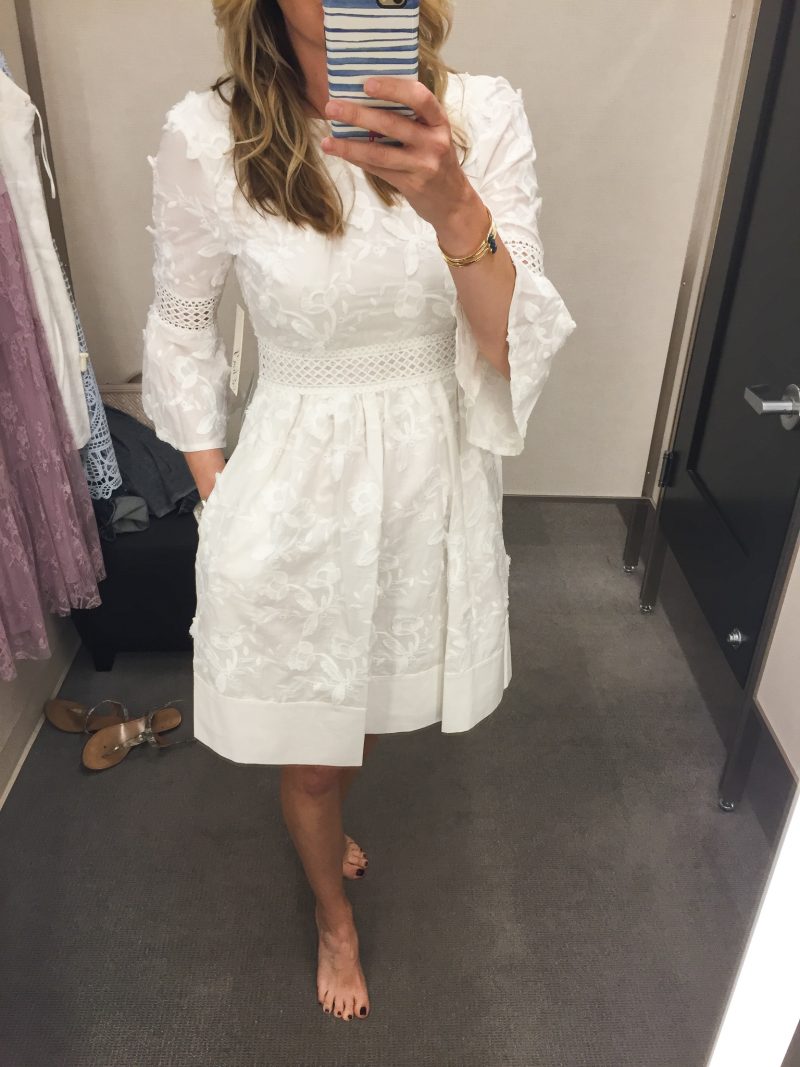 The detail on this dress is just so pretty. I rarely try on a dress and just know I have to have it. This is one of those times. And with pockets. . . even better! I will style this and show you more photos soon. I am including all three from the dressing room just so you can see the fit better.
More Cute White Dresses

Again, if you love a fit and flare style stick to usual sizing but if you are like me and prefer a higher waist, consider petite sizing. If you do consider petite sizing go up one size. I am a 4 regular but bought a petite size 6.  I plan to wear this dress with these simple heels.  This beautiful dress is at a lower price point and also a great option for summer events. This one
is only $65 and beautiful.
FLORAL FIND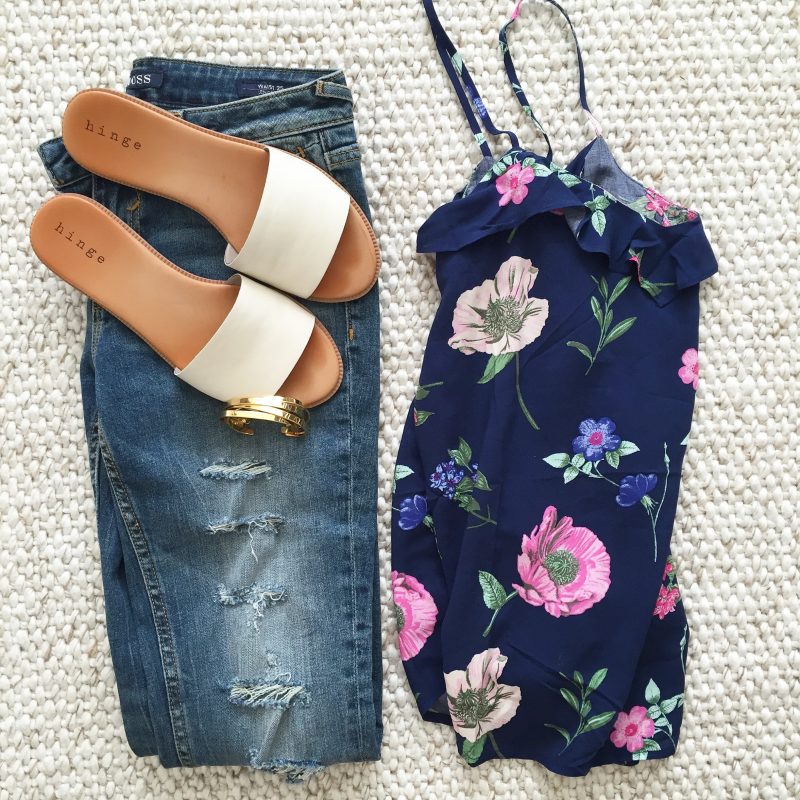 Yesterday I had the pleasure of shopping with my sweet mom and we found this darling tank. I love the print. In fact I love the print so much I wish I could see it in fabric for pillows. Anyhoo, it's on sale and will look cute with these slides and jeans.  gold braceletsI am sure you have also notice that I wear these all the time. I love them because you can where however many you like and they look great with everything. They would make a really great gift for a girlfriend, daughter, sister or mom. Great Mother's Day gift idea.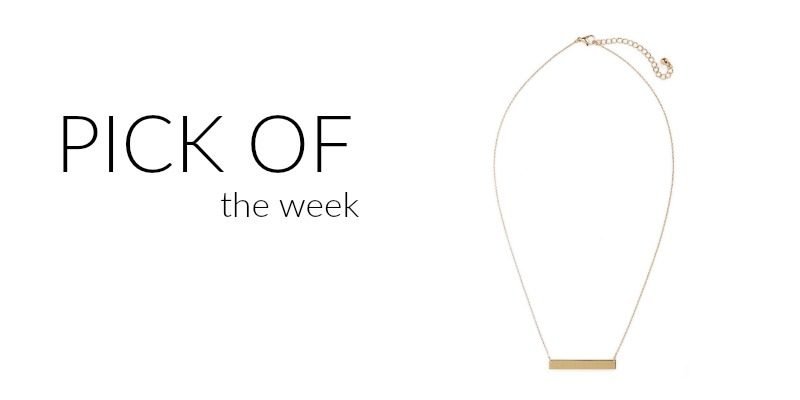 My pick of the week is this bar necklace. I wear it pretty much daily. It goes with everything and is a perfect feminine touch to any outfit. Great for summer necklines, too. And at $14 it won't break the bank.
SHOPBOP SALE
Don't forget the Shopbop sale is happening. Huge event and darling things over there.
Happy Easter, sweet friends. Hope you enjoy this special weekend with your families and those you hold dear. See you back here on Monday.
*affiliate links used