Good morning and happy weekend to you! What are you up to for the next couple of days? We have back to back games and a BBQ with friends so it should be fun. Also working on a Michaels Makers post to share with you. It's simple and sweet. Today I am sharing comfy and easy outfits I've been wearing lately plus sales around town in this edition of Saturday Shopping.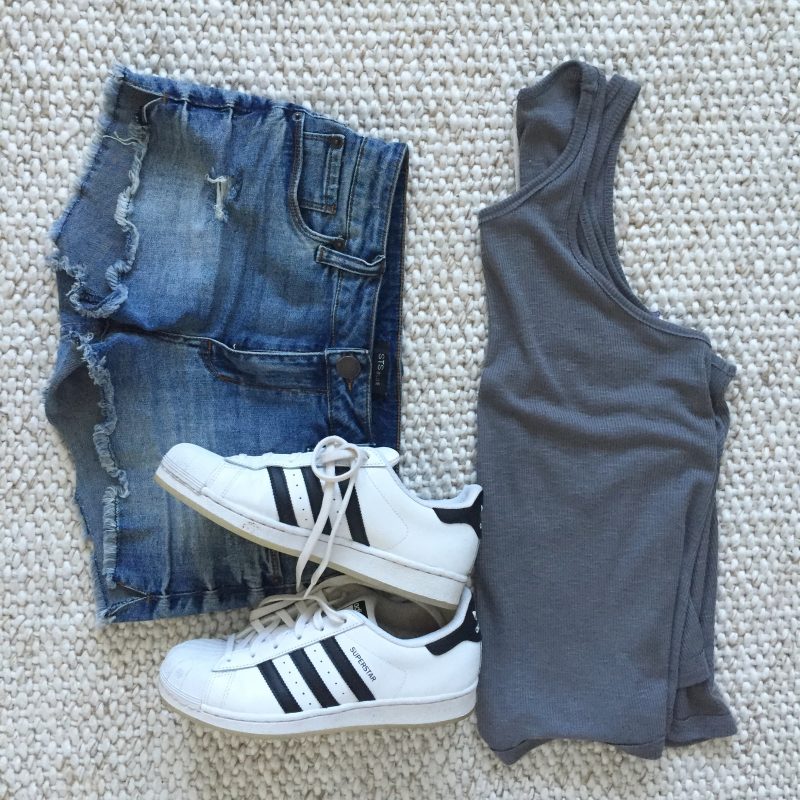 My Free People tanks are still going strong around here. They are an all time favorite and I love the cut. I usually pair them with this bralette. The tank comes in a bunch of colors, too.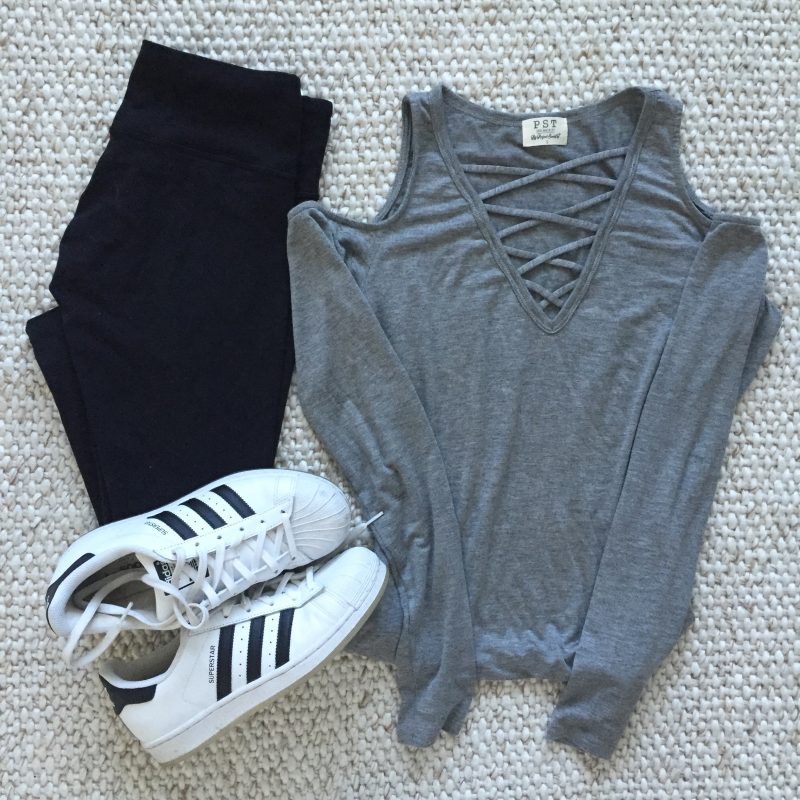 adidas | workout pants | top
I've been really great about working out lately (except for the last couple of days while I fight off this cold) and I have been living in this combo. I work out in my favorite pants and sports bra and then throw this top on to run any quick errands before I shower. I workout in martial arts shoes so then I just swap them for these. This top is one that I wear dressed up for date night, casual with jeans, or with workout gear. Just a cute and flirty top to own.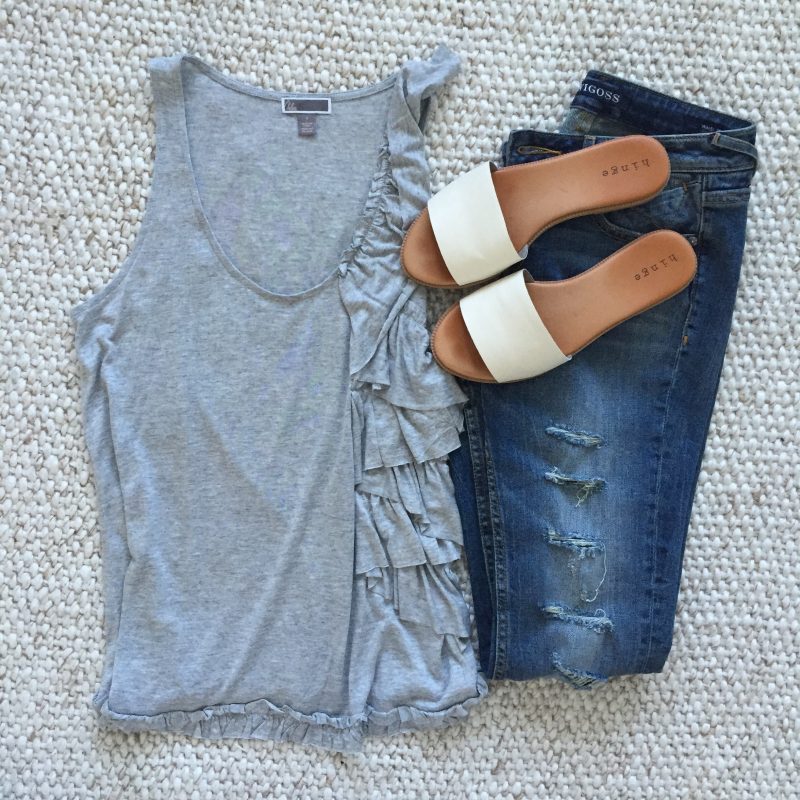 Apparently it's clear I really like gray tops! LOL. I think I just like their neutral quality and you can pair them with any bottom and they look great. This tank is so feminine and soft. I always get compliments on this one. These jeans are only $59 and people ask me where they are from every time I wear them. Very comfy.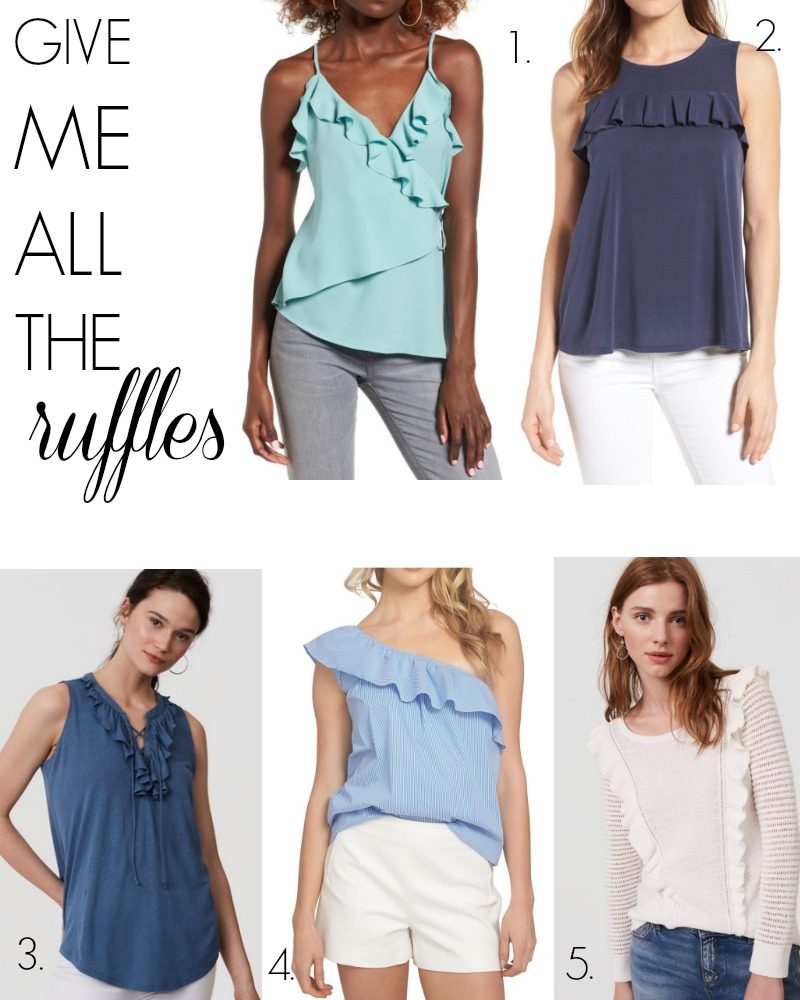 one | two | three | four | five
Ahhh! They are all so cute. I really love that white ruffled sweater. Our nights get chilly and I am always looking for something to throw on with jeans shorts in the evening. This would be perfect. Plus it's 40% off.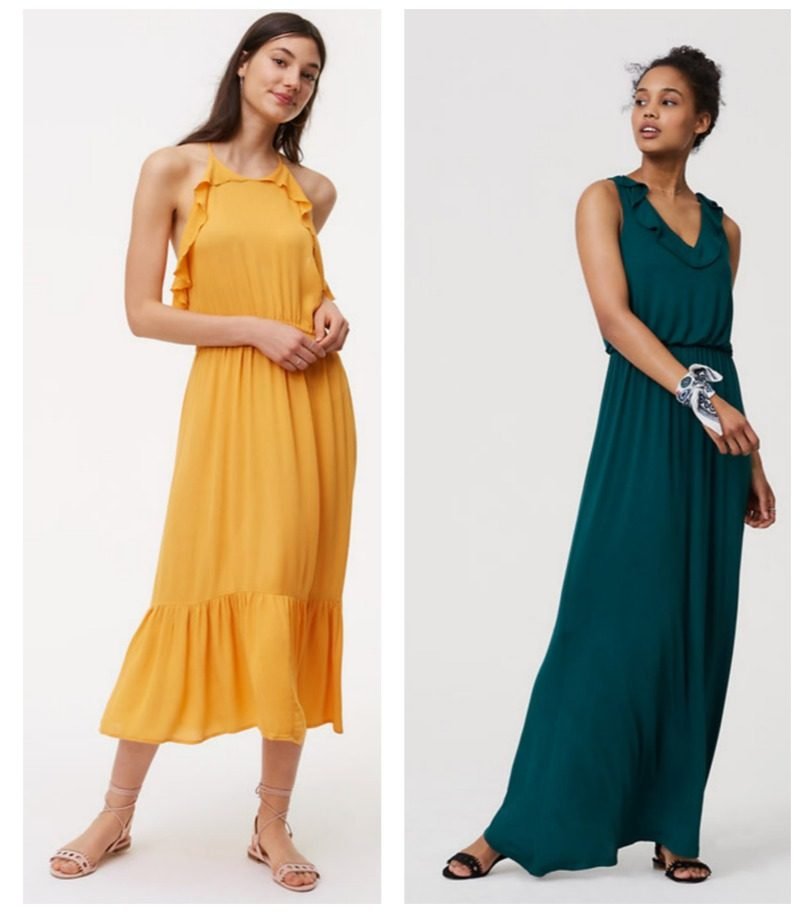 Two great dresses for summer. We are headed on vacation soon and that yellow dress is calling my name. The back is beautiful. Both are also 40% off right now.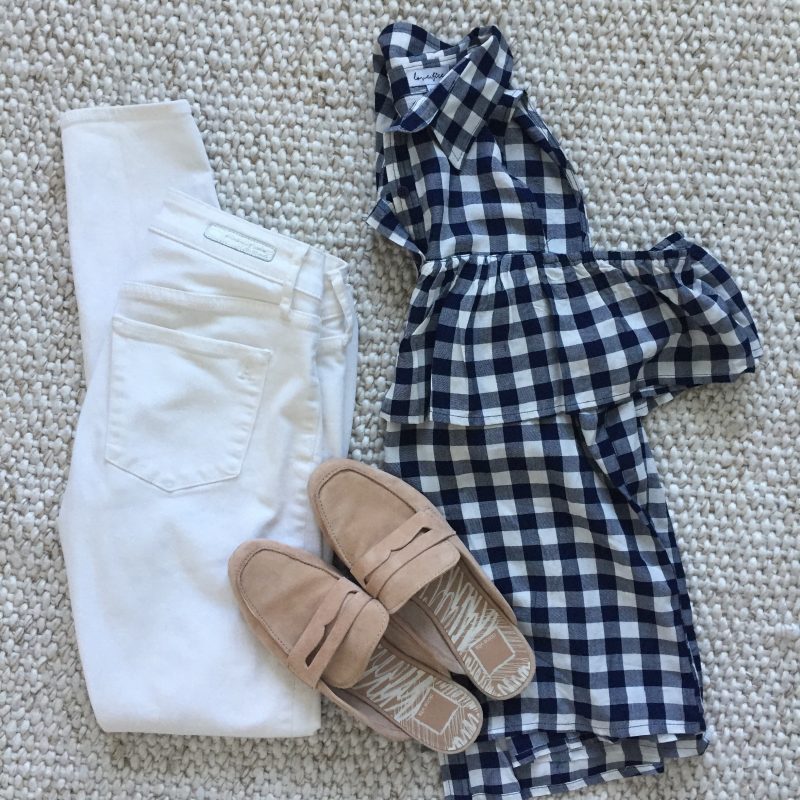 jeans | slides | gingham top
Gingham just makes me happy. It's always adds such a punch to an outfit. I like the clean look of the navy and white with the white jeans. The mules keep it classic and preppy.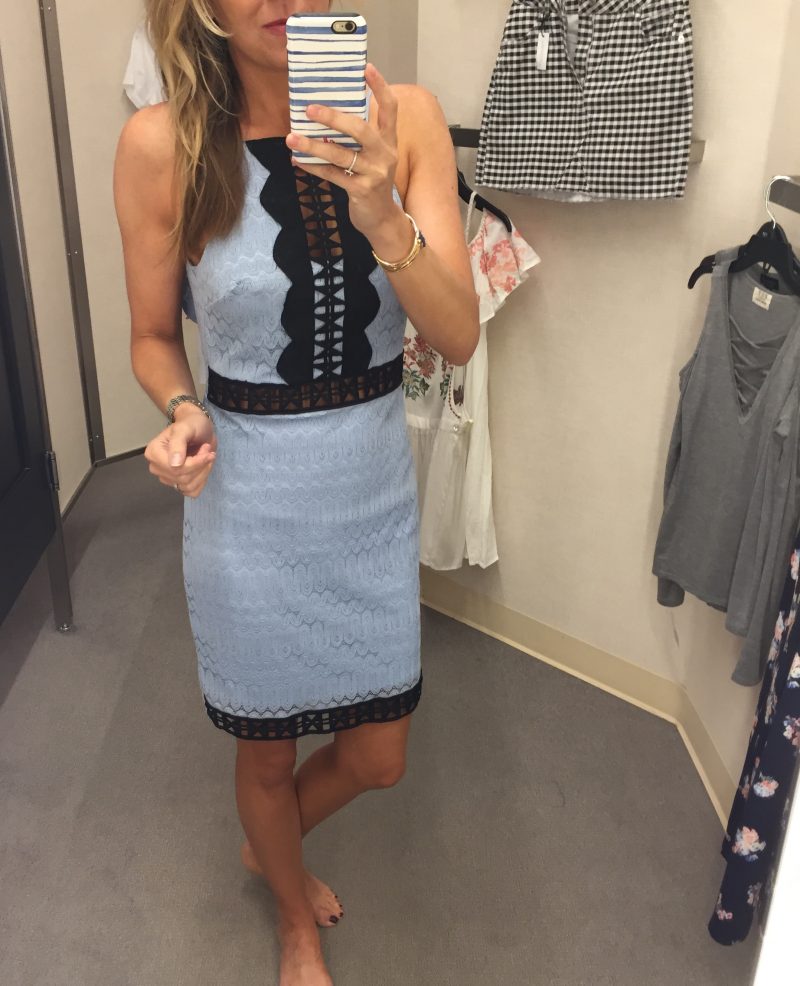 I forgot I hadn't shown you this dress yet. Isn't it cute? I love the combination of blue and black. The back is really unique, too. It's definitely form-fitting so keep that in mind. I am wearing a size 6 here. Thought it would look darling styled with these heels (currently on sale).

I just had a reader tell me they bought the bow slides and love them. So darn cute for summer, don't you think. Especially with sundresses and shorts.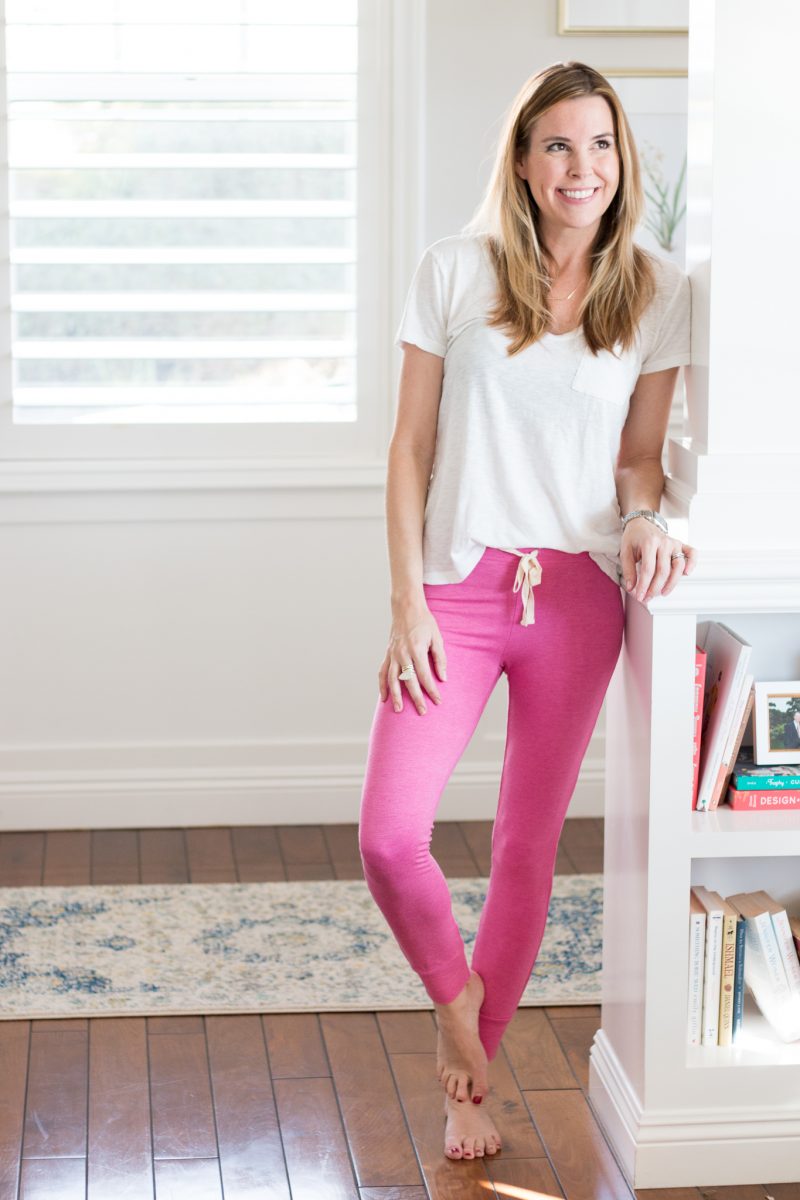 Posted these on IG last night (in gray). I honestly wear them all the time. They now come in even more colors. So so soft and fitted enough to where you don't feel frumpy in your lounge clothes. Highly recommend. And this t-shirt is a staple around here.
HOME STYLE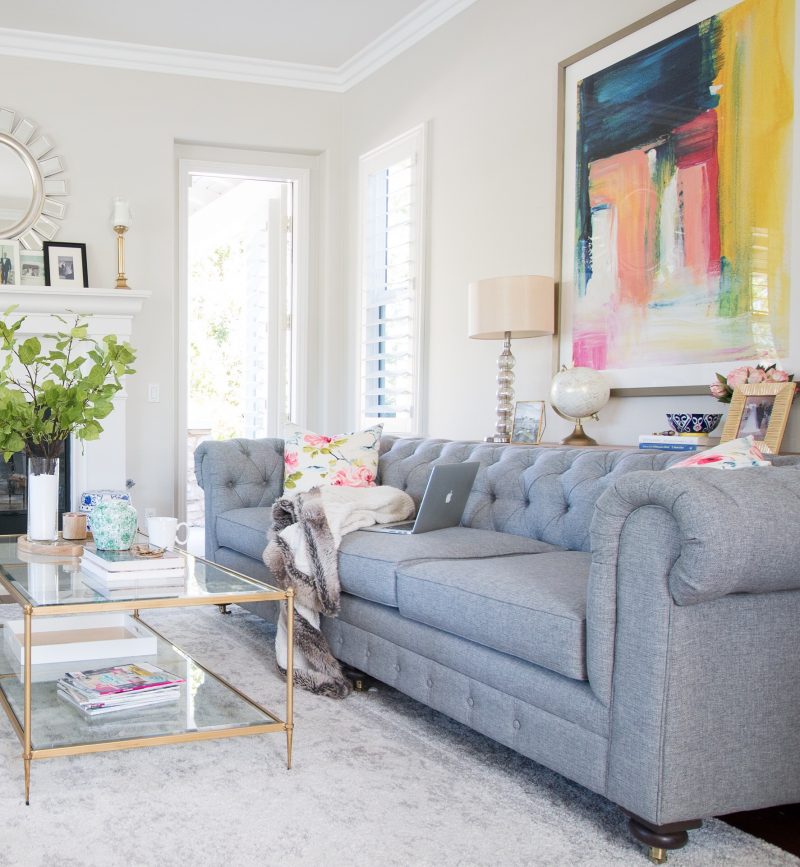 sofa | rug | artwork | similar coffee table 
I posted this on Instagram this morning and many of you asked about the artwork so I thought I would link it here. It's bold and fun and makes me smile every time I enter this room. This is the champagne silver frame. You can see more of our living room in the Spring Tour. 
Update: this sofa is 20% off right now and beautifully made. We absolutely love this sofa.
SALES AROUND TOWN
World Market | 20% off of outdoor LOVE this table in person.
J. Crew | 40% off sale styles
Anthropologie | Great sale section. I really want this tank!!!!! So cute!!!
West Elm | 20% off ends tomorrow!!!
Ann Taylor | up to 40% off
Loft | 40% off of everything
Pottery Barn | 30% off mother's day gifts
Thank you for all of the kind comments on yesterday's post.  It's nice to know we are all in this together. It makes the crazy days seem more normal. Hugs to all of you and thank you for always being so understanding and supportive.
Have a great weekend, everyone. I hope it's a mix of being productive and relaxing. See you back here on Monday.
*affiliate links used