Good morning!!!! It's good to be back. I took a couple of days off to really soak in the last days of school. They have been filled with emotion and excitement and we are ready to embrace summer. My daughter is officially a middle schooler which is hard to wrap my head around. Time does march on, doesn't it. Today I am sharing some fun summer finds and great sales around town in this edition of Saturday Shopping.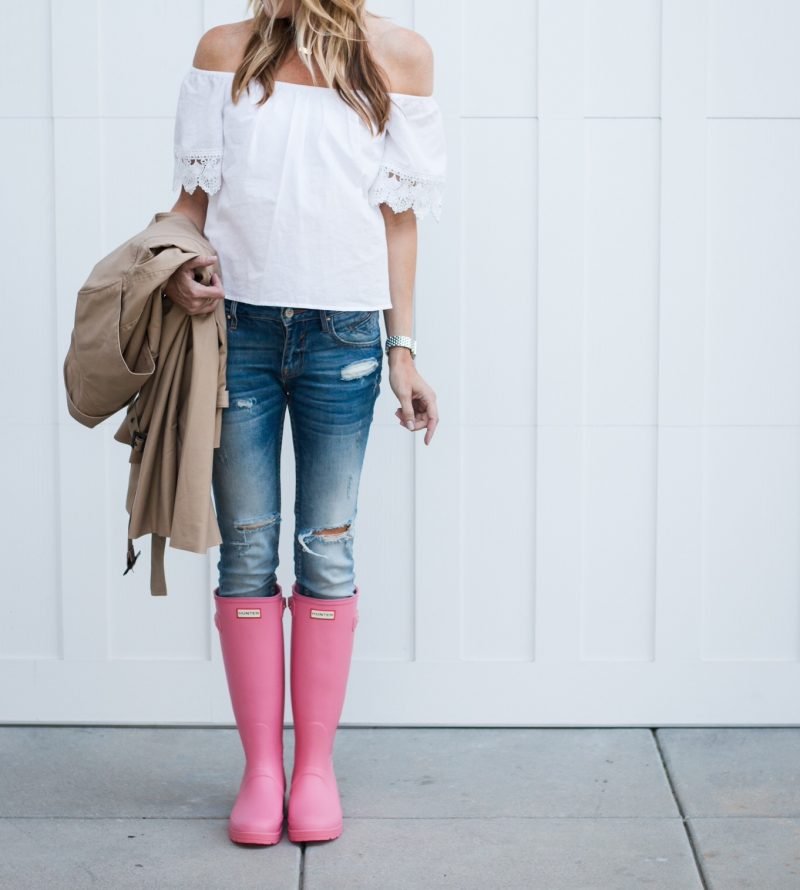 The Nordstrom Half-Early sale is only happening for two more days and these pretty pink rainboots are part of that sale. They also come in a gorgeous green color.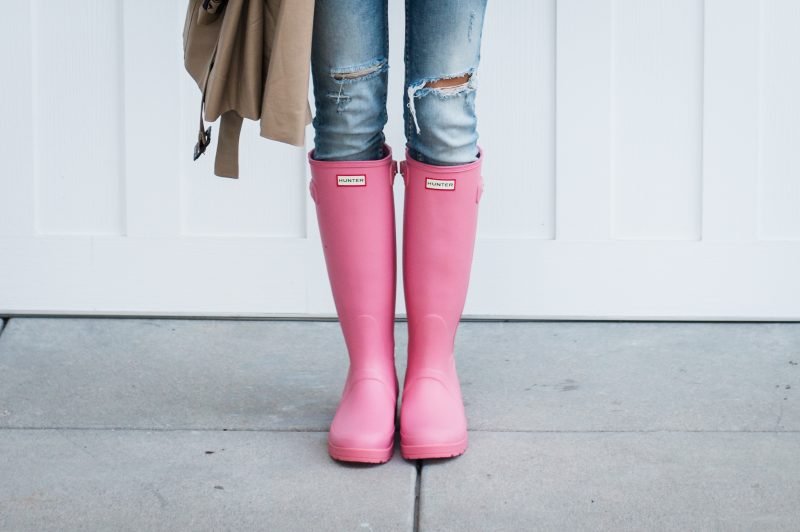 At 33% off it's a good time to go for it if you have been eyeing a pair of Hunter boots. I actually wish my black Hunters were made like this. This newer style is a bit more slim fitting and easier to get on and off. I also love the stud detailing on the side.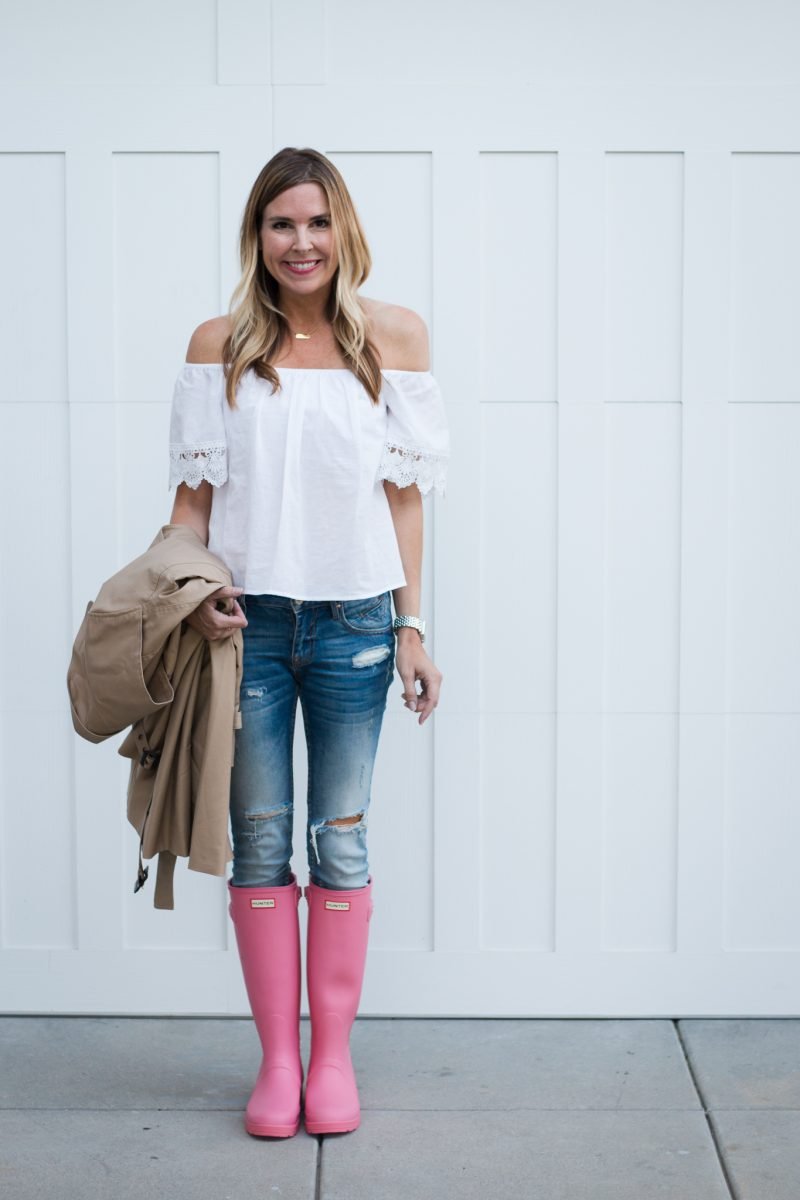 jeans | boots | top | trench coat
I mentioned this off the shoulder top already. I LOVE it. Sizes are going quickly but it's an OTS that won't slide up or down on you. Because it has a built-in bandeau bra it keeps you in place and won't ride up your shoulders. I am such a fan I wish I had this color, too.  My exact trench is not longer sold but I found one that is on sale and darling. You can beat the price and it's a classic look that will never go out of style.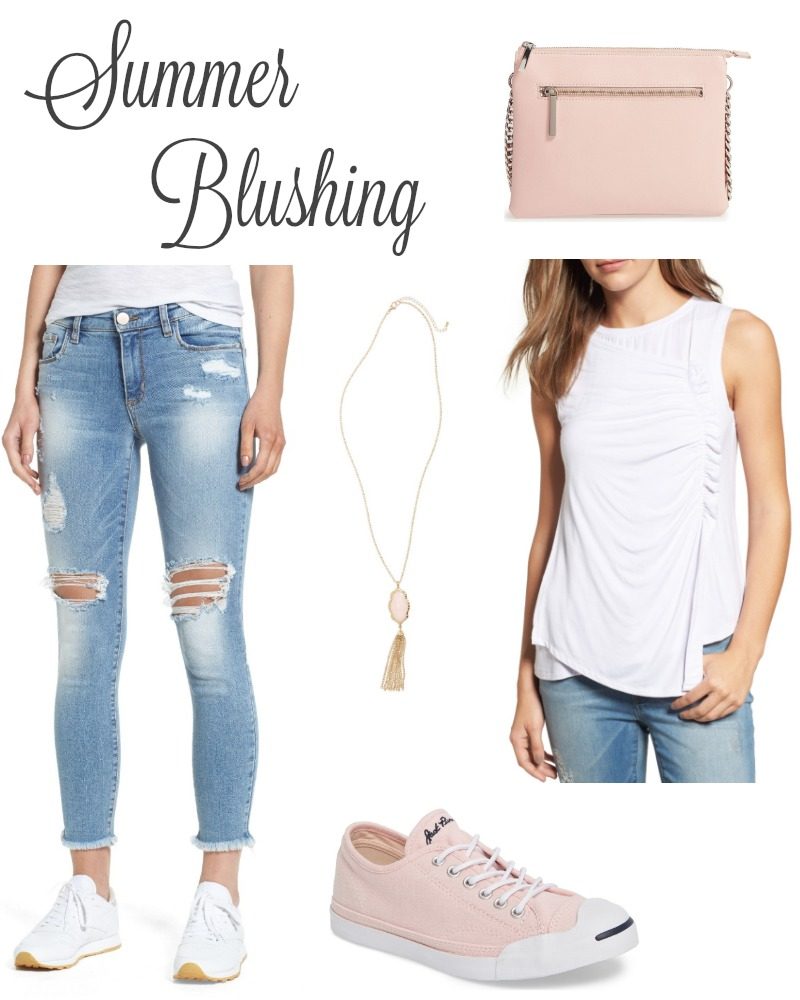 jeans | top | sneakers | necklace | handbag
Don't you just want to throw this outfit on? These jeans look so comfy and I love a nice cropped style for summer. They look great with flip flops, sandals, and sneakers. I have been getting so much use out of that white top. It comes in many colors and I highly recommend. The sweet tassel necklace is only $12. While it may not have the same quality as a higher end Kendra Scott piece, it certainly gives you the look and let's face it. . . these necklaces don't take a lot of wear and tear so it's a great way to get the look for less.

The sale also has a great selection of neutral block heels. I am such a fan. This is the style I reach for the most in my closet. They all come in many other colors but I am a sucker for this light tan because it looks good with everything. I broke down and ordered these sandals in the same nude color. So pretty for summer.
My pick of the week are these price matched Jack Purcell sneakers. Can't beat the price and the color is so pretty!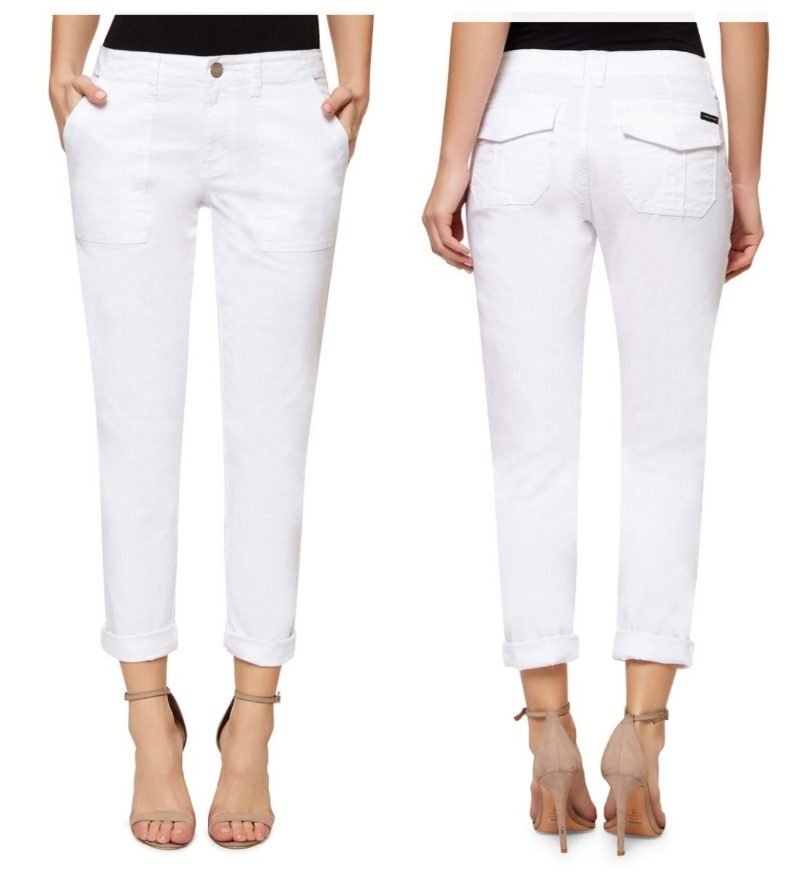 A few of you ordered these cropped pants and let me know you love them. They come in a few colors and are darling. Great for summer.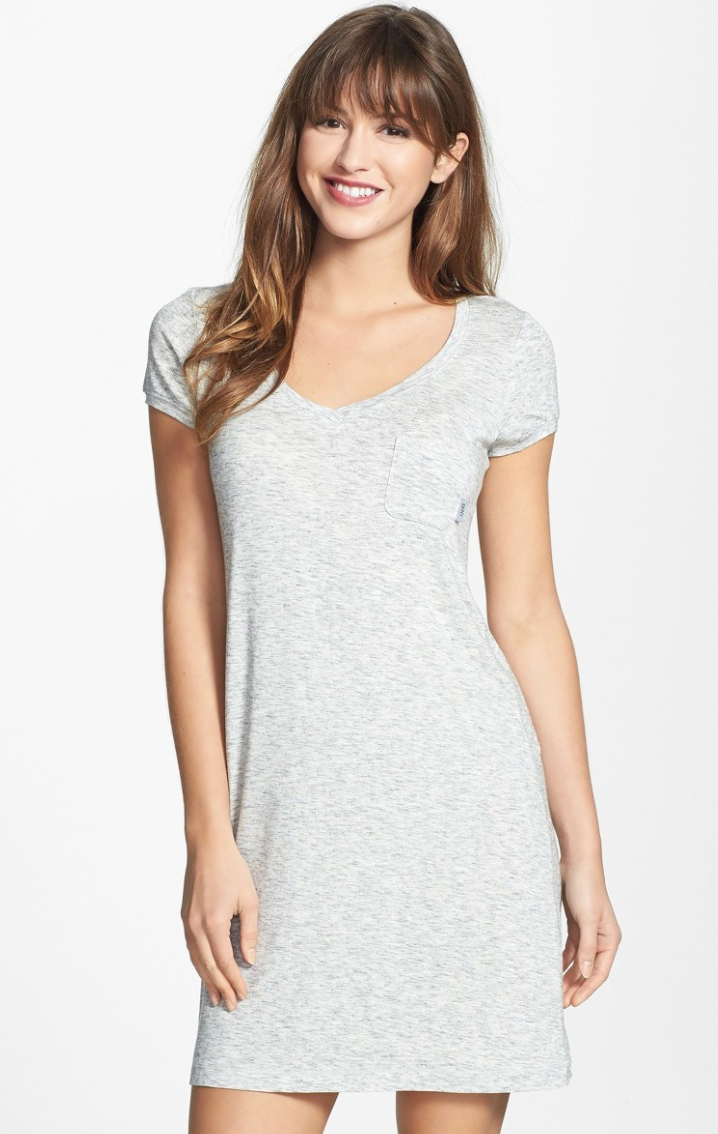 Summer also marks the time when we go hard all day at the pool or beach and then get back, shower, and toss on pajamas. Nothing better than that happy tired feeling after a day in the sun. This pajamas shirt is adorable and great for the warmer months. It received excellent reviews, too.

Two more days to save with this sale so just click on the image above to see the great deals.
POTTERY BARN TEEN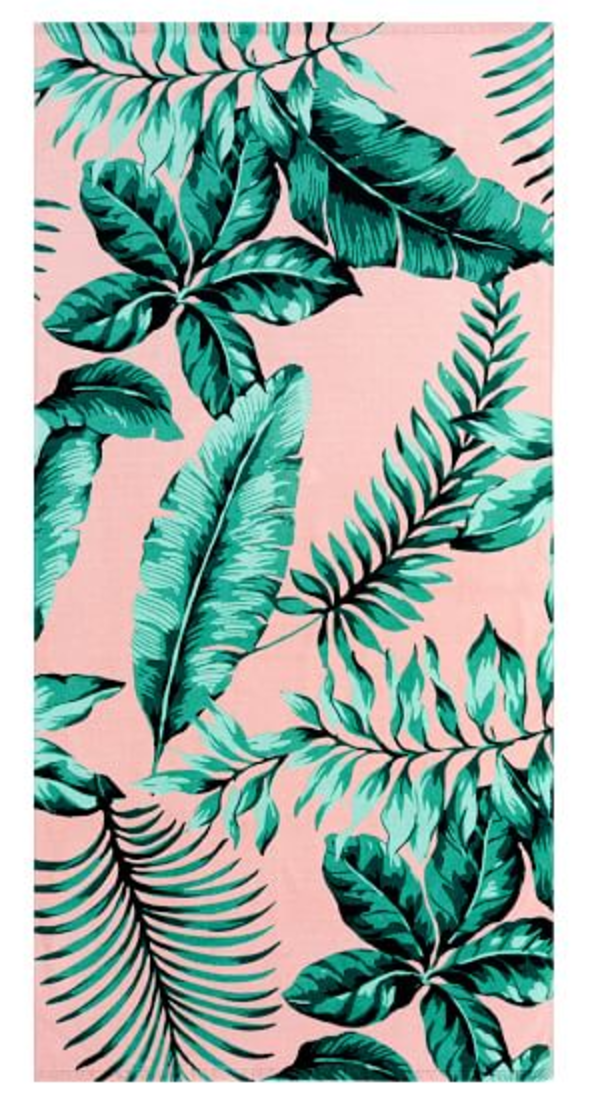 My daughter just ordered this beach towel thanks to Grandma! The selection of towels is darling right now and worth mentioning. Plus you can get 25% off any 1 item right now. That also includes furniture if you have had your eye on a piece. One of my favorite gift ideas is wrapping up a beach towel in a cute Dollar Store beach pail. It works for petty much any age!
ANTHROPOLOGIE
Anthro has so many cute tops for under $50. These are the ones that caught my eye but the whole selection is darling. You can click on any top above for details.
WAYFAIR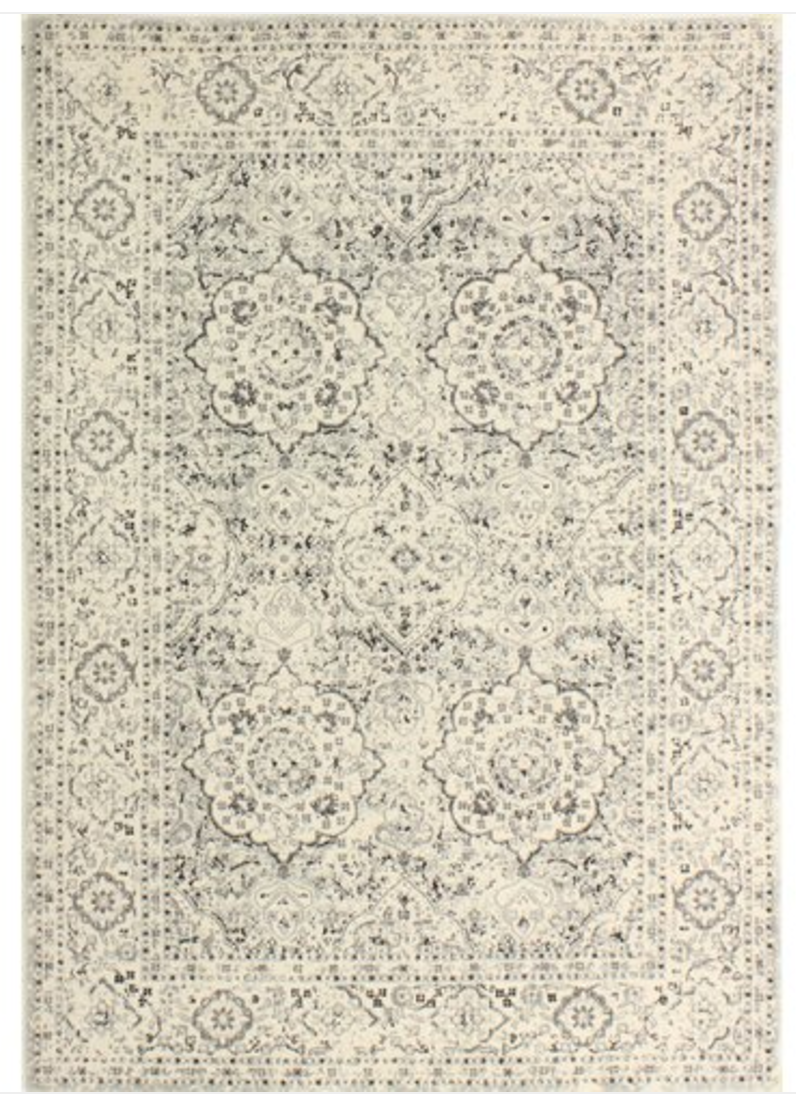 Wayfair is having a big living room even that is worth checking out if you are in the market. This rug is so pretty. I am a big fan of a beautiful neutral rug so that you can switch up the accent colors whenever you choose.
SALES AROUND TOWN
World Market | up to 50% off outdoor.  These are ours from our backyard.
J. Crew | 25% off your purchase Love these shoes.
Anthropologie | so many pieces under $50.
West Elm | 30% off in stock items. This sofa!!! I am in love with it.
Ann Taylor | $50 off dresses
We are enjoying having our Grandma in town and just savoring these first couple day of summer. With a baseball party this evening and a hockey game to watch. . . let the fun begin. Enjoy your day, all!
Oh and I am sooooo grateful to everyone who added summer ideas to this post. I have the best readers. The list is growing and there are so many amazing ideas. You all are a creative bunch!
*Affiliate links used.