Good morning, friends. What a quick and crazy week. Having the holiday in the middle of the week threw us for a loop. How about you? What are your plans this weekend? I am mid closet clean out and need to wrap it up. It's a hot mess right now. We are also looking forward to a BBQ with friends and some beach time. I rounded up a few things that I have been wearing a lot lately plus some great sales for this week's Saturday Shopping.
Ruffles, cropped pants, and bright tote bags. Sounds like summer to me, right?! These are all favorite of mine and currently on sale.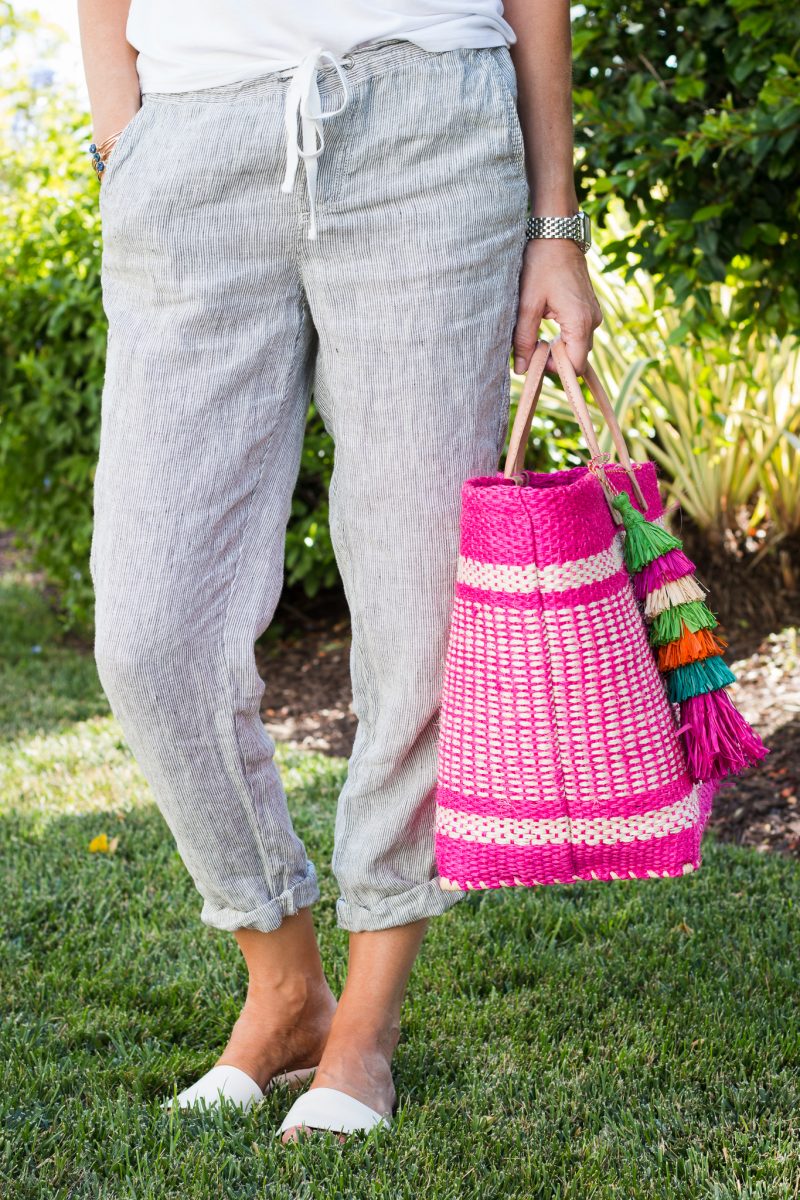 ruffle top | cropped pants | slides | tote bag | necklace | sunglasses
These pants have been a staple around here. We took the kids to see Despicable Me 3 last night and I wore this outfit. So comfy. You feel like you're in pajamas but still feel so pulled together. And inevitable, I get questions about where I can find these pants. They are still on sale and a great deal. My slides are sold out in white but I spotted these by one of my favorite shoe designers.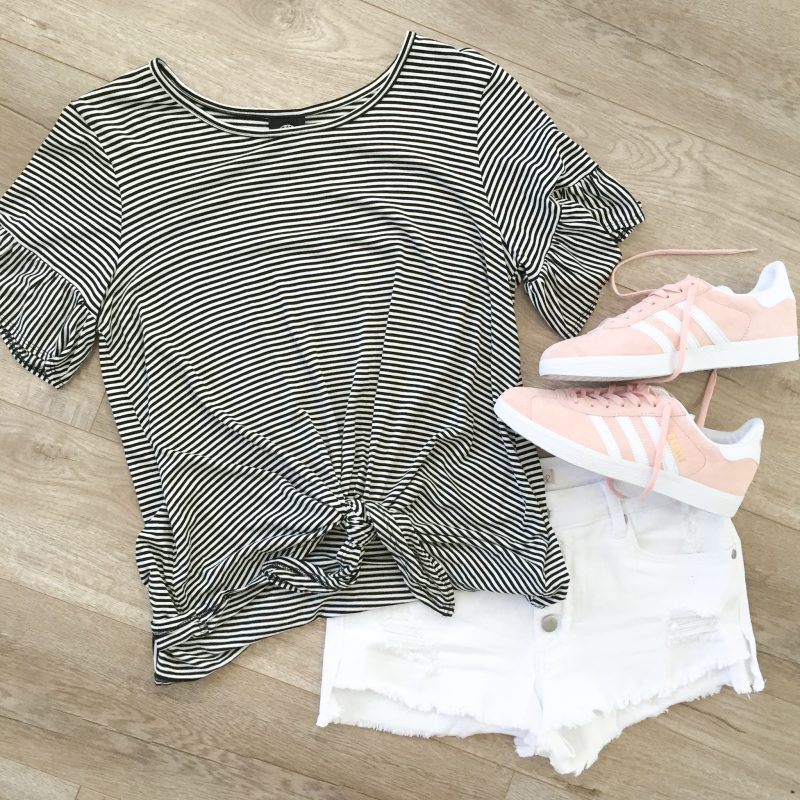 Also on heavy rotation over here is this striped top. The ruffles and the knot add such cute interest and it's incredibly soft. I have been pairing in with my white cropped pants as well as these cut-offs. A little touch of pink makes running errands super comfortable. And when it's 90 degrees lately shorts are the only way to go.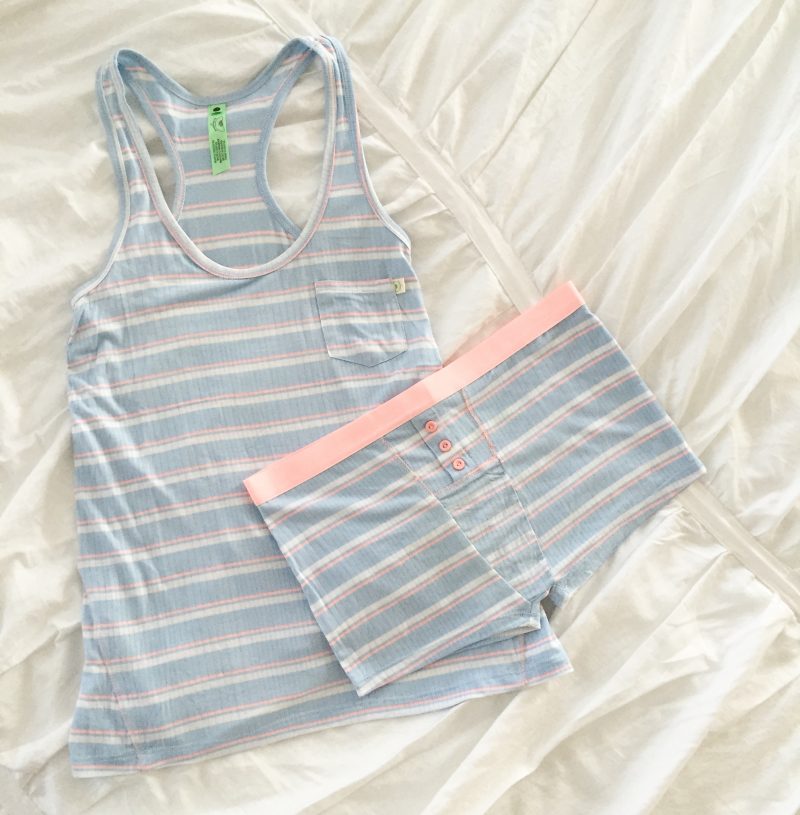 How cute are these powder blue jammies? My friend Stephanie just gave these to me for my birthday and I LOVE them. They are super soft and perfect for hot summer days. In fact, after we took the kids to the movies last night I couldn't wait to come home and put these on for the night. These pink ones are now on sale. Honeydew is one of my favorite brands. This nightshirt just came out and is beautiful.
CAUGHT MY EYE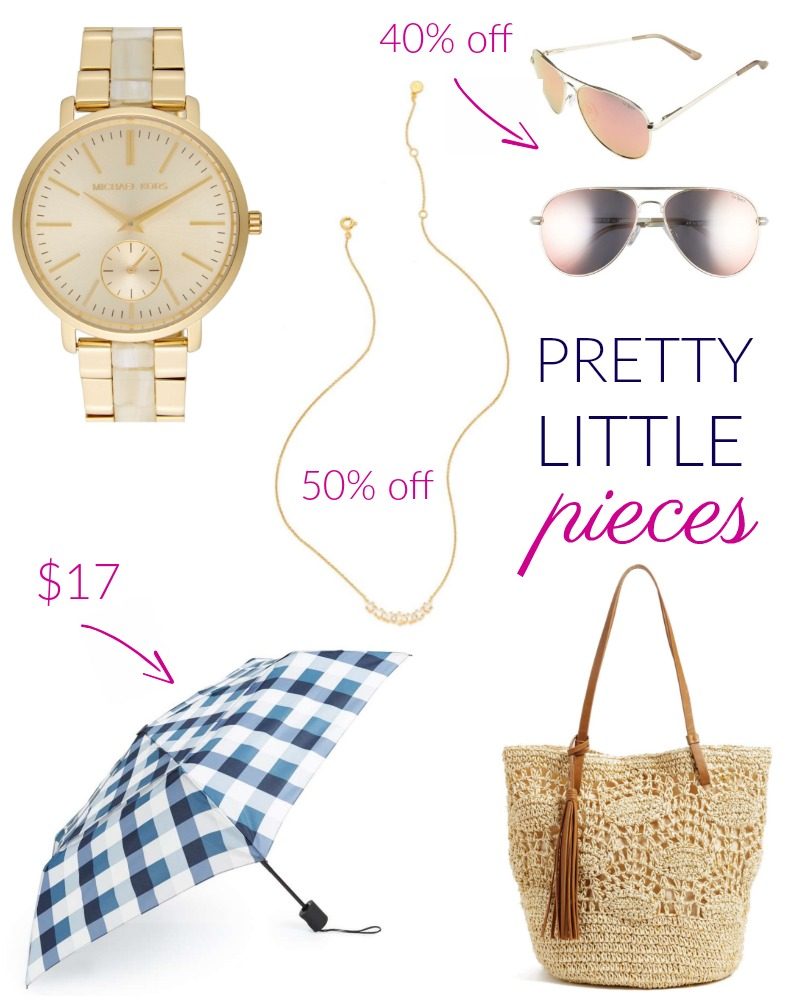 watch | necklace | sunglasses | umbrella | tote
NORDSTROM ANNIVERSARY SALE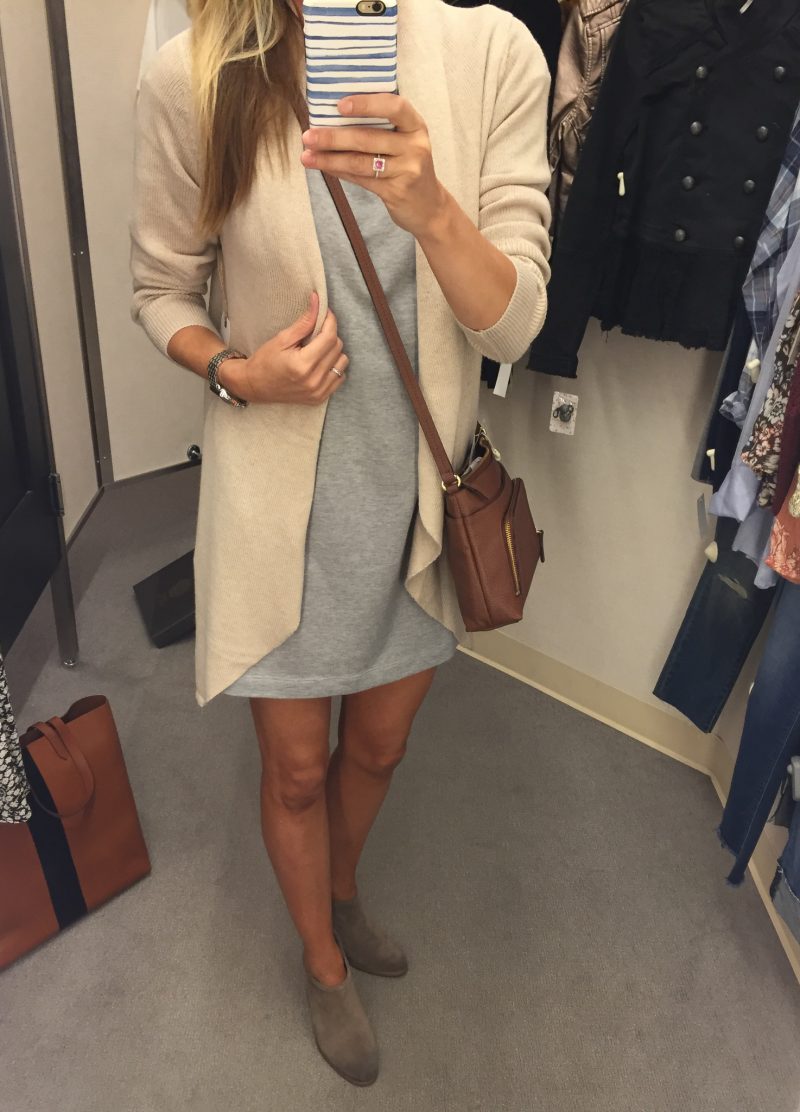 If you are on Instagram and caught my Instastories, I gave everyone a sneak peek of what is about to hit stores next week for the Nordstrom Anniversary Sale. I am so excited! Early access begins on the 13th and the sale is open to non-cardholders on the 21st. Here is one of my favorite looks that will be available during the sale. Be sure to check back here on the 13th for all of the links. Thank you to my friends at Nordstrom for letting me play dress up a little bit early!
If you have requests on what you would like to see, please let me know. Work wardrobe, things you can wear now, etc. Happy to scout it out for you next week.
ANTHROPOLOGIE

I have such a soft spot for Anthro. Their prices are so high but their sales are the best. This white jean jacket is darling. All the sale pieces are an extra 30% off.
VACATION MODE
We are getting ready for a little getaway and I have my eye on some one piece swimsuits. This one is on sale and so pretty. Do any of you have it? It's gotten great reviews and comes in three colors. I like the black and white. I did order this wrap as a cover up. It's only $22 and so darn cute.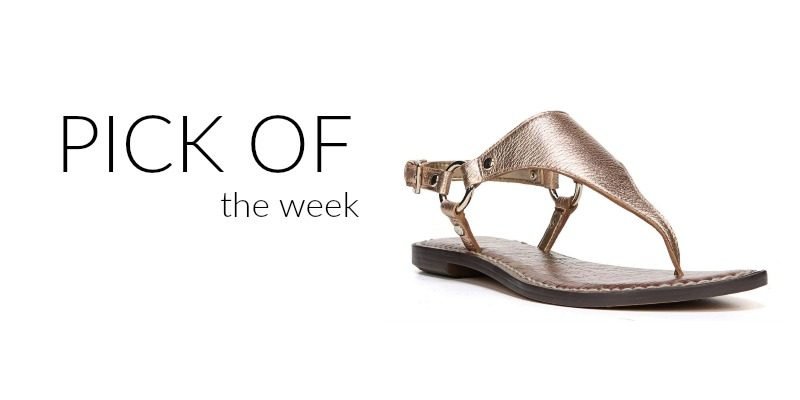 These little cuties are on sale for under $60. I gravitate towards this neutral metallic but they come in a ton of different colors. I have a similar pair by Sam Edelman that I have worn for over two years. This is a classic style and looks great with everything. I wear them with sundresses, shorts, jeans. . . you name it. Great style to add to your wardrobe if you are needed of a classic sandal.
SALES AROUND TOWN
Loft | 40% off. This dress is darling.
World Market | 50% off desks and desk accessories
J. Crew | up to 70% off. Waiting for these to go on sale!
Anthropologie | extra 30% off sale items
West Elm | 25% off any item
Ann Taylor | 40% off tops
Pottery Barn | 20% off one item
Have a great weekend, sweet friends. I will be back on Monday to wrap up what's been going on in our neck of the woods.
*affiliate links used.