Good morning? How was your week? My daughter and I had some one on one bonding time while my son did a baseball camp which was really nice for us. We were able to spend time with Grammy yesterday and days where all three generations are together make me so happy. Today I am working on a back to school project before meeting up with some friends. I rounded up some great sale finds as well as in stock items from the Nordstrom Sale. Here is this week's edition of Saturday Shopping.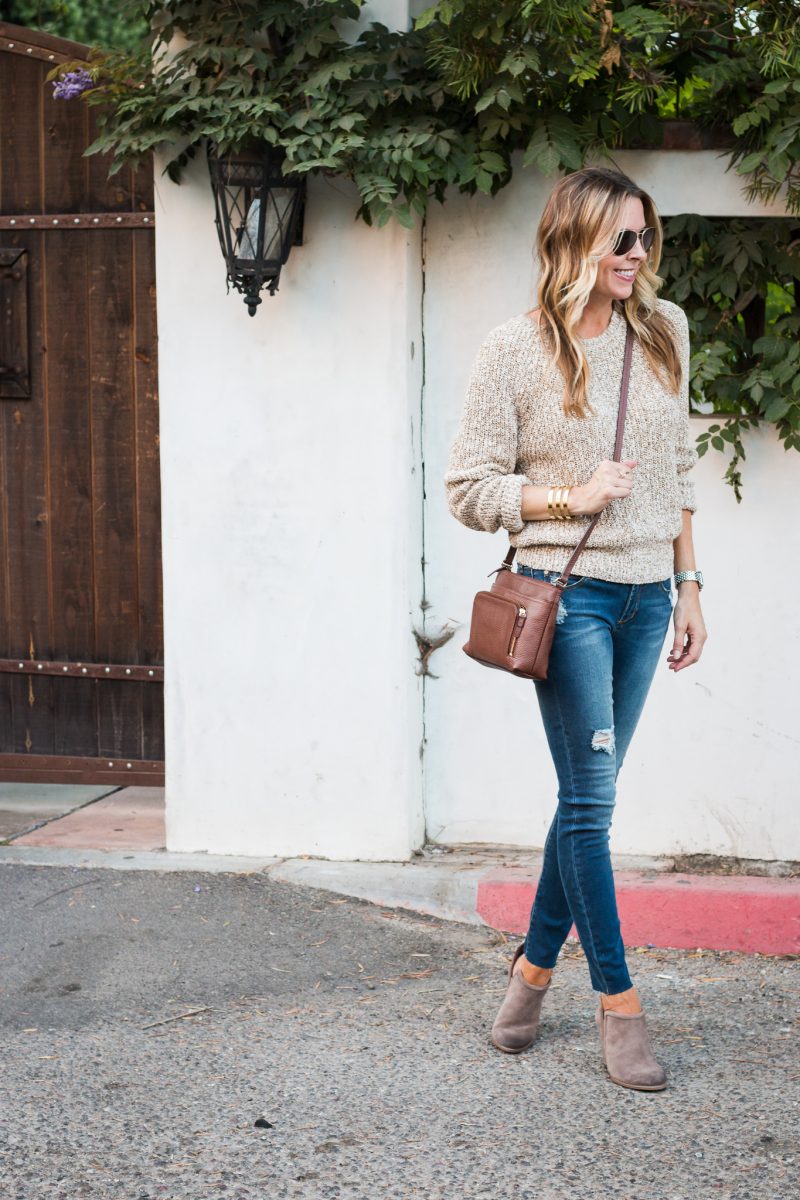 sweater | jeans | booties | handbag 
I really adore this sweater. It's comfy with a great fit and comes in three colors. I have already worn it a handful of times because our nights get quite chilly. The handbag is one of my top five purchase for sure. Carried it for date night just last night.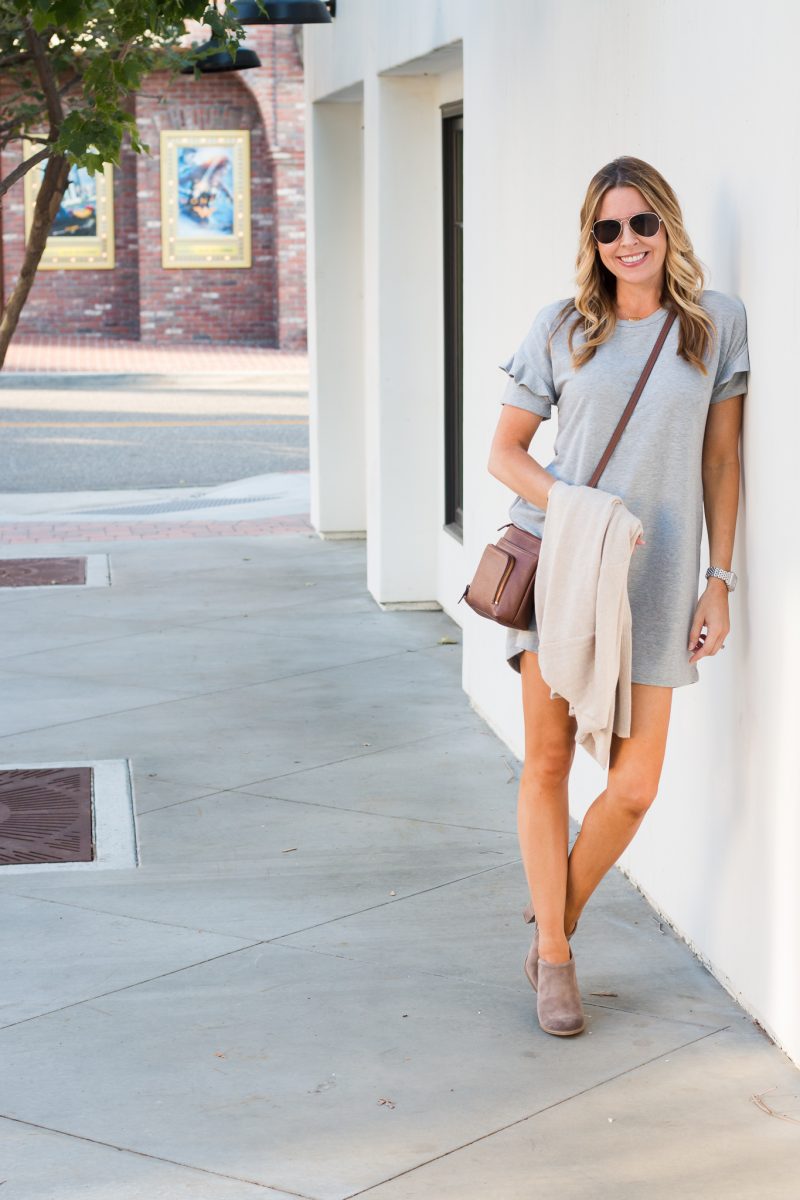 This dress is back in stock in two sizes. Wore this look out last night for a date night and it's so soft and comfortable. The size I bought is an XS.  I noticed this other dress I love is in stock in one size (I bought an XS). It's so good paired with this cardigan. It's in stock in an extra small/small which is quite big. That is what I bought. So soft and really a great cardigan. If you've had your eye on this lace tank, it's been restocked in a couple of sizes.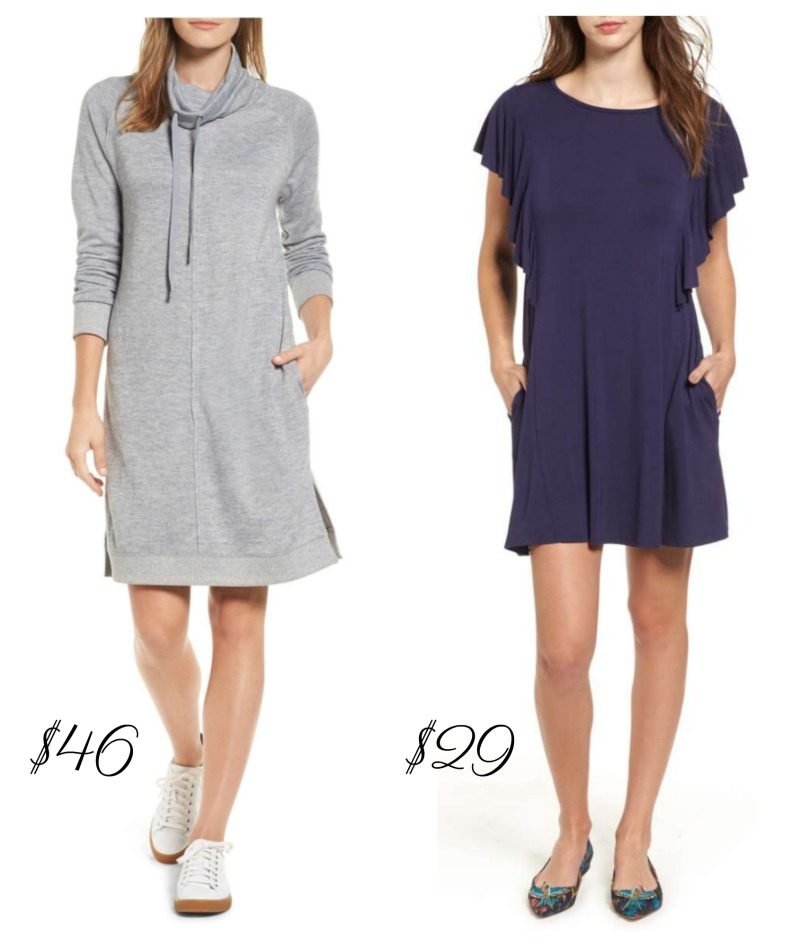 These are two super comfortable dresses. The gray one is especially great if you like to stay away from dresses that might be too short. The ruffle detail on the other one is a nice nod to the trend lately and it comes in many different colors.
COZY CARDIGAN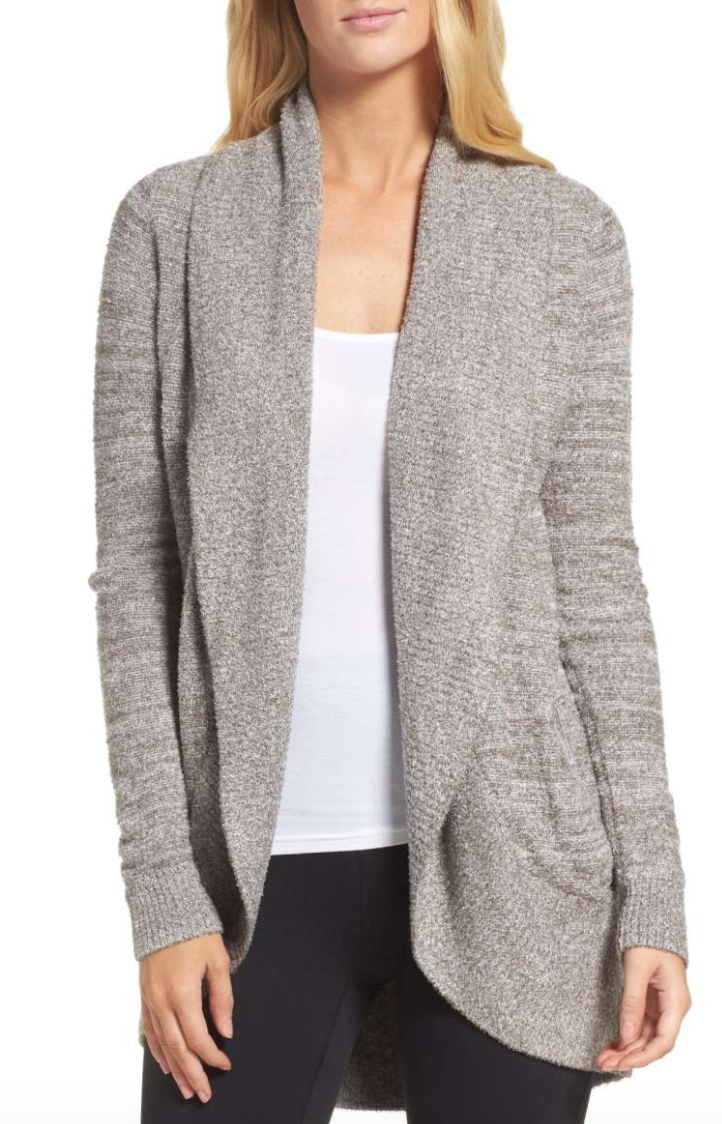 So many of you were disappointed the Barefoot Dreams cardigan sold out but it's back in three colors. My favorite is the cocoa/pearl heather. It honestly feels like the softest baby blanket ever. It's so great to put on in the evening and I know I will wear in non stop in the Fall and Winter with leggings. This is a good one, my friends. It's actually one I didn't buy right away and was super bummed when it sold out. I learned my lesson and bought one this time around. These pajamas are also really soft and such a great price point at $35.
BEST KEPT SECRET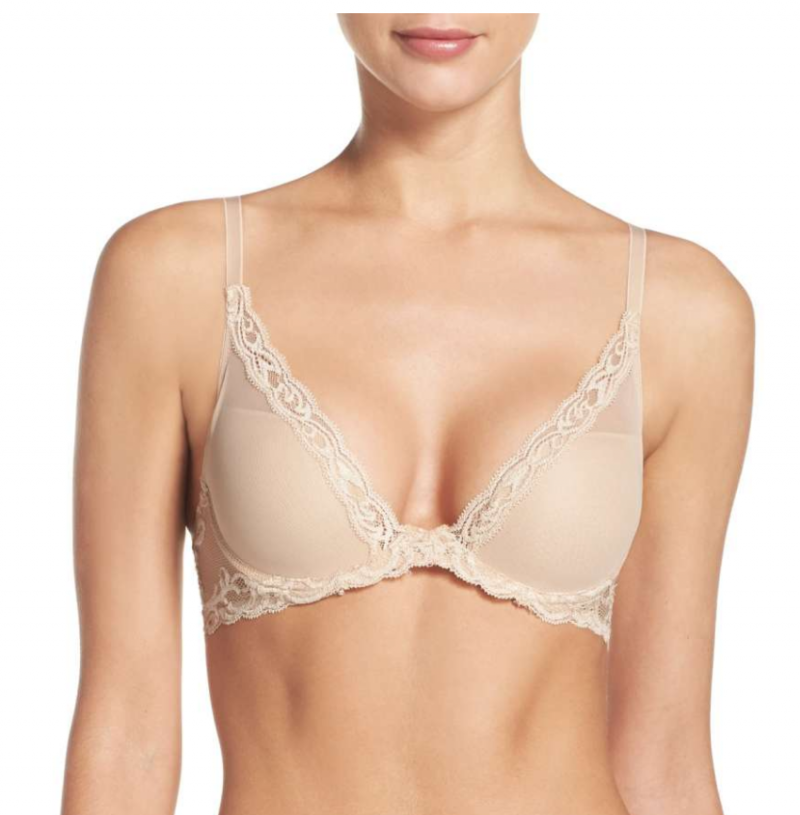 I finally broke down and bought this bra after being so impressed with the 1.2k awesome reviews. Girls! It's a great bra. Here is the deal. First and foremost it's comfortable. I normally wear bralettes and this feels like one but with more support. It also really gives the girls a lift without any padding. The sizing is correct. Be sure to go up a full cup size. I was nervous to do that and ordered online, but that advice was spot-on. Highly recommend this bra, ladies. It's especially nice under t-shirts like this one.
ADD SOMETHING SPECIAL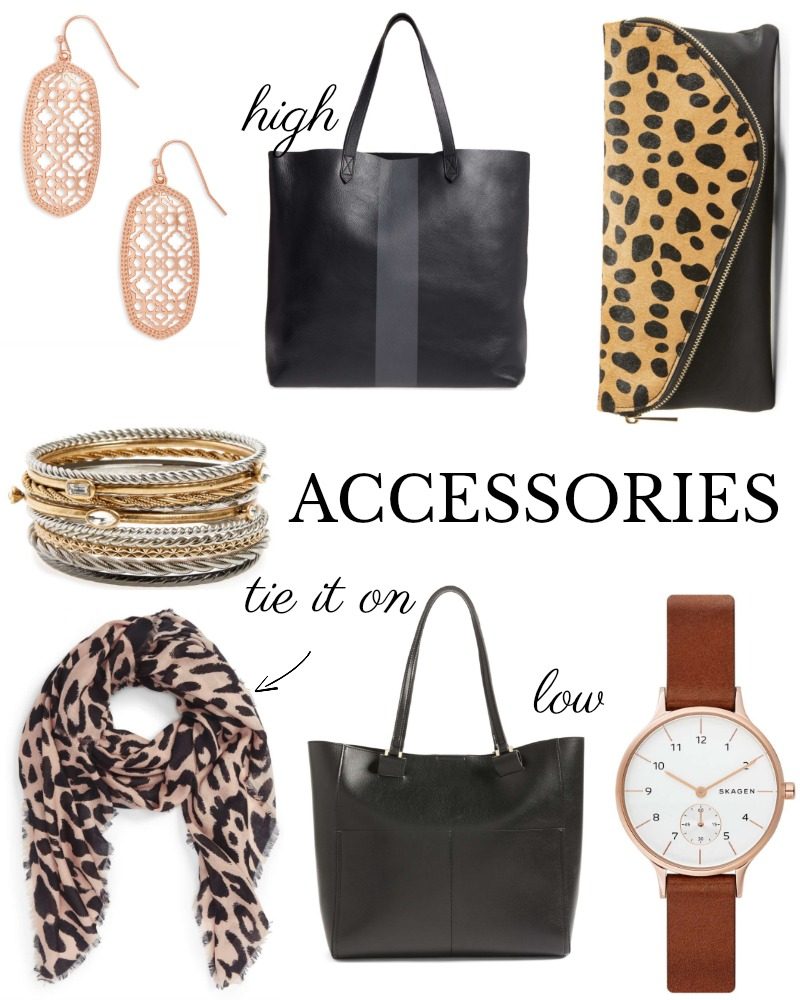 There are some great deals on accessories which also make awesome gifts. I love giving Kendra Scott pieces and these earrings are a favorite of mine. I also thought this watch was really beautiful. If you are looking for a nice black bag this one is my high choice while this one comes in at a lower price point. Both very cute.
SHOP ACCESSORIES


t-shirt | booties  | clutch | jeans $38
This t-shirt is hands down an all time favorite purchase. It comes in one million colors and is a great wardrobe staple. I wear it alone or layered all the time. The clutch is a fun way to add a chic vibe to you look. I love that is long so I can put it under my arm. I really like this clutch but wouldn't want to pay full price for it. Now is the time if you have your eye on it.
These are my daughter's favorite no show socks. She likes they cover the front part of the foot more. They are more comfortable with her Adidas and booties. A great purchase at $7. If you are in colder climates, these wool socks are awesome because they add the warmth but not the bulky feel.
DENIM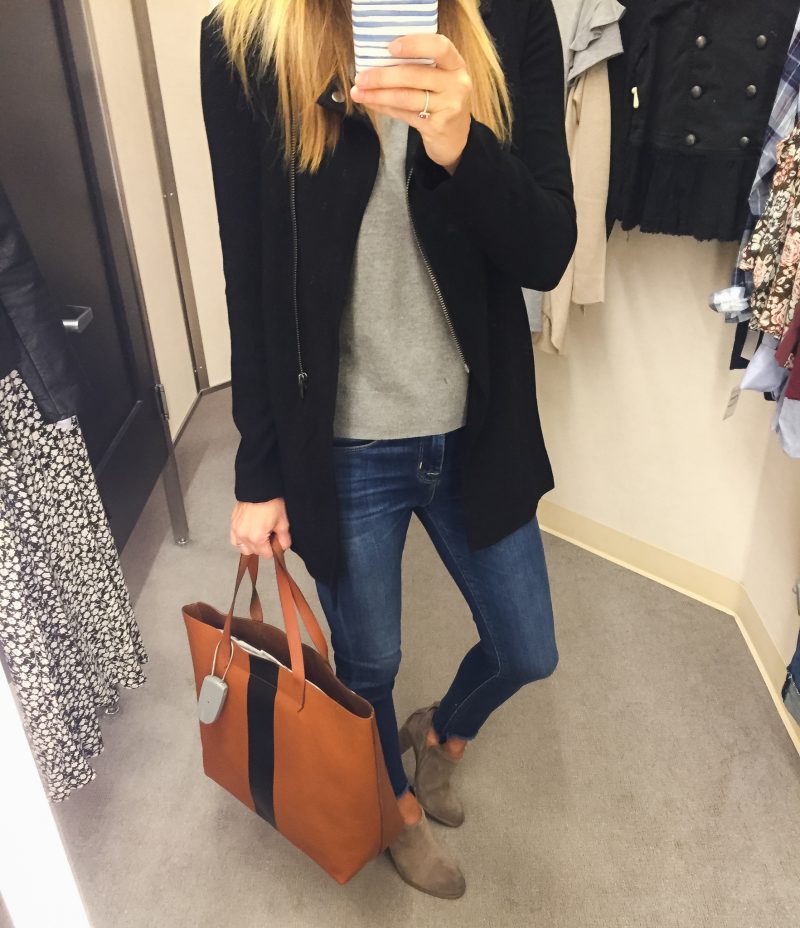 These are the Hudson jeans but I noticed my $38 Mya Skinny Jeans are stocked again. Grab them quickly if you missed out. So soft and such a steal. I also noticed the release hem jeans are back in stock. I bought these right away and they are also only $38.
LOFT

This ruffle t-shirt is now $12!!!!!! Yes!!!!  I have a grey one from last season and LOVE it. Such a good buy. This gingham dress is darling, too. All sale items are now an extra 50% off so it's worth checking it out here. 
ANTHROPOLOGIE

This peplum top is under $30 and really sweet. I also thought this halter top was gorgeous.
HOME FINDS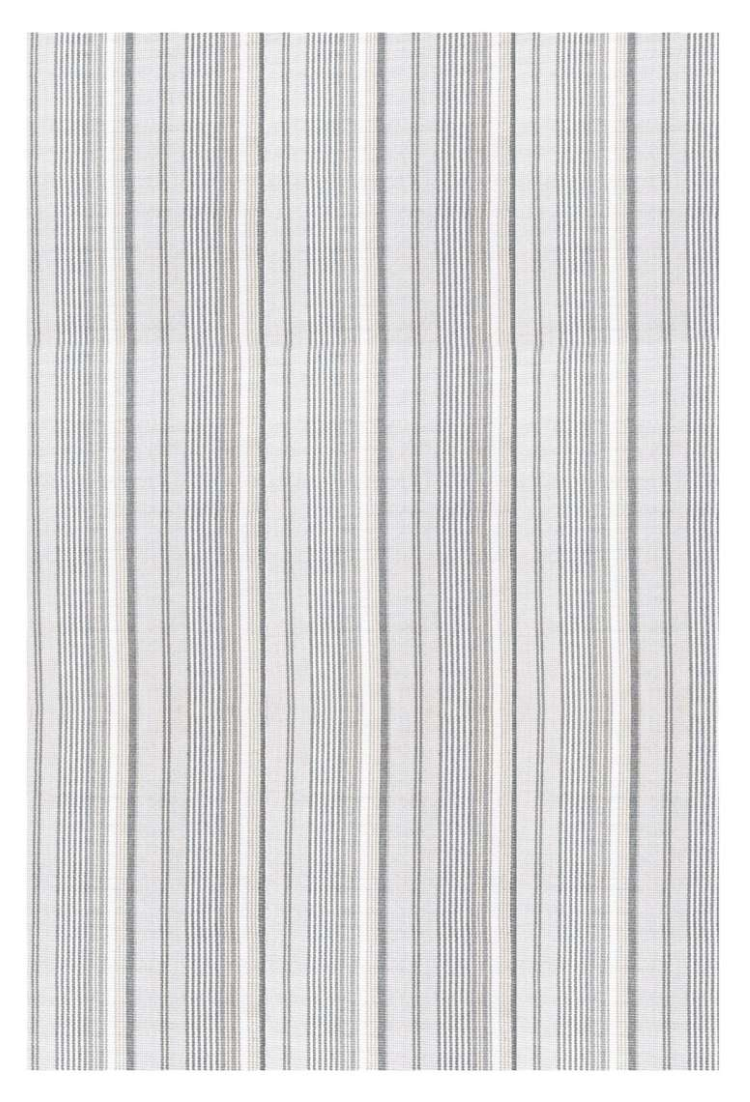 Ever since I saw one of my favorite designers use this rug in one of her designs I have had my eye on it. It's just beautiful. I love this rug so much. It's part of the anniversary sale and I am doing my best to find a spot for it in our home. So good. The entire rug collection is worth a look. Great designs and prices. The art collection is also worth a glance if you are looking to fill up some of your walls.
I will be back to update this post with more fun sale finds as I discover them. I hope you all have a really great weekend. Do you have fun plans? Oh, and I know many of you saw my Instastories with our new Ikea dresser. I plan to do a full review on the blog this coming week. Thank you for all of the direct messages and questions.
See you back here on Monday.
*affiliate links used.