Can I get an Amen for the weekend!!! We all slept in just a bit. That's big for this family. We were genuinely wiped out last night. You know when you look forward to Friday night all week? You can't wait to relax, stay up a little later and just soak in the weekend. Well, instead I couldn't stop yawning and was ready for bed by 10:00. Oh, well. I'll get 'em next Friday! Today I am sharing some tried and true favorites I have been wearing lately plus other really cute finds I've spotted in today's edition of Saturday Shopping.
STATEMENT SLEEVES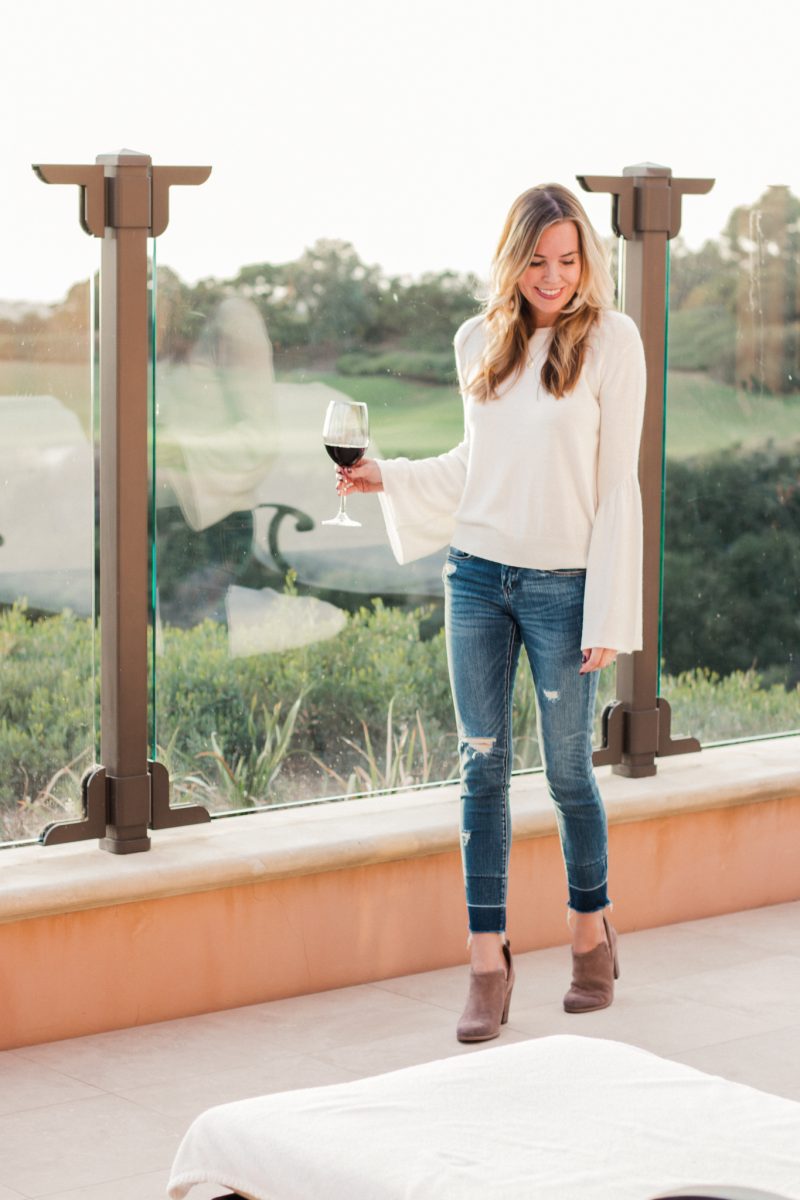 This is a top I picked up on a whim but I have to say it's become one of my very favorites. It is incredible soft and a nice lightweight. It falls really nicely and when I wear it people are always asking where it is from. I just love the sleeves. Such a pretty statement sleeve without being over the top. Highly recommend this one. These jeans remain one of my favorite purchases this past Fall. Fit great and I love the hemline.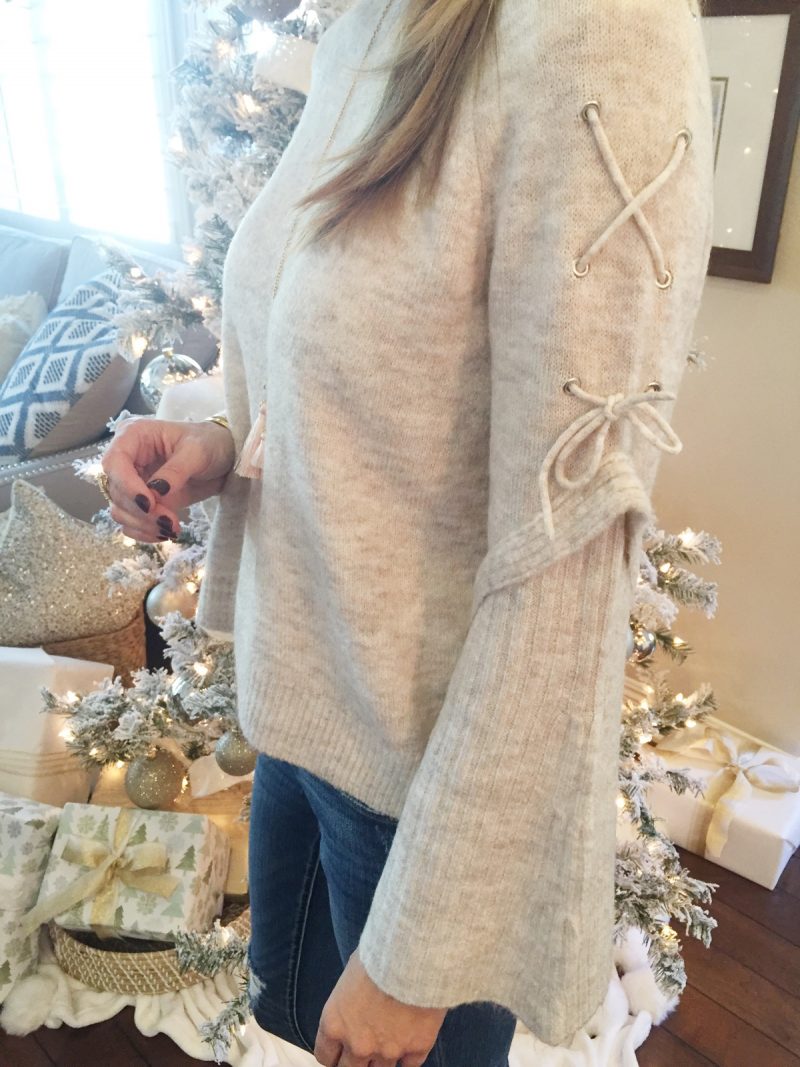 I'd like to take a moment to thank each and every one of you for your really kind comments on Instagram yesterday. Opened up a bit and plan to do more of that because I think it's a journey that so many can relate to. This sweater is a new one and it's a fun one to wear. I adore those sleeves. And what's great is that while it is a bell sleeve, they are not super long so they don't get in the way. It's all about the details and this sweater has it in spades. It's very lightweight and soft, too. It looks cute paired with this tassel necklace.
SOFT PINK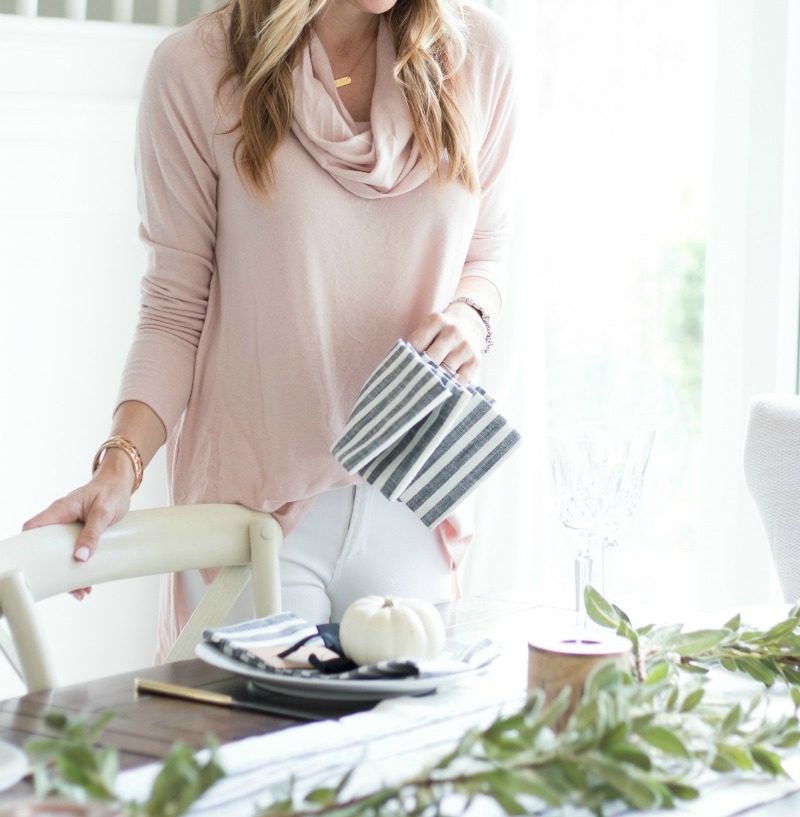 This is another top I keep wearing. It comes in many different colors and looks great with anything. I love the neckline and you can even wear if off the shoulder.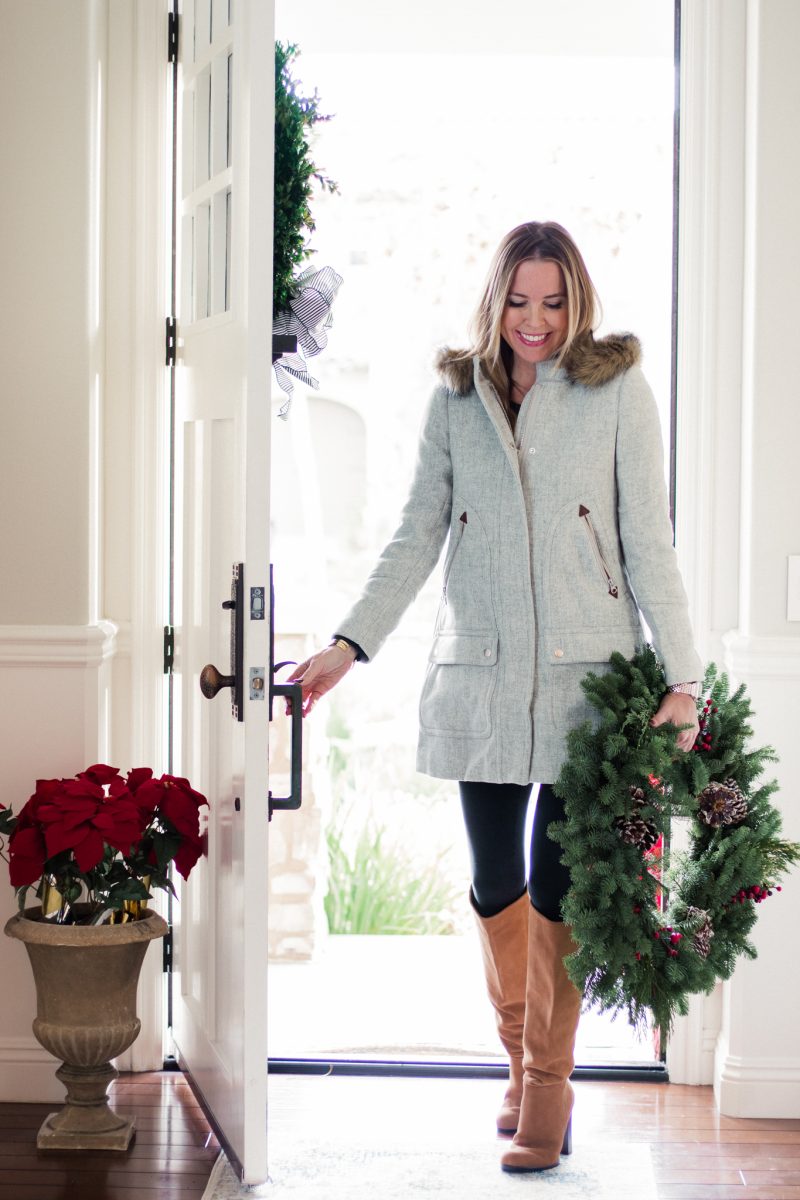 This coat has been a big hit with all of you. It's an investment but it's 30% off and such a classic. The gray is currently sold out, but the black is not. I LOVE the black and went back and forth between the two colors. In fact, the black looks so pretty with the fur collar. Many of you sent me messages about the fit. This is a 0. Having said that, I would have gone with a 2 if I were wearing sweaters under it. I only wear dresses and tops with a coat in Southern California. So under the arms would be snug with a heavy sweater. I hope that helps a bit.
And those lovely wreaths can be found at Costco. Love a pretty fresh wreath. Only $16 at Costco! Can't beat it. The leggings are really comfy and have gotten excellent reviews. I live in leggings this time of year.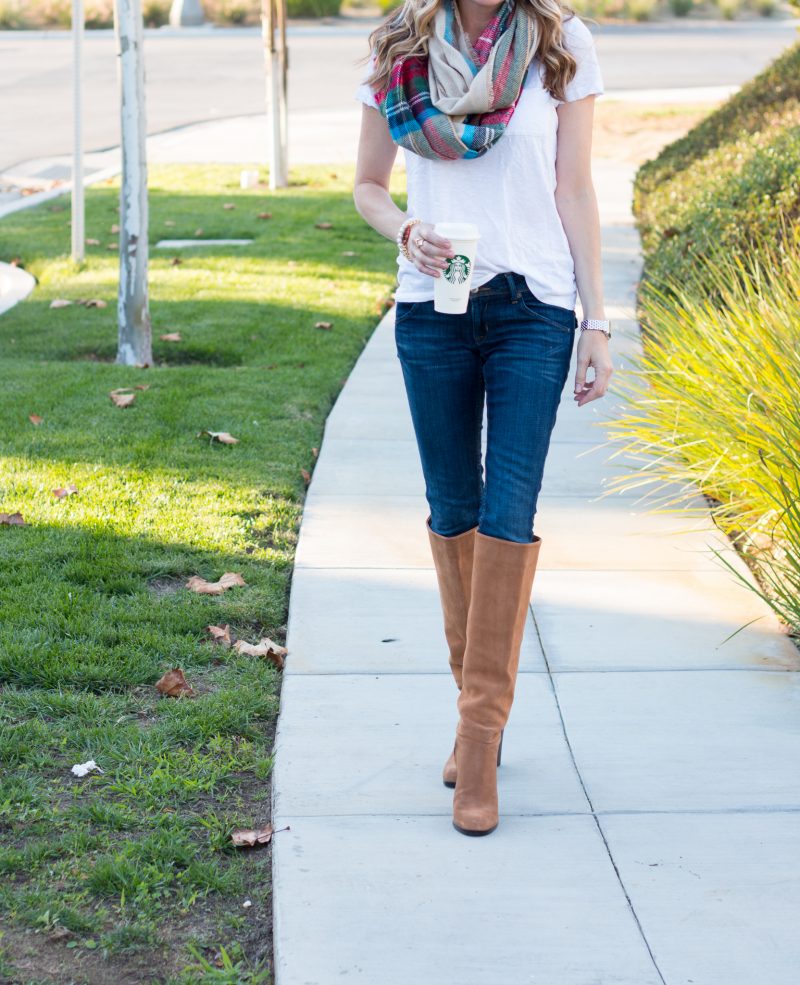 jeans | boots | t-shirt | scarf
I've also been reaching for this plaid scarf. It's soft and instantly adds a little holiday charm to a simple outfit. Great gift idea for teachers or friends, too.
SOMETHING SPECIAL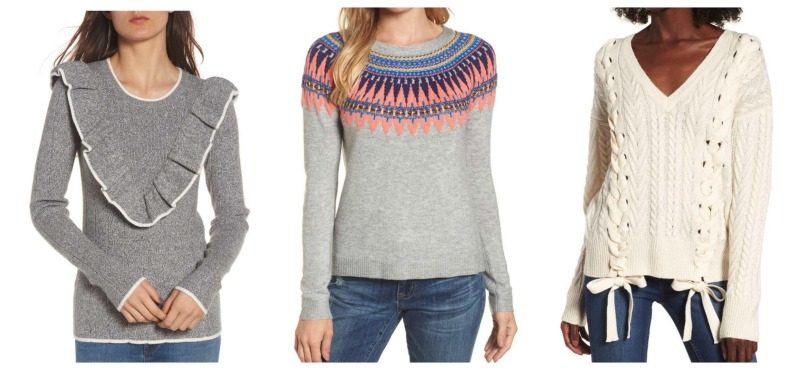 These all caught my eye this week. I can remember shopping with my mom when I was growing up and when I would pick something out or try something on, she would always say, "Well, this one is darling because there is something special about it." These all have something special about them. Love the details.
SWEATERS

Click on either sweater for details. The off the shoulder one can be worn both ways and has the prettiest button detail. They are both an extra 50% off making them under $30!
JACKETS

Soooo cute! That faux leather one is under $50 and the denim jacket receives perfect reviews.
ACCESSORIES

These would make wonderful gifts, my friends. The bracelet is an extra 50% off making it $10! The necklace is now $12. I think either would be awesome teacher gift ideas.
This dress is absolutely adorable. Only a few sizes left. It's now under $40!
GIFT IDEAS

Everyone loves a little something from Anthro. The planner is under $10 and the handbag is now only $30.
Ok, friends. We are off to finally clean our garage. It's been a DISASTER throughout the entire process of building our pantry. Like off the charts, "Quick, close the garage door. Someone's coming!" type of disaster. I can't wait to see the floor again. Then we are enjoying our second advent activity. Do you all do something special for advent? Let me know if you want me to share ideas that we do as a family.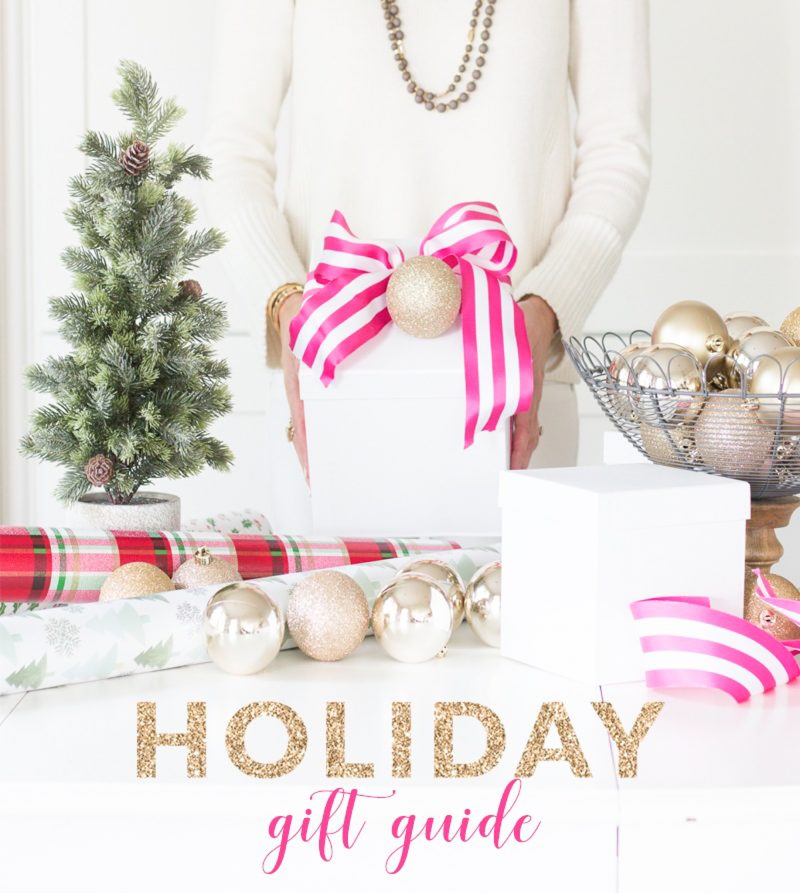 If you are doing some holiday shopping, my gift guides are a fun place to start. Have a wonderful weekend. See you back here on Monday.
*affiliate links used