I have such mixed emotions about it being the weekend. Our kiddos go back to school in two short days and I can honestly say this Christmas break went by much too quickly. Look, not all breaks are smooth and joyful. In fact sometimes I am praying for school to resume. But this one was different. We really did appreciate the family time and the break from our hectic weekly schedule. But I am excited to get organized around here, that's for sure. In the meantime, I curated some of my favorite finds lately. Let's jump into a little Saturday Shopping, shall we?
WEARING LATELY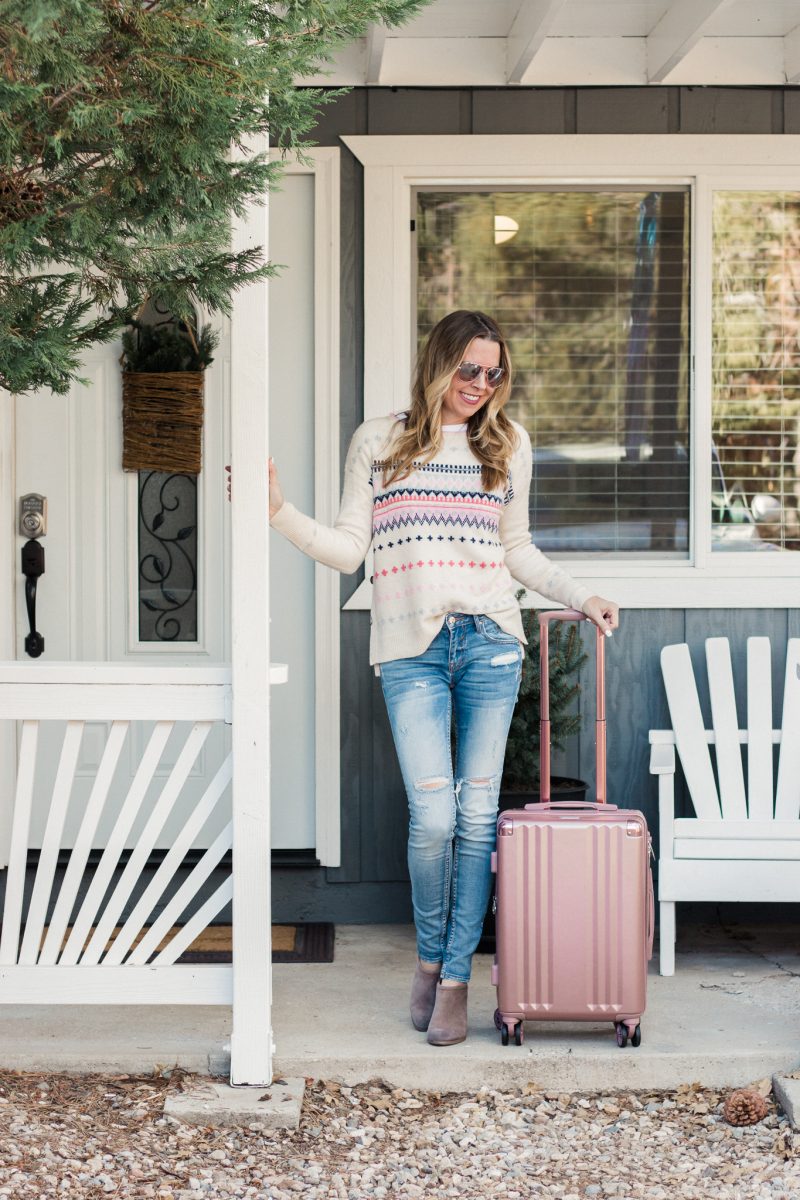 sweater | similar jeans | suitcase | sunglasses |  booties (50% off)
Girls! This sweater. It's a GOOD one. Not only is the print darling but it's really really soft and has cute button detail. Then there's the fact that it's on sale and is $35. I love it because I am wearing the XS but the sleeves aren't too short. That's hard to find. There are buttons that go down both sides of the sweater. I always like when there is a detail that makes a look unique.
TRAVEL FIND
In other news, I am head over heels for this suitcase. We snuck away for a few days (I'll be sharing our trip on Instastories) and this is the first time I've used my new luggage. It was a gift from my husband for Christmas and I absolutely love it. I was a bit worried I would only like it because it's rose gold (let's be honest) but it is remarkably lightweight, has divided compartments, extra pockets and it expands. I haven't had a new roller bag since before we got married and I am so happy I waited for this one. My son still can't believe he has to travel with a mom who has a pink suitcase but we're moving on!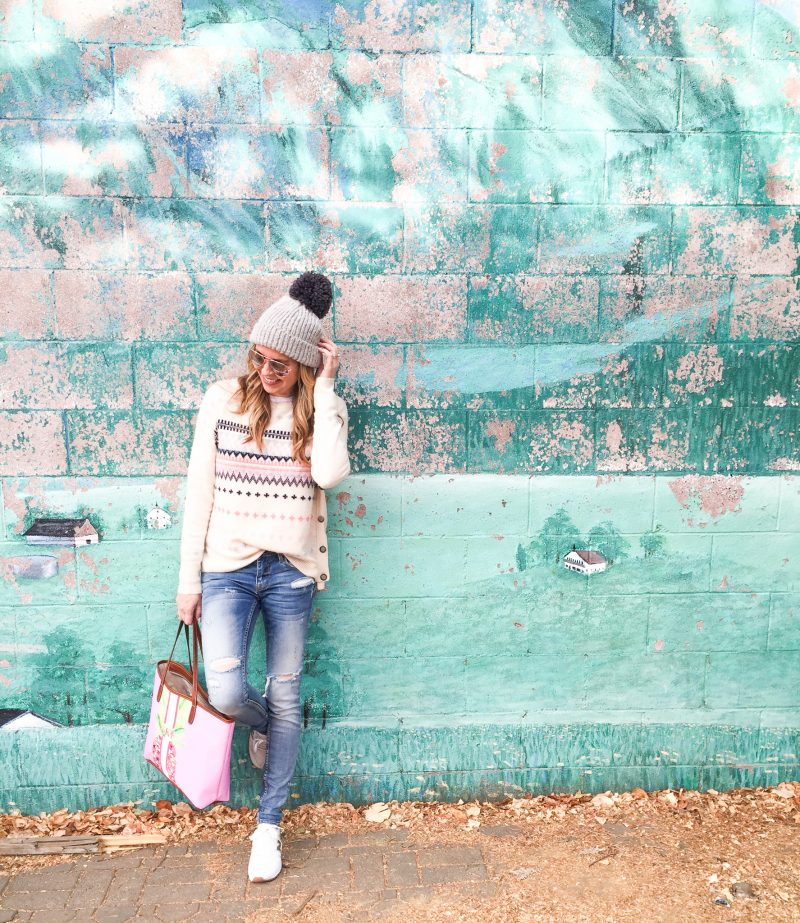 similar beanie | similar jeans | tote bag | sweater | t-shirt | sunglasses ($14) kicks|
Here's another look at the sweater with comfy shoes and my beanie. I have worn these shoes so much and can't say enough about them. Definitely go down a 1/2 size. But the fit is really comfy and I get so many compliments on them. When I travel, I always take one of these totes with  me. I am always so thankful I have them for all of the odds and ends you need when you are out exploring for a day.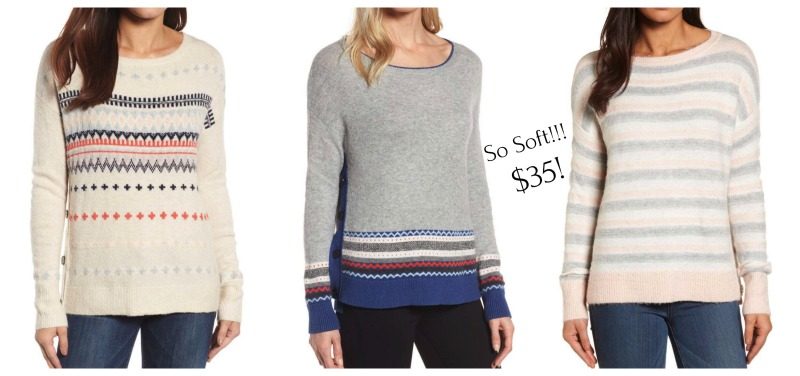 This cutie comes in four different patterns!
More Cute Beanies

NORDSTROM
I've gotten so many questions about where the beanie is from. Sadly this one is sold out, but this is another Top Shop version. I love the giant pom pom. This is another darling choice. You can scroll through more above. I have been grabbing this beanie so often. Bad hair day? No problem! Plus I don't curl my hair as much which keeps it looking healthier. The beanie solves so many problems. Ha!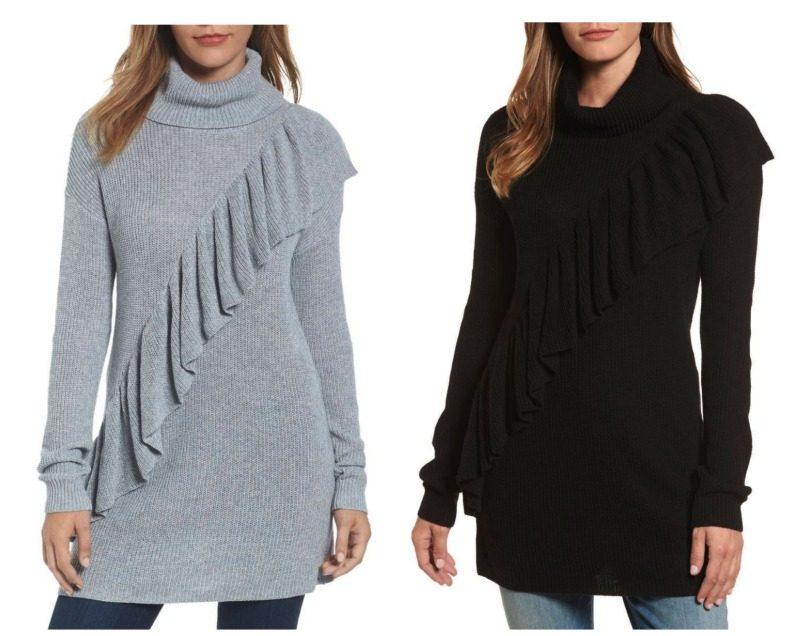 This ruffle front tunic is 40% off. I have the gray one is XS. Love that it's long enough to wear with leggings and boots. It's super comfy and a I am always a sucker for a feminine ruffle.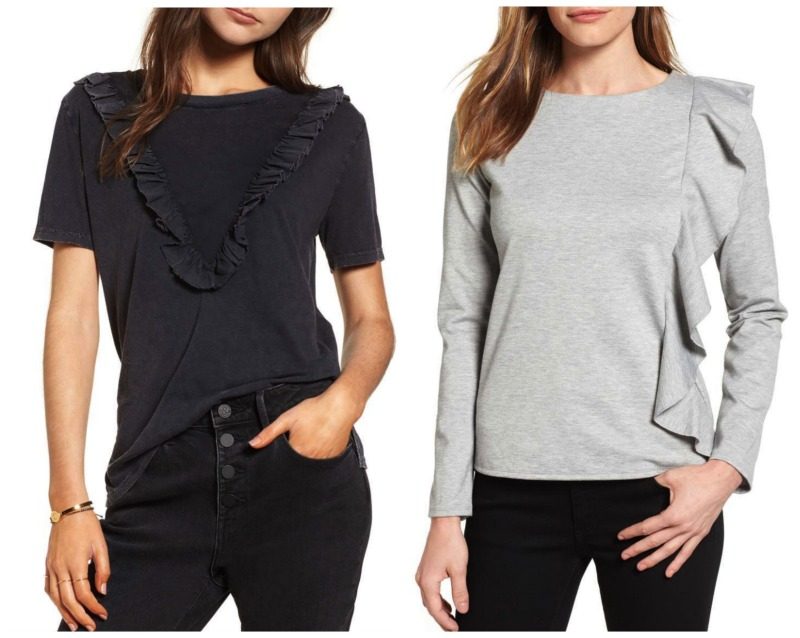 And because I love ruffles so much I thought I'd show you these cuties. I LOVE that t-shirt.

I adore a great, classic heel with a little sex appeal and this one is gorgeous. It's on sale for under $100 and comes in four different colors. So so pretty. It also has received perfect reviews. LOVE this heel. 
 ANTHRO

Anthro is currently marking down all sale pieces an extra 40%. I rounded up some daring looks above.
J.CREW
J. Crew has slashed prices by up to 75%. All sale pieces are an extra 50% off. I just snagged this darling plaid top. I've wanted one forever. I have highlighted a few more great deals. Use code SALEONSALE for the extra 50% off.

LOFT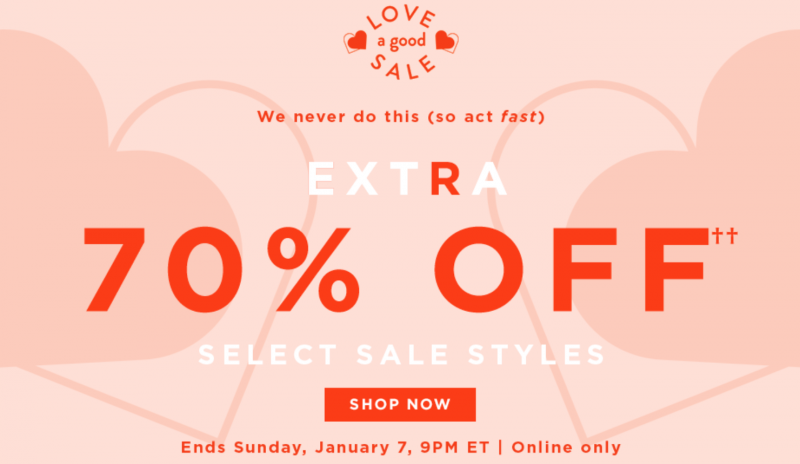 Amazing deals to be had over at Loft! Holy cow. 70% off of the sale prices. Not bad, my friends. Here are things that caught my eye.
WORLD MARKET
So many great pieces have been marked down!
POTTERY BARN
You can receive 20% off your entire oder at Pottery Barn!  That blue sofa reminds me of the one we have in our great room. Love that color. All duvets are 20% off right now too. We are currently looking at chairs. The upholstery event  is going on with the code: relax. Everything is 20% off.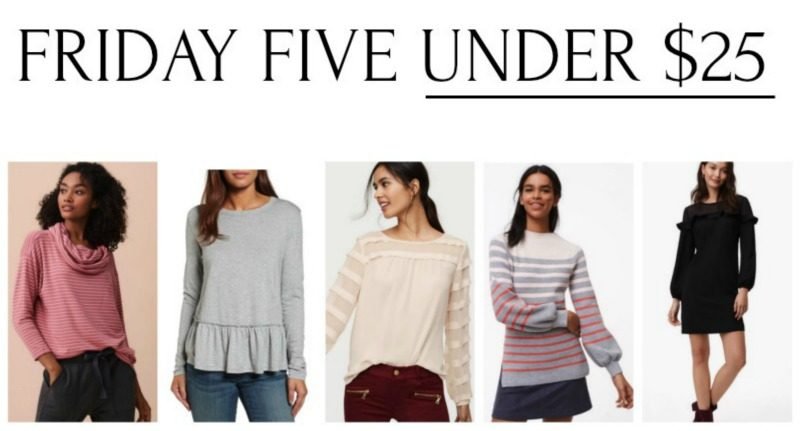 one | two | three | four | five
I've started a new series on Instastories each Friday afternoon. I am sharing five great finds for under $25. But in case you miss them, I will round them up here each Saturday morning!
And now it's time to enjoy family time.  It's been so nice to pretty much shut down except for doing things together.
Wishing you all a wonderful weekend. And stay warm. I know most of you are bundled up and facing even more cold and snow.
Be sure to keep up with A Thoughtful Place on Instagram and Facebook.
*affiliate links used.