Good morning! What does your weekend look like? We are non stop on the go with school activities and tournaments. I hope you all get a chance to relax and enjoy your Sunday. While Mother's Day can be one of the best days of the year, it can also be difficult for many of us so please know that you aren't alone in that. I may have to partake in some retail therapy from the comfort of my own sofa. Anyone else with me? Here are some cute things that caught my eye for Saturday Shopping.
SUMMER STEALS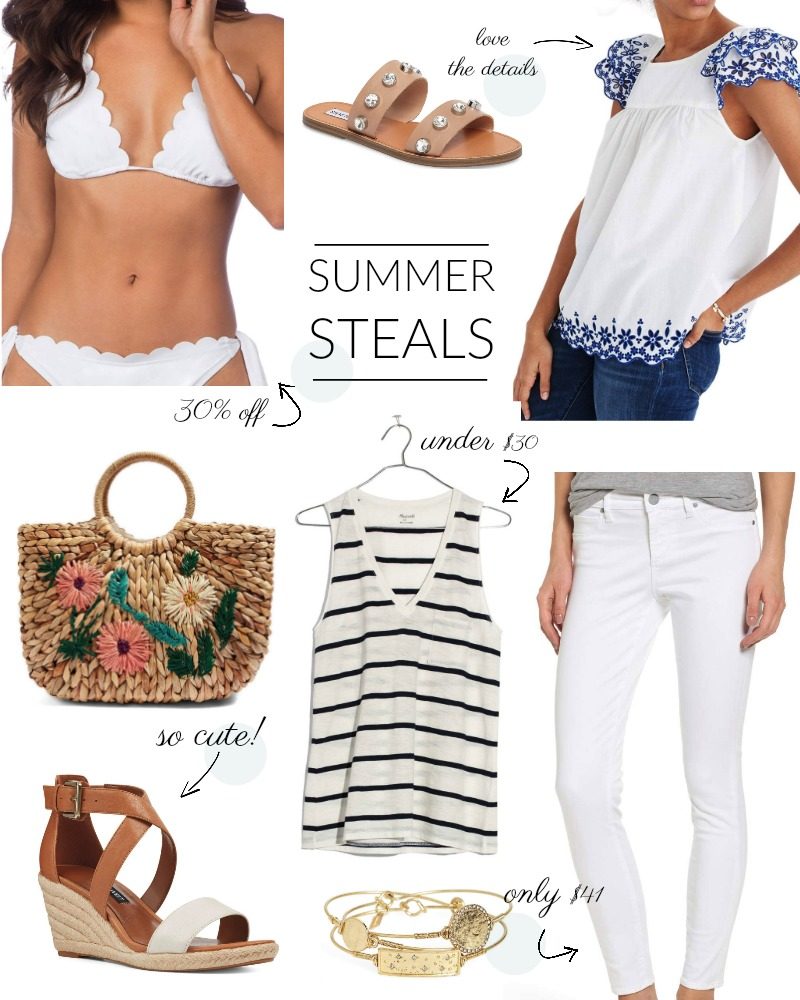 BIKINI: I love scallops and white so when you put them together it's pretty darn epic. And on sale!
SANDALS: You know from this post I love neutral sandals. Great with anything during summer.
BLUE & WHITE TOP: This top reminds me of how my mom would shop with me when I was younger and when I tried something on that was just so-so she would say, "Oh, it's nothing special" in her sweet voice. She liked when things had a unique touch or interesting detail. I do, too. This top has that in spades. She would approve.
STRAW BAG: The flowers on this are adorable. A great straw bag is perfect for summer. Especially when heading to the pool or beach.
WHITE JEANS: My all time favorite white jeans are on sale. That means that are now only $41. I have two pairs because I am always bummed if one is in the wash.
STRIPED TANK: Cuteness overload. Great price point ($22) and it also comes in a pretty red stripe.
WEDGES: So I am not usually a big fan of wearing wedges. I think it's because I don't always want the added height and to be honest they just
BRACELETS: Well these are just cute. That is all! I grab my gold bangles every day. They instantly dress up any look.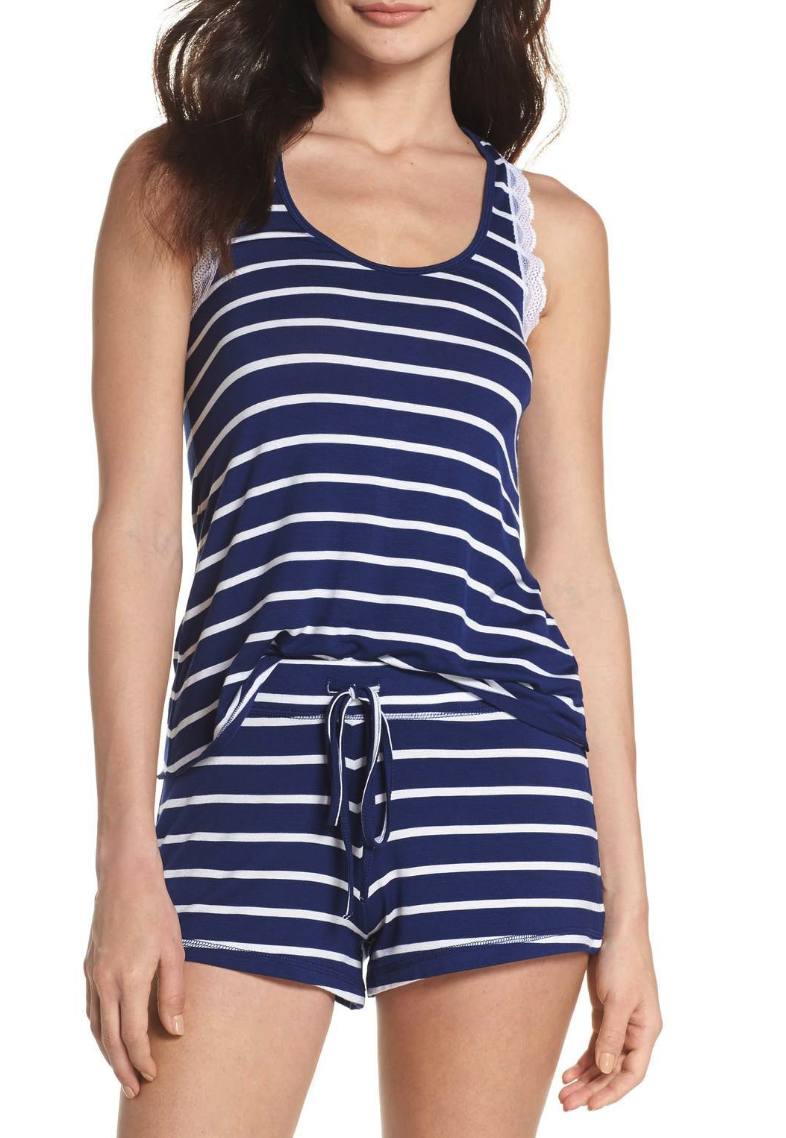 Heads up that these darling pajamas are only $30 if you buy 2. Still a great price at $38. But I love to give these as gifts. Super soft and they come in a few colors.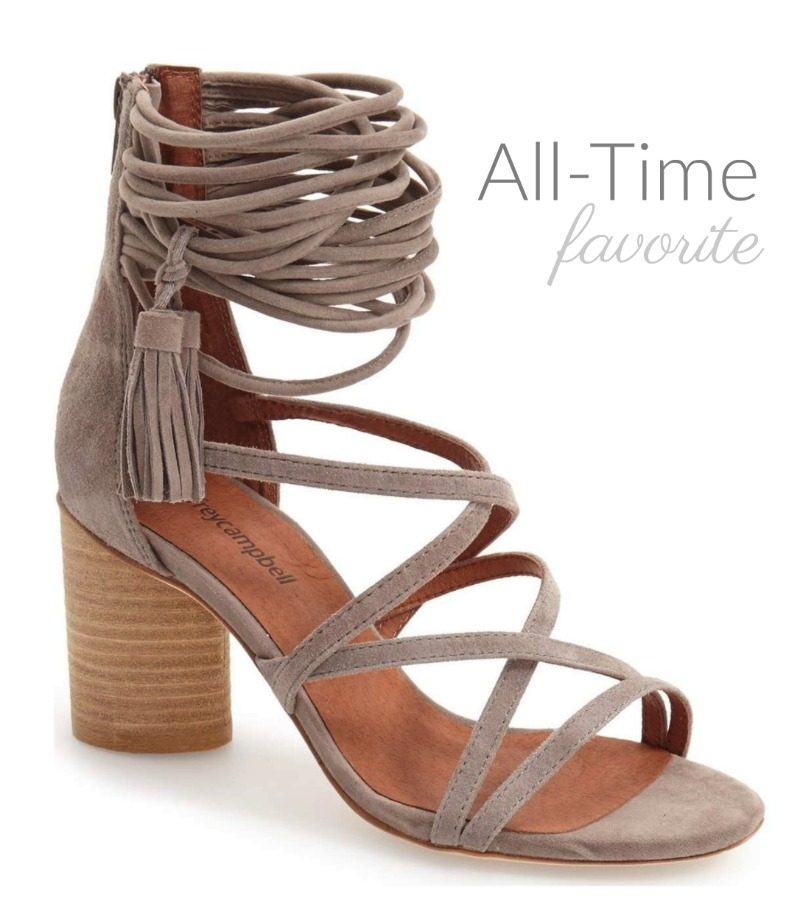 Just a reminder about these heels. I wear them all the time because they are darling but also because they are so comfortable. It sounds funny to say about heels, I know. But if you like wearing heels, these are awesome. I could walk around all day in them and be fine. They go with everything and people always want to know where they are from.
FAVORITE TOPS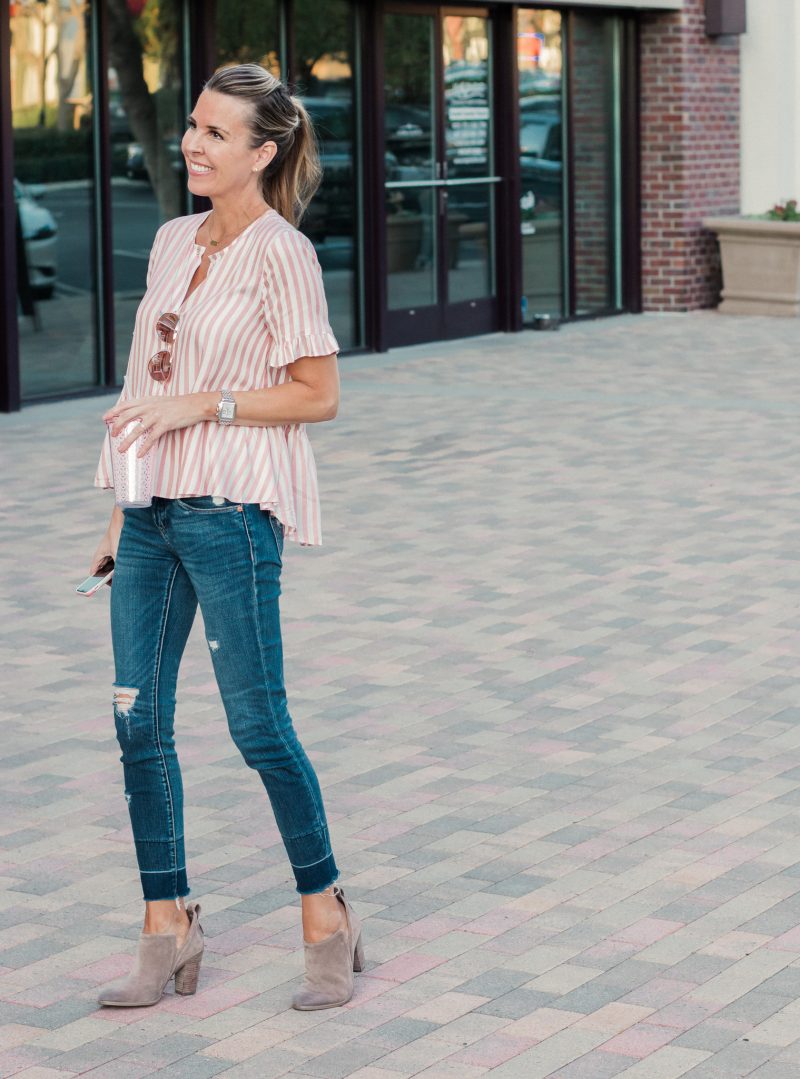 This top has been restocked in a few sizes. It's without question one of my very favorites ever.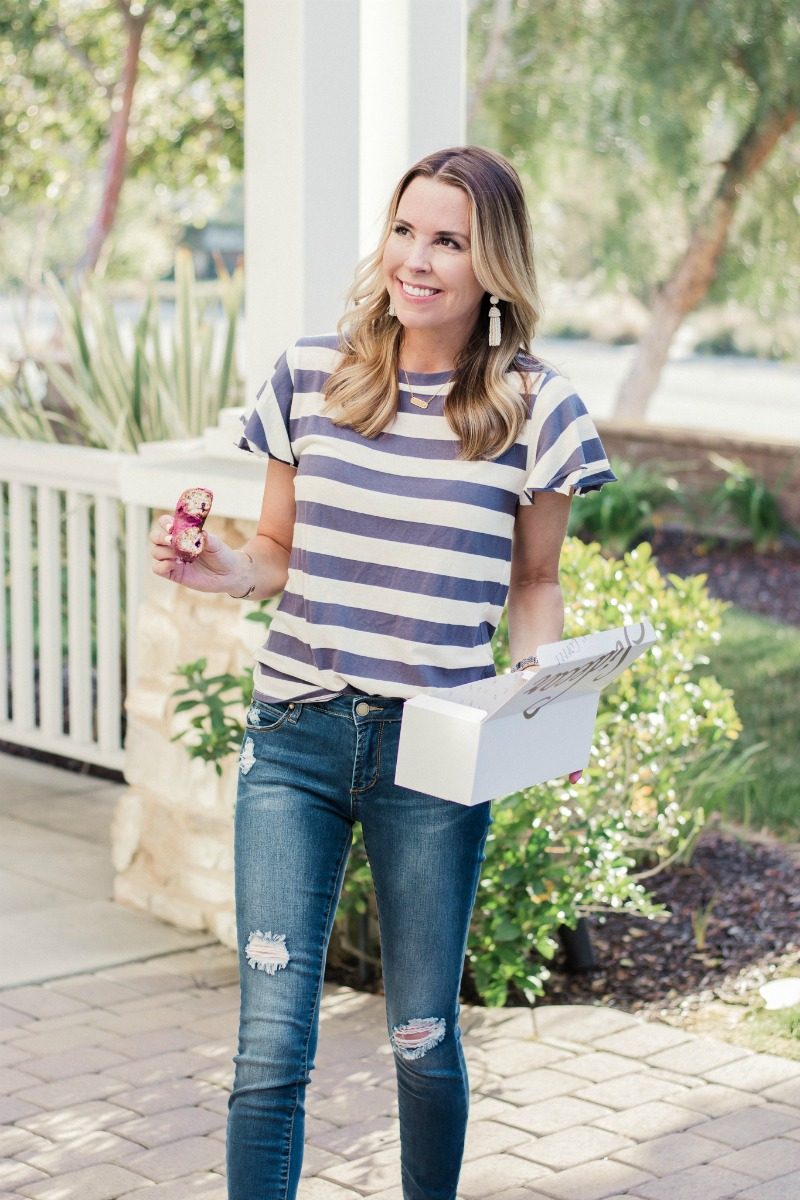 Do you remember this fun top? It's super soft and now on sale for $17. It's a good one, ladies. I am wearing a size small.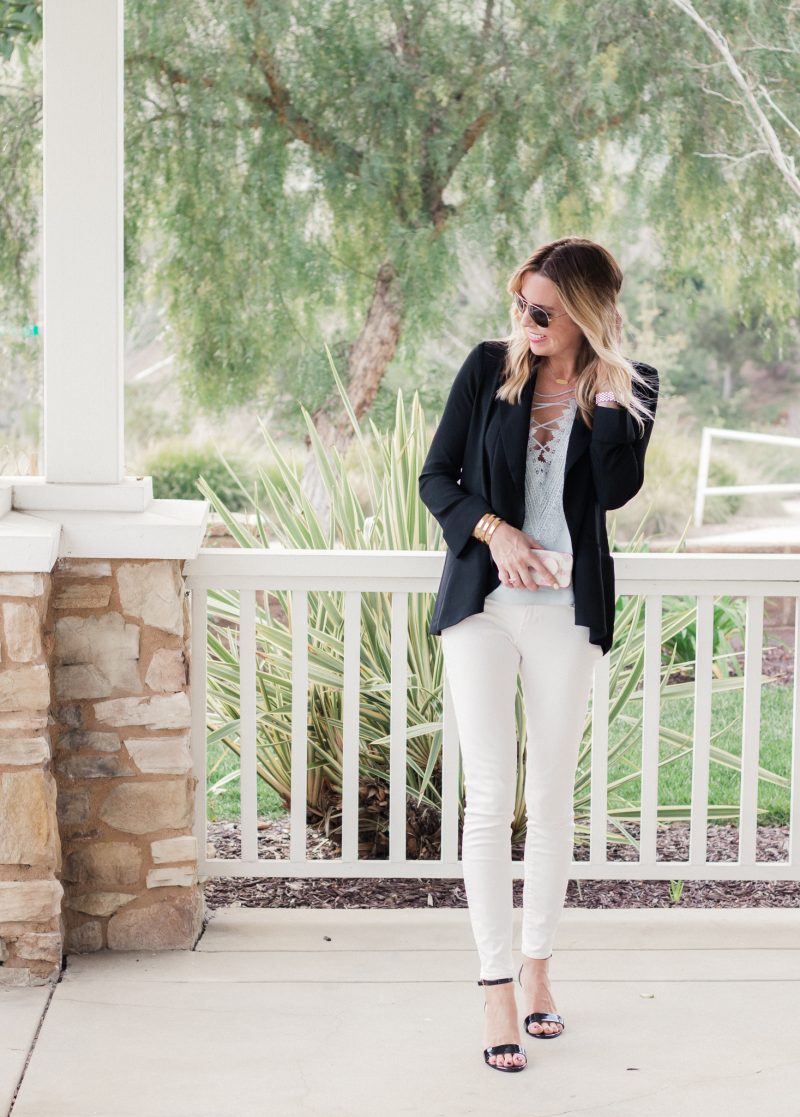 white jeans | blazer | top | heels
This top is another one I get asked about all the time. I am wearing an XS although I think a small would have worked as well. It's a favorite and I just bought it in two more colors. It's so pretty and feminine. Great addition to the wardrobe. I have also worn this black blazer a ton already. In fact I just styled it over a gingham jumper.
ROMPIN' AROUND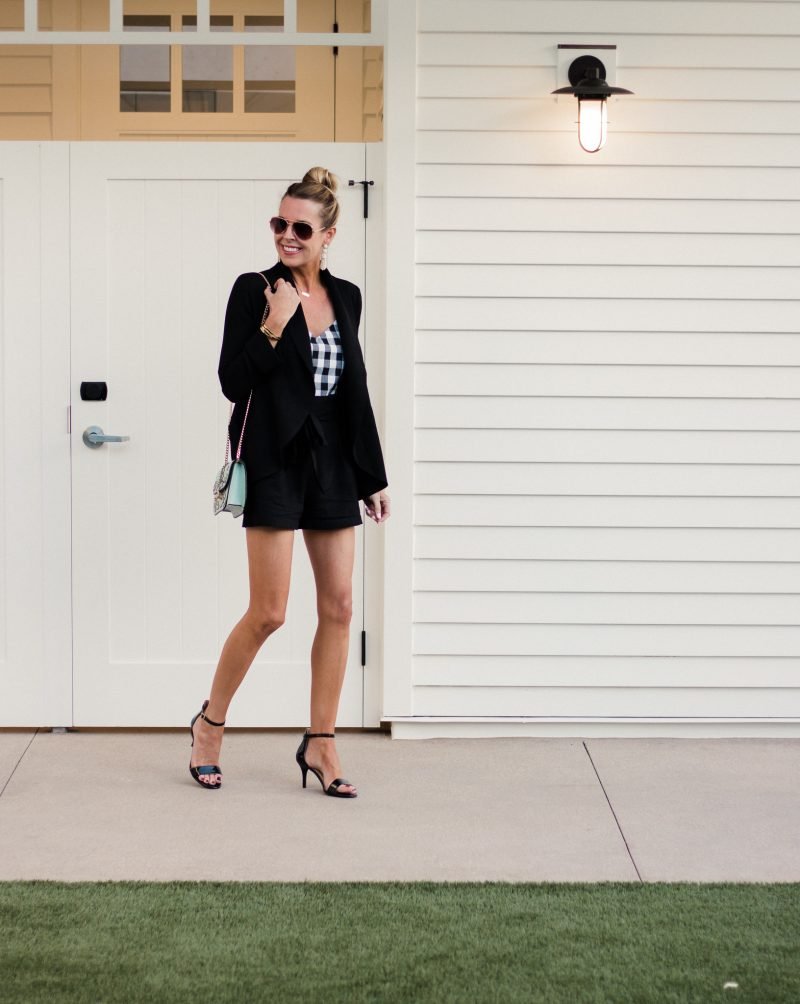 I really do reach for this blazer all the time. There is something about the weight and cut that I just love. I am wearing an XS in the blazer and a S in the romper.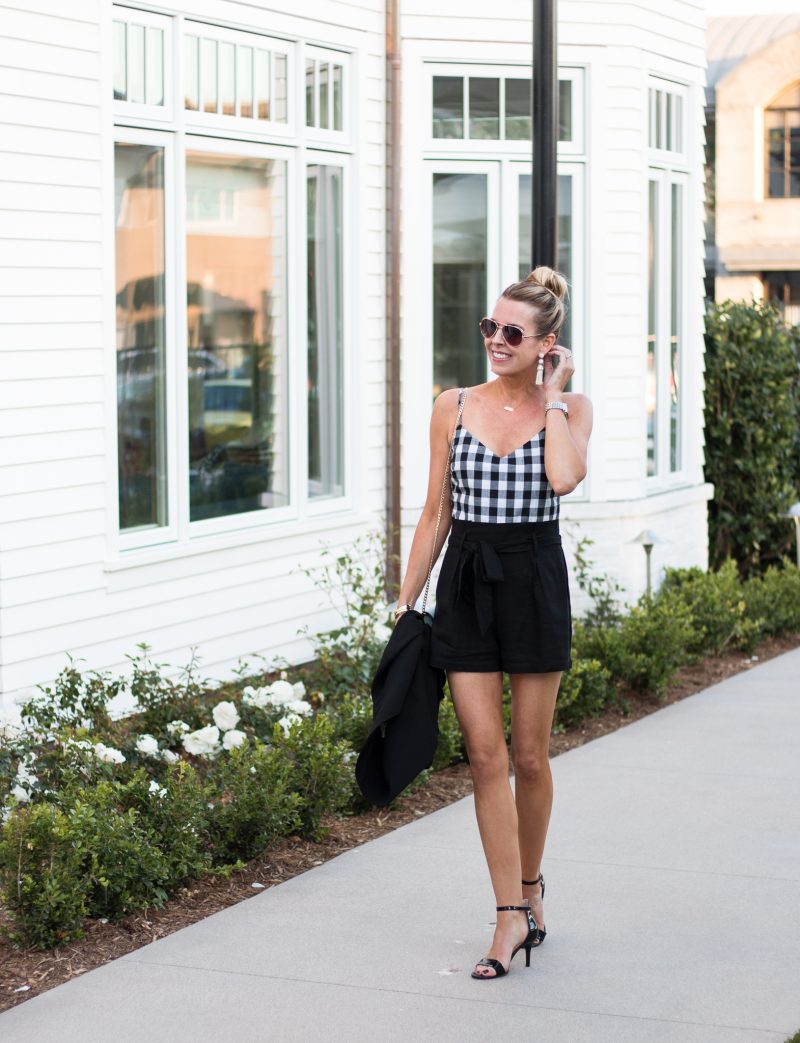 This gingham romper is only $55 and such a fun piece. It has a tie waist and is very comfy. I like wearing it with these heels because they aren't too high. It would also look cute with these wedges.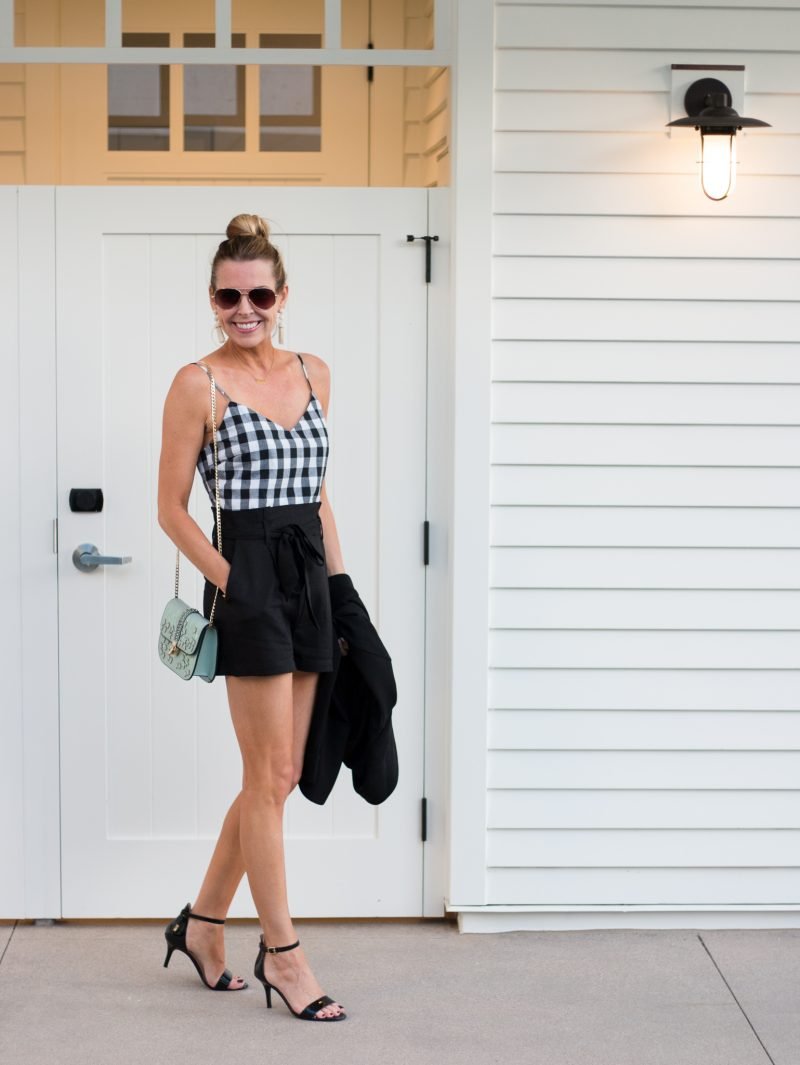 romper | blazer | heels | handbag | earrings | necklace | sunglasses
I chose to wear this for a night out on my husband's birthday but you could easily dress it down with a pair of sandals or fresh white sneakers. This mint handbag has been on constant rotation as well. I love the gold chain and it is just large enough for my phone and lipstick.
LOFT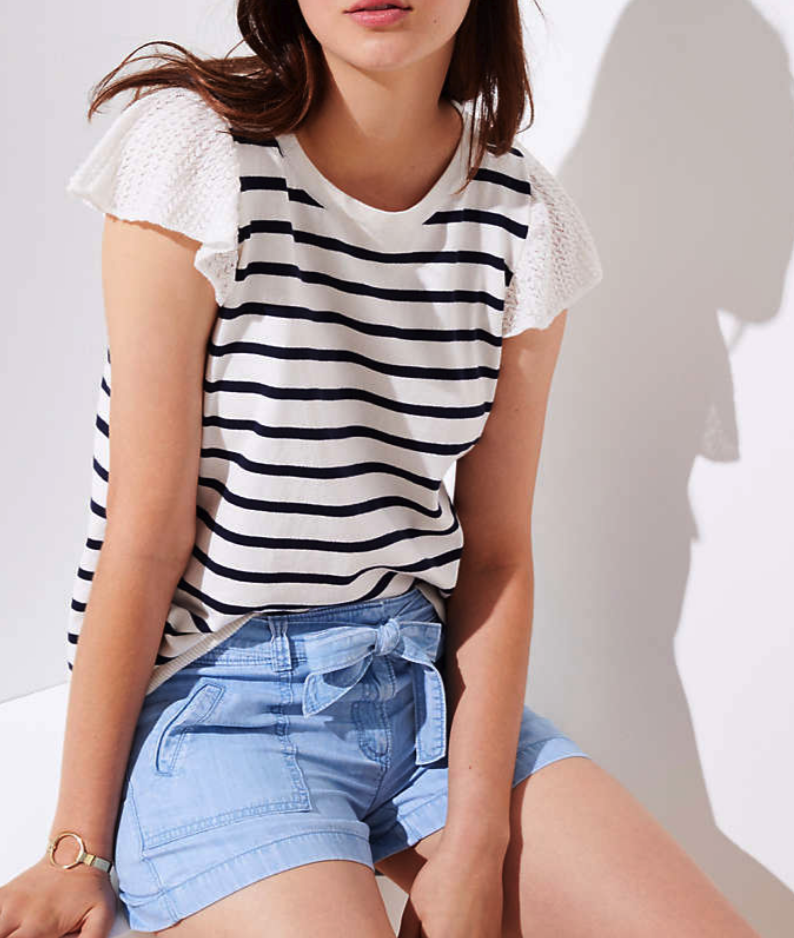 Loft is offering 30% off of everything plus an extra 10% off with the code: LOVEMOM
ANTHRO
Anthro is offering 20% off of everything!!! That is huge. I've rounded up some really great items below. It's definitely a great time to check out home decor if you have been eyeing something. I've linked a pair of my all time favorite drapes below.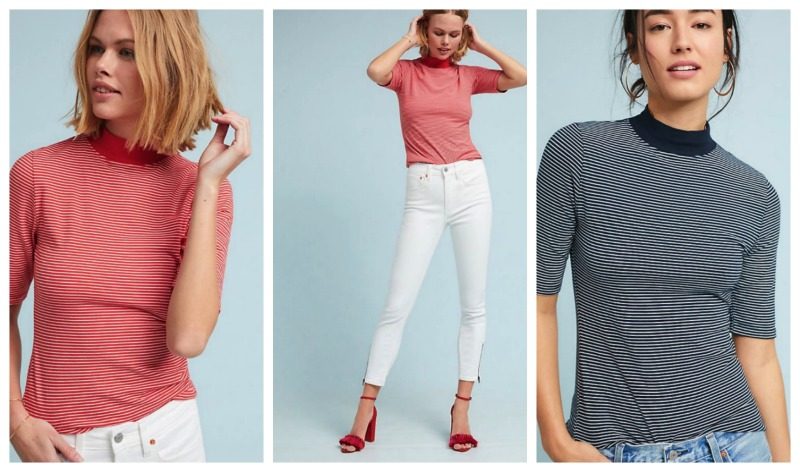 This top is one of my go-to tops lately. It's more of an orange than red and is super cute. I just ordered the navy.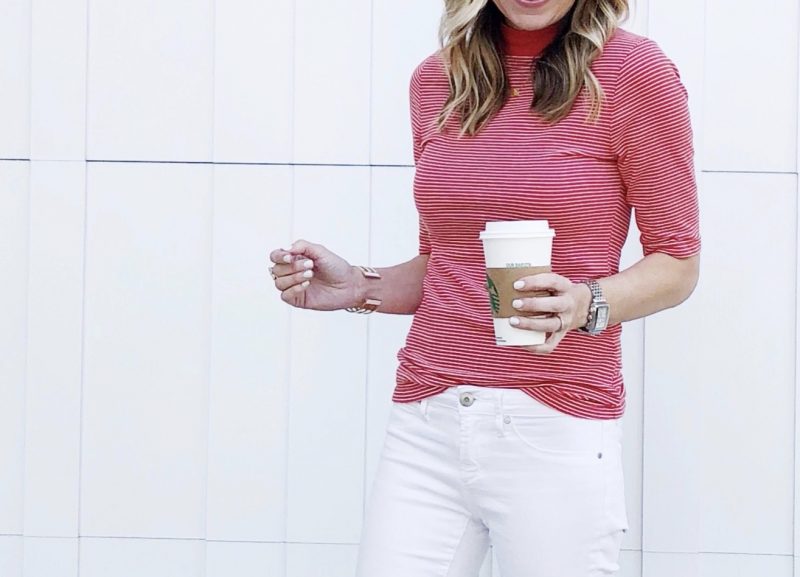 This entire outfit is under $60 because my go-to white jeans are on sale for $40!!!!
Ok, my friends. Enjoy our weekend! Hopefully you get a much deserved break on Sunday. We are off and running. But first, more coffee!