Good morning, friends! We are officially enjoying summer. Although I have to be honest. While summer is what we live for, it takes us a couple of days to get into a rhythm. The arguing seems to amp up and the kids have to readjust to being with one another 24/7. I try not to panic, though, because this happens every year. So far we've hit up the beach and done some serious baking for a service project. I plan to share some tips soon that help our summer go more smoothly.  For now, it's all about Saturday Shopping. Let's get to it.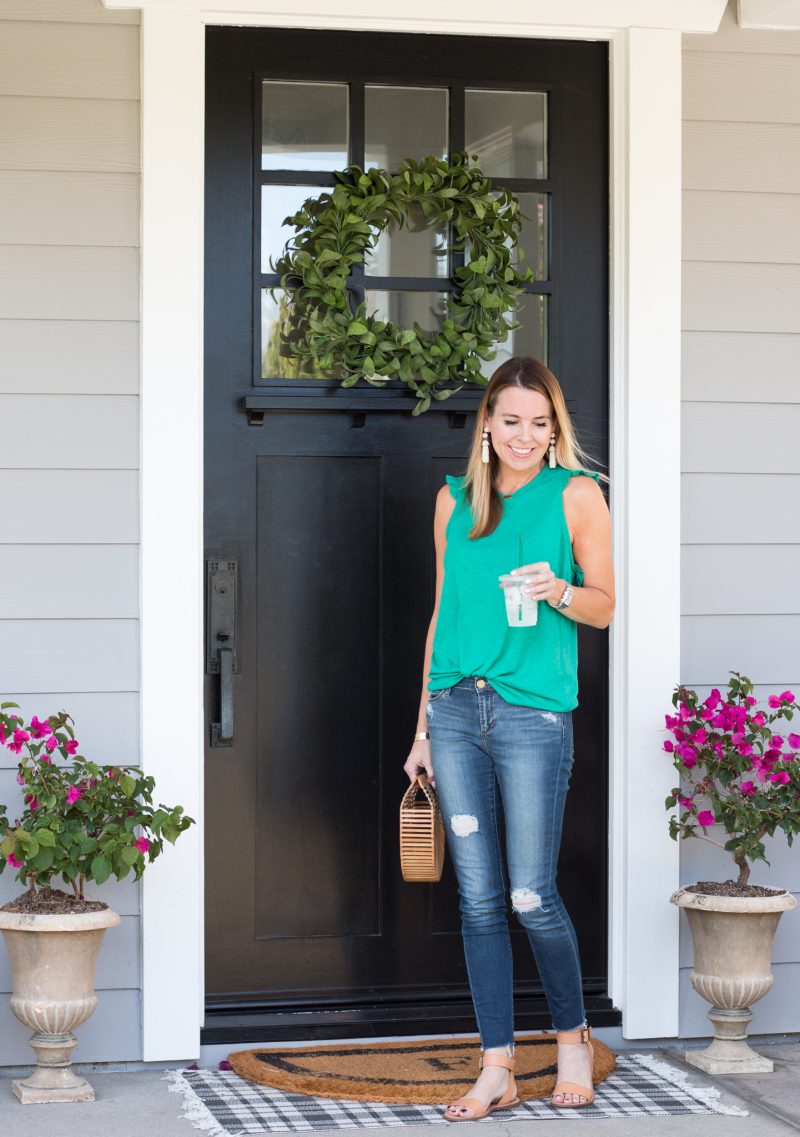 jeans | top | sandals | handbag | earrings | wreath | similar rug
This ruffle top continues to be a go-to. I love this pretty green color but it does come in six other colors including a polka dot. I have paired it with white jeans, cut-offs and now these jeans.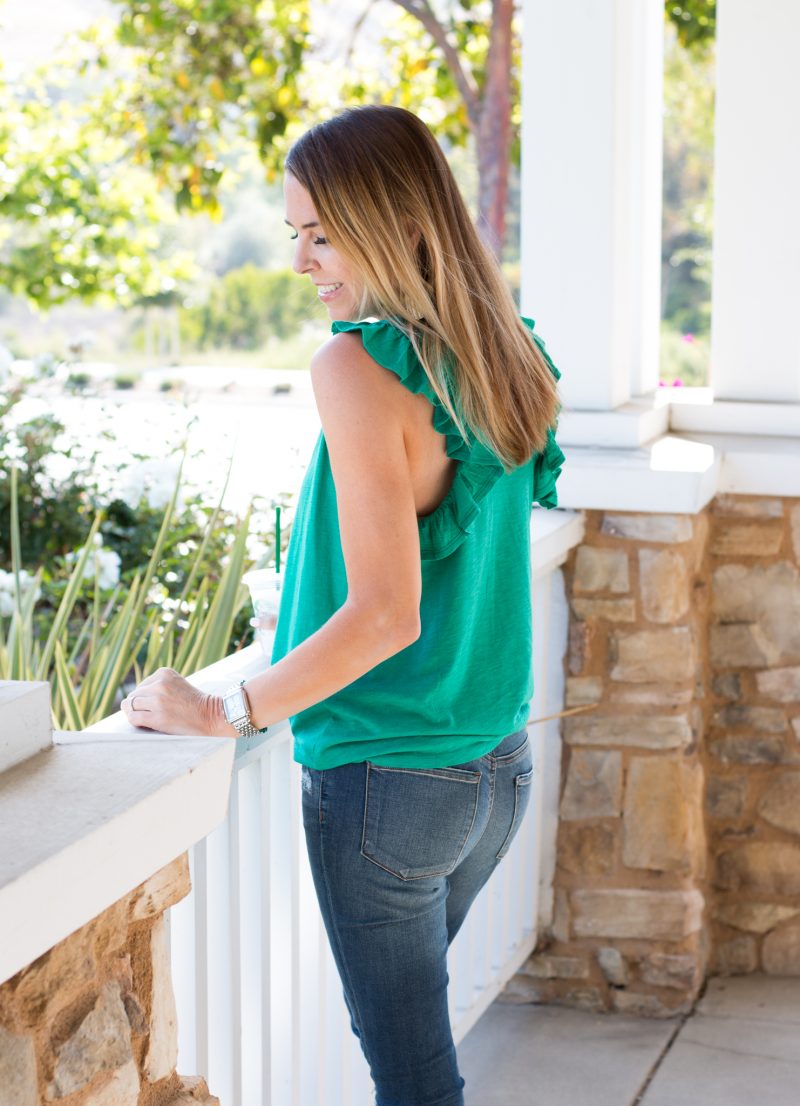 The ruffle racer back is a fun touch and makes this top very feminine. I am wearing a size small for reference.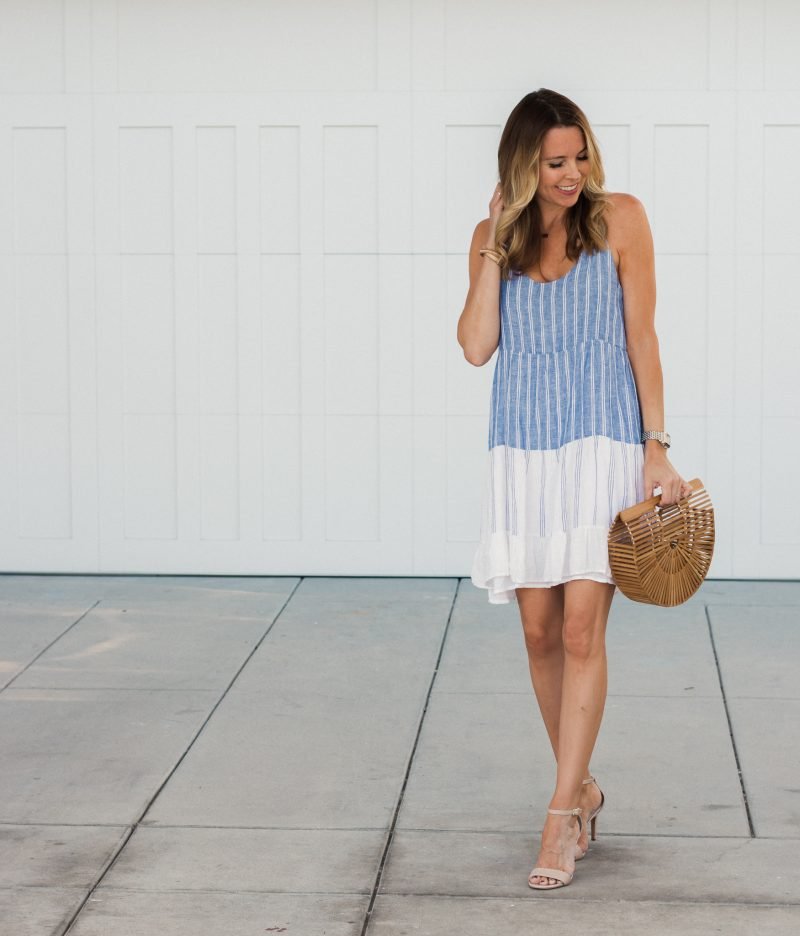 This dress is worth mentioning again because I LOVE it. I have worn it so many times already. Just the other day I wore it over my swimsuit to a pool party. It looks great with sandals but can also be dressed up for a night out. The online photo makes it look so short. But I am 5'7″ and have never felt the length to be too short, even with heels.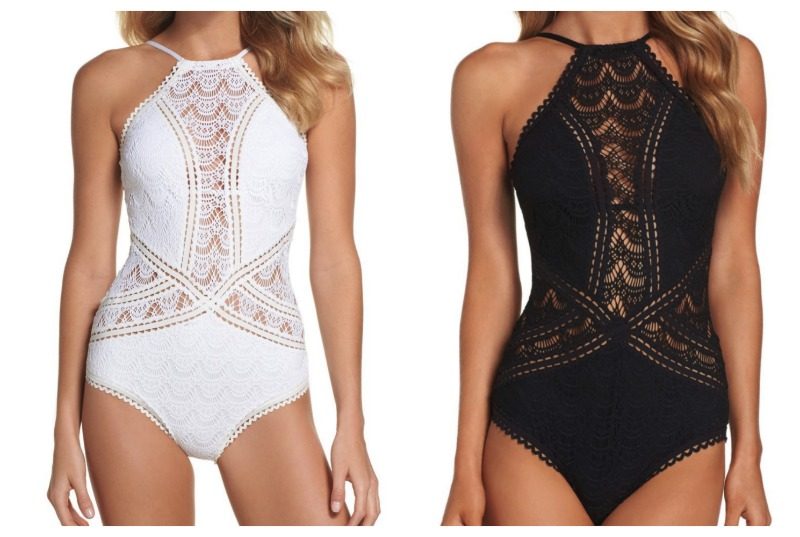 This is one of the most flattering suits I've ever tried on. So pretty and it's currently being price matched. It won't last long at this price. The black one looks great with these cover up pants (I've had for years and love).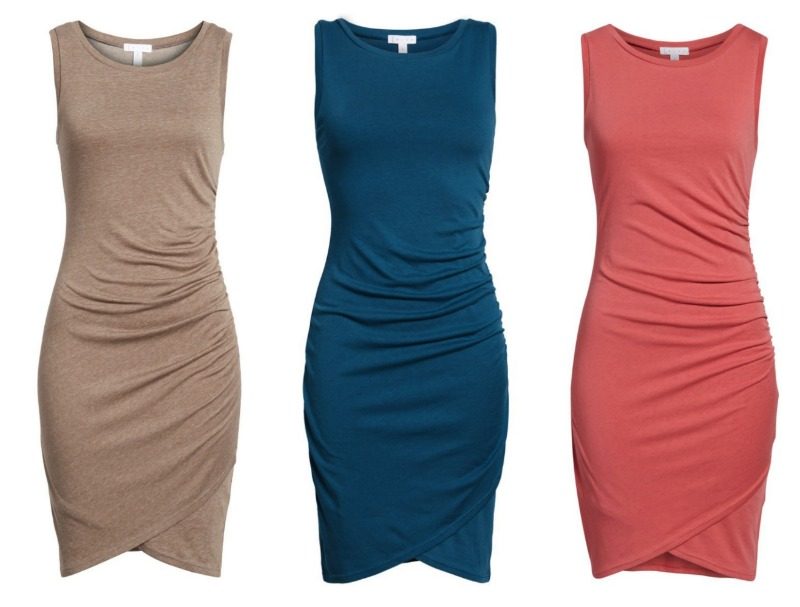 One of my all time favorite dresses now comes in some more beautiful colors. Even a pretty soft violet (Purple Petal) for summer. This dress is a closet staple. Size up if you don't want it too tight. It looks awesome with a pair of Converse and a jean jacket or can be super sexy with heels for a night out. I often wear it running around town with a flannel tied around the waist to keep it comfy and casual. Such a versatile dress and you can't beat the price.
MORE DRESSES
The summer dress selection is fantastic right now. I've rounded up some of my favorites below. This camo dress is so cute!!!





JAMMIES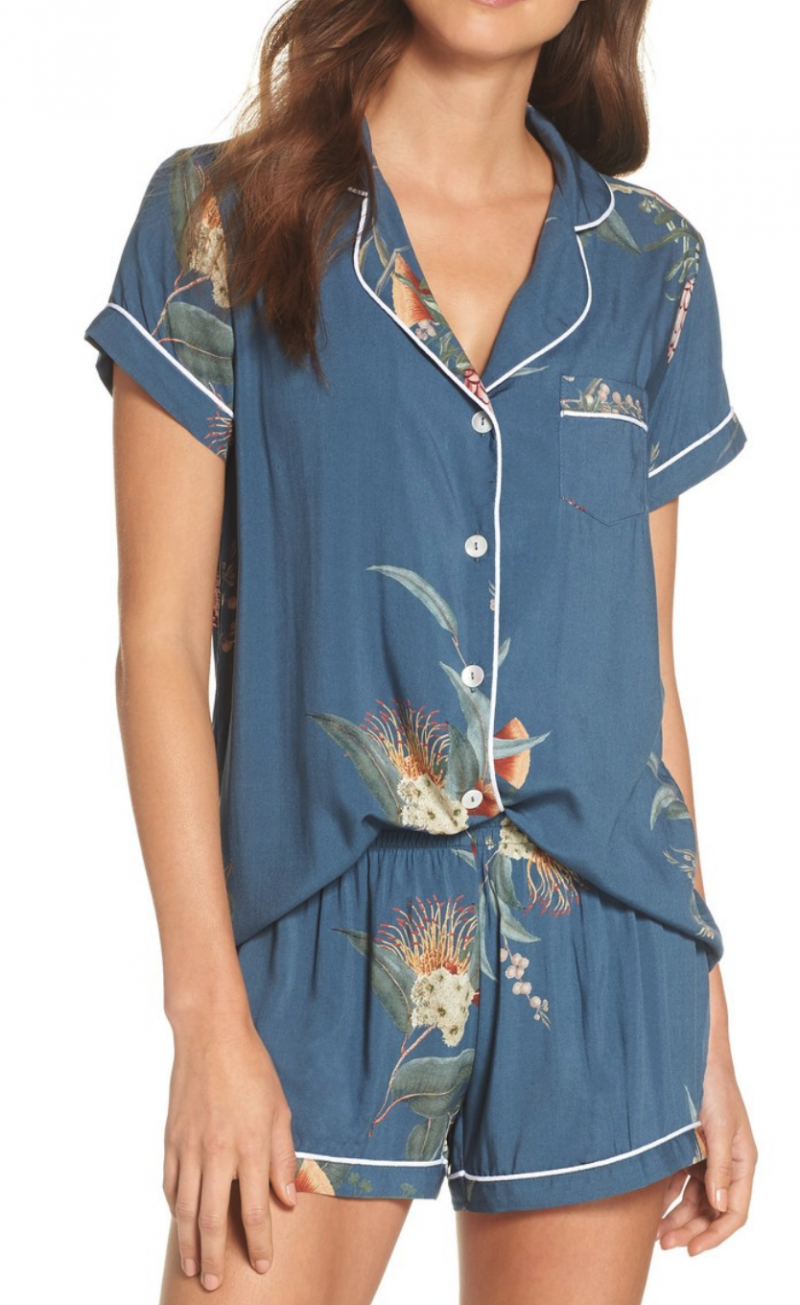 I thought these jammies were so cute for this time of year. The color is beautiful! This set is also sweet and under $30!
JAMMIES ON SALE

WORKING OUT?
On a different note, how's your workout game lately? I've been doing well and trying to really stay disciplined. I feel so much better if I accomplish a workout in the morning. Even if I don't feel like doing it. I never regret it, that's for sure. These are a favorite of mine and I noticed they are on sale! Great reviews, too. This workout tank is another one that I wear all the time. Love the cut and that it covers most of the booty!!! These Adidas are now under $45!
 SUMMER TOPS
Isn't this a cute top? It's marked down to $39 and has received excellent reviews. Anthro always gets the cuts right. So flattering and feminine.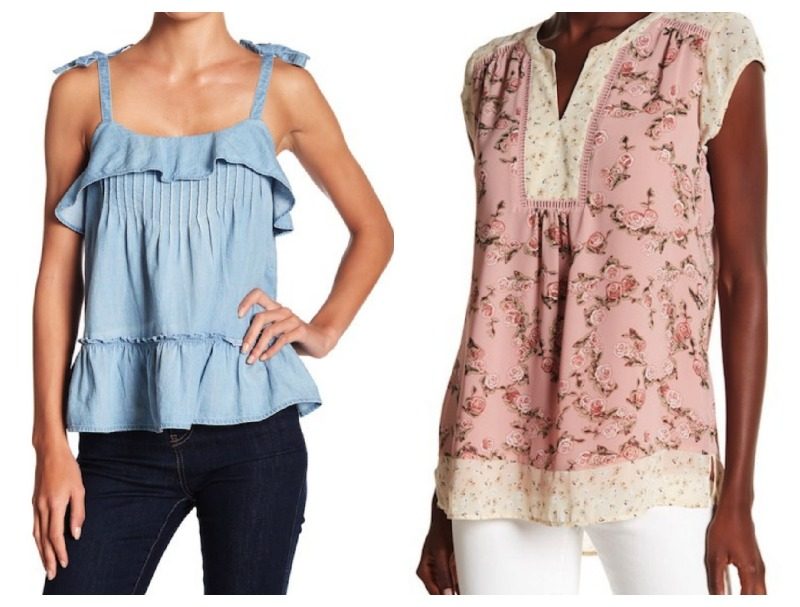 Both of these are sooooo cute. And great prices. Sweet and fun for summer.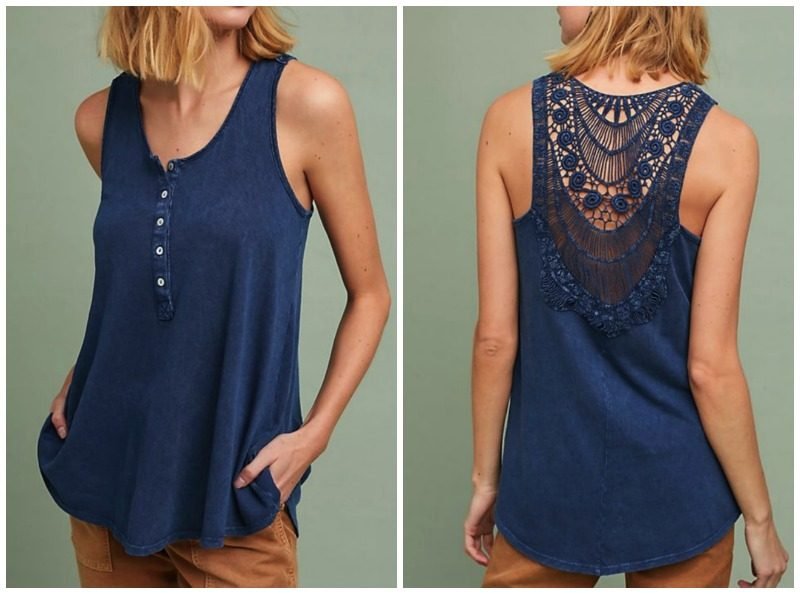 I thought this was a great tank, too. You can always count on Anthro for the added details and the back on this is beautiful. I don't love it with these pants but would pair it with white.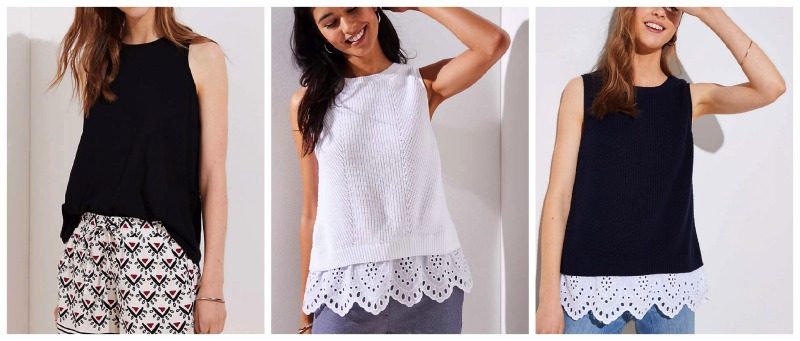 This eyelet sweater tank is GORGEOUS. The combination is just so pretty. It is marked down an extra 40% off.  The racerback tank is now only $10!!! Time to stock up.
OUTDOOR FUN
Just a heads up that Pottery Barn is having a huge outdoor sale. Our monogram pillows are on sale with free shipping. They have held up so well. Our patio furniture is from Living Spaces and is very similar to this set. 
These striped outdoor pillows are now only $20. Such a great deal if your outdoor space needs a refresh. And if you are looking for a fun set of plates for the Fourth of July these are darling!!!
FATHER'S DAY
In case you missed my Father's Day Gift Guide you can click on any of the images below for details. Father's Day is just around the corner!





What are you all up to today? We are hoping to sneak in some pool time plus some hockey. I am also finally wrapping up our pantry project and moving in to the shelves we just finished!!! At long last. Look for that on my Insta stories. Have a great weekend, my friends.