Good morning! Did any of you wake up crazy early to watch The Royal Wedding? I chose to record it and woke up this morning to watch. My daughter and I cuddled up in pajamas and loved every minute of it. I remember doing the same with my mom for the wedding of Princess Diana. Meghan's dress and makeup were so beautiful. So classic and natural. I cry at every wedding and this was no exception. The message of love was powerful and so relevant in light of current events. Turning to style news, I am sharing the denim short report plus other fun finds for this edition of Saturday Shopping.
DENIM SHORT REPORT
I do love a great pair of denim shorts for summer and I recently tried on three different pairs to let you know what I think.
SHORT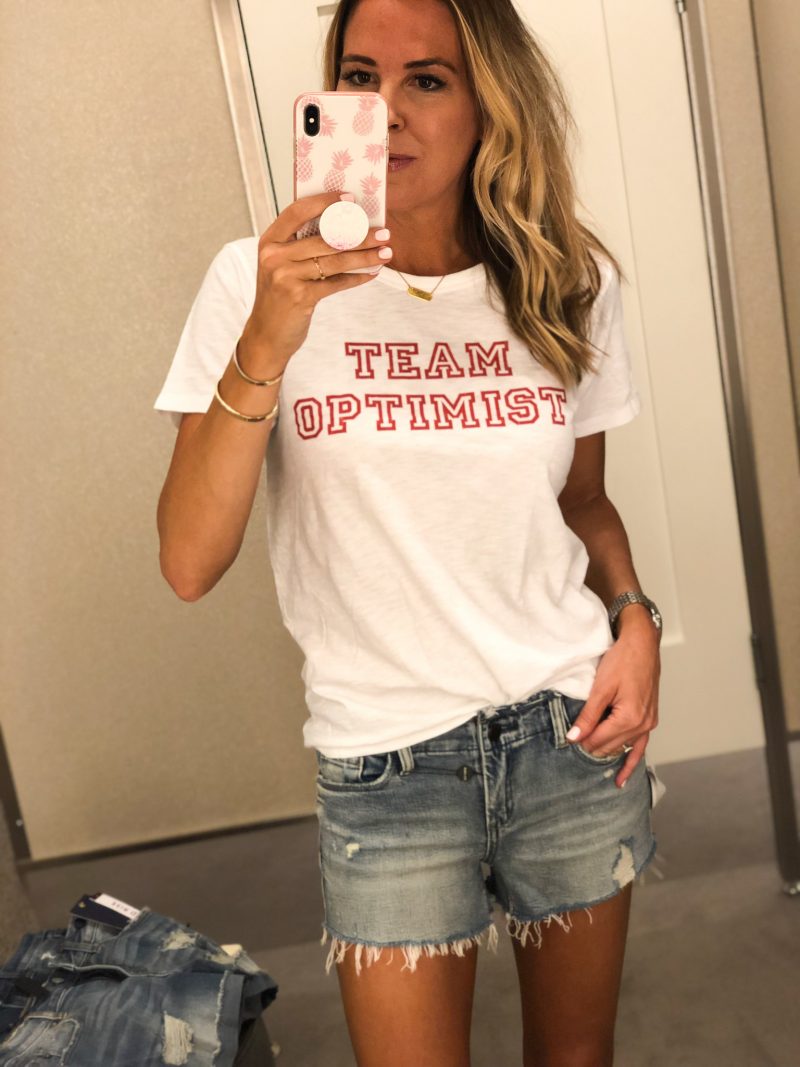 I tried on three pairs that caught my eye and all in slightly different lengths. These were the shortest and most distressed. Even the waistband is distressed. I loved these. Very cute cut and comfortable. They are a bit more expensive than my go-to pair but they are currently on sale!  I also like this lighter color. These run true to size.
MEDIUM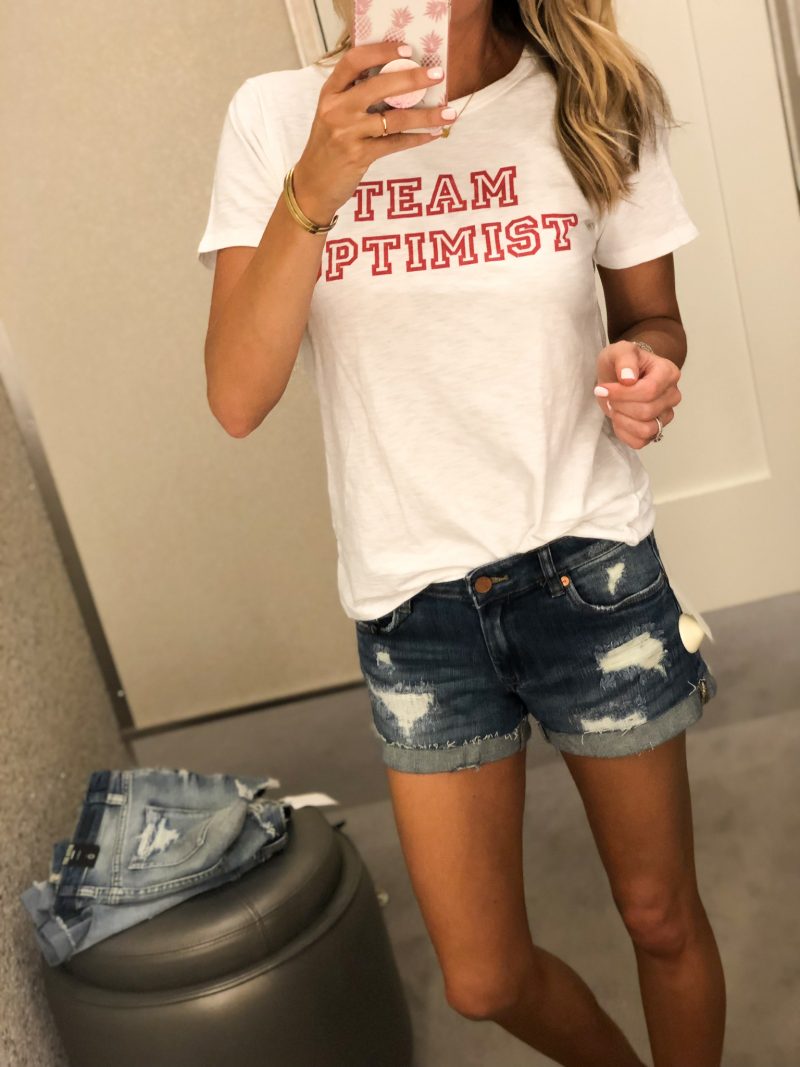 This pair reads longer because of the cuffs. Also comfortable. I do like the distressing on these. They are true to size.
LONG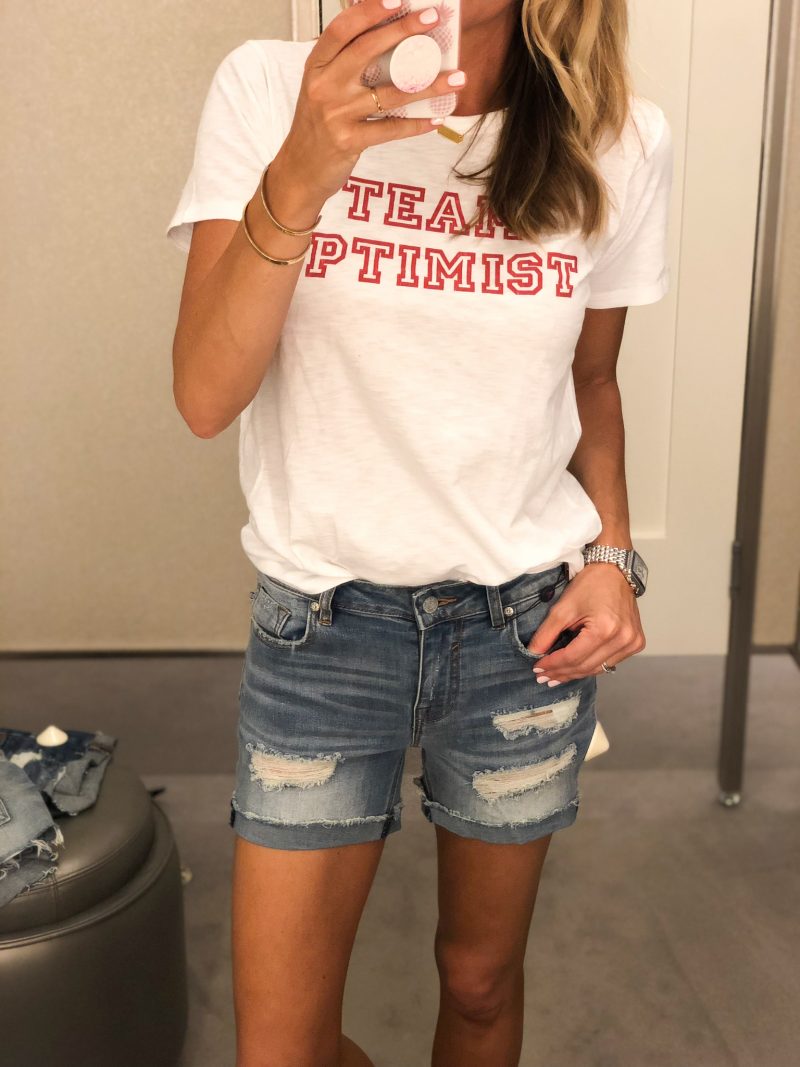 I had so many request for a great pair of denim shorts that aren't short! LOL. I found them. They are soooooo soft and comfy. They really are. I highly recommend these if you are hoping to have the look without going too short. I went with one size smaller on these.
I did fall in love with the darling t-shirt. Team Optimist. Who's with me?! It also comes in blue. We have a choice every day with how we faces our challenges and triumphs.
MAD FOR PLAID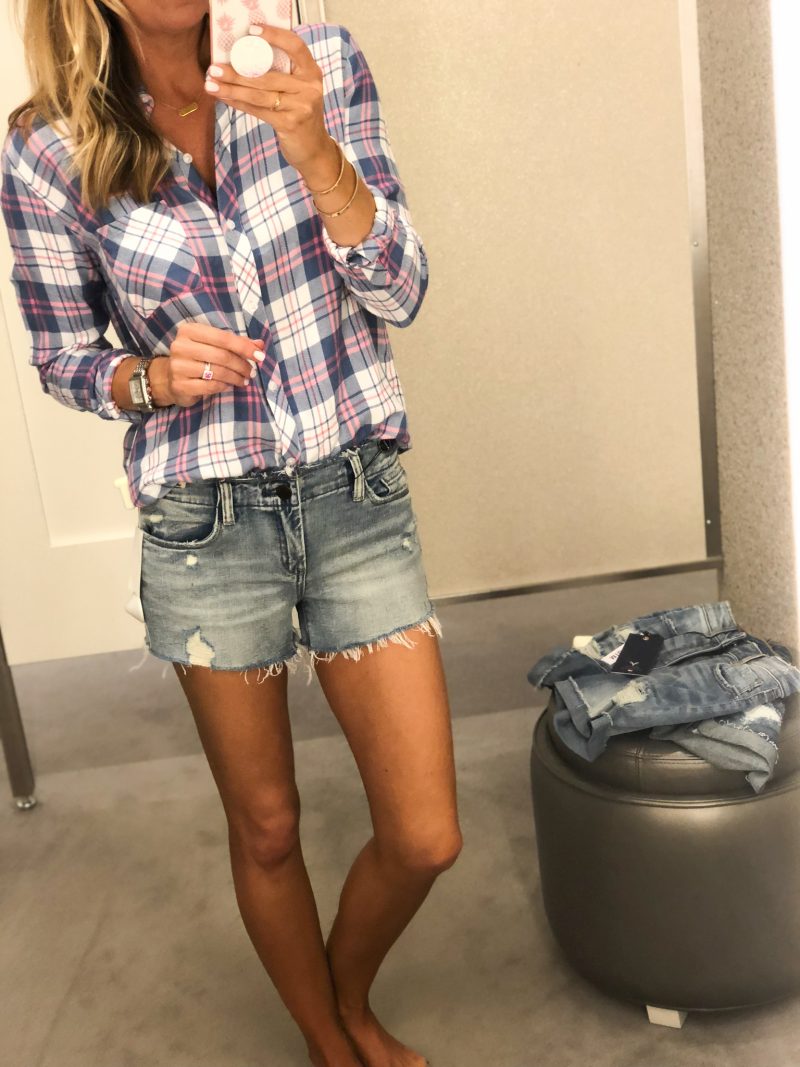 One of my very favorite looks for this time of year is a plaid shirt paired with denim shorts. This top is beautiful in person. The colors are softer and more muted. It comes in many colors and this one is called "Watermelon Coast White." The tops by Rails are quite pricey.  This one is half the price but similar colors. I have one in my closet with these colors so I showed restraint.
JUMP FOR JOY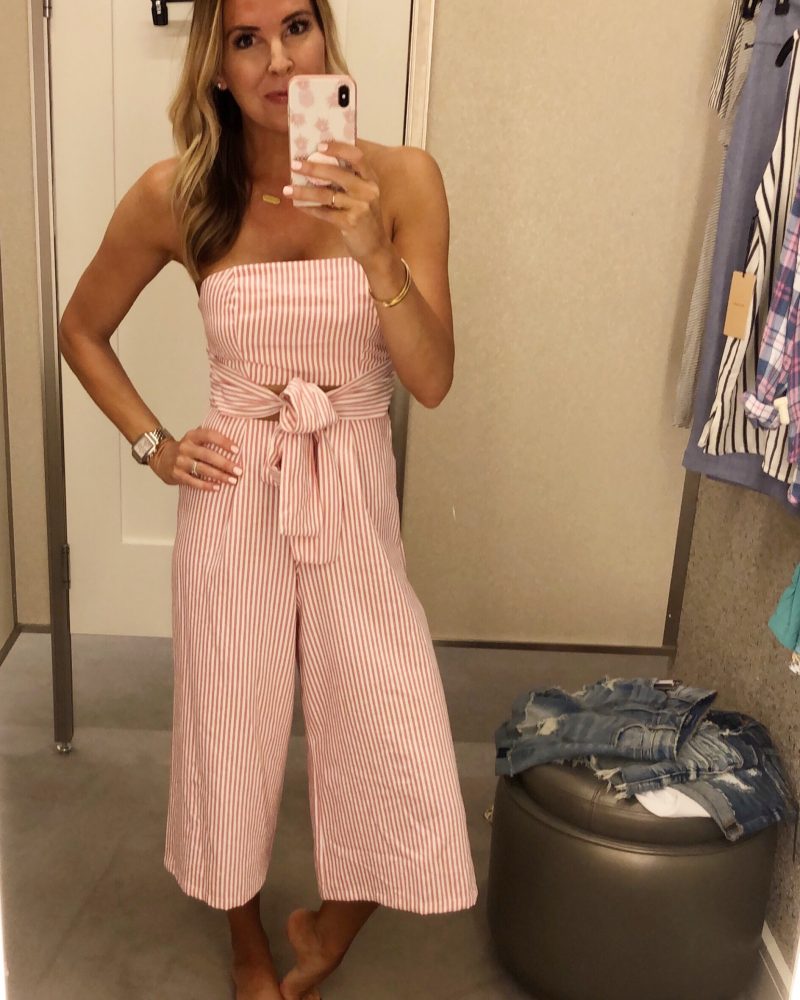 This jumpsuit will be coming to the blog soon. I am so excited to style it for you. I plan to wear it with these heels and this clutch. This jumpsuit is only $55 and is so cute. It's a pretty pink and white pinstripe in person. It has removable straps in case you aren't in the mood for a strapless look. That makes it so much more versatile, too. It will be more casual with the straps. It does show a tiny bit of skin under the bow but certainly nothing crazy. I am wearing a size small.
POM POM CLUTCH

How cute is this? It's perfect to pair with this jumpsuit and it's only $26! I've ordered one and can't wait for it to arrive.
JAMMIES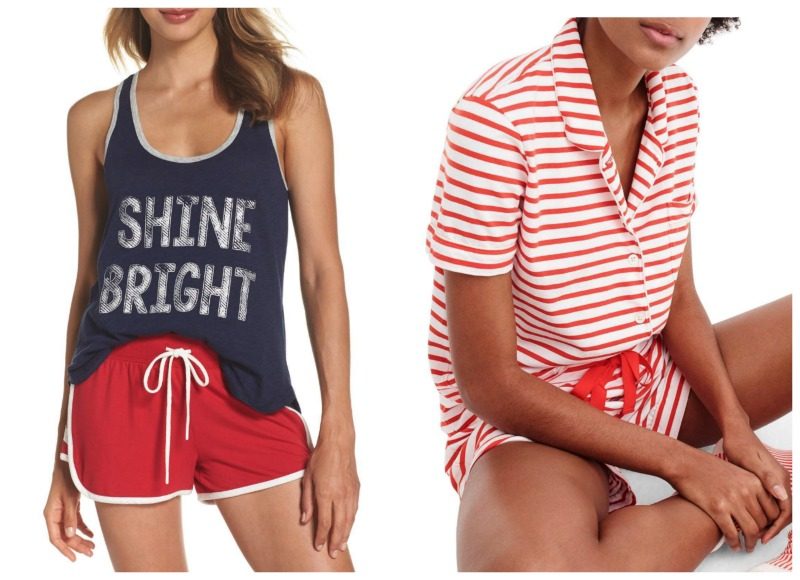 Such cute jammies. Both of them. Shine bright and the stripes are both so sweet.
SUMMER STYLE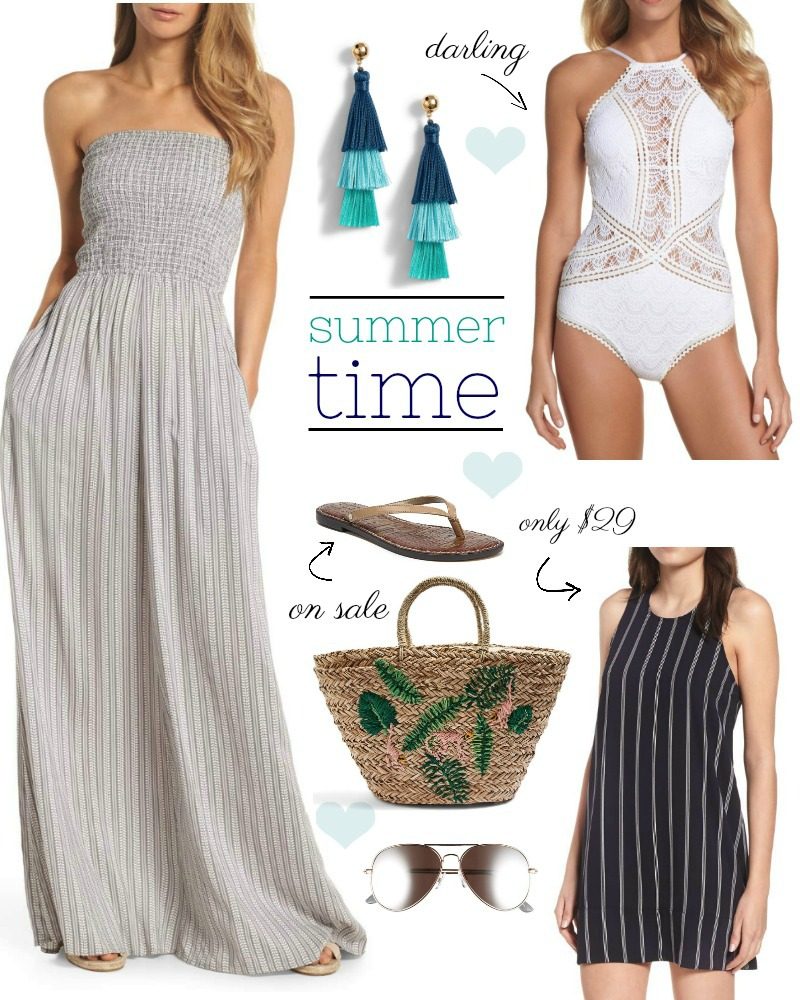 strapless cover-up | earrings | swimsuit | sandals | straw tote | dress | sunglasses
Here are some beautiful summer pieces. I adore the one piece suit. It is so flattering and pretty. Love the higher neckline, too. The dress is an all time favorite and now only $29. It comes in many colors but I do love this stripe. So cute paired with a jean jacket. The sandals are very comfortable and currently marked down.
ANTHRO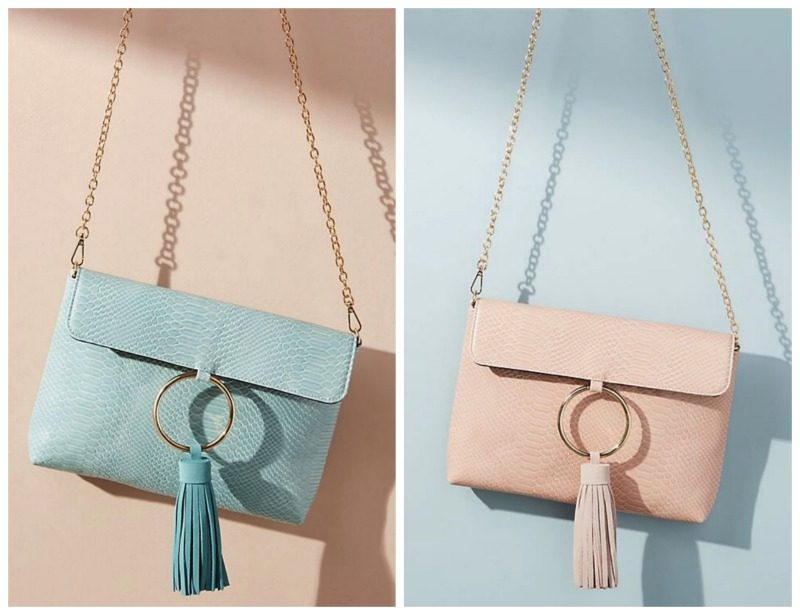 This handbag caught my eye and is on sale for $39. Both colors are so beautiful. The tassel and gold hoop or so on trend right now. Very pretty.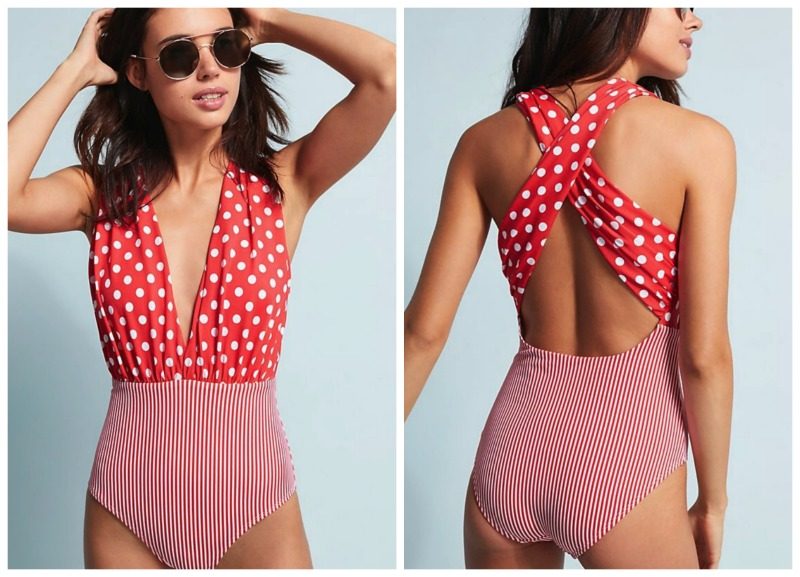 Such a pretty swimsuit. A throwback for sure. I remember my mom having a similar suit in black. She always rocked the best looks. I thought this would be so fun for the Fourth of July, too!!!
LOFT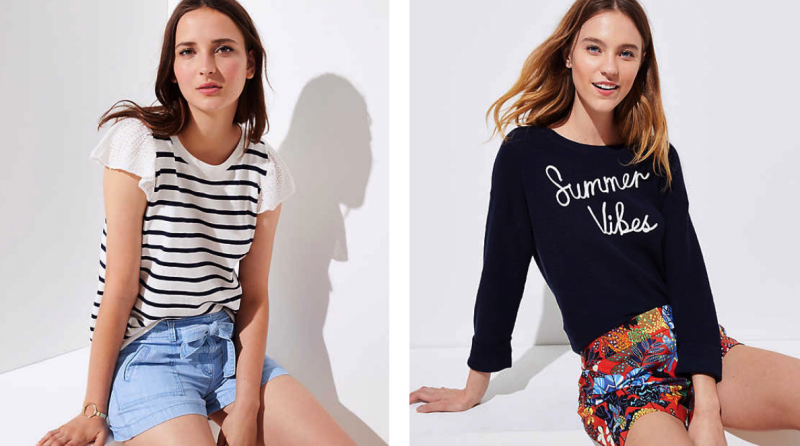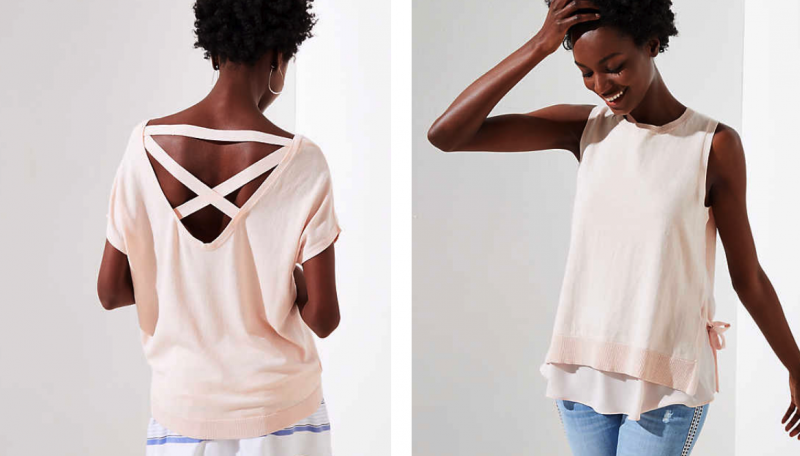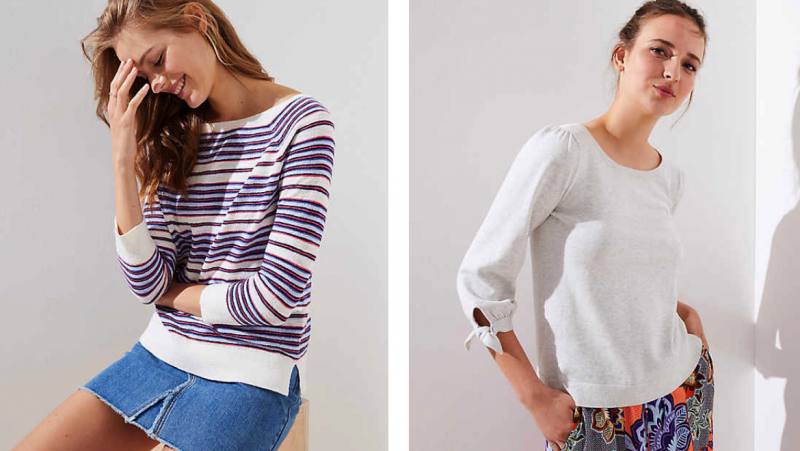 This dress is an extra 40% off and so cute. It has received excellent reviews.
Wishing you all a very nice weekend. Off to celebrate our daughter as family commitments required us to push her birthday party out a bit. She's patiently awaited her celebration. Love that girl.
To the families in Texas who lost their babies and loved ones, I can't imagine. Lives changed forever. Once again hard to comprehend or fully understand the magnitude of what they are all enduring.