We were lucky enough to flirt with Fall temps this past week. Although they are not here to stay, the idea of layers and warm colors makes me so happy. I am a big believer in a great set of basics. Many of these pieces have been in my closet for years.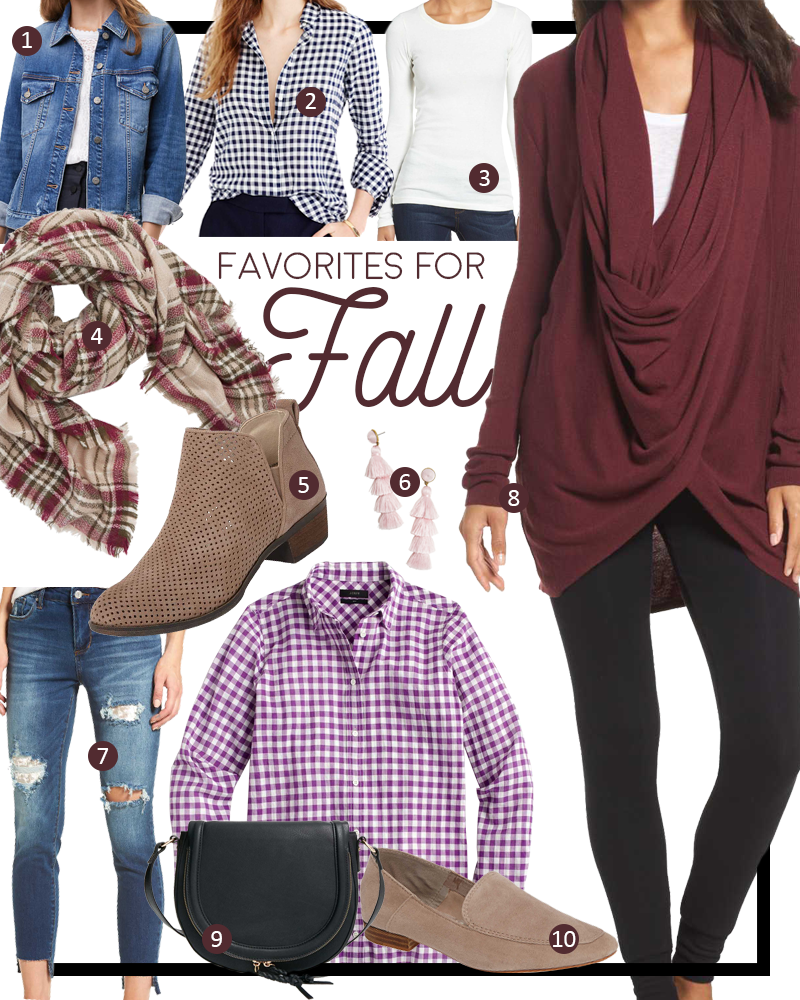 These are all great Fall basics that you can mix and match. I love the warm tones of this collection but the mix of plaid and gingham keep it from looking too basic. Let's take a closer look at each piece.
Love a great jean jacket. I recently added this one to my wardrobe (love the shoulders) but this one is on sale for 40% off this weekend. If you don't already own one, it's a great basic. I wear mine year round.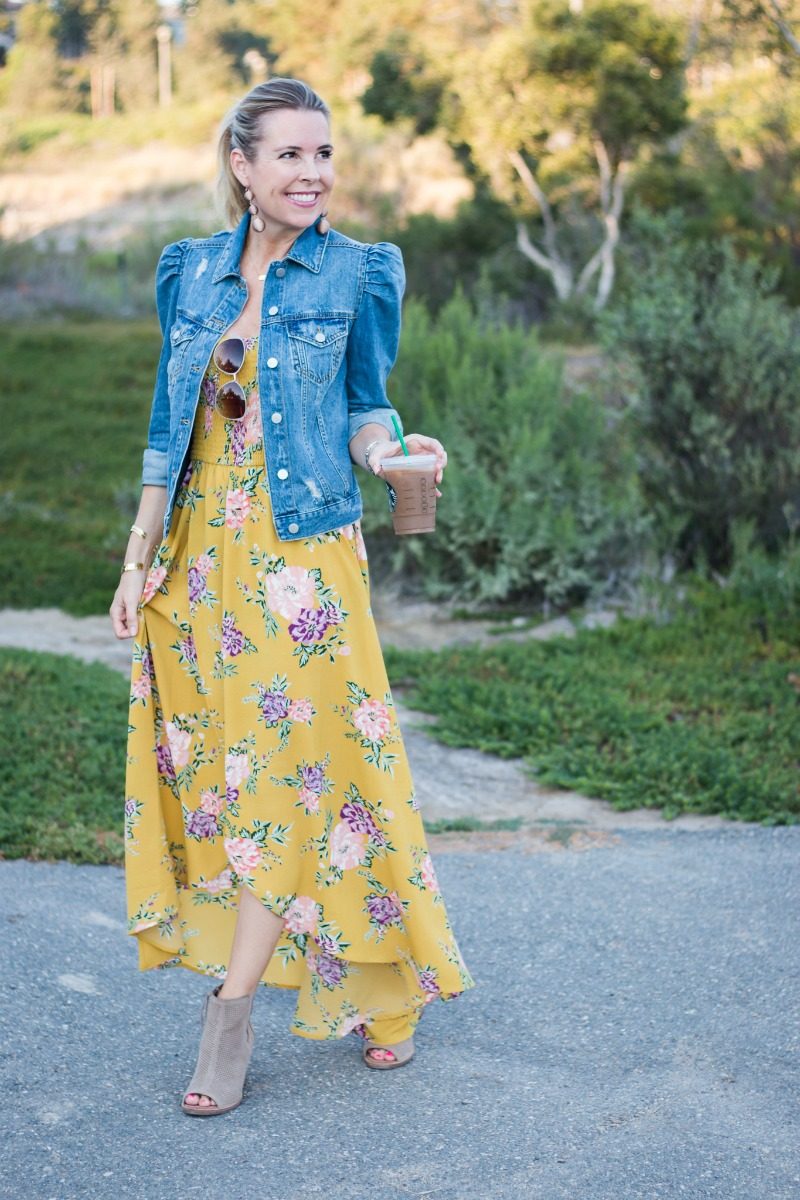 jean jacket | floral dress (sale) | booties | similar earrings
Every Fall wardrobe needs a fresh white t-shirt. Hopefully you already have a long-sleeved one, but if not this is my pick. It's a great layering piece and looks so cute with a scarf or gold necklace. 
Can't go wrong with a great plaid scarf for Fall. The price is right and I love the warm tones of this one. I also saw that this one is back in stock and an all time favorite of mine. It always sells out quickly. This one is also crazy classic and gorgeous. I think I need to order this one for Fall.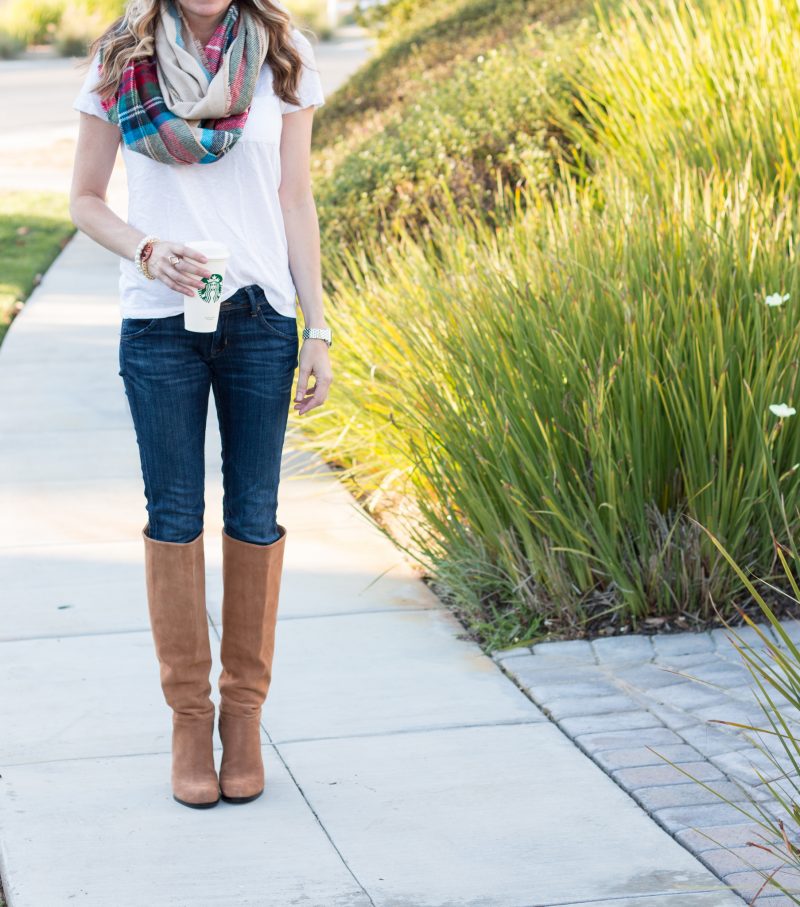 scarf | white t-shirt | jeans | boots
Another Fall staple, for sure! I live in my booties. I wear low heeled booties during the day (unless I am running around in my Converse) and the high-heeled version when I go out at night.
Time to make a statement, ladies! I wouldn't go crazy with this trend, but if you are going to step out of your comfort zone I recommend going neutral. These are so pretty and look fantastic with a simple dress.
How fun is this? I LOVE the color and the draping on it. I also like how it covers the bum and can be worn as a cardigan, too. But I must say that the draping on it is why I love it so much.
I've carried this for a couple of years now and love it. It has such a fun shape and a crossbody is so easy to wear. Looks good with pretty much every Fall outfit. It also comes in black.
You know I love a great pair of distressed denim. Nothing to ripped up but enough to give it some edge. I love this pair and they are only $65. They look great with a white t-shirt and blazer for Fall. Preppy with a bit of an edge! This blazer is on sale for under $50 and comes in a ton of colors! If rips and tears aren't your thing (and I totally get that!), these are a great option.
Classic, pretty, practical. These are so fun for Fall and add a chic touch to a basic pair of jeans and t-shirt. They come in five colors but the almond suede is winning me over for sure.
I've always loved gingham. That's no surprise. I wear it and I decorate with it. Recently, I added the green one to my wardrobe and wore it yesterday for the first day of Fall. It looks great with white pants or denim.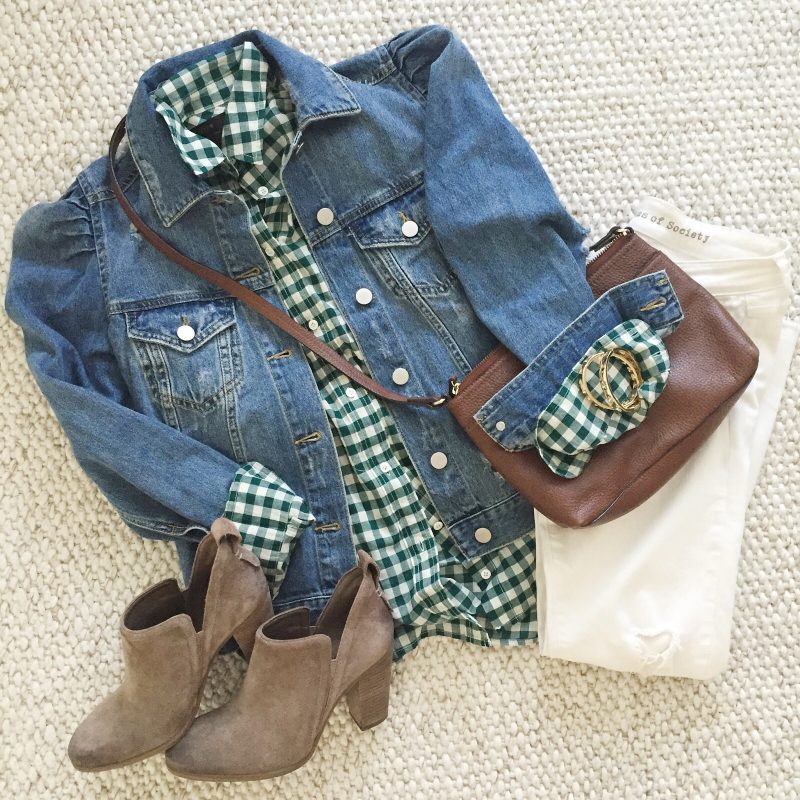 gingham shirt | jeans | booties | denim jacket | handbag | bracelet
 
Lastly, my pick of the week is this scarf. I chatted about it above. If you're looking for a timeless and classic scarf to wear with dresses, jeans or coats . . . this is it. These always go quickly this time of year, too.
What does this weekend hold for you? We have a mix of sports, time with the family and football watching! I am more of a college football fan so Saturday is my day.
Also a huge thank you to everyone who has sent in questions for the upcoming Q & A. I am blown away and I think it's going to be so much fun. Feel free to keep them coming as I will definitely be doing more than one post to cover it all.
*affiliate links used