Good morning! The next 2 1/2 months are my very favorite of the year. I love the holiday season so very much. Everything about it. I'm already lighting candles over here and snuggling up with blankets even though the temperature has yet to drop. Anyone else with me? And because time flies, I am sharing my first holiday-ready post with glam holiday looks under $100.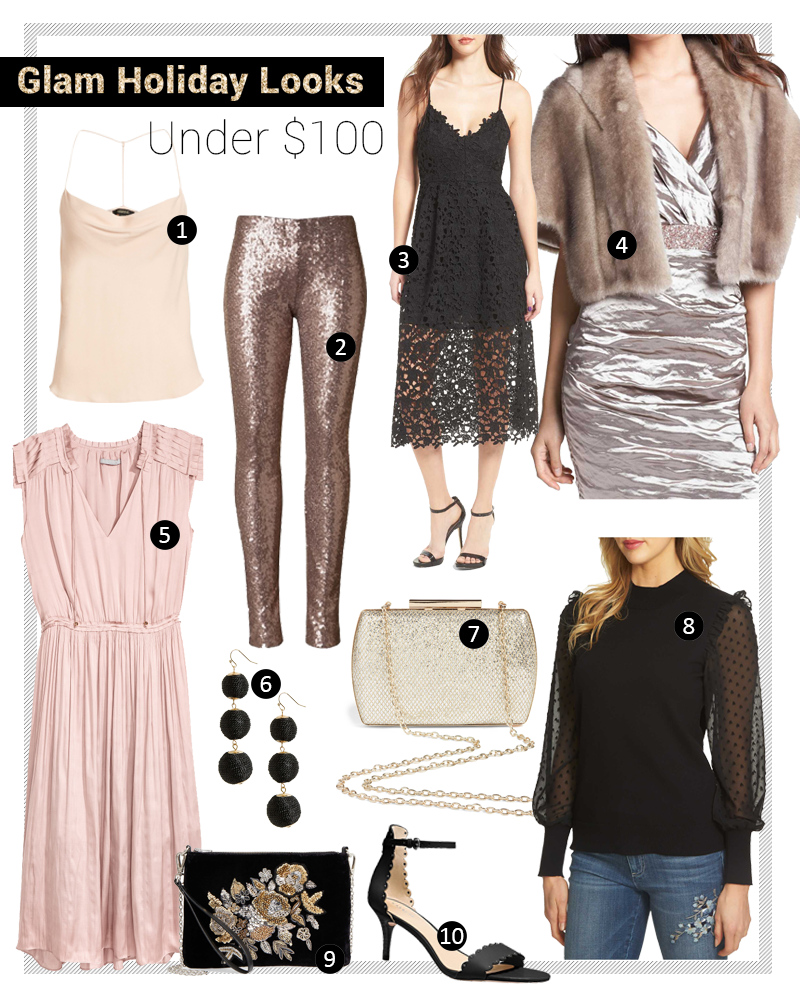 One of each please!!! That's how I feel about this collection. I had so much fun daydreaming and curating these pieces. It just makes me want to get my glam on and go out. I am just waiting for my party invite. I tried to mix and match pieces that can be dressed up or down. And the best part is that they are all under $100.
I've been loving pretty satin camisoles lately. I have this one but can't get over the back on this one. It's a great price at $38 and would look so pretty alone or with a blazer. Also so pretty with a cardigan and leggings. Or toss it on with the sequin leggings and fur capelet and you're ready for New Year's Eve.
I have these and LOVE them. They sell out quickly and are often backordered but they are so worth the wait. They are only $32 and I always receive a ton of compliments on them. They are lined with a pale pink soft cotton. They actually feel like pajamas when you have them on. A great wardrobe staple for the holidays. I like to dress them up or keep them more low-key with a white t-shirt. Always fun to wear.
Three huge cheers for this dress. I am slightly obsessed because it's so fun to wear. It is feminine and perfect for the upcoming holidays. My husband and I always sneak away for a night right before Christmas. It's a tradition and this year I will be wearing this dress. It comes in many colors. The black is timeless but I decided to go with navy blue. I think it will be really pretty with a gold evening bag.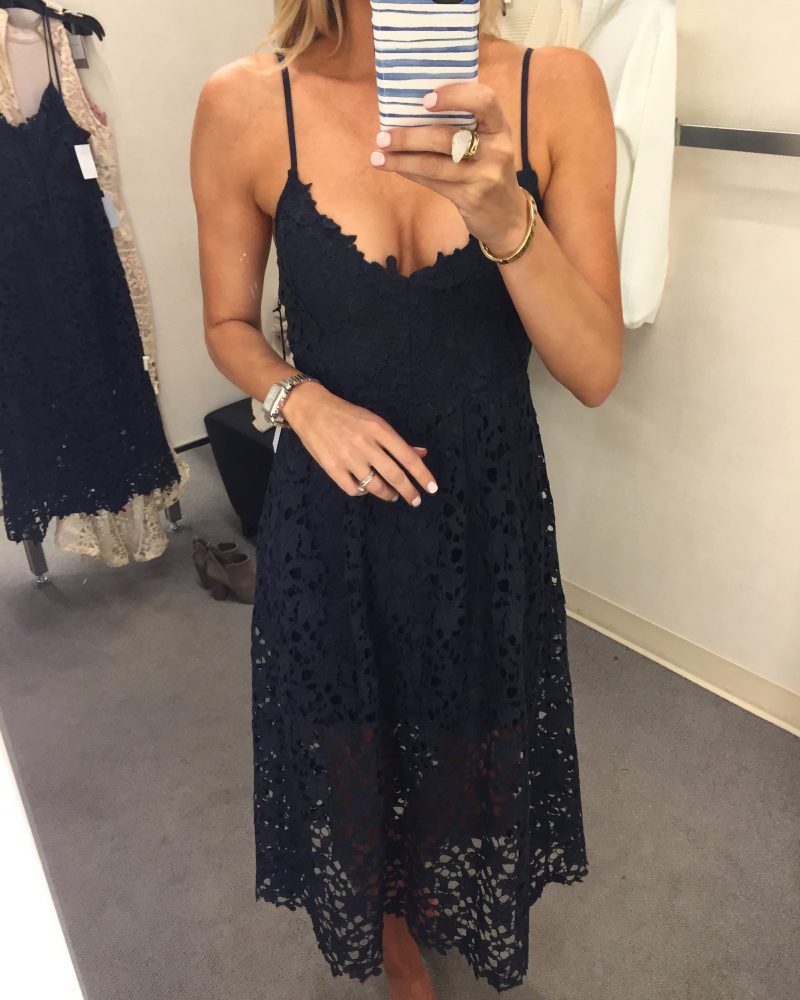 The other night, my girlfriend reached out in a frenzie  because she was headed out to see Hamilton and all of the couples were dressing up. She didn't have a fancy coat so she texted me. Well, guess what?! Neither do I. Every holiday season I wish that I had something more formal to toss on over a dress or even jeans to look more dressed up. This capelet has received amazing comments and reviews. It would look darling over everything in this collection. I love the idea of wearing it over the lace dress or the satin one. Also so cute with the leggings. It's just under $100 but something you could hold onto for years.
Girls!!! Are you ready for this? This dress is on sale for $20!!!!! Run don't walk. So here is the story. I am actually headed to get a price adjustment as I just bought it for full price. I had planned to wear a bright sweater for family photos but we went a whole different route when I found this pretty dress. I absolutely adore it. It's much prettier in person and on than the website shows. I can picture it styled with that pretty velvet handbag and the scalloped heels (which are on sale and ridiculously cute).
Sizing: I am 5'7″ and usually a 4. But in this dress I bought a size 6.
I think every girl needs a pair of these for the holidays. I've completely jumped on board and feel so fun when I wear these. They are selling out quickly. I will keep an eye on when they restock. These are very similar and come in a ton of colors.
I invested in a gold sequin handbag a few years back. Great decision. It is my go-to handbag whenever I dress up. It's just big enough to hold my phone and lipstick. Ideal and it looks so feminine and pretty with any formal attire. Plus it doesn't over power the outfit. Always look for one that has a pretty chain to wear it over the shoulder. There is nothing worse than being at a cocktail party and having to juggle your drink, appetizer and clutch. No thank you!!! We've all been there.
This sweater also comes in ivory. So so good! I love this. What a beautiful sweater that instantly looks holiday-ready. You could pair it with the sequin leggings or keep it casual for a girls' night out with denim and heels. A really good find.
Velvet is hot this season. You'll see it everywhere. I am not sure about wearing a ton of it but I can do the handbag. And the embroidery is beautiful.
Oh, hello, cutest heel ever. Nice to meet you! So cute. Do I even need to say anything about this? It takes a basic heel and makes it BEAUTIFUL. The heel isn't too high so you can dance the night away. Plus it's on sale.
BEAUTY MUST-HAVES
Lastly, I always rely on this self-tanner and this dry shampoo to get me though the holidays, too. Love them both so much!
Ok, girls! Let me know if you liked the first holiday-ready post. Happy to share more. Let me know if you want more casual looks or another formal installment.
We are off to a beach clean-up day with the family. Then some football watching is going down! Hope you all have a great weekend. See you back here on Monday for our Wrap-Up!
*affiliate links used