So happy it's Saturday! We are off to watch my son in his play. We saw it last night, too, and I can't get enough! Of course I cried watching. There is something about children being so brave up on stage that just gets to me. But after long, late night rehearsals this week, I think we all plan to collapse this afternoon. But these are the types of weeks that we will remember forever. Turning to Saturday Shopping news, I have such a fun and inexpensive discovery to share with you. I love when I unexpectedly find a little gem. Or at least I think so!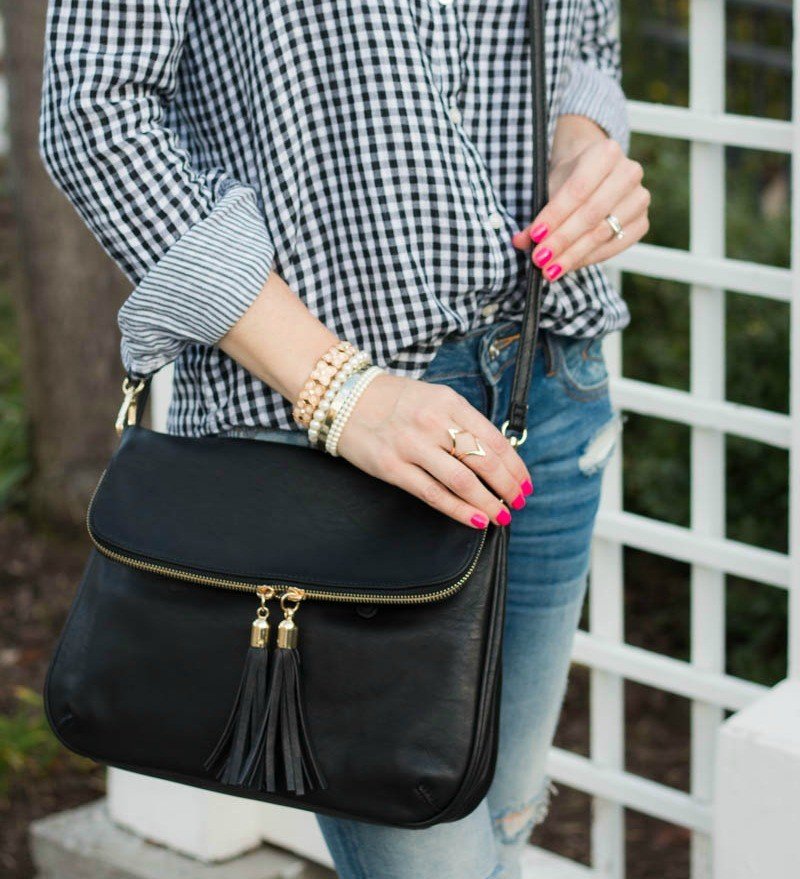 This one is a cute one, my friends. Tassels, soft, plenty of space and a chic style. And get this. It's only $36. I saw it hanging in the store and immediately grabbed it. It's much cuter in person that the website portrays. It also comes in navy and red.
I am a sucker for a handbag with outside pockets. They zip which is nice and I don't have to fish around for things I need.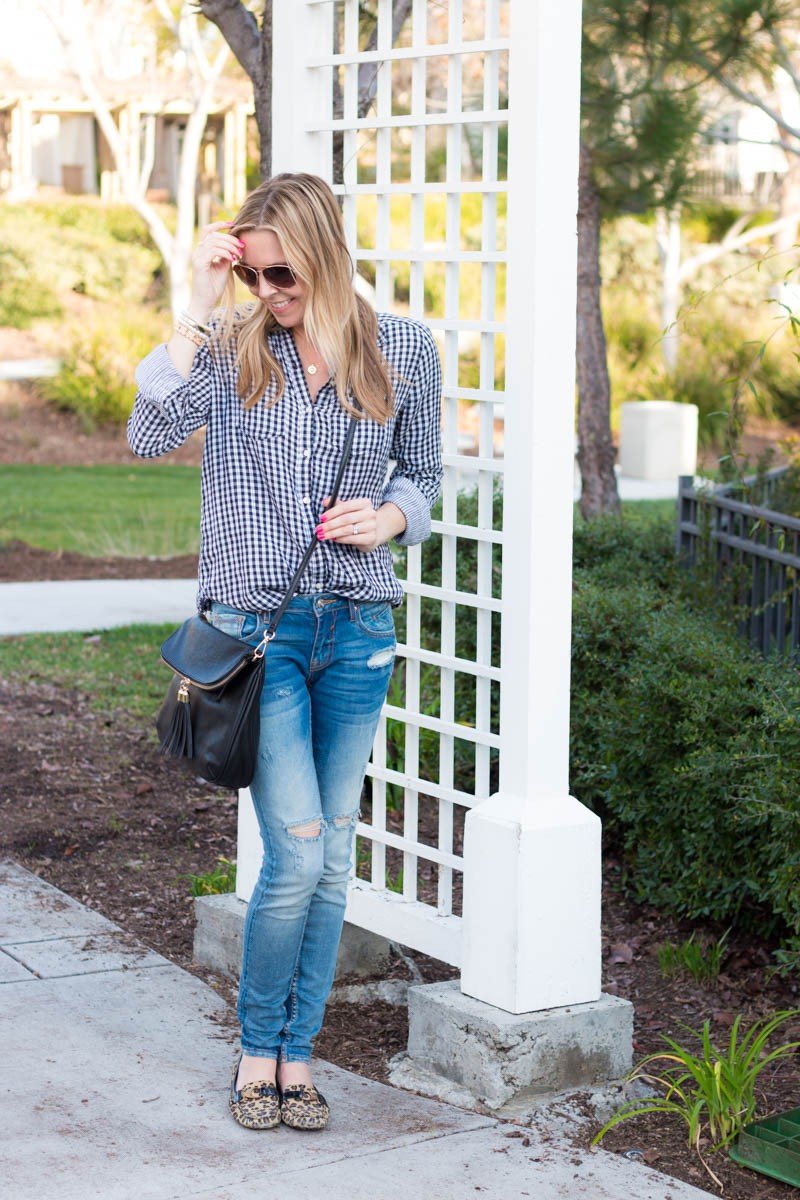 distressed jeans | handbag | similar shoes | similar shirt | necklace | ring | sunglasses
You know I love these jeans. I wear them way too much. The leopard loafers have been in my closet for probably 7 years. I re-discovered them when I switched to clear shoe boxes. Those are genius. More on that in a later post! But a leopard loafer is a great closet staple. I wear my heels and wedges when I dress up and these are great for everyday. It adds pattern and a fun neutral to most outfits. You all probably recognize the blouse. It was sold out a while back but I did find this one and this one which are quite similar. If it ever comes back in stock, I will let you know.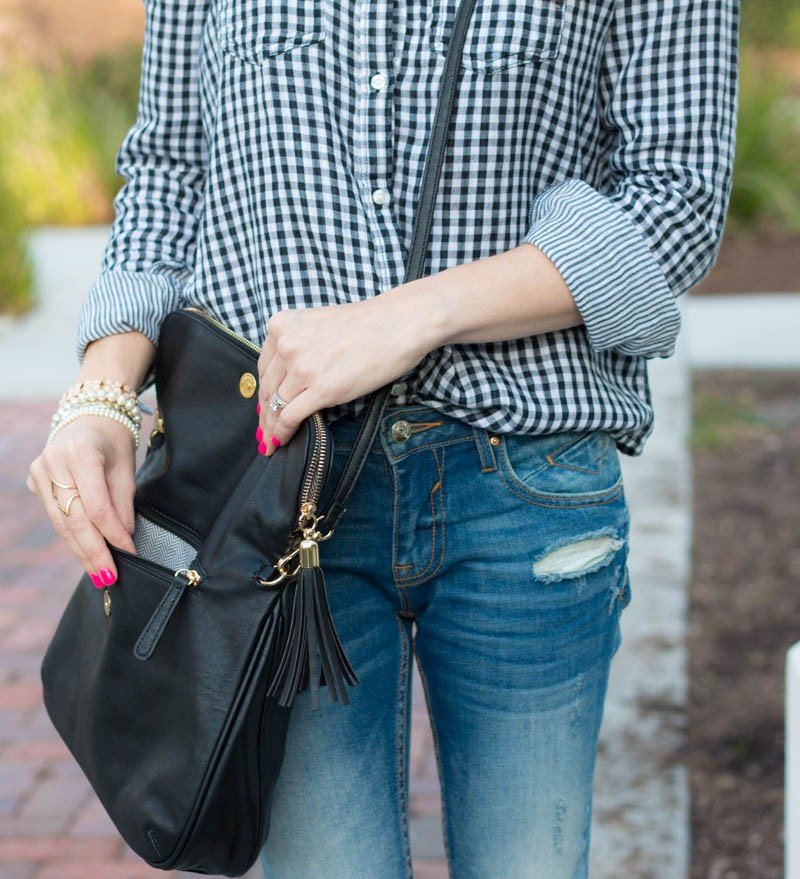 Shop This Look

I also really appreciate that there is another pocket in the front. I keep my keys in this one and my phone in the pocket in the back. Always nice when you don't have to open the main part of a handbag for things you need in a hurry. And it's a bit tough to see but the inside and the pockets are lined with a darling herringbone lining. Honestly, this is a darn great handbag for $38. I took it to our son's play last night and it fit so much and I loved wearing it. Super comfortable. This one is a winner in my book. I think the best thing about it is that it's so soft.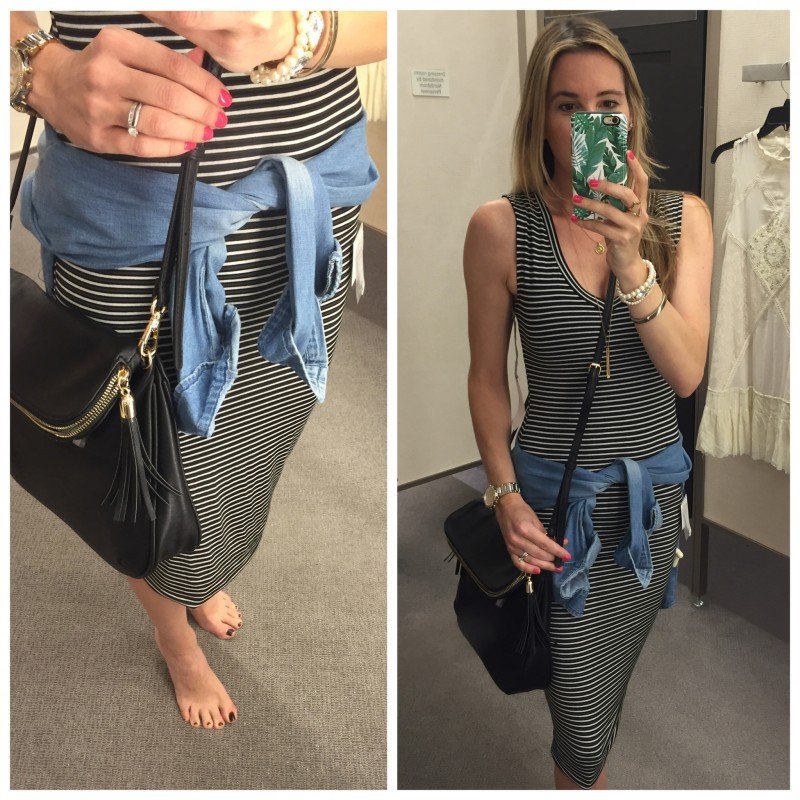 dress | denim shirt | handbag | necklace
Shop This Look

Next up is this super soft dress  (great price) I discovered this week. It may become my new favorite travel dress. It's sooooo soft. And it had me at black and white stripes. Pictured is a size small but I thought it was a bit too tight so I went with the medium. I plan to style it with my mixed media jacket and will show you soon. And if you're curious about the dress in the background, it's adorable but a tad see through. If you love the dress, I recommend going with one of the other colors. It's super cute in black, too. I like the vintage, feminine feel it has.
I also saw this darling floral dress. I haven't seen it in person but holy cow it's a steal. And the print is so pretty!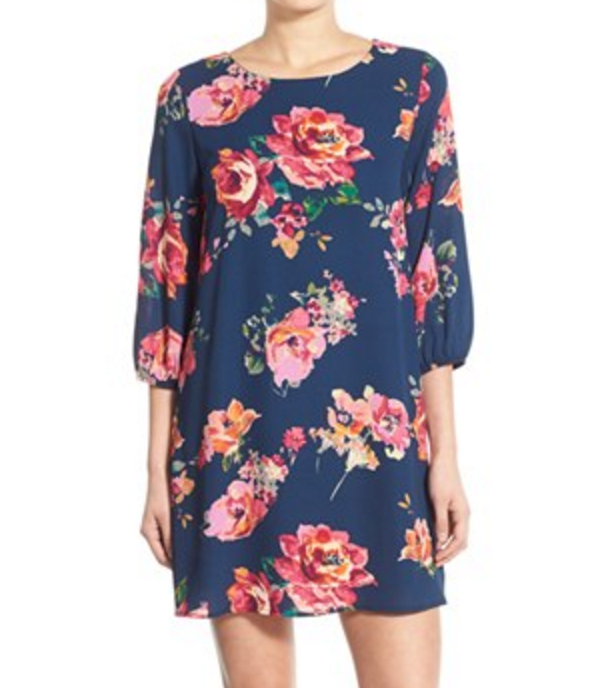 Other cute sale finds are below:

I hope you enjoy your weekend. See you back here on Monday for a fun DIY project.
Sales Around Town:
Loft: 60% off sale items (This cable knit sweater is super cute)
Anthropologie: Newly added sale items. Great dress  || Darling Pullover
Gap: up to 40% off everything
Old Navy:  40% off kids and babies
*affiliate links used
Shop the Post