Good morning! Thank you to those who took a moment yesterday to email me about my Musings post. It means the world to me to know that many of you can relate to a story here and there. It makes me encouraged to keep writing and it's comforting to know that at the heart of it, we all go through so many of the same experiences. In style news, I am adding some sass to Saturday Shopping with some fun boots. Oh, and a few favorites are on sale now, too.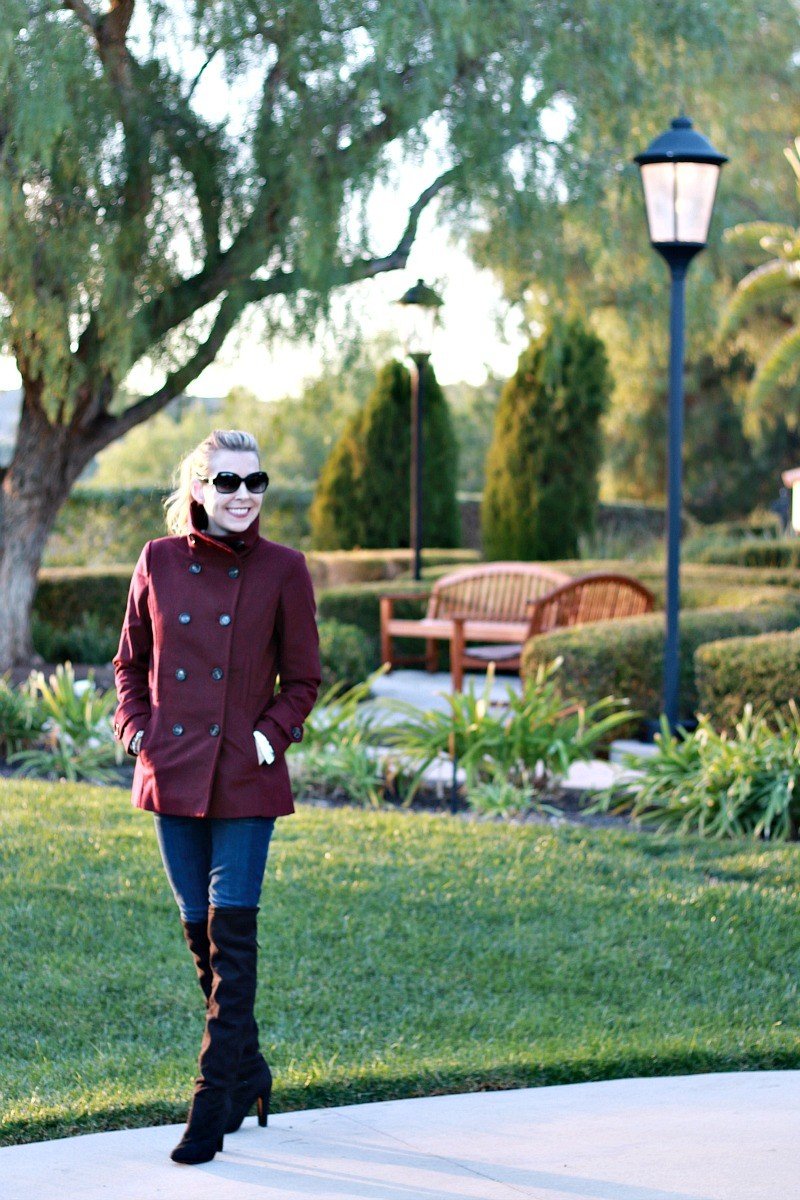 This is my $28.90 peacoat. My sister ordered it as well and loves it. I am in a large because I have broad shoulders despite my petite build. My sister who is 5'7″ bought a medium and loves it. It also comes in black, green, camel and charcoal.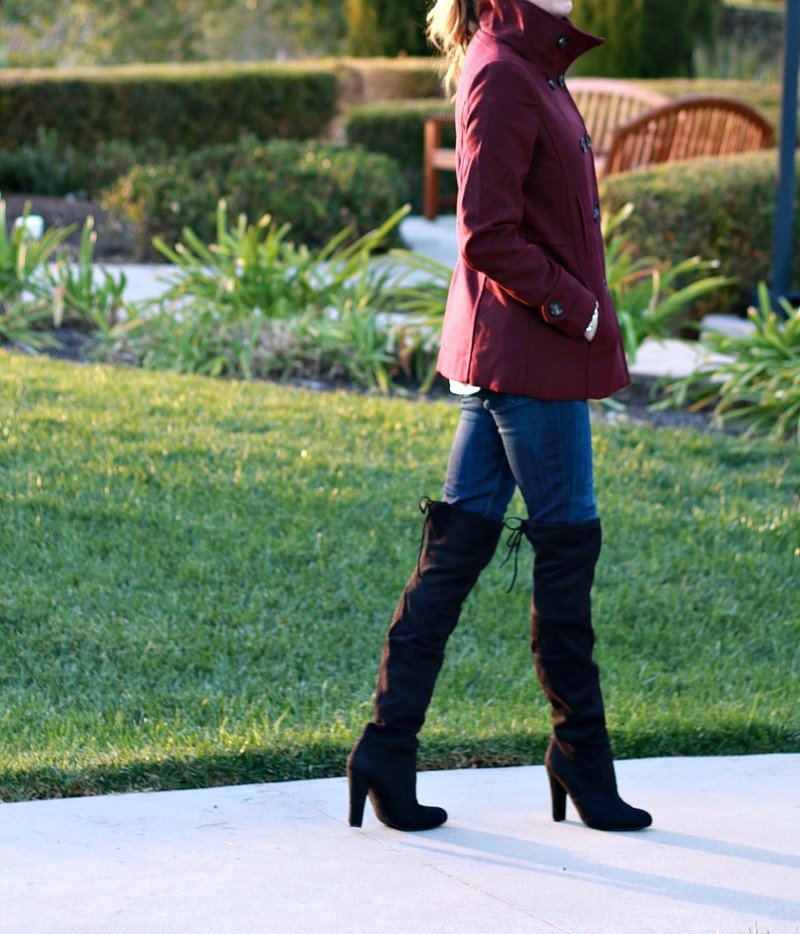 So I know these boots are not for everyone but I honestly love them. They are of course not exactly practical for day to day but if you like to go out or dress up from time to time, they really are comfortable and so much fun to wear. However, they run a full 1/2 size big. If you do have your eye on these particular ones, make sure you order a 1/2 size down.  And for those of you that are curious about height, I am 5'7″.  They also come in gray and taupe and look very much like the crazy expensive pair. 
I like pairing this sassy boots with classic looks on top. I like the balance of the two. The white bow blouse was a Nordstrom Rack score. I'll keep my eye out for more. This is a similar one.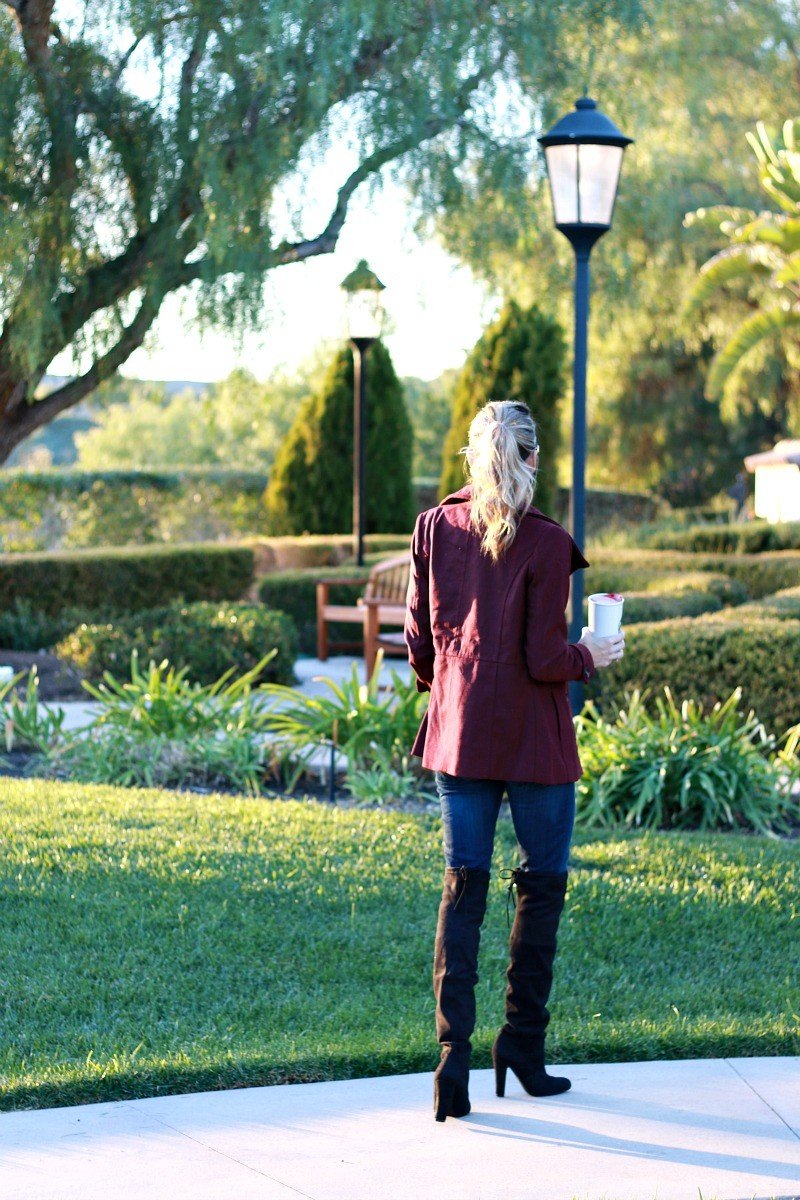 Shop the Look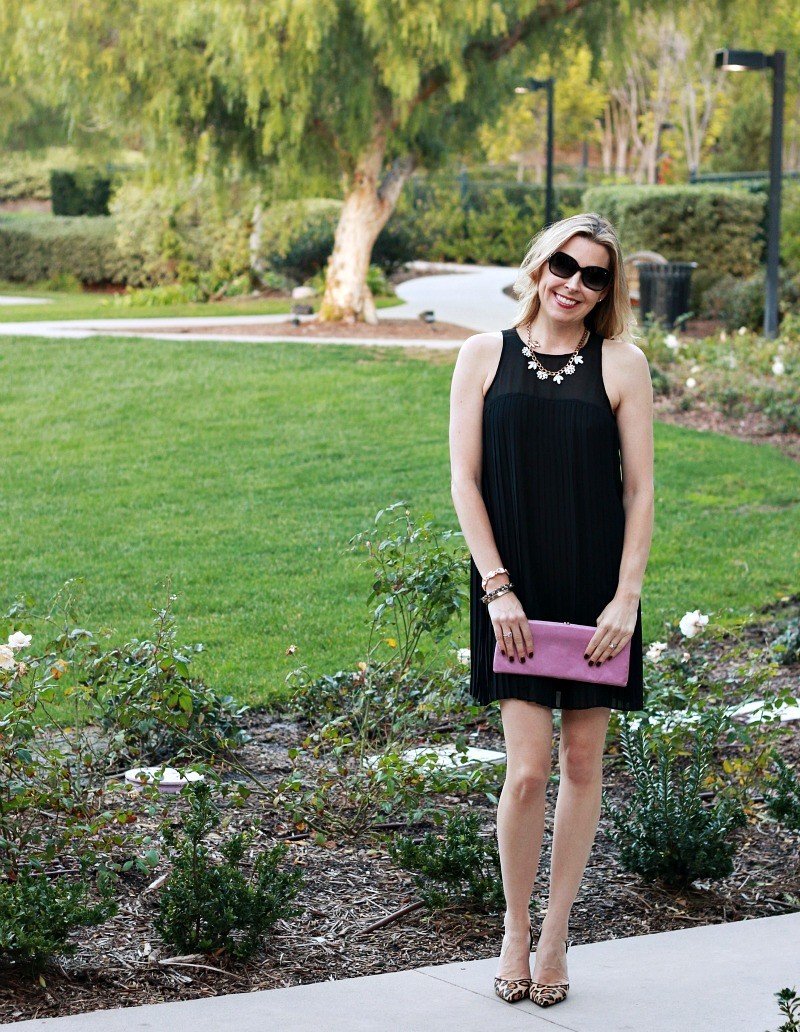 dress | leopard heels | similar  handbag | similar necklace | sunglasses
Ok. I need you to look past how ghostly pale I am in this photo and just see the cute dress. Friends, this dress is $30! It's sooooo cute in person. The pleats are darling and there is plenty of room to eat! Took a close up below with the phone just so you could see the pretty detail on the dress. I bought a small. I had not been to Nordstrom Rack in forever. Not only did I score this cute little number, but ran into a dear friend I hadn't seen in a while so it was a worthwhile trip for sure! I did find it online here if you do not have a Rack close to you. The only kicker is I don't think there is free shipping unless you spend over $100 so a local store may be better.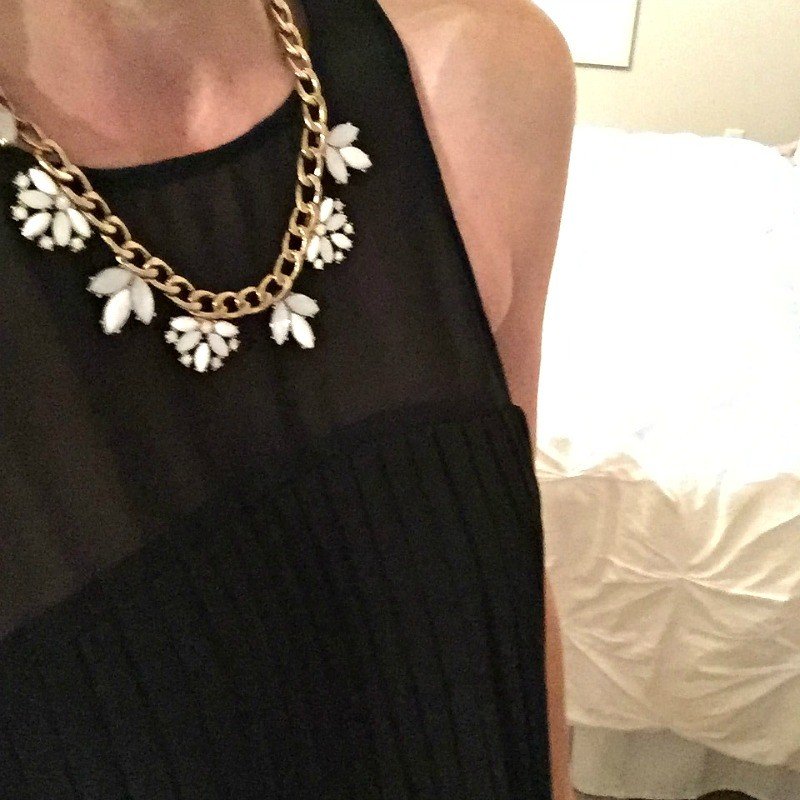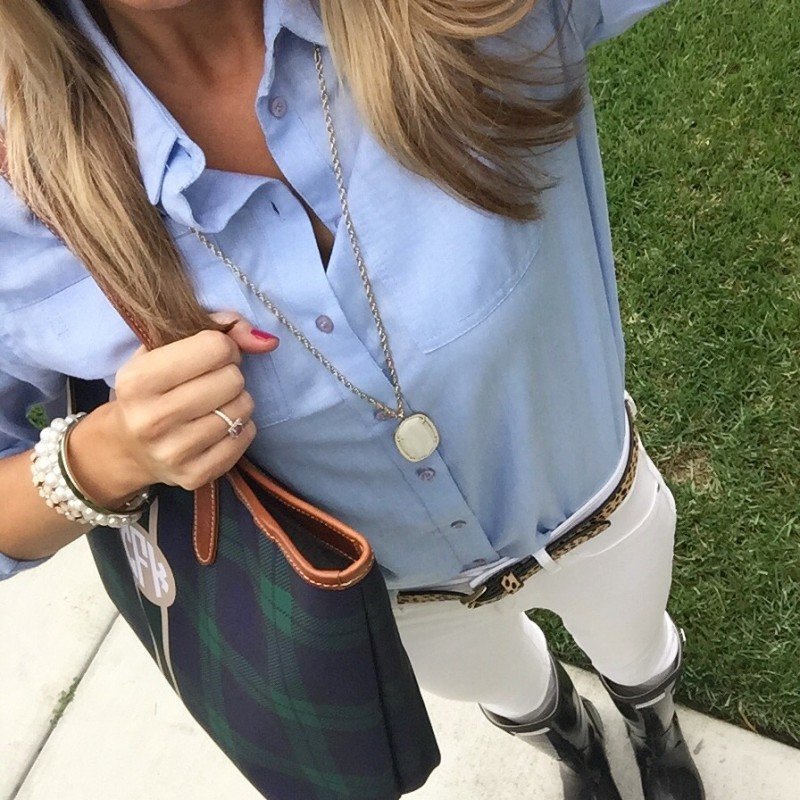 blue blouse | plaid tote | white jeans | black boots | necklace
This blue blouse is now on sale for an awesome price. I get so much use out of this. It's classic and looks good with almost every single color. I love the preppy vibe it has with the plaid tote.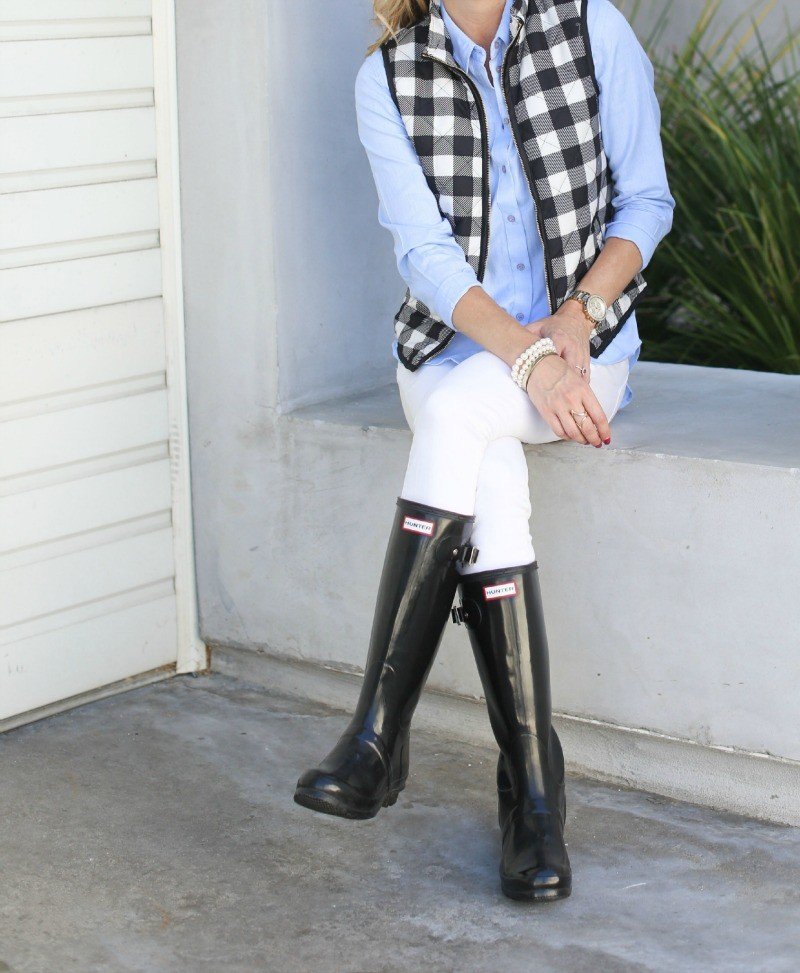 vest | pants | top (on sale) | boots
And I am super excited to let you know that Gray Monroe is carrying this vest again. It is actually even cuter with some gold detail. You can see it here under tops. I am also so happy to see that Nordstrom is carrying these white jeans again ($48). They were sold out for the longest time but they brought them back. I absolutely love them and have heard from many of you that bought them as well. Great wardrobe stable and for a really reasonable price. And for the record, I am a huge proponent of wearing white all year long.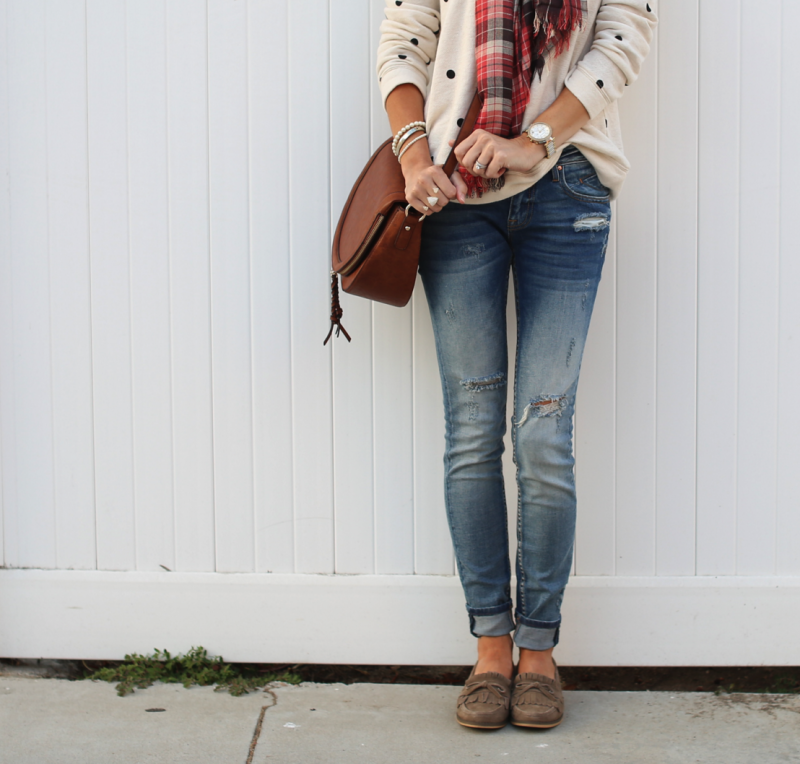 Shop The Look

And these jeans that are part of my Top 7 Style Picks are now 40% off!!!!! Hip hip hooray! I honestly wear these three or four days a week.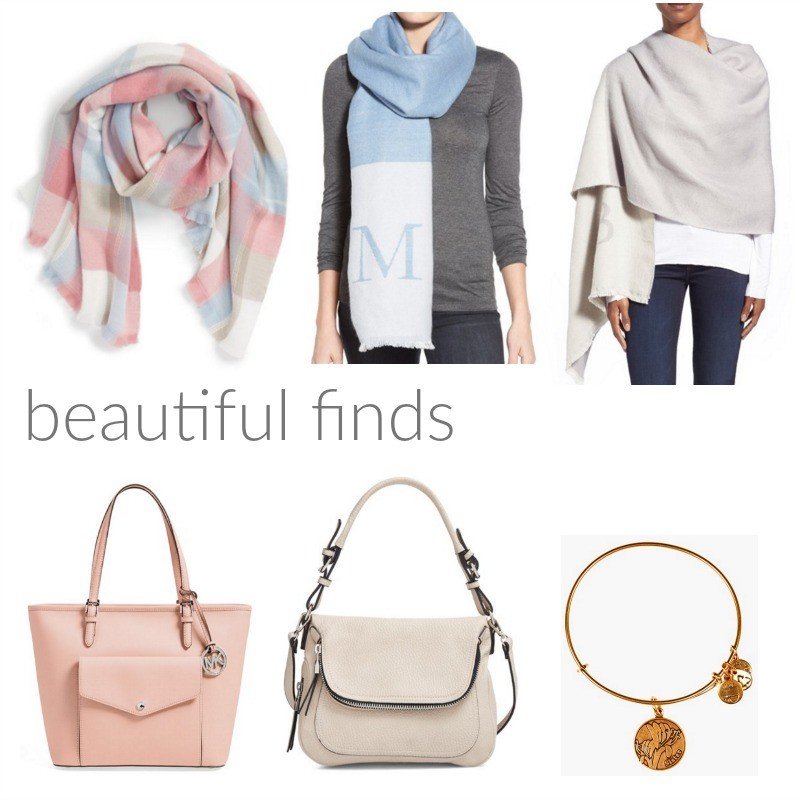 Shop These Finds

So these all caught me eye for different reasons. The pastel scarf is just plain beautiful. And I had no idea that a personalized blanket scarf was available. And now it's 40% off ($28). I think this would make a really thoughtful gift. The reason I love a good blanket scarf ( I have a plaid one I decorate with at Christmas) is because they are perfect to keep on a chair or sofa and toss over you when you are cold. So a personalized one is such a great idea. And I am a sucker for a ballet pink purse. That very sweet, pale color is not easy to find and this one is on sale. I carry a similar one quite often. I also like a neutral, white handbag and you can't beat the $38 sale price on this one.
Lastly. The charm bracelet. I didn't know about these. My sister gave me this one, along with one more, for Christmas. This is the "sister" charm bracelet and I have been wearing it every day. In case you are like me and didn't know about them, I wanted to pass that along. Such great birthday gift ideas! They have all different versions of this.
And that's a wrap. We are off to clean our way out of the garage. If I had a dollar for every time I have told you we are cleaning our garage I would be a wealthy girl. Not sure what our problem is, but we have a difficult time keeping that dang garage clean. Wish us luck and enjoy your day.
*affiliate links used
Shop the Post

[show_shopthepost_widget id="1323716"]