Hip hip hooray for Saturday! I am so excited it's the weekend. We are finally making some progress on our laundry room and I'll be sharing tid bits over on Instagram and Instastories if you want to follow along. Today I thought it would be fun to share my summer capsule wardrobe. Essentially I have 10 pieces that are on constant rotation. My friends and family can attest to that. I took those 10 pieces and created 10 different outfits to show you how I mix and match everything.
3 TOPS + 3 SHOES + 4 BOTTOMS
That's right! That about sums up my favorites. Of course I sprinkle in other cute outfits but this is my go-to casual summer wardrobe on a day-to-day basis. I add in my favorite gold pieces and call it a day. We are constantly running around in the summer or changing in an out of swimsuits so I like to keep it simple.
ONE
tank | pants | slides | necklace
Couldn't live without these cute drawstring pants. I have worn them for two summers now and adore them. They feel like pajamas but are so cute on. Paired with another go-to tank and slides ($60) and it's a cute summer look. At $20 this tank is a wardrobe staple for sure. LOVE.
TWO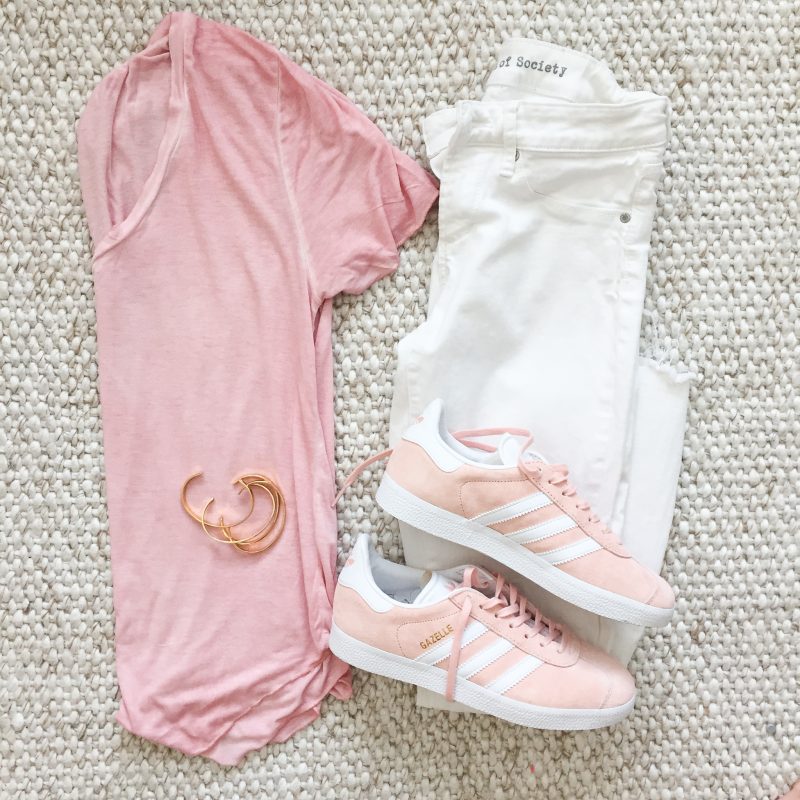 top | pants | bracelets | adidas
White cropped pants. They are so great because you can wear any type of shoe with them and they look great. These are my distressed ones. If that isn't your thing, I highly recommend my other white pants. I wear them all the time. A soft t-shirt and blush Adidas make this outfit comfortable and feminine.
THREE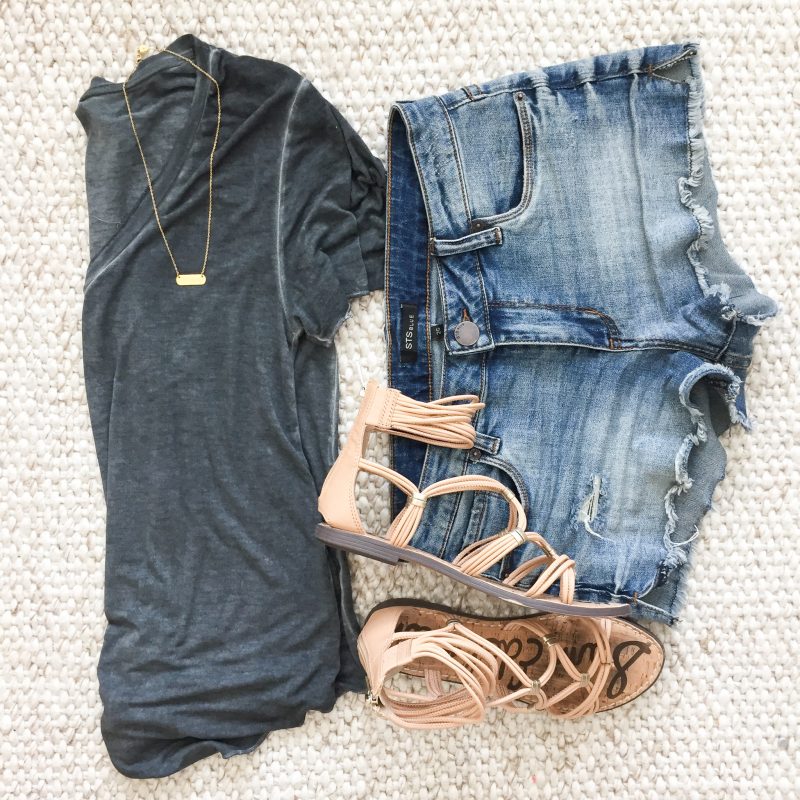 top | shorts | sandals | necklace
I think if you asked my husband, even he could tell you that this is the outfit I wear the most. Listen! I get in a rut like the rest of us. But I like my rut. Ha. These are for sure my favorites. The sandals always get compliments and add a chic look to this rather simple outfit.
FOUR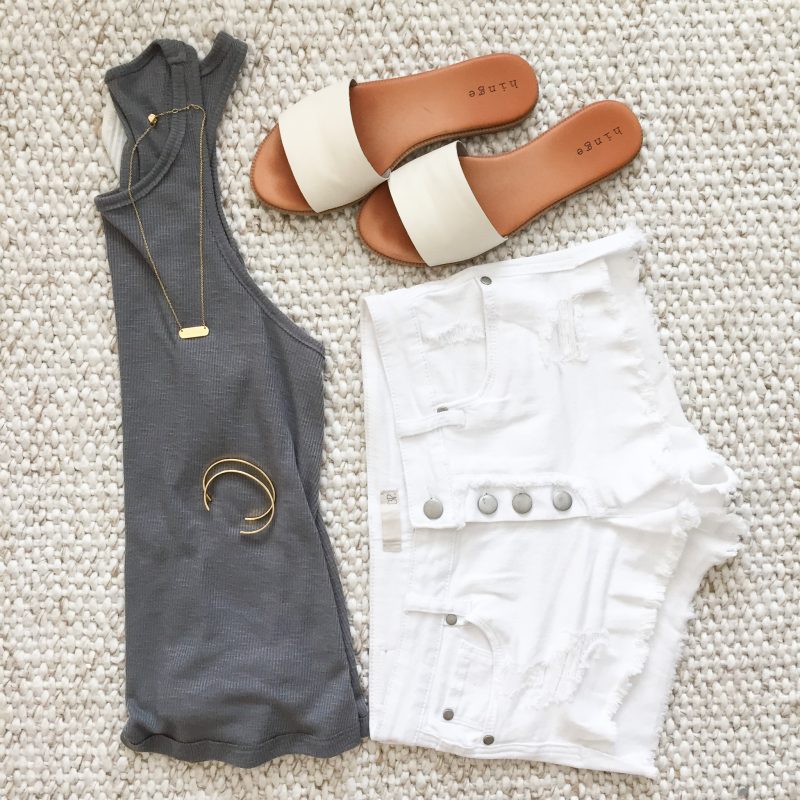 tank | shorts | bracelets | necklace | slides
Another look I wear on the regular is this tank and cut-off shorts. I love the combo of gray and white.
FIVE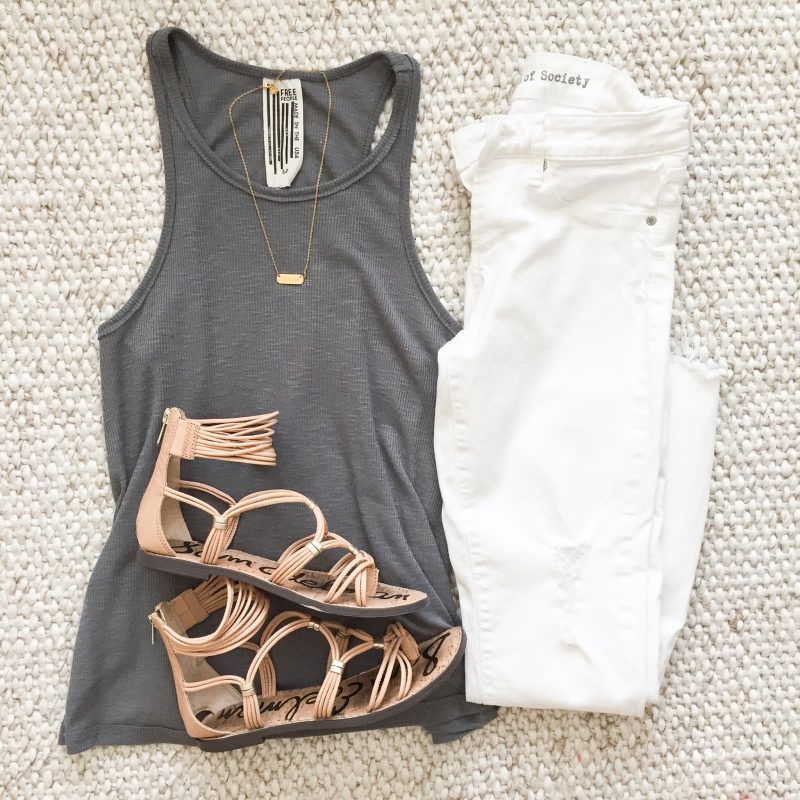 tank | pants | sandals | necklace
To switch it up, I swap out the shoes and shorts for these sandals and cropped pants. Also good for summer nights.
SIX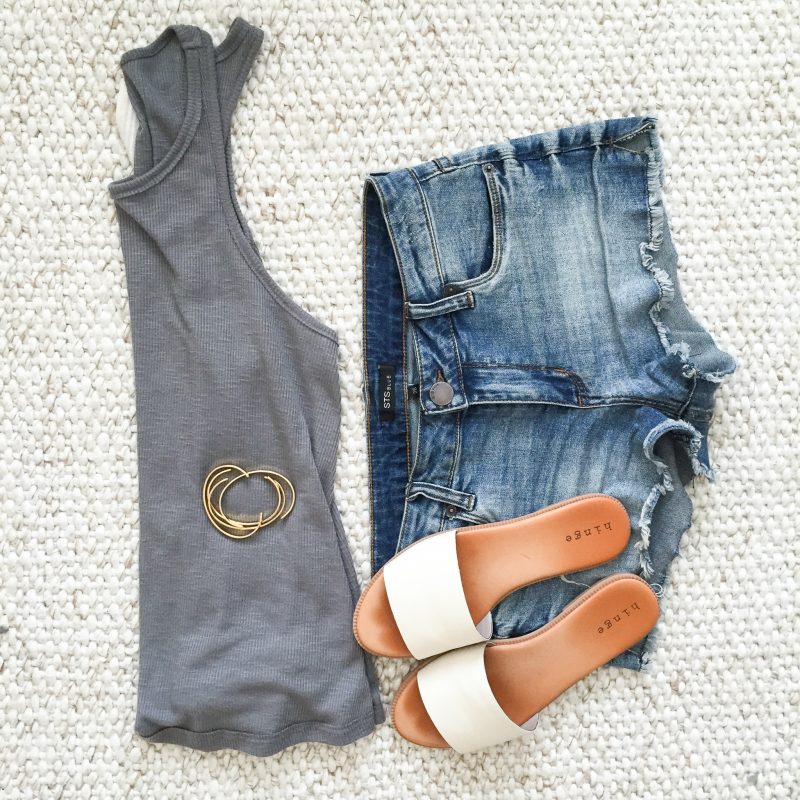 tank | shorts | bracelets | slides
SEVEN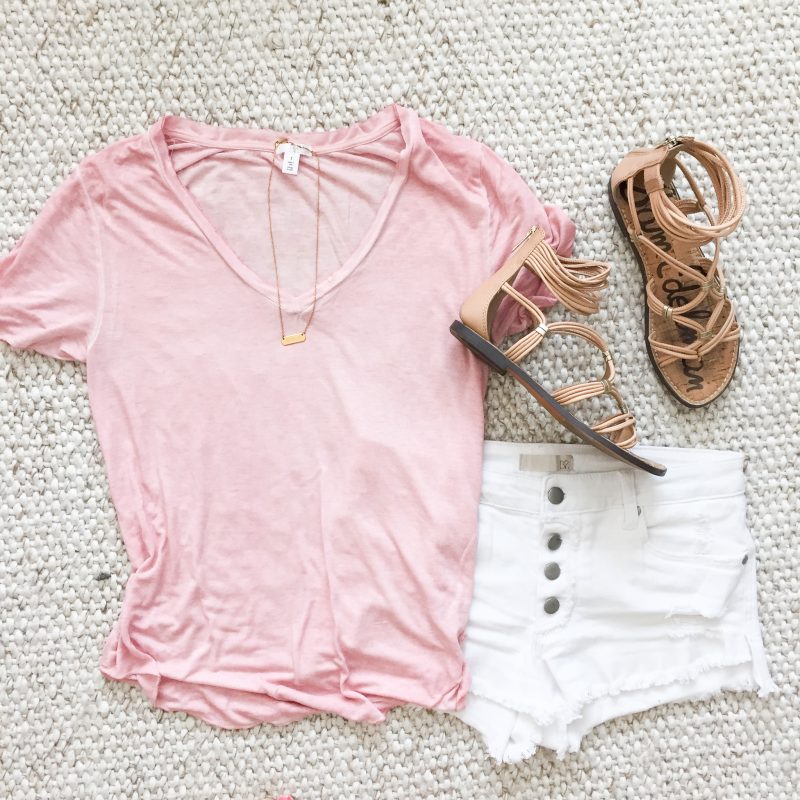 top | shorts | necklace | sandals
I wear my gold date necklace daily. Just a little touch of gold adds something to each casual outfit.
EIGHT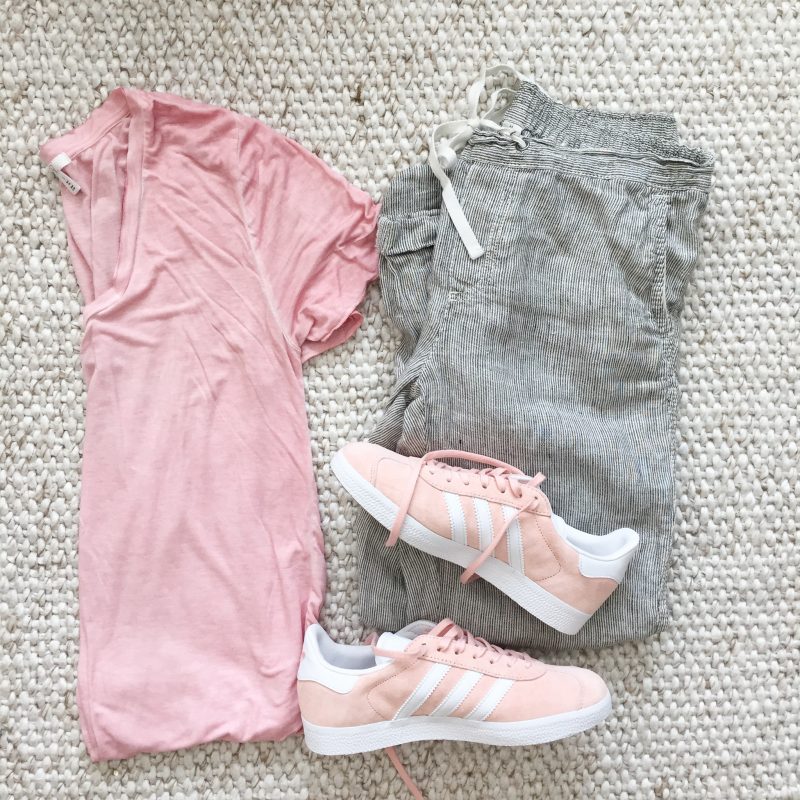 NINE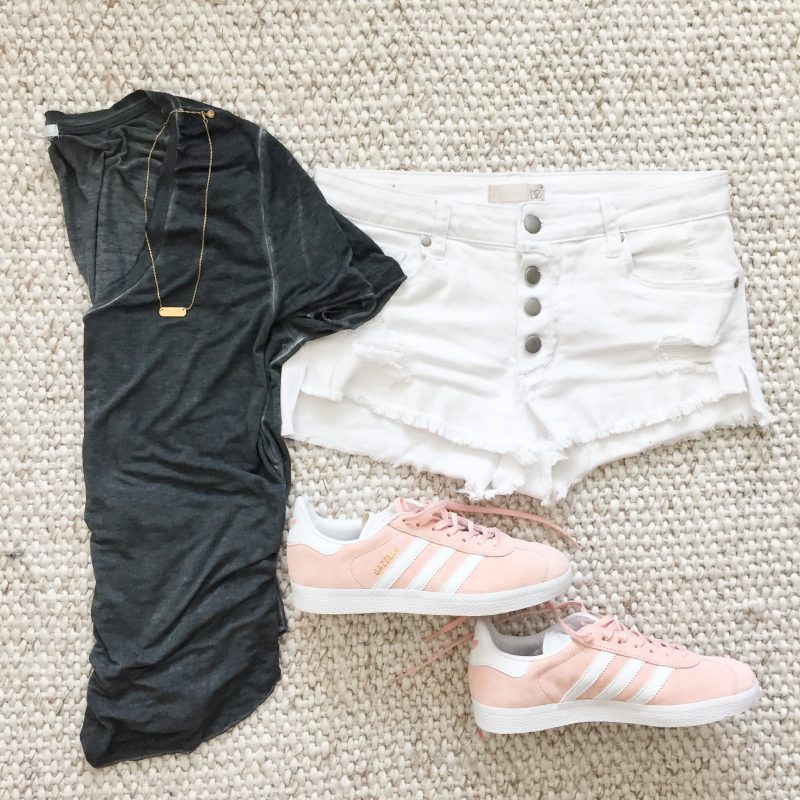 top | shorts | adidas | necklace
TEN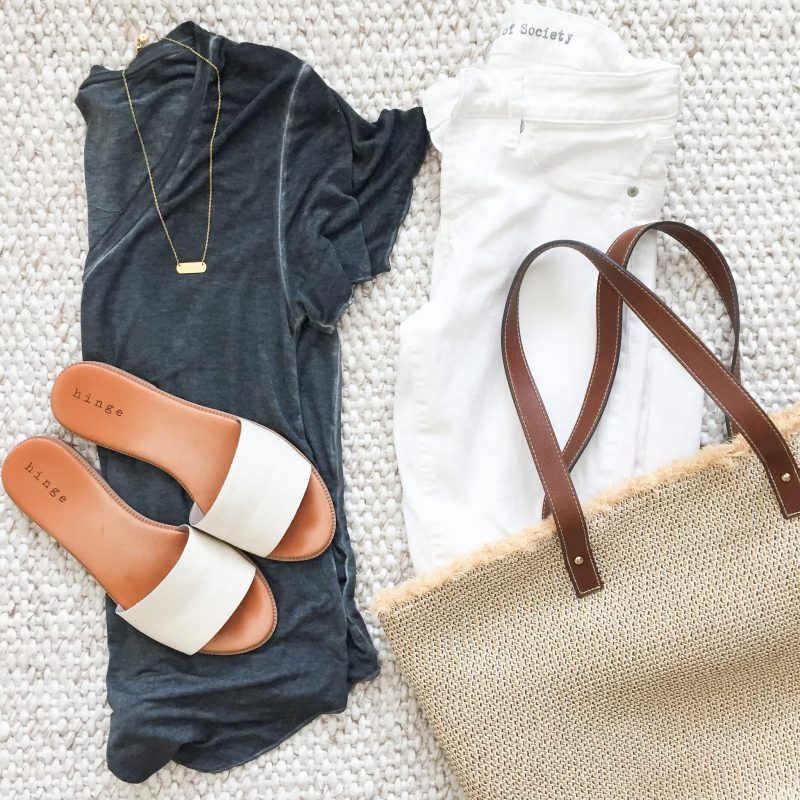 top | slides | similar bag | pants
The straw bag is another piece I grab all the time. I like the texture and neutral vibe it brings to an outfit. Straw bags can be over the top expensive (it's crazy) but this one and this one won't break the bank and look great for summer.
Shop This Capsule Wardrobe

Do you find yourself sticking to the same core pieces during summer? At least for your casual looks? Hope I'm not the only one. Also hoping this helps you see how your basics can be mixed and matched.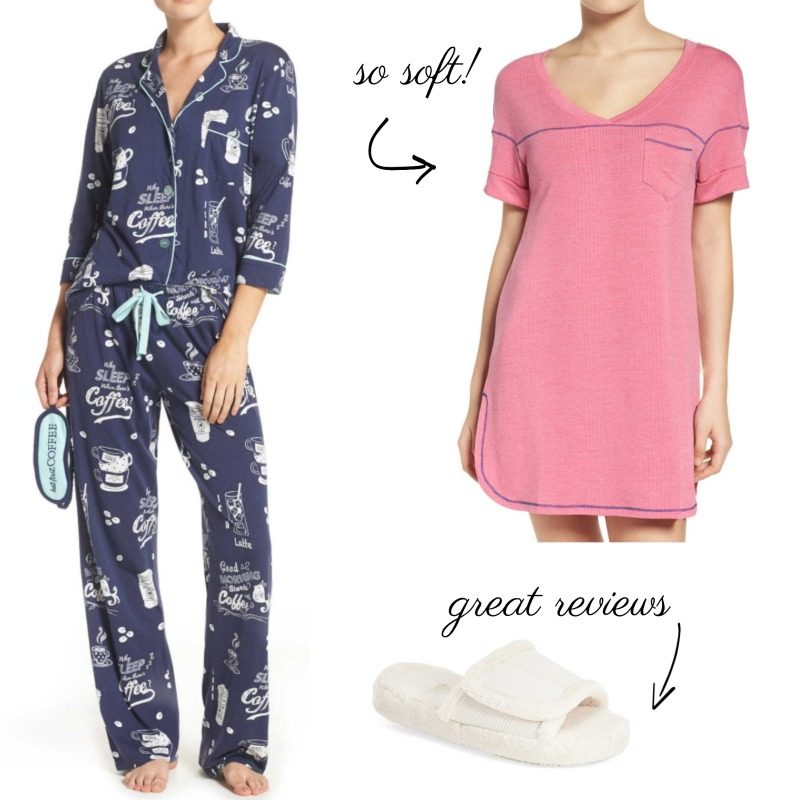 jammies | nightshirt | slippers
These slippers receive great reviews and caught my eye because I only like open toe slippers. Sounds nuts but my feet get to toasty in anything else. We don't wear shoes in the house but it's nice to be able to put something soft on my feet. Especially when I am cooking in the kitchen. The nightshirt and jammies are both on sale. Such cute styles.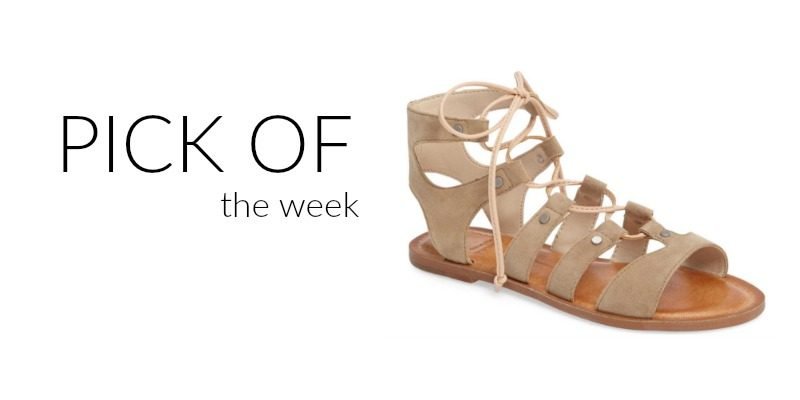 My pick of the week are these cute strappy sandals that come in multiple colors. They are now only $60 and have received excellent reviews! In fact they are 5 star reviews.  My kind of sandal.
SALE TIME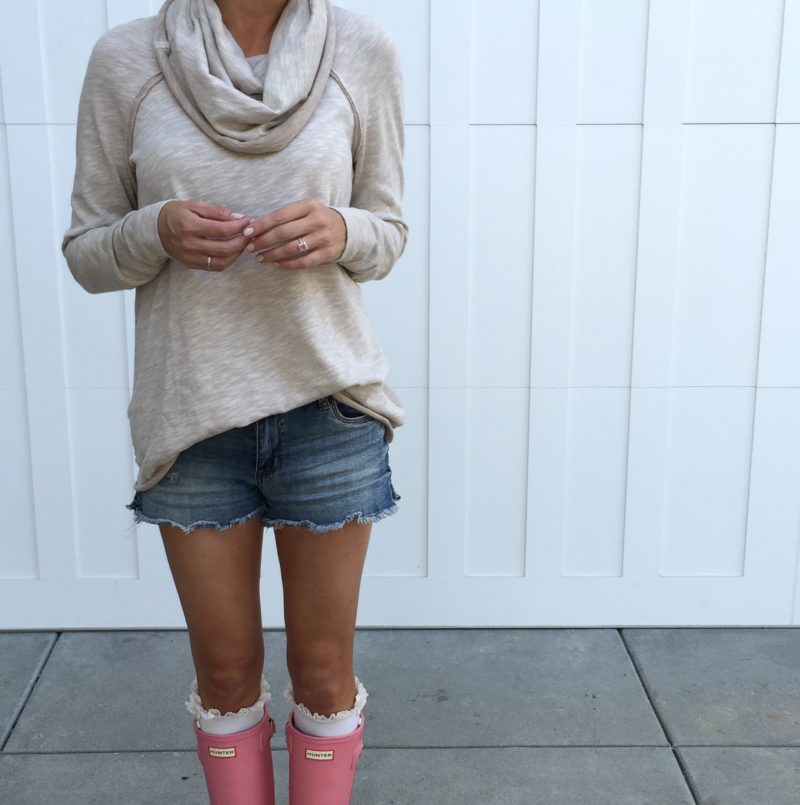 boots | shorts | sweatshirt | boot cuffs
Both these boots and boot cuffs are on sale right now. I also liked my blue sweatshirt so much I bought it in this oatmeal color. It's so comfortable and not too thick and heavy so it still lays nicely.
TRANSITION DRESS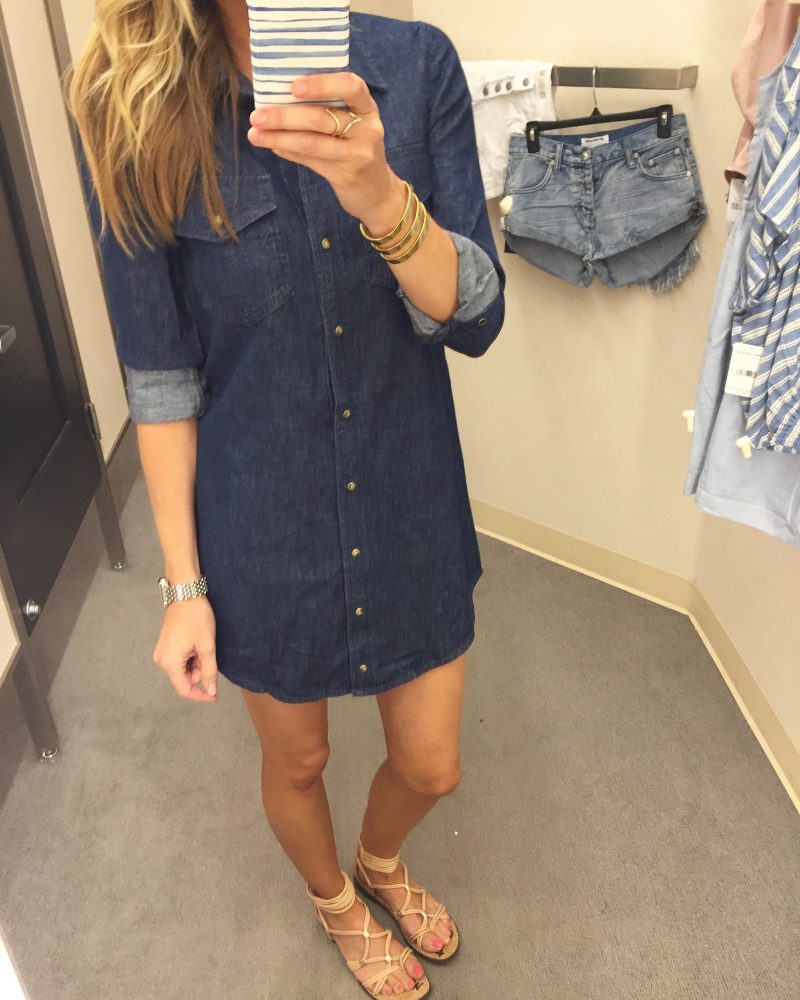 I recently tried this on and thought it would be so great for not only summer but into Fall. Listen, I am not rushing Fall. Don't get me wrong. But I really can picture this with booties (50% off) or boots and a cute crossbody bag, can't you?! This is a small. If you are very busty you would want a medium as it's fairly narrow through the chest. I am 5'7″ for reference.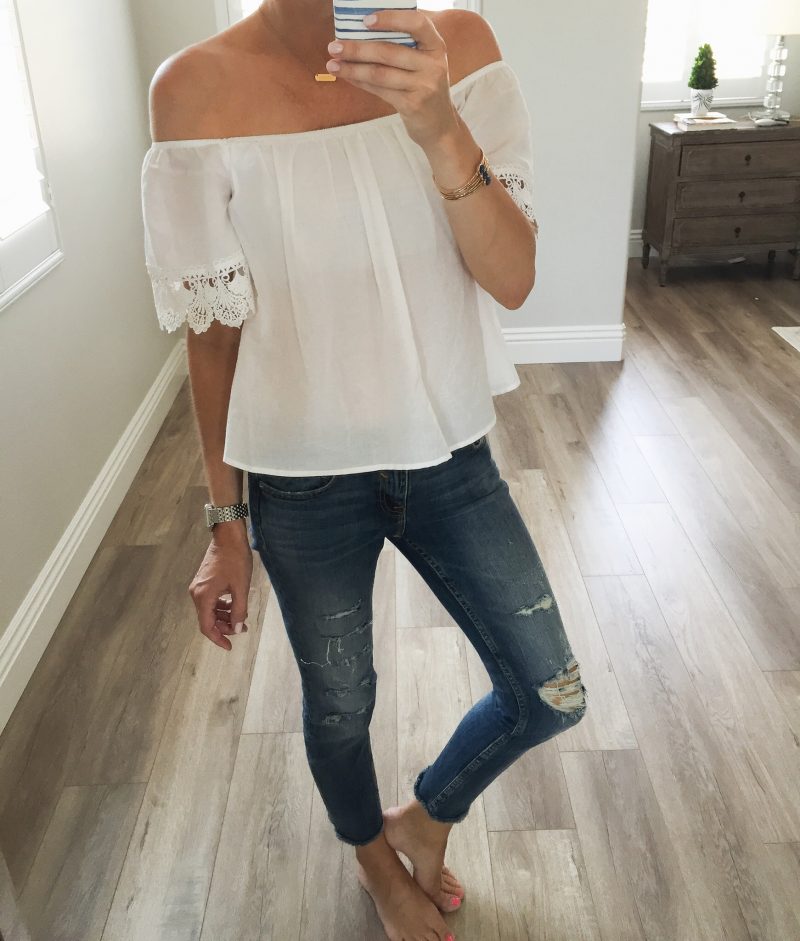 I've been wearing this off this shoulder top a ton. It has a built-in bandeau. It's on sale for $20 but only a few sizes are left. But I really do like the mix of the white top with the distressed jeans so I linked more below.
OFF THE SHOULDER TOPS

SALES AROUND TOWN
World Market | up to 60% on outdoor. These are back in stock!
J. Crew | up to 50% sale styles with code SALESTYLE
Anthropologie | up to 50% off sale items
West Elm | up to 70% off!
Ann Taylor | $50 off dresses
Pottery Barn | extra 20% off sale and 25% off one item