Good morning! Heading into Father's Day weekend with some fun summer finds for you. It's that time of year where outfits are breezier and outings more casual. My kind of season. Sharing some great sale finds as well as cute pieces that caught my eye. Let's jump in.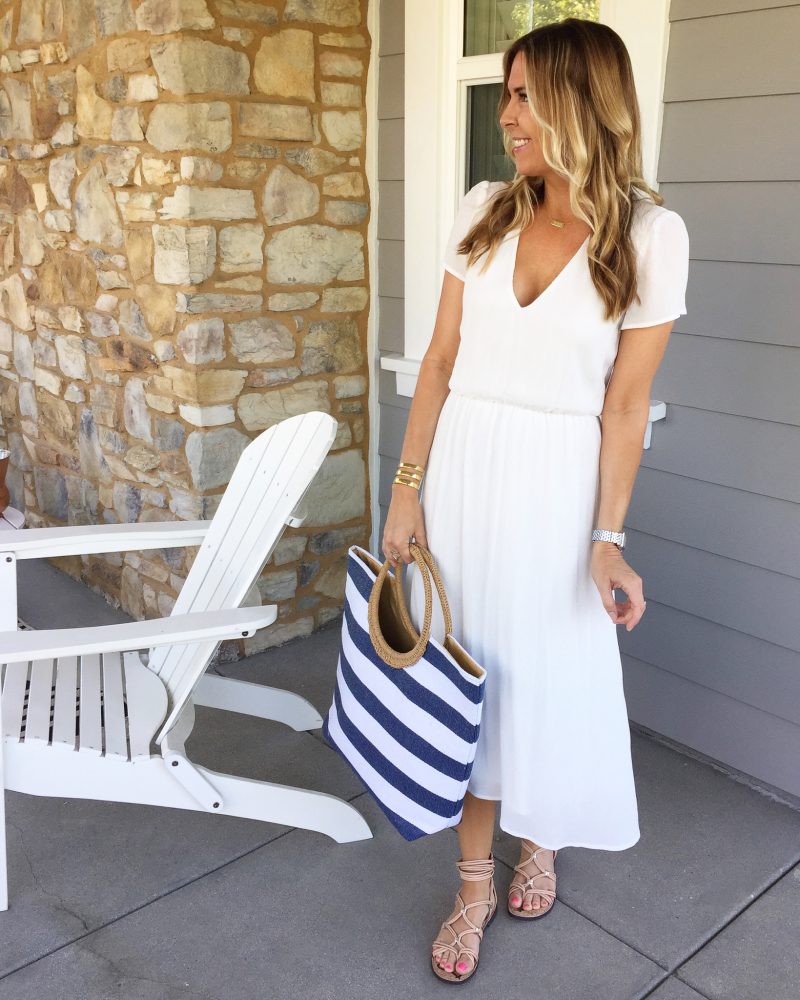 First thing to note is that this darling dress is on sale for $40! I have it in both colors which means I love it. It's just so easy to throw on and you immediately look pulled together. I wear it with both flats and heels. Truly one of my favorite dresses.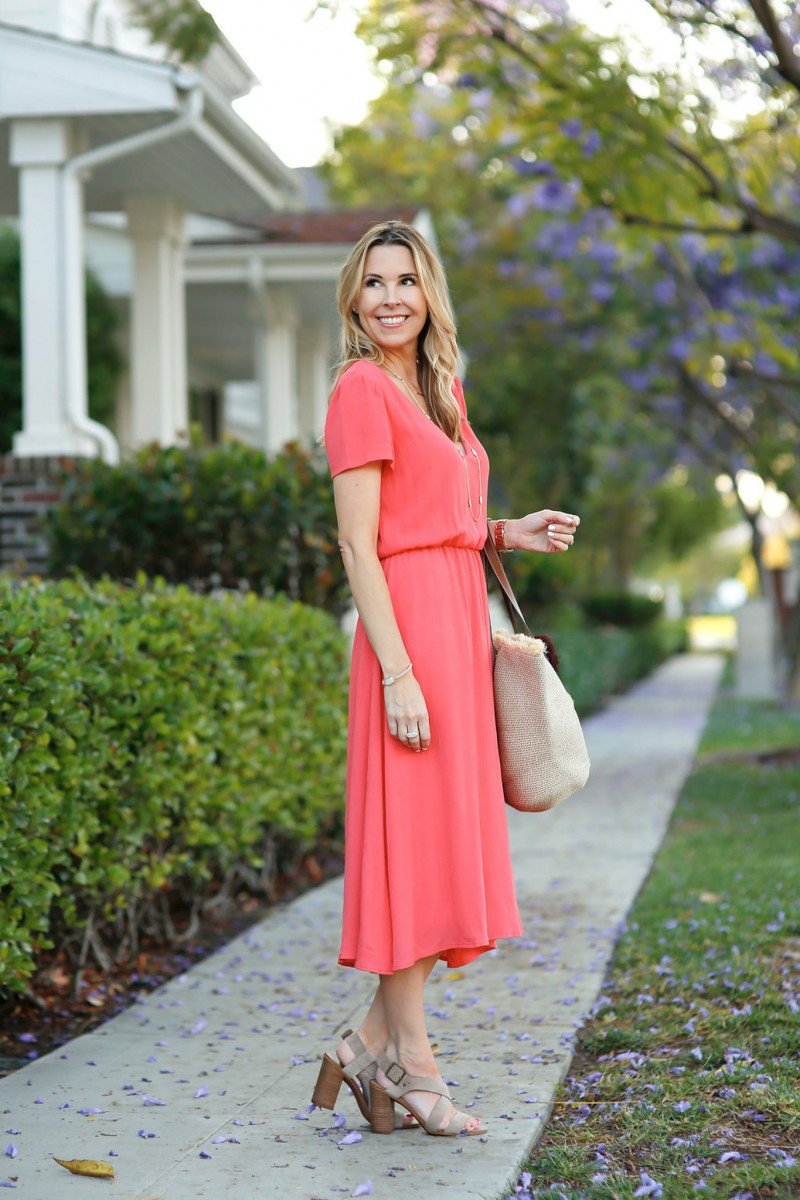 Here is the coral one from last summer. Such a fun color. These heels are quite similar. I've also worn this with these favorites. You can't go wrong with a block heel.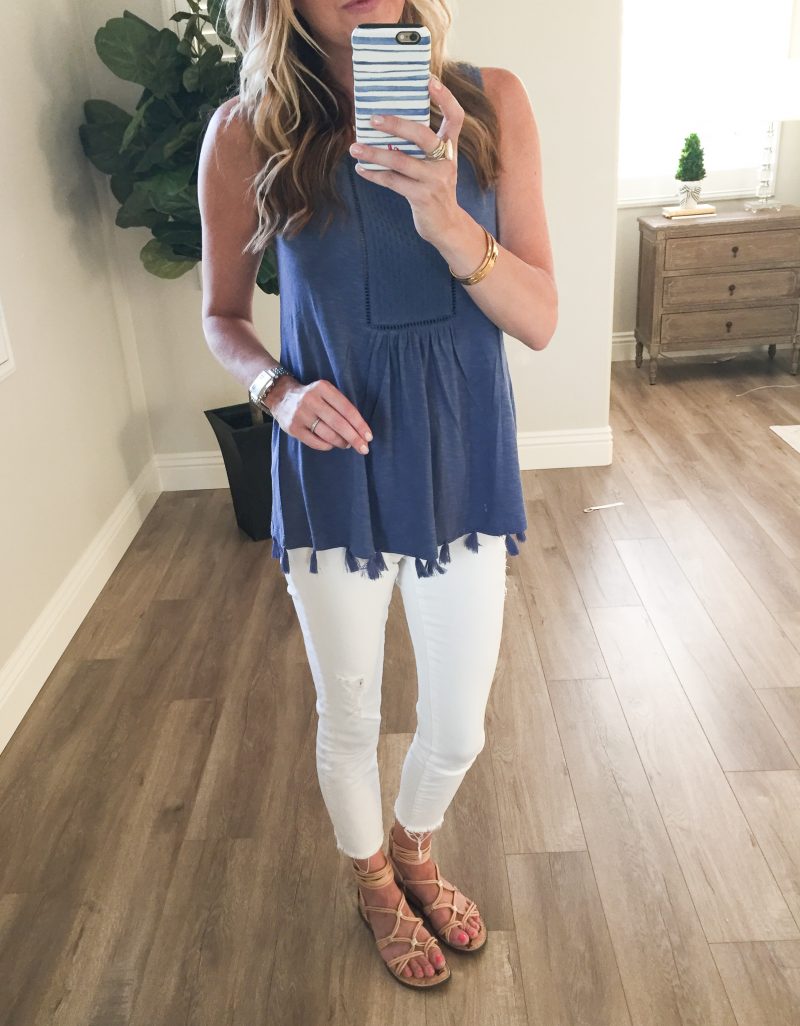 I recently ordered this top and was so happy when it arrived. The tassel detail is really cute, especially with white. These cropped pants are very comfy and allow your ankle sandals to show. Always a plus.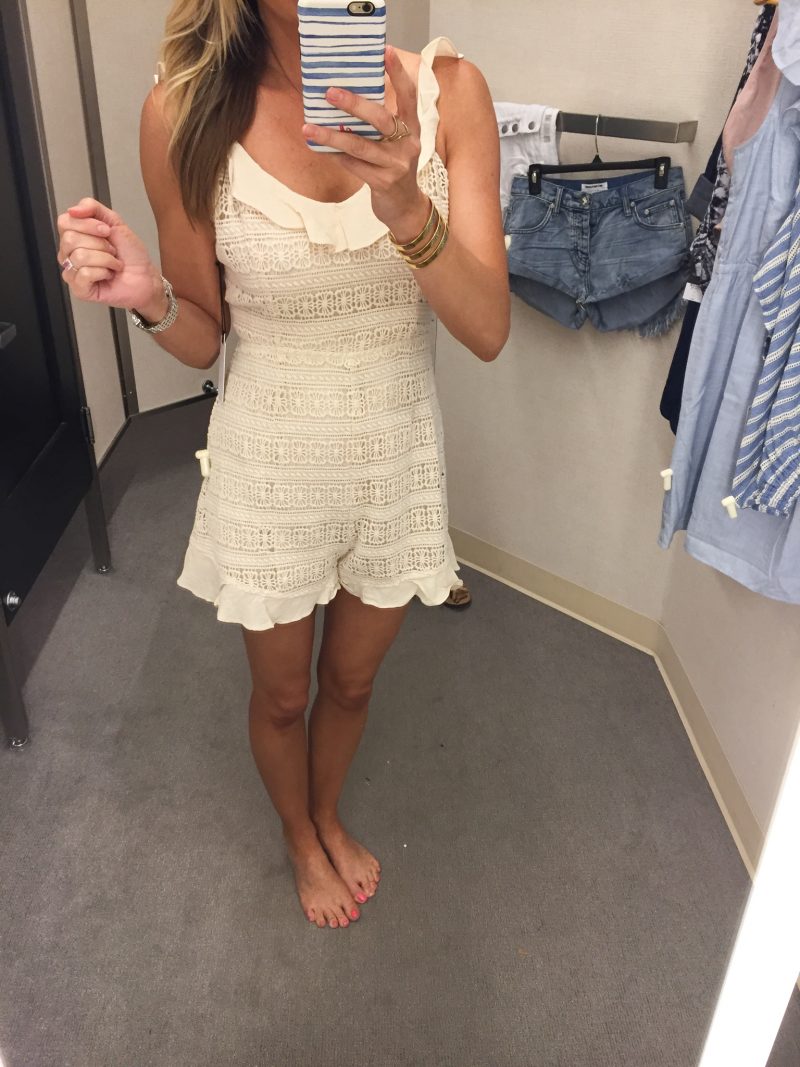 This romper may be my new favorite addition to my wardrobe in quite some time. On the hanger I wasn't sold. When I tried it on I immediately loved it. The crochet coupled with the ruffles! All so fun and feminine. The back is so pretty. It's not too short and I will for sure get a lot of use out of this one.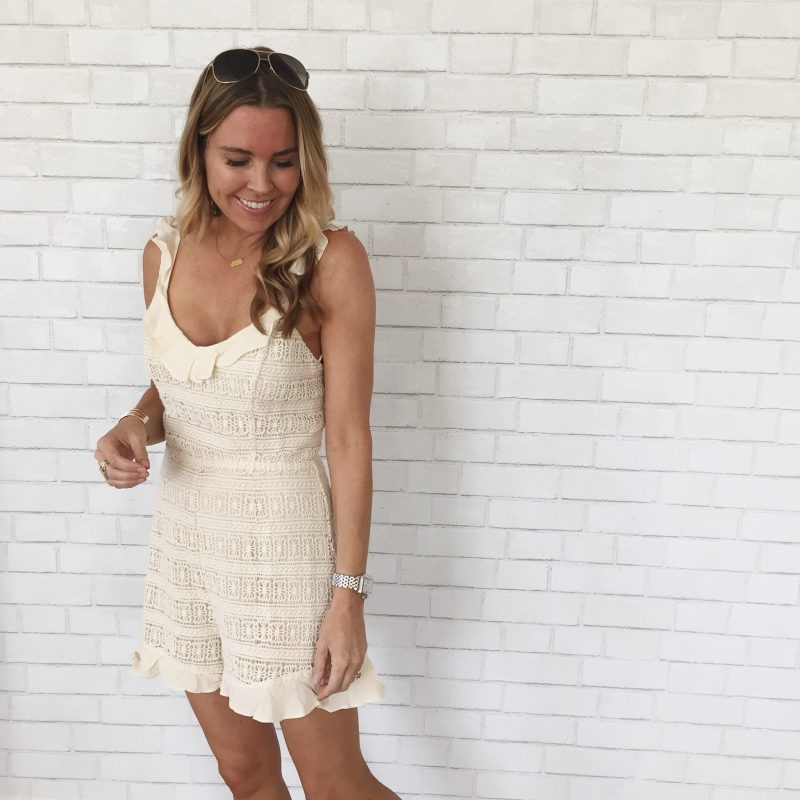 I plan to wear it for casual summer functions (with sandals) and for summer date nights with heels. My hubby loves it too which is always a plus. I think it looks best styled with a dainty necklace like this one (or a less expensive version $14).
SAFE IN THE SUN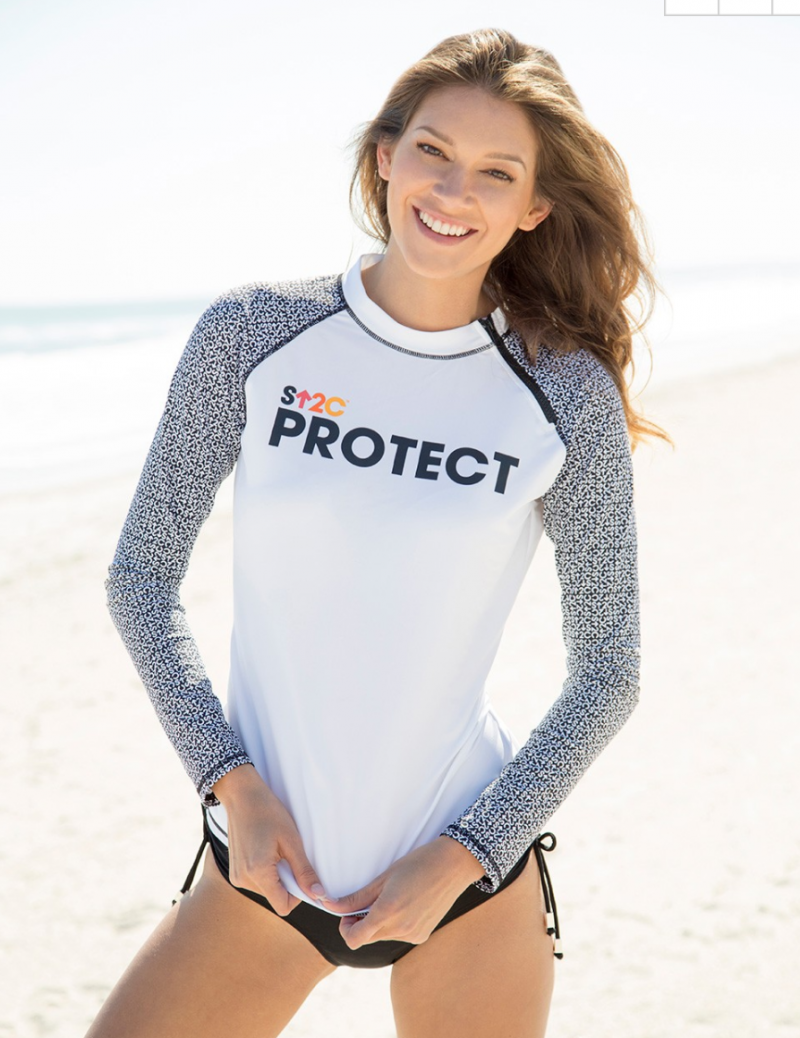 This is my all time favorite rashguard ever. My sister feels the same way! LOVE IT. There is just something about the weight, the cut and the feel. It's 50+ UPF plus it helps support a great cause near and dear to our family. Highly recommend this. I just bought another one because they only sell them one time a year.
SUMMER STYLE ON SALE
dress | top | flats | striped top | heels
One of each, please! All so cute for summer and all of them are on sale.
COLLEEN ROTHSCHILD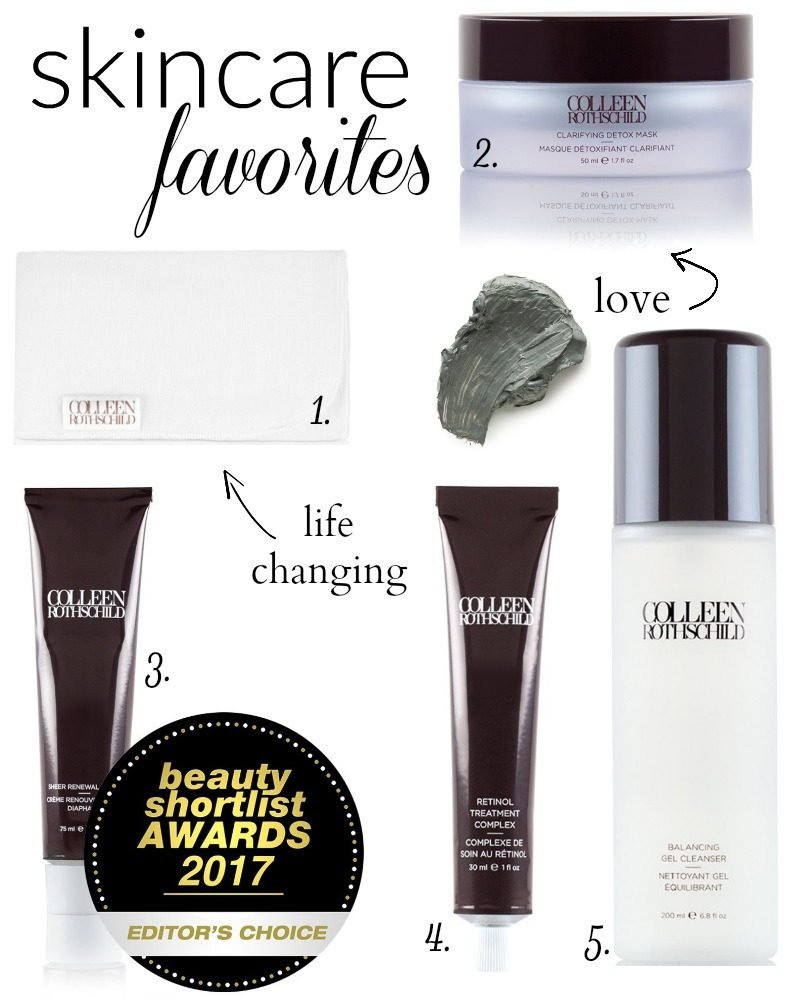 Just a heads up that Colleen Rothschild is having a summer sale!!!! Worth checking out. The products above are some of my very favorites. I just had a reader email me and let me know that she tried some of them and loves. Especially the face scrub and the exfoliating cloths (thank you, Linda!). I always love hearing from readers when they like something mentioned on the blog.
Thought I would share a recap of the things I love and why right here.
ONE –  Muslin Cleansing Cloths: These!! These seriously rock. They have single-handedly saved my pretty white bathroom towels from being stained from makeup. I only use these while removing makeup with the Radiant Cleansing Balm (it melts makeup away). They are thin enough to let you get rid of any traces of makeup under your eyes and the makeup and balm rinse right through them. They hold up beautifully in the wash. Once you try them you'll never stop using them.
TWO – Clarifying Detox Mask:  This is the mask I use once a week to remove toxins and to help with inflammation. It leaves my skin so so soft.
THREE – Sheer Renewal Cream:  Really like this because it is oil free. It helps with cell turnover and I usually put it on at night before bed.
FOUR – Retinol Treatment Complex: Yes to this!! This is what I apply around my eyes at night before bed. You can apply a thin layer on your entire face. It's great for minimizing fine lines and helping with cell turnover which is key to having your skin look fresh and bright.
FIVE – Balancing Gel Cleanser:  This is the cleanser I use in the morning. I prefer to use this when I haven't had any makeup on. (I use this at night to remove makeup). It's leaves my skin so smooth and ready for the day. I also use it after I work out since I workout without any makeup.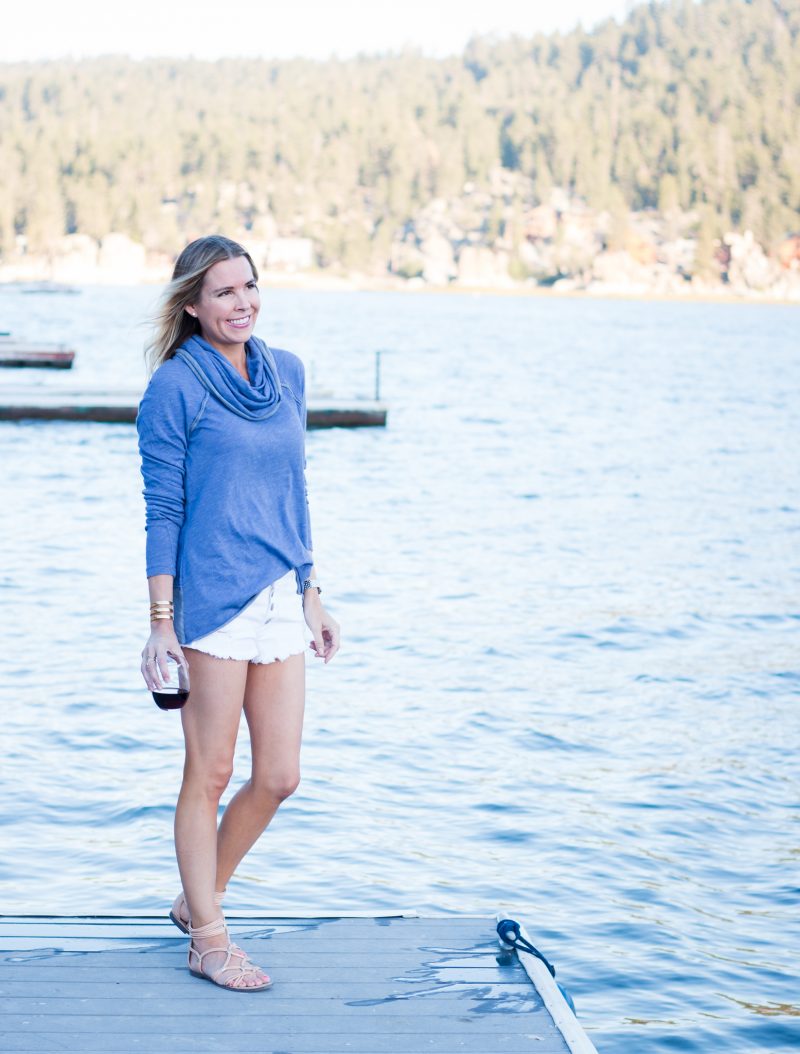 A little time at the lake is just what the doctor ordered. This soft top is perfect for cool summer nights and works well with jeans, shorts, or leggings.
SALES AROUND TOWN
Loft:  This top is so darn cute. 40% off everything.
World Market | up to 60% off outdoor.  Our dining table is almost $200 off!
J. Crew | extra 40% off sale styles
Anthropologie | 20% off dresses and jumpsuits
West Elm | 25% off one item
Ann Taylor | 40% off full priced items.
We are sneaking in some lake time. Something about the fresh air and the open water that is truly good for the soul. That coupled with quality time with friends and family.
To all of the Fathers out there who give selflessly each and every day, happy Father's day! To my own dad, I love you beyond measure. You are an incredible man who gives everything, every day to mom and to us. Thank you from the bottom of my heart.