It's Saturday and I am on cloud 9. Huge news around here as my sister and her family came back from Singapore last night. We all went to dinner and tears were flowing! Such happy tears to have them back. I woke up this morning and was in such a good mood thinking that they are here and it wasn't a dream. Family is everything and we are blessed to have them back.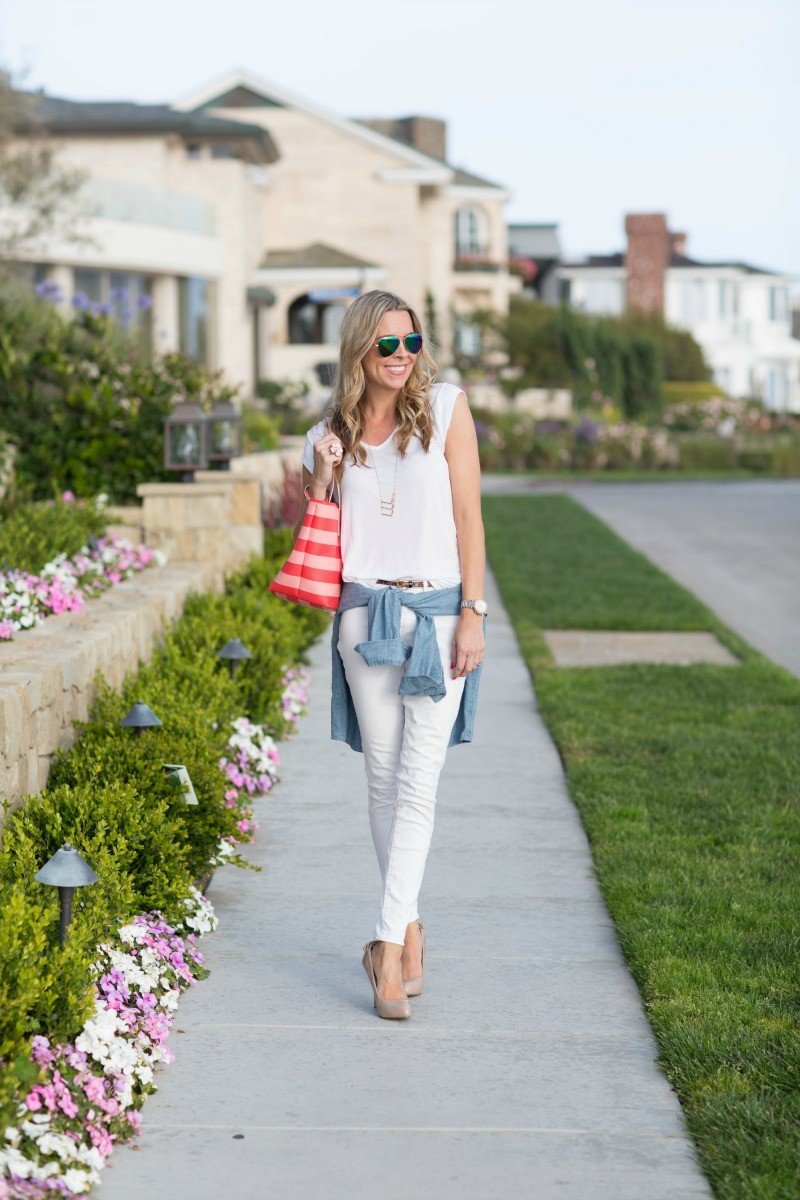 Turning to a little fashion news, it's no secret one of my favorite colors is white. In fact, back when I took sewing in high school (best class in the world) we would make our formal dresses using a white sheet at first to try the fit before we used the pretty velvet or sequins. Yep, I was a sequin girl. Moving on, though. The white sheet dress was always what I preferred over the end result velvet or colored number. I am just really drawn to white. And summer is a great time to play with white on white with a pop of color and denim.
And chances are you have a white t-shirt and hopefully white jeans in your closet already. I have shared my favorite white jeans on the blog a ton of times and I'm sure this won't be the end of it! The price is really great and I love the fit. They do stretch out after a few wears, but get nice and snug again after washing. I wear a 25.
white t-shirt | jeans | denim shirt | handbag | sunglasses | similar heels | necklace
You could of course make this nice and casual with a cute pair of nude espadrilles or a gold pair of sandals. I do love these nude heels. They are no longer available but find yourself a comfy pair of nude high heels and I promise you'll wear them a ton. And they are great because if you don't have a pair of shoes that is just quite right for the outfit, these always work. They happen to elongate the leg too which is pretty when you are wearing a summer dress.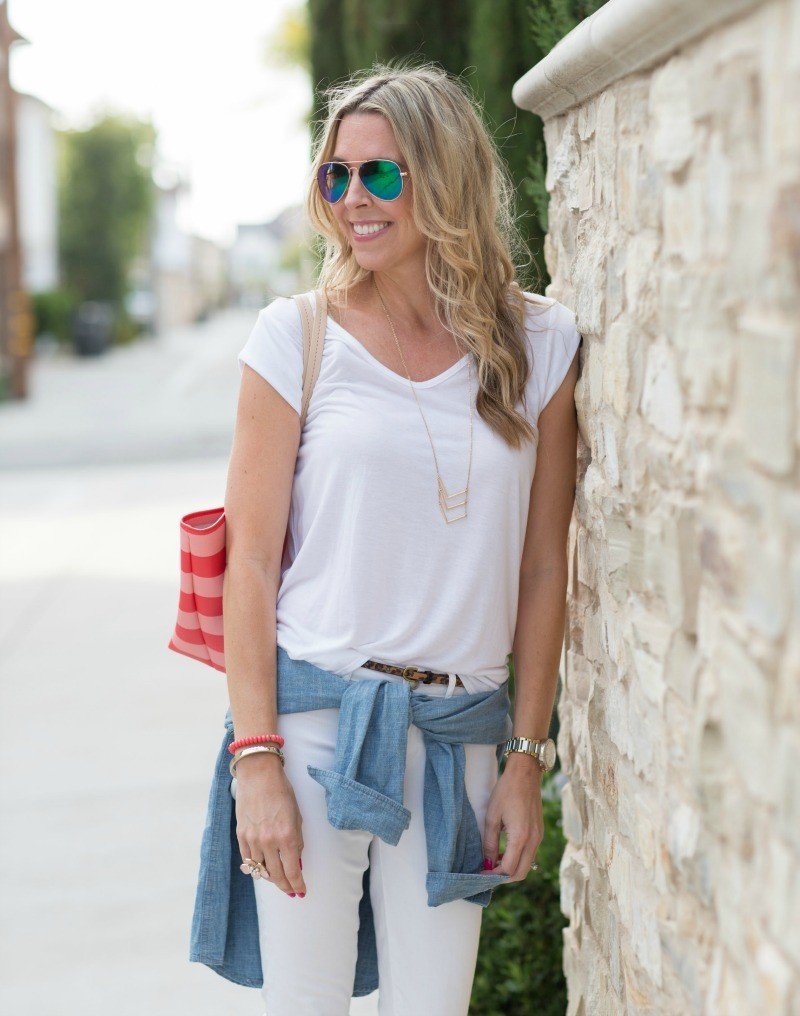 This $16 necklace has certainly been worth it. I love a dainty gold necklace that doesn't weigh you down. Nice to add a little shimmer but not go overboard. With white on white you want to keep it simple.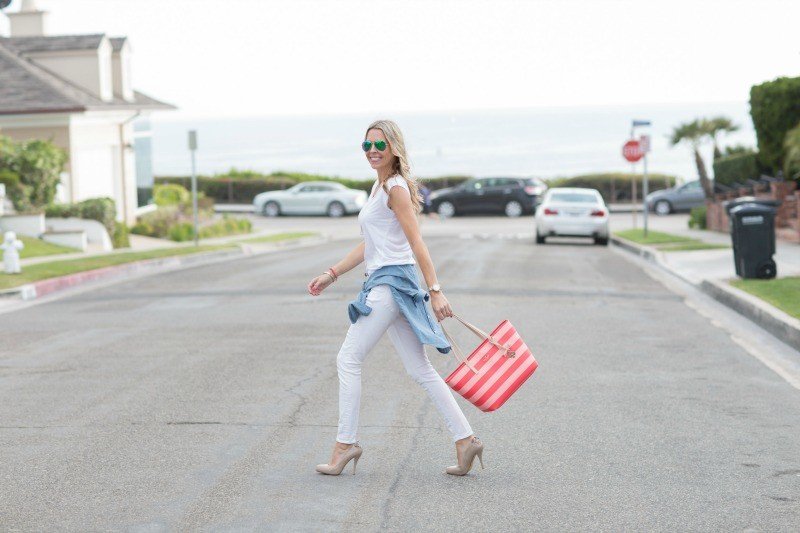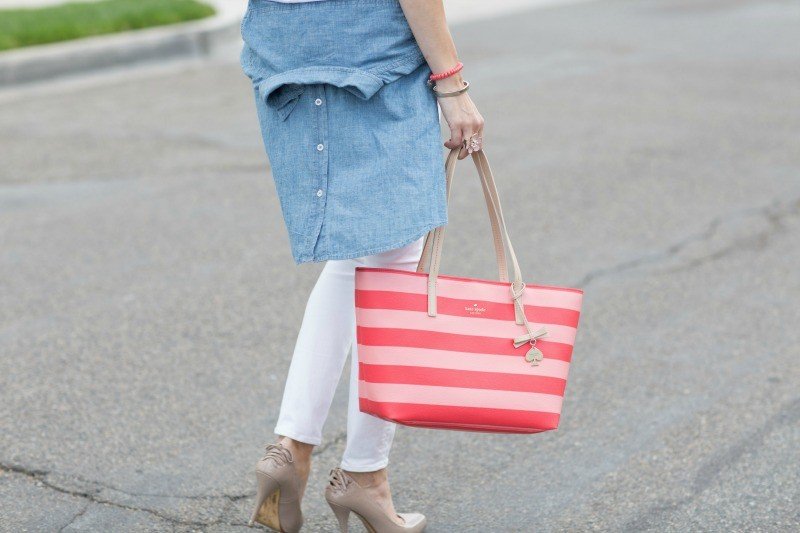 This tote had me at hello with the stripes. But you could add any pop of color tote to this outfit. I really love these reversible totes. I have one from last summer and it's been a great purchase. Nice to have the color when you need it and then turn it inside out to neutral when you don't.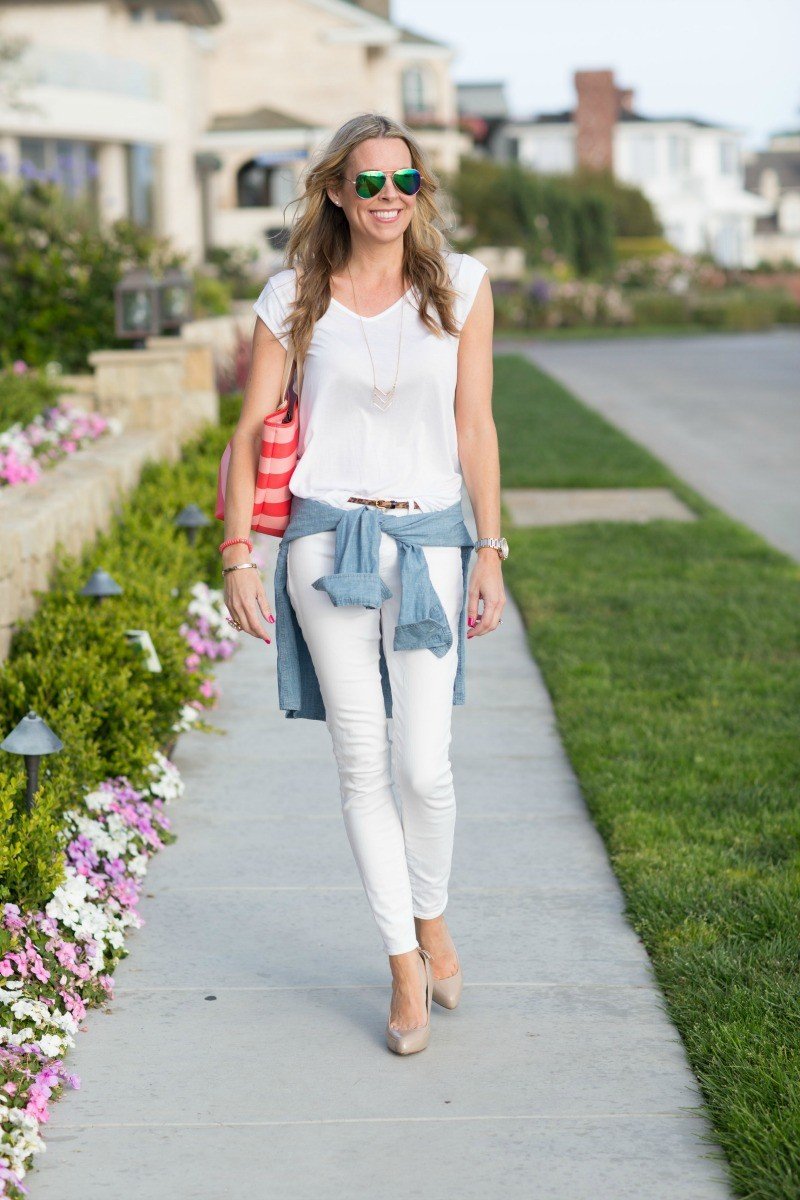 photos by taylor cole
Shop This Look

Speaking of white, I also wanted to share this instagram photo. This scalloped skirt will make an appearance on "It's a Date!" soon but it's so good I had to give you a sneak peek.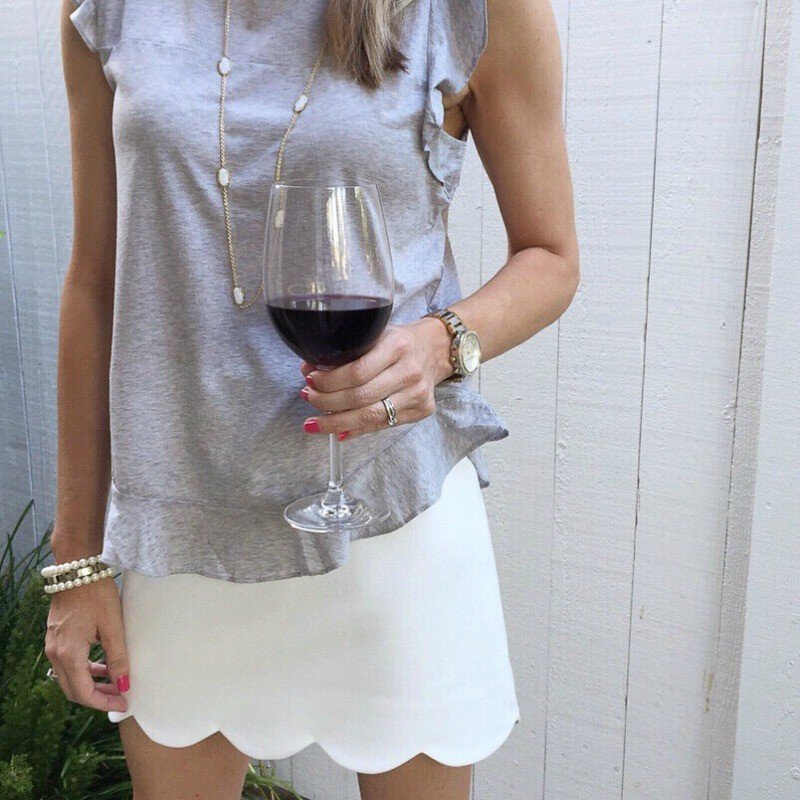 scalloped skirt | t-shirt | necklace
Aren't the scallops cute! And it also comes in black which I may get as well. Would be cute around the holidays. And this ruffled t-shirt is on sale for an extra 30% off which makes it a fantastic price. I am wearing a size small in the t-shirt and seriously love it. It is really feminine and soft. I bought a 6 in the skirt. Typically, you need to go up a size in this brand.
More Nude Pumps

My nude heels really are a staple in my wardrobe and have been for years so I wanted to be sure and show you some options.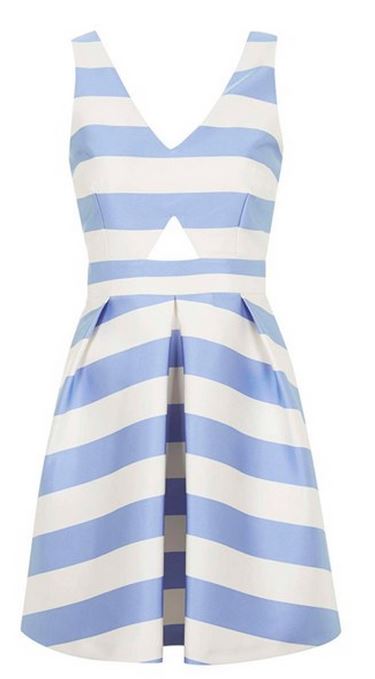 We are headed up to Napa for a wedding soon. This dress is beckoning to me. Just saw it in store and it's BEAUTIFUL. 
SALE NEWS: Two major events to pass along.
 Summer Clearance sale is going on now at Nordstrom so you may want to snoop around. My favorite dress is on sale for $40 and so is this darling maxi dress. 
 The Nordstrom Anniversary sale will be coming up and it's a pretty big event for stocking up on fall finds. It's not until July but wanted to let you know that Rewards Members can shop the looks early. And because sizes always fly, it might be a good time to get yourself signed up as I will be showing looks early on the blog. And don't worry, being a Rewards Member does not mean anything crazy. You can just sign up for a Nordstrom card and even choose the one that is a debit card. That is what I do. And each time I purchase something I earn points. It's really like shopping with a small discount each time and you get to shop the sales early. Hope that is useful information.
I am always adding to my boutique page so be sure to check it out or get caught up with "It's a Date!" Both are located under my fashion tab at the top of my blog. Have a wonderful weekend, friends. We will be enjoying the sunshine and family.
*affiliate links used