Happy Saturday from Nashville! How was your week? Spending quality time with my girlfriends from college was just what I needed. We pick up right where we left off and a break from the norm is always good for the soul. There is no shortage of laughter and smiling. Not to mention, I am in love with this city. I can't wait to recap everything for you. In the meantime, I thought it would be fun to share what was on my packing list. It includes some of my favorite pieces and they all travel well.
This is what I took for four days. And yes, it all fit in my suitcase! I will share on stories the packing tips my dad taught me years ago. I recently taught my son and he packed himself to travel home from Michigan. Dad, your wisdom continues to be passed along.
black heels | blush flats | leopard flats | booties
Comfy flats are key for walking around town. If I were to go with sneakers I would pick these. I decided to keep it simple and only bring two pairs of flats. The leopard and the blush are both pretty neutral and work well with leggings and jeans. For going out at night I brought one pair of booties and one pair of heels. The patent leather heels immediately dresses up any outfit. Plus they are lightweight and so easy to pack.
 DAYTIME LOOK
Girls, you need this sweater. It's incredibly soft and so cute. The colors are so pretty together and it's not too bulky. It really is a good one. It reminds me of my cardigan.
NIGHT TIME LOOK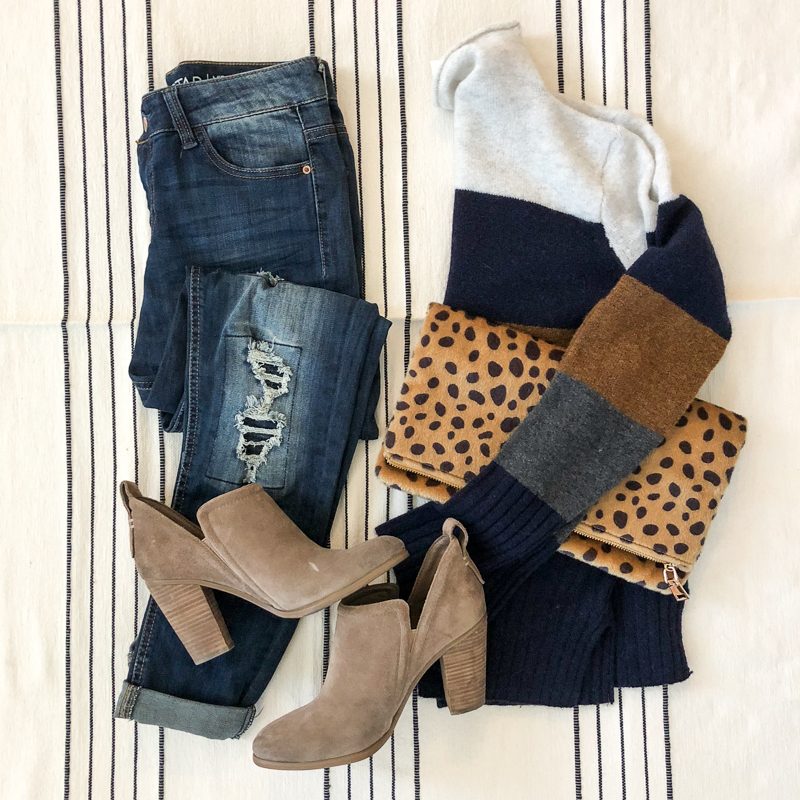 jeans | booties | sweater | clutch
This transitions well from day to night just by switching out the flats for heels and grabbing a clutch.
FOR THE AIRPORT

crossbody bag | leggings | flats | cardigan | t-shirt | scarf | suitcase
Most of the pieces I brought all work together. The spanx are my number one favorite for traveling. So cozy and warm. The moto leggings are great for the airplane or during the day and quickly take on a sassy vibe with booties or heels at night. Toss on a blazer or a leather jacket and you're good to go.

The beanie is great for hair that isn't cooperating or just to keep warm. Mine is from last season but I rounded up a few more good options.

heels | leggings | t-shirt | blazer  | scarf
This pink blazer is a recent addition to my wardrobe and I love it. It is a heavier weight than most blazers so it serves as a light coat, too. It's nice and long and looks so cute with leggings. Plus the color is just fun. The gray t-shirt is a steal and crazy soft. I love that it has a v in the front and the back. A great layering piece while traveling. The blazer also looks darling over this tank (on sale) for another going out look.

This gray color is beautiful in person. And they look great with a light-colored cardigan and scarf. I wear a small in these.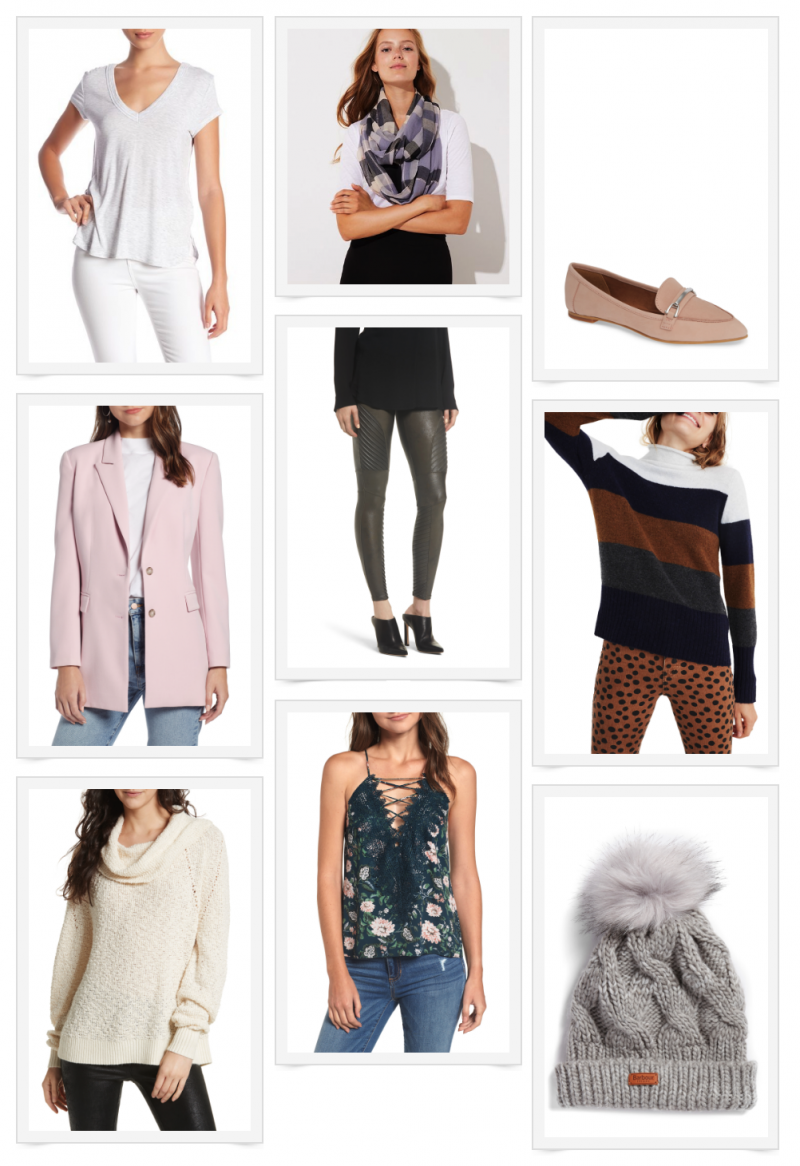 SHOP THESE FINDS

The floral tank is currently on sale. Definitely one of my favorites. Looks great alone or under a blazer or denim jacket.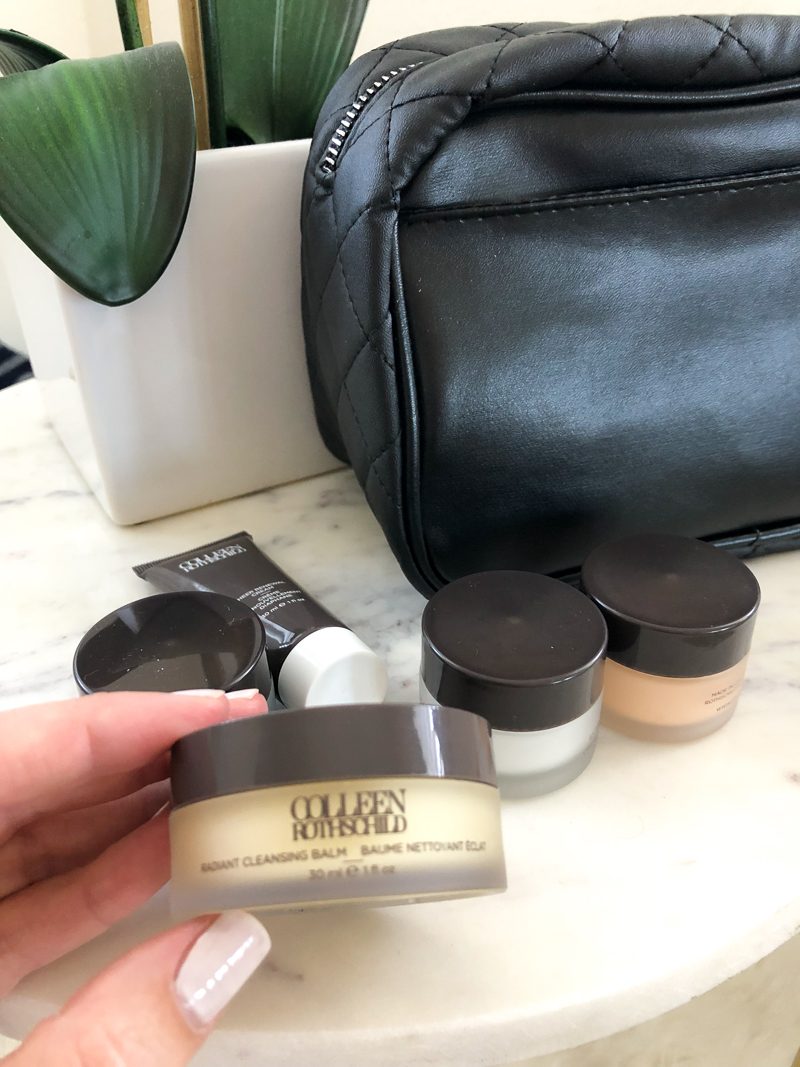 I've been using these products for years. I finally have the trial kit which serves as my travel set. Gone are the days of trying to transfer my favorite products into travel containers. The radiant cleansing balm is my favorite make-up remover.
SALES AROUND TOWN
World Market: Don't forget that all furniture is 40% off.
Pottery Barn: It's buy more, save more right now.
Anthropologie: So many great pieces under $50.
Loft: Save 40% on your purchase right now.
I'm off to enjoy time with my friends. We live all over the United States and don't get to do this very often so I am soaking it in. I hope you all have a really wonderful weekend.
*affiliate links used