Welcome to the ScotchBlue™ Painting Party! A group of  DIY bloggers all completed projects with the help of ScotchBlue™ Painter's Tape with Edge-Lock™ Paint Line Protector. Now we're giving you the chance to see all of our fabulous projects and get some inspiration!!  Check out my project tutorial below, and then jump to the next blog in the party to see even more inspirational DIY tutorials! You'll also get a chance to win some ScotchBlue™ Painter's Tape so you can create a project of your own.  Just read to the end to find out how!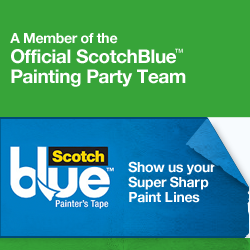 I posted a while back about the craziness that was my son's closet. It really had become a dumping ground for storage due to it's size. Since we have been redoing his bedroom, I figured it was time that he get his closet back! I knew that I wanted to make it more of a playroom style closet than a home for clothes. His clothes have plenty of room in his newly painted dresser, and I have a trick up my sleeve for the 4-5 items that need to hang. 1. Empty The Closet: No easy job. My son went in and says, "I Love it!" He thought we were done! Needless to say it was just the beginning. I had seen this darling closet from Lakeitha a while back and new the stripes would look great. 2. Tape off Stripes using the edge lock Scotch blue tape every ten inches. I went right over the wood that holds the brackets for the top shelf. I knew once they were painted, it would look ok.
  3. Label Where the Color Goes: I learned a long time ago not to trust myself. So I drew a big "B" in each section that would get the blue paint.
4. Roll The Stripes: I used  a small foam roller and "Galaxy Black" which I used for a little dresser. I love how dark the navy is. However!!! Total panic after the first coat. You can see it looked more like green. Magically, a second coat and we have dark navy! Thank goodness!
5. The Results: I have to say that I actually really liked the tape. I normally paint a base coat of white over my tape when doing stripes to prevent bleed through. I chose not to do that as I wanted to really test the tape. The bleed through was not an issue. The only hiccup I had was when peeling off one end, it took the existing white paint with it. It only did it in one spot. I can easily go back and fix that edge. All in all, I was really pleased with how well the stripes came out.
Let's face it! That's a darn straight paint line! Nothing like shiny new paint! I waited for it to dry and then styled his new playroom closet.
While painting, the doors were still on the closet. It wasn't until afterwards [and loving how the stripes turned out] that we decided to ditch the doors for now. We will store them in the garage and until he is old enough to grow out of his "toy closet" we will keep them off. It increased the square footage of the room and I feel much better about him not being able to squeeze any fingers in the closet doors.
Easy access and a spot for everything makes for a happy boy and a happy mama. Will be back later this week with more details of the styling and storage options we used.
Now we're giving you the chance to gather inspiration, have fun, and win prizes! If you'd like a chance to win a sample of ScotchBlue Painter's Tape with Edge-Lock Paint Line Protector to complete your own project:
1. comment on this post and let me know how you would use the tape in your project.
2. For another chance to win, tweet @ScotchBlueBrand "I want #supersharppaintlines for my next project!" and come back to leave me a comment.
Look Whose Come to the Party!
So what are you waiting for? It's time to party. Head on over to the next blog and get inspired. Finally, if you'd like to find out about more of  these great Painting Parties in the future you can "like" ScotchBlue on Facebook.
ScotchBlue Brand reached out to me to participate in the ScotchBlue Painting Party to celebrate the launch of their new ScotchBlue Painter's Tape with Edge-Lock Paint Line Protector. My post represents my honest experience with ScotchBlue Painter's Tape. I am not being paid for my answers, but I did receive ScotchBlue Painter's Tape to assist in completion.