I am turning over a new leaf this Fall. No pun intended. With the onset of the new school year I started thinking about how the previous year flew by and I was far too busy either volunteering, working, or racing around working on projects. I didn't see my girlfriends nearly enough and I have decided that needs to change. After all, it's the relationships in our lives that sustain us. In lieu of evening get togethers where it's harder to find sitters or the energy, I am shooting for morning coffee dates. Today I am sharing a bit about that as well as cozy Fall style looks.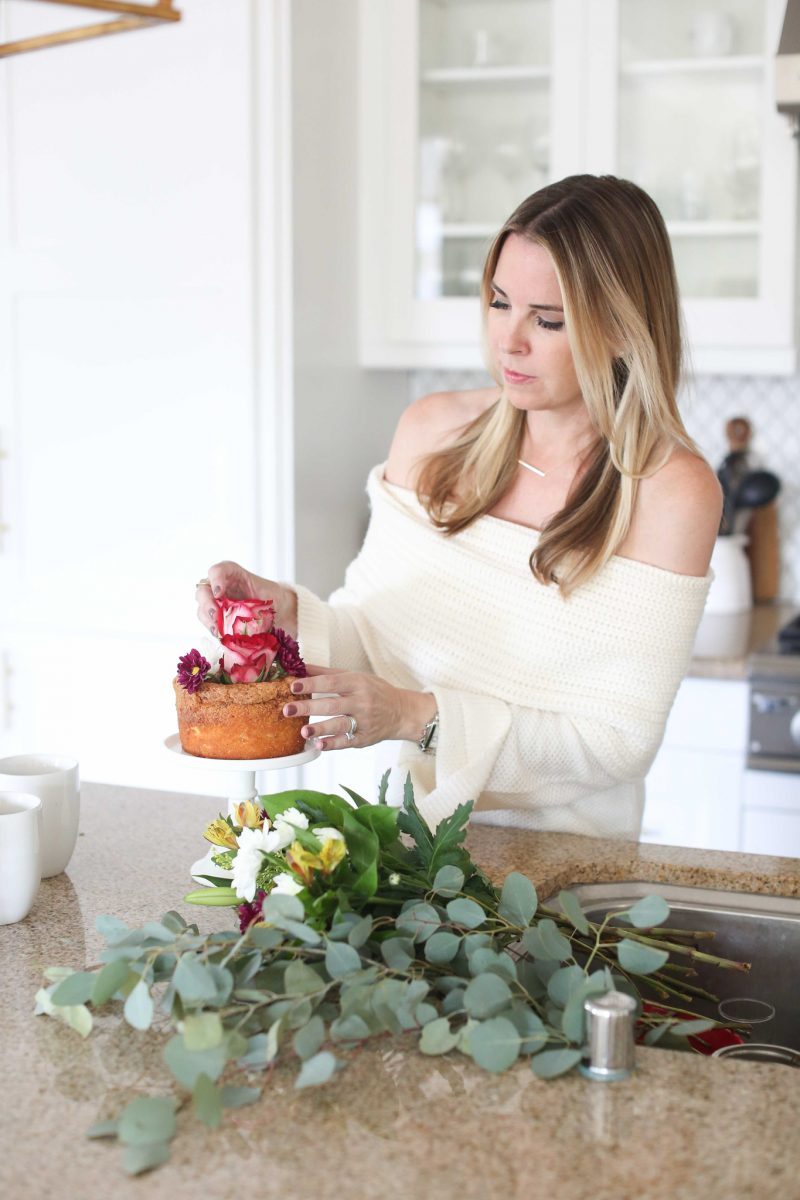 I've come to realize that an early morning hour with a good friend is a really valuable way to start the day. I get in a workout and then make a fresh pot of coffee and put out either muffins or a cinnamon cake ( store-bought, my friends) and fresh fruit. I have always been big on fresh flowers so adding those to a vase or to the cake just creates a pretty scene and it only takes a minute or two. It's more about carving out an hour to spend one on one with a friend. While I love a great girls' night out, I am much more comfortable when I'm curled up the couch truly catching up. I was able to do that just yesterday with my dear friend, Michelle.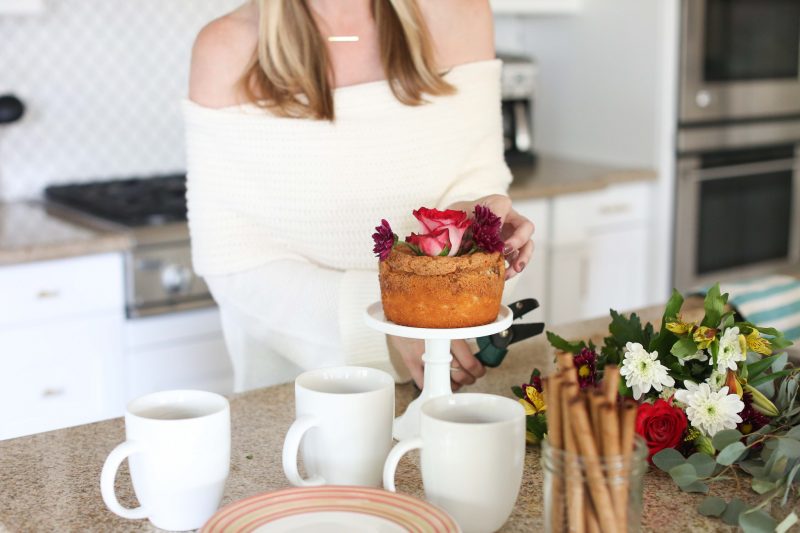 We are really good about keeping it short and sweet so that both of us can get on with our days, errands, etc. But that hour is so beneficial. It keeps friendship connections strong and makes you realize it's not that hard to set aside an hour to connect with a friend. Is there someone in your life you want to spend more time with? Or maybe it's a new friend that you are hoping to get to know better. So easy to invite them in to your home for breakfast than to plan an elaborate night out.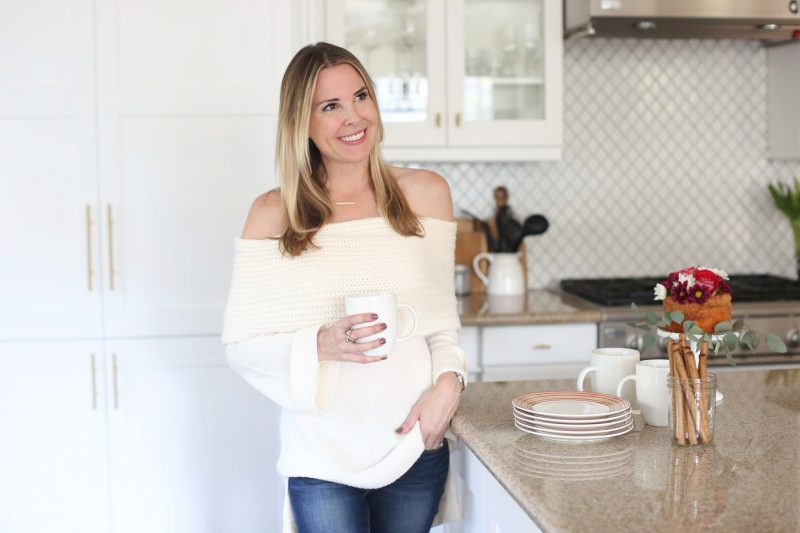 I think I love this time of year because with the kids back in school I start to hibernate a bit more and enjoy being at home. And that also means comfy Fall clothes. Cozy sweaters and cardigans are a staple for me, especially with football season kicking off. This off the shoulder sweater is so warm and soft. Pairing it with my favorite jeans makes it an easy outfit for Fall. For sizing reference, I am wearing an XS in the sweater and a 25 in the jeans.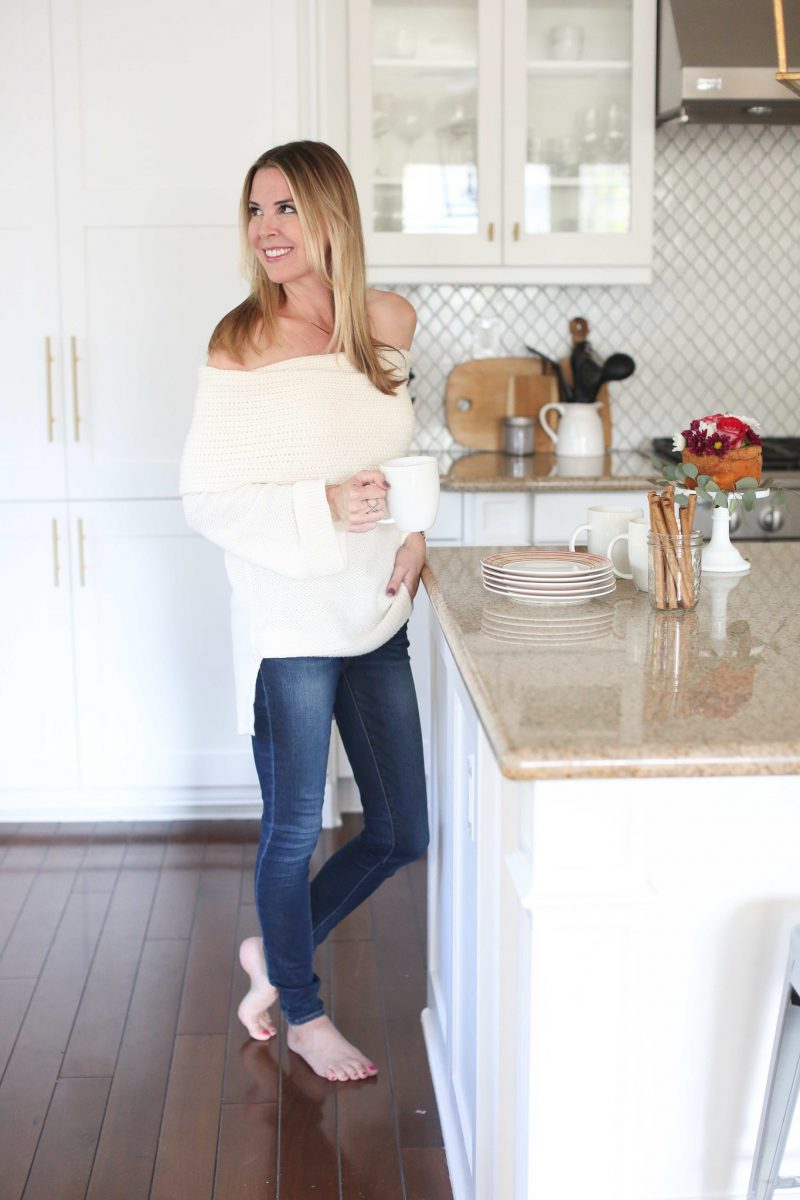 I really love the feminine look of off the shoulder pieces. They do restrict your movement a bit so they are best for when you are not picking up little ones but have some time to just be you. My husband loves the look for date night because it's so feminine. And this sweet necklace is a nice compliment to the look.
More Cozy Sweaters

I just ordered this wrap front pullover in gray. I love this and can see myself wearing it with leggings and jeans. Love the wrap detail on this. I also like the neckline on this one. Feminine and pretty.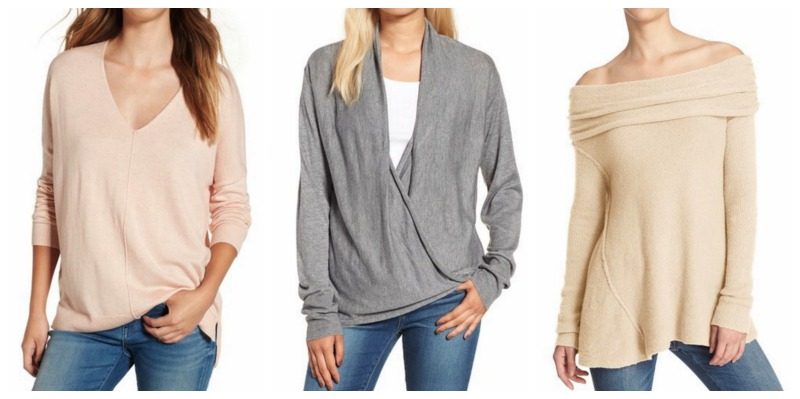 Don't these make you want to grab a cup of hot cocoa or coffee and curl up on the sofa with a good friend. Such coziness.
Jeans for Fall

No secret I am addicted to my Sarah skinny jeans. I have them in white (love white all year-long) and dark denim. Now they come in this distressed style and they are so cute. They are stretchy and soft and maintain their shape which is why I love them.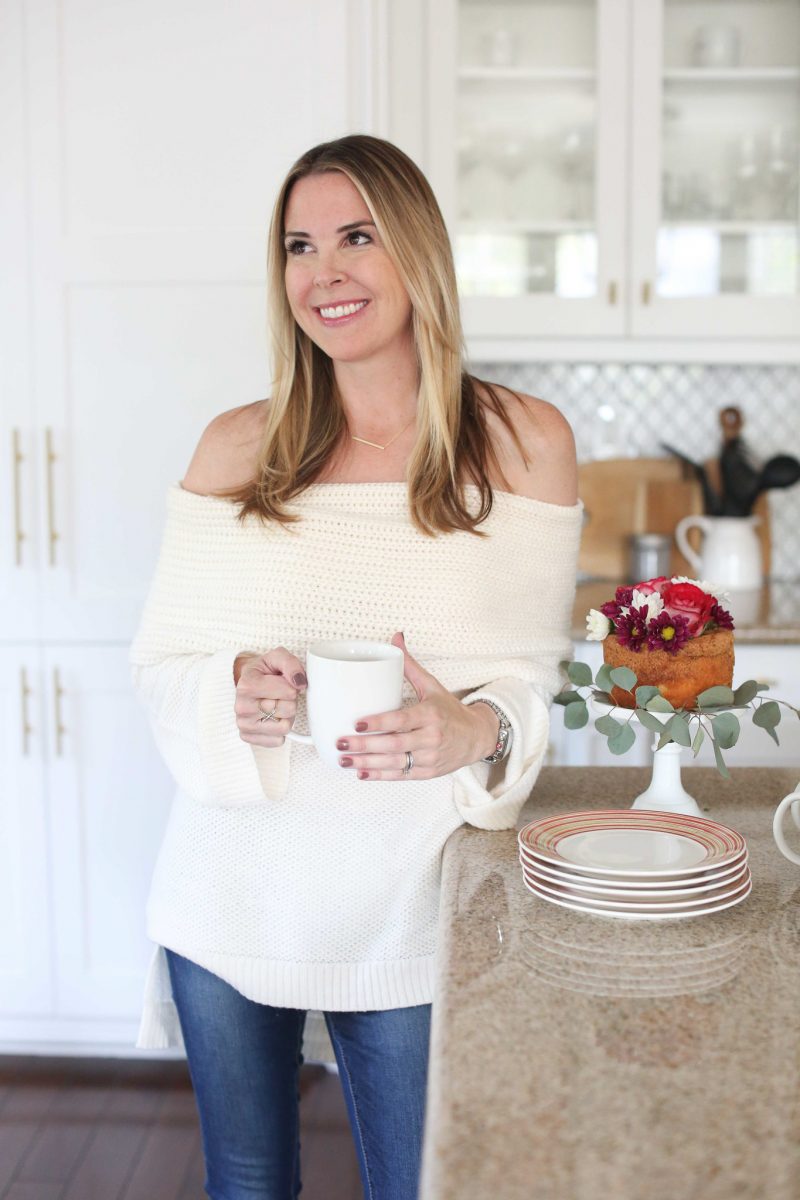 So what do you think about swapping out a girls' night-out for a breakfast-in? Let me know if you start inviting friends over for a morning coffee date. It really has been a great way to kick off a day and still get everything accomplished (it's a lot less expensive than a night out, too!).
*Thank you to Taylor Cole for snapping these photos. Proud to partner with Nordstrom on this post. Affiliate links used.