Happy Friday, my friends! We are so excited for the 4th of July and may or may not be on American flag overload over here. I just love this time of year. We also tend to spend a ton of time outdoors during the summer months. So I should let you in on a little secret. I tend to create projects out of the blue. I was staring at our very small patio thinking, "Hmmm. Why don't we use this more?" It occurred to me that the table and chairs we have were no longer serving us well. Enter a brand new small space patio refresh. And things are happening quickly over here.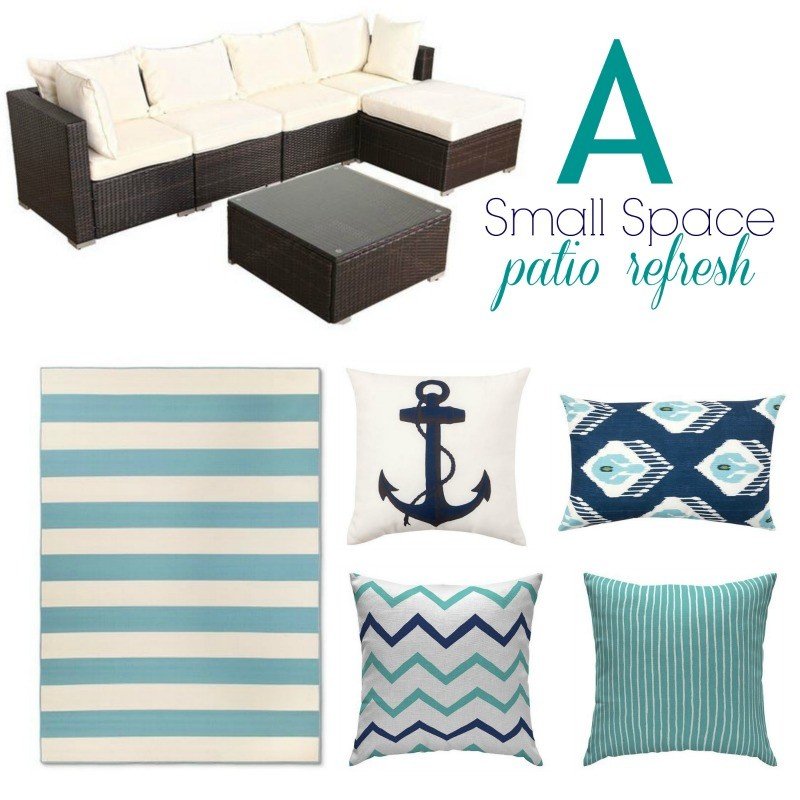 sectional | rug | anchor | ikat | chevron | stripe
So our patio space is tiny. There's that. But it's charming and well landscaped (all credit goes to the previous owners for that). And because it is off of our dining room, most of the time we throw open our French Doors and enjoy the fresh air. For many years, having a table and chairs out there was fantastic. That is were my children played for hours with Playdoh, Cupcake Wars, Magic Sand, finger painting . . . the list goes on and on. And when they were younger, well they were messier. So it was great to have the kids table when we entertained. But now that they are older, we love having them at our table with the adults and they stopped using the table out there. As did we. It's time to turn this quaint little patio into an outdoor living room.
We are off to a great start. I searched high and low for an outdoor sectional. Two things kept getting in the way. One was price. The other was size and scale. Have I mentioned our patio is tiny?! Ha. So it can't be one of those Mack Daddy sectional. It just would over power everything. But at long last I found one that is perfect for the patio and it was even the exact style I was dreaming of in my head. I pushed add to cart and we are well on our way! This one was a strong contender but it was a tad too big.
Besides that I have ordered this rug (huge sale right now) and scooped up the pillows above on clearance. The anchor one I plan to create myself as the sofa came with two plain white pillows that are begging for some embellishment!
Our last patio refresh can be seen here. 
Sales not to miss this weekend:
J.Crew: extra 40-60% off sale prices. Bam! Use code LONGWEEKEND. Makes my ruffle top a steal!
Amazon: Great prices on shoes! These heels! And these!
Loft:  50% off of EVERYTHING code GOFOURTH
Anthropologie: extra 20% off sale items!!!!  I LOVE this cardigan for beach nights.
And did you see the deal of the week in my sidebar?! Great great deal.
*Don't forget to sign up for a Nordstrom Rewards Card before July 9th so you can shop the anniversary sale early. I will be giving you sneak peeks and most items are limited quantity.