Good morning. I usually share our Monday Morning Wrap up at the beginning of the week, but I dropped the ball with taking any photos over the last few days. The kids were so ready to hang with their friends after a week of online learning. It was just what they needed. In other news, we had a desk order get lost in the mail (very disappointing) so we've been scrambling to find something for my daughter. Not sure how your experience has been, but finding desks these days is no small task. Wanted to share how we altered one just a bit to fit the design of her room.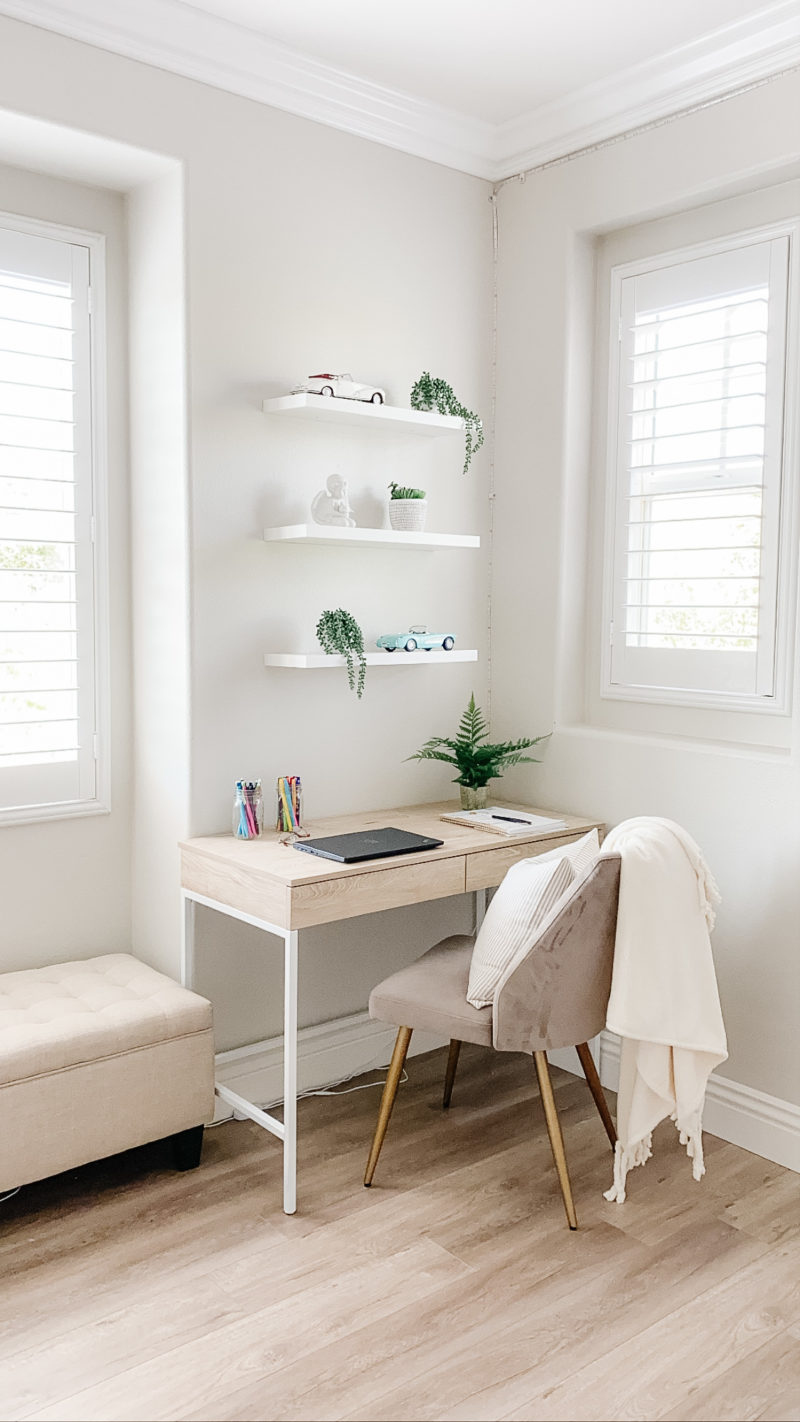 Previous to the desk being here, we had a small bookcase under her shelves. First and foremost we needed a desk that would fit this tight space and we also wanted it to fit into her design aesthetic. I've let her make all the choices for her room so that she really feels ownership over it. It's been interesting to watch it become more and more neutral over time (speaking my language). Although you will find the entire room glows at night thanks to her LED lights. I'm sure many of you can relate. She ordered the plants all on her own and the cars and angel are items she kept of Grammy and Papa's. My dad was a huge collector of cars and I love that she chose those for her shelves.
I literally searched the internet day in and day out for a white desk. I was hoping for one like my son's but it was sold out everywhere. The other desks were either over the budget or just too bulky. I happened to check Target one more time and this desk popped up at a local store. I dropped everything and ran.
SMALL STUDY SPACE
The desk is such a great design and even has a spot for two outlets and a USB charger. The black just wasn't working for her room so I decided the best thing to do would be to just pain it. We took one of the velvet chairs from my work space and she has been loving it. They really are quite comfy. I work in mine every day.
GRAB SOME SPRAY PAINT
This desk is very easy to put together. The top comes assembled so it's just a matter of building the frame and attaching the top. Once the frame was together, I set up a spray painting spot in our backyard. It took two light coats of paint. I allowed 20 minutes in between coats. Then just time to dry and air out. We had her desk up in her room later that day.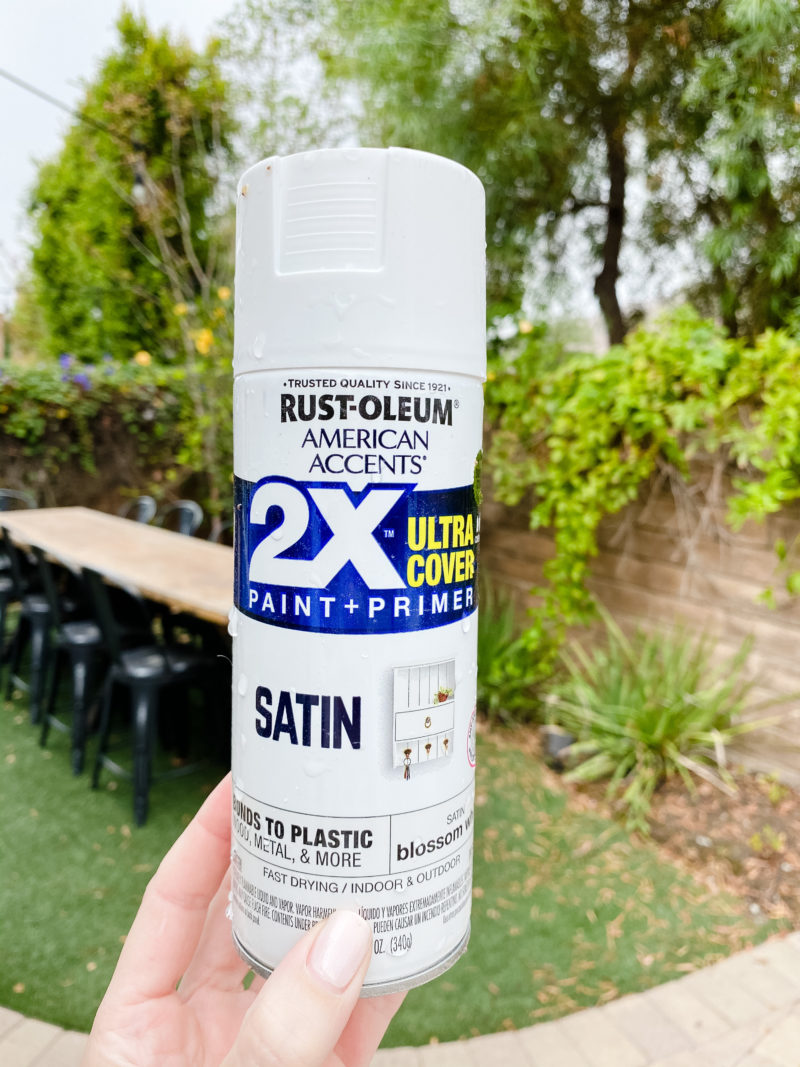 I used the paint I had on hand which was a Rustoleum satin Blossom White. It is an indoor/outdoor paint which is good for plastic, metal and wood.
MAKING IT WORK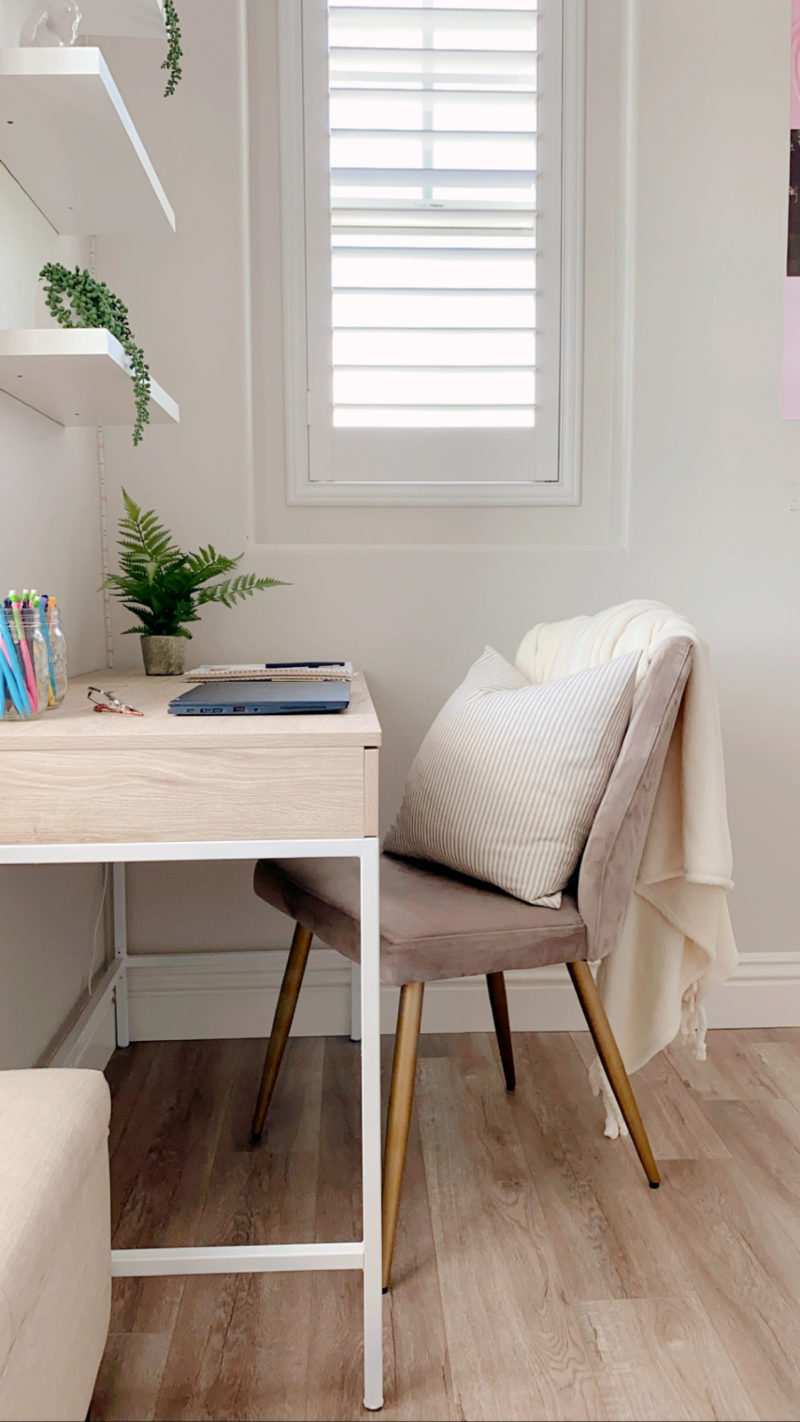 chair | desk | pillow | soft blanket | shelves
An inexpensive can of spray paint changed the whole look. I am hoping this helps inspire you to create your own desk hack if you find something that is less than perfect for the space. Even a thrift store find could work well if given new life. Definitely time to think outside the box with these crazy times.
BULLETIN BOARD STRIPS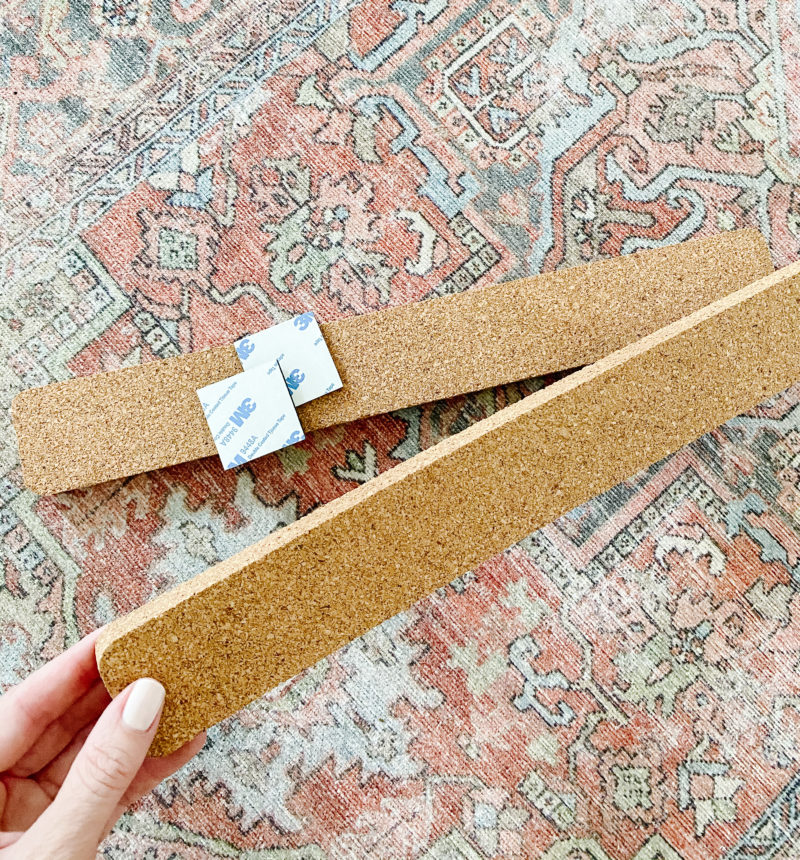 One more great find to share with you. These bulletin board strips are great. My daughter is debating if she wants to hang one next to her desk. You may not have room for a giant board but might want to pin things up occasionally. These are perfect for that.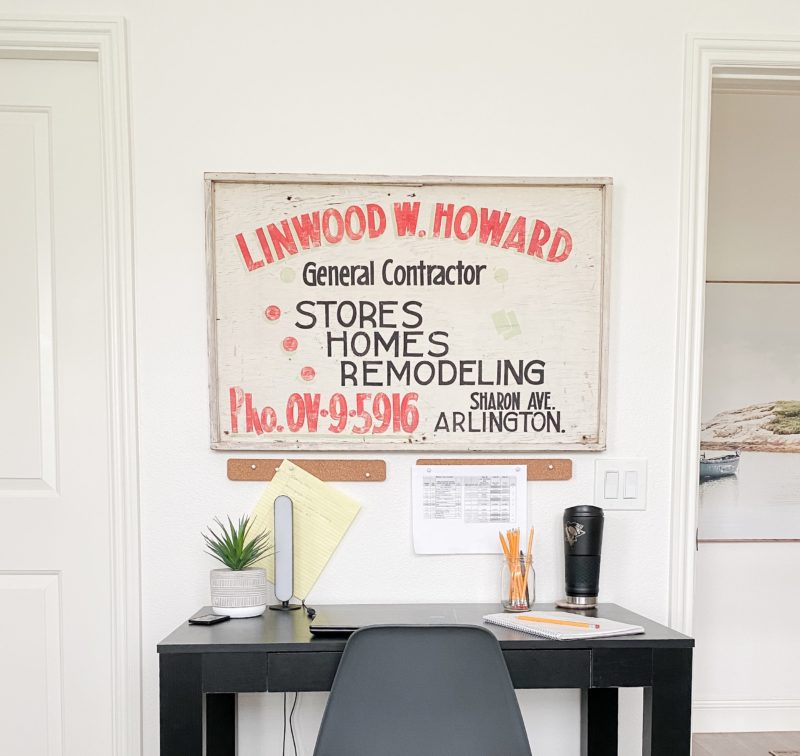 They stick to the wall with 3M stickers and are ideal for pinning schedules or reminders. The contractor sign belonged to my great grandfather and we hated to take it down for a bulletin board. Problem solved. The box comes with four strips and all of the adhesive stickers.
OTHER OPTIONS
This desk is very similar to our daughter's and still in stock. I also found the one below which could work well.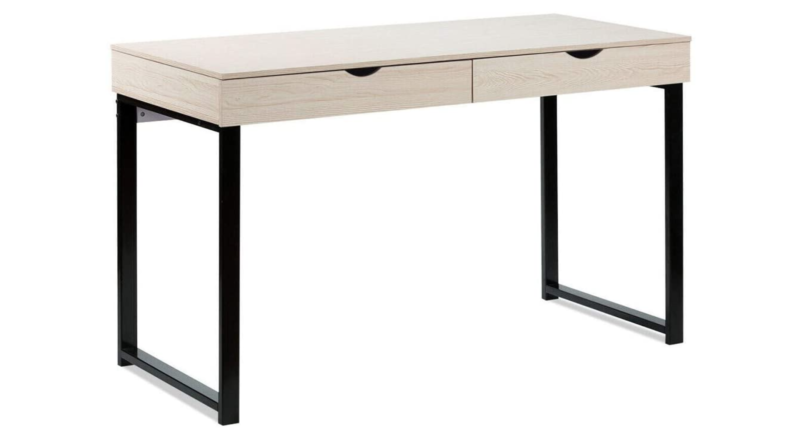 This desk comes in three sizes with great reviews. It looks great as is or could be altered by spraying the frame. And it's on Prime which is key.
Hope your week starts off well. We've already hit a snag when panic set in because we couldn't get my son into his first period meeting. Friends reminded us it's late start on Mondays. Details, details. Looks like we will be posting more schedules on our bulletin board strips today. Make it a great day, everyone.