Excited to share a fun new outfit from Target plus darling warm weather options that are all under $50. Spring is definitely in the air and I am so looking forward to the wardrobe change. I've rounded up a few go-to dresses because I think they are so easy and take very little effort.
NEUTRAL SPRING OUTFIT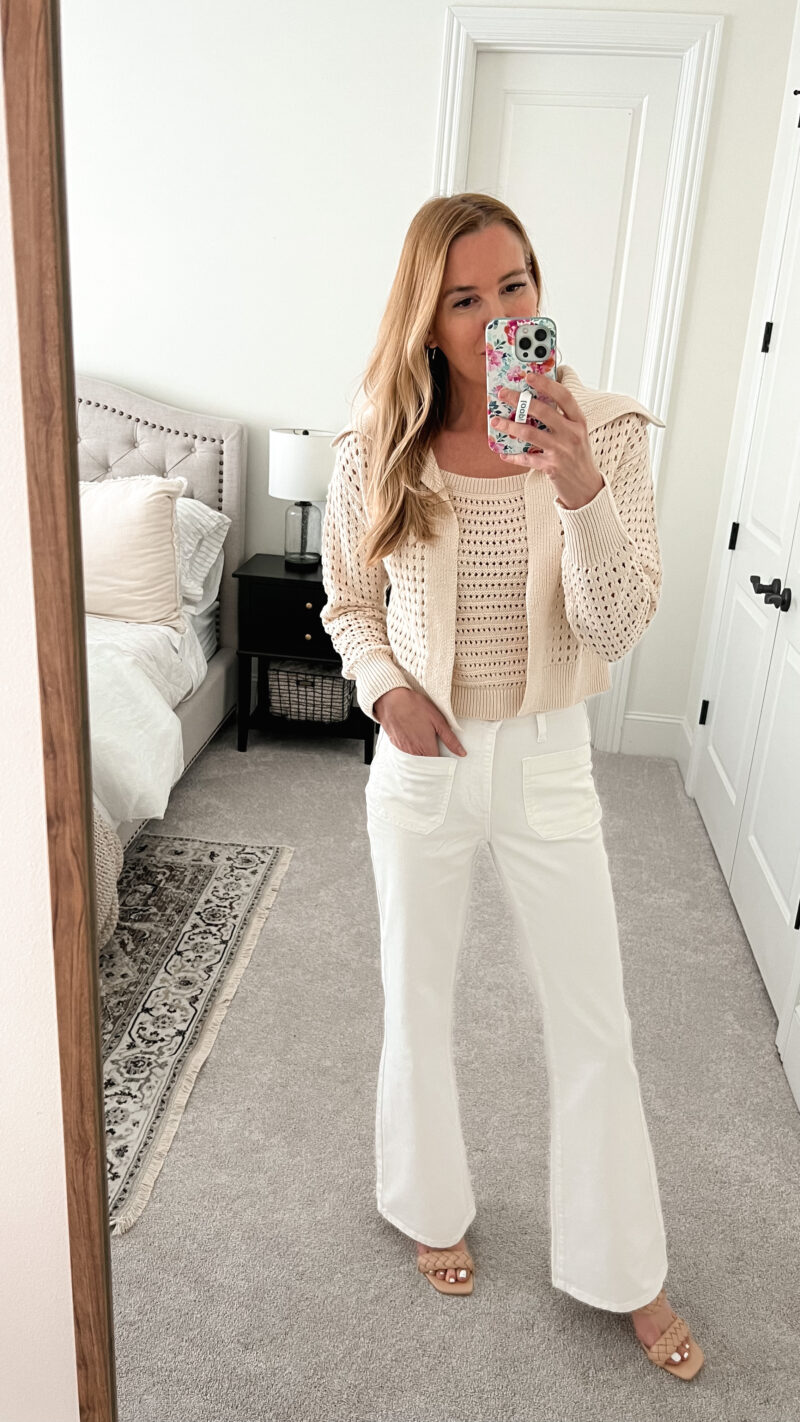 Target strikes again. This head to toe outfit is from Target. I would recommend going down one size in the jeans ($36). They are snug at first but stretch a bit. I love the flare leg and the pocket detail. This crochet sweater set is so cute, ladies. It definitely feels like an Anthro set. I am wearing an XS in the cardigan but purchased a small in the top. So I would say the top is true to size and the cardigan runs big.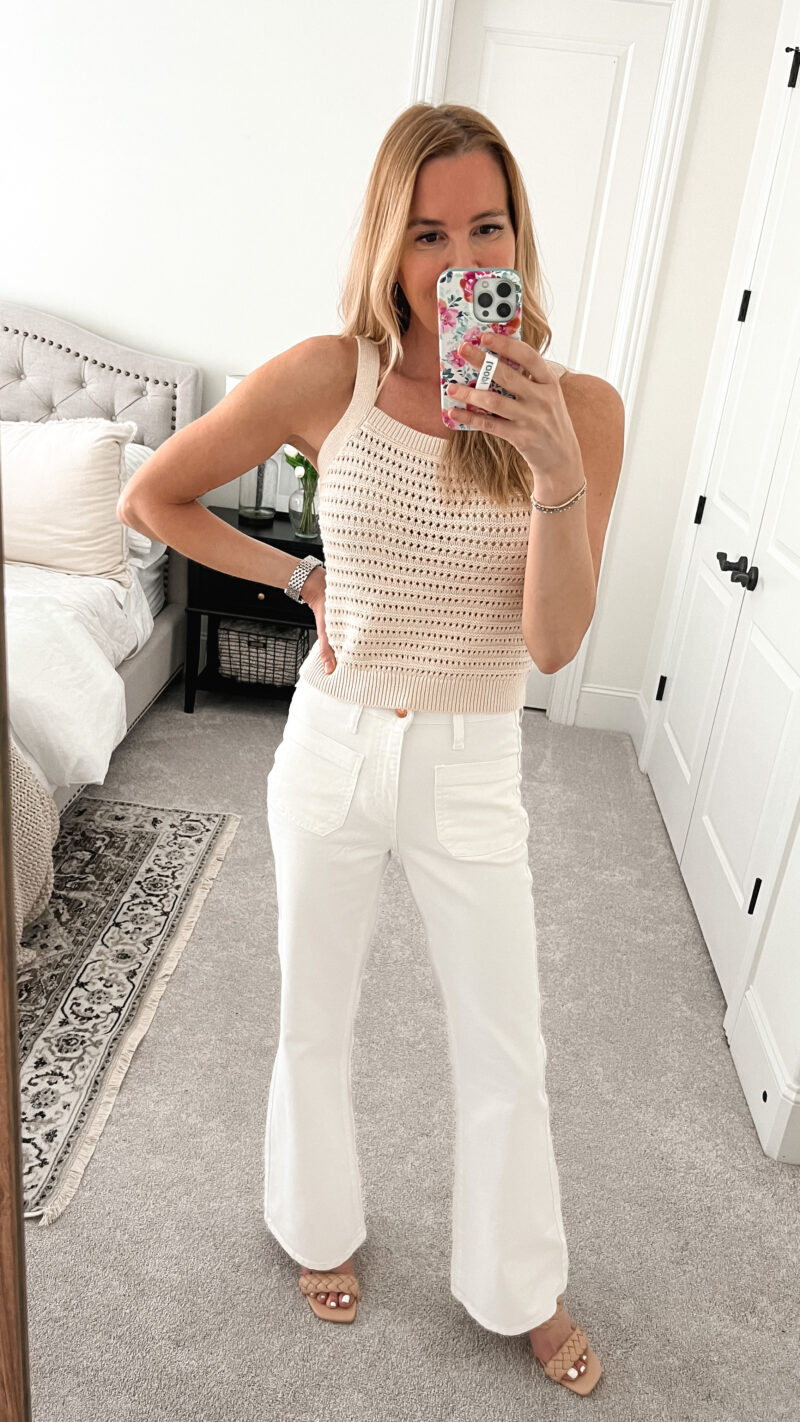 Great outfit as we transition into Spring. This tank is beautiful on its own and will be darling with denim shorts, too. My regular nude bra works well with this.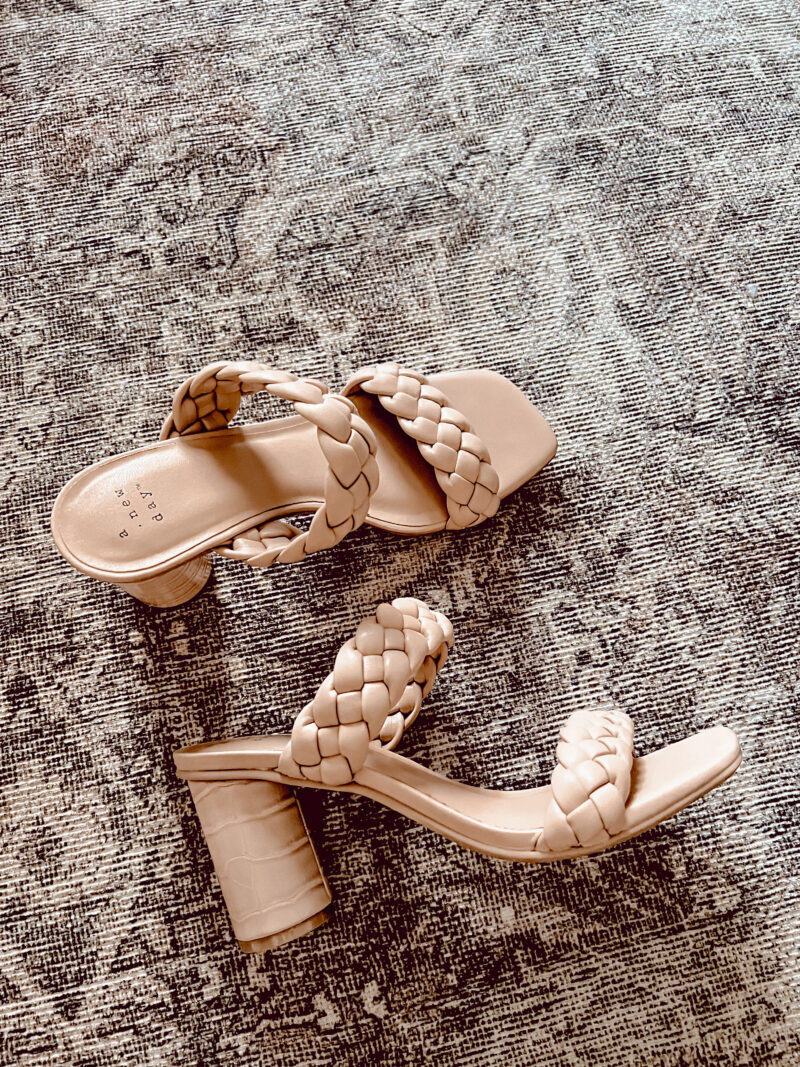 I had to finally test these braided heels out myself. What a dupe!!! I have the Nordstrom version and wore them all season last year. I adore them. To be fair, I thought these wouldn't be as comfortable but they are great. The Nordstrom fit and feel get a 10/10 from me and these are strong 9/10. Considering you will save a lot of money, why not go with the Target version. At $35, they are a great addition to the wardrobe and go with everything. They also have a flat version but I might opt for the Nordstrom version on those (similar price $39).
TRIED AND TRUE BRAIDED SANDAL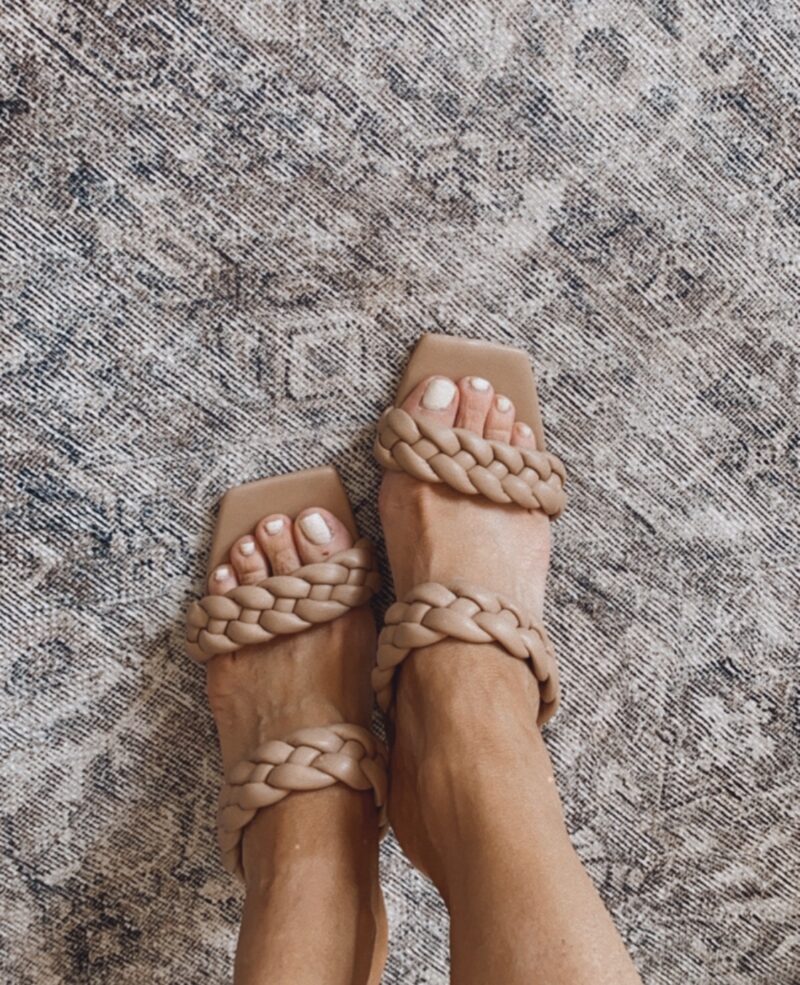 It just so happens the Nordstrom version is on sale right now. I recommend both the Target version and this one. A great summers shoe.
DRESSES UNDER $50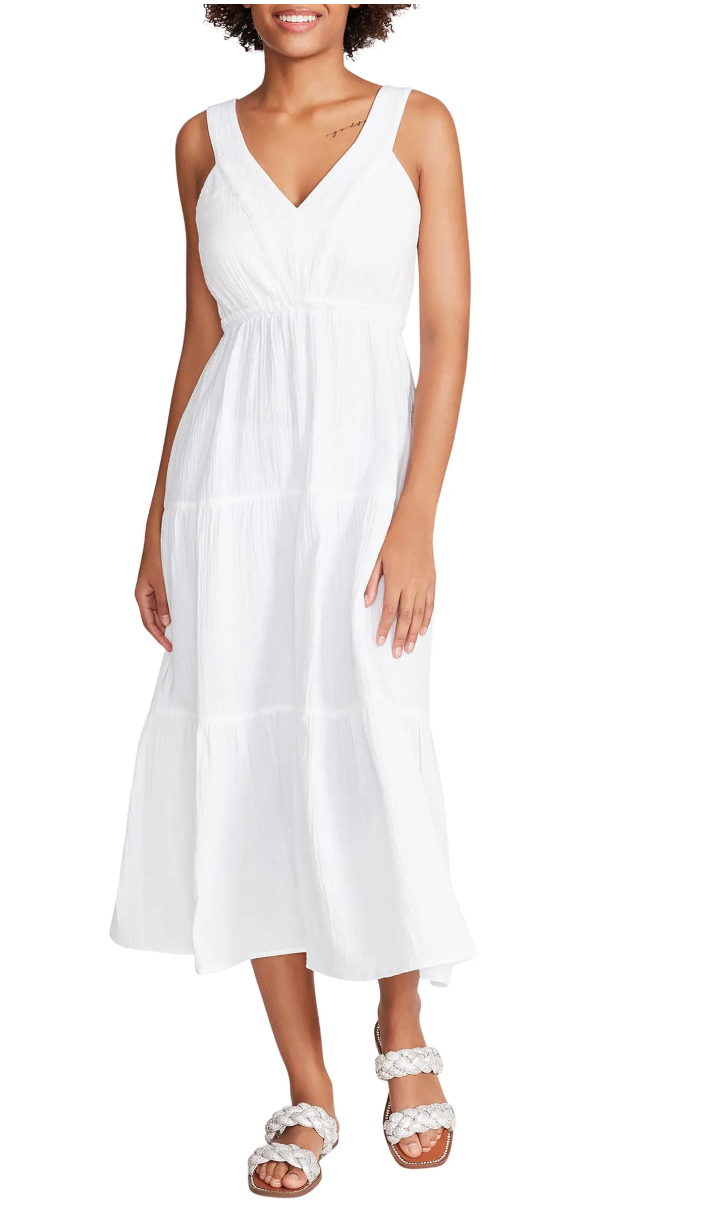 This breezy dress is $39 and comes in three colors. So good for the warm summer months. This would be a darling cover up if you are headed somewhere for Spring break.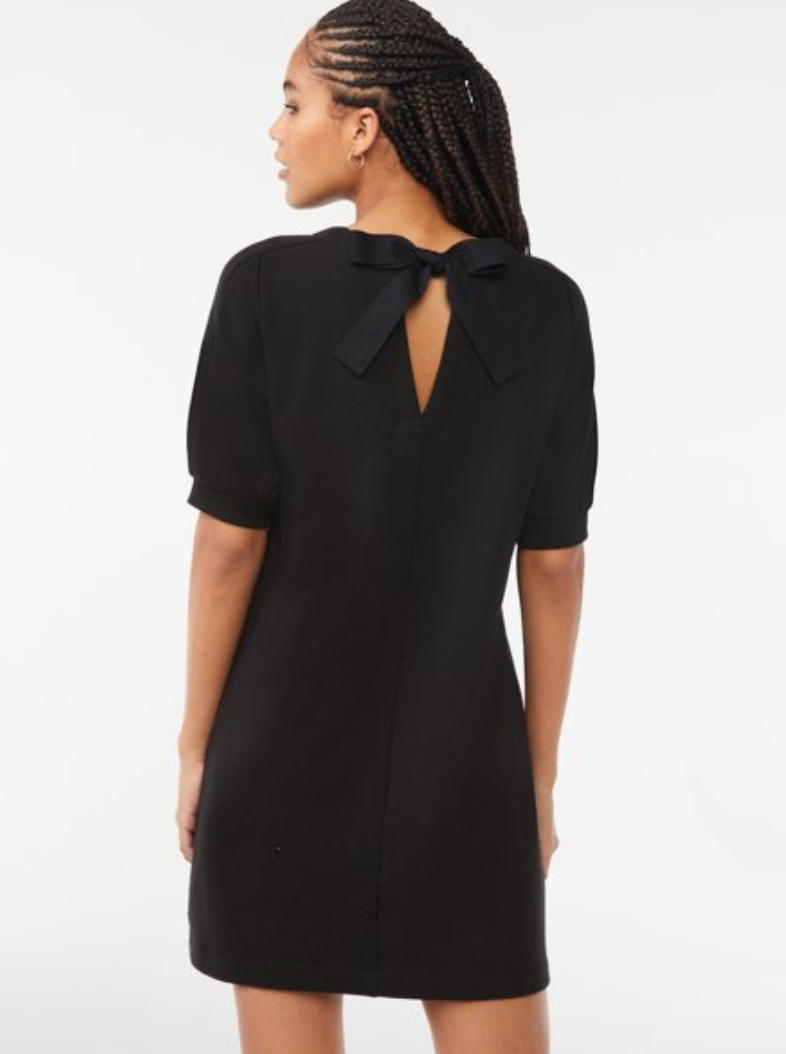 This $30 dress reminds me so much of the fancier version I wore last Christmas. This is a casual take on that dress. Cozy sweatshirt material and a darling bow in the back. It comes in four colors. A great summer dress.
RAVE REVIEWS ON THIS DRESS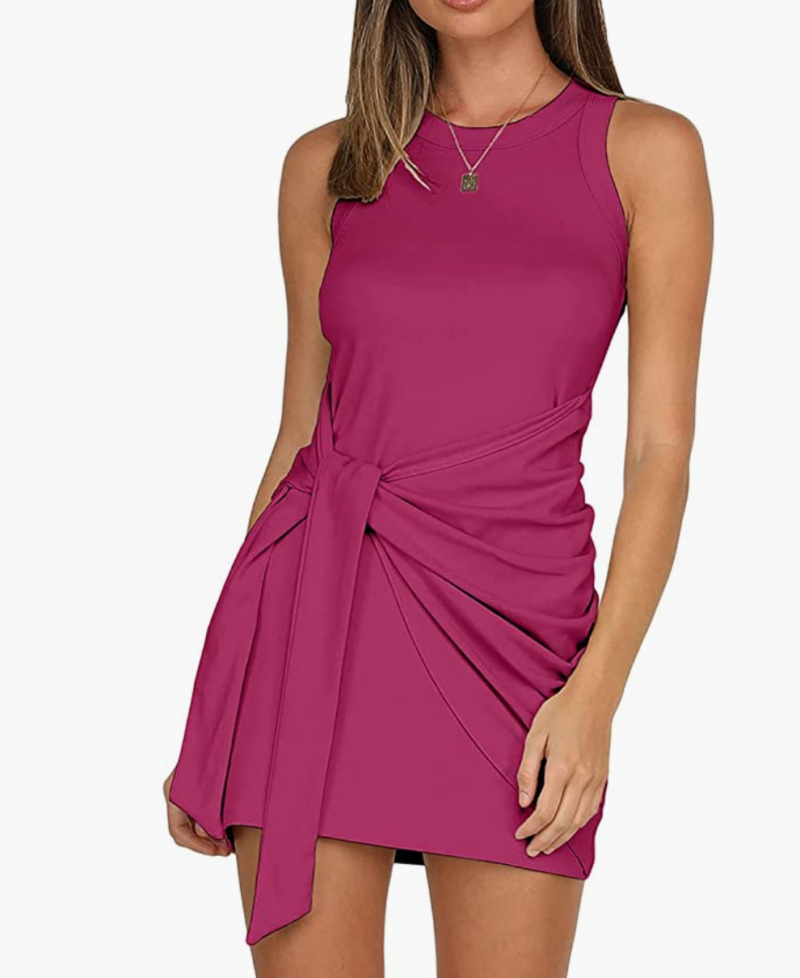 I did just ordered this dress and can't wait for it to arrive. It is $39 and comes in so many colors. It has 2k fantastic reviews. I think it will be cute with white sneakers of flip flops during the warm months. Also really cute with a denim jacket.
SUMMER STAPLE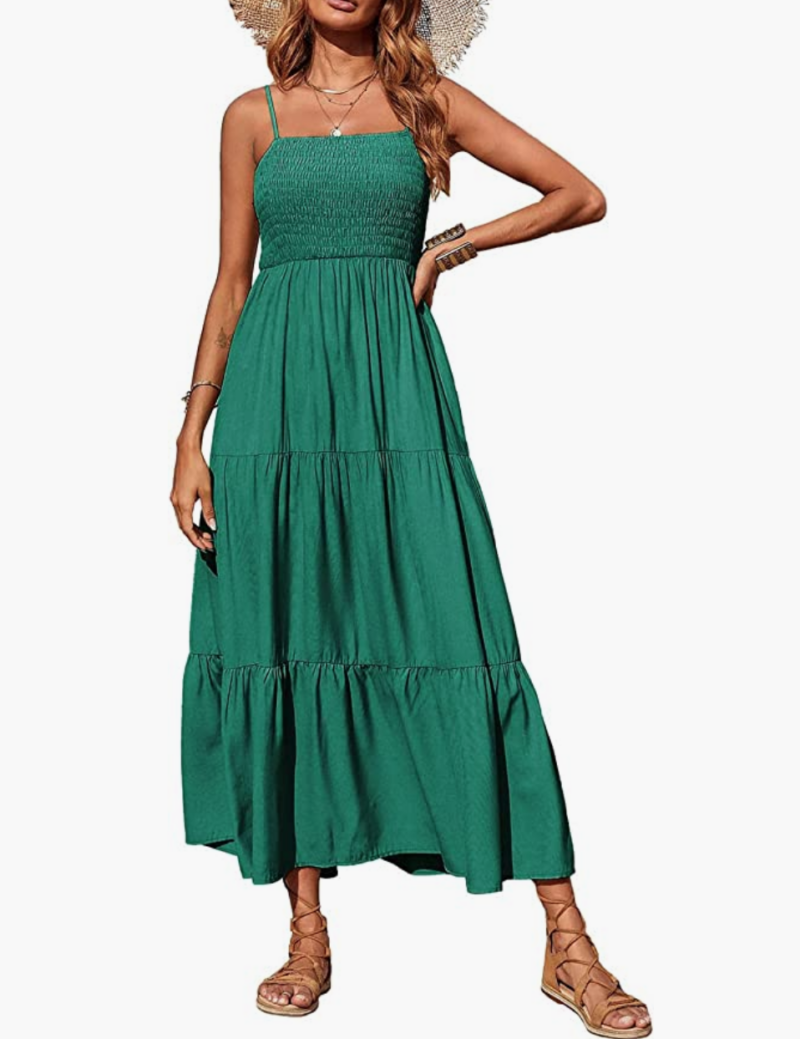 Without question, one of my most worn dresses last season. I can't wait to wear it again. My daughter is now stealing it, too. Its' currently 20% off and $39. It comes in a ton of colors. It's one of those dresses that people ask about when you wear it. A good one, my friends.
Here is a peek at what the dress looks like on. I wore it so many times last summer and look forward to wearing it again. I have had my Tory Burch sandals for years, but Amazon has a nice look alike. They even have some with the gold detail on them. The jean jacket is a staple in my wardrobe.
*If you need a strapless bra, this is the most comfortable one I have ever found. It's fantastic and worth the money.
HIGHLY RECOMMEND
This is the other dress I feel great about recommending. I have it in black and a printed version. This is my go-to travel dress, too. I take it everywhere we go when it's warm. Highly recommend this dress.
THE PRINTED VERSION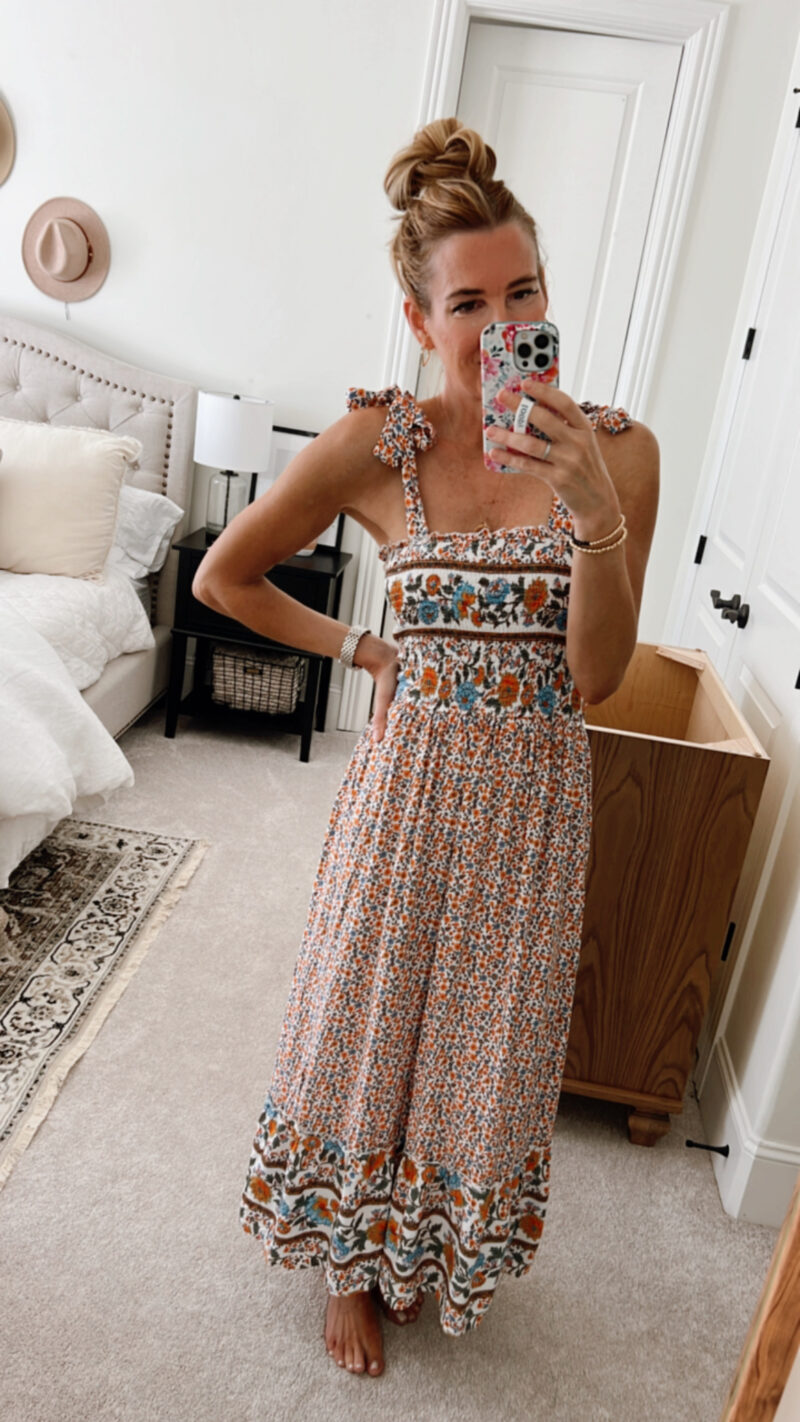 This version is called "cream." Love everything about this dress and so comfortable.
DARLING COVER UP
This cover up is adorable and currently 20% off. I love when you can toss something over a suit and feel put together.
COZY BLANKET SALE ALERT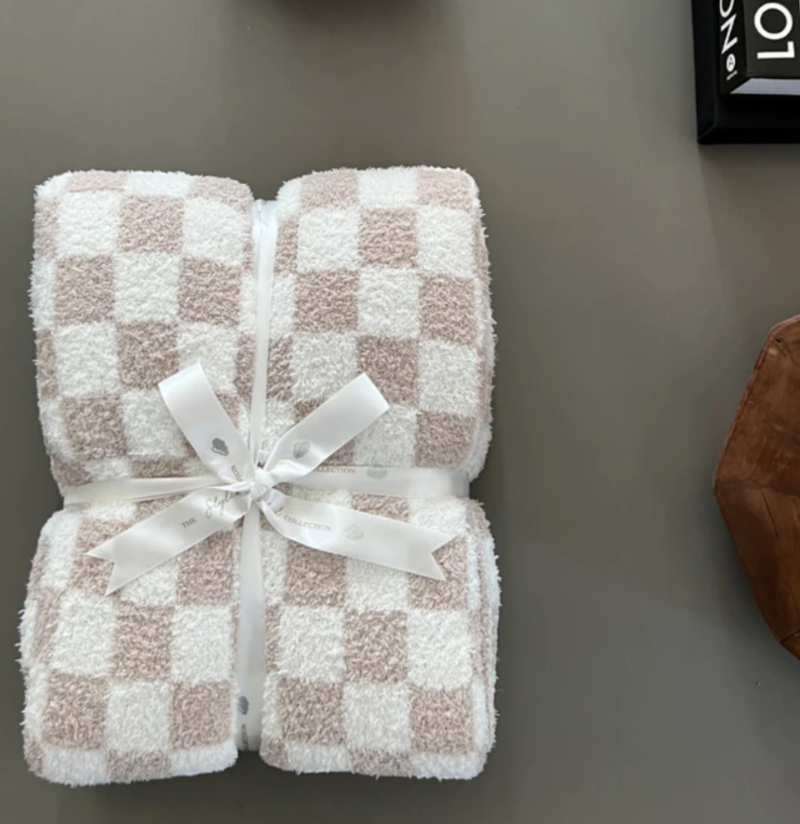 On an entirely different note, I am never without a blanket and this one is on sale from $120 to $35!!!! This is so good, girls. And it feels just like the one from Barefoot Dreams. This would be a great gift for a grad or anyone going off to school. Also fun to have around the house. I might buy a couple to have on hand to give as gifts. Always a nice thing to drop off if someone needs a pick me up.
And that's a wrap on fun Spring finds. I just did a Loft try on so I'll be back to share that very soon. Have a wonderful day.