This past week I stopped into Loft and had so much fun trying on their Spring styles. Walking into the store is like a breath of fresh air with their pretty prints and colors. I fell in love with quite a few tops and fortunately they are 40% off right now. Today I am sharing the pieces I loved the most. And because Nashville is having beautiful weather this week, I may even get to wear them sooner than I thought.
GO TO SUMMER TOP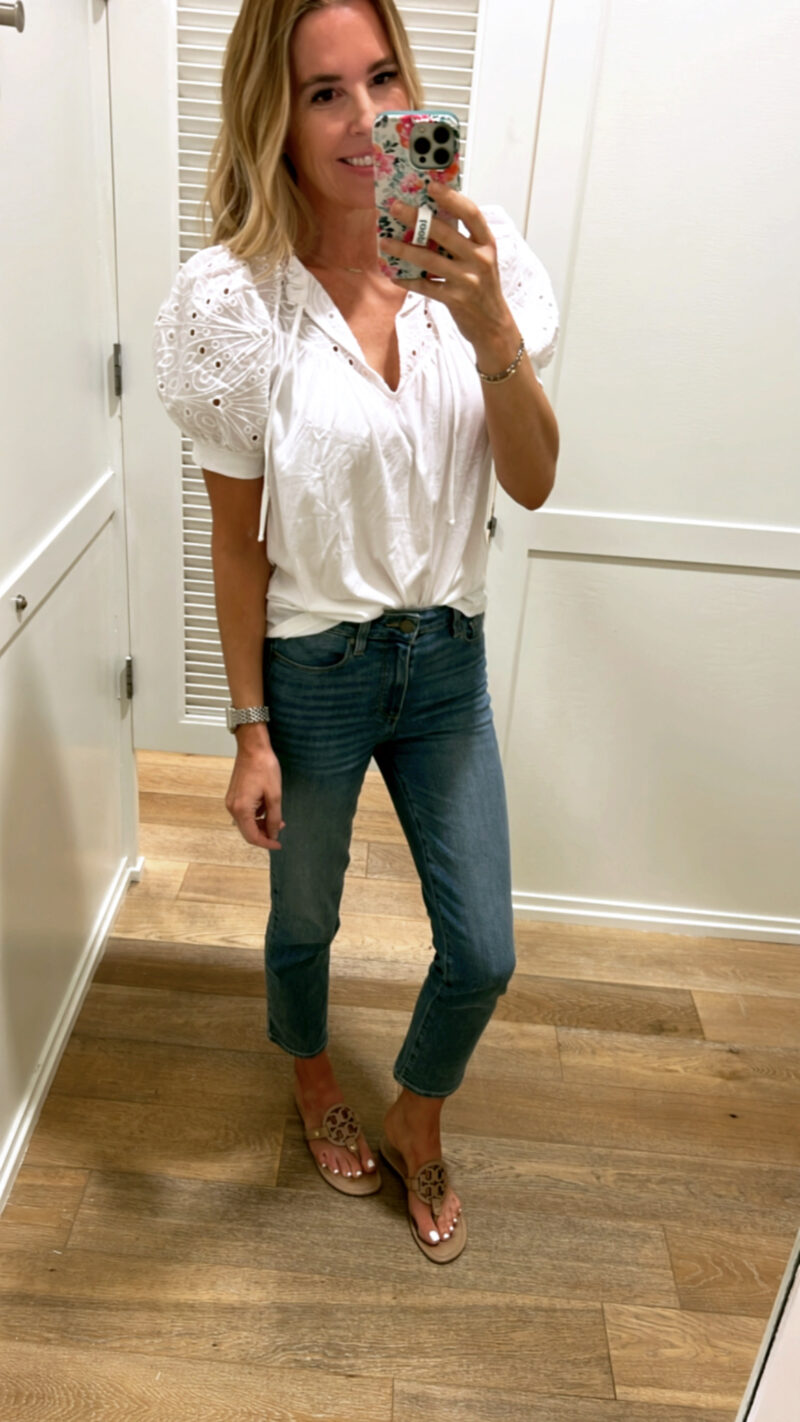 This top was a no brainer. The second I tried it on I knew I would buy it. Ladies, this top is incredibly soft, drapes beautifully and is perfect for warm weather.
*Sizing: With the exception of one top (noted below) I tried on the XS in all tops. I also went down one size in bottoms.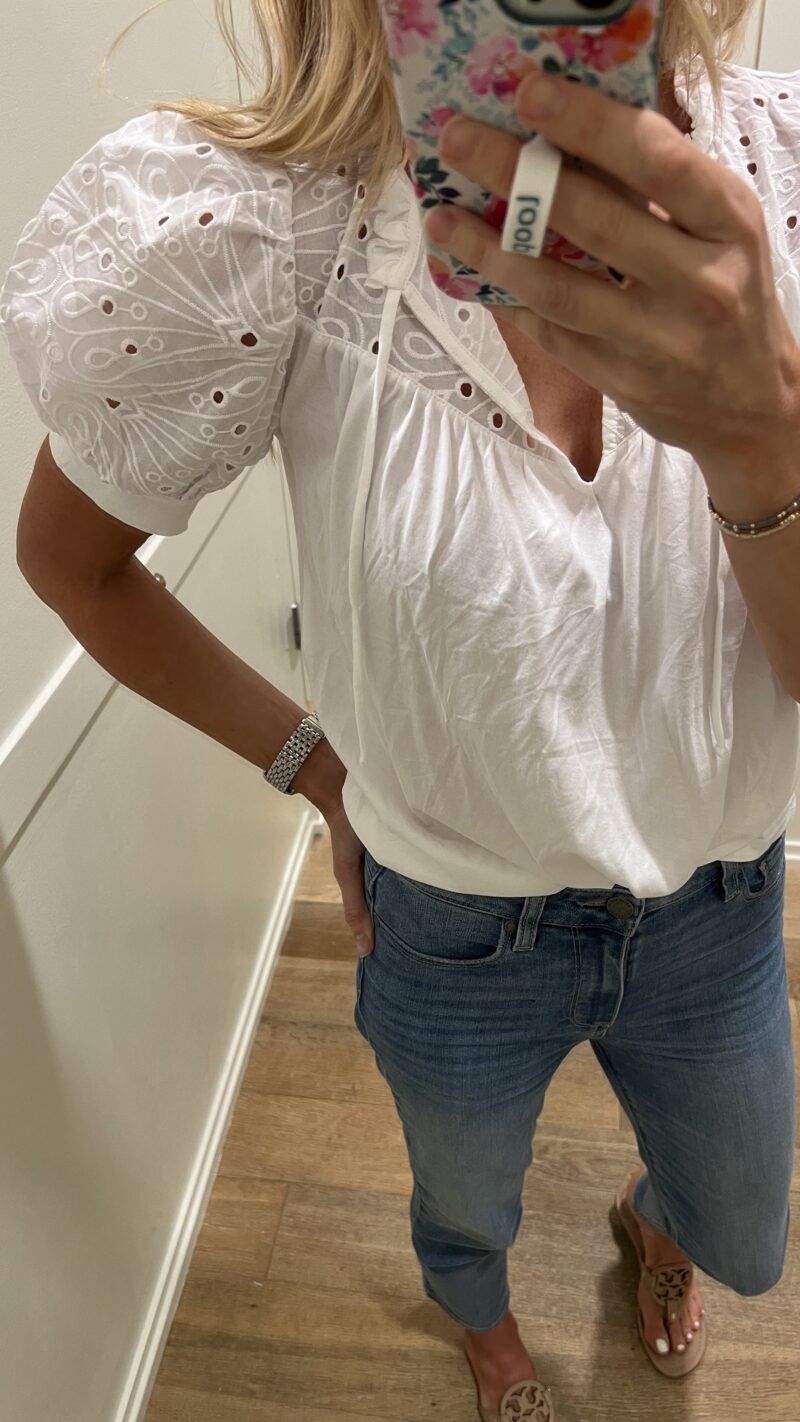 Look at those pretty sleeves. It's a good one and 40% off. By the way, this is my favorite steamer. Takes wrinkles out in just a few seconds. This eyelet tie blouse also comes in a gorgeous lavender and black.
RUFFLE TRIM TEE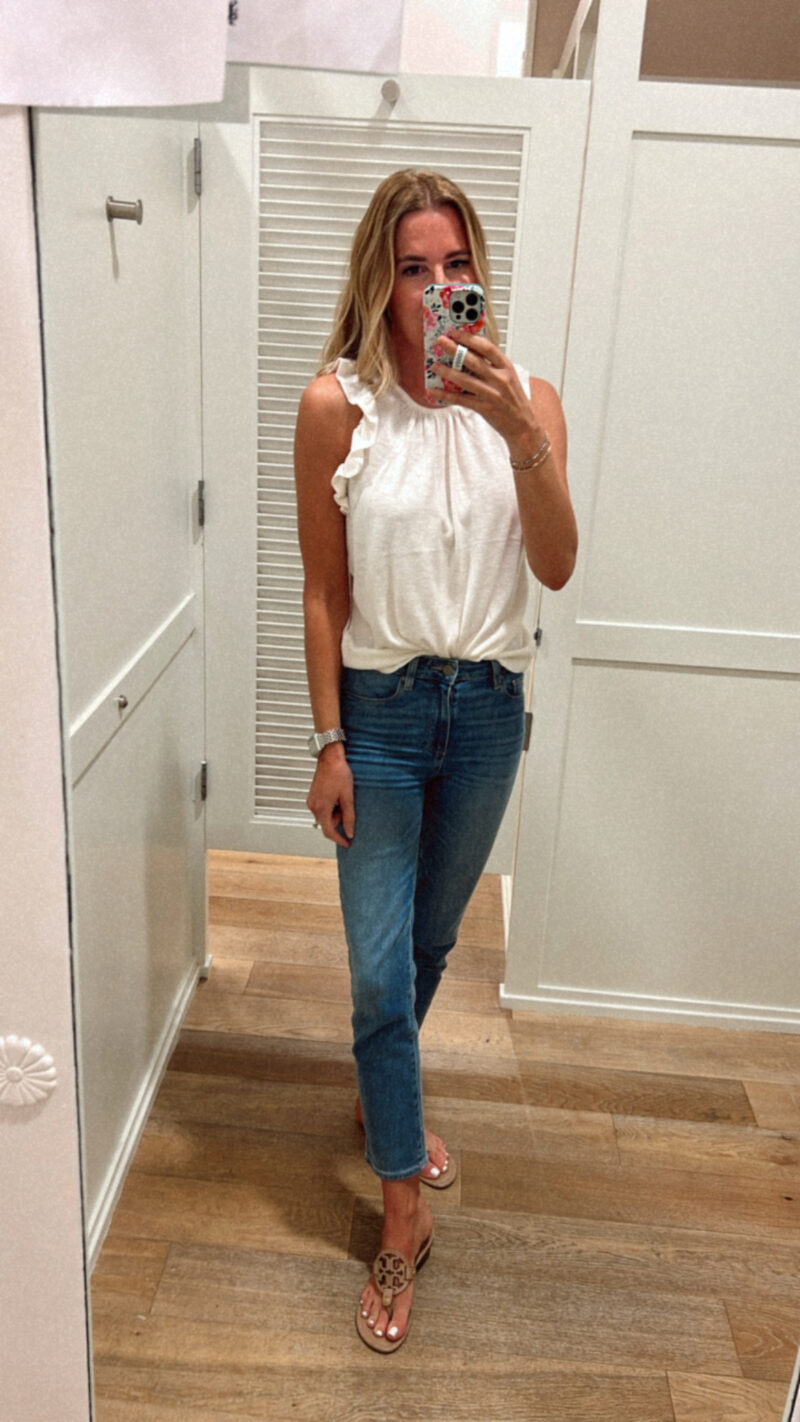 You know I can't pass up an ivory top. Not sure what my problem is but I love them. This is the size small. It has flattering ruffles a the shoulders and comes in three colors.
TIME TO GO GREEN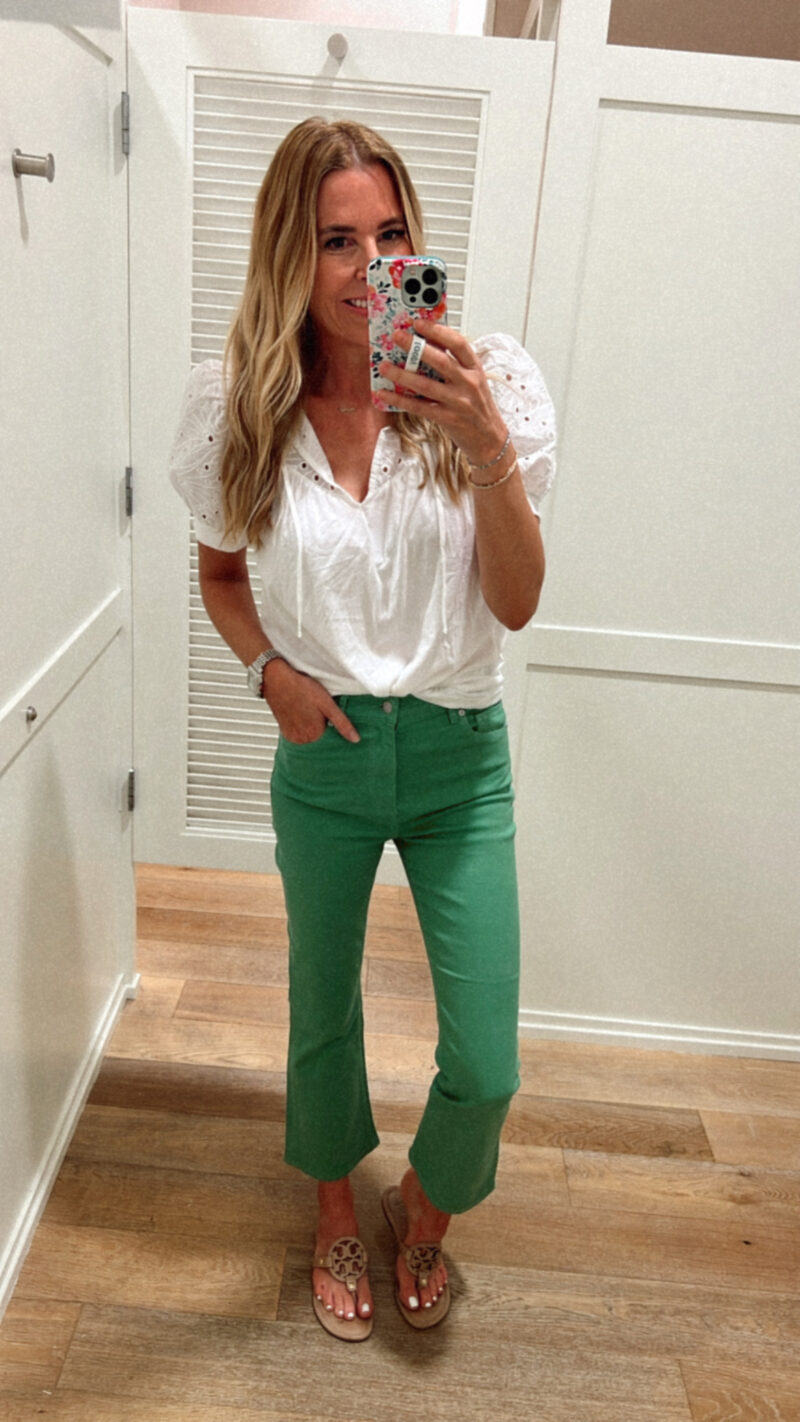 I am not usually one for bold pants, but I love green and this style is really flattering. The fit is great and they are very comfortable (many colors available). Definitely size down one full size. I am usually a 25 and these are the 24.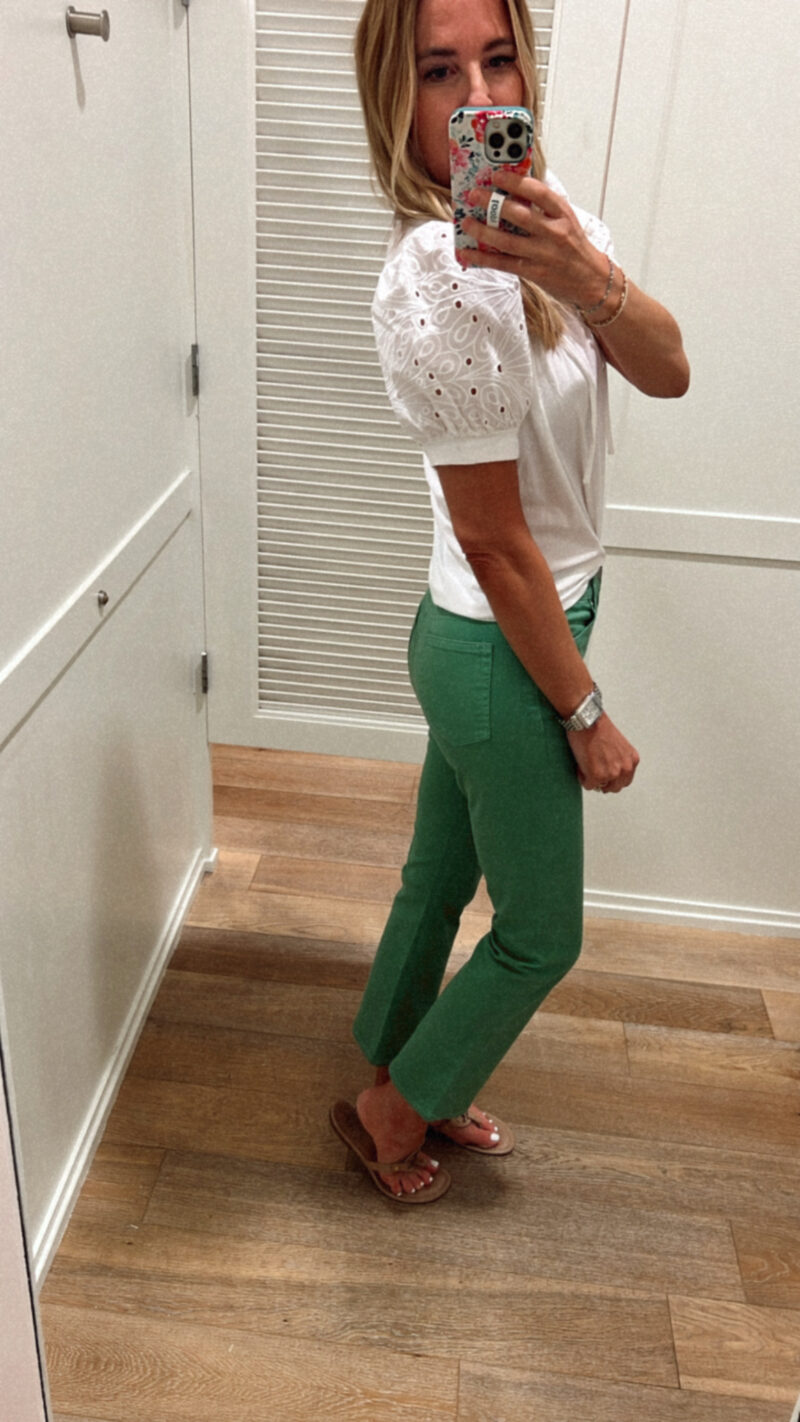 Side profile so you can see the fit. These pants don't flare too much and are nicely cropped. They really are a gorgeous color.
And speaking of green, this top is darling. Very flattering fit on the shoulders and 40% off. The white jeans came home with me (size down one). I LOVE them. They are just like the green ones above. While I will definitely wear nude underwear, I didn't think they looked see through. Great with sandals for Spring and Summer. I have had these Tory Burch sandals for years but this Amazon pair ($25) is almost identical and really cute.
PRETTY PLAID TOPS
This is the green top from above but in this pretty pink and sage green plaid. It's so soft and feminine looking.
Here is an up close look at the plaid top. And you can see khaki stitching on the white jeans which is darling.
This gingham top is really long in the back so you can definitely wear it out and it will cover your booty. But it is lightweight so easy to tuck in or tie as well.
You can see the cap sleeves on this top. The colors are so cheerful and happy.
FEMININE DETAILS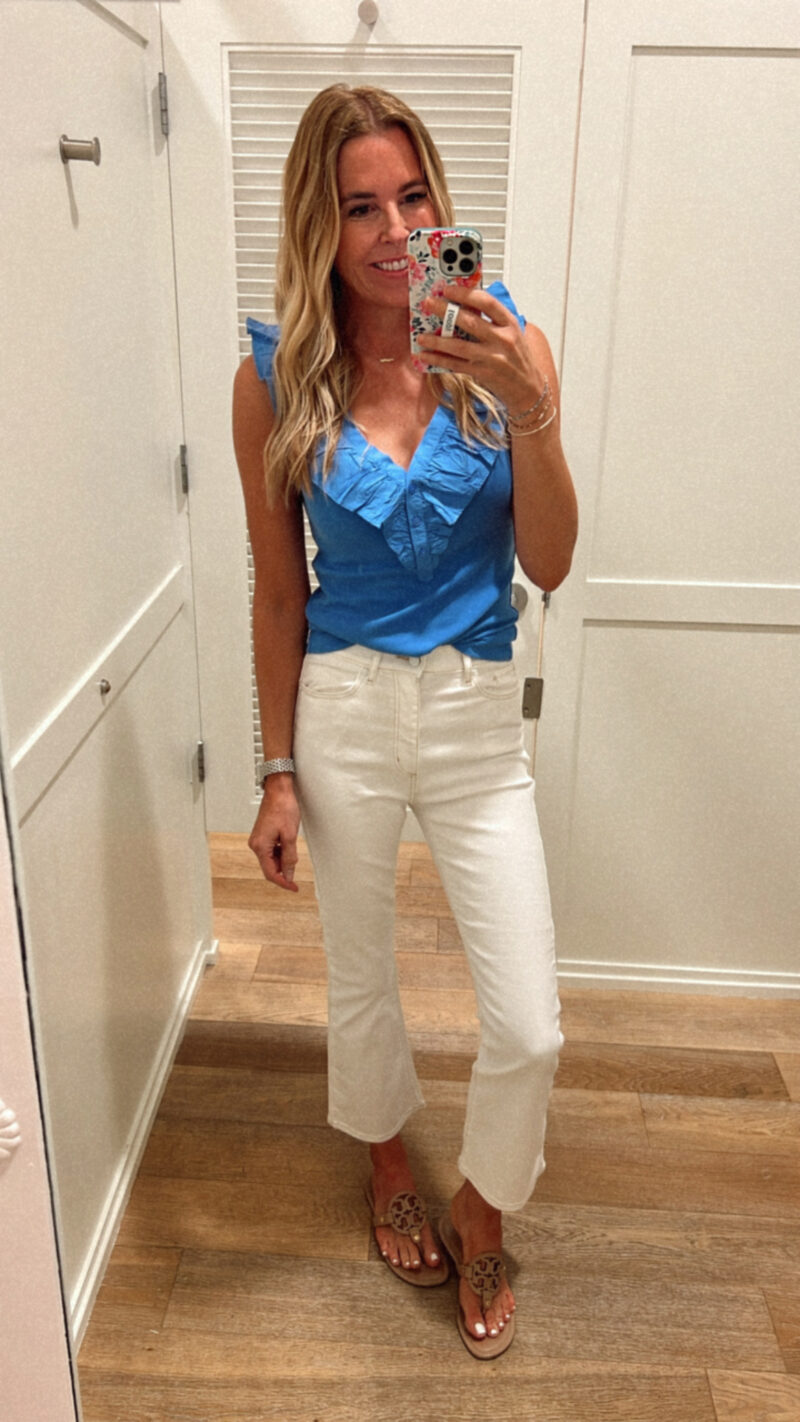 Now I want this feminine top in all three colors. Besides this pretty blue, it comes in black and white. Love the ruffle detail. It perks up at the shoulders so it's a really cute statement top. Great dressed up or down. This blue pops really well against the white jeans.
DARLING EYELET DRESS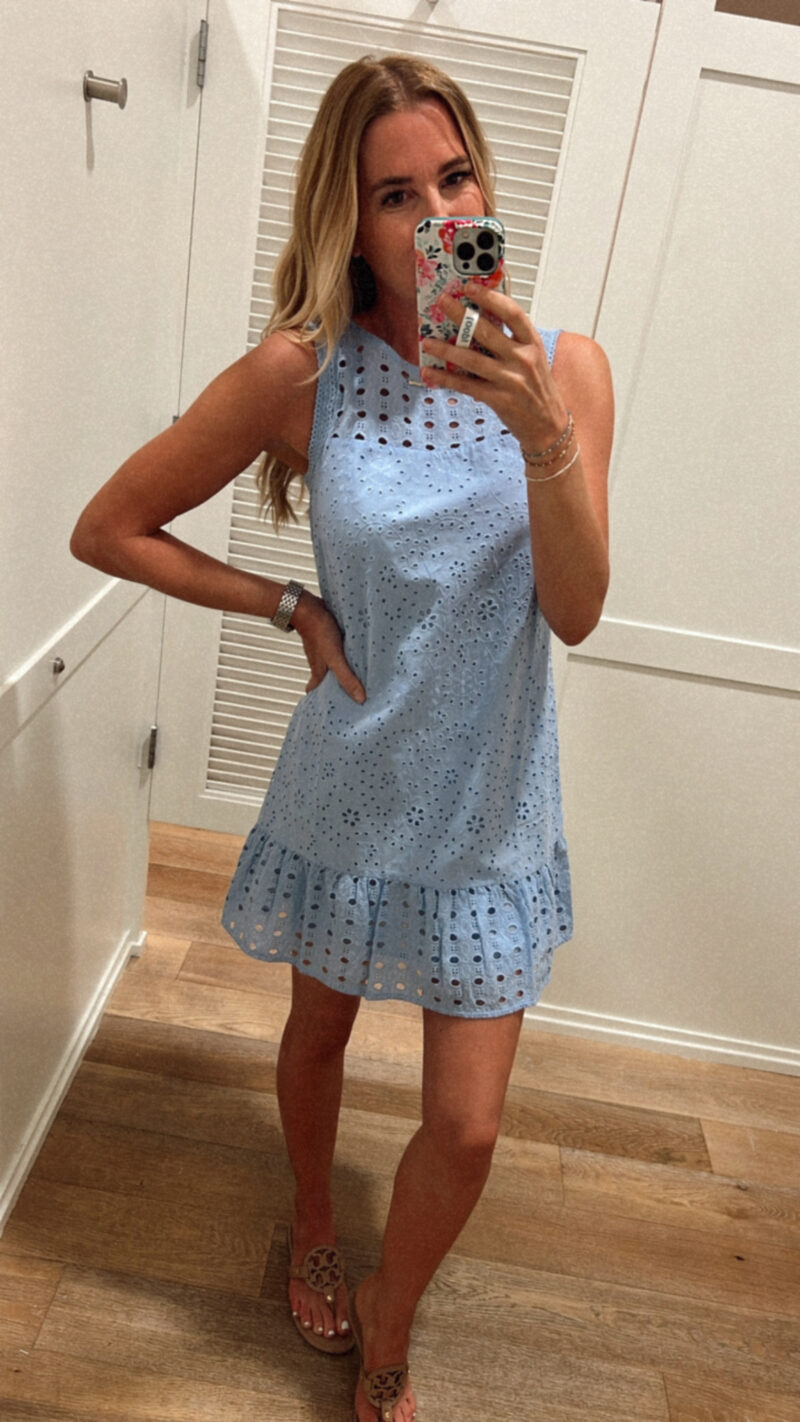 Say yes to the dress. This is so cute in person! It's the perfect length (for reference I am 5'7″). This was the zero and too tight under the arms. I am going to order the size 2. It's lined and such a beautiful color. I was bummed that didn't have my size because I would have paired this with a white blazer for Easter Sunday.
PERFECT LENGTH SHORTS
Let's talk shorts! It gets darn hot here in Nashville so I live in shorts or dresses. These are very soft and not too short. I went down one size in these (no curves over here).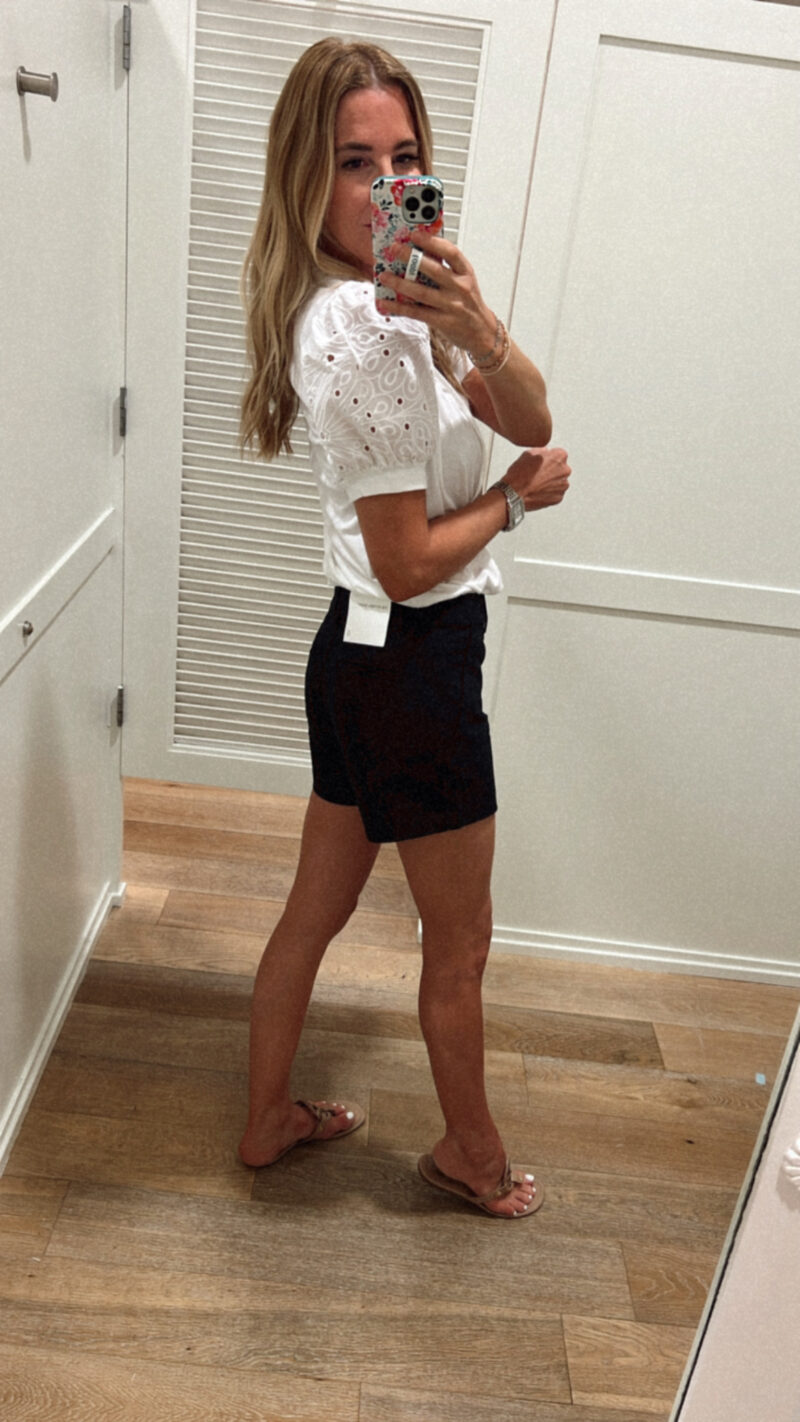 This helps you see where they hit. This length on a pair of shorts is so great to wear with sandals or a low heel when you want to dress them up a bit.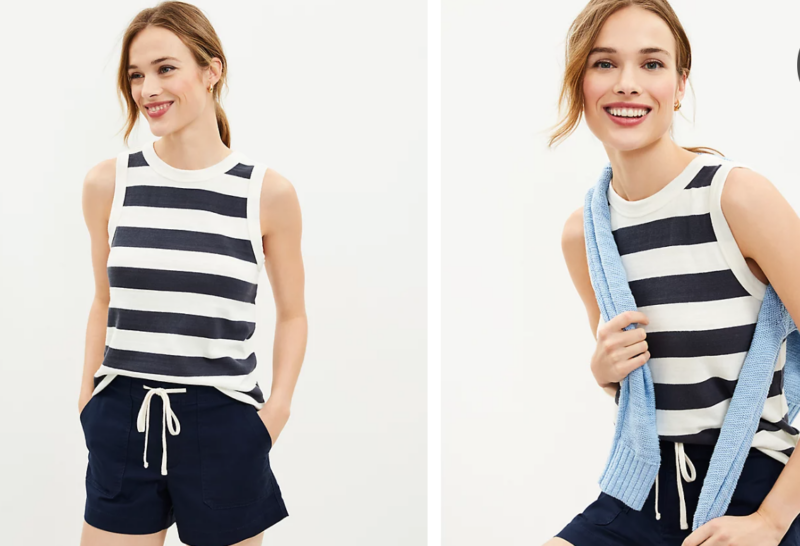 I wanted to buy this striped tank to wear with them but they were out of my size. These are great tanks, ladies.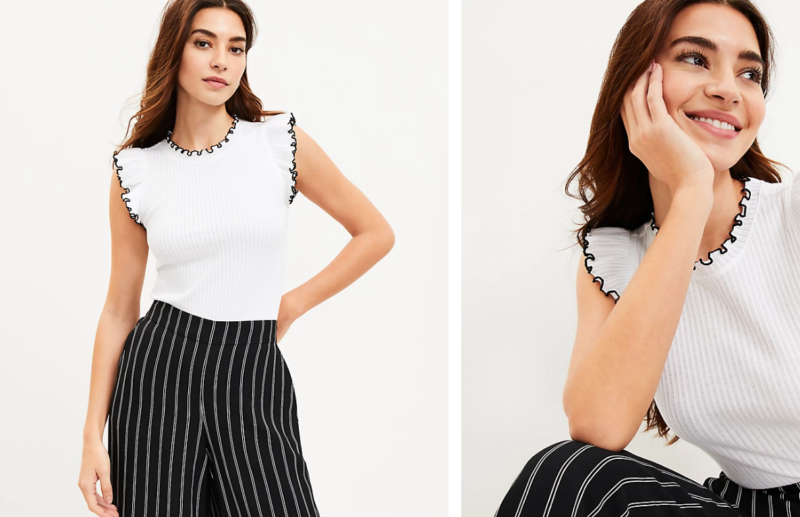 This is another really fun top. Great with black shorts or pants for summer.
ADORABLE STATEMENT BLOUSE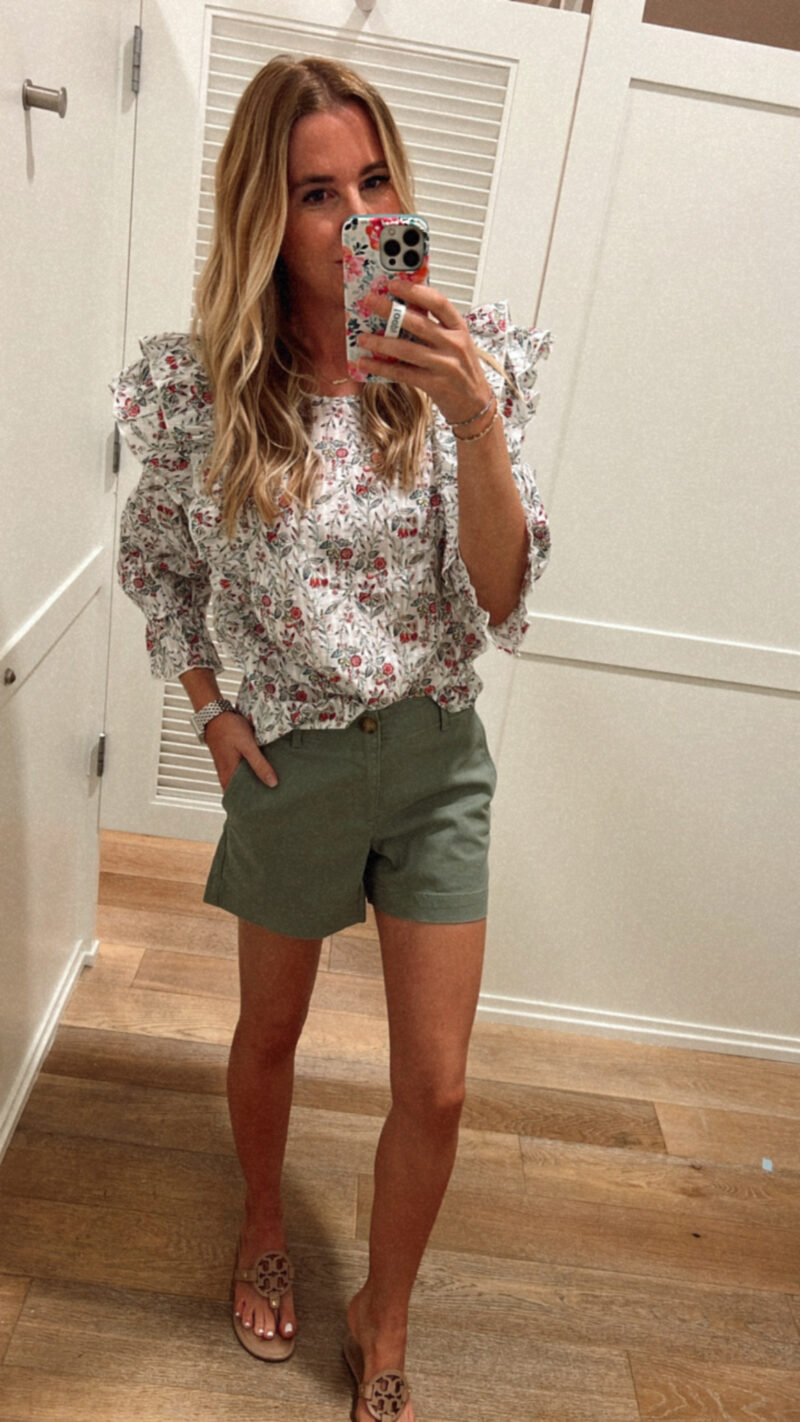 Last but certainly not least, this blouse is beautiful. It absolutely reminds me of something from Anthro. It's unique and pretty and such a fun statement. It has a good amount of fabric to it so be sure you are ok with that. I just love the print and like how it looks paired with these rosemary green shorts.
On a totally unrelated note, I love this tanning mouse. It's my go-to if I want color same day. It shows up within an hour or so and looks so natural. It never rubs off on my sheets or clothes and does not have a strong scent.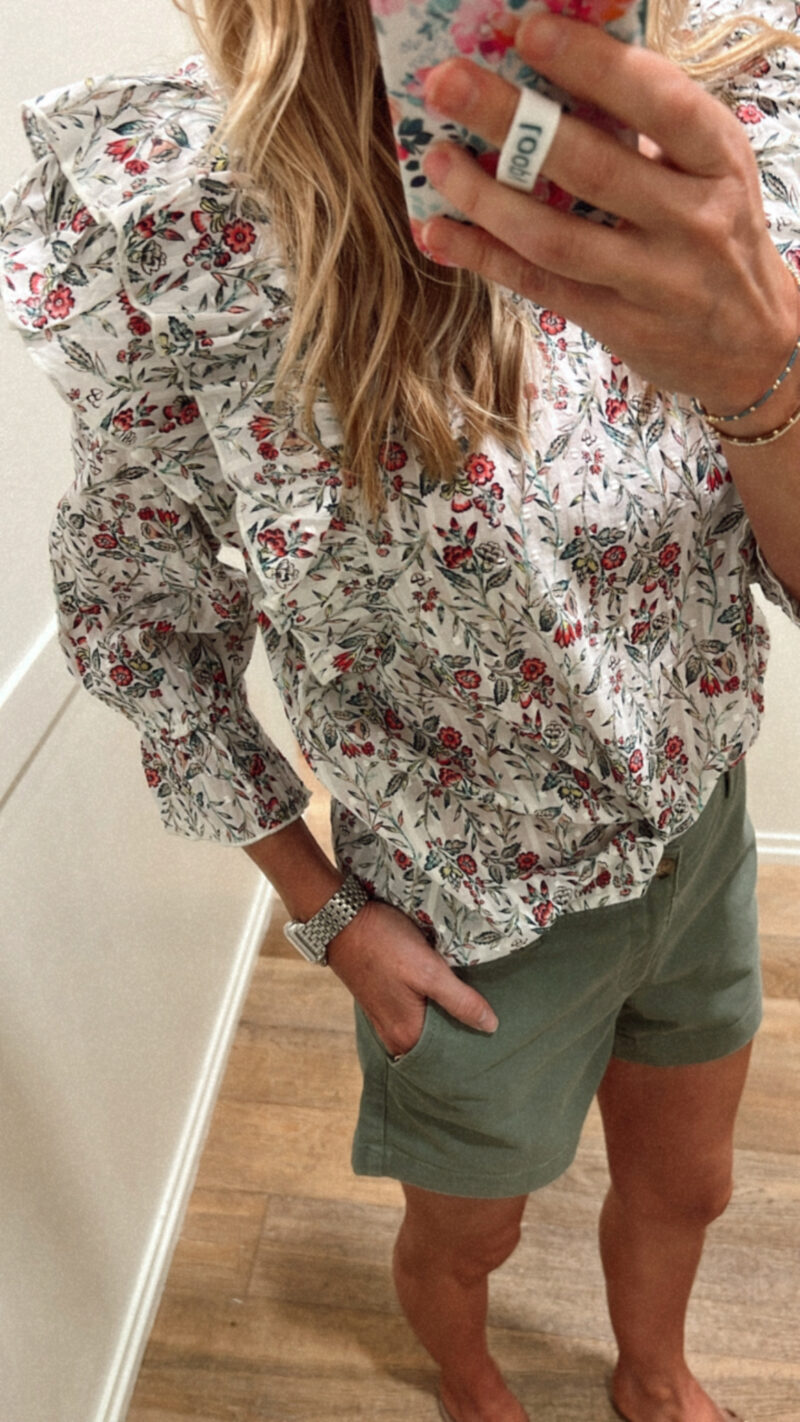 This photos is a great representation of the colors in this blouse. It is much prettier in person than the website photo from Loft (it's not a stark white like they show). And I love that it is 40% off.
DENIM SHORTS ON SALE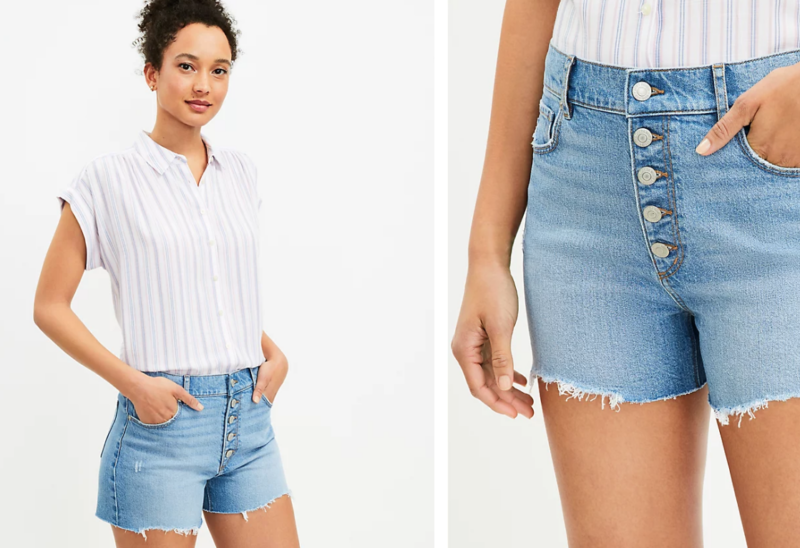 I didn't try these on but saw them online later. They look like such a great length if you are wanting a new pair of denim shorts for summer.
SHOP THE SALE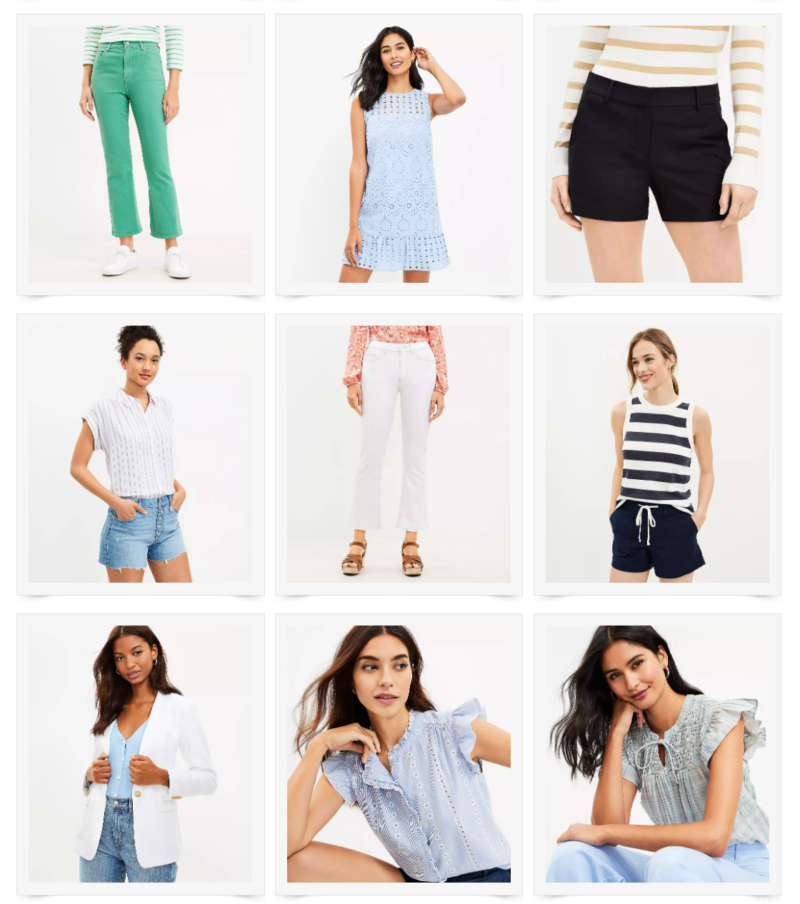 Loft really does have daring pieces for this time of year. And with almost the entire store on sale it's a nice time to take a look. I'm off to hang a shade in our bathroom and plan to share that space with you on Friday. Make it a great day and thank you for being here.