This week I am joining 29 other bloggers for a Summer Home Tour. I have to be honest, I am quite intimidated with the group. When Marty form A Stroll Thru Life invited me to be a part of this tour I was flattered and immediately panicked. But than I relaxed and realized you all want to see real life. So you will not see crazy transformations here. In fact for the summer months, we keep things very clean and simple. We are constantly in and out of the house and the warm summer days call for barefeet and paired down decorating around here. And my real trick to making this place look summer ready is fresh flowers.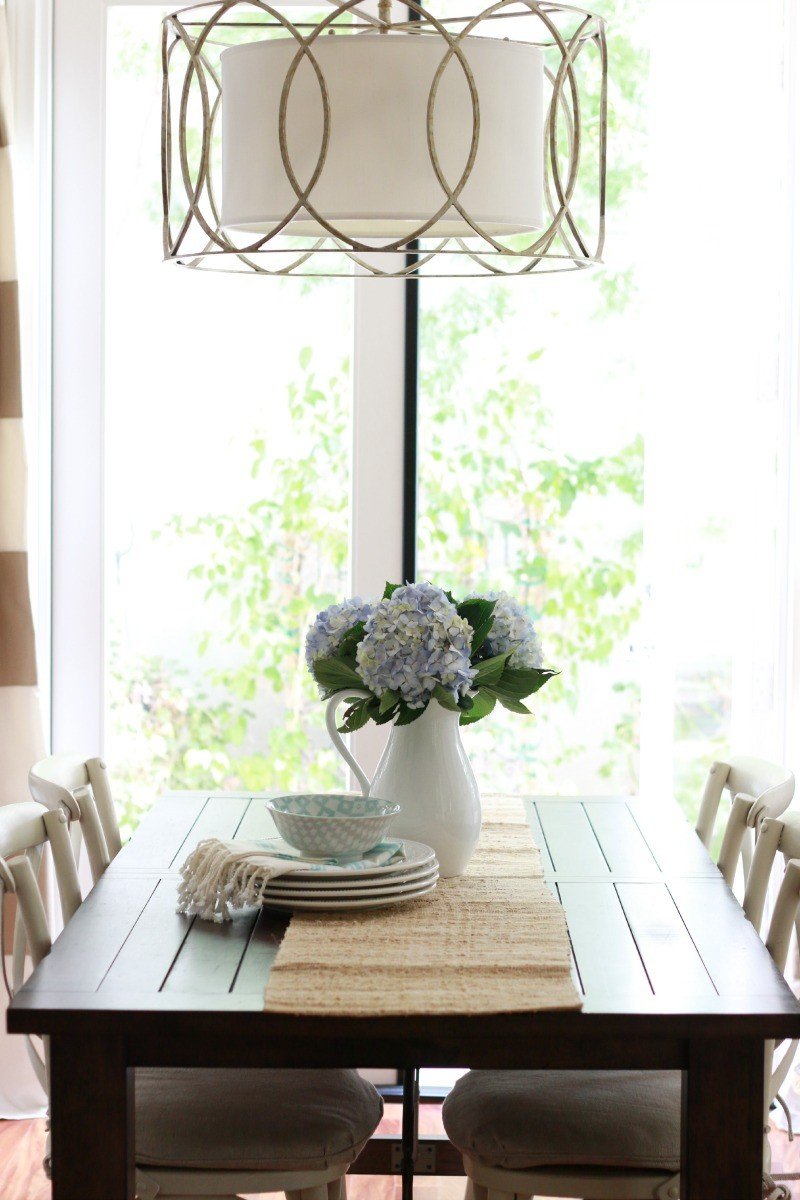 chandelier | table | runner | chairs | pitcher
This is normally homework central! But for the summer, I am sure it will be art projects and entertaining. We LOVE to have people over. We invite my parents regularly for dinner and I love having everything handy for summer. Dishes ready, napkins out and serving platters within reach. I think I would do well with one of those homes that has open shelving in the kitchen.  I really do find that the more I keep out in plain sight the cleaner and neater things stay. Just don't open my cabinets. Just sayin!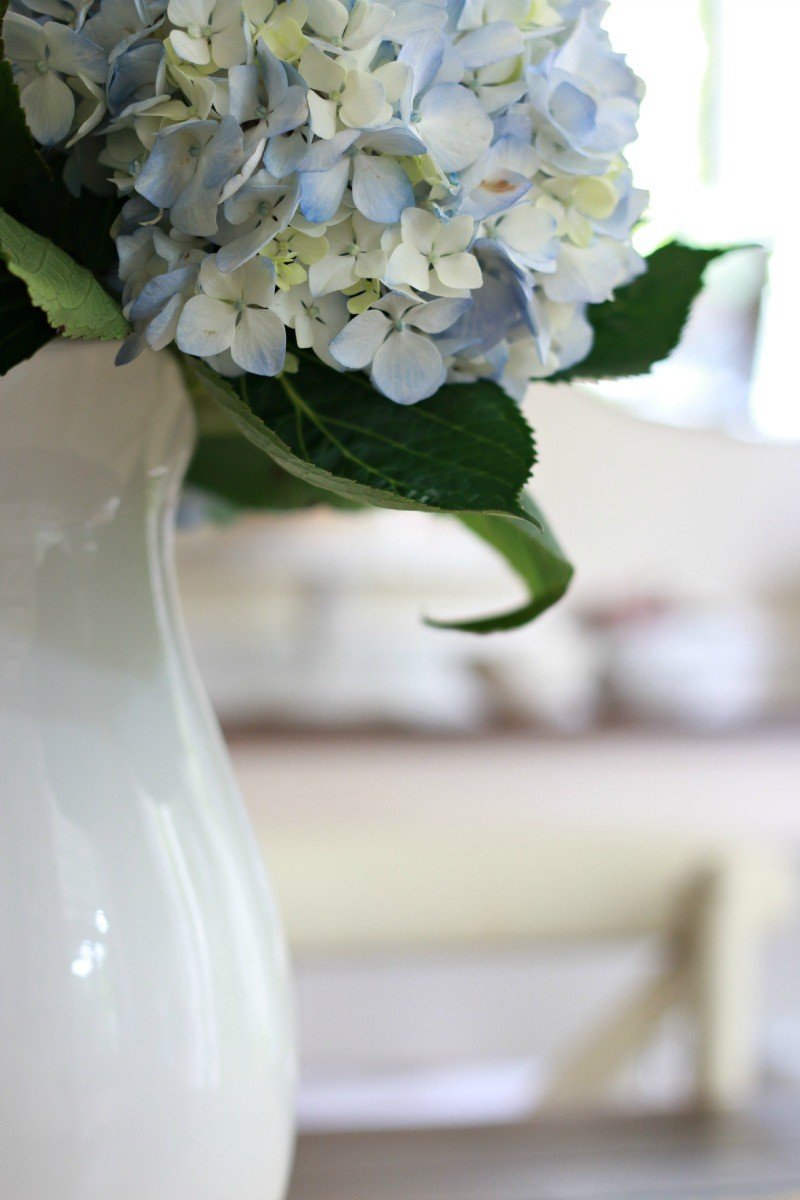 These flowers do not even look real to me. Thank goodness for Trader Joes because they keep my house looking like summer! I would much rather buy an arm full of flowers than spend it on special coffee drinks or pedicures. I think we all of our thing we like to splurge on and for me it is definitely flowers. The white pitcher is a Target find.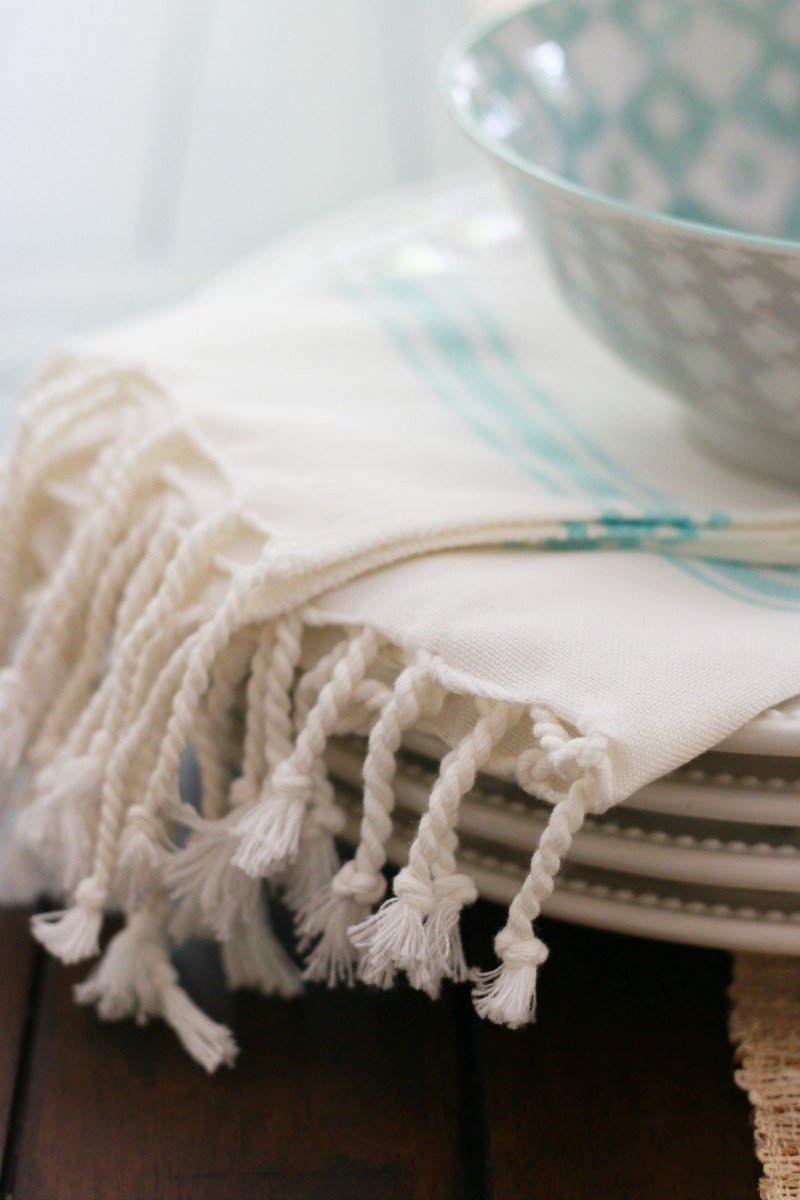 I really love the pretty Turkish towels for summer. The aqua stripes and detail are a fun addition.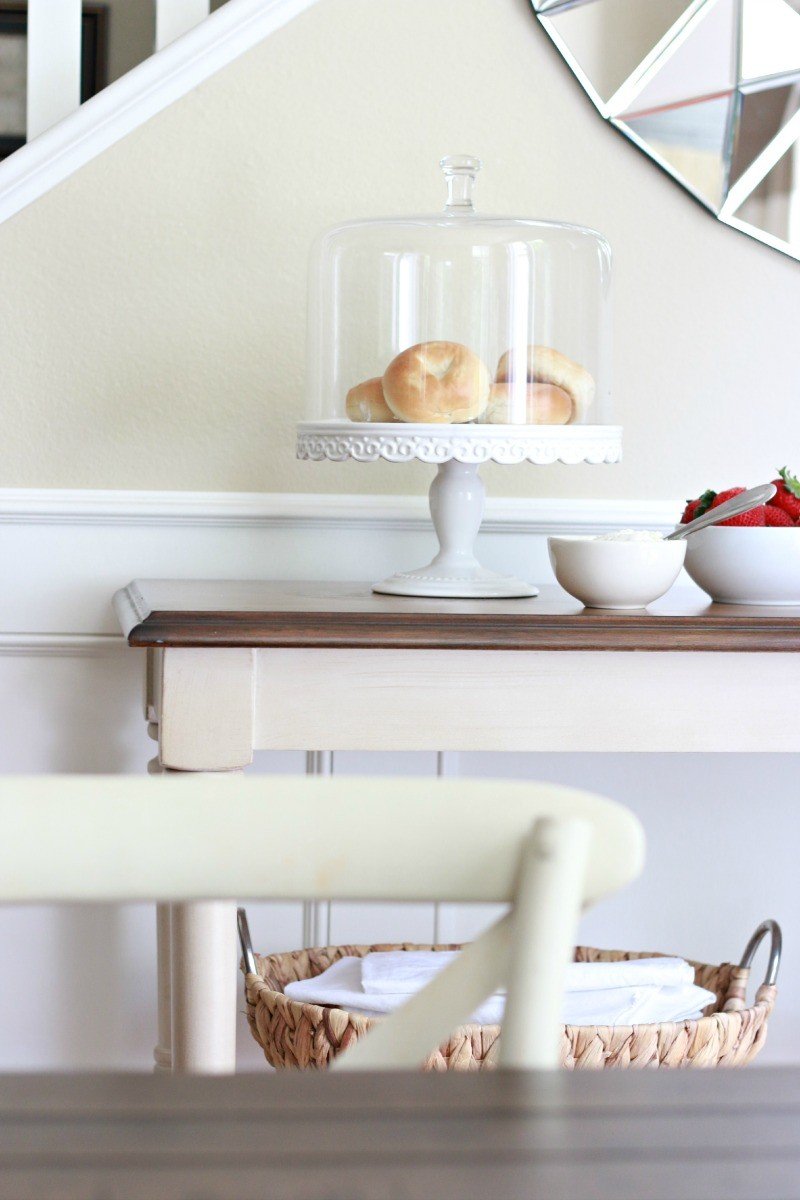 This sideboard was one of our best purchases. It's from HomeGoods and we have had it for years. Our dining space isn't huge but this is where we keep our go to items. And during the school year, each child keeps a box in here with their homework and supplies used daily. It's been fantastic for us. For this time of year, I like to keep things as light as possible so I bring out all of our most used white dishes and serving pieces. Including a couple of white platters that I will toss an appetizer on if people drop by. We often do Happy Hours outdoors with our friends on Fridays and I can grab a serving dish from here and be ready.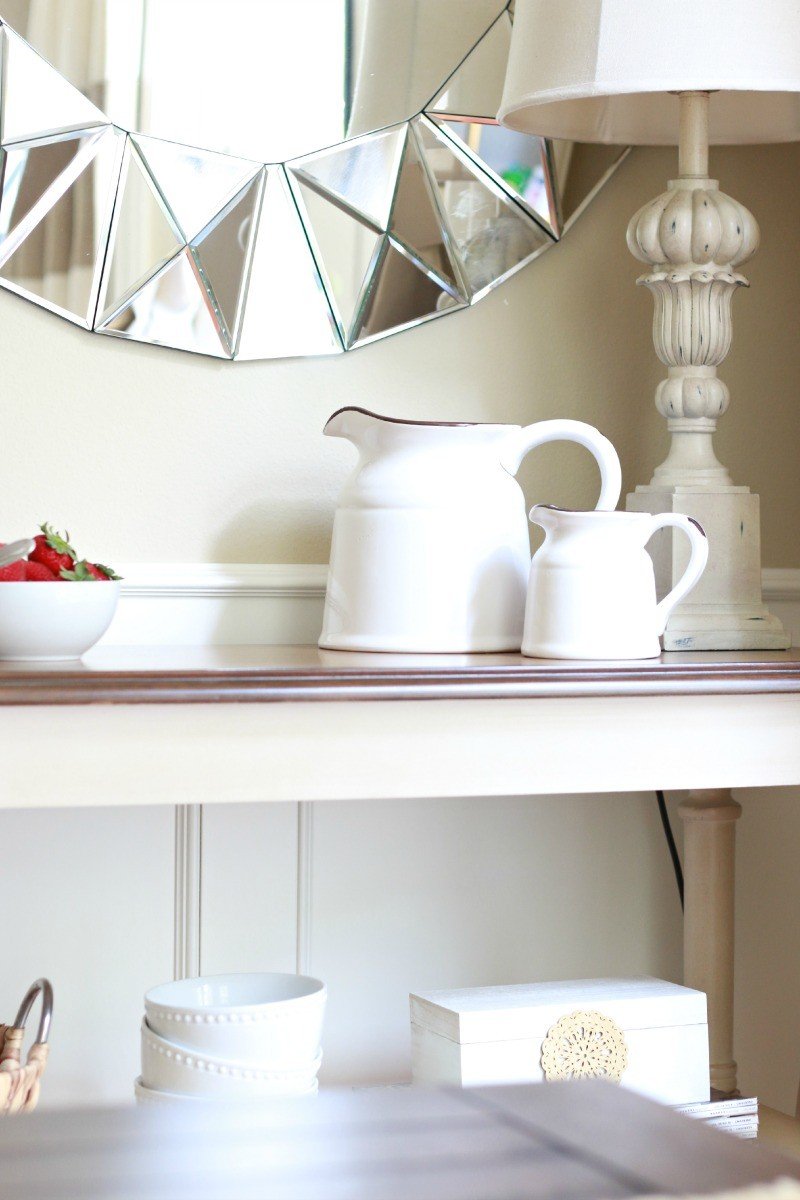 If you are new to my blog and thinking I am a bit boring and not into color, I assure you I really am! This table says it all!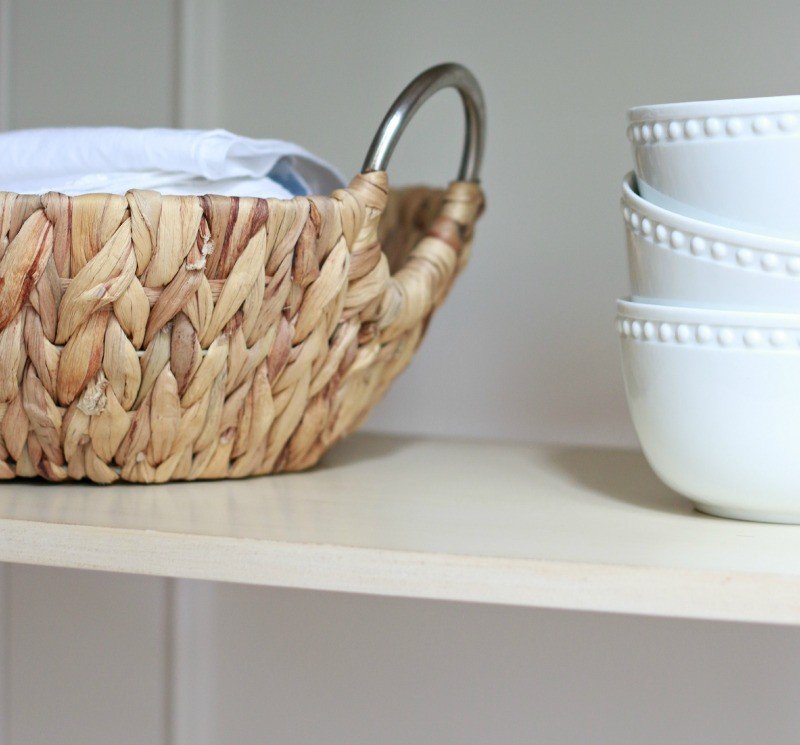 Although I have sets of colored napkins, over the last year or so I have really only used the white ones. I keep a basket filled with them so they are ready to set a dressier table anytime my parents pop over or friends. I don't even care if the napkins match. I pick them up anywhere and love if they have some extra detail on them. I think having mismatched white linens actually adds to the charm. Is that crazy?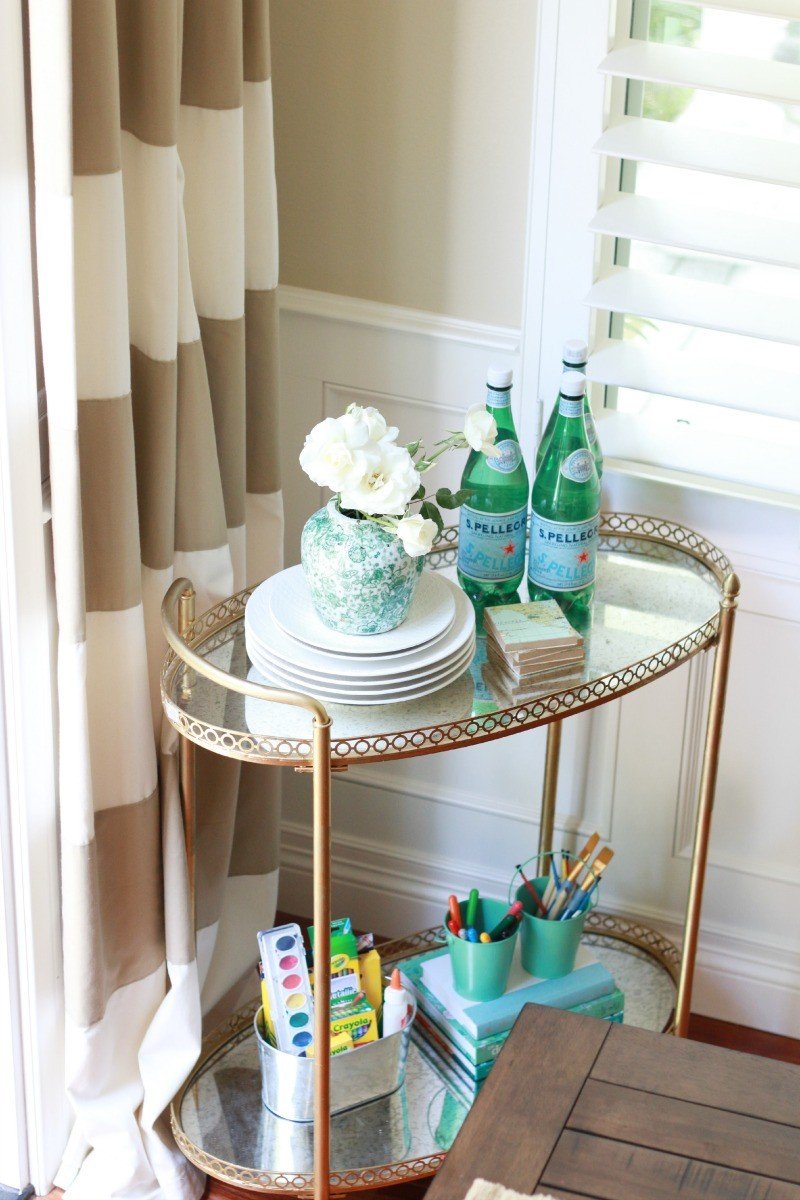 If you are a long time reader, you know that our bar cart is very family friendly! I keep the kiddos' art supplies on the lower level so that they are handy when they do homework. It's been really great to have them within reach. If we happen to have a big party, I will swap out the lower level for more adult type beverages and things we may need while entertaining.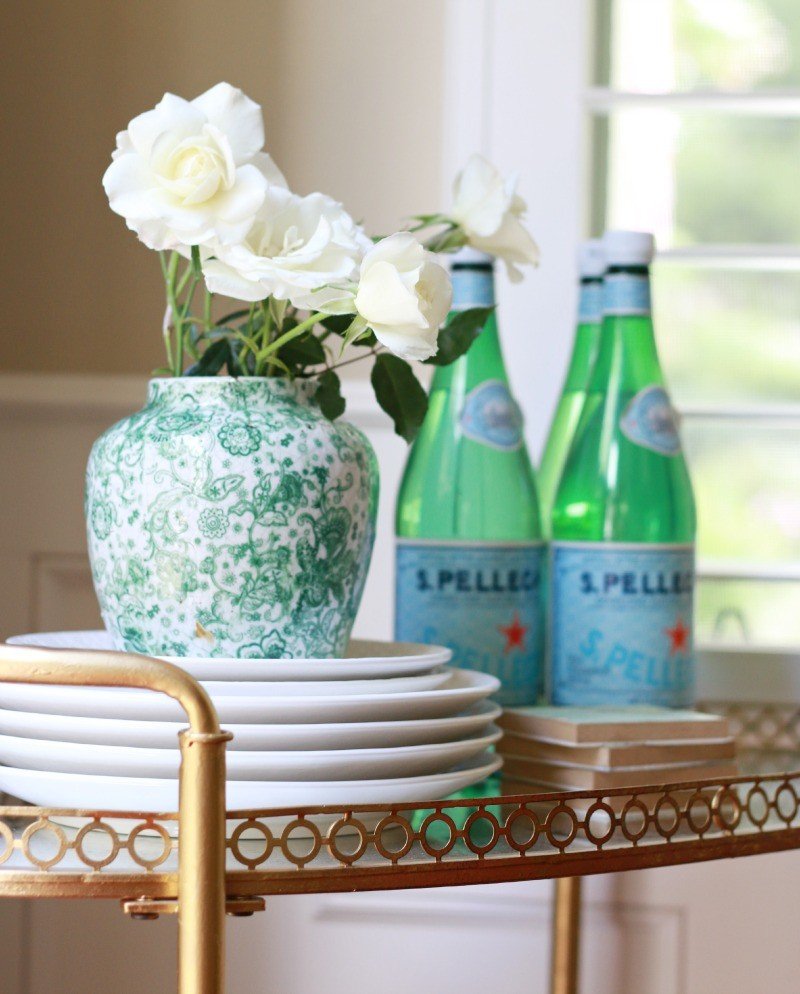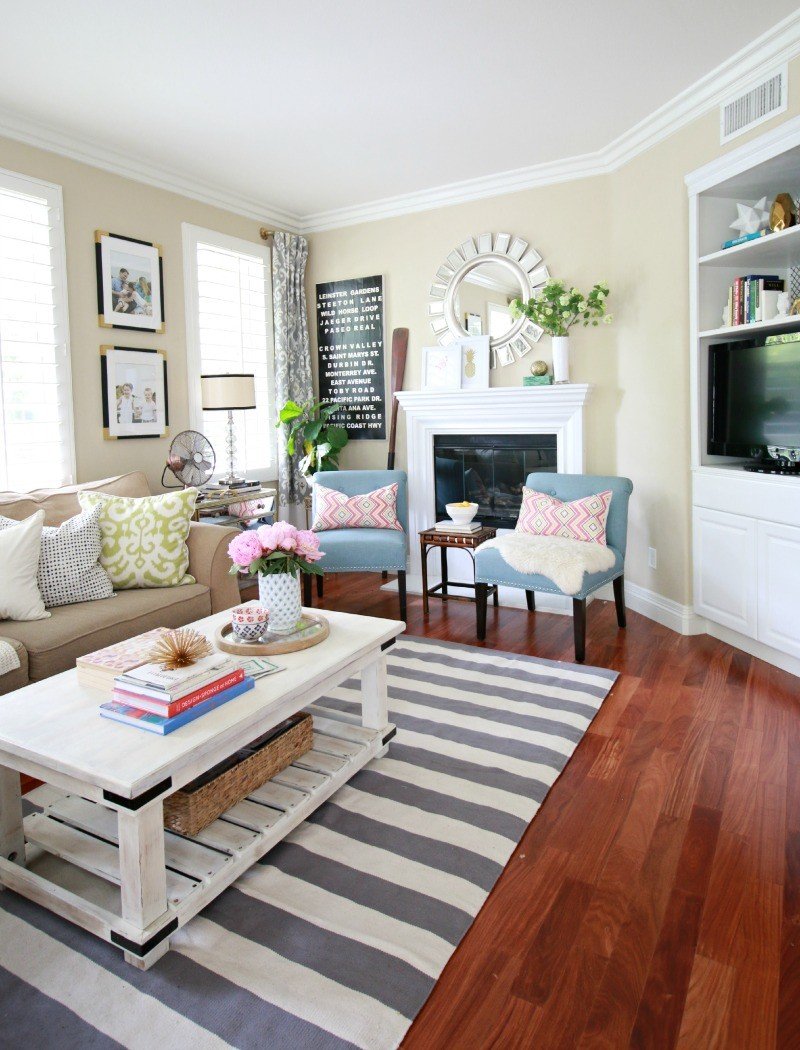 Turning to the family room. This is the space that did get a bit of a summer makeover. I normally have a black and white rug in here but swapped it out for a lighter feel. They were both total steals ($50 each) from HomeGoods so I snatched up both the gray and the black. I also swapped out the darker floral pillows for some pink and orange ones. Then I shopped my house and brought down some lighter pillows from our playroom. The number pillows were one of the very first blog projects I ever did (almost five years ago!).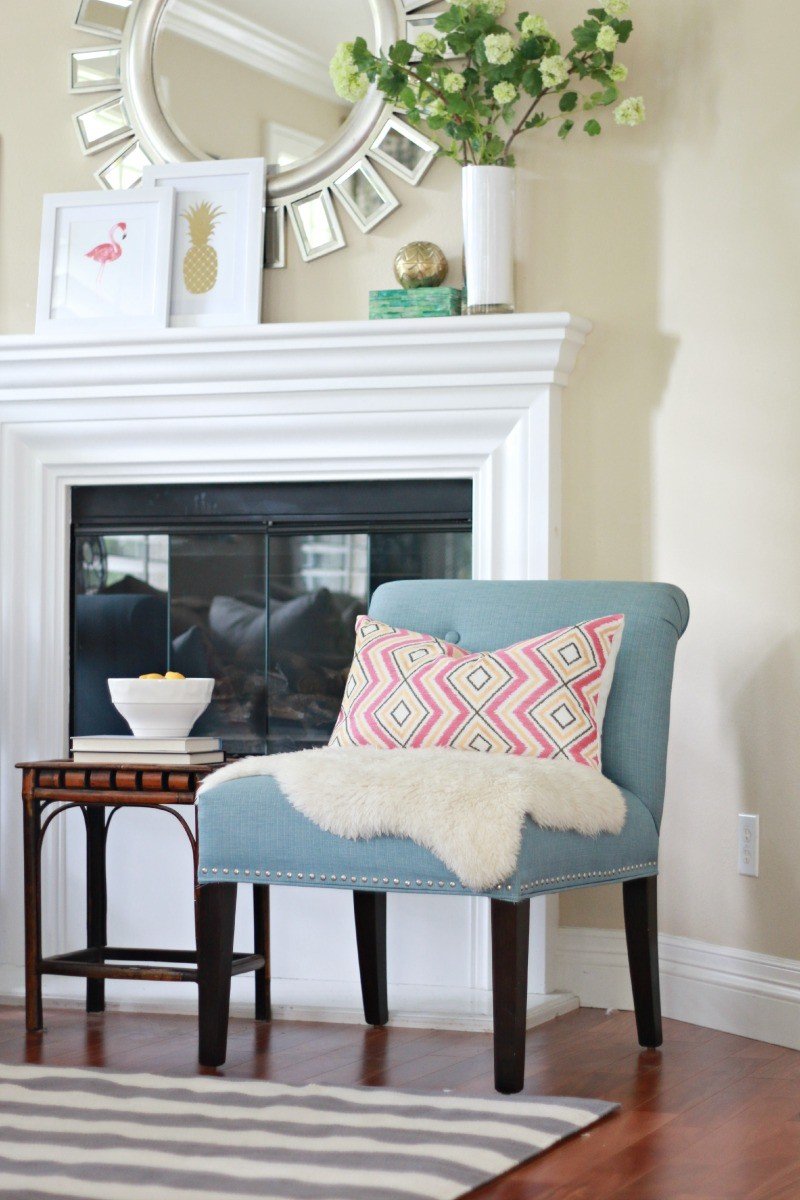 The blue chairs were HomeGoods finds a few years back. I added (ahem. . my husband added) each nailhead one at a time. I get these grand ideas and think they will be easy. Not so much. But I do appreciate the detail.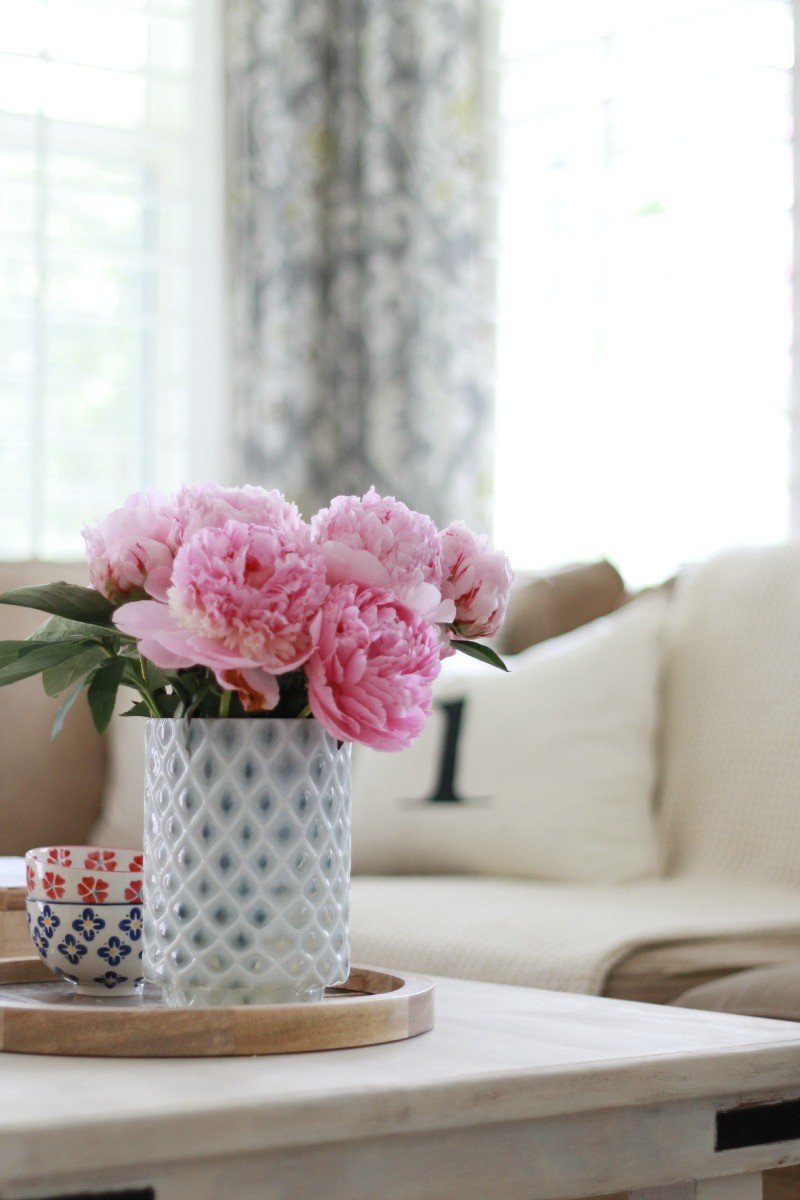 Peonies. Need I say more? They are just so pretty this time of year. The vase is a hurricane from Target.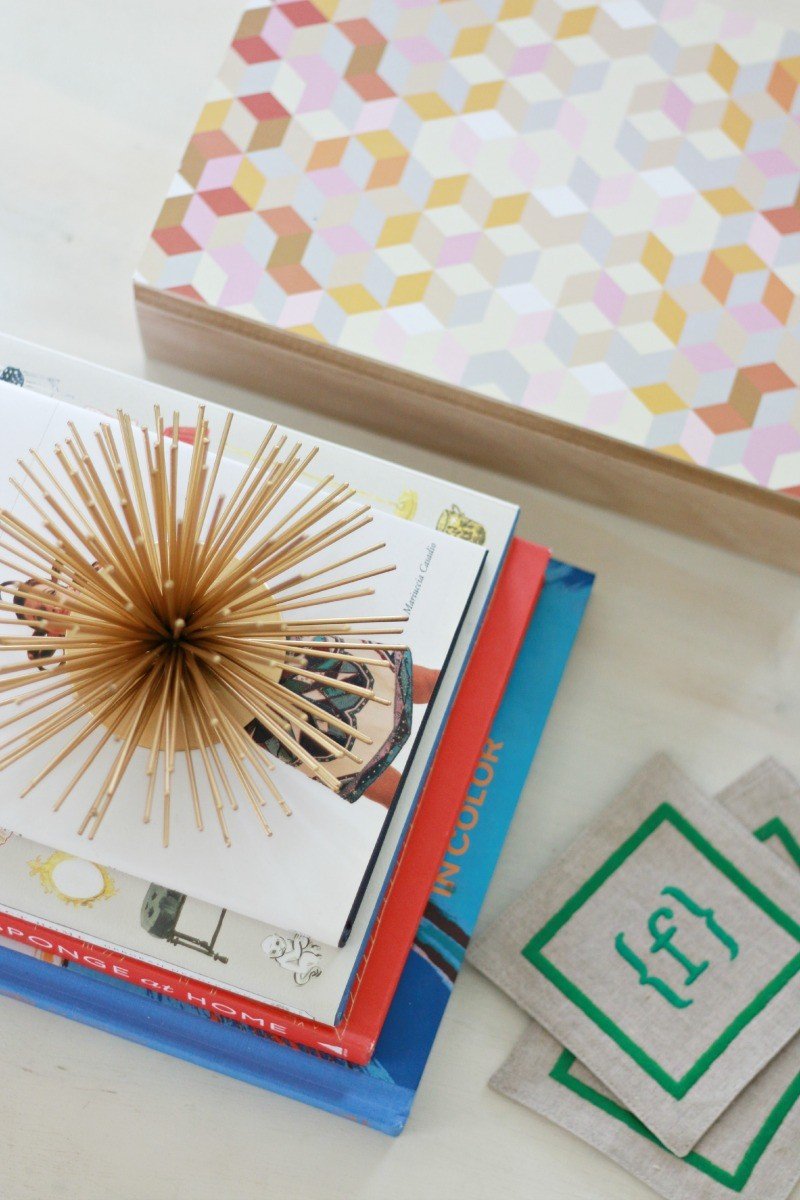 The only thing I added to our coffee table was an urchin I picked up from Target and the cute box (Hobby Lobby clearance section for $3.60). My husband kept complaining that the remotes were too hard to find in my magazine basket below. So now they have a happy home on our coffee table. The monogrammed coasters were a gift from my dear friend Megan and we use them daily.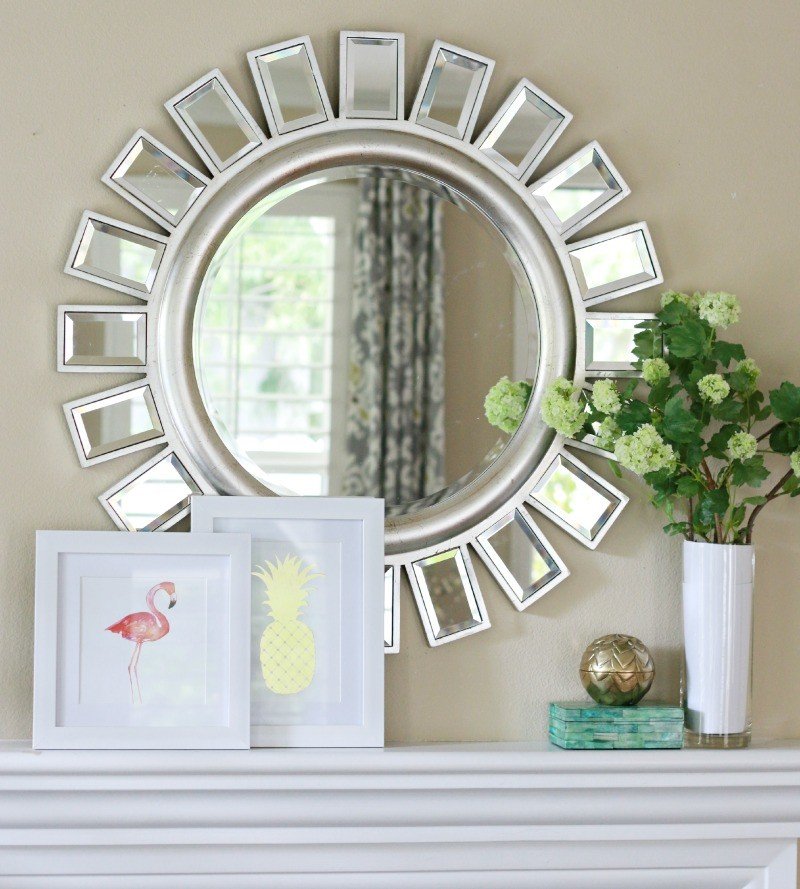 The flowers in the clear vase didn't quite look right because of the white frames. If you look closely you can see I inserted a piece of white paper to create balance with the frames. Simple trick and in real life you are never this close to see!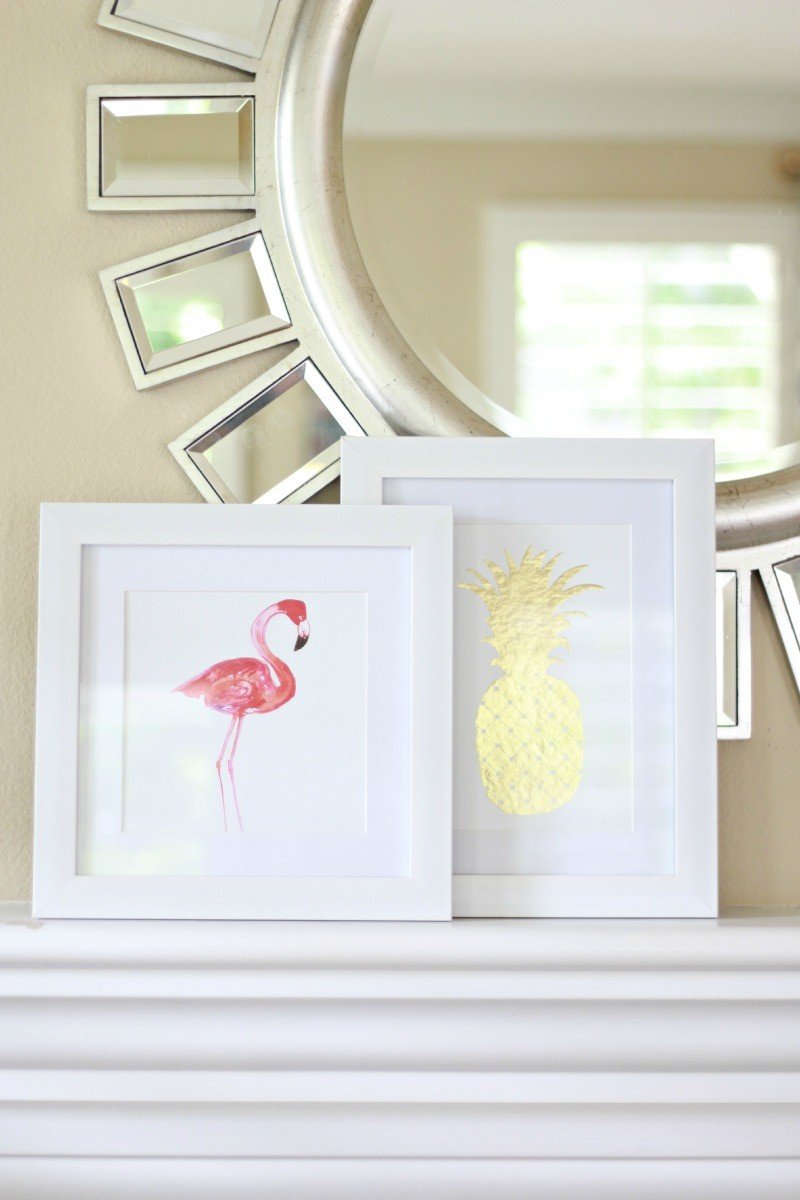 The pineapple print and flamingo were both Hobby Lobby finds. I hadn't been to Hobby Lobby in months and months. When I popped in the other day I was shocked and how cute some of their prints are. Fun finds to keep things feeling fresh and fun for summer.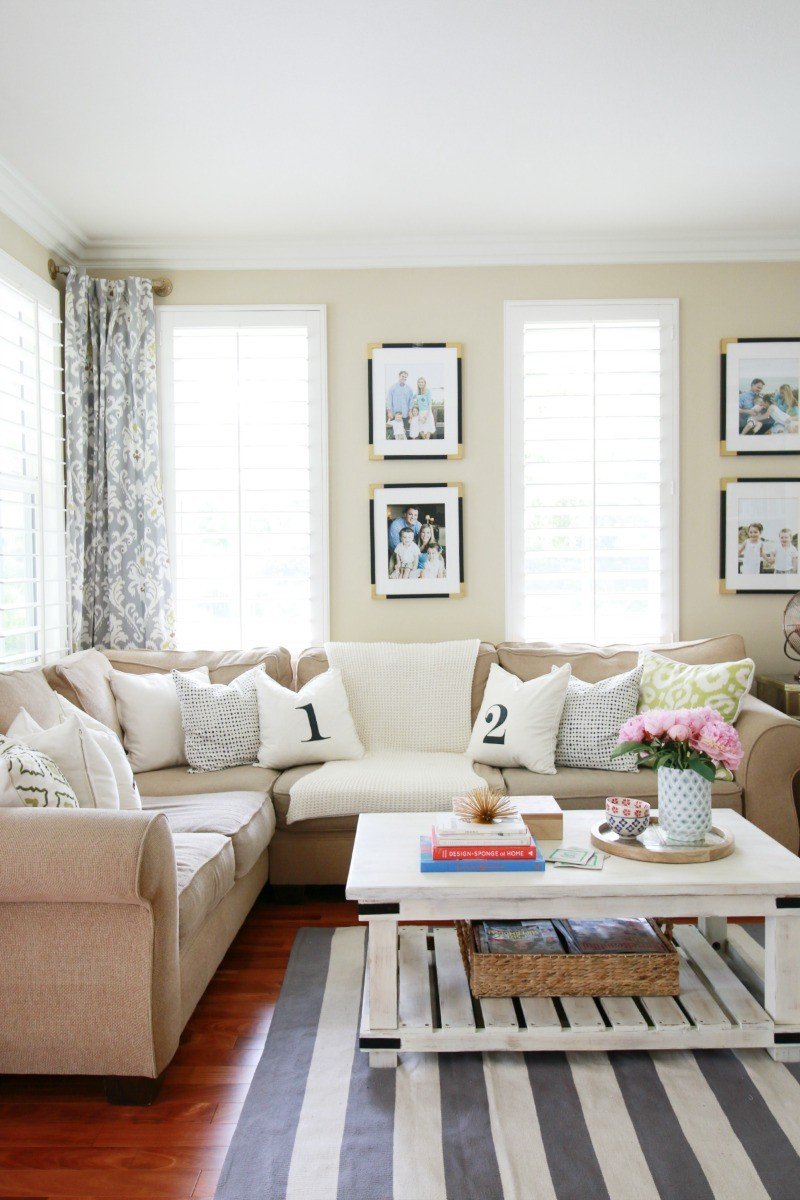 DIY gold frames | how to lengthen drapes | how this room normally looks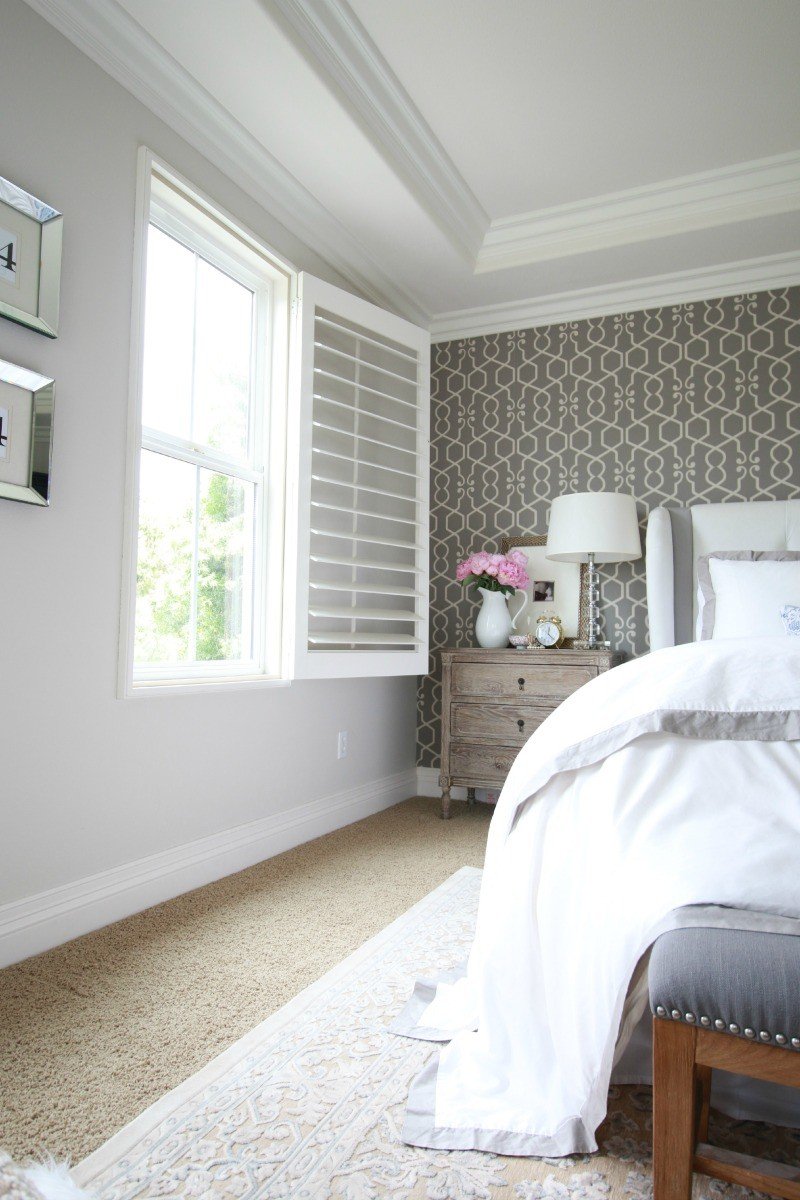 Turning to our bedroom, I really just edit for summer. I take way the cable knit throws and the warmer colors. I delete any pops of color I had in the room (like this reading corner) and stick with all whites and grays. And I will treat myself to flowers in this space on a regular basis. Summer is a time for us to throw open the shutters and let the pretty outdoor greenery take center stage.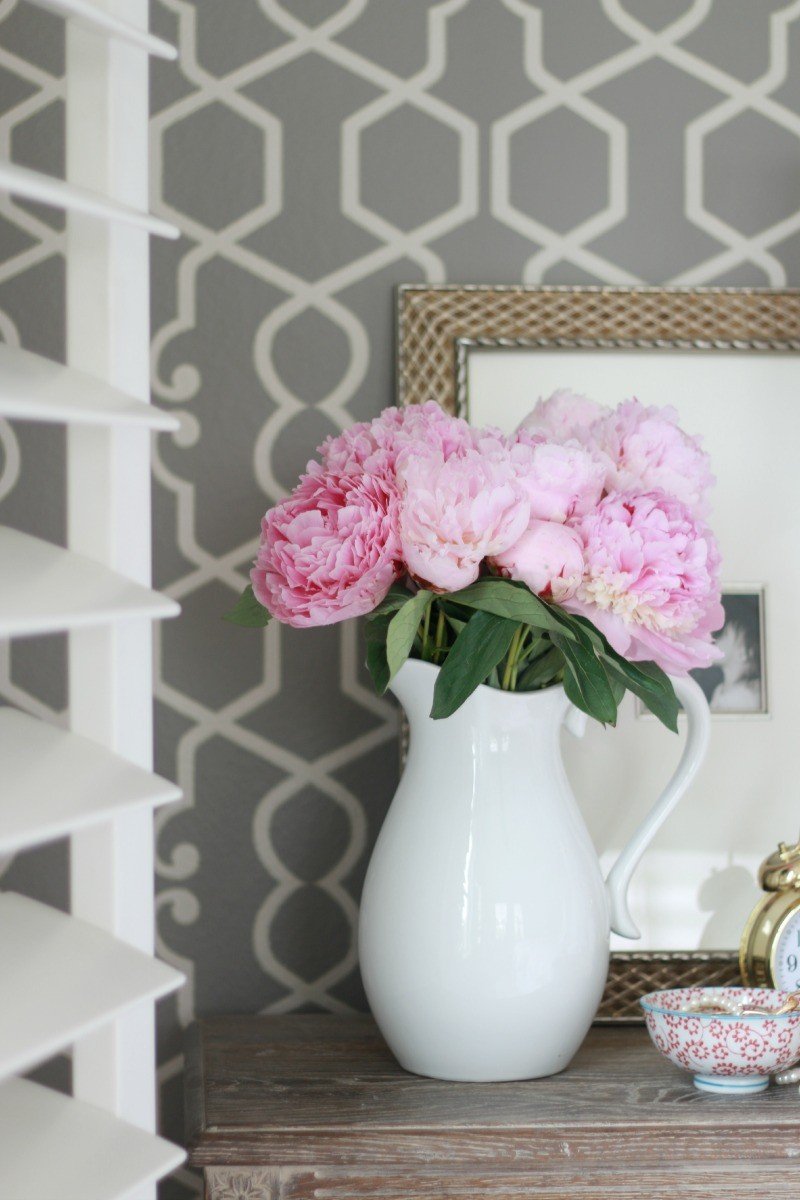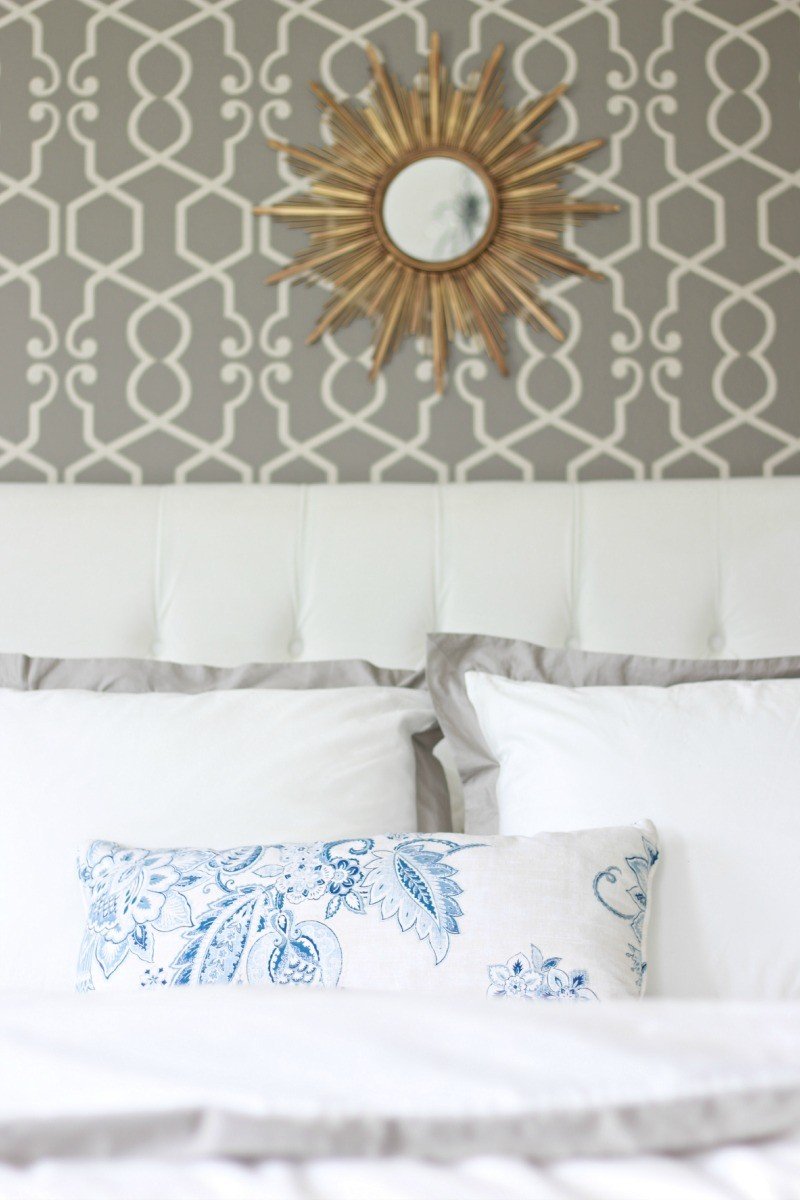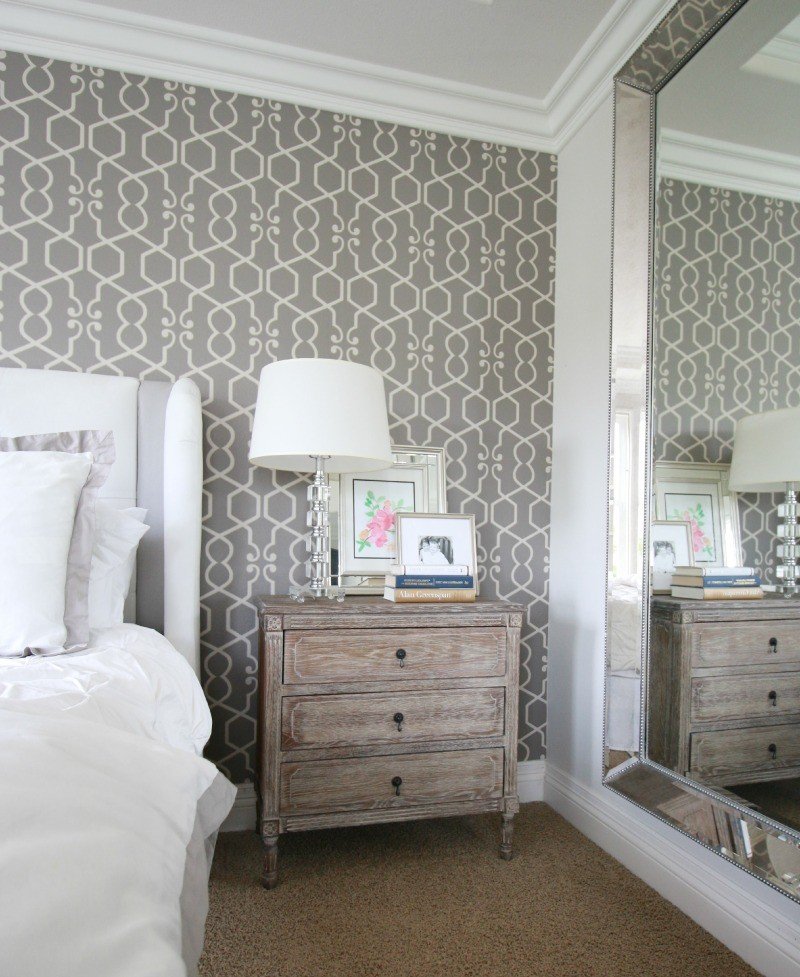 I am often asked about sources for this room. The dressers are from Restoration Hardware, the mirror is from Z Gallerie and the bedding is from Crane & Canopy. The bed was a bit of a DIY custom project you can read about here. Let's just say desperate times call for desperate measures.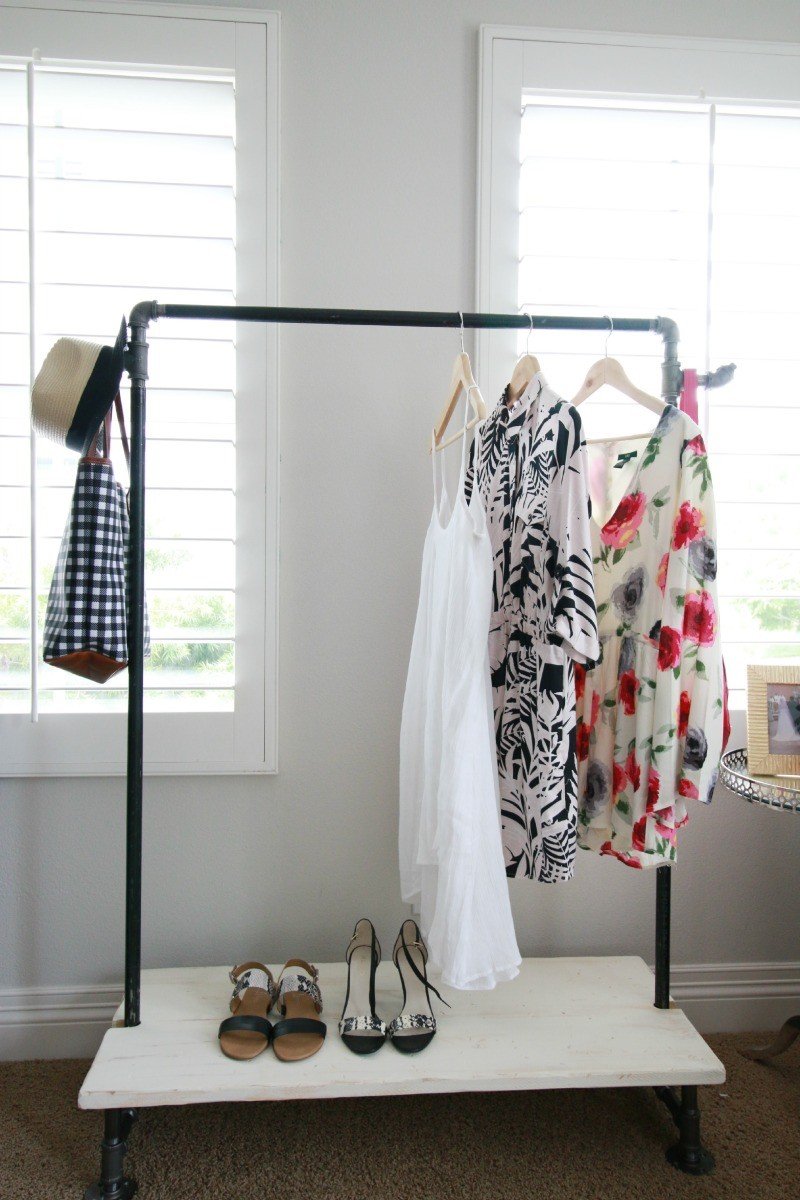 tote | hat | sandals | heels | white dress | shirtdress | romper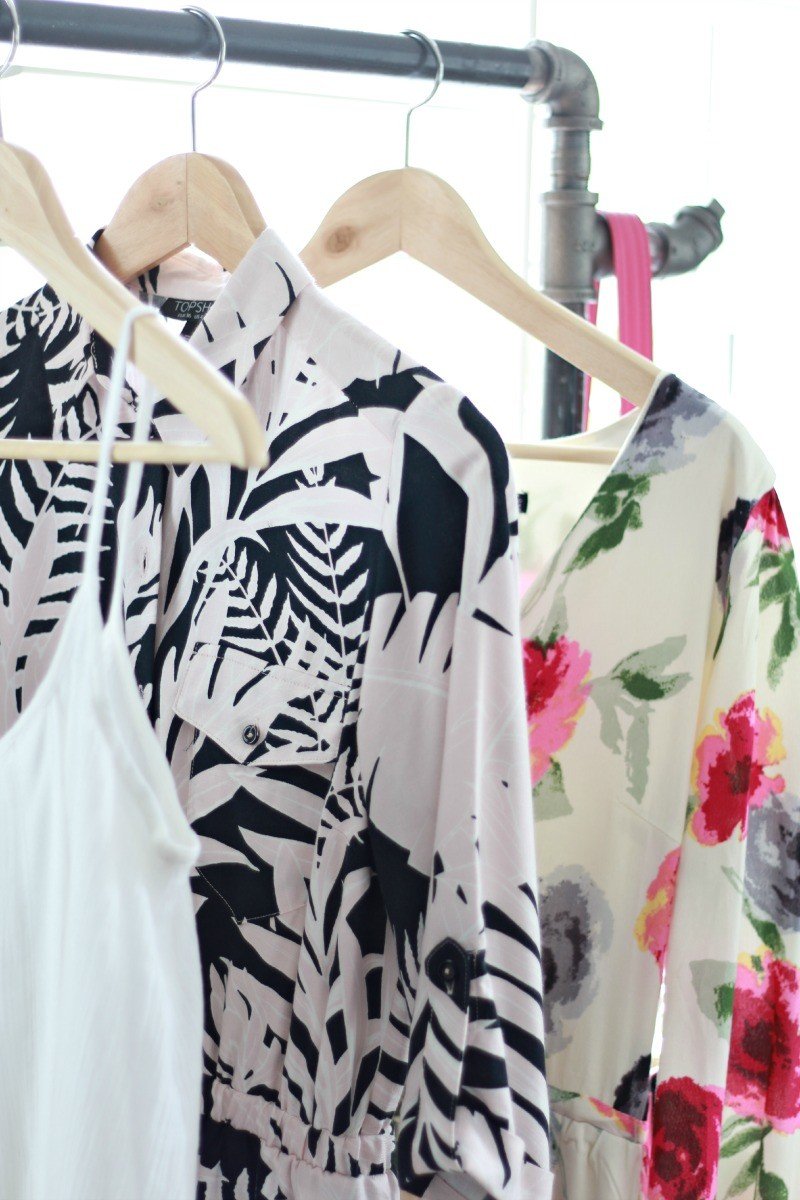 My favorite part about the warmer months is the summer wardrobe. Not gonna lie. My husband made this rack for me and I love using it to plan ahead or pack for trips. Sundresses and pretty prints make me a happy girl.
Lastly, our front porch got some love for this season. We sit out on this porch daily. Whether in the morning with coffee or in the evening with a glass of wine, my husband and I do a lot of chatting out here. It's a nice quiet spot and we are very grateful for it.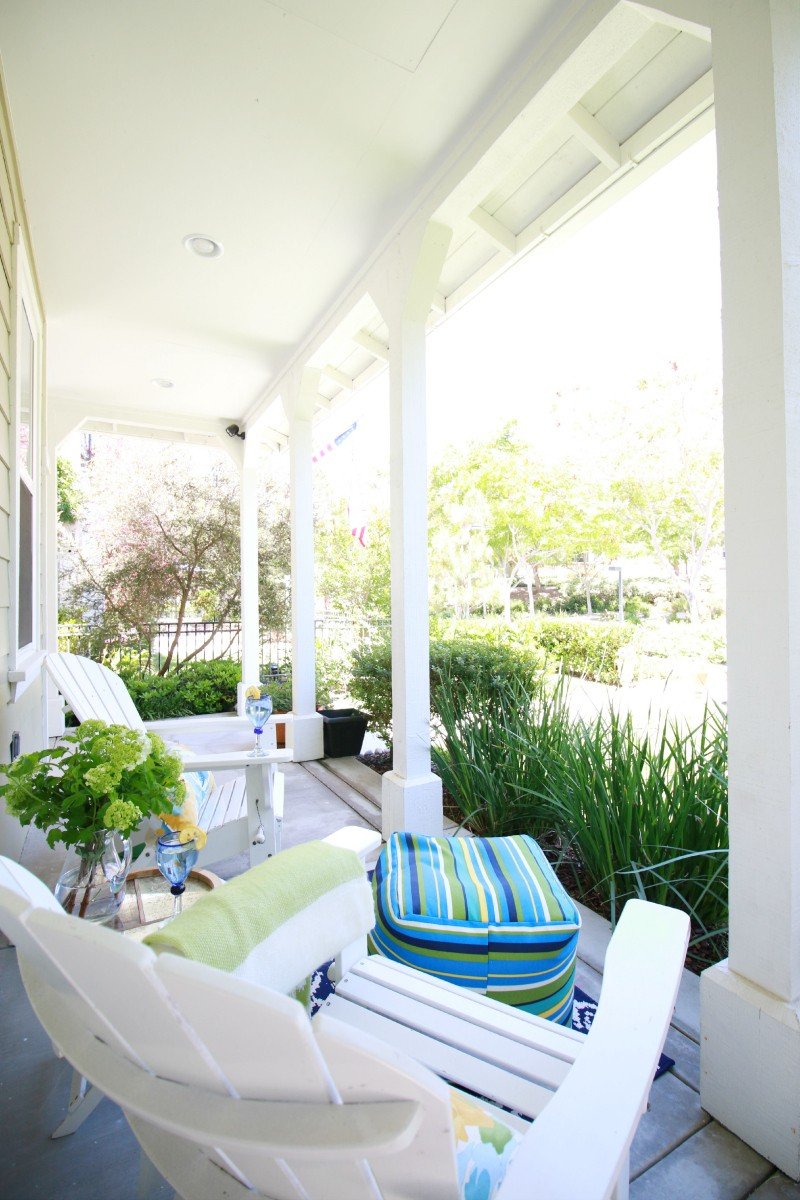 It's nice to be able to watch our children play while we relax. But let me say this about our Summer Home Tour. . . our house is rarely as picked up or clean as it appears. Yes, at the end of each night our family room is pretty darn together. Aside from games in the built ins, the children have their toys upstairs. But we are like any other family. There are shoes strewn about, piles of school papers and mom's blogging and craft projects everywhere. I do toss most of that out of sight to snap a nice photo. And when we have company or get bit by the cleaning bug, she cleans up pretty nicely. But in an effort to keep it real, please know that your messes happen here, too. It's all part of life.
Thank you for popping in to see how we try to freshen things up for summer.  You can see some of my most popular posts here and follow along on Instagram here. The tours this week have blown me away. You can get caught up below. And grab your coffee and please go visit Monica over at Monica Wants It.