Thank you so much for the thoughtful and kind comments on yesterday's holiday table. It's one of my favorites so those messages meant so much. Today, I've teamed up with Nordstrom to chat about accessories I love. I am sharing not only pieces I wear lately but have created an accessories gift guide for you. The great news is, you don't have to worry about fit when gifting your best girl something from this collection!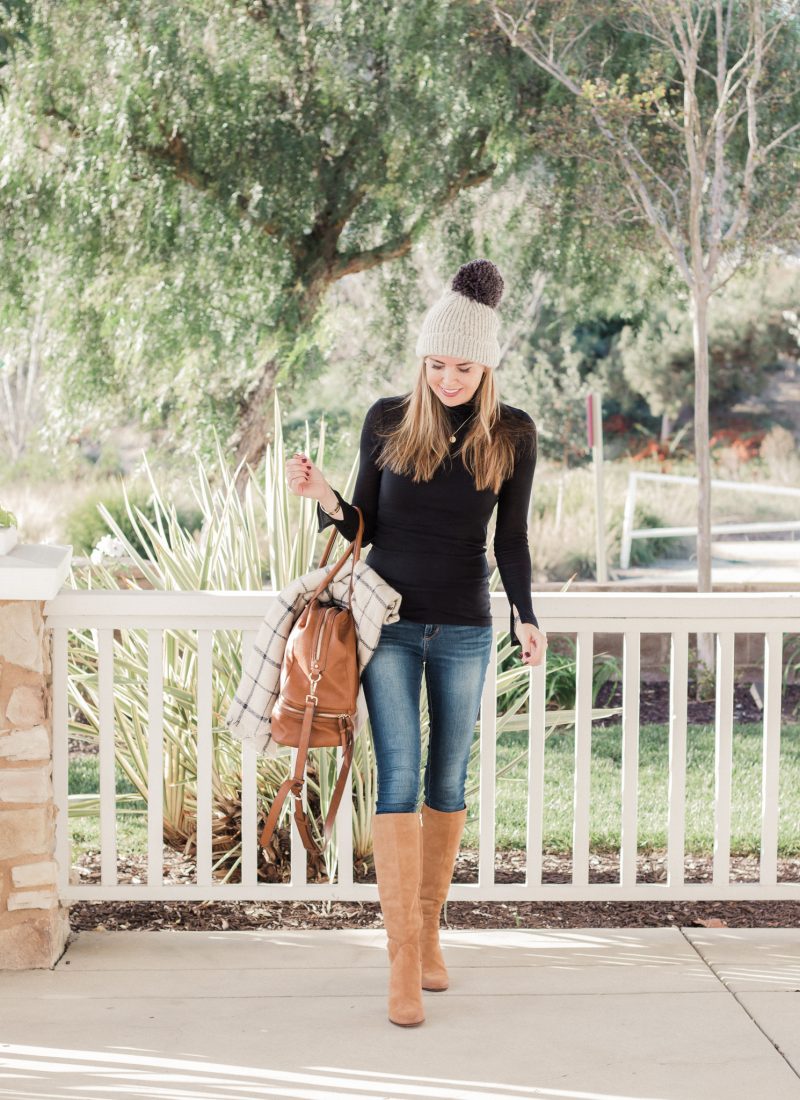 At long last, we are experiencing some cold temperatures. And with a ski trip on the horizon, mama needed a beanie. Ok, need, is a strong exaggeration of course, but darn is it cute. I am actually really picky with hats which is why you don't see me in them very often. This one has a great fit and the giant pom is darling. Nordstrom has a great selection of cute hats right now. My son always corrects me and lets me know it's a beanie, not a hat.  Geesh, mom! Get it right! Check out how cute the wrists are on this top. Love details like that.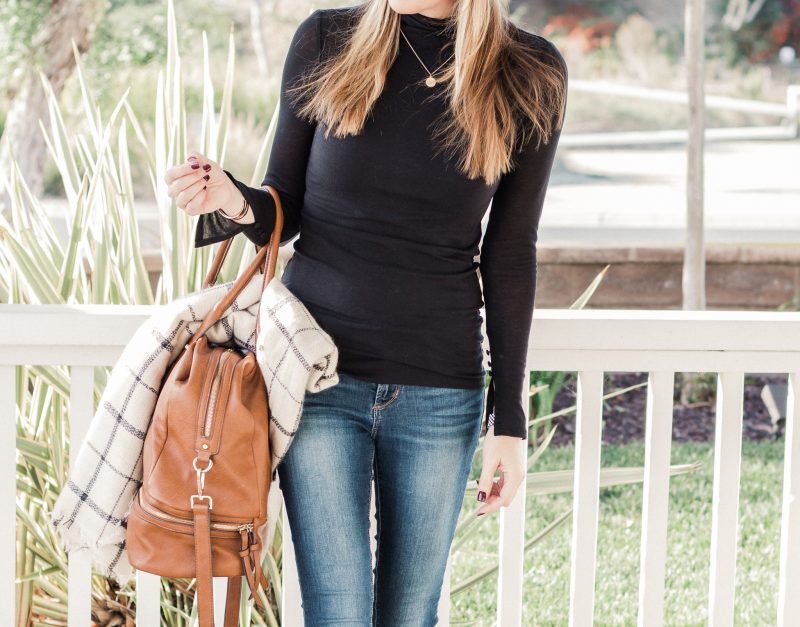 Girls, this turtleneck.  So darling!!! It's fitted at the wrists but has slits and buttons. It's so feminine and pretty. I am wearing a size small. It also looks great dressed up which I will show you tomorrow. It really is a great basic that doesn't read boring. I carry this overnight bag with me each time we travel. It's by far one of my tried and true favorites. The zippered compartment at the bottom is a game changer. It also comes in black. The jeans are only $64 and I've gotten so much use out of them.
MIXING NEUTRALS
SHOP THESE ACCESSORIES

I love giving accessories to friends and family at Christmas time because you don't have to worry about fit. I tried to curate a group of goodies that covered all price points. Most are under $50 and a few under $20. I've been wearing these sunglasses for a couple of years now. I love them. Only $14 yet the look much more expensive. The rose gold ones are my current favorite pair to wear. The plaid scarf is classic. Such a beautiful plaid. I've let Santa know that I would be crazy excited to see the suitcase under the tree. The statement earrings immediately elevate an outfit and are under $20. They are very lightweight so you don't have to worry about comfort level.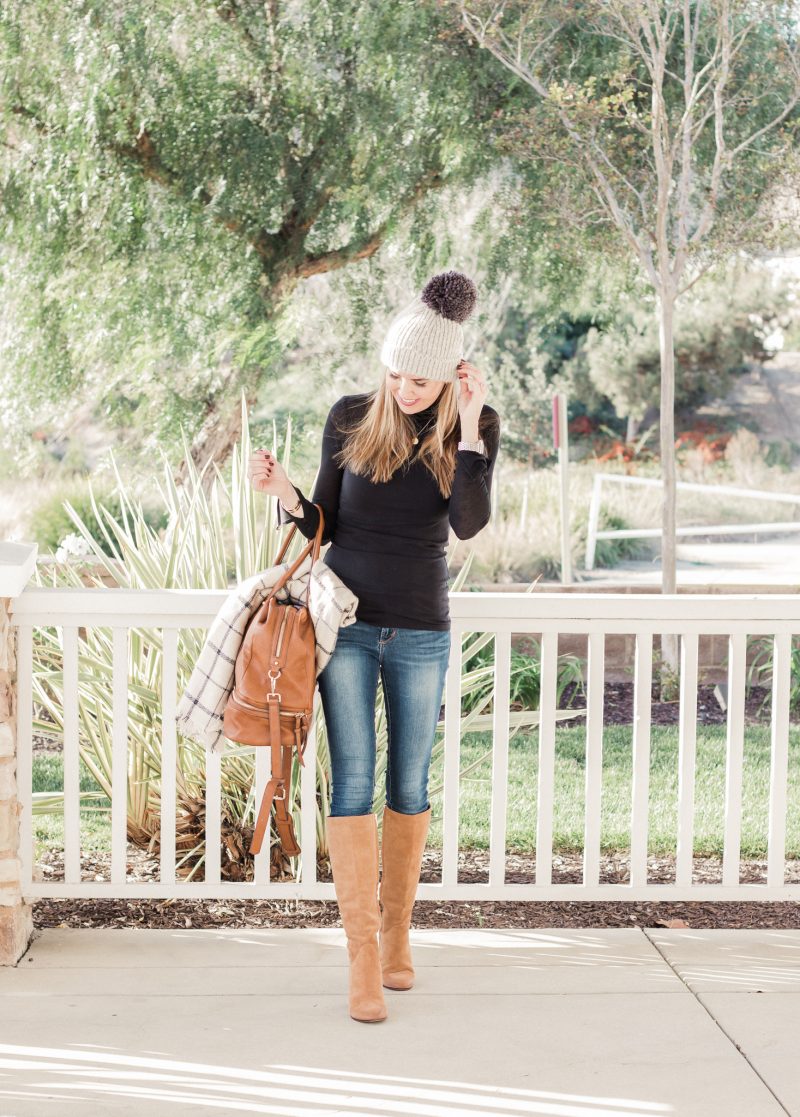 jeans | top | travel bag | scarf | hat | boots | necklace
This scarf is very soft and a classic. It goes with pretty much everything and looks great with neutrals. I love mixing black and brown together in my outfits. I think it adds more interest.
MORE ACCESSORIES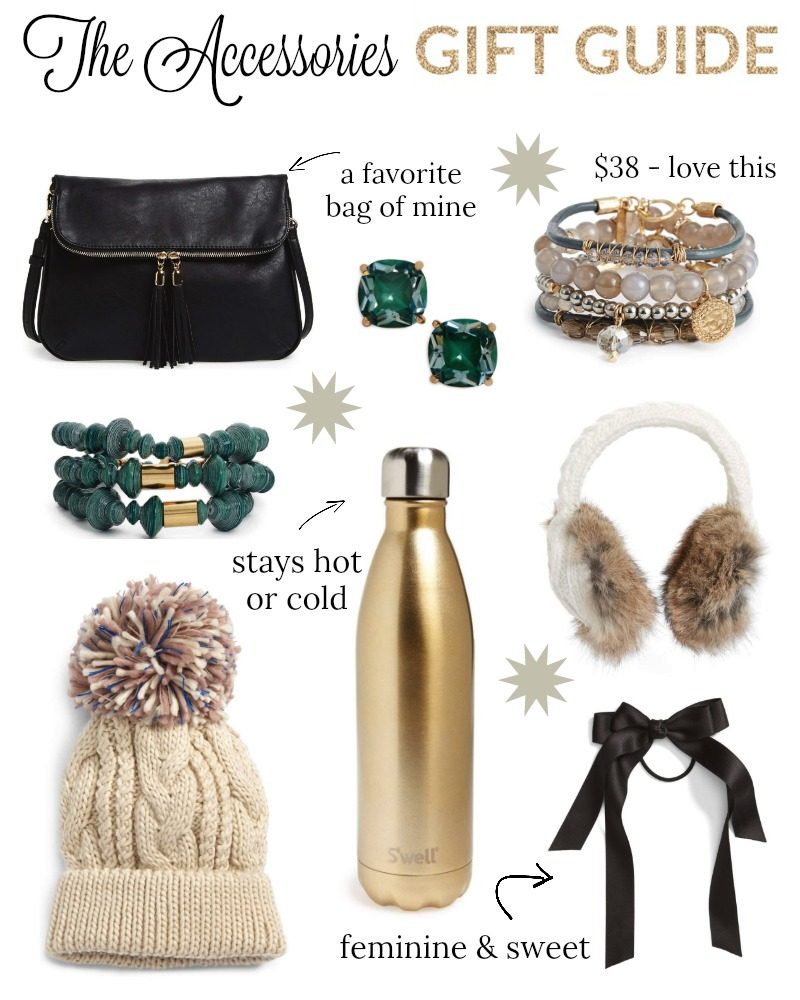 Too many cute pieces not to share. I would love receiving any of these as gifts. Here is a little bit about each.
You can beat the price of this bag. It's under $40 and one of my go-to accessories. It's very soft and looks great with any outfit. It also comes in brown.
I received earrings like this a few years back from a friend and they remain one of my favorite pairs. So pretty and a great idea for a special teacher or best girlfriend.
I always love adding a stack of bracelets to a simple outfit. These would actually look fantastic with the turtleneck and jeans. It's always great when you can buy one bracelet which makes it look like a stack of separate pieces.
This one also comes in a beautiful neutral color. There is something really charming about this pretty set of beads.
This has made my gift guide twice because you can't go wrong with this. Any active gal who is on the go will appreciate a shiny new swell bottle.
So in Southern California, I will never need these but I wish I did. I am thinking about buying these for my niece who is back in school where it's freezing. So cute. I love the faux fur and cable knit combination. Something girls wouldn't usually buy for themselves. Fun gift idea!
Just darling, don't you think?  Always a sucker for cable knit and this beanie is only $15.
A little fun fact about me is that I wore a bow in my hair for the first 12 years of my life. Seriously. My mom always had my hair in buns with bows or a pony with a ribbon. So when I see this it brings back so many memories. I love pulling my hair back into a ponytail during the holidays and a satin bow makes the outfit.
I hope these ideas help you accessorize your own outfits or better yet help you gift someone you love.

If you are still shopping for someone special, there are more ideas in my complete gift guide. 
Please continue to keep the people of California in your thoughts. The destruction from fires has been unbelievable and so many families are now without homes.
Wishing you all a wonderful day. See you back here tomorrow with a really fun holiday look.
*Proud to partner with Nordstrom on this holiday post. Affiliate links used.