Spring is officially here. While it may not feel like it, one day it will and I'll be ready. Girls! When I found this jumpsuit in the store I wanted to call up all of my girlfriends. That includes all of you. It's one of those finds. So good. Let's get right to it.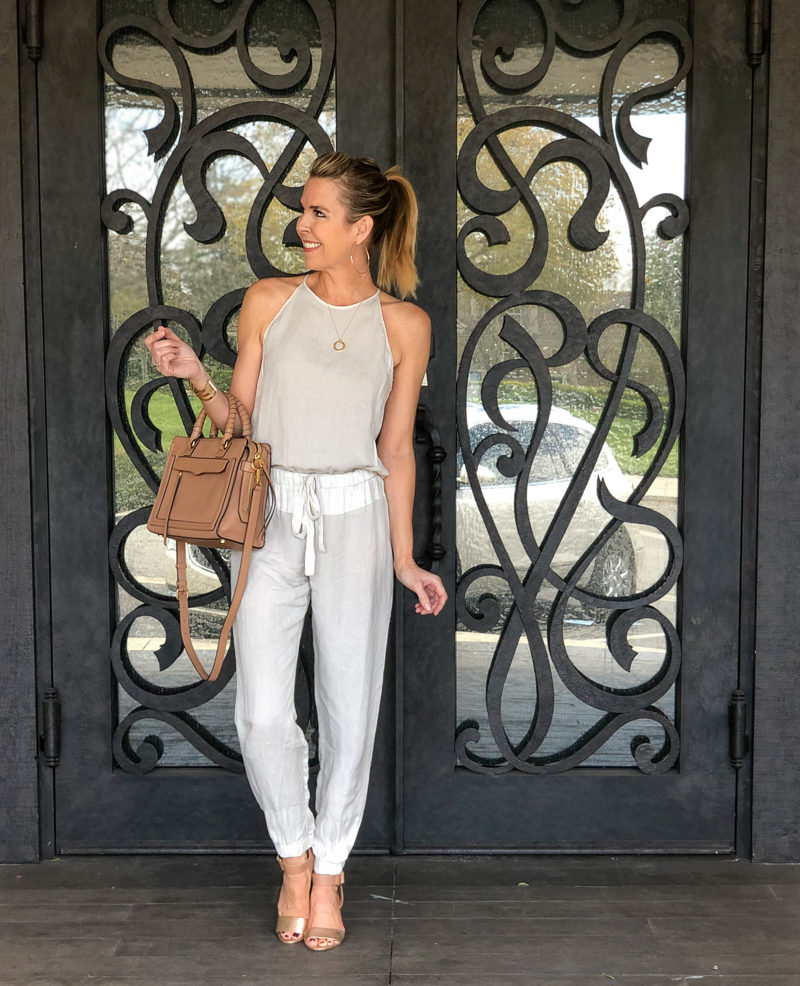 First of all it's by one of my all time favorite brands. They make the cutest clothes and they are always so comfortable and soft. It's a linen blend and I love the satin detail along the waist, on the sides, and along the ankles.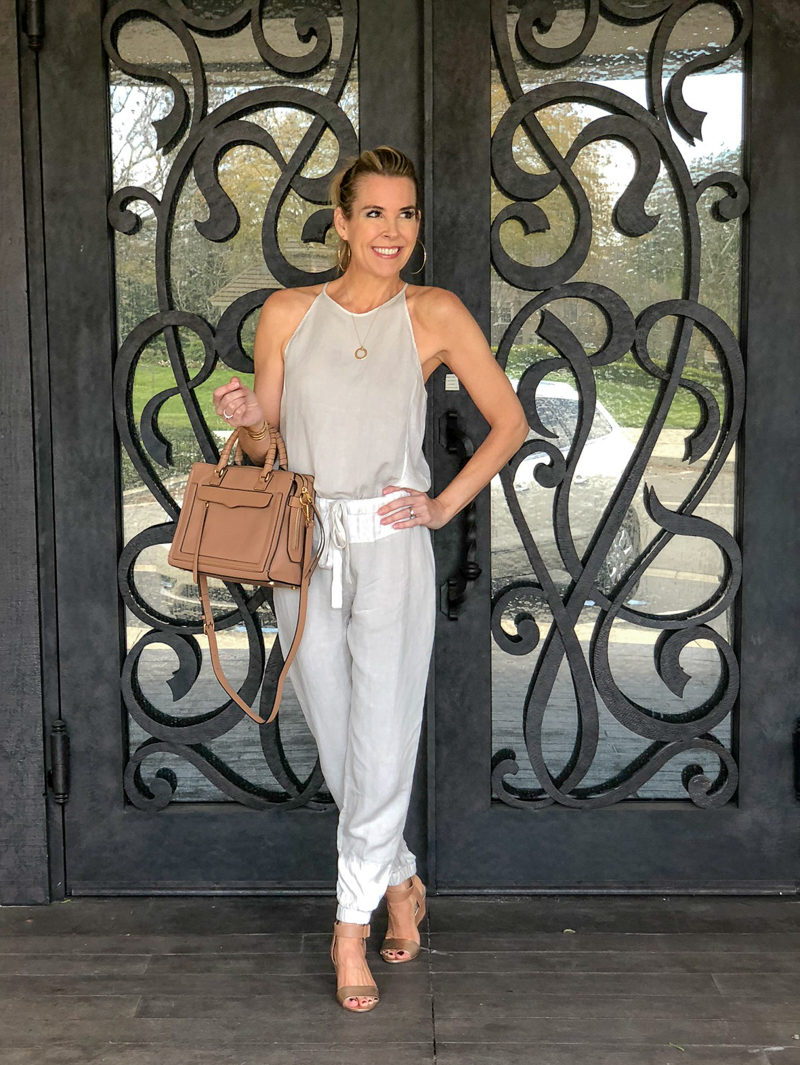 jumpsuit | hoop earrings | wedges | handbag | necklace
Because this jumpsuit has a drawstring, you can customize it to fit your body. I am wearing a size small. Are you ready for this. This darling jumpsuit is $39. Yep. You read that correctly. And it comes in black, too. Ummm. Outfit done! I paired it with my rose gold wedges. They are a classic shoe and go with so many outfits. But this would also look great with flat sandals ( I love these).
THE DETAILS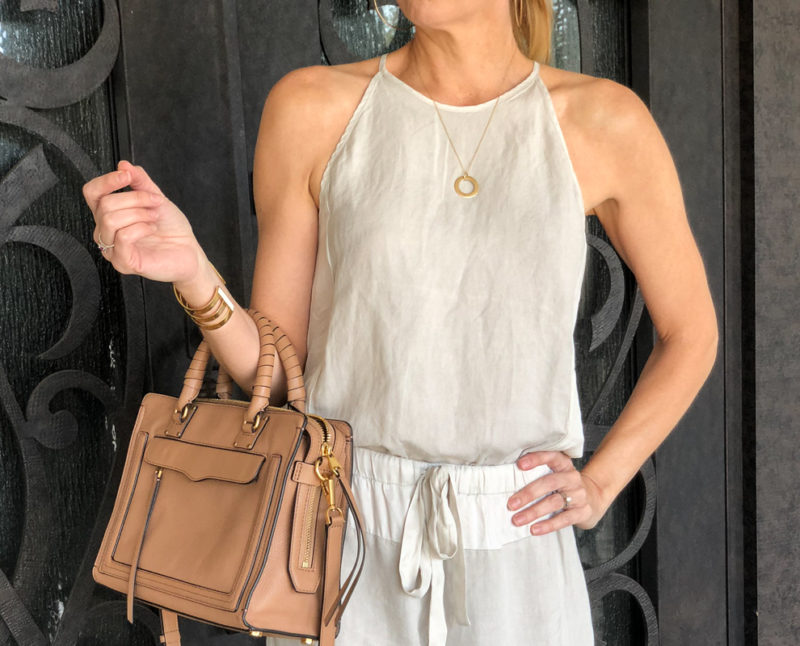 The gold circle necklace (personalized and very dear to my heart) and gold hoops keep the look clean and simple. I scooped up this handbag on clearance but found it here. A less expensive but similar handbag can be found here.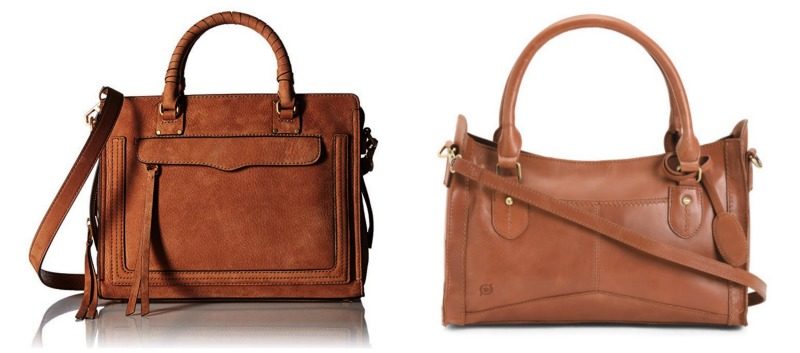 If you're needing a little bit of a glow, I love this self-tanner. It doesn't have a funky smell and goes on really easily with this mitt (the mitt is a must). It dries quickly and color shows up in just a few hours. For those of us with Irish skin, it definitely gives you a nice amount of color.
If you have never used a mitt it is life-changing. The natural oils in your hands mess with the bronzer. The mitt allows it to go on evenly and without streaks. Plus it keeps your palms from turning brown. I've had my mitt for over five years so it's really just a one-time purchase but makes the world of difference.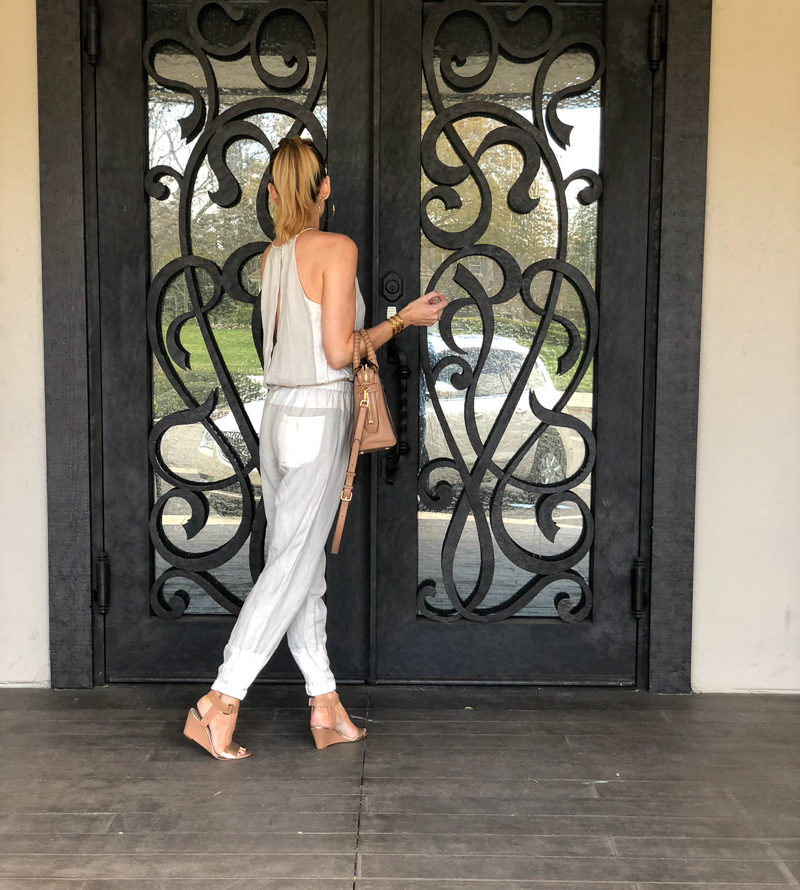 The back on this jumpsuit is so cute. It's slightly open. I wore it with these (my favorite) but it would look just as cute with a lace bandeau bra. This strapless bra has a really pretty lace band in the back which makes it ideal for anything with an open back. With this type of look it wouldn't be a problem at all to see a pretty lace bra peeking through. The back pocket is so cute and adds to the casual vibe.
SWEET SHOES
You can catch a better glimpse of these wedges here, too. Great quality and have stood the test of time.

These wedges come in so many colors. The black one is new this season. Love the heel on that one. Really cute.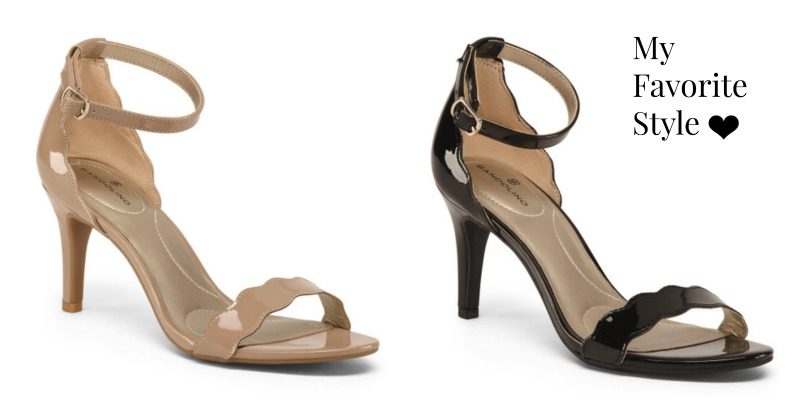 You all know I am a huge fan of this style of heel. I honestly feel like if you are trying to keep your wardrobe to a minimum, these heels ( in black and nude) will work with EVERYTHING. I wanted to share these because the scallop detail is darling plus the heel is not too high.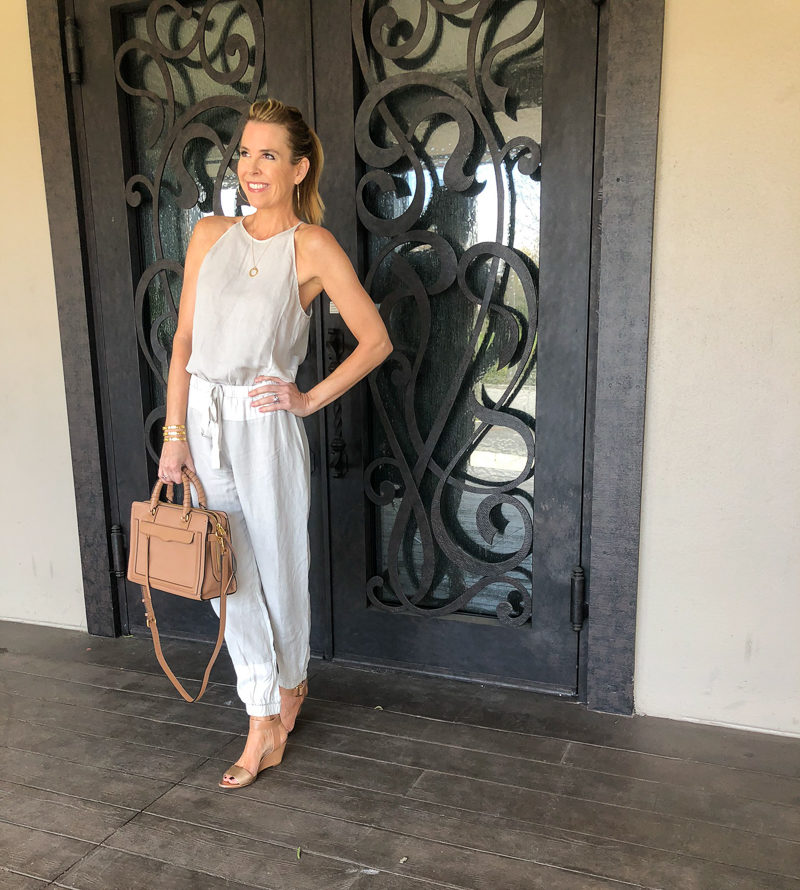 You know it's a good piece when you don't want to take it off. This jumpsuit is flattering and fun to wear. I used my handheld steamer to get out some of the wrinkles. But it's a linen blend so a few wrinkles here and there are expected. I am ordering the black one, too.
JUMPSUIT LOVE
I narrowed down one zillion jumpsuits to this collection below. You can click on each photo for details. They are all really cute!!! I wish each one would show up in my wardrobe.

If I had an endless jumpsuit budget, I would be adding this one to my cart. It's gorgeous, right?! Would be really pretty for a formal event in the Spring or Summer. If anyone buys it, I will live vicariously through you.
Wishing you all a wonderful day. I am having a small procedure done on my hand this morning so here's hoping I can still type after! Wish me luck.
*affiliate links used