Ladies, I am so excited to share these three Amazon looks with you today. These are the kind of finds that after trying them on, I immediately send the links to my sister because I think she will love them, too. While they are all under $50, each one looks high end and would be appropriate for so many summer functions. In fact, I think they can all be worn year round if paired with the right accessories.
PRETTY PLEATED DRESS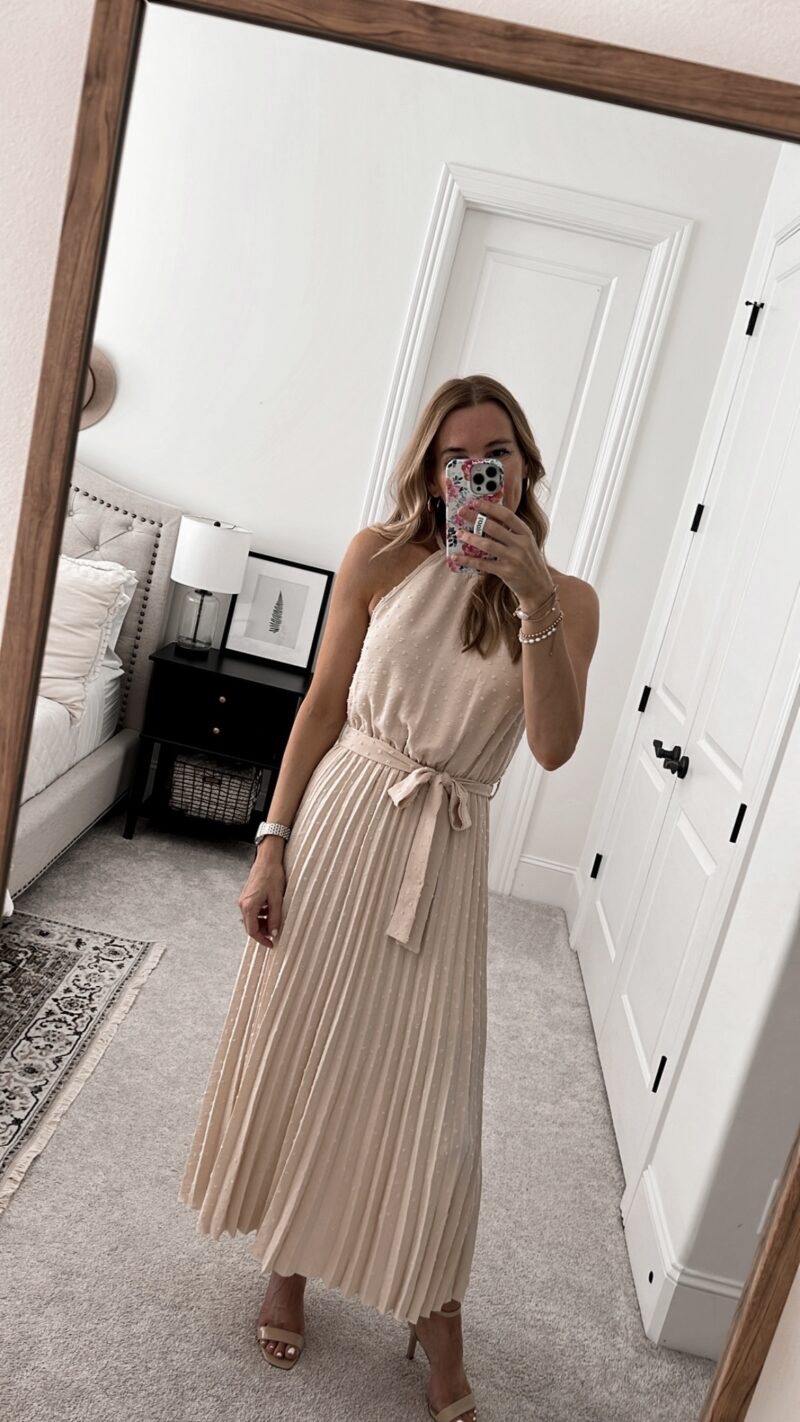 Hands down, this may be my favorite dress to date that I have ordered from Amazon. It comes in so many pretty colors. This is apricot but it reads like a pale ivory/taupe. I am wearing a size small which is my usual size. I can't say enough great things about this dress. The steamer worked really well to release the wrinkles from shipping and I love everything about it.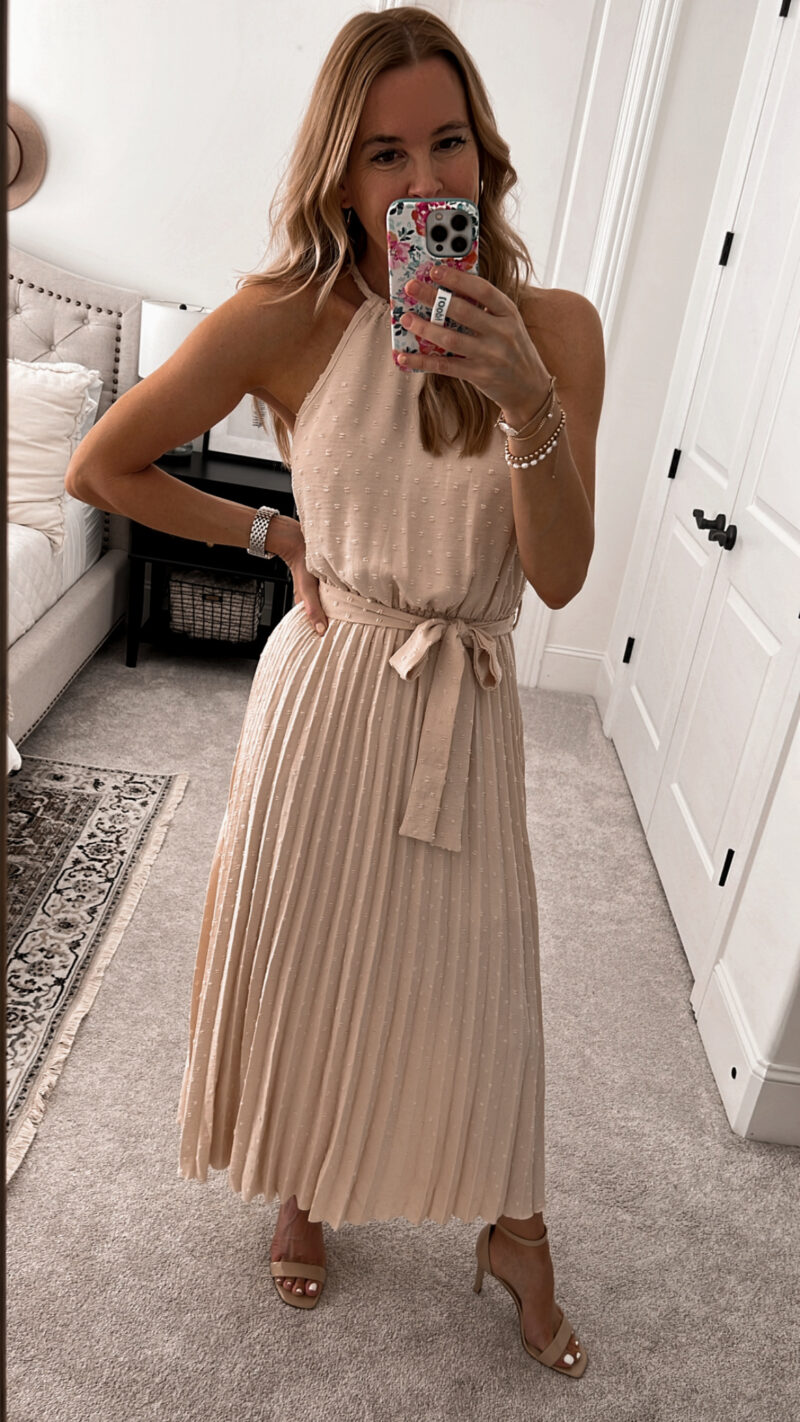 This dress ($45) reminds me of something from Anthro or White House Black Market. It is fully lined and very comfortable. This is a good one, ladies. I will absolutely be adding another color to my wardrobe. It would be beautiful for a graduation, date night, bridal shower. . . pretty much anything.
MORE PLEATED GOODNESS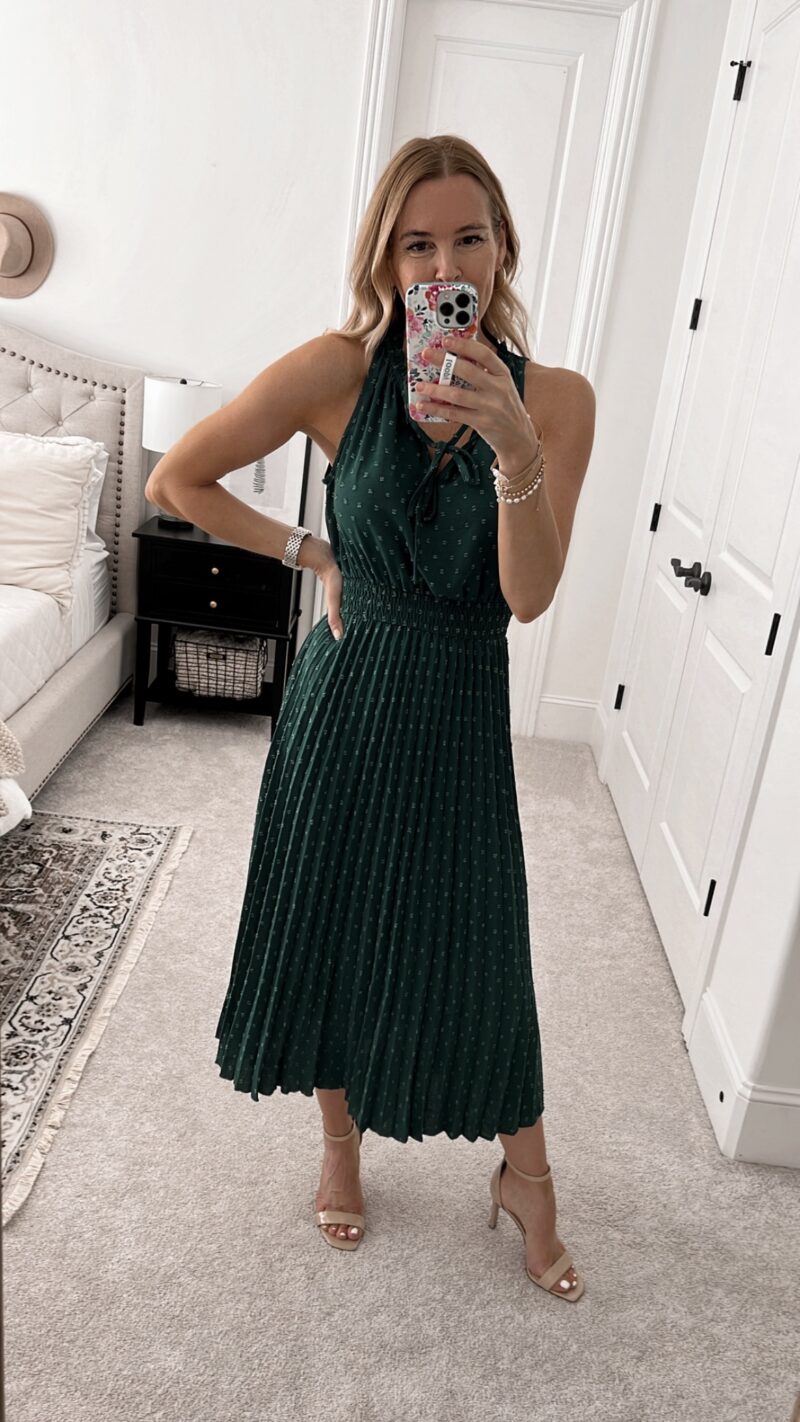 This is the same dress, but in certain colors the style changes. If a tie around your waist is not your thing, this is a darling option. This particular style is not lined but I didn't find that to be a problem. I am wearing a size small in this, too. This colors is called dark green.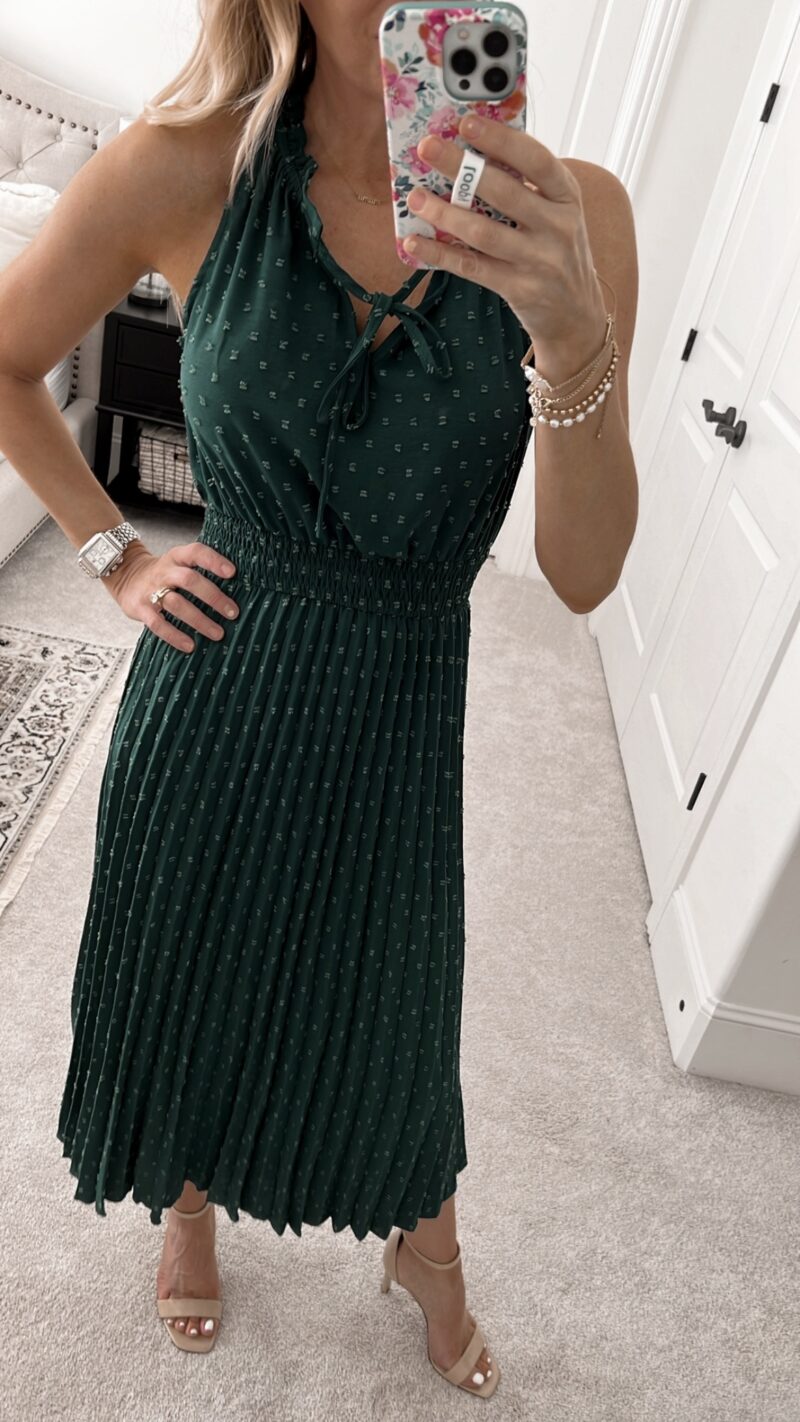 Wanted you to see the print and fabric up close. I still can't believe these dresses are under $50 (plus they arrived in two days).
THE PERFECT JUMPSUIT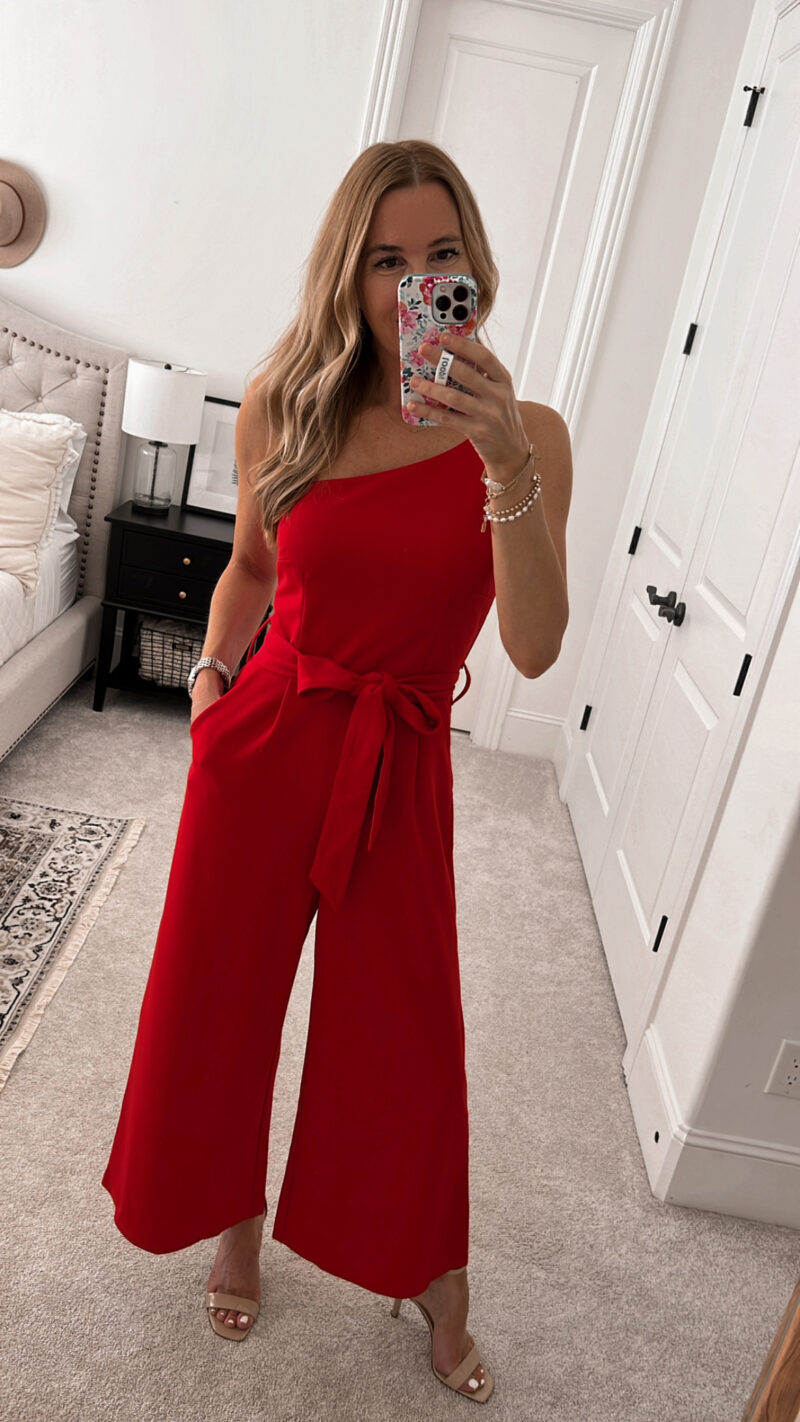 Last but not least, the most perfect jumpsuit for under $50! What? It honestly feels and looks so much more expensive. I love the a-symmetrical neckline and pretty bow. This would even work during the holidays with black heels and a pretty clutch. For a summer look, I would pair the red with a straw clutch or something very neutral. Now that I know I love this, I might order the hot pink for summer.
If you are curious about a bra with all of these, I love this sticky bra but this strapless bra is without question the best one I have owned. It's worth the money and very comfortable.
My heels are a staple around here. They are my favorite style to wear with almost everything.
SUMMER STYLE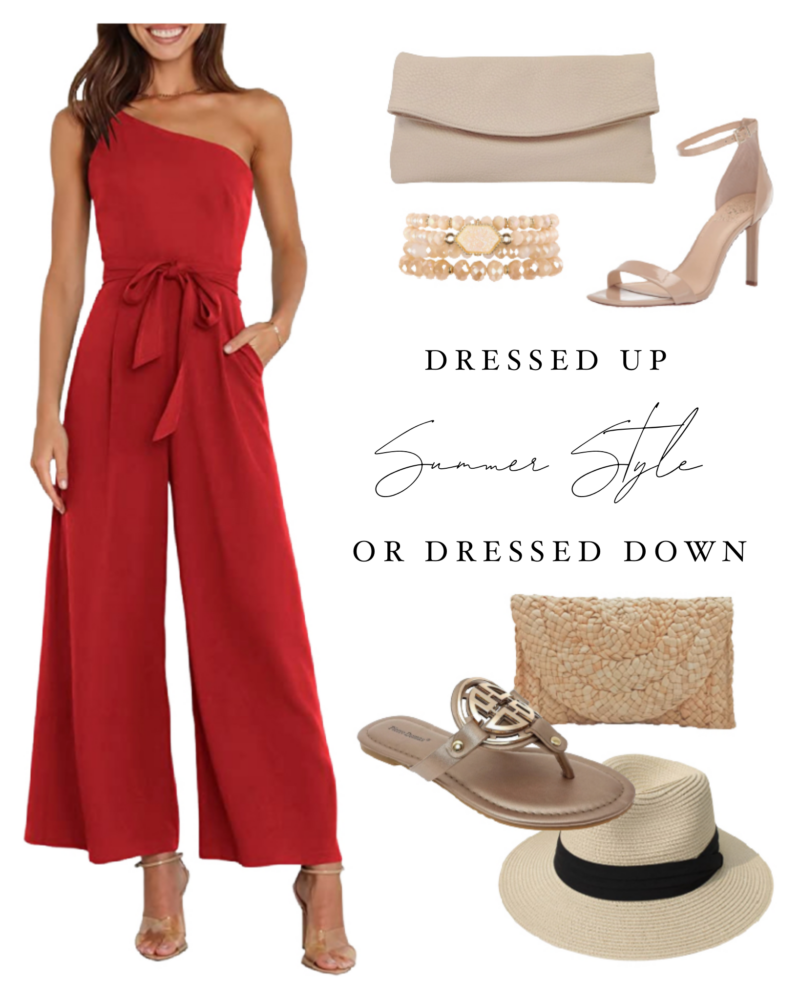 This jumpsuit is so great for vacation because you can dress it up or down. Plus it's just darn cute.
Let me know if you have any questions about fit. I truly love these three looks and hope they are helpful if you are shopping for an upcoming occasion.