Let's do this Monday! Trading in our Monday Morning Wrap-Up post for a fun summer cocktail recipe for this month's Michaels Makers' challenge. I chose to highlight their darling watermelon picnic line. It is vibrant and fun and instantly looks like a good time. I also stumbled upon an amazing watermelon margarita recipe that is sure to be a summer favorite over here.
I was shopping in Michaels with my sweet mom and she even went nuts over these darling mason jars. They don't get any cuter.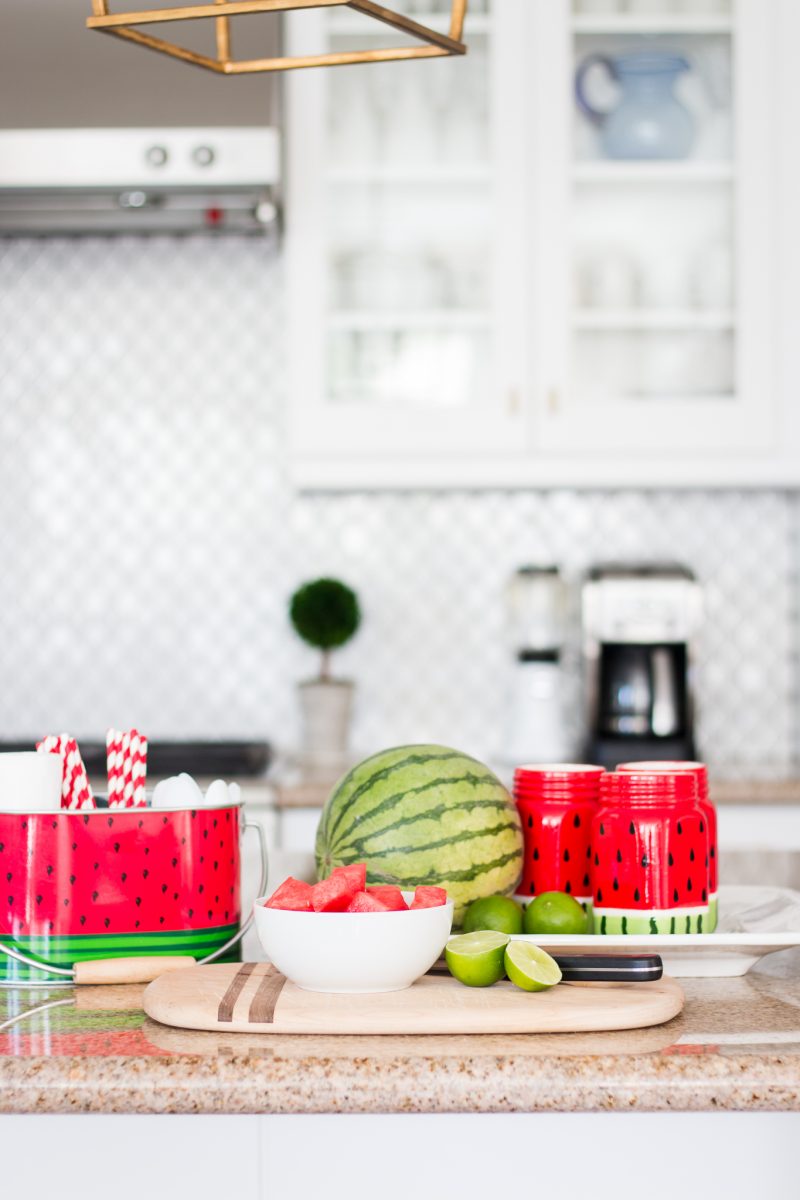 I scooped up that watermelon utensil caddy. It will be so cute this summer for outdoor dinners and barbeques. I like to use utensil caddies as teacher gifts. They look great wrapped up with fun things for an outdoor picnic or much-needed school supplies.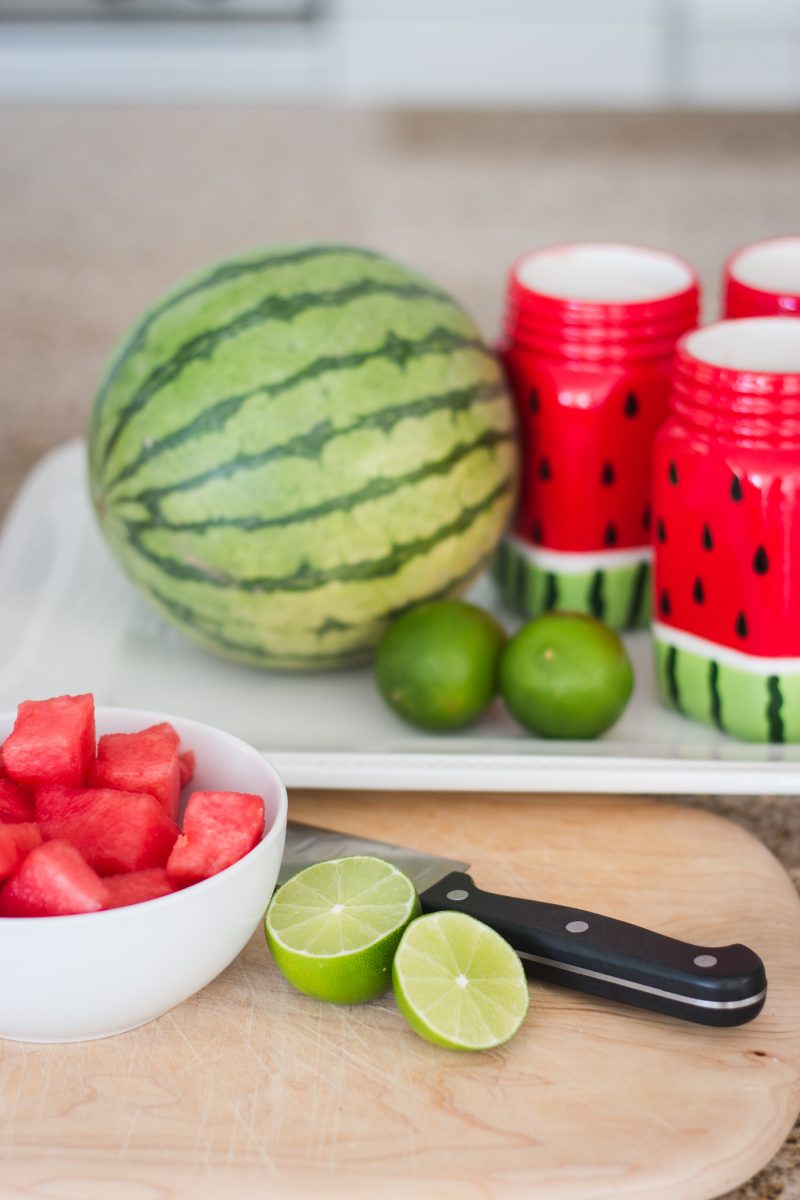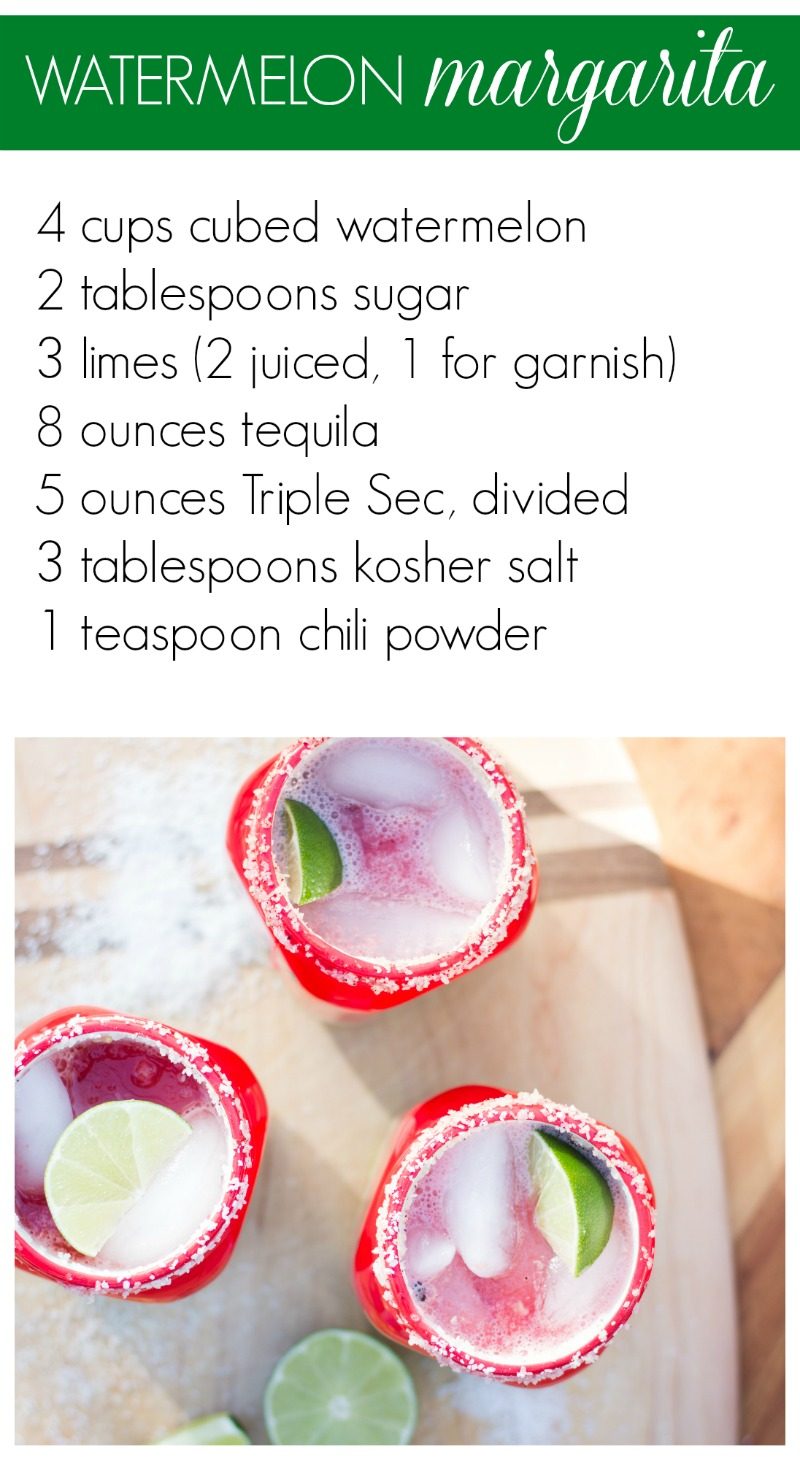 DIRECTIONS
In a blender, puree the watermelon and sugar until smooth. Pour the puree through a fine mesh strainer. Transfer the liquid to a pitcher and add the lime juice, tequila and 4 ounces of the Triple Sec. Stir to combine.
In a shallow dish, combine the kosher salt with the chili powder. In a second small plate, add the remaining 1-ounce of Triple Sec. Dip the rims of 4 margarita glasses in the Triple Sec, then coat them in the salt and chili mixture. Divide the margarita between the 4 glasses and garnish each with a lime wedge.
After coating each rim, I filled the mason jar with ice and then poured in the margarita mixture. Delicious. So so refreshing. I am super excited about this summertime find.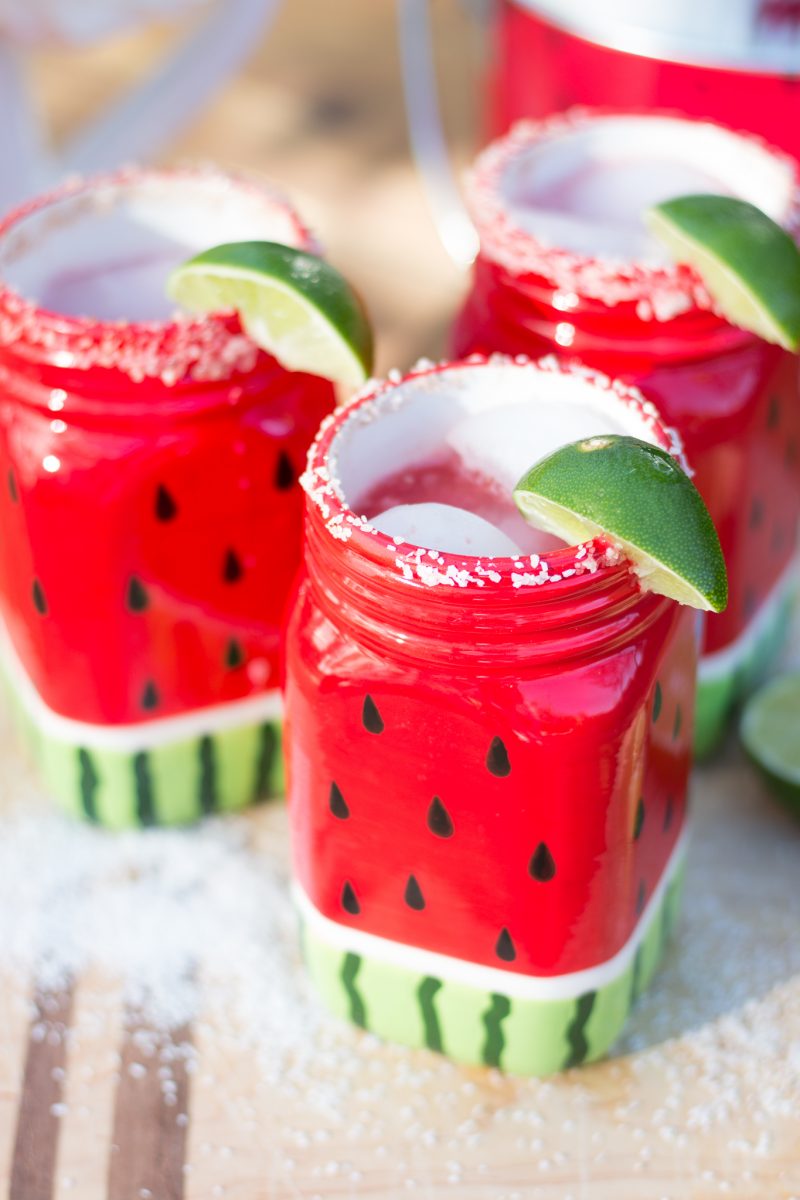 These jars are pretty hard to resist. But you don't need to just use them for beverages, I think they are going to look great down the center of my outdoor table filled with white roses. They add such a happy vibe. They would also be cute with ice cream floats for the kiddos.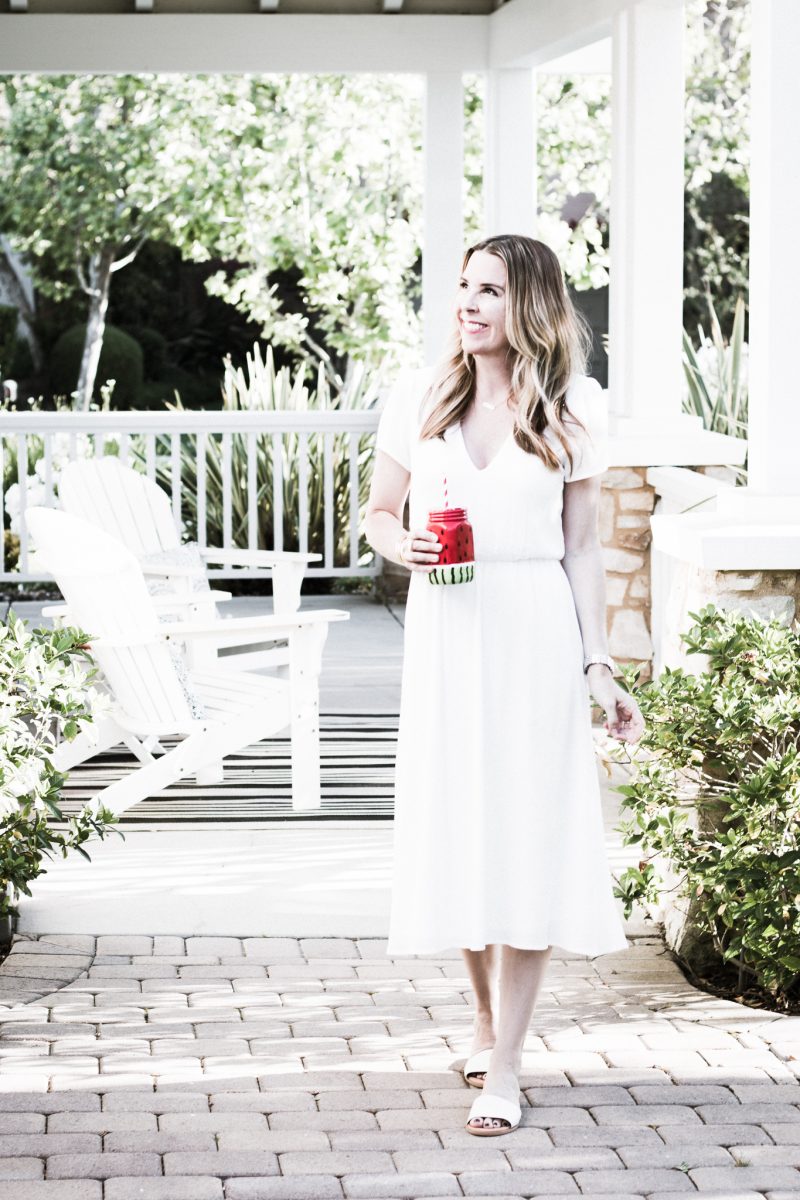 dress | slides | bracelets | necklace
I accidentally hit the "bleach" button on this photo when I was editing. I didn't even know that it existed but I thought it was sort of a cool result.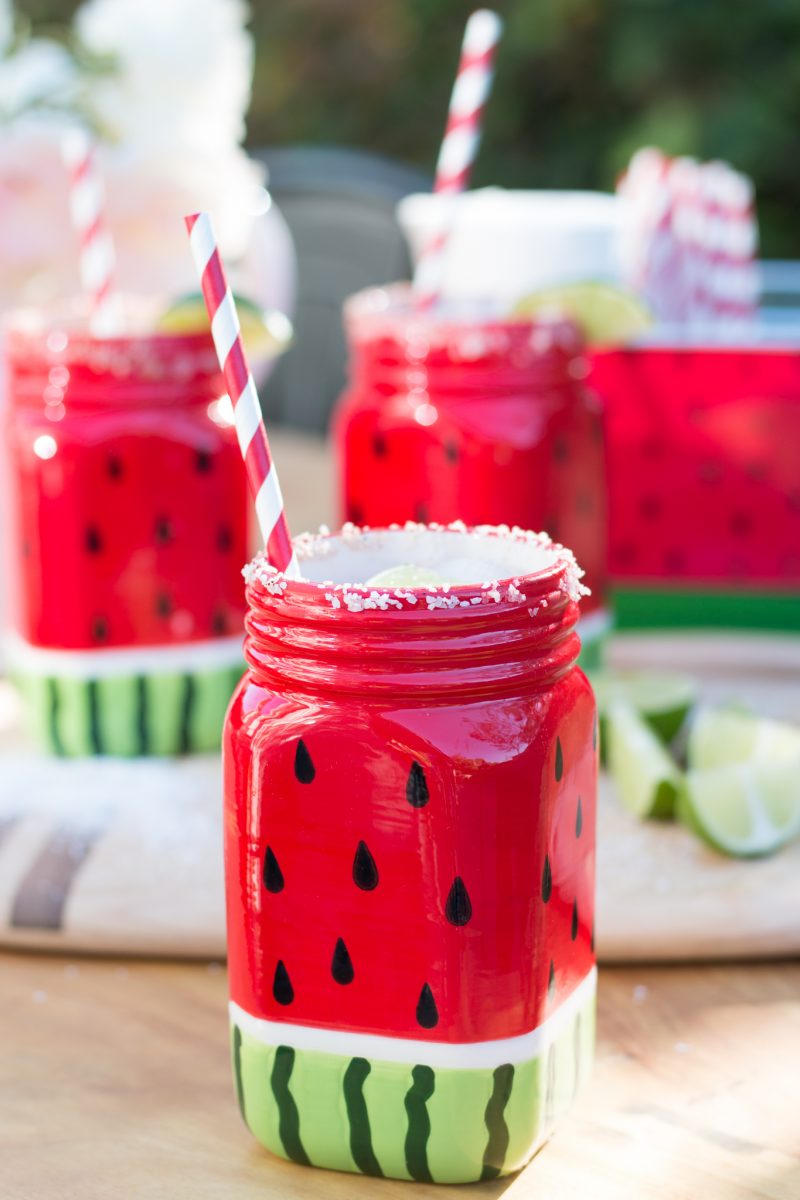 Please let me know if you give this a try! I really loved it and I am normally not a big margarita girl. Refreshing and delicious. I hope you feel the same way if you give it a whirl.
If you're ever looking for more of my favorite recipes, you can find them under gatherings at the top of my blog. They are under "Yummy!" 
Whether you're looking for fun décor, bright blooms, or cute party supplies, Michaels has so many cute options to MAKE summer fun! To see the rest of the Michaels Makers' summer fun project ideas make sure you visit Michaels' blog, The Glue String.