I hope you all had a glorious Easter celebration. We enjoyed the day with family and were so thankful to be together. I'm excited to join a group of blogger friends today to share about, "What's in my Makeup Bag!" Listen, we are not getting any younger and as the years fly by, it's nice to share tips and tricks that allow us to put our best face forward. I am actually more excited to hop over to their blogs and see what they all use. Thank you to my dear friend, Chris, for hosting today. So without further ado. . .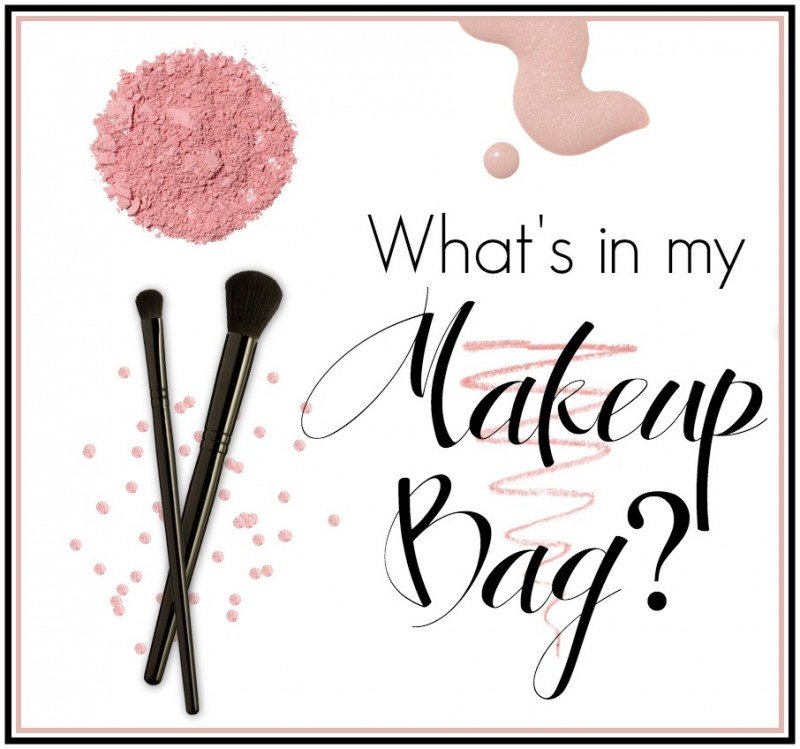 First and foremost, I have learned one major thing as I have gotten older. Less is more. I truly believe that. The fine lines that set in seem to jump out at me in the mirror if I pile on the makeup. So I am really trying to keep things simple and clean looking. I think playing up the eyes and letting the rest of the face be as natural as possible is most beautiful.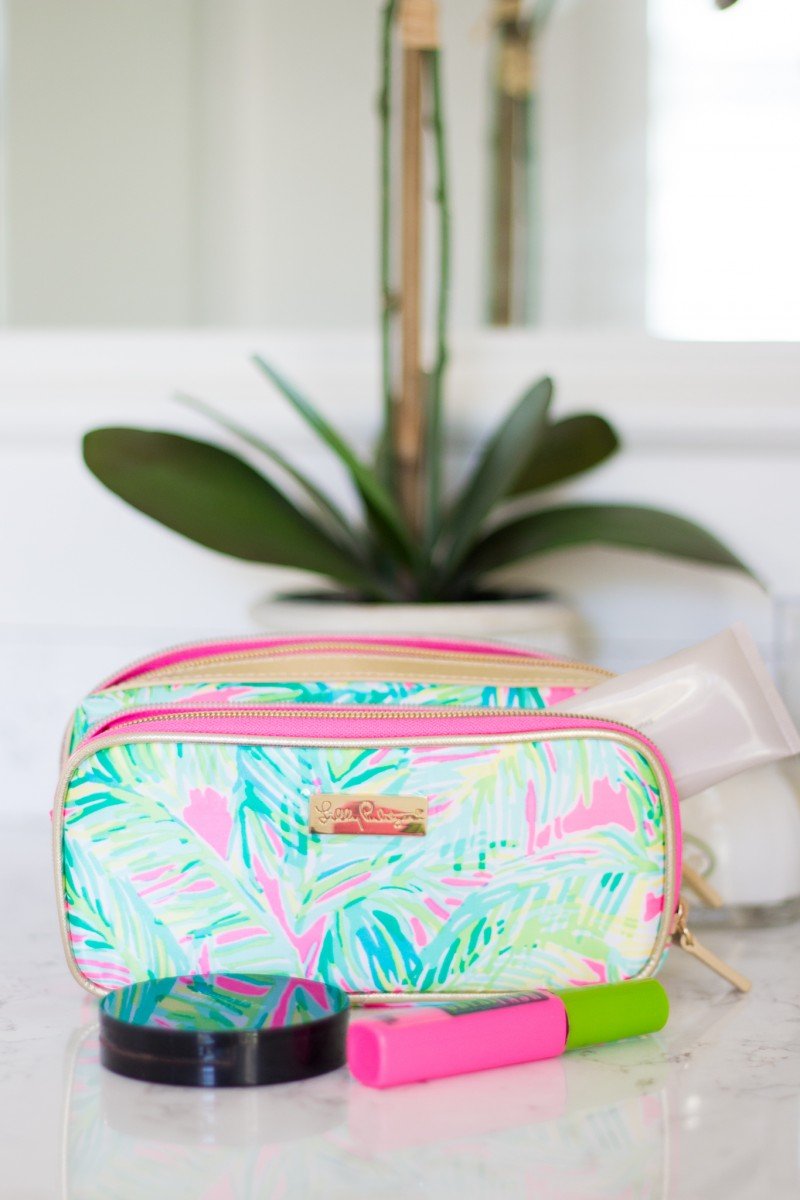 And let's be clear, I am no makeup guru. I do have things I absolutely LOVE and that is why it's so fun to share today. But I am not the girl with the over flowing makeup drawer. Because of that, I really do stick to staples that are tried and true. I have oily skin and am prone to break outs. So it's important that I keep my face as clean as possible.
My Top 10 Makeup Must Haves
Laura Mercier Primer | Minimizes the look of blemishes and allows the tinted moisturizer to stay on longer.
Laura Mercier Tinted Moisturizer | Awesome foundation that feels more like lotion. Super light and spf 20. I wear the color 'Bisque.' UPDATE: Just ordered this after reading about it from Sarah and LOVE!!!!!!!!!!!!!!!!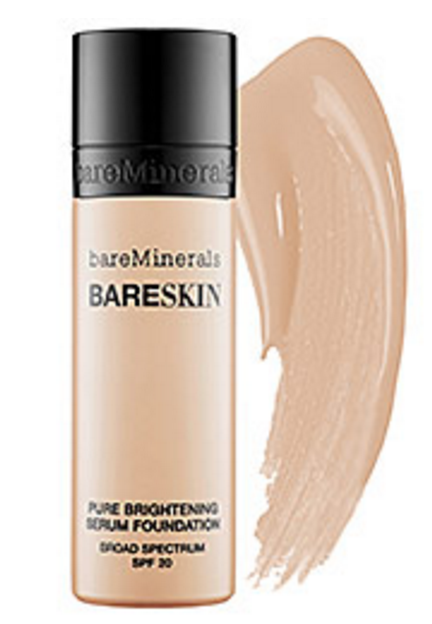 It feels so light on the skin and the coverage is awesome!!!!! Definitely need this brush with it. Blends really well. Thought the brush was too expensive but now I see how necessary it is.
Maybeline Great Lash Mascara | Drugstore mascara for the win. Have worn this for years and love it.
MAC Powder Blush | Stays on a long time. Sunbasque is a nice natural color.
Smashbox Always Sharp Liner | Such a fantastic liner. Stays on all day. I wear 'Raven.'
MAC Love Nectar Lip Gloss | This is liquid gold to me. I am never without it.
Lancome Shine Lover Lipstick | Been wearing 'Twisted Beige' which is a great neutral for summer. Great shine and very moisturizing.
Lancome Magic Bronzing Brush | Fun way to add a bit of shimmer and bronzer before going out. Not something I wear daily but it goes on for date night or when I am needing a bronze pick me up.
Eye Shadow for Eyebrows  | My favorite Simply Vera was discontinued ( I stocked up first) but I love a dark brown eye shadow on my brows. I learned way too late in life the importance of filling in the eyebrows. Why didn't anyone tell me about this years ago? It really does make a huge difference. You just want to be sure you pick a flat color and not one with shimmer.
Maybeline Eraser Dark Circles Concealer | All about this drugstore buy! Only $7 and works so well. I have had dark circles under my eyes since I was young (I forget why. . . there is some medical reason) but this really does stay on well and you can throw it in your purse if you need to add a bit later in the day.
If I were to wake up super late and race out the door, the two things I would be sure to put on are lipgloss and eyeliner.  I don't leave home without my Love Nectar Lip Gloss. Even if I go without makeup for the day (which I do as much as I can to help my complexion) I still wear this lip gloss. And if I want a quick pick me up I will put on the Smashbox Always Sharp liner. Just a little makes my eyes look more awake and pronounced.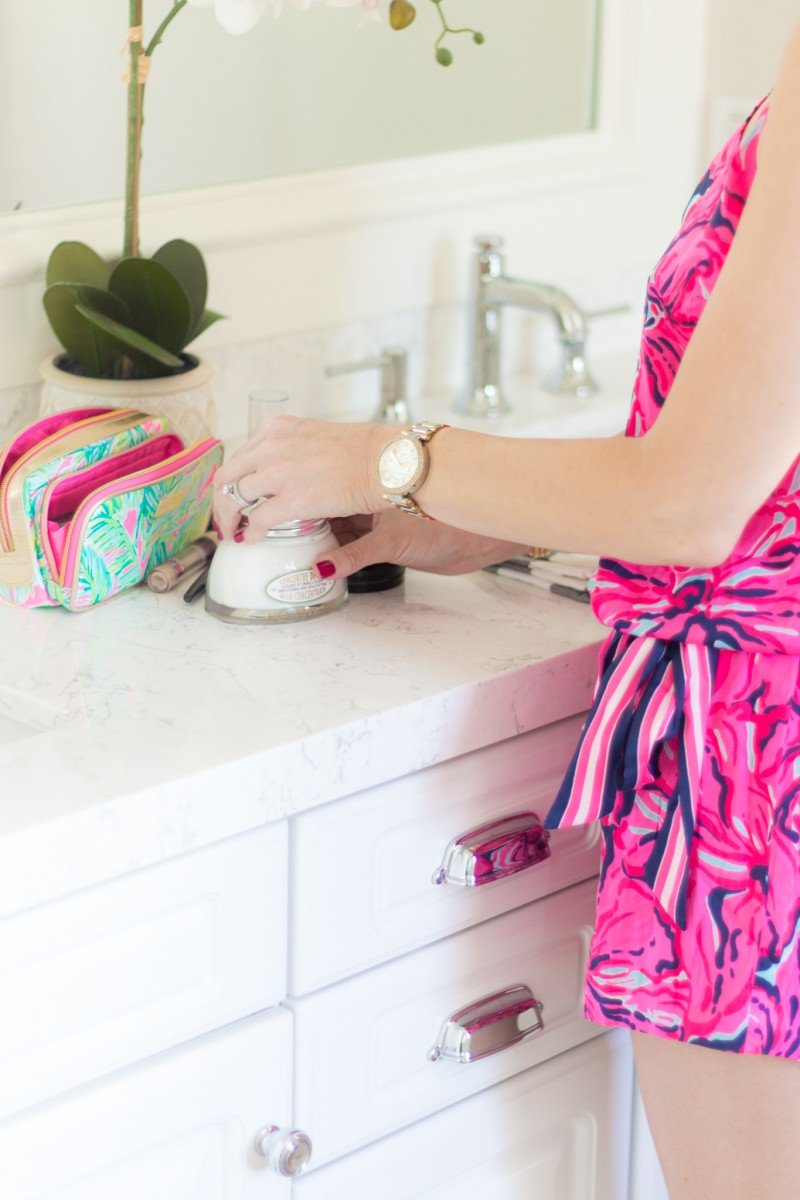 romper | makeup bag | lotion
And while this is not technically makeup, I absolutely love L'Occitane Almond Milk Concentrate.  Like crazy love. And as you can see I am a minimalist so this one has passed the test. I recently received a new bottle of this from my hubby for Christmas. It is pricey but lasted me over six months which is great. I put a little on my arms and chest before bed at night and then a little after my morning shower. It smells fantastic and leaves my skin feeling so soft and clean. I also love Colleen Rothchild's Face Oil.  Even though I have oily skin, applying this each night actually helps to even out my skin and I see a huge difference. The older we get the more important it is to keep in the moisture and this product does that really well. The price is worth it to me because I only use one pump each night and it will last me almost a year.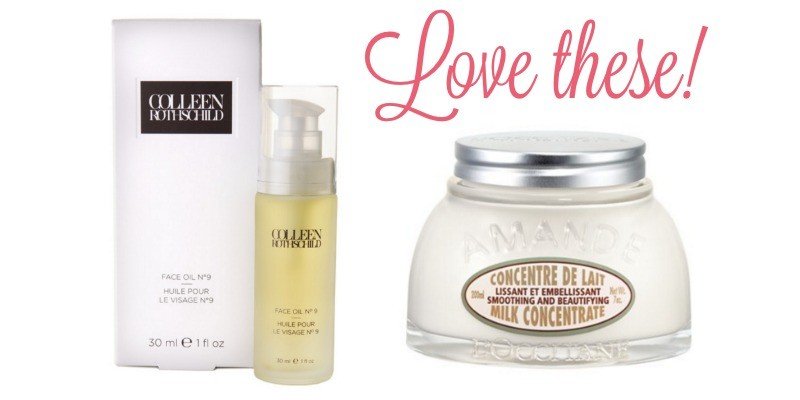 One of the things I am really wanting to try is the Bare Minerals line. I haven't yet but am planning to pick some up. Do any of you use it? I'll let you know once I try it.
So now you know what's in my makeup bag. If you want to snoop around some other makeup bags today, these ladies are revealing their secrets, too! I can't wait to pick up some tips.
If you are just visiting A Thoughtful Place for the first time, you can get to know me here and tour our home here. 
Make it a great Monday, my friends.
*affiliate links used