Thanks for all of your sweet comments on yesterday's "It's a Date!" post. Happy to have those posts back in rotation. So September is the month my dad was born and I am crazy blessed to have him as my dad. He has always been kind, supportive, loving, and hard working. I have to share a funny story that happened when I was back in college. My freshman year, I picked up the phone to call my father and wish him a happy birthday. He was so warm and wonderful and asked me all about school and how it was going. At the end of the conversation he says, "Thanks for the birthday wishes. Will I talk to you on my birthday, too?!" Ummm. Huh? Oh, dear. Are you serious? I had his birthday wrong. Horrendous. I was two days early. Needless to say I have never gotten in wrong since.
So when Nordstrom reached out and asked me to look at the Fall Essentials in September, I immediately thought of my dad. He has always been such a well dressed man. I always remember him doing yard work in a button down plaid shirt. So this post is dedicated to the man who taught me what to look for in a husband and who has taught me so much about unconditional love. And I promise to never get his birthday wrong again. So now let's talk Fall Fashion trends . . . and hopefully you'll find something for the men in your life.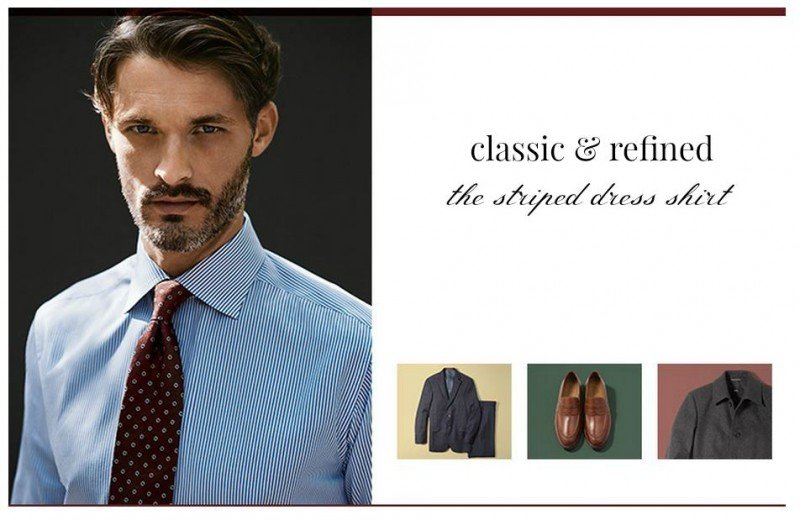 The striped dress shirt is my number one pick . . . both my husband and my dad pull this one off so well. They are classic and never go out of style. I also love these shirts with a great pair of loafers.
Nordstrom's 10 Essentials for Fall
Shop These Looks