Valentine's Day is just around the corner. I am actually quite sentimental about it this year as it's the last year that my son will hand out cards to his friends. Dare I say he will be in junior high next year and it's no longer the class party format. Truth be told, Valentine's Day is more about the kids than us in our house. But that doesn't mean gifts aren't allowed. LOL. Here are 10 sweet gift ideas for ladies in your life. Feel free to forward to your hubby.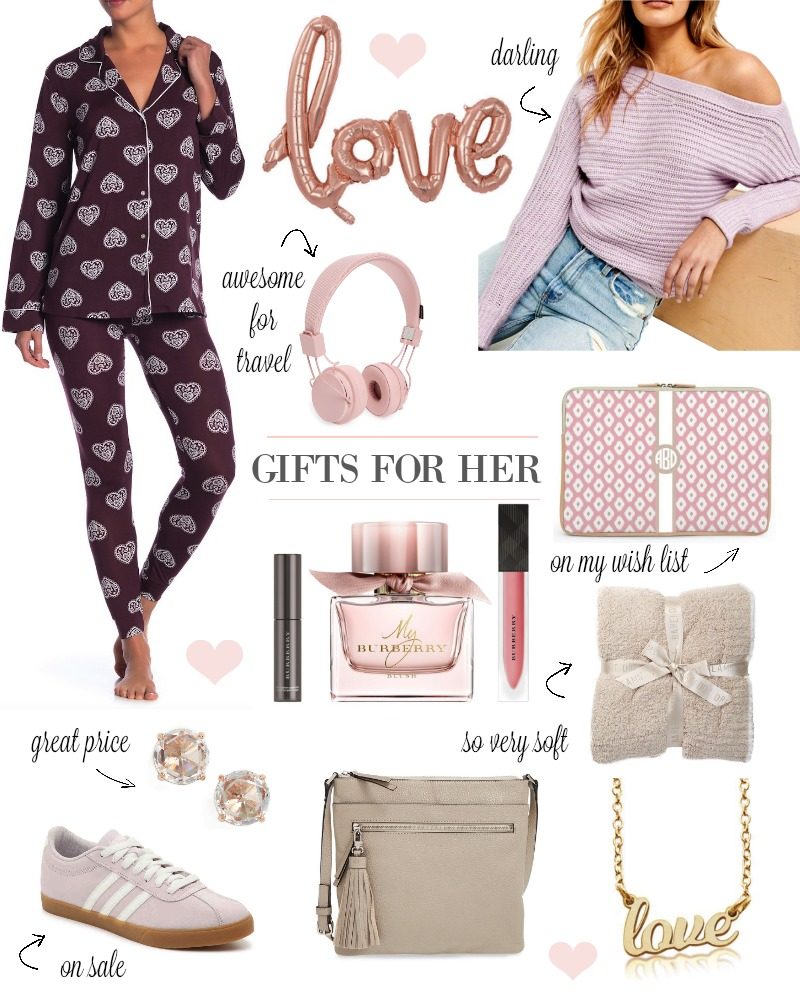 How cute are these jammies? Love the button down top with the more fitted bottoms. Such a cute set and a great price.
This sweater comes in three different colors and is so chic and fun.
I need these blutetooth headphones. Hint. Hint, honey. When we travel I am always the one who has absolutely nothing to do on the plane. Are you the same way. Of course I always have a book but I'm the girl begging the flight attendant for headphones. I just don't think about it but these would make all of our trips so much more enjoyable. Loving the pink but they do come in many different colors.
These laptop cases are adorable. There are so many different patterns to choose from and you can completely customize it. This is the type of gift that someone would use every day and it's so darling.
This is the type of gift no gal buys for herself. Love the Burberry scent and both the lip gloss and mascara receive excellent reviews. This is currently 35% off which is fantastic.
Cozy and crazy soft. I don't know about you, but I grab my favorite blanket pretty much every night when we relax on the sofa. There is something about an incredibly soft blanket that makes everything better. Barefoot Dreams always gets it right and these blankest are a fantastic price. Such a wonderful gift for anybody in your life.
Who doesn't love a little shimmer? These classic Kate Spade earrings come in a variety of colors and are under $40.
Yes to these! I love my pink Adidas. These particular ones are on sale for $39! That's awesome. Cute and feminine.
Every girl needs a neutral crossbody bag. I carry mine every single day. I like that it's small enough that it forces me to stay on top of keeping it cleaned out. Plus it lets me be hands free all the time. I feel like once you carry one, it's hard to change it up again.
I wear my Tiny Tags necklace every day. This one is so sweet. You have to check out their collection. The dainty script writing is so pretty. You can also surprise a sister, mom or friend with a personalized version.
SHOP THESE GIFTS

Do you have big plans for Valentine's Day or do you keep it pretty low key? My mom always decorated the house so cute for the day so I carry on that tradition and we write messages for the kids to read when they come down for breakfast in the morning. I think it's always fun to surprise friends with a little something this month, too. Especially those mamas who need a little extra love for whatever reason.
NEED A PARTY IDEA?
If you are looking for a very simple idea for your kids and their friends, this is one of my favorite party ideas. So simple and so much fun. You can see all the details here.
Have a great day. See you back here tomorrow.
*affiliate links used