Welcome to our Valentine's Day party!!!  Valentine's Day has always been special time in our home. We always focus on the kiddos and daddy brings flowers to us girls. Because we have a son, too, we wanted to share a party idea that is great for boys and girls. You'll notice I switched up the traditional color scheme and included treats no kid can resist. While we dressed up a bit, this could easily be a fun pajama party, too.
BLUSH & NAVY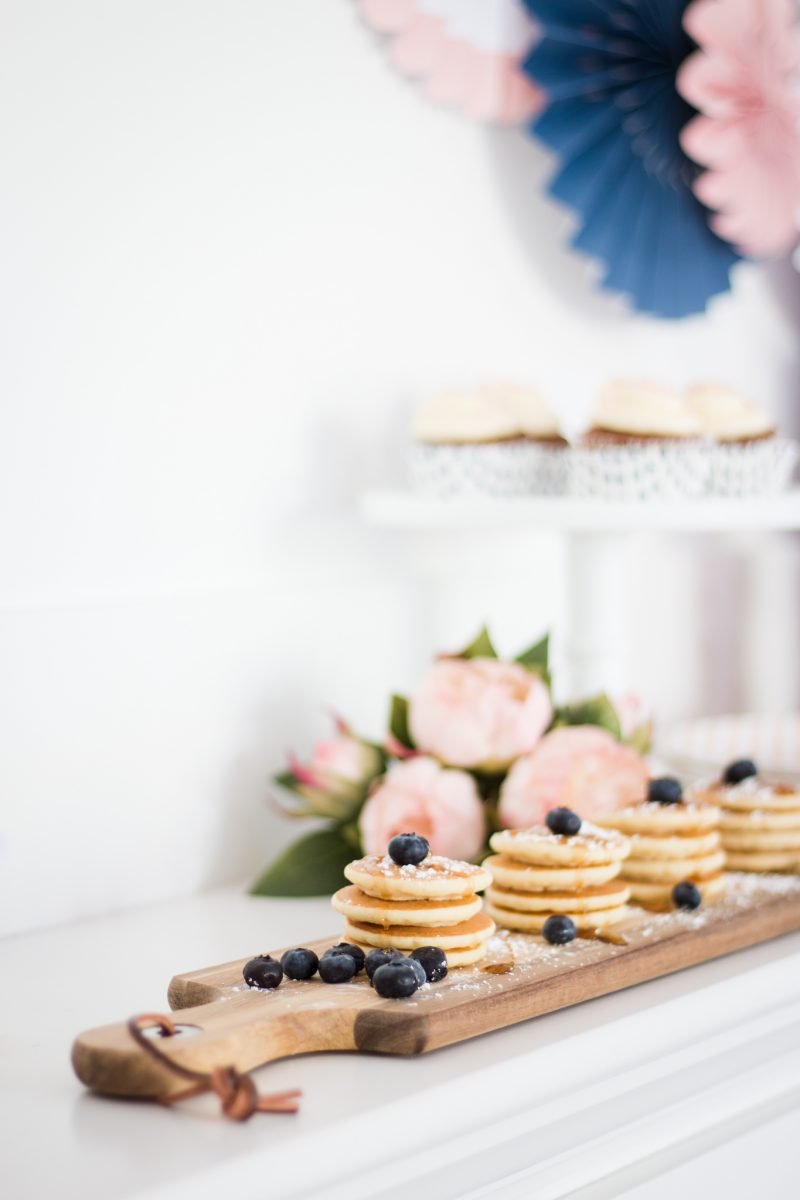 Everything I did was super simple and easy to pull together. Once I decided on a blush and navy color scheme, I kept my eye out at local stores for fun decor. There is something about mini pancakes that get me every time. How can you resist them? Stacks of four with powdered sugar and syrup make for a scrumptious treat. If you are having a large buffet of sweets, consider telling the kiddos they get to choose 2-3. Whatever you are comfortable with. I did that and there were no complaints. Leftovers get packed up and delivered to more friends in the neighborhood which helps to spread the love.
MINI PANCAKES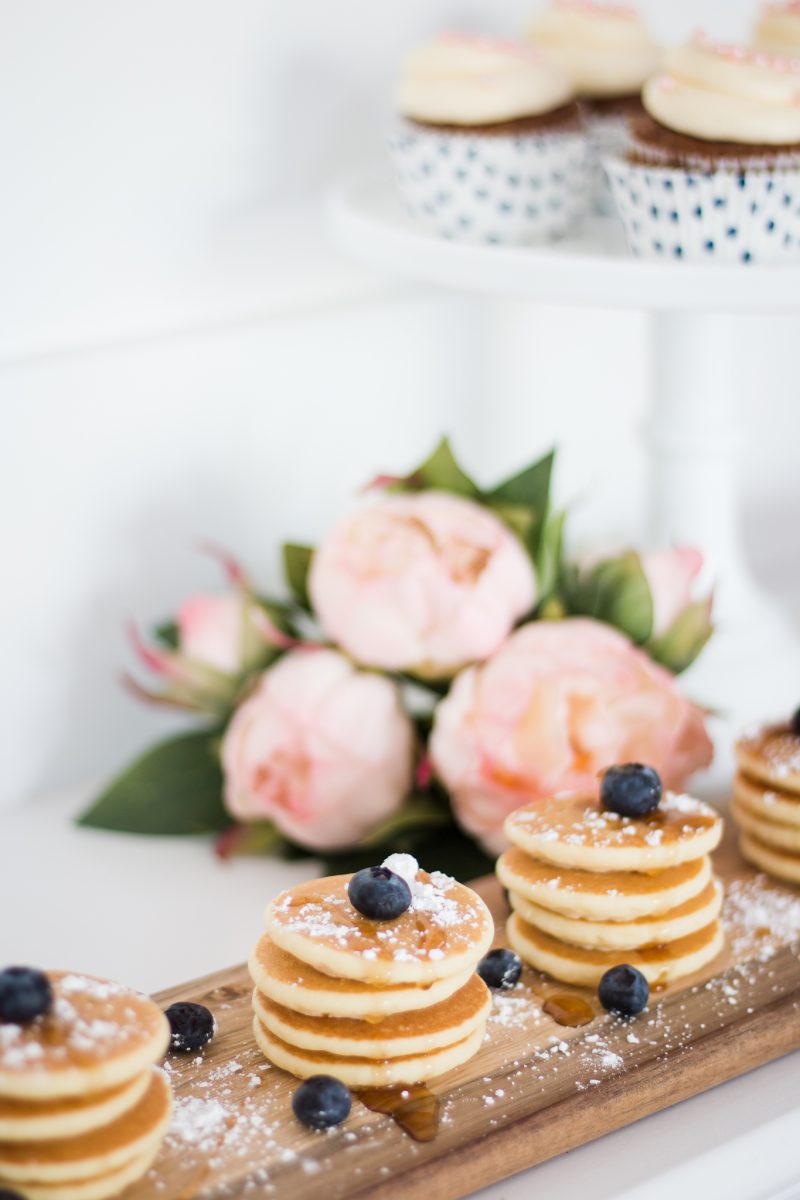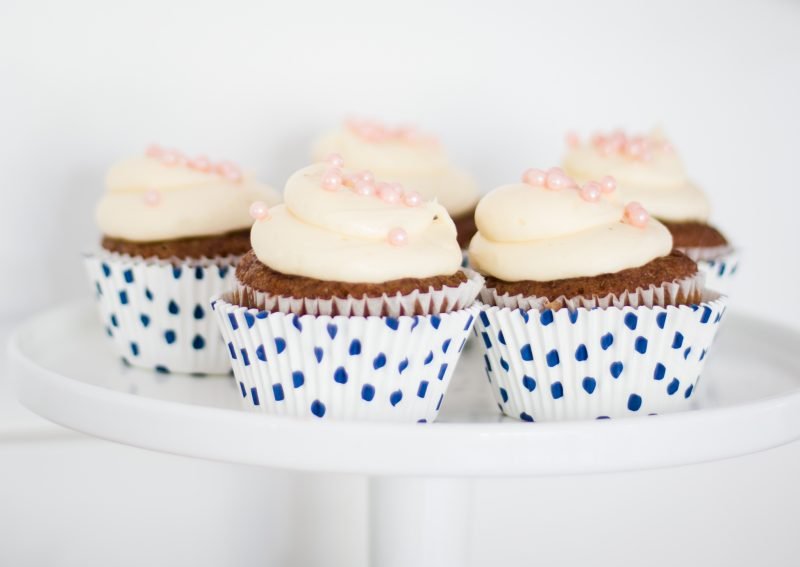 These are carrot cake muffins. I set them in navy and white cupcake liners. My trick is to always set them inside 2-3 fresh ones so the print really pops. Otherwise, they come out of the oven looking faded because the muffin shows through.
DIY DONUT STAND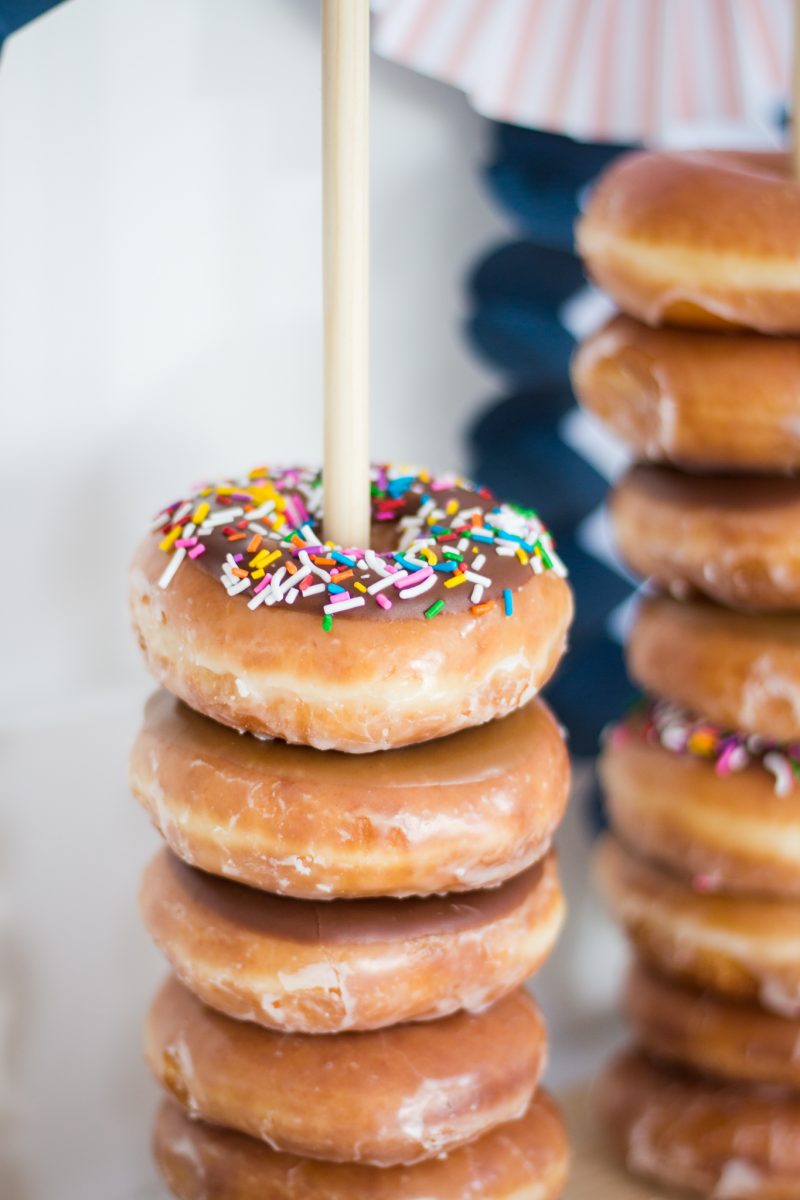 Donuts always bring giggles. There is just something about them. Store bought and placed on a simple DIY donut stand makes for a great centerpiece for the buffet. There really is nothing to this stand. Three holes and then wood glue to keep the dowels in place. Simple and quick! You can grab the supplies at Michaels or your local hardware store.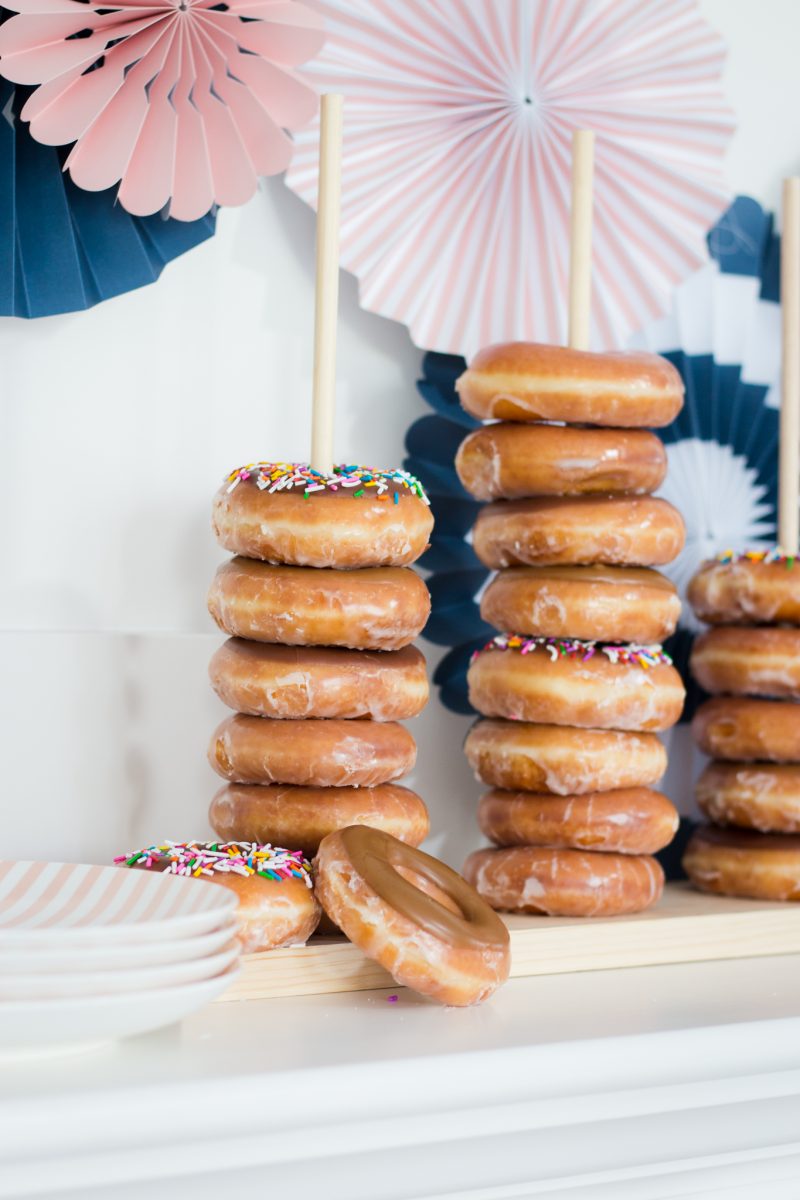 The donut stand isn't just for kids!! It's so much fun to put out at the end of the night after hosing a party. No one can resist a late night snack!
SIMPLE DECOR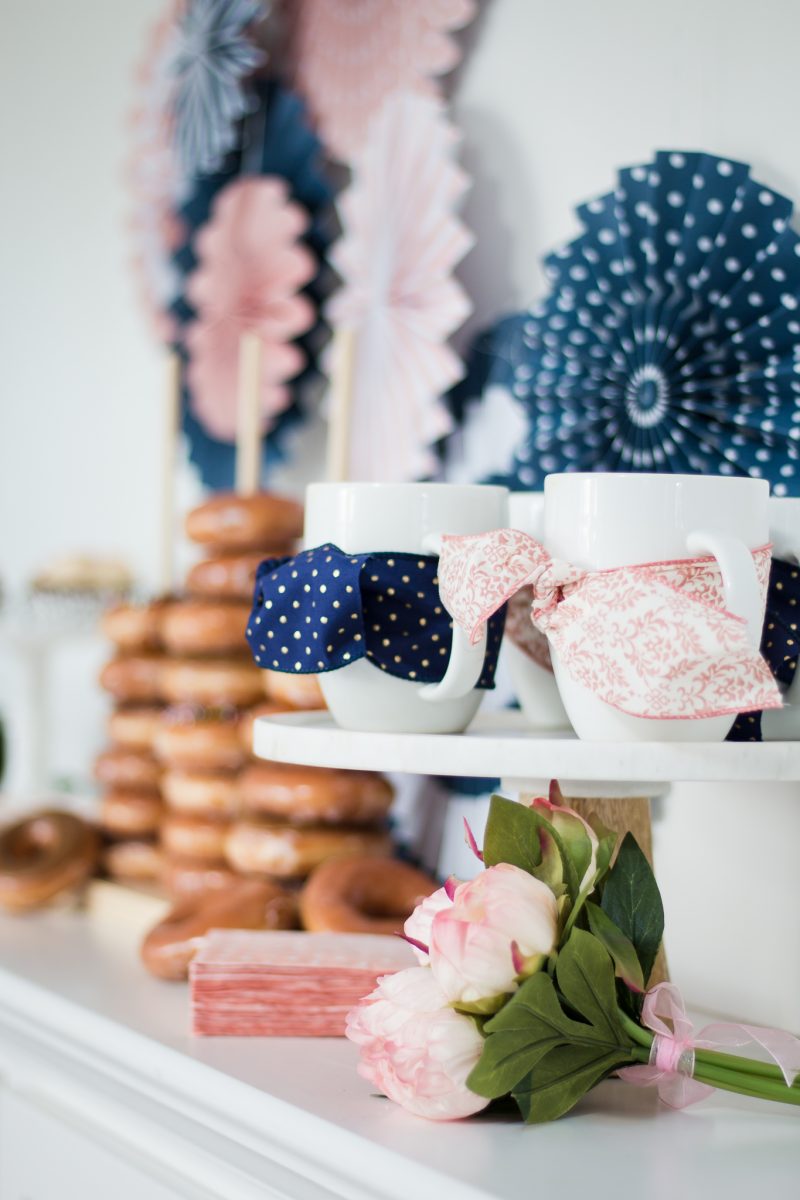 I consider myself a minimalist when it comes to dishes and such. Other than a set of Christmas mugs, we only have our trusty white mugs. Rather than accumulate more specific holiday mugs, I tied pretty ribbon around each one. Done and done. Both ribbons were found at Michaels. The sweet peonies are also from Michaels.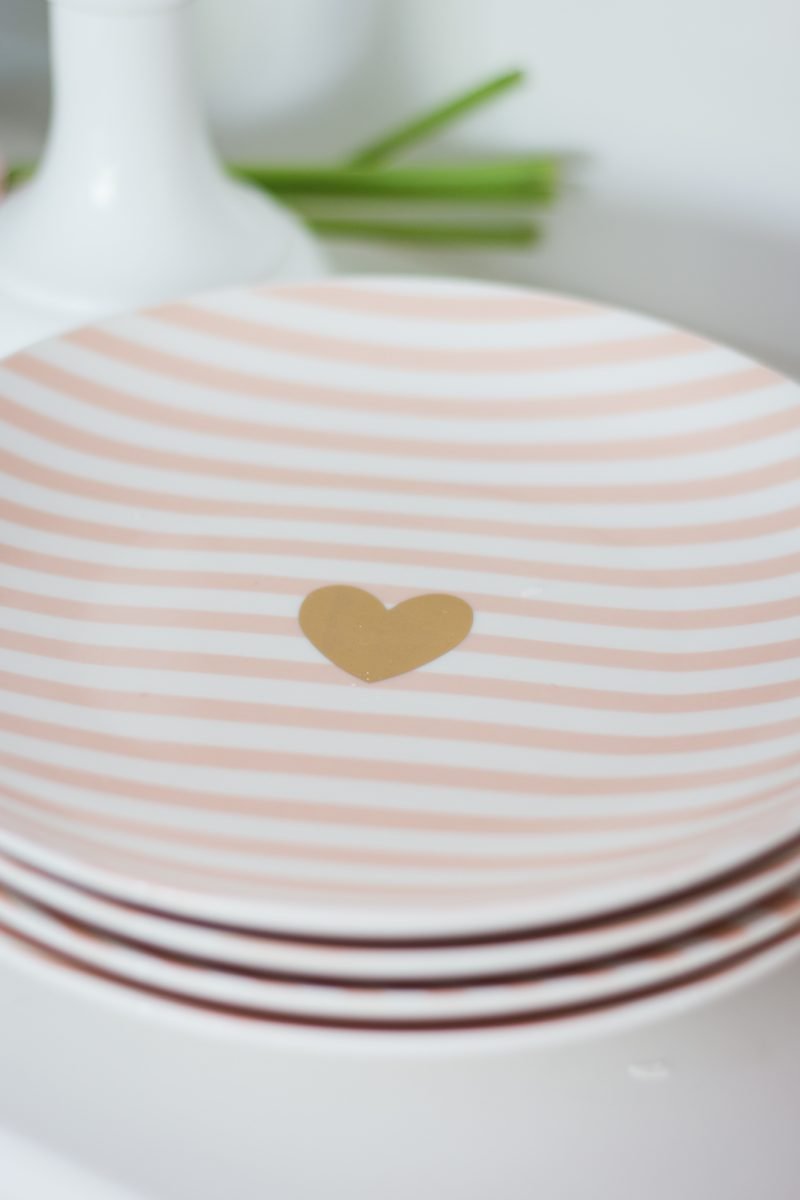 These cute little dessert plates were hard to resist. And although I normally don't buy extra dishes, these were too good to pass up from HomeGoods. I plan to use them when I host friends for coffee and breakfast, too.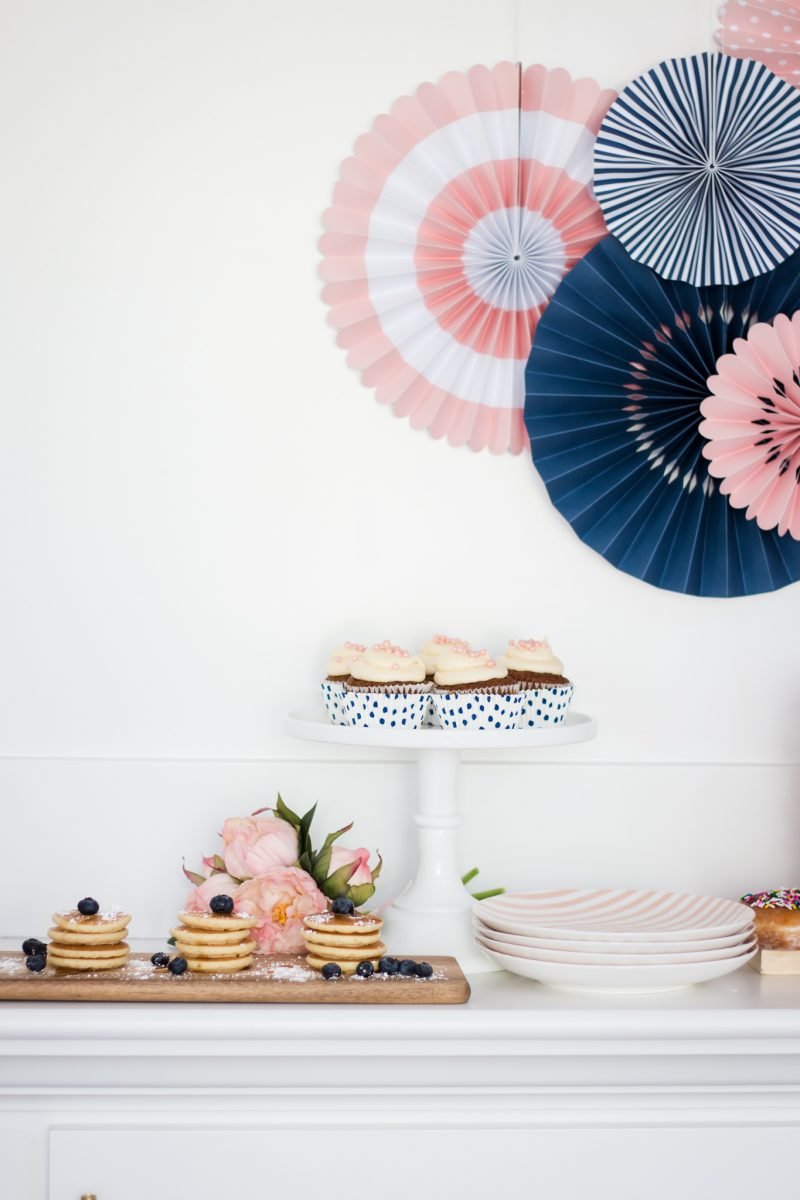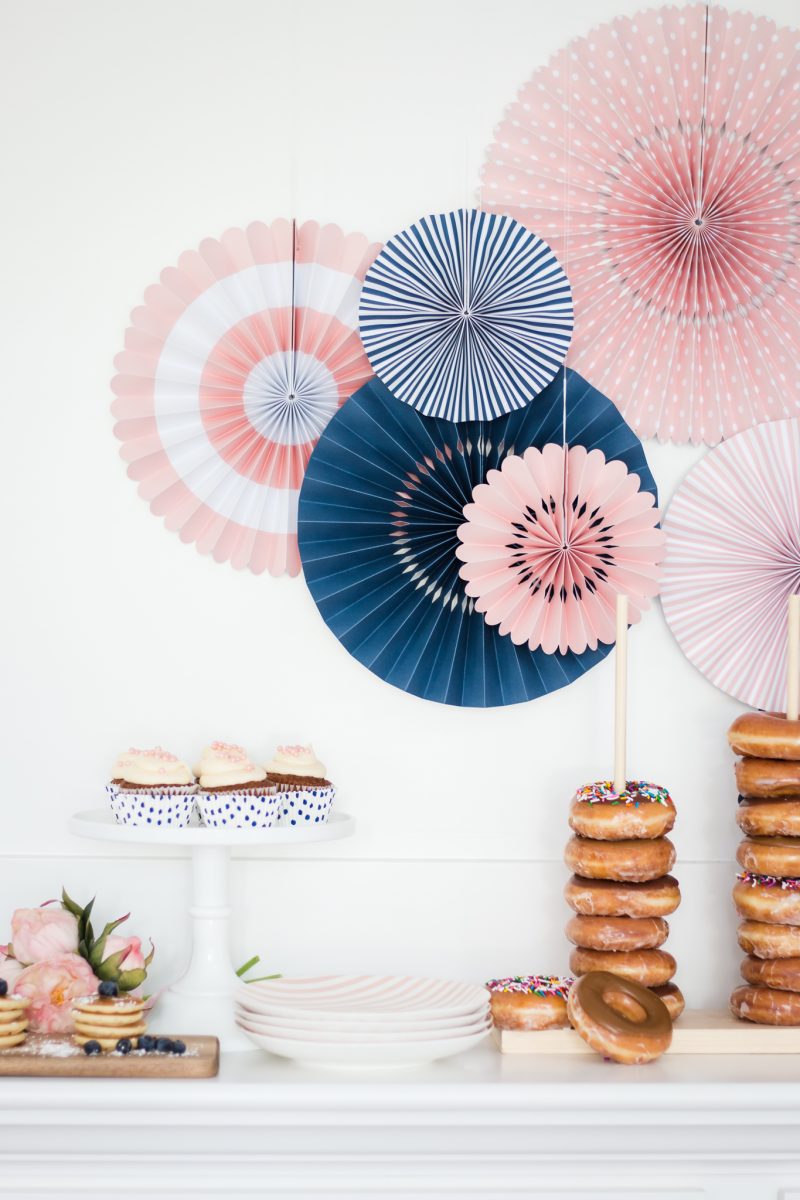 These fans were a HomeGoods find. I like paper fans like this because they fold up flat when you are done and are a dream to store. I usually ditch the box they came in and toss all my paper fans in a plastic bin.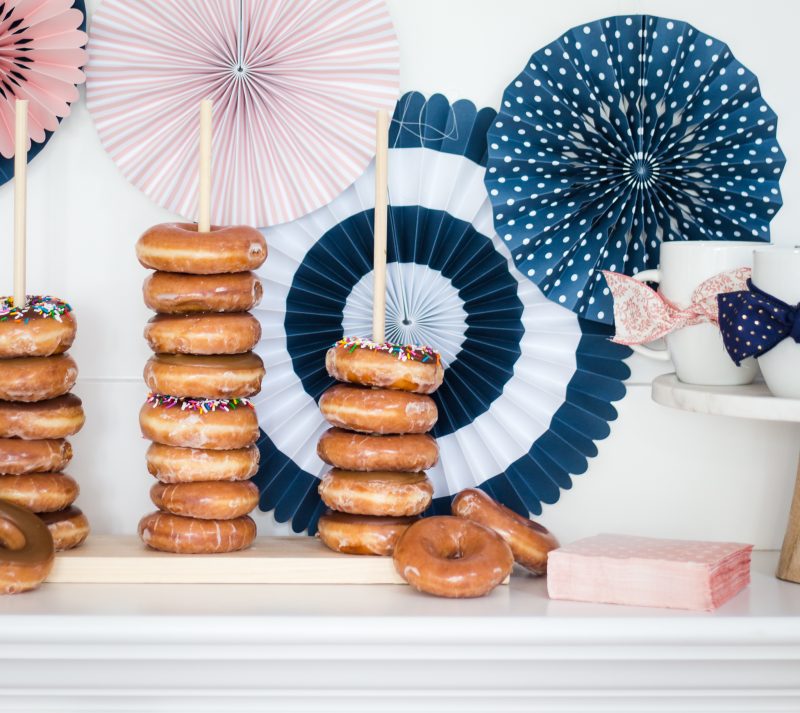 SHARE THE LOVE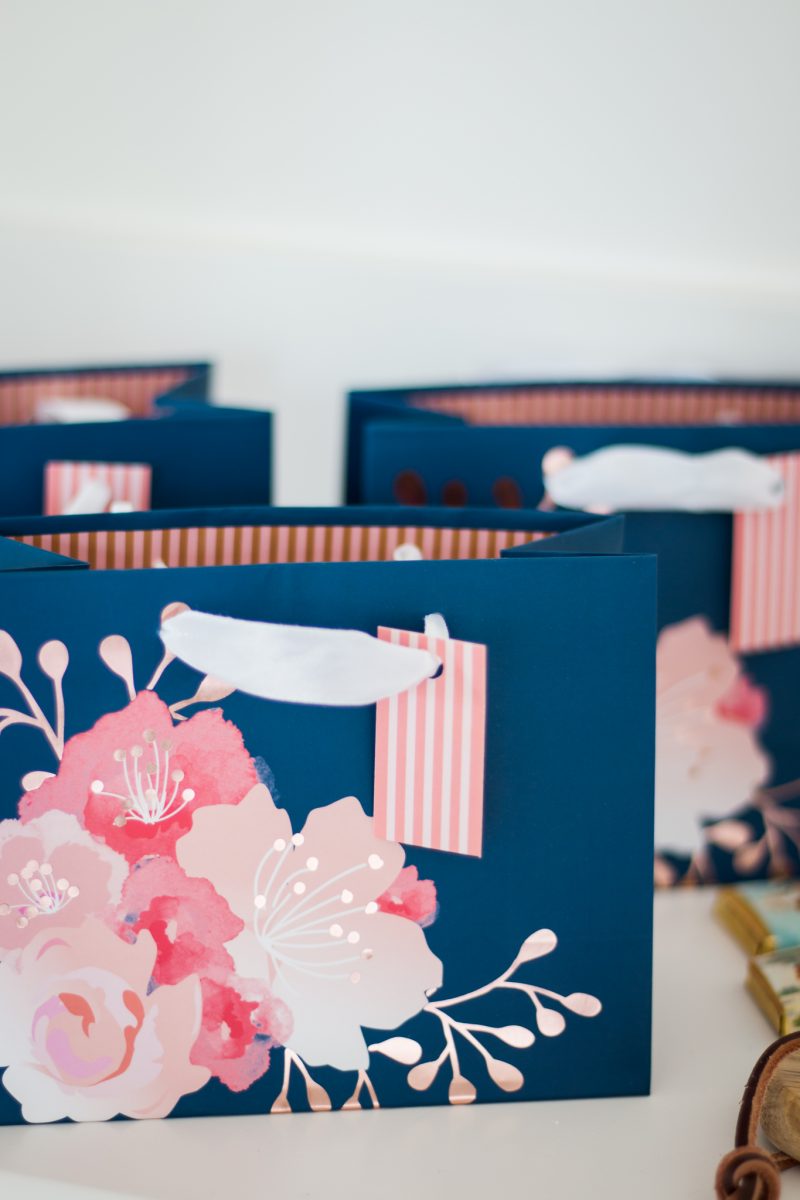 These little tote bags are from Target and are for sending desserts home. I love the print and kids always are excited to take goodies home to their parents.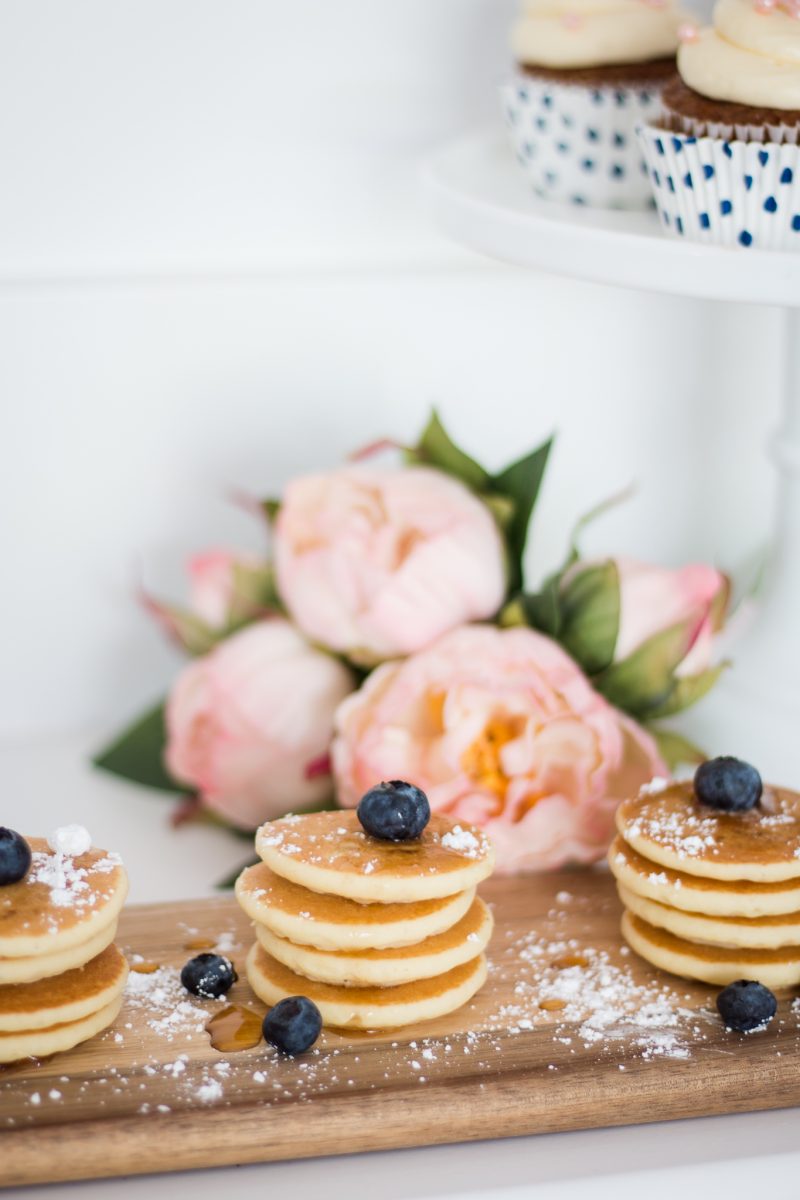 Anytime you can place things on cutting boards it adds great texture to a setup. There is something about adding a wood element that really changes the aesthetic.
BE MY VALENTINE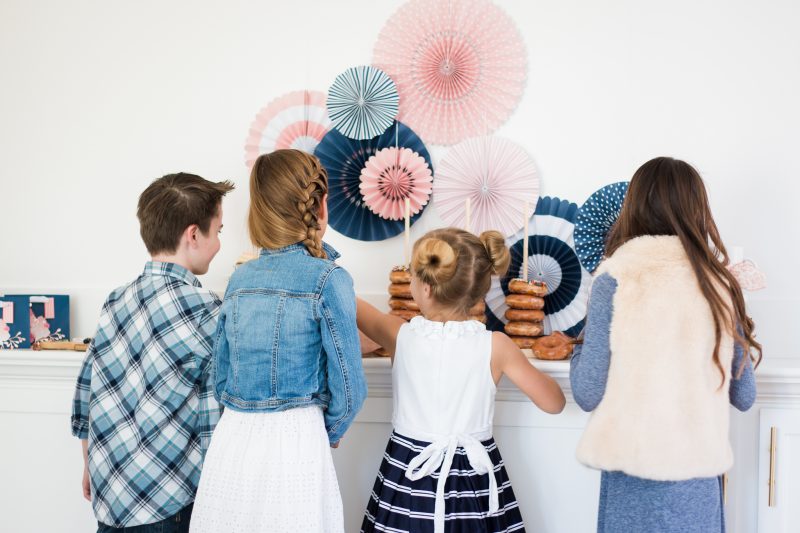 This crew means the world to me. These little ones have grown up together since they were babies. Such a strong bond. I snapped a bunch of photos during the party and will show you those in part two of this post. You would have been on photo overload (if you are not already). The party included enjoying goodies, decorating Valentine boxes and running around with balloons. What childhood should entail, right?!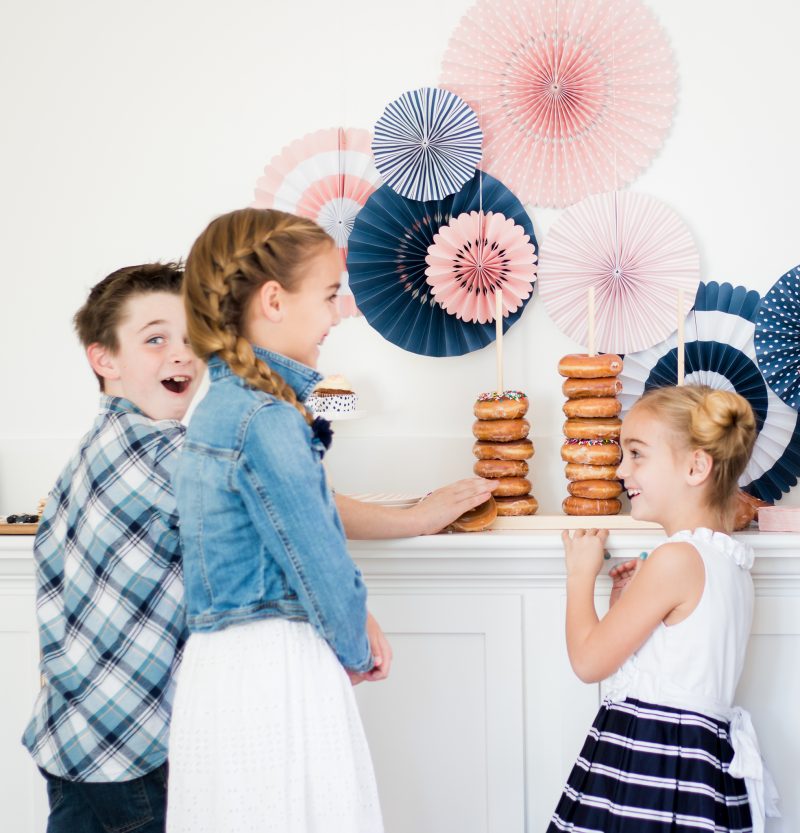 Stay tuned for more from this simple and easy Valentine's Day party. I hope it sparked some fun ideas for you and your family.
I also wanted to give you all a hug and say thank you for the sweet comments left on yesterday's post. I really appreciated hearing from you on the blog or via email.