Life gets messy, would you agree? Whether you're helping your aging parents, facing financial struggles, handling parenting challenges or a myriad of other big ticket items, stress is a common thread that unites us all. Some phases of life seem smoother than others and for that I am grateful. But others take a toll and I have spent a great deal of time thinking about what gets me back on track. Today I am sharing ten ways that I reset when the stress mounts.
*I've partnered with Nordstrom today to bring you this look.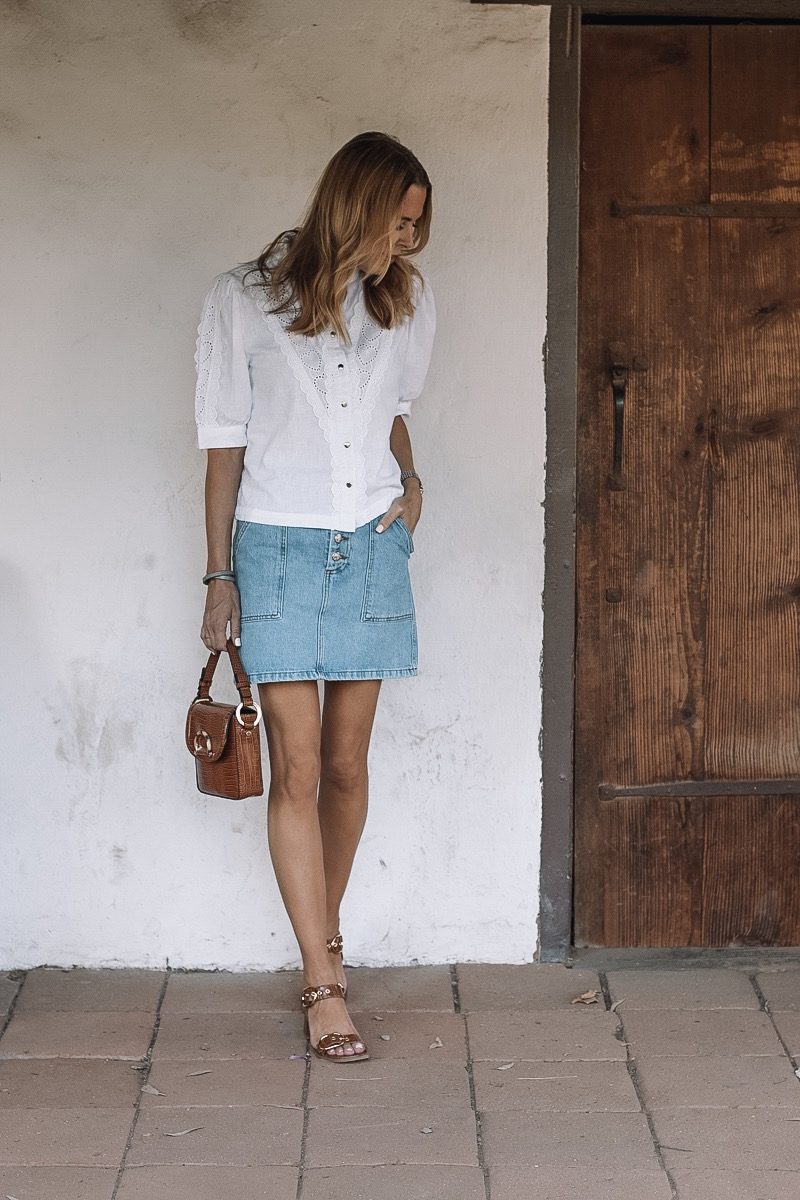 skirt | top | sandals | handbag
HIKE
Getting outside is huge for me. Even if it's just putting my bare feet in the grass. Have you seen the studies on that? Extremely beneficial. Hiking on the trails near our house is a huge stress reliever. In fact during the last 15 months it may have saved me from going down a dark hole. Exercise and blue sky do wonders for my stress level.
LISTEN TO MUSIC
Music is always on in or home. When I am having a bad day, just turning on Pandora can have a major effect. Are you familiar with George Winston? When I need to relax and simmer down, his beautiful piano music always does the trick. That and a good cry.
Other great Pandora stations in case you are looking for a new one: Zac Brown, Jack Johnson Radio, Marry Me Radio.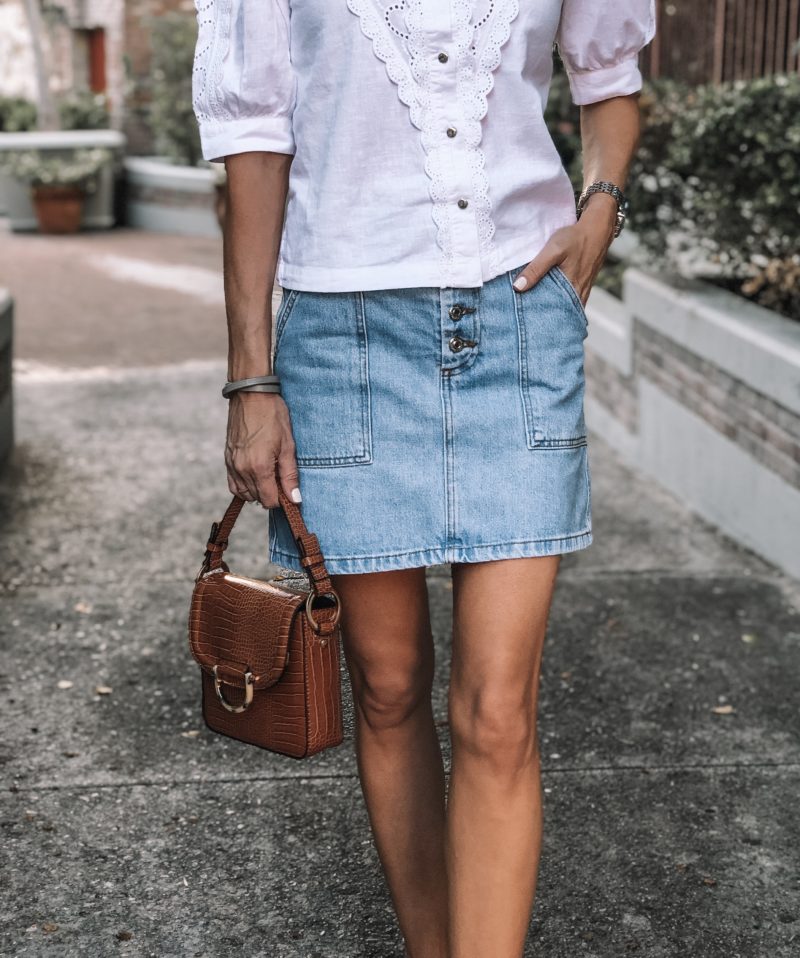 DATE NIGHT
Time out with my husband is one of the most beneficial ways to spend time. Even if we are overwhelmed and not exactly in a cheerful mood, getting out and enjoying one-on-one time is invaluable. I always end up feeling more grounded and gain perspective.
I actually wore this for date night just last night. I LOVE the feminine lace blouse. And the denim skirt fits really nicely. Perfect length ( I am wearing a size 4). The handbag is darling. It has a strap for over the shoulder. Each piece is from Nordstrom and under $60.
WORK
Yep, working helps me. I have so many people that recommend I take time off and while I definitely slow down and work at my own pace, working helps me to feel productive. When I feel productive, I feel less anxious. Of course, it helps that I love what I do.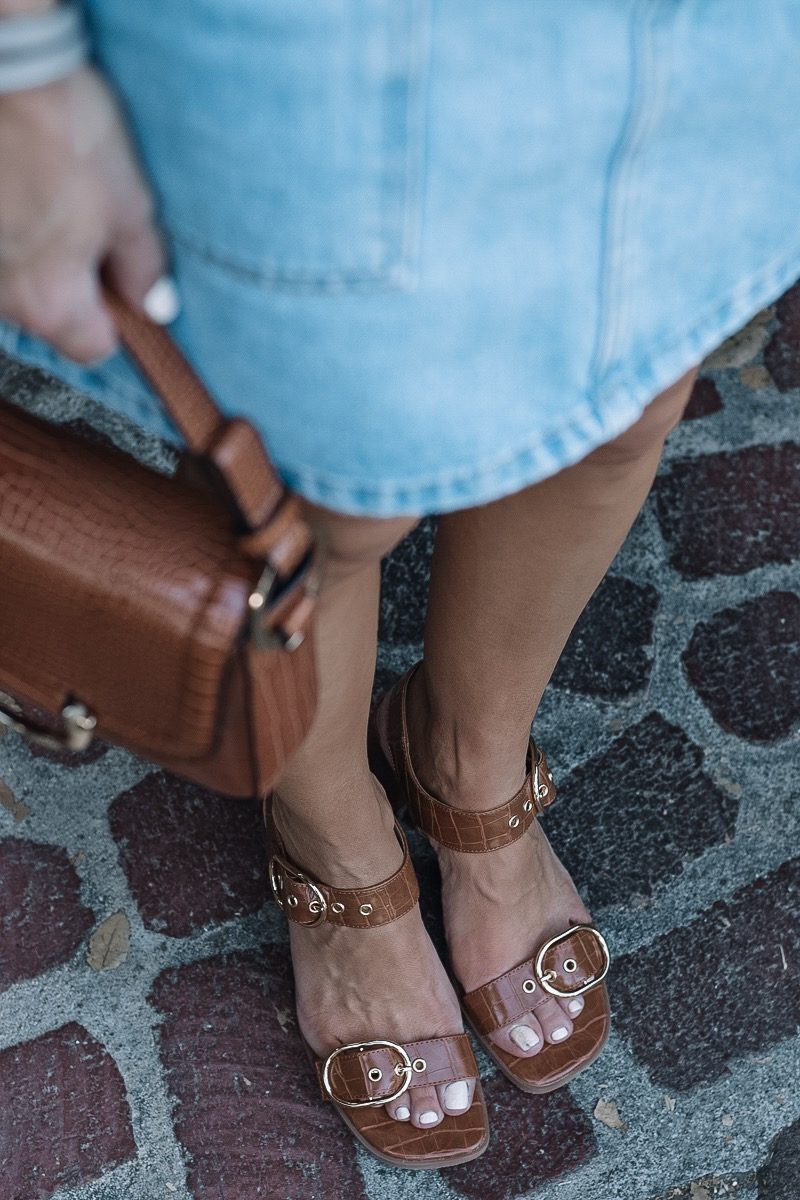 PRAY
My faith is paramount in my life. In fact, I don't know how I would have gotten through the loss of both parents and my brother without prayer. When things were especially difficult with my mom and I was sick with worry, a dear friend gave me this three step plan. Rejoice in hope, be patient in the suffering, and persevere in prayer. Romans 12:12. It became my mantra for many months. Perhaps it can help you. You can interpret it how you wish, but I hope that it is beneficial. Staying in a place of gratitude has also been at the forefront of my grieving process over the last 10 years of mom's disease.
PLAY THE PIANO
While I am as rusty as can be, playing the piano takes me to another place. It also evokes memories of my parents since we now have their piano. I am hoping to play much more often.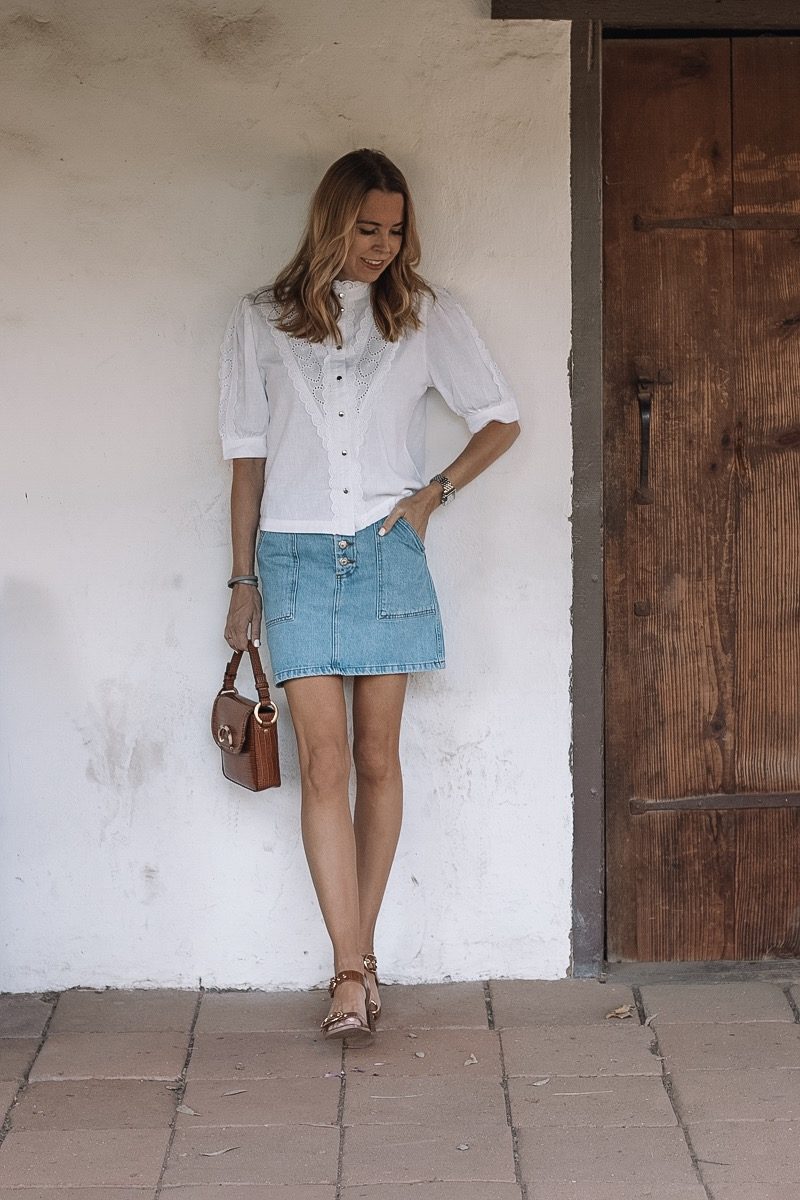 EAT WELL & DRINK WATER
It's easy to want to grab the chips or the chocolate but I do find that eating well and drinking a ton of water makes me feel better. In times of intense stress, it's not always easy to eat so I want to be sure that what I do put in my body is actually beneficial.
HIBERNATE
I am good at this one. There are days where I don't leave the house unless it's to drive the kiddos here and there and I am perfectly ok with it. The big world we still be there tomorrow and a day at home can be good for the soul.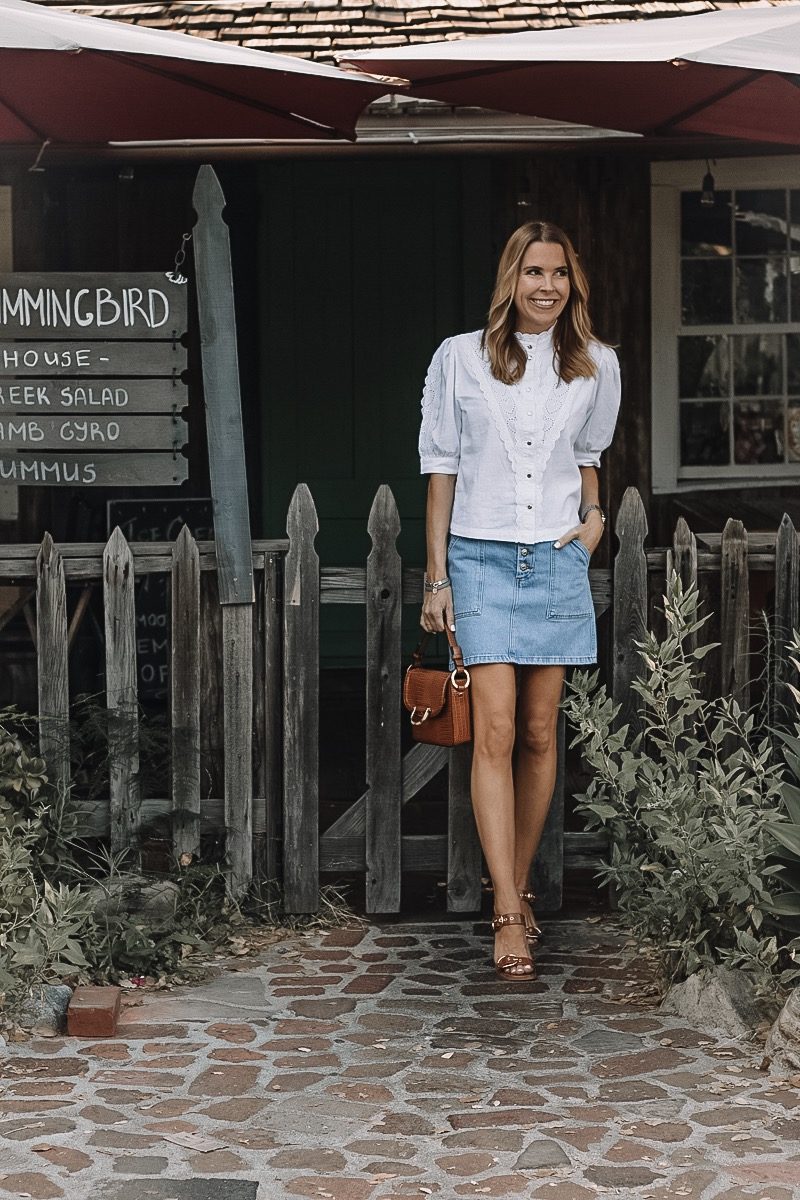 skirt | top | sandals | handbag
LAUNDRY
Don't ask me why this is on the list, but it is. It's true. In really stressful times or if I am dealing with grief, you better believe there are clean clothes. I think it may be a control thing. In any event it keeps my mind occupied and my hands busy.
LET OTHERS HELP
This used to be so very difficult for me. In fact, I would push others away because I thought I could do it all myself. I can not. And people want to help. When a friend reaches out and says, "Hey. Come over. Let's have coffee," I take it as a sign that they know I need support. It has taught me to do the same for others. Just last night a neighbor made us dinner. That type of good deed is transformative. Most importantly, I hope I can do the same for my loved ones when they need it most.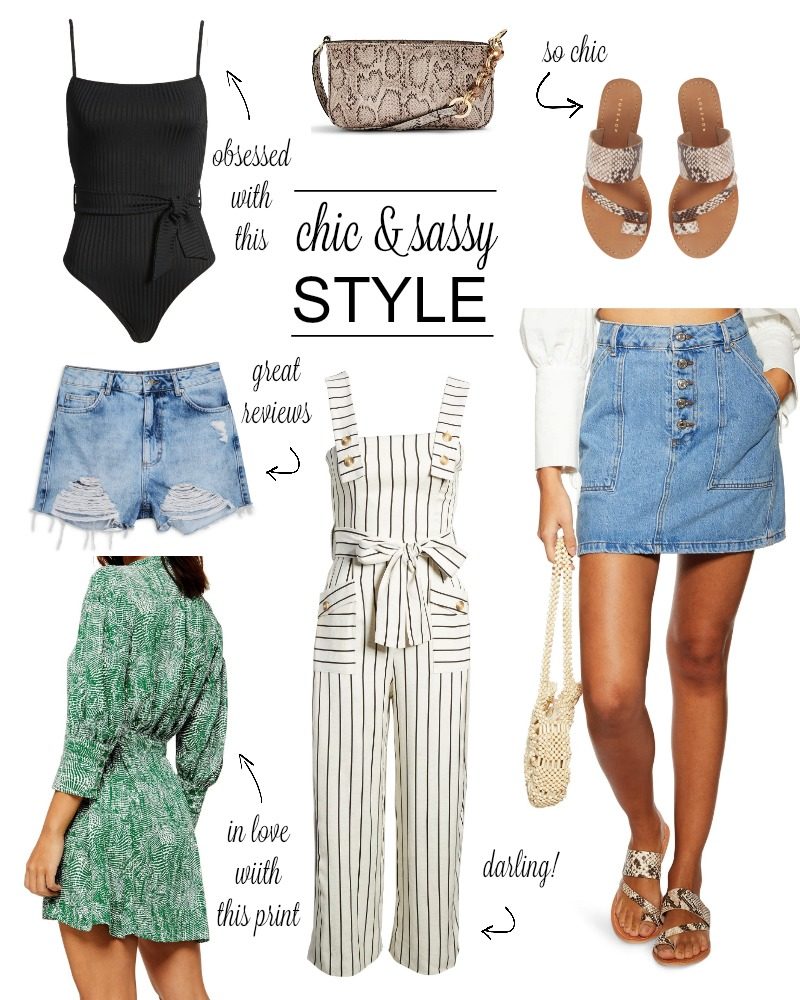 swimsuit | shorts | handbag | sandals | dress | jumpsuit | skirt
Girls, I bought this black swimsuit and LOVE it. My husband loves it too and he usually prefers a bikini. It's so dang cute. Might be my favorite suit right now. The back is definitely a bit cheeky and I adore the tie around the waist. I may even order it in the other color. It looks so cute with the denim shorts or skirt, too.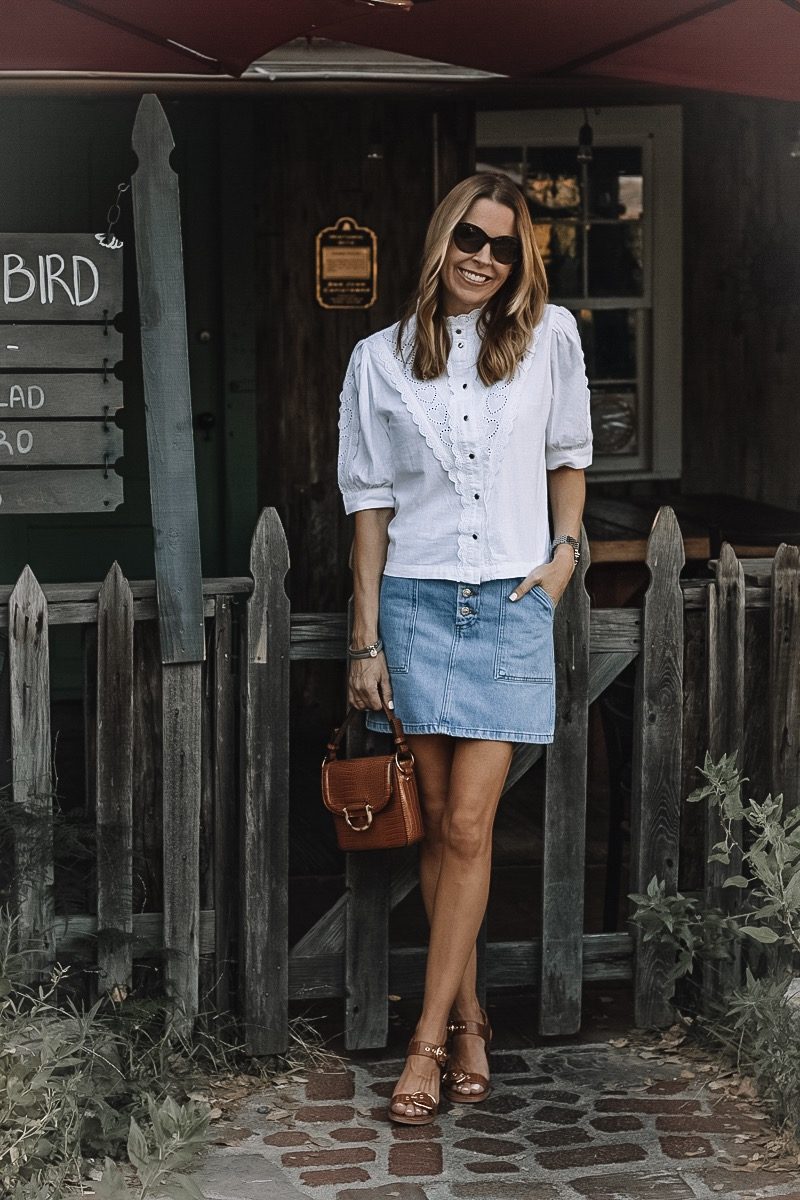 skirt | top | sandals | handbag
SHOP THIS LOOK

Topshop (one of my go-to brands at Nordstrom) has so many cute styles right now. In fact, my daughter is loving the line as well. Currently we can share shoes which is a total score. These sandals are comfy and so fun to wear. So different than what is in my closet and under $60.
And don't forget Early Access ends today. The Nordstrom sale opens to everyone tomorrow so you may want to grab these cutie pie Topshop pajamas while they are still in stock. You can see all of my picks under $100 in this post.
One thing I've learned for sure. We are all stronger than we think! Keeping the stress under control and putting one foot in front of the other is what maintains my sanity. How about you? What is your trick for keeping a healthy perspective on it all. I would love to hear.
*Proud to partner with Nordstrom on this post. Affiliate links used.