Whether you are accessorizing a room or an outfit, it really is that final layer that adds the finishing touch. When my sister and I were designing spaces, going in and adding the accessories was our absolute favorite part. The same holds true for me when it comes to accessorizing my outfits. When Nordstrom asked me to share my favorite go-to pieces I jumped at the chance because this is what I love so much. Sharing my favorites as well as the secret to turning a drab outfit into a pulled-together chic style. Here are 3 tips to the art of accessorizing.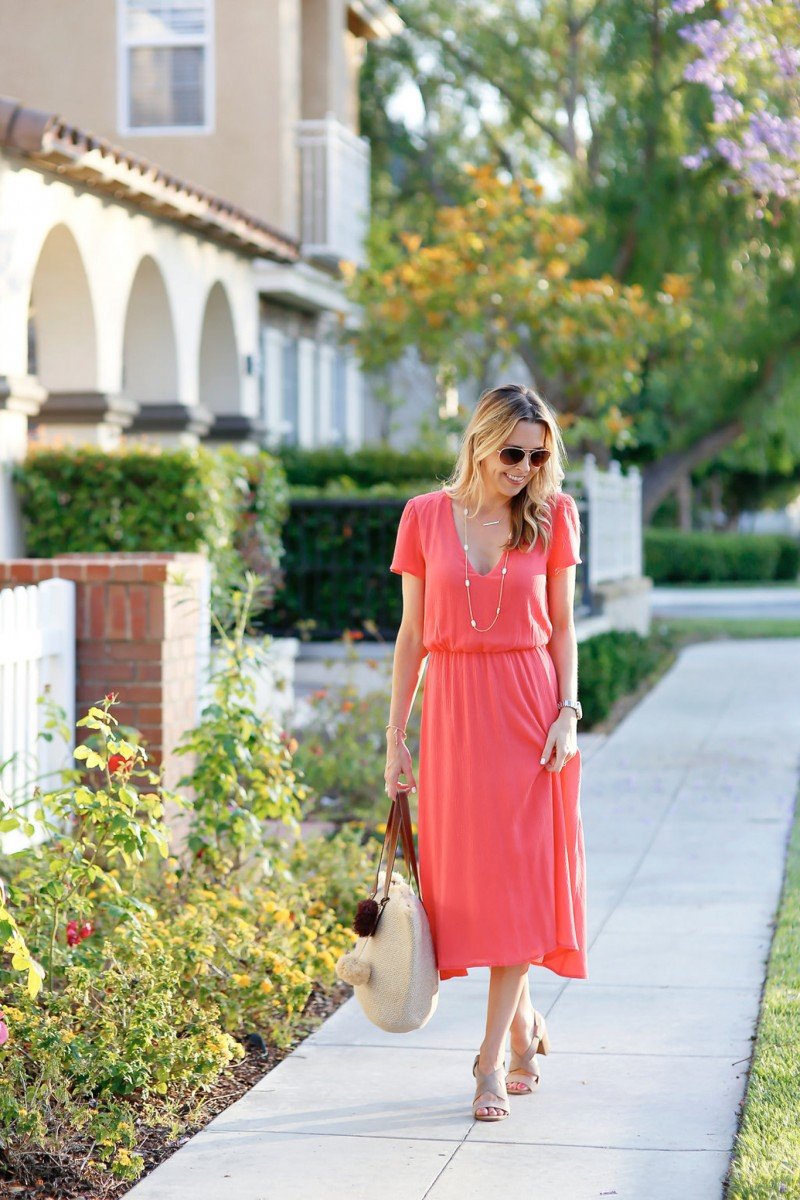 This melon/coral color is so pretty for summer. I think it mixes really well with gold jewelry. And I have my family to thank for my new gold bar necklace (my Mother's Day gift). I had been wanting one for quite some time and it is so delicate and pretty. It works great for layering with my longer necklaces.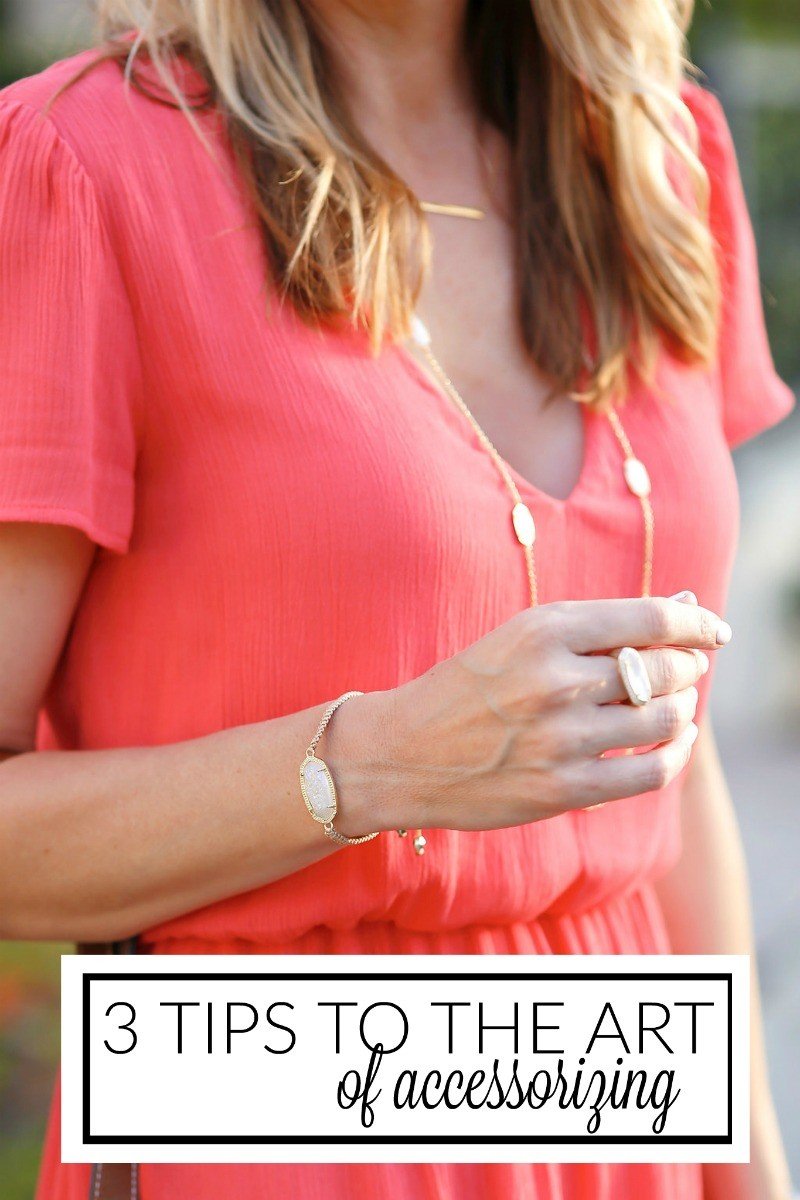 Shop This Look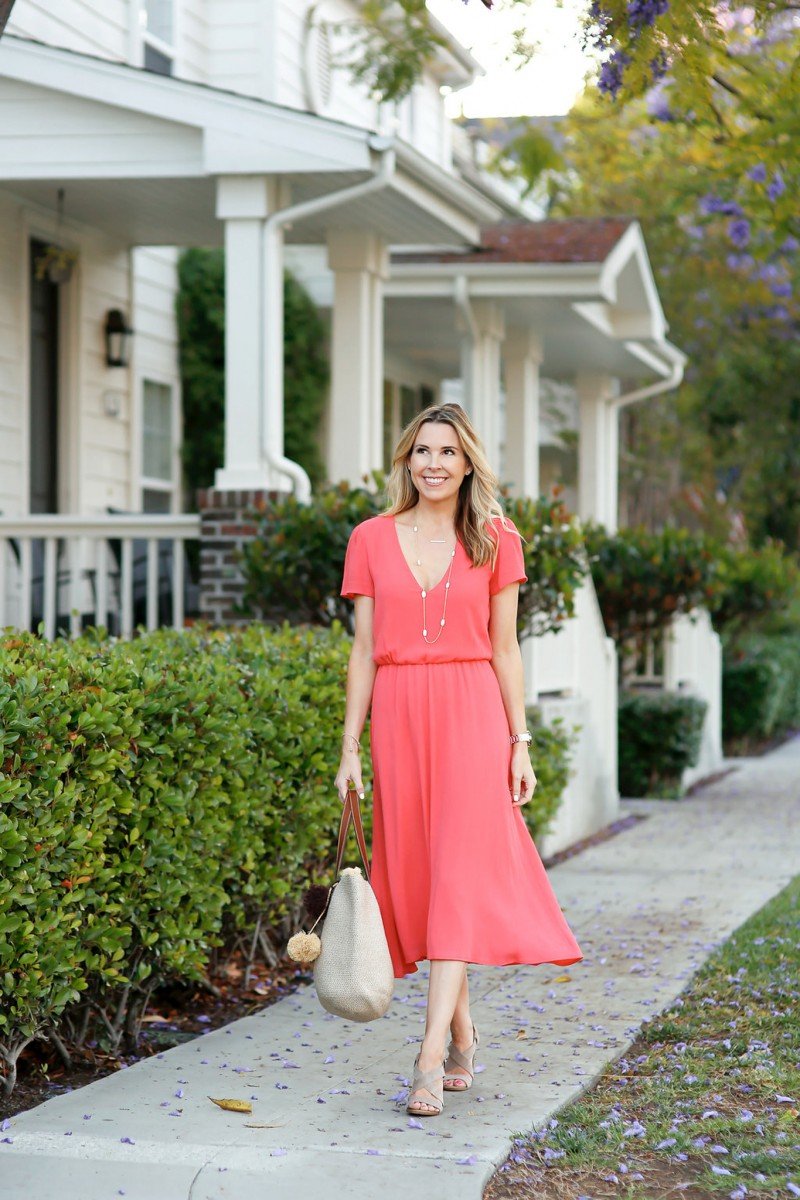 Tip #1: The High-Low Rule: 
If accessorizing your outfits does not come easily, just remember the high-low rule. Choose one high necklace (sits higher on your chest) and one that hangs lower. The combination of the two always works. And keep them fairly dainty so it does not overpower you or your outfit. This works for everything from t-shirts to dresses.
This dress, by the way, is so easy to wear and really comfortable. It also comes in white and is a nice price point. It's one of those dresses that seems to work for any occasion. Recently I wore it to church on Mother's Day as well as to a picnic in the park (worn with sandals).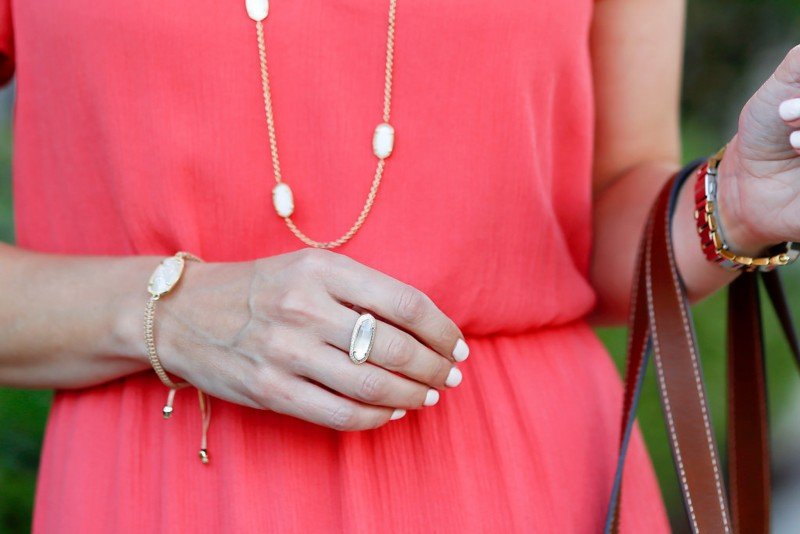 These are pieces I have collected over time and just so happen to all work so well together. The ring is new and I really love wearing it because it's feminine and dainty. And it goes with everything. The bracelet also goes great with distressed jeans and a tee or with a dress. It's really versatile.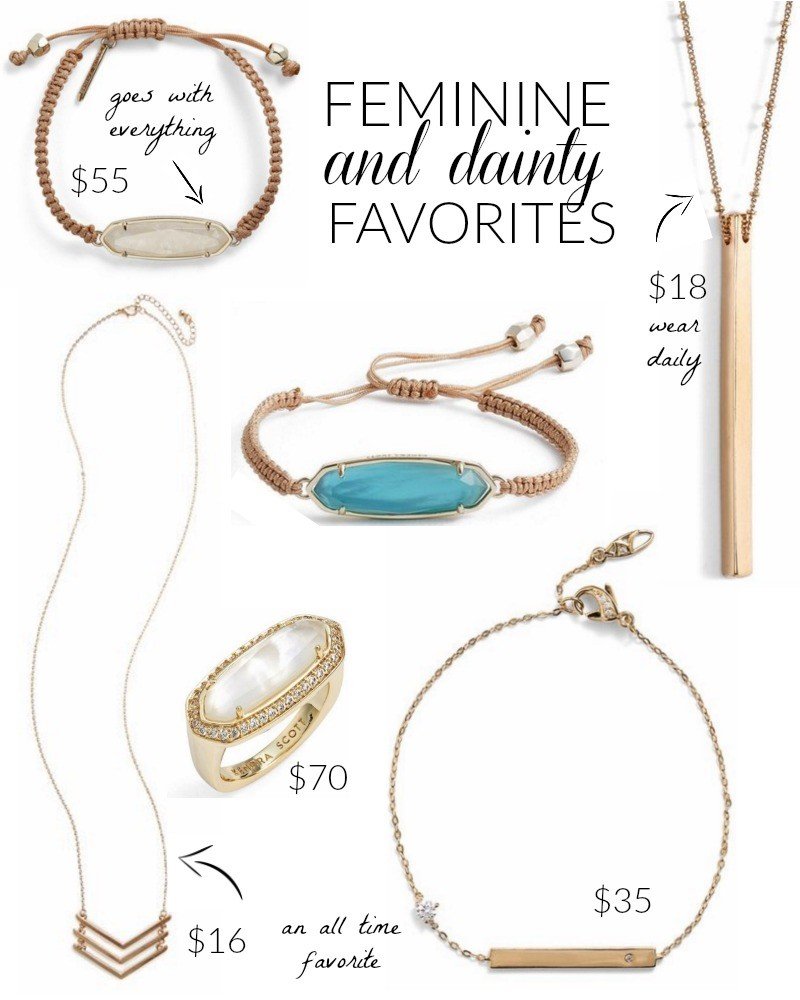 If your just building your accessory collection, these are great to start with. I wear a combination of these almost daily.
Secret: I love that these go with absolutely everything and complete a look. They can make even a casual and blah outfit shine. I promise. Sometimes people will tell me that I look so put together. Shhh. Don't tell them it's not really true. But it's not! Ha. Throw on a t-shirt and jeans but add a couple of necklaces, one statement ring and a go-to bracelet and your good to go. It's true!
Shop These Favorites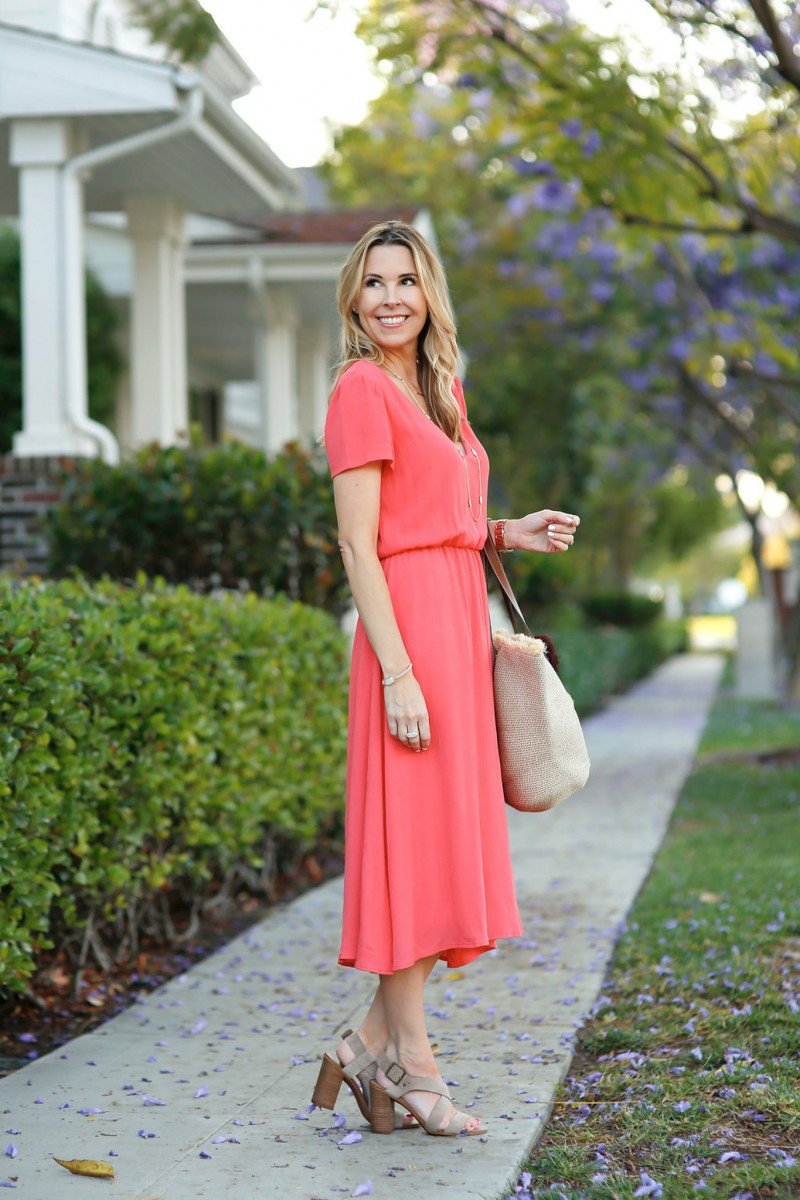 dress | block heels | straw bag
I showed you this cute straw bag the other day with a really casual look but I wanted you to see that it's also super cute with a dressier look. I took it with me the other night when we went to dinner with friends. It had enough room for my hostess gift as well as the kids pullovers for when it cooled off in the evening. I really like the way the minimal gold jewelry looks with this dress. I think many times, less is more.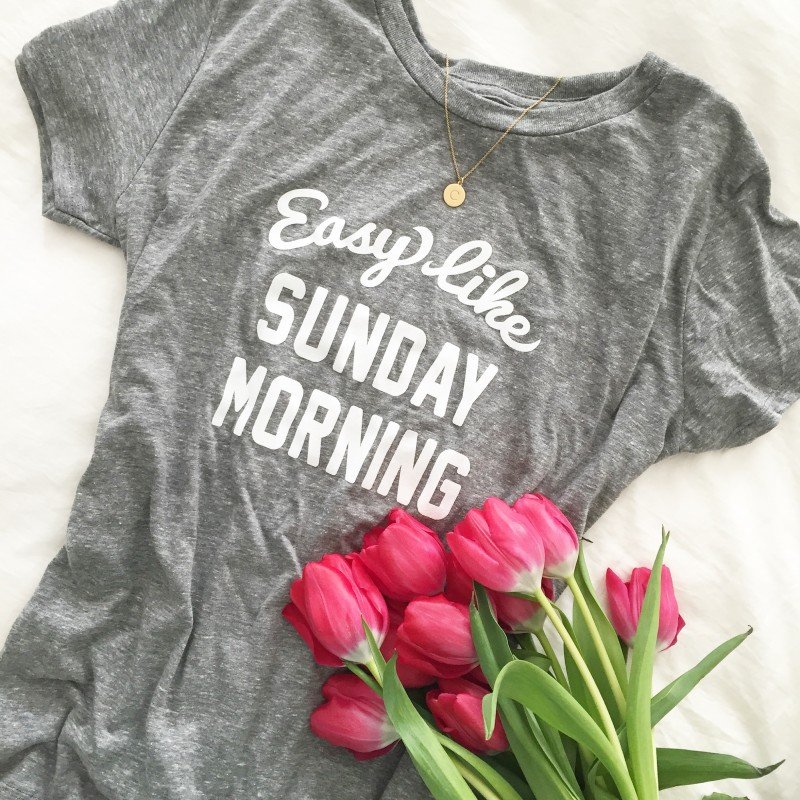 Here is another one of my favorite necklaces. I wear it pretty much daily. Well now I switch off between this initial necklace and this bar one. And then I just add one more for a layered look. We gave my mom the "L" necklace for Mother's Day and my sister received one from her family so now we all are part of the initial club! I know my daughter wants in on that, too! One day!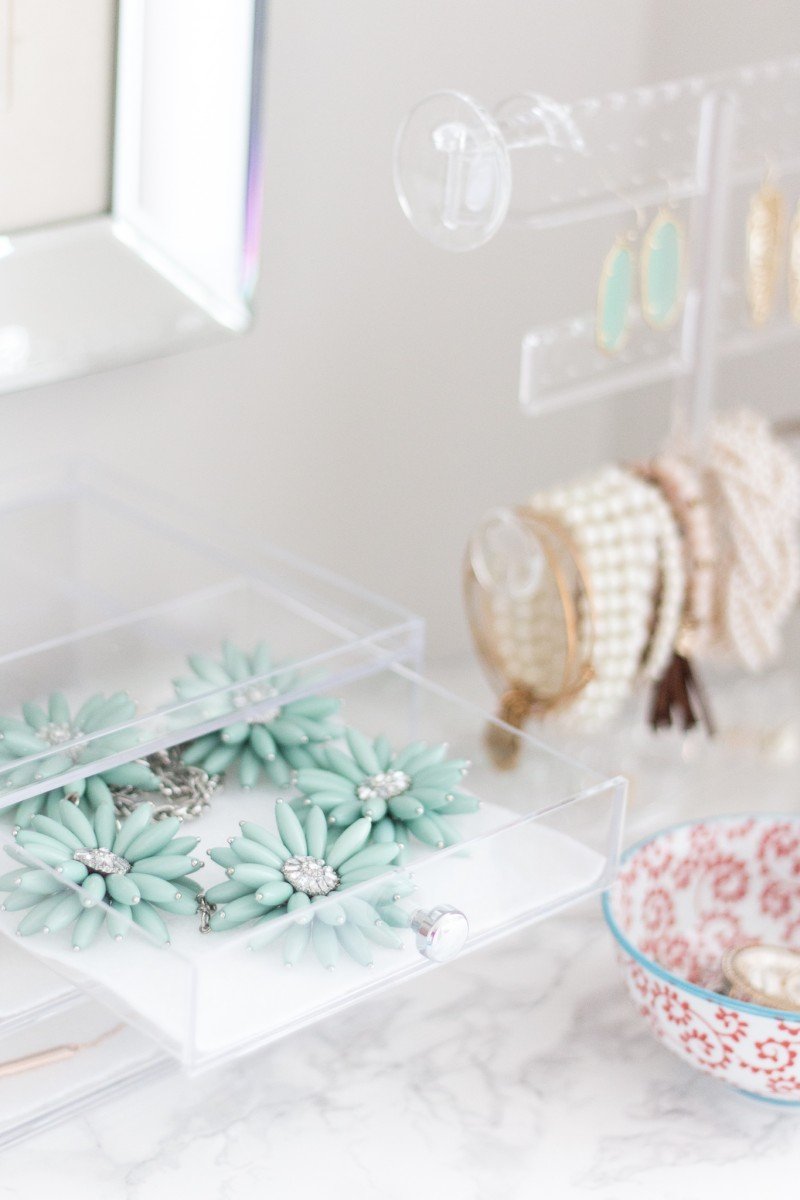 Tip #2: Make a Statement
Recently, when I organized all of my jewelry, it became very evident that I have very few statement pieces. It's not that I don't love them, but I gravitate towards smaller pieces. This floral necklace, however, has been such a welcome addition to the wardrobe.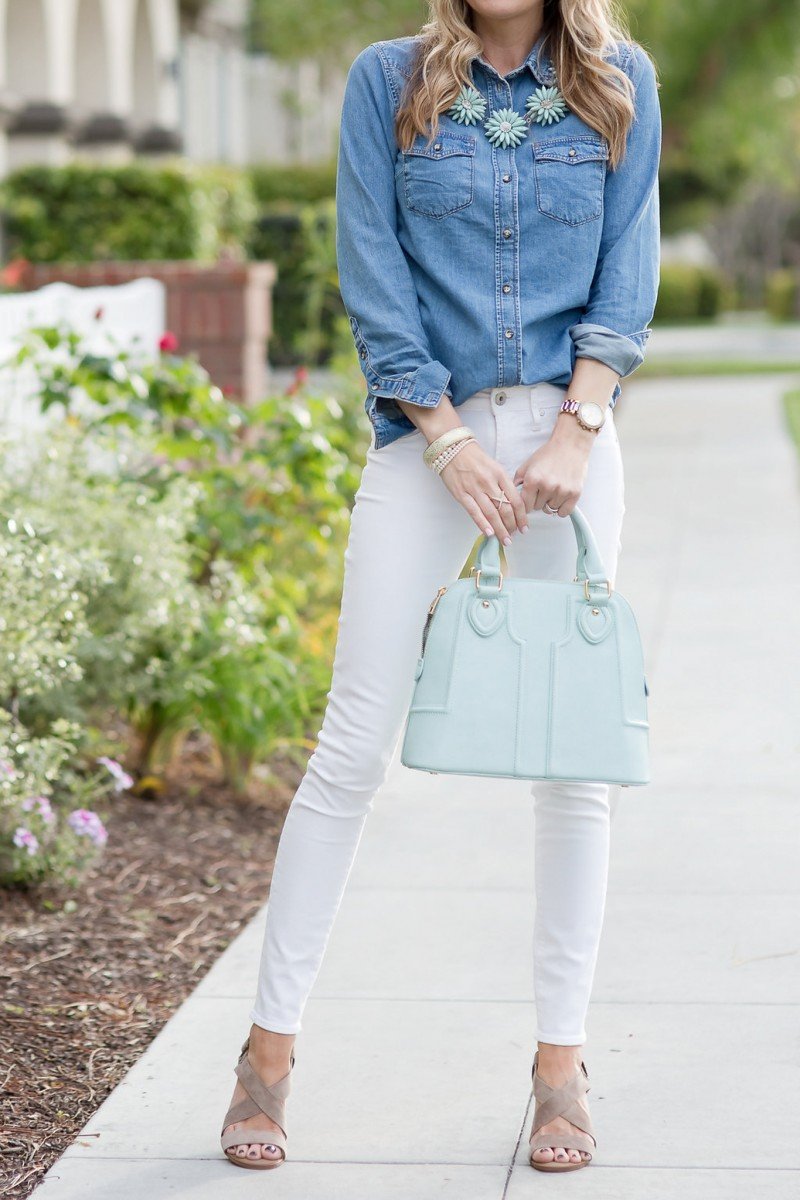 mint handbag | necklace  | white jeans | denim shirt | heels | watch | ring 
I love how a great statement necklace can really transform an outfit. It can tie it all together and make it far more interesting. I just really like the mint green with denim. Nordstrom has some darling pieces in their BaubleBar right now!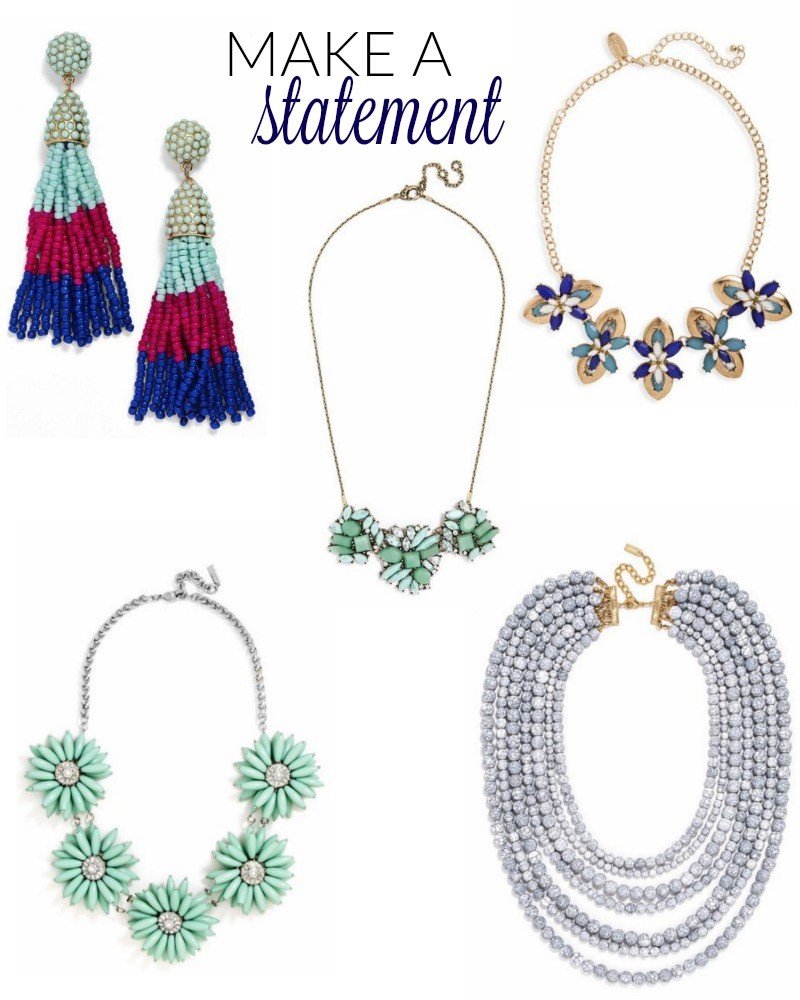 These are all so fun! Especially those earrings! They are so on trend right now. Nordstrom has a great selection of fun can colorful looks.
Statement Pieces

Tip #3: Stack it Up
Earlier I talked about looking pulled together. It really is all about the accessories. You could make a pajama shirt look cute if you tossed on a necklace and a stack of bracelets. And when I organized my jewelry I realized I really am a bracelet girl. I have couple of go-to stacks that I just grab. It's easy and they make a nice statement.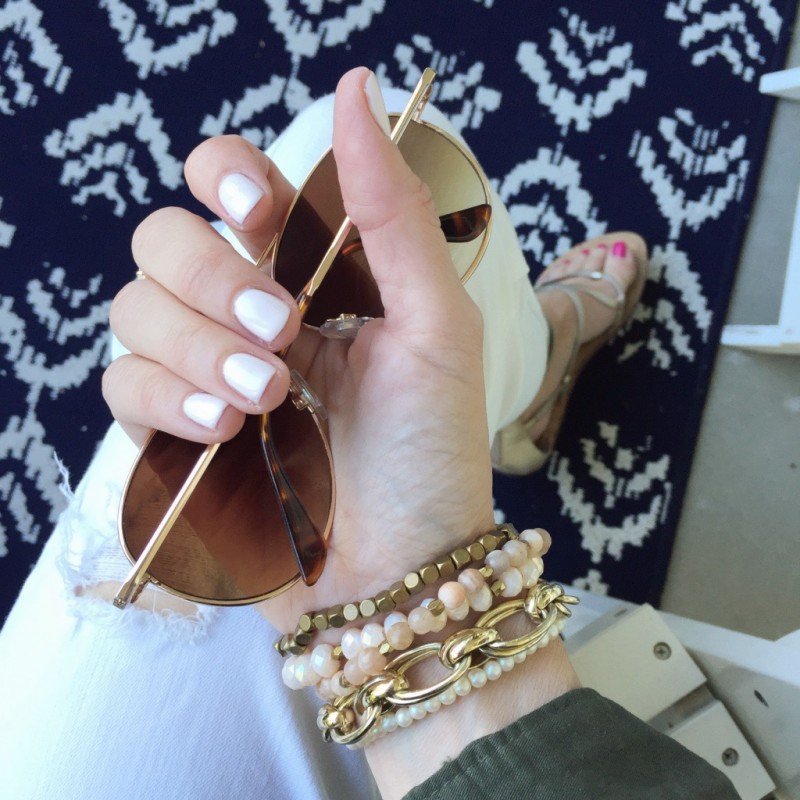 distressed jeans | field jacket | sunglasses | sandals | beads | link bracelet
Remember these from the other day? Just a stack of cute bracelets pulls the look together. I rounded up some cute ones below.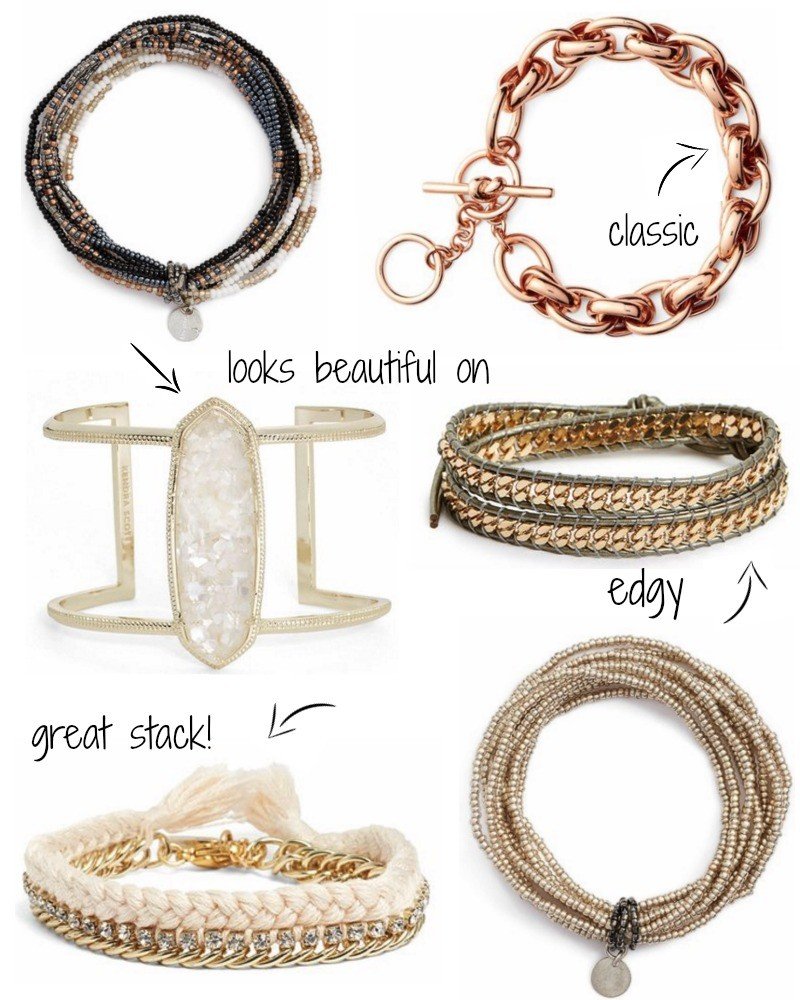 These are all neutral enough that they can work with any outfit. I love the stacked look and the one with a bit of an edge. And they range in price point so there is something for everyone. So when in doubt, throw on a stack of bracelets and you'll see how your look becomes instantly more chic.
Shop These Bracelets

Can you tell I love talking about accessories?! I could go on and on. A few great pieces can transform your outfits. Hopefully this gives you a great place to start if you are building your own collection. And remember. . . a little goes a long way.
*Thank you to Gabi Wells for the photos and to Nordstrom for partnering with me on this post. Affiliate links used.