Thankfully I am back much sooner than I thought with an after photo of my jewelry organization. Thanks for letting me share the awful before yesterday. Isn't it funny how we can put something off for months, maybe even years, and when it comes down to it, the task takes about an hour. I feel so much better and so happy walking into our room. I hope this encourages you to tackle a hot spot in your home. Here is how to organize your jewelry in 5 simple steps.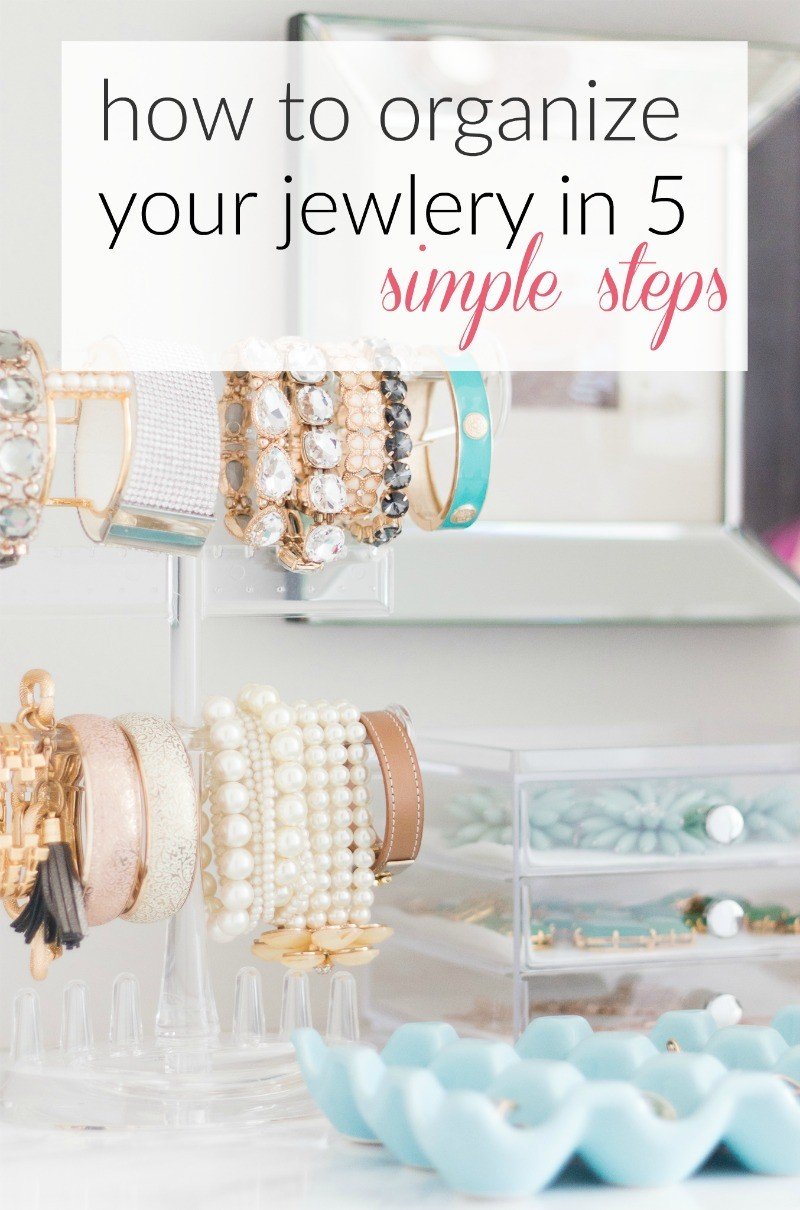 STEP 1 | Clear out the space
The first step feels so good. I took absolutely everything off of the shelf. I placed the watch back and sort of wanted to walk away and keep it like that. Less is more right?! But alas I would miss my accessories so it was back to work.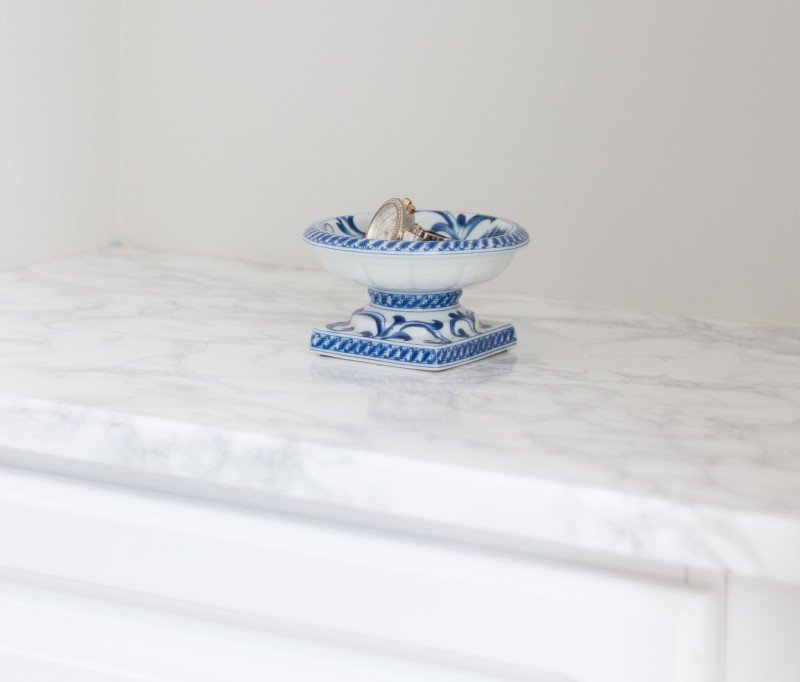 STEP 2 | SORT BY DONATE AND KEEP
I had moved everything to the floor so I sat and sorted. With music cranked up while I did this, all I worried about in this step was whether I wanted to keep it in my life. Do I wear it? Do I love it? I created by "keep" pile and my "donate" pile. After I had my donate pile (which sadly wasn't very big) I placed those items I no longer where in a small tote to take next time I give to a nearby thrift store.
STEP 3 | SORT BY ITEM TYPE
Once you have your keep pile, it's time to sort by item. This will help you realize what your are dealing with and what type of storage you need.
Possible categories to consider:
bracelets
short necklaces
long necklaces
statement necklaces that take up more space
rings
watches
stud earrings
dangly earrings
It was very clear, after doing this, that I am a bracelet and long necklace gal. I have very few earrings and not many short necklaces. This is all important information because you need to know what type of containers will work. I thought I would be hanging hooks on the walls of this nook for my necklaces but they were all too long for that.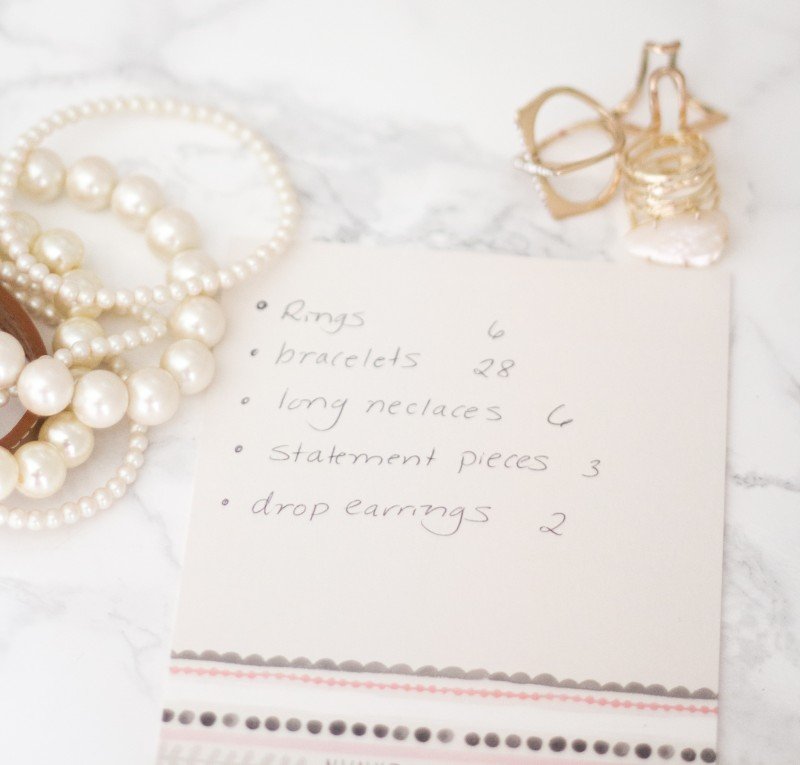 STEP 4 | CHOOSE STORAGE
My best tip for you is to do steps 1-3 before you ever go near the Container Store or some place like that. I bought a few things prior to doing these steps and they are all being returned. You have to know what you need. Take an actual list with numbers next to each of your subcategories. It's easy to go to those stores and be tempted to over buy or buy beautiful storage items you don't really need. Also be sure to keep scale in mind. The area I am working with is not large. Some of the organizational items are just too big in scale for this project. After sorting, I knew I needed to go and get a container to hold my nicer necklaces. The ones that were gifts or cost more and I really want to protect from dust.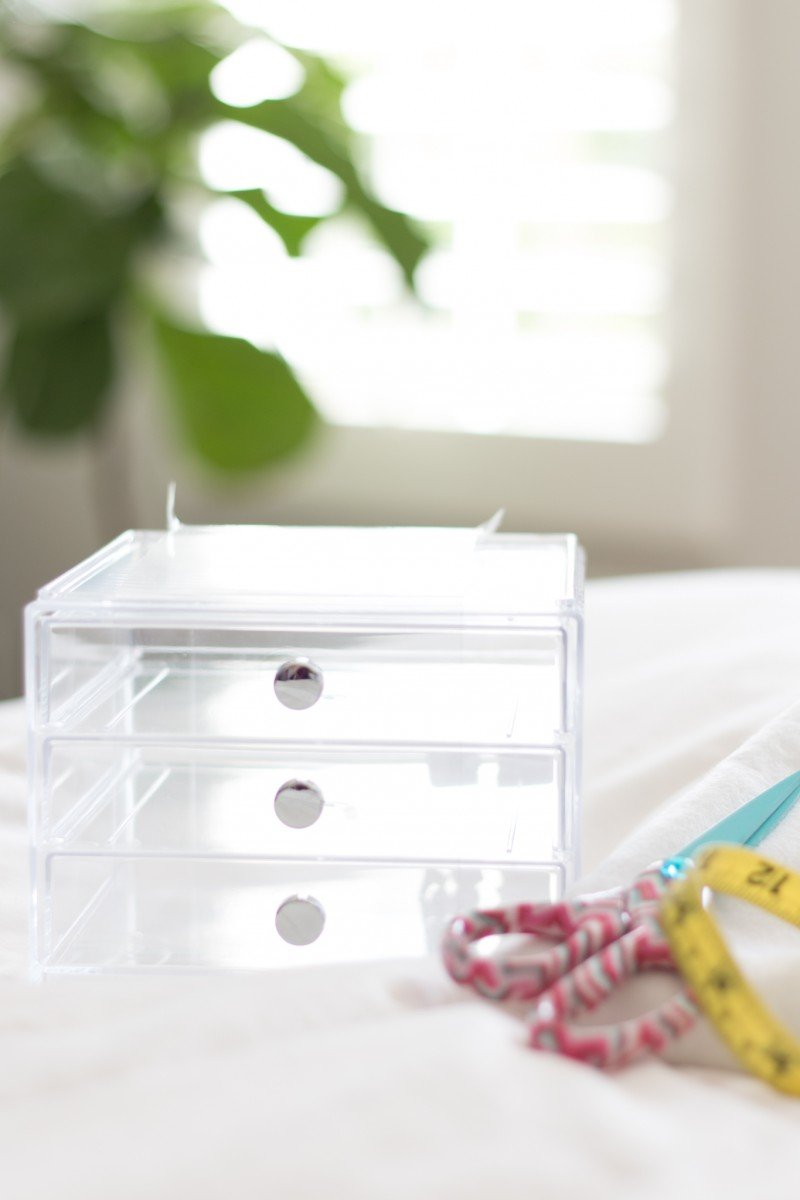 I found this set of drawers for $10 at HomeGoods. My Container Store is not close, so I took the lazy route and headed up the street and it worked out well. I measured the drawers and cut a piece of white felt I had laying around so the necklaces have a soft surface to rest on. I used double sided sticky dots to keep the felt in place.
If you are headed to The Container Store, these are some great pieces: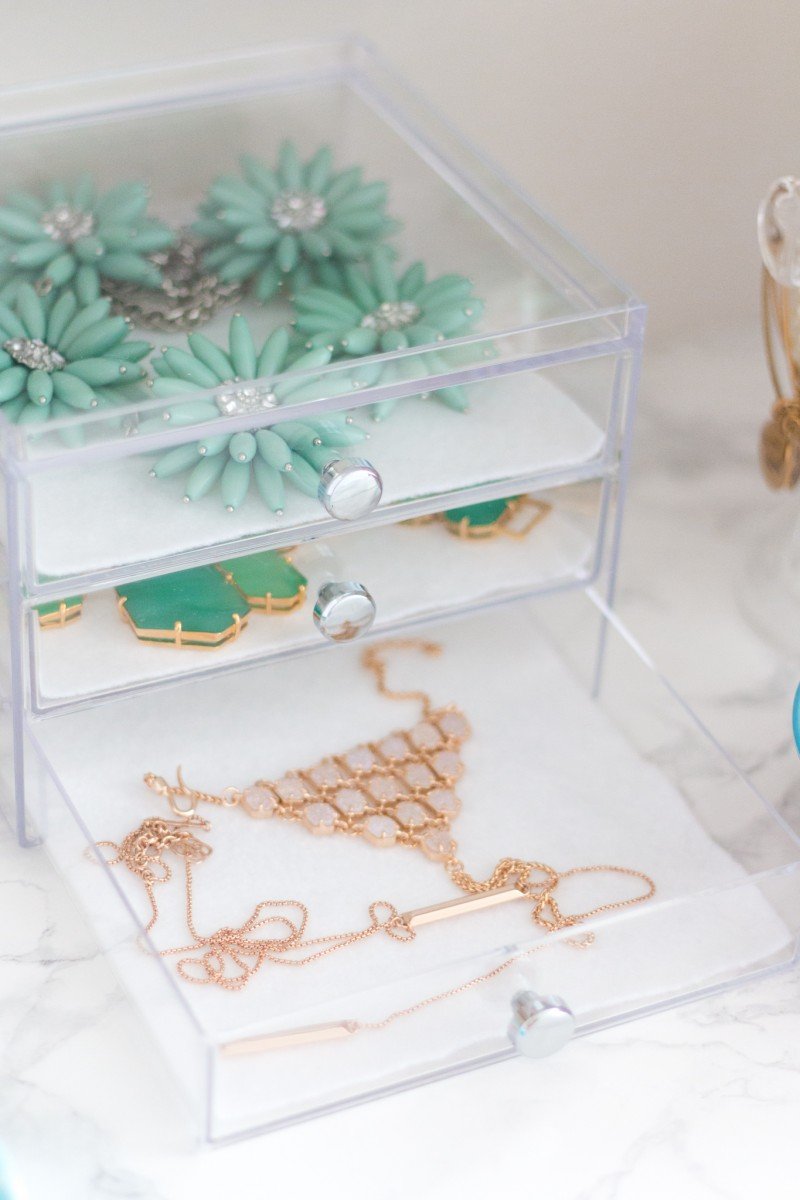 mint flowers | similar green necklace | rose gold y necklace | hand chain
STEP 5 | EXECUTE YOUR PLAN
If you have gone to the store with a list of what you own (and how many of each) it is so much easier to shop. I had already picked up these standing jewelry holders from HomeGoods knowing I would fill them with my bracelets.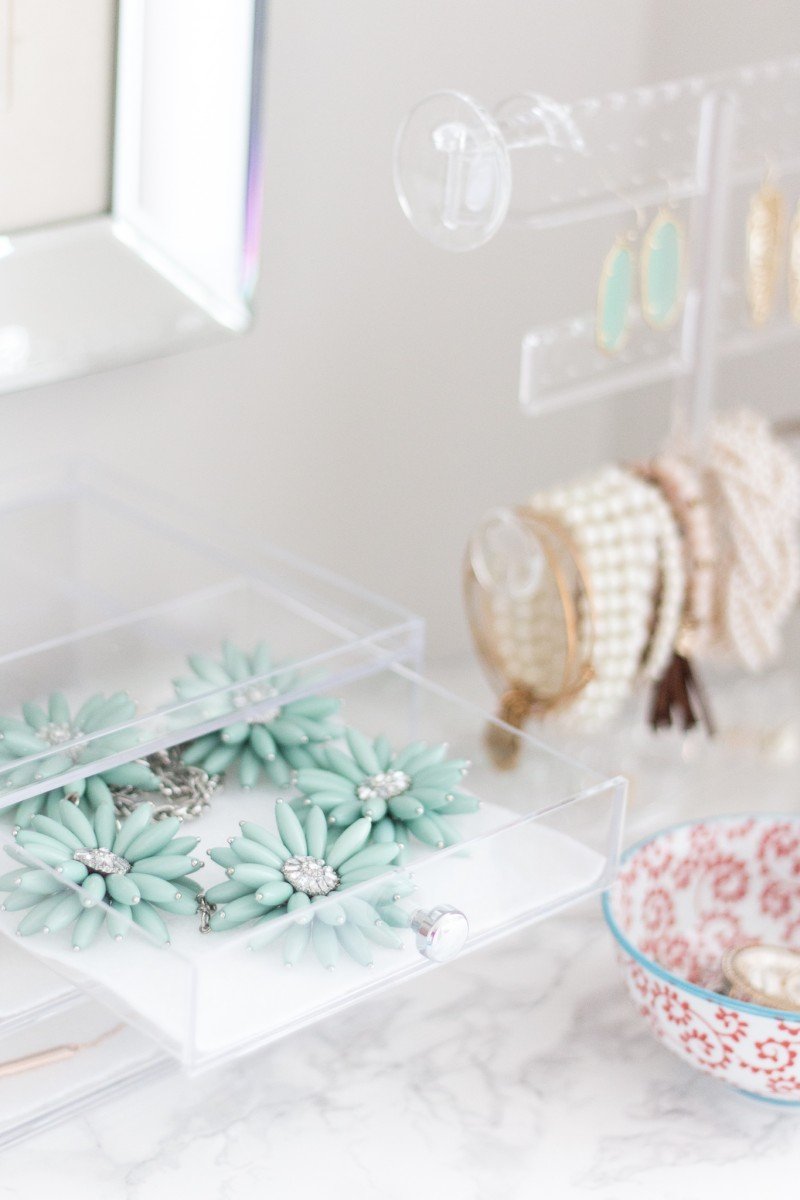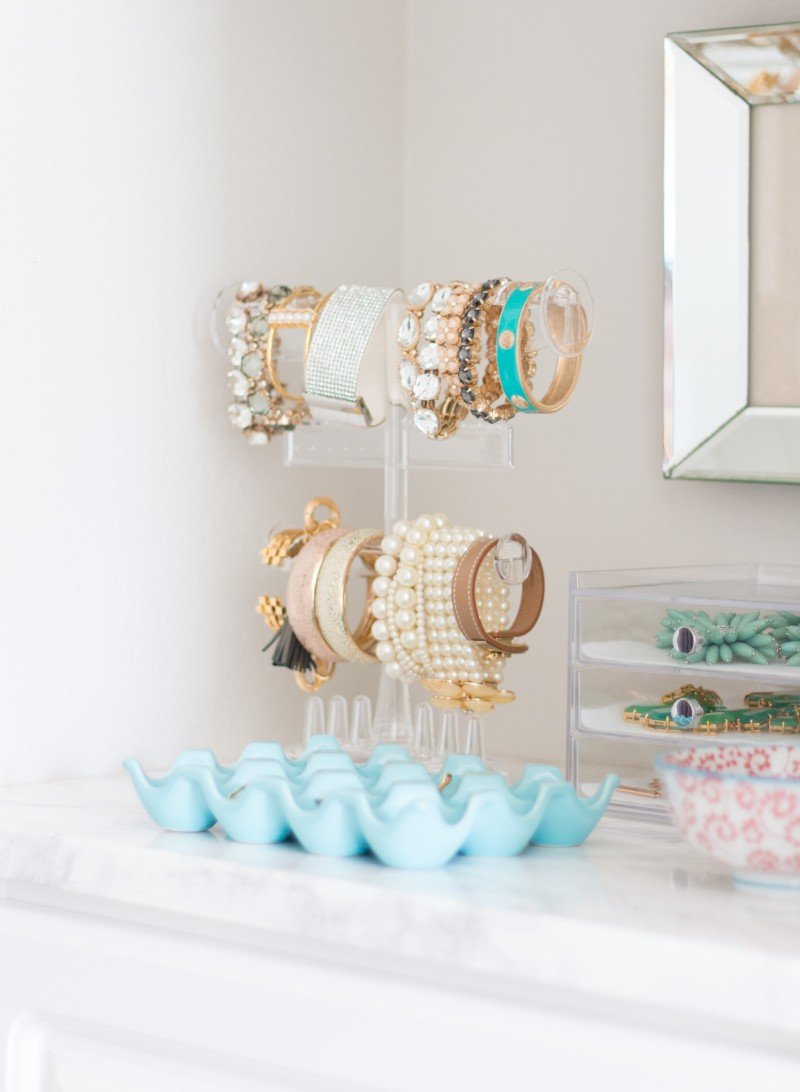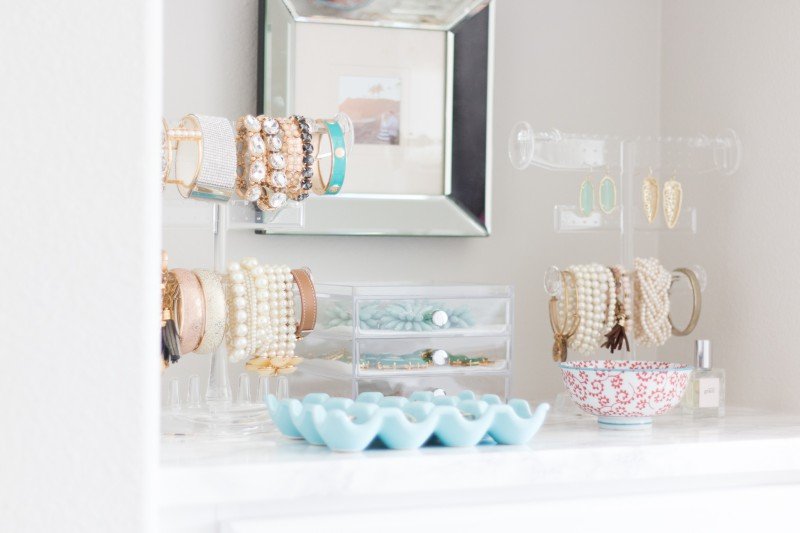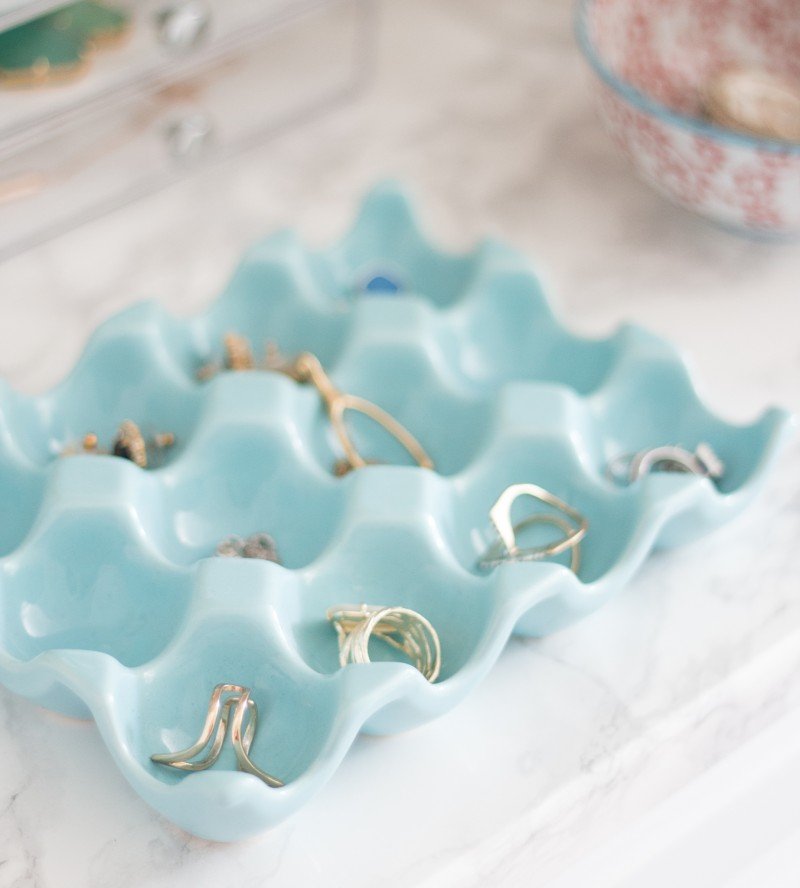 I've had this egg crate from Anthropologie for years. It's perfect for rings and for dainty chain necklaces. They no longer carry it, but I have seen them at Target.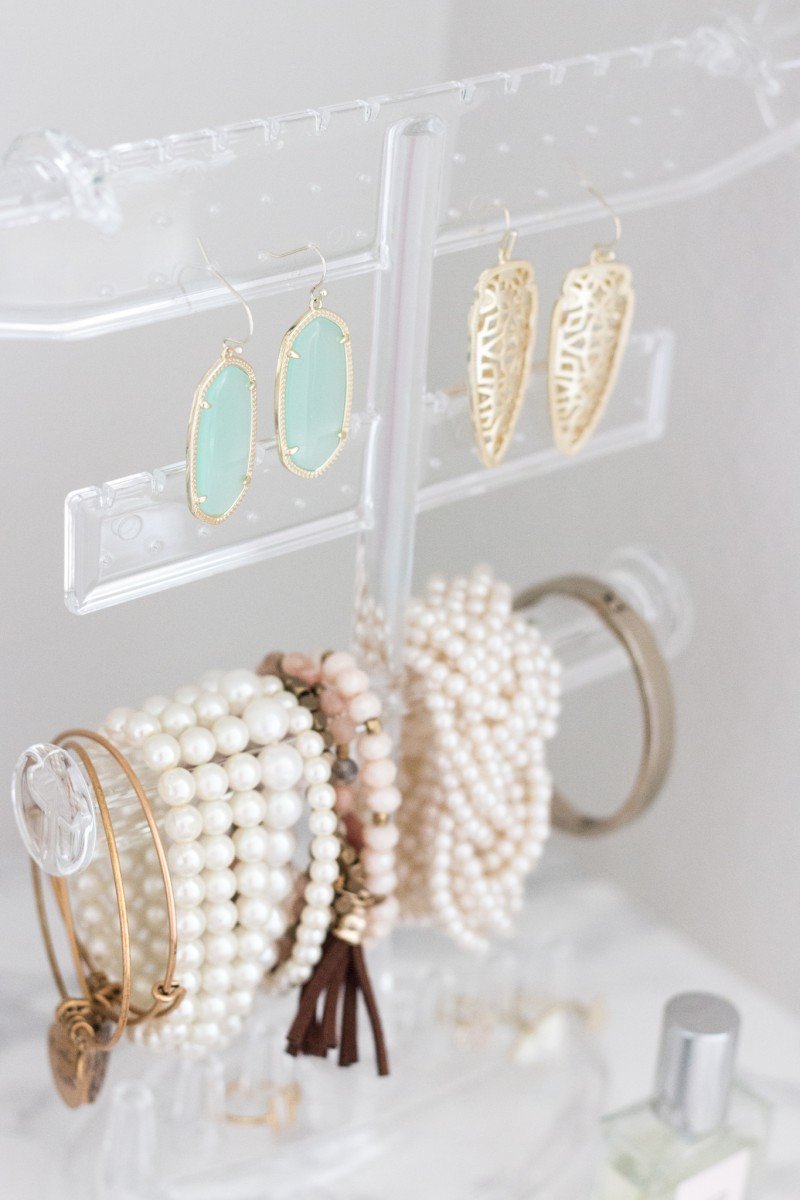 While I don't have many dangly earrings, this stand did allow me to display those nicely.
Can you tell I have a thing for gold and pearls? This was very enlightening! You like what you like, right. Also pretty funny that the only color I really have is green. It may be different hues of green, but they are all green! With a little blush thrown in.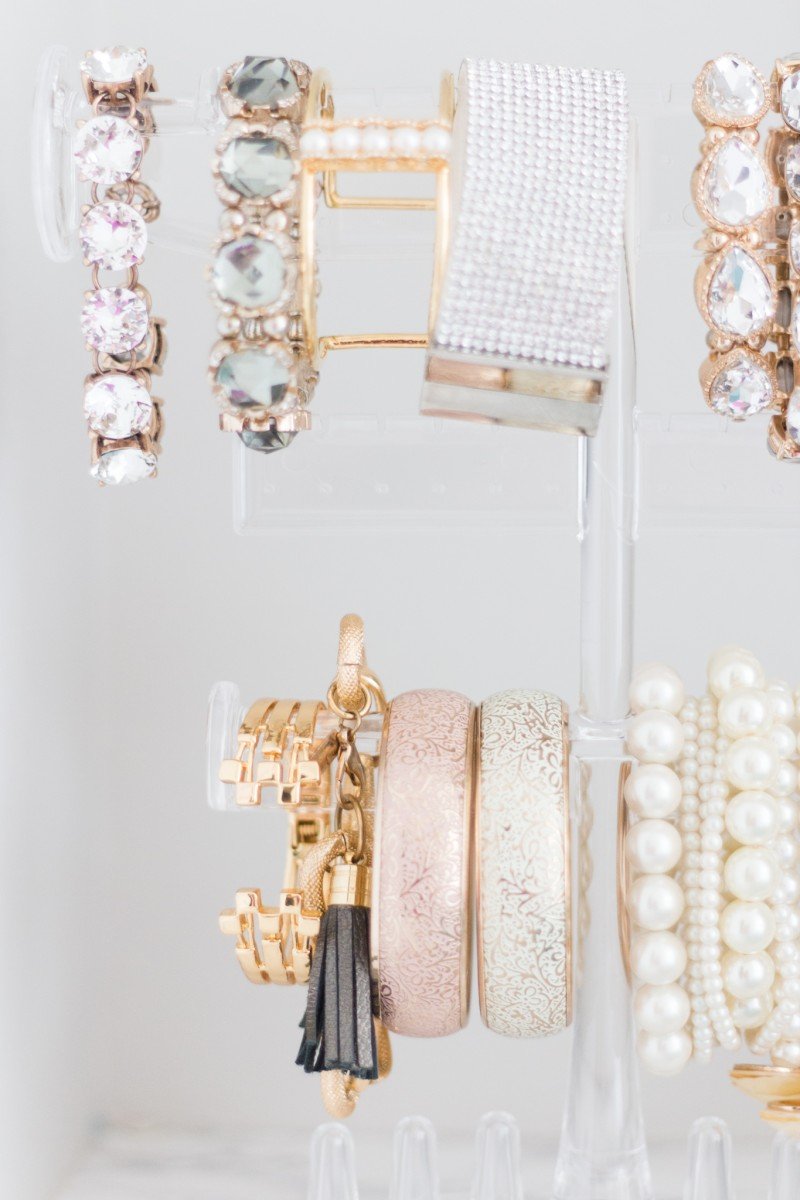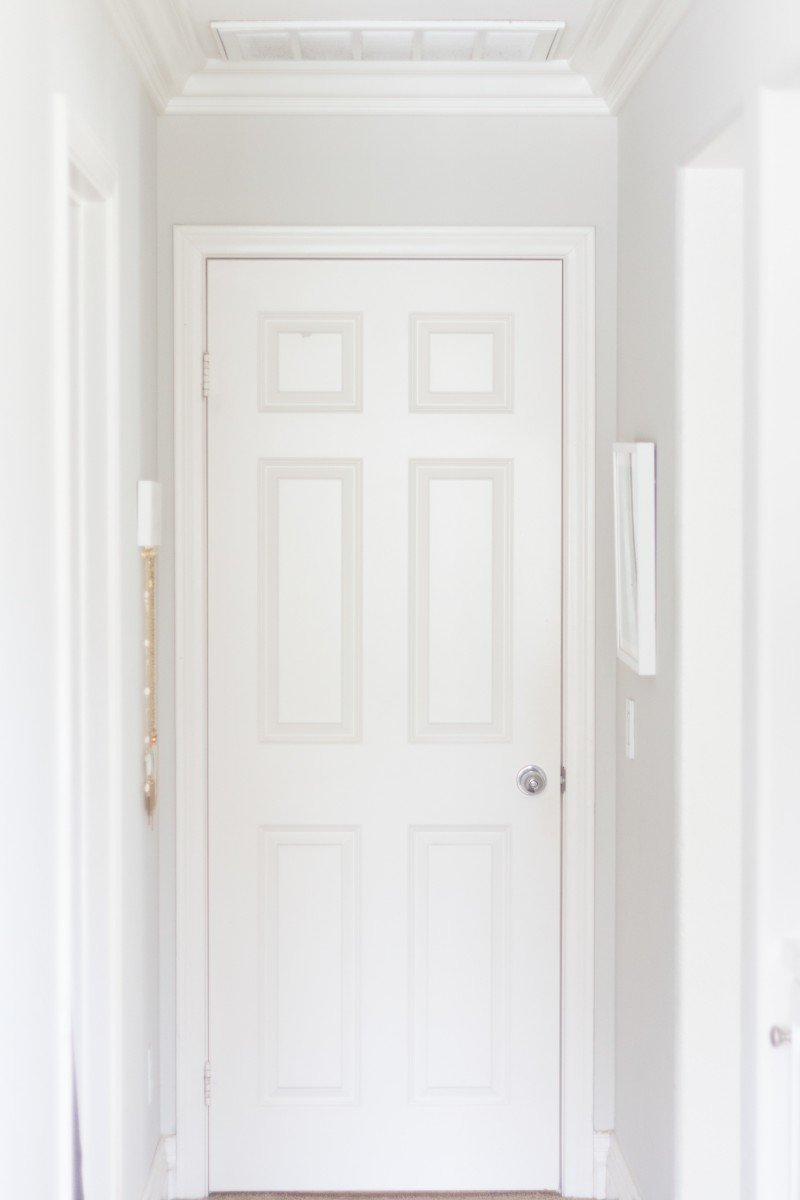 This shows you my room with our door closed. My jewelry nook is on the right. The last set of items I had were my long necklaces. They just weren't going to fit in the nook. So I set out to find a cute set of hooks. This is something I could have made myself but I was more in the mood to grab something quickly so I could finish this area.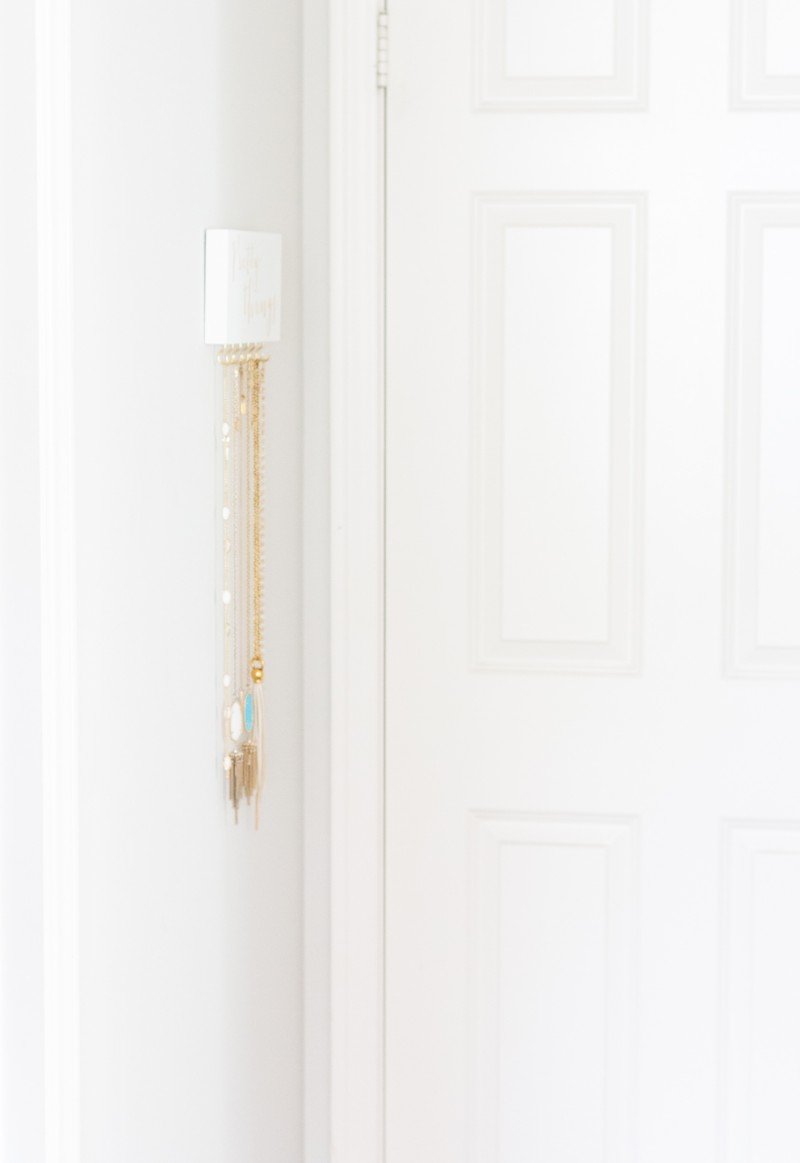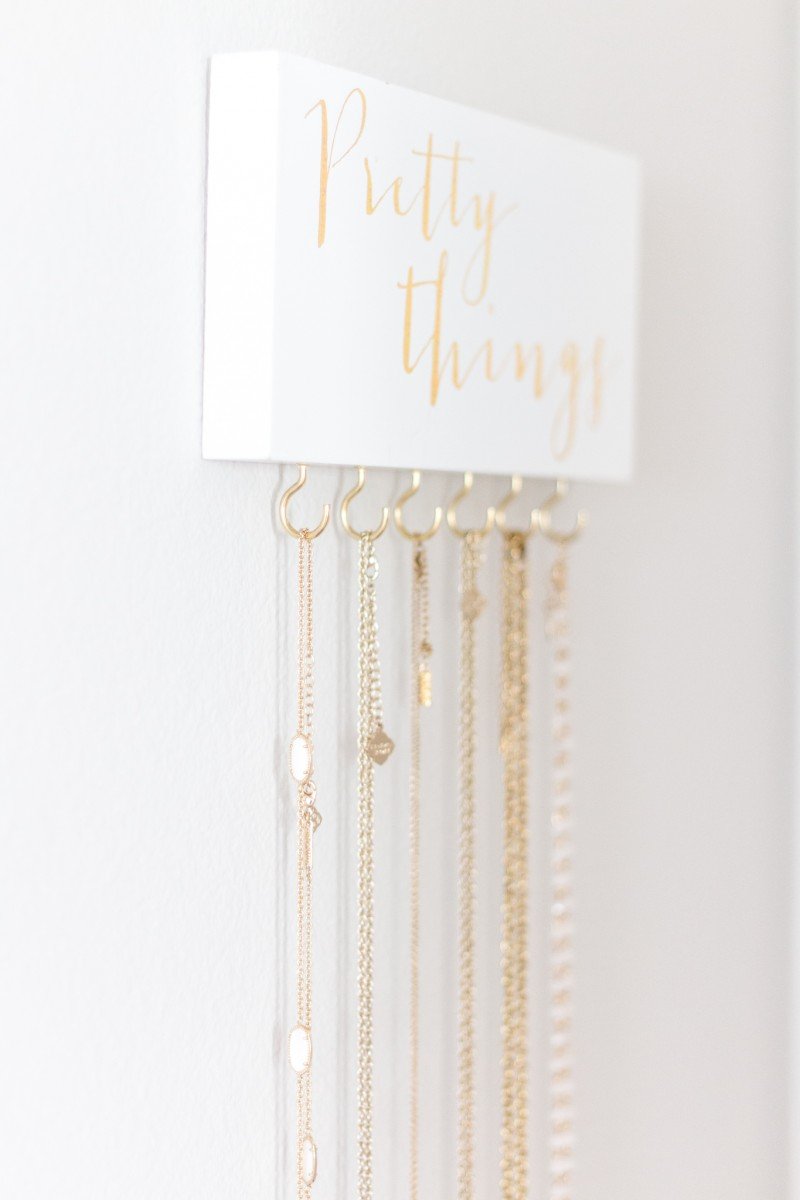 I found this at HomeGoods as well. They had a great selection of these little signs and hooks. This is now hanging behind our door so it's not really on display but is easily accessible. Even my kiddos noticed and said it was cute. So funny what they see.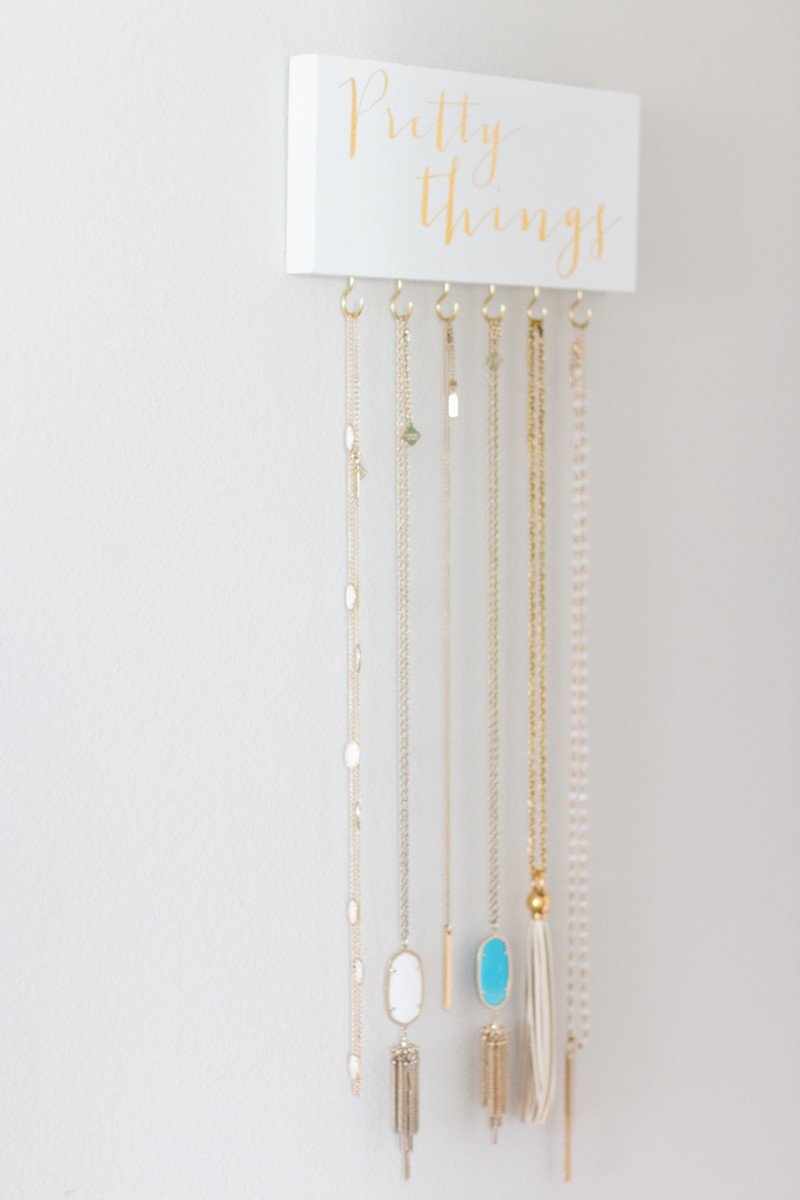 station necklace | stone pendant | white tassel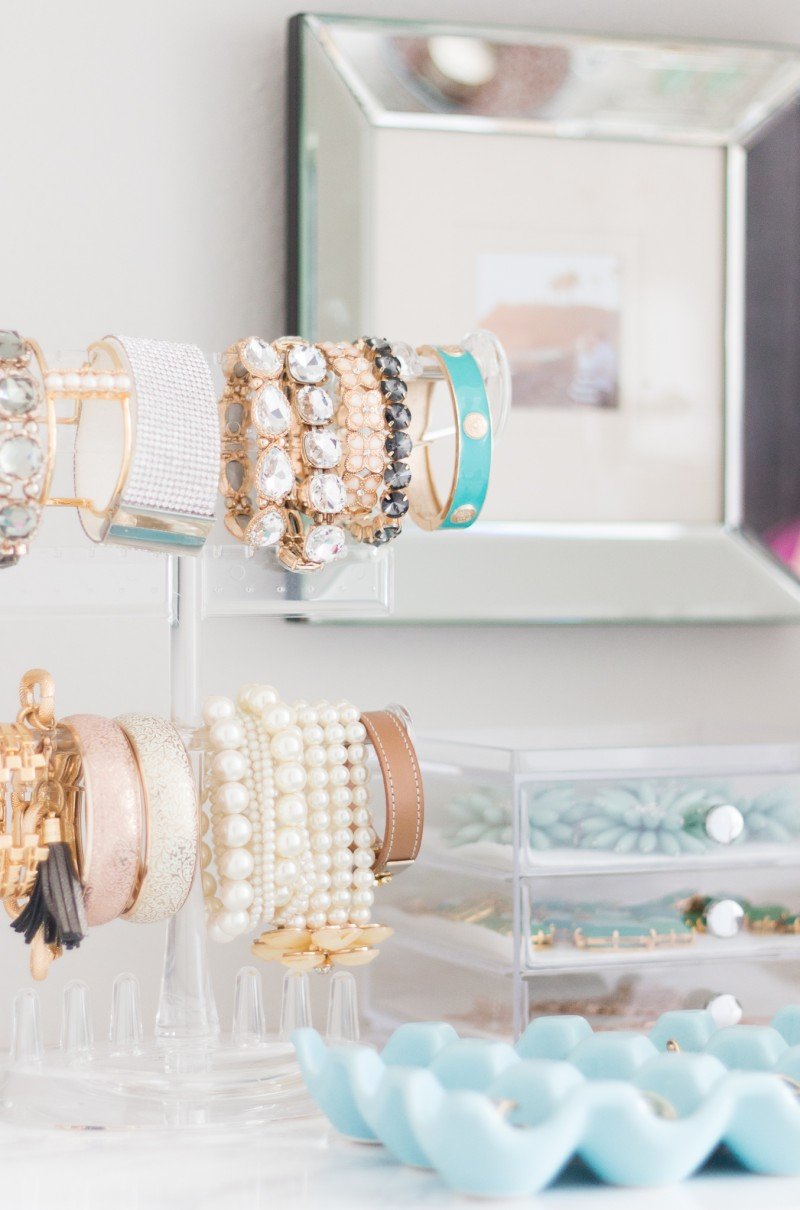 I love this new jewelry space! So much better than the before. I did keep a few more items that are in the cabinet above. But they are things that I wear once or twice a year. I still need to organize the upper cabinet and will show you when I do.
Overall, I am beyond thrilled. I spent less than $40 in storage items and I can actually see what I have now. It's actually a joy to accessorize now! I hope this gives you a little nudge to purge an area that is bothering you. It's so worth it.
If you are in the mood for more organizational inspiration, some of my tops posts are below:
Enjoy your day, my friends. Off to choose my outfit and jewelry! Ha.