Not too long ago, I shared a design board for our guest room. It really got me thinking about what makes a space special for guests. When you go to a beautiful hotel, what are the elements that you love and appreciate? Today I've teamed up with Walmart Home to share not only a budget friendly guest room, but to chat about the little things that can really make guests feel welcome.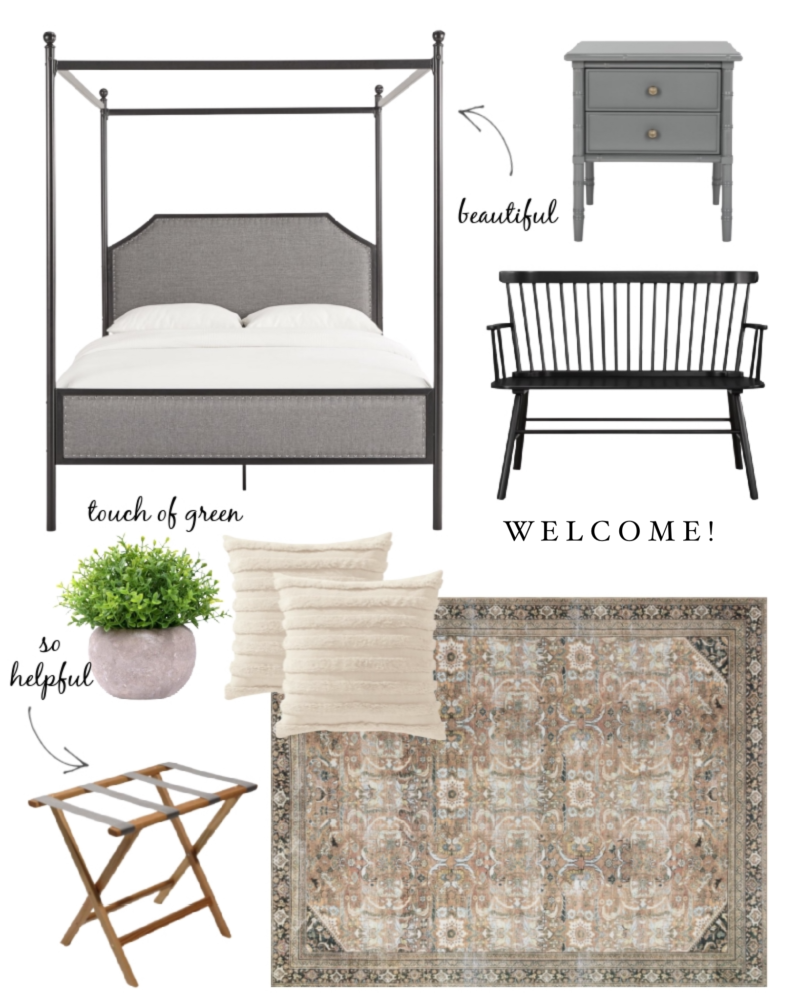 After the year we have all had, the idea of opening our homes a bit again is so incredible. I know that with our upcoming move we are counting on dear friends and family to visit. Because of that, I really do want to dial in our guest space and be sure it's welcoming and comfortable. This design board was created with affordable items from Walmart Home. This bed! I spotted it and now I may even consider it for our own room. I have always loved the canopy style but the mix of metal and upholstery takes it to a whole new level. Add in a rug with rich color tones and a luggage rack and you are well on your way. I will be brining this black bench with us and I think it will be perfect for a place to sit in the guest room.
If you are shifting things around to accommodate guests (our specialty) this air mattress is great. We just bought this exact one. I like that it's a bit taller and the pump is included inside. You can't beat the price.
THE LITTLE THINGS
basket | towels | hair dryer | journal | robe | two tone basket
When I started to think about times I have stayed with friends or different hotels we have been to, it was easy to realize that the little things make all of the difference. You certainly don't have to have a dedicated guest room. We haven't had one for years but still try to be sure our guests have things to make their stay more enjoyable. Here are five ways to make your guest feel welcome.
1 | Basket of Goodies
My mom was amazing when it came to making guests feel welcome. She taught us everything we know. She was famous for putting together a really beautiful basket that would be a fun surprise for each guest. Whether it was a couple of magazines and treats or an ornament from a local beach town, it was always something personal and special. This $5 basket is the perfect size to spoil your next guest.
2 | A Stack of Fresh Towels
Let's hear it for a stack of fresh white towels. There is nothing better. I always do a quick wash the night before just so they smell fresh and clean.
3 | Bathroom Essentials
Hair dryer all the way. That is key in a hotel, am I right? But also a few travel size items placed in a basket in the bathroom can be a life saver. I forget at least one thing every time I go anywhere so I alway appreciate a toothbrush or small bottle of shampoo to save the day.
4 | A Cozy Robe
I love getting out of a shower and being able to toss on a soft robe while getting ready. I am sure a guest would love to do the same.
5 | A Spot for Laundry
Last but not least, it's nice to have a spot where guests can toss their dirty laundry. It is a small thing that can go a long way. This basket tucked in the corner of a closet would be a great addition to a guest space.
And while not necessary, it sure is nice to include a journal in the room. I love the idea of having guest sign the book. In fact one of my favorite memories was staying in a charming B & B in Cambria. My husband and I were thumbing through the book reading the entires and saw one written by my parents. Beyond memorable and special.
FRESH AIR OASIS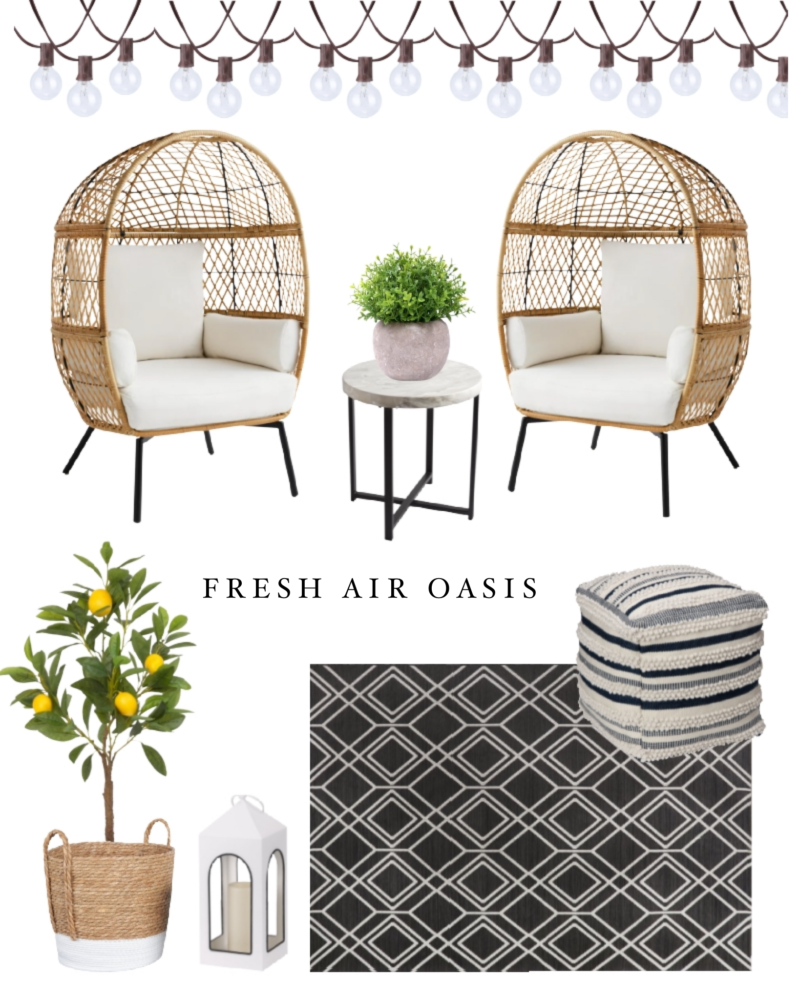 This time of year is also nice to think about the outdoor spaces around your home. There is no question guests would love to spend some time in the fresh air. These chairs are amazing. Walmart has really come a long way with home pieces as these look much higher end. I would love to design a little patio similar to this for our friends and family to enjoy.
SHOP THIS POST

What is something you remember from staying with a friend or in a memorable hotel? Would love to know other things that made the stay special.