How was your weekend? Dallas was a blast and it was wonderful to catch up with dear friends. I had a whirlwind trip full of inspiration but it's always so nice to be be back with the family. I'll share some photos of the trip soon but today I wanted to share with you where we are headed with our daughter's mini makeover. She has a birthday coming up and we are hoping to create a new room for her by then. I think when she saw her brother's room come together, she realized it would be time to give hers a new look.
This is how our daughter's room looks right now. The hot pink and orange has been such a fun color scheme but she is so ready for a change. We did this room about four years ago (my how time flies) and as she grows so does her taste. I remember loving anytime I was able to rearrange or redecorate my room as a child. I vividly remember going to bed each time we changed the layout and waking up thinking it was like a whole new room. It's hard for me to believe that my daughter is now building all of those same memories. This room is full of DIY projects. One of them being the pelmet box.  I think we will keep it and just switch out the hot pink ribbon.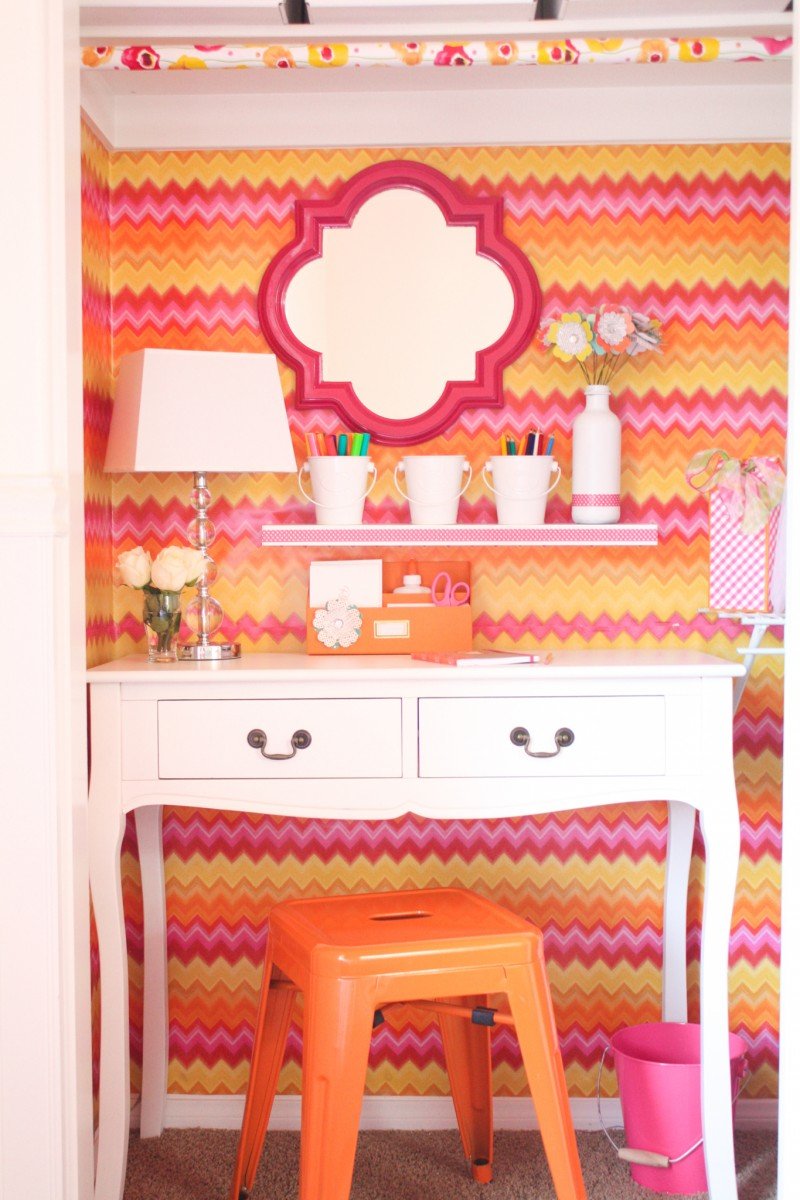 We have already moved the desk out of the closet. We swapped it with the Expedit below. That gives her more storage in her closet and she likes having the desk out in her room now. It feels like another lifetime ago that we hung wrapping paper on her closet walls!
While we haven't really done much yet, Riley and I have had so much fun scheming and planning. And I really am letting her take the reins on this (within reason). She originally wanted to go with teal and navy. She even made a mood board with pieces cut out of magazines. The girl has an eye and really nailed the board. But then recently when we were looking at artwork, she fell in love with the palm tree print below. It has now become the inspiration for her new room. We've spent hours scrolling through websites. She chose everything below.
 A Beachy bedroom design plan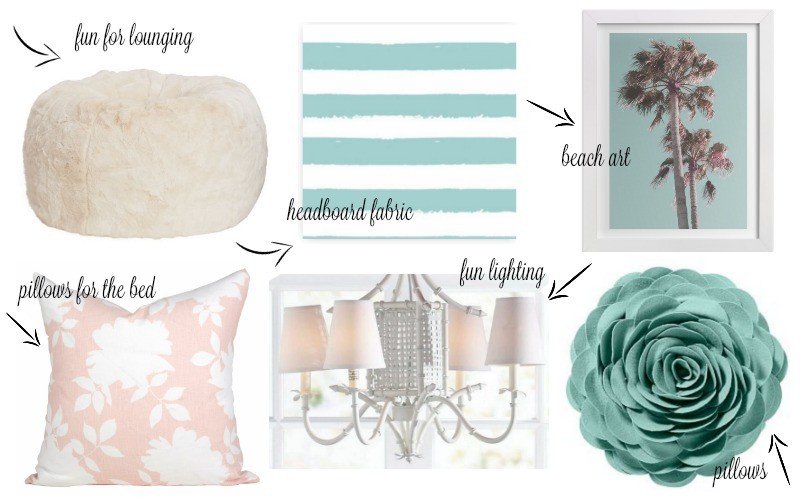 bean bag | striped fabric | artwork | pillow | chandelier | flower pillow
I think it's going to be really pretty. She is hoping for a beach feel. . . but without it feeling like a theme. I like how that lends itself to a softer aqua than the original teal she was going with. She fell in love with the chandelier. I have to admit she nailed it as far as it going with the feel of the new room. I love the bamboo. I don't love the square cage in the middle but she seriously loves it and it's on sale so it's the first thing we ordered. I keep reminding myself it's her room and I really want her to take ownership over the design. She has a passion for it and I kind of know how that feels. LOL. And I'm not gonna lie. Beanbags aren't speaking my design love language. I did try to steer her away from it (more because of how much real estate it will take up) but then I dialed it back. She's been dreaming of one and it's only a bean bag. "It's not like she's asking for a tattoo!" says my husband.
So what do you think? Do you like her ideas? I think it will be really pretty. I still need to hire someone to paint the ceiling out. I had a hard enough time painting it the existing color. The idea of painting over it a couple of times makes me cringe. But other than that, it really is just changing up the decor so it shouldn't be too much of a project. We will be checking back in as we accomplish tasks.
UPDATE: While shopping for bedding I realized that you can get 20-50% off all duvets and sheets today with code: DREAM.